Simple, Fresh Homemade Pesto Sauce with Pasta
This post may contain affiliate links. Please read my disclosure policy.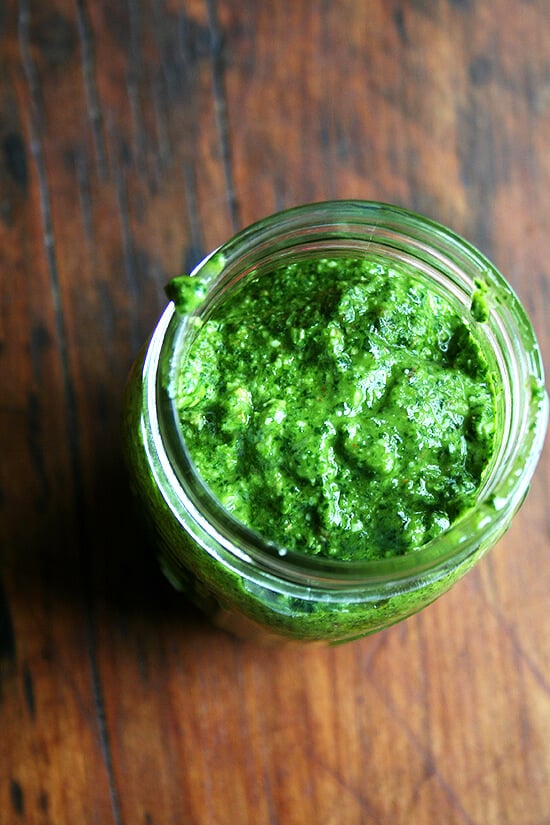 You know pesto can be made with anything, right? No basil? No pine nuts? No parmesan? No problem.
How to Make Pesto
Gather 3 to 4 cups of herbs (such as basil, cilantro, parsley, chives) or greens (such as arugula, kale, spinach).
Peel 2 cloves garlic.
Measure out a 1/2 cup of nut (such as pine nuts, almond, hazelnuts, or walnuts).
Grate a 1/2 cup of salty cheese (such as Parmigiano Reggiano, Pecorino Romano, or Manchego).
Juice half a lemon.
Measure 1/2 cup olive oil.
Combine all ingredients in food processor with salt and pepper to taste. Pulse until smooth. Adjust seasoning as desired.
It's that simple! Any combination of herbs or greens, any nut, any salty cheese, and any acid in combination with salt, pepper and olive oil is going to taste good.
And while nothing perhaps marries quite so well as basil, pine nuts and parmesan, I think you'll be surprised (delighted!) by the earthiness of a kale-almond pesto or the spiciness of an arugula-hazelnut pesto.
Pesto is a wonderful condiment to have on hand for pasta (see recipe below), pizza, salads, and sandwiches. What's more? It freezes beautifully.
How to Freeze Pesto
Spoon pesto into ice cube trays or other small vessels.
Freeze until solid.
Pop pesto cubes out; transfer to airtight bag or container; store in freezer indefinitely.
Pesto is also a great way to rescue past-prime herbs from withering away in the fridge.
Often I'll find bunches of tired herbs (typically cilantro and parsley) in my vegetable bins and after refreshing them in some cold water (and extracting a few slimy strands), I'll buzz them in the food processor with almonds (what I always have on hand) and some grated Pecorino (what I always have on hand).
Once you get the hang of it, you'll barely need to follow a recipe. Simply buzz, taste, and adjust with salt, pepper and lemon till the pesto hits all the notes you're looking for.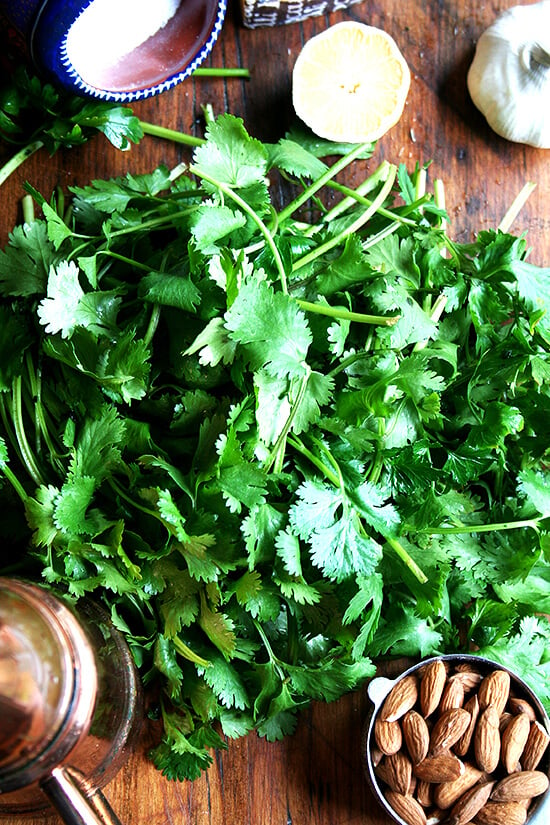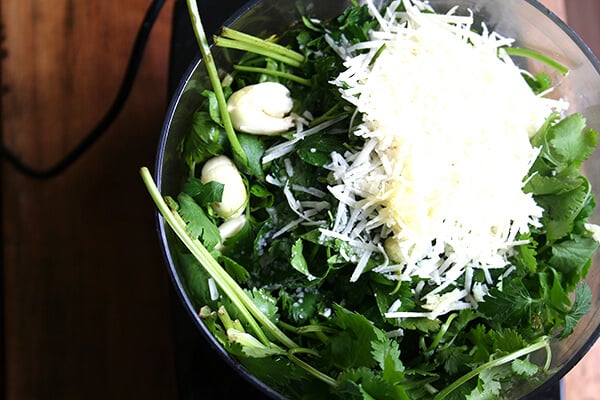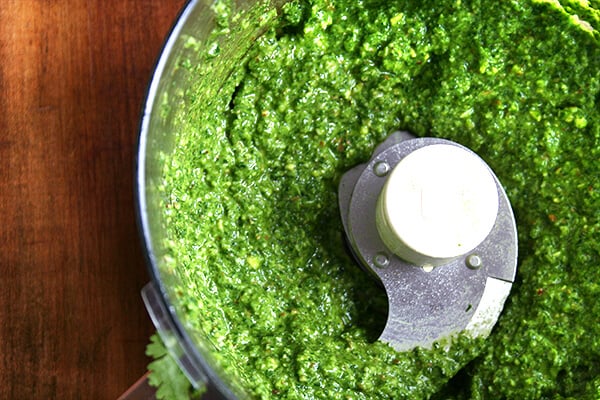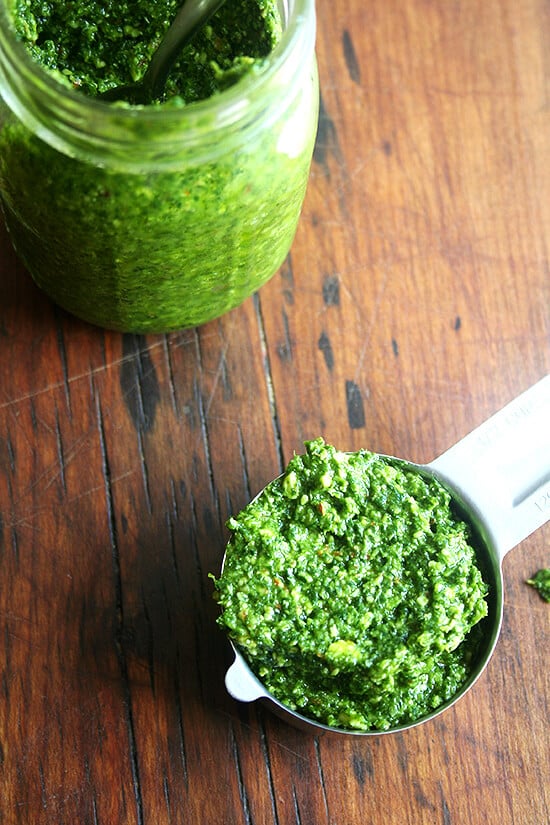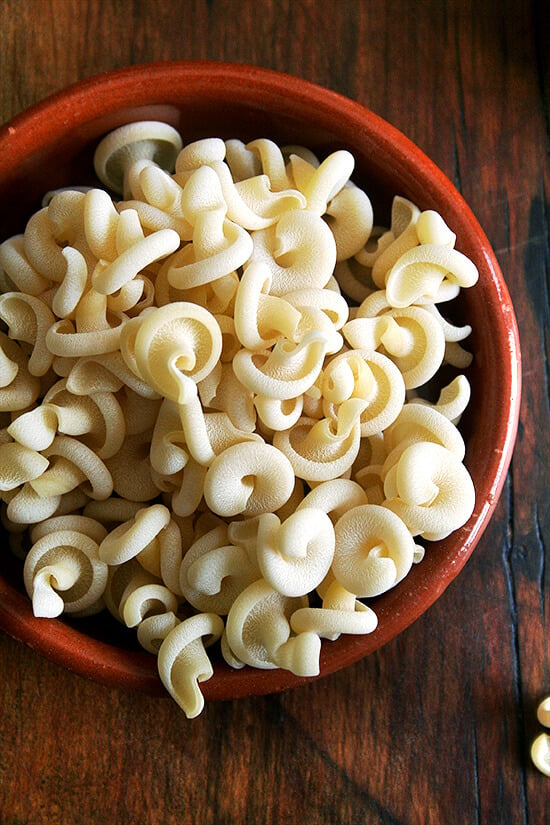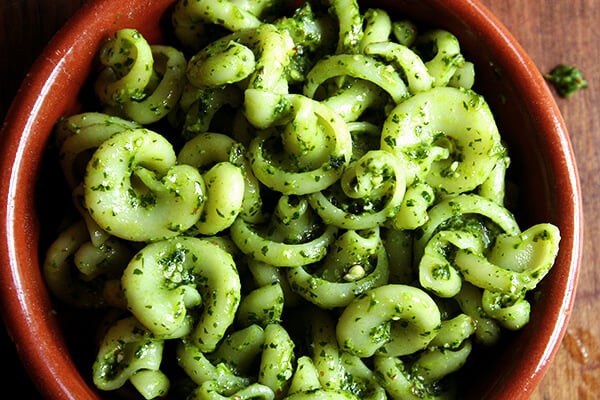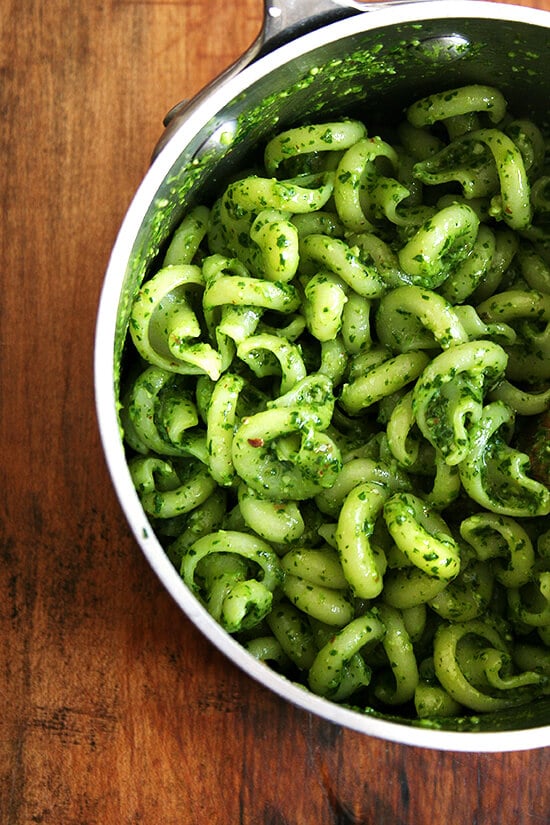 Print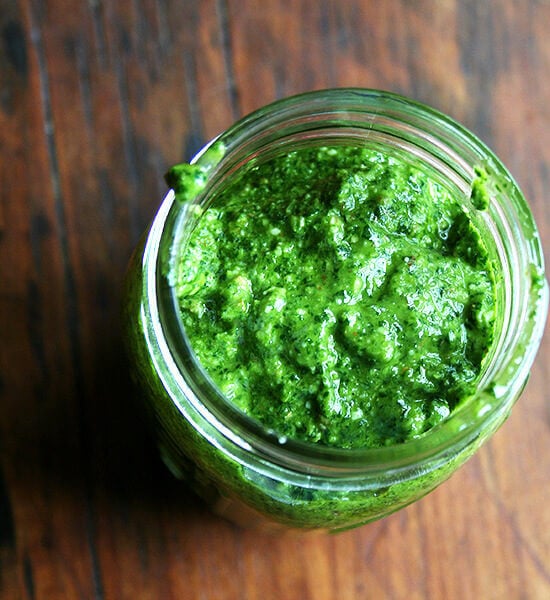 Simple, Fresh Homemade Pesto Sauce with Pasta
---
Description
Adapted from The Garden of Eden
If you're looking to make a large quantity of pesto, follow this recipe: Large Batch Basil Pesto
---
For the pesto sauce:
3

to

4

cups herbs, such as basil, cilantro, parlsey, chives, etc., rinsed

1/4 cup

nuts such as almonds, walnuts or pine nuts

2

cloves garlic
juice of

1/2

lemon (

1

to

2

tablespoons)

3/4 teaspoon

kosher salt
freshly cracked black pepper to taste

1/2 cup

olive oil

1/2 cup

grated dry salty cheese such as Pecorino or Grana Padano or Parmigiano Reggiano
For the pasta:
1/2

lb. pasta, something like gemelli or orecchiette

1/4

to

1/2

cup pesto sauce

1/2 cup

pasta cooking water
Parmigiano Reggiano, for serving, optional
---
Instructions
Make the pesto: Combine all ingredients in a food processor and purée until nicely blended. Taste and adjust seasoning as necessary. Set aside.
Make the pasta: Bring a large pot of water to a boil. Season with a large pinch of salt. Cook pasta al dente, reserving 1/2 cup pasta cooking water before draining.
Add 2 tablespoons of the pasta cooking liquid back into the pan. Place the pan over medium-high heat. Bring to a simmer and add 1/4 cup of the pesto. Stir with the water until blended. Add the pasta to the pan and stir/toss until the pasta is nicely coated. At this point, keep adding pesto to the pasta one tablespoon at a time, stopping when it tastes good to you.
Serve pasta passing grated Parmigiano Reggiano on the side if desired.
Notes
To prevent discoloration when storing pesto, it is best to put a thin layer of olive oil over the pesto and then cover it.
Prep Time:

10 minutes

Cook Time:

10 minutes

Category:

Condiment

Method:

Food Processor

Cuisine:

American, Italian
Keywords: pesto, sauce, basil, herbs, nuts, lemon, olive oil, parmesan, summer
This post may contain affiliate links. Please read my disclosure policy.