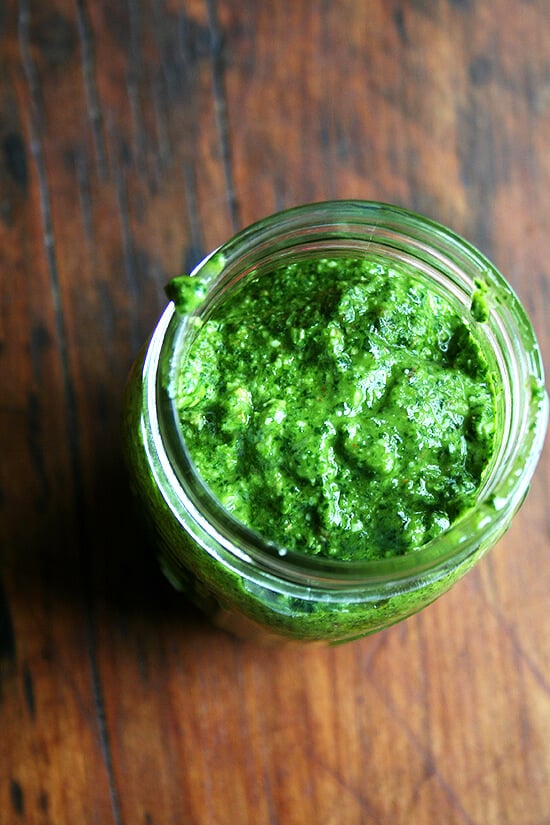 You know pesto can be made with anything, right? No basil? No pine nuts? No parmesan? Pesto can still be done. All you really need is a bunch of herbs, a handful of nuts and some sort of hard salty cheese. While nothing perhaps marries quite as well as basil, pine nuts and parmesan, variations made with with other herbs, nuts and cheeses do the job quite nicely.
Earlier this week I pulled two tired bunches of cilantro and parsley from my fridge, and after refreshing them in some cold water (and extracting a few slimy strands), I buzzed them in the food processor with some raw almonds (all I had) and some grated Pecorino (all I had). With the exception of the herb quantity, I followed Darcy's recipe to a T — it is fantastic. It didn't need a pinch more salt nor a squeeze more lemon.
All week long I've been slathering the pesto on anything I can justify — eggs, roasted red pepper caprese salads, pasta. I've never felt more prepared for tomato season. It couldn't arrive a day too soon.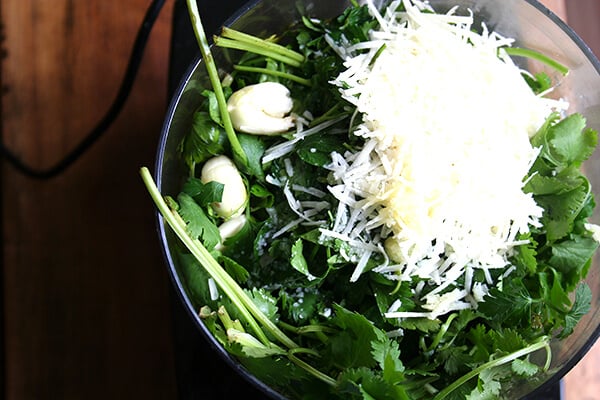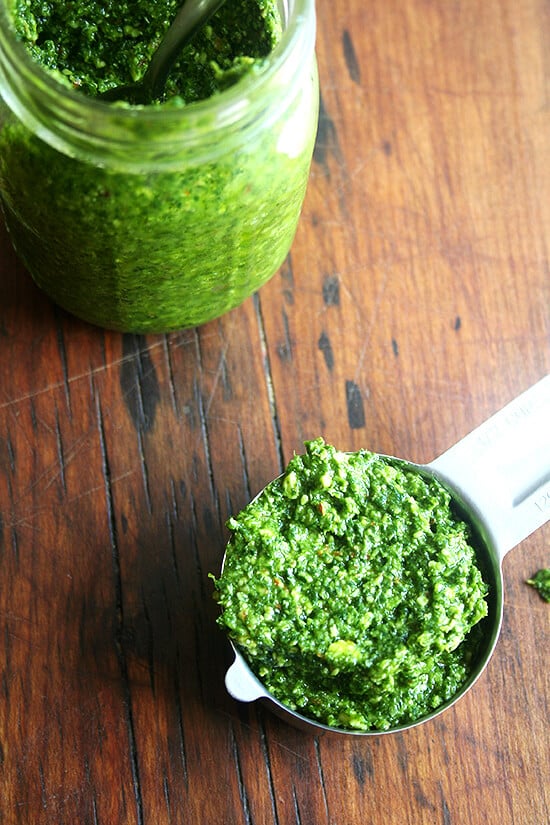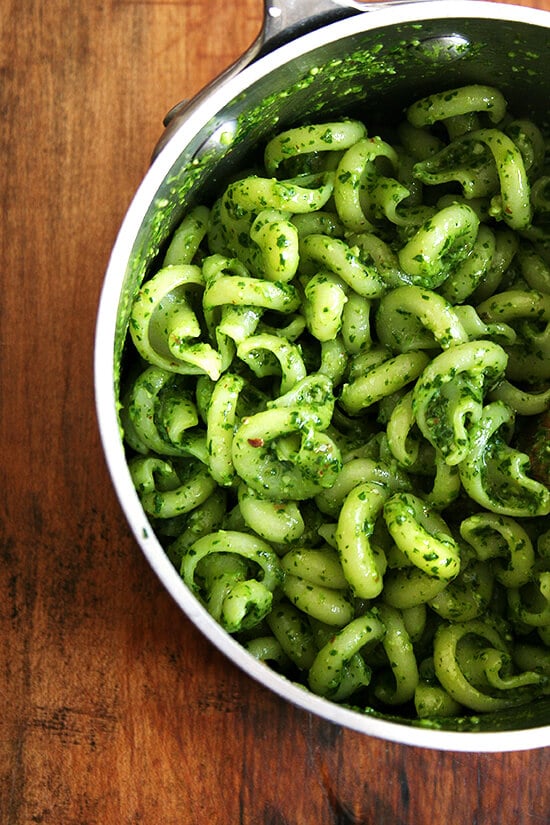 Print
Pesto
---
Description
Adapted from The Garden of Eden
Note: Darcy (from the Garden of Eden) made a basil pesto, so if you would like to follow her instructions, find the recipe here.
---
Ingredients
3 cup

s herbs* such as basil, cilantro, parlsey, chives, etc., rinsed

1/4 cup

nuts such as almonds, walnuts or pine nuts**

2

cloves garlic

1 tsp

. freshly-squeezed lemon juice (I juiced

half a

lemon)

3/4 tsp

. kosher salt

1 tsp

. freshly-ground pepper

1/2 cup

olive oil

1/2 cup

grated dry salty cheese such as Pecorino or Grana Padano or Parmigiano Reggiano
* I probably added double the amount of herbs? I didn't measure. My goal was to clean out the refrigerator. Also, I always add stems and everything — no need to pluck leaves for pesto.
** Darcy used toasted pine nuts.
---
Instructions
Combine all ingredients in a food processor and purée until nicely blended. Taste and adjust seasoning as necessary.
---
Notes
Note: Darcy first processed the basil, nuts, garlic, lemon juice, salt and pepper until almost smooth, then slowly streamed in the olive oil with the food processor on. Finally, she stirred in the parmesan cheese.
Final note from Darcy: To prevent discoloration when storing pesto, it is best to put a thin layer of olive oil over the pesto and then cover it.
Print
Ingredients
1/2

lb pasta, something like gemelli or orecchiette

1/4

to

1/2

cup pesto

1/2 cup

pasta cooking water
Parmigiano Reggiano for serving (optional — I did not find additional cheese to be necessary)
---
Instructions
Cook pasta al dente, reserving 1/2 cup pasta cooking water before draining.
Add 2 tablespoons of the pasta cooking liquid back into the pan. Place the pan over medium-high heat. Bring to a little simmer and add 1/4 cup of the pesto. Stir with the water until blended. Add the pasta to the pan and stir/toss until the pasta is nicely coated. At this point, keeping adding pesto to the pasta one tablespoon at a time. You might not need the full 1/2 cup — I did in fact use a 1/2 cup of pesto for the 1/2 pound of pasta, and it was delicious, but perhaps may have been just as delicious with a tablespoon or two less pesto.
Serve pasta passing grated Parmigiano Reggiano on the side if desired.
---