Butterscotch Budino Ice Cream
This post may contain affiliate links. Please read my disclosure policy.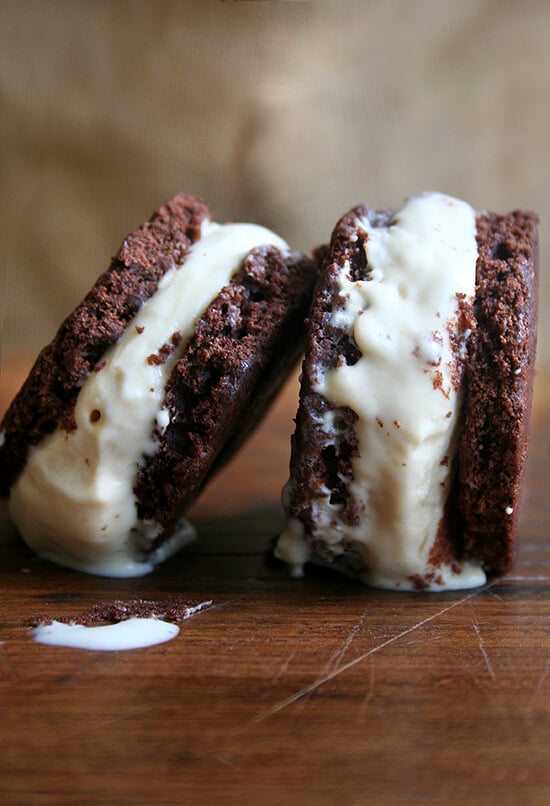 This is what happened. My husband, who dislikes butterscotch, went out of town. I took the opportunity to make butterscotch budino, a dessert I discovered at Pizzeria Mozza several years ago, one that (along with the pizza) inspired many a 70-mile drive up to LA despite the inevitable, incessant, insane traffic.
I made the New York Times recipe (adapted from Pizzeria Mozza), which I discovered (too far along in the process to turn back) yields enough budino for a small village. My husband was only out of town for one night. I'm not sure what I was thinking.
After four too many budinos, I needed to take action. I couldn't toss such a delicious creation, but eating it at the rate that I was seemed excessive. To prevent myself from assuming the role of small village, I dumped the remaining budino into my Kitchen Aid ice cream attachment and let it churn.
Never has such an intervention been more rewarding. I've never tasted salted caramel ice cream, but I'm pretty sure this is exactly how it would taste. And it is absurdly delicious. Budino, in its new frozen carnation, prevented me from becoming a small village, but only for one day. The ice cream disappeared from my freezer as quickly as the budino had from my fridge. And the recipe was revisited shortly thereafter, the new batch made with a few adjustments, namely without butter — I mean, butter in ice cream, as delicious as it was, is kind of gross.
The new butterless batch was just as, if not more so, delicious. I don't know if it's the relatively high amount of cornstarch or the presence of rum, but there's something about this custard that produces the nicest textured ice cream. I made a third batch, too, and decided, just for kicks, to make ice cream sandwiches with about half of the batch. The cookies, made from a Fine Cooking recipe, taste just like the soft chocolate cookies flanking classic ice cream sandwiches. I have a feeling I'll be making them all summer long.
Finally, Commenters, five of you — Trish, Kamilla, Elisa, Judy, and Dorothea — will receive a bag of Tipo 00 flour. With the exception of my friend Bates, who foremost deserves a bag, I used a random generator. I have emailed you. Wish I could send you each a bag.
My aunt sent me these Everything Clips in the mail a few weeks ago. They are awesome for everything, but especially for securing parchment paper to pans: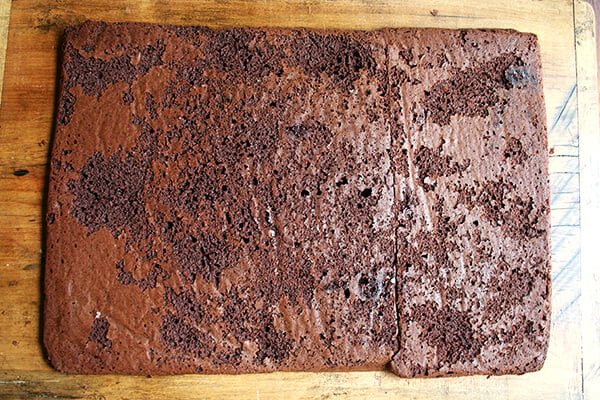 Print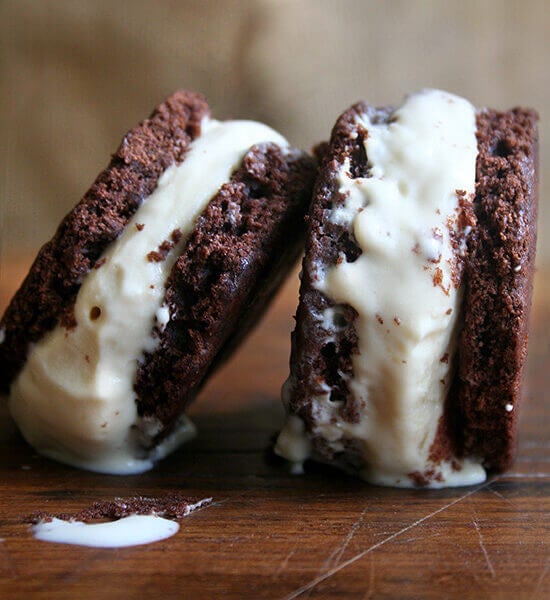 Butterscotch Budino Ice Cream
---
Description
Adapted from the butterscotch budino recipe served at Pizzeria Mozza
If you just want to make butterscotch budino (versus the ice cream) follow this recipe.
---
for the custard:
1 1/2 cups

heavy cream

3/4 cup

milk (I used whole)

2

egg yolks

2 1/2 tablespoons

cornstarch

1/2 cup

+

1 tablespoon

light brown sugar

3/4 teaspoon

kosher salt

1 tablespoon

rum
---
Instructions
Combine cream and milk in bowl or pitcher, set aside. Whisk egg yolks and cornstarch (read note in next sentence first) in medium bowl, set aside. Note: There has to be a better way to whisk egg yolks and cornstarch than what I have been doing, which causes the yolks to clump all around the whisk. This is what I'll do next time: Crack yolks into bowl. Spoon a little bit of the cornstarch into the yolks. Stir with a spoon until incorporated, then add more cornstarch and continue this process until all of the cornstarch has been added.
Combine brown sugar, kosher salt and 1/4 cup water in pot. Place over medium-high heat and let sit until edges start to brown. Tilt pot as needed to even the browning until caramelized, nutty and deep brown, about 10 minutes. Notes: The mixture should be bubbling (not crazily, however) the whole time, so adjust heat as necessary. Do set a timer. It's hard to tell visually when the mixture is ready, but every time that I've made this, 10 minutes seemed to be the magic number.
Immediately whisk in cream mixture, mixture will steam and caramel will seize. Bring to a boil, then reduce heat to medium. Whisk a cup at a time into egg mixture until half is incorporated. Remove from heat, and immediately whisk egg mixture back into pot until custard is very thick, about 2 minutes.
Whisk in rum. Pass through a fine mesh strainer. Transfer to a storage container (preferably glass or pyrex). Cover with plastic wrap, allow to cool, and refrigerate until completely chilled, the longer the better.
Transfer mixture to ice cream maker and freeze according to your machine's instructions. Freeze until ready to serve.
for the ice cream sandwich cookies:
I followed the recipe on Fine Cooking for the cookie recipe.
Notes
I used my 2.5-inch round fluted cutter to make individual sandwiches, which is fun, but also wasteful. If you go this route, you'll get about 12 sandwiches per batch of cookie recipe. What is nice about this method is that the ice cream doesn't have to be too soft — mine was a little too soft, in fact — in order to start the assembly process. If your ice cream is scoopable, you are good to go. Also, I froze my scraps from the cutting process. These could be crumbled up and sprinkled onto the sides of a cake or toasted and crumbled onto ice cream or … I'm sure you have some good ideas? Again, what isn't nice about this method is the waste as well as the extra steps cutting/scooping/etc. Next time, I think I'll stick to the traditional method. Also, the flavor of the butterscotch budino ice cream I found got a little masked by the cookie. Next time, too, I would choose a different flavor ice cream, probably vanilla, to use for the sandwiches. I'm thinking the best vessel for the butterscotch budino ice cream might be a thin chocolate wafer cookie bowl or something of the like? Will report back if I discover something.
Prep Time:

45 minutes

Cook Time:

15 minutes
Straining the custard after it thickens is important — it removes all of those curdled little bits.

This post may contain affiliate links. Please read my disclosure policy.