No-Knead Oatmeal Toasting Bread
This post may contain affiliate links. Please read my disclosure policy.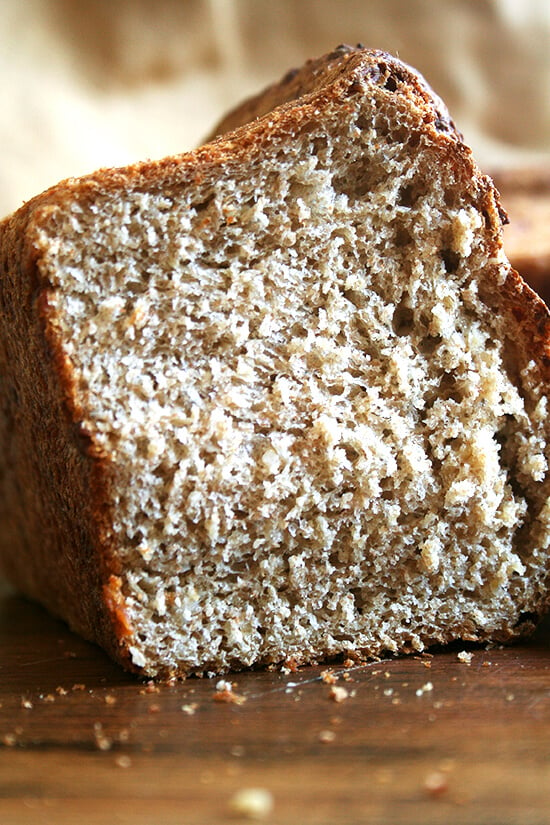 Before heading to the beach last week for a little vacation with the family, I spent some time in the kitchen preparing a few items to pack along: granola, granola bars (which, unfortunately, were inedible) and this no-knead oatmeal toasting bread, a tried-and-true family favorite.
The goal was meal supplementation — to avoid eating every meal out — and in retrospect, I wish I'd prepared more, namely biscotti, which were sorely missed, and something chocolaty to satisfy our post-dinner sweet tooths — midweek we caved and stocked up on chocolate-almond Hershey bars from the local convenience store … never have they tasted so good.
But this bread was a savior. We ate it every morning toasted and slathered with peanut butter and nearly every afternoon, at times with lettuce, tomato and bacon wedged in between, at others with nutella and peanut butter, and at others with a thick layer of melted cheese and sliced tomato.
It is a cinch to prepare — true to the title, no kneading is involved — and the bread, chewy in texture and slightly sweet, is just straight-up delicious, a treat to have on hand on vacation or not.
My only goal tomorrow is to restock my freezer with another two loaves, and thanks to the 100ºF forecast, I'm almost certain to achieve it. Perhaps insufferable heat isn't all that bad? Just trying to stay positive. Hope you're all staying cool.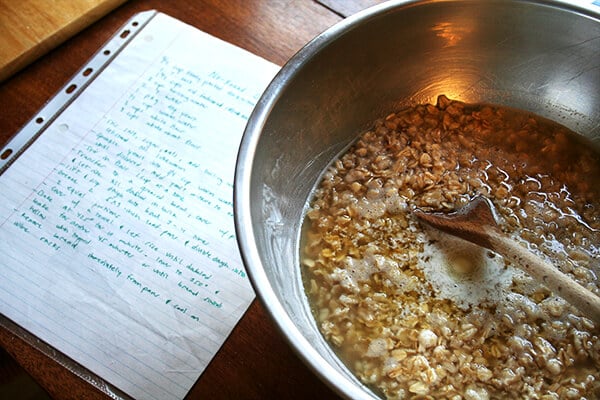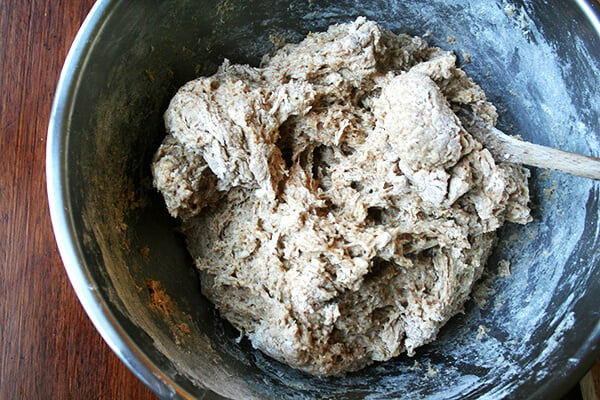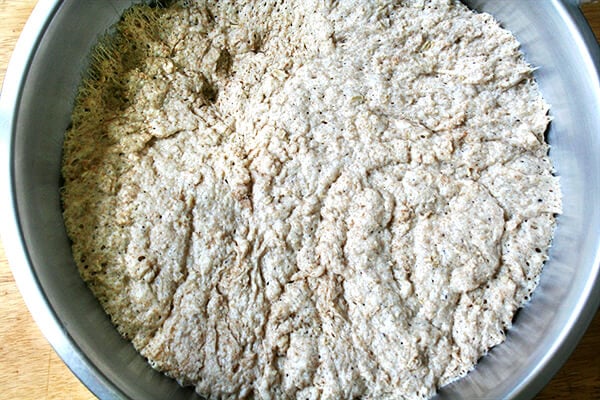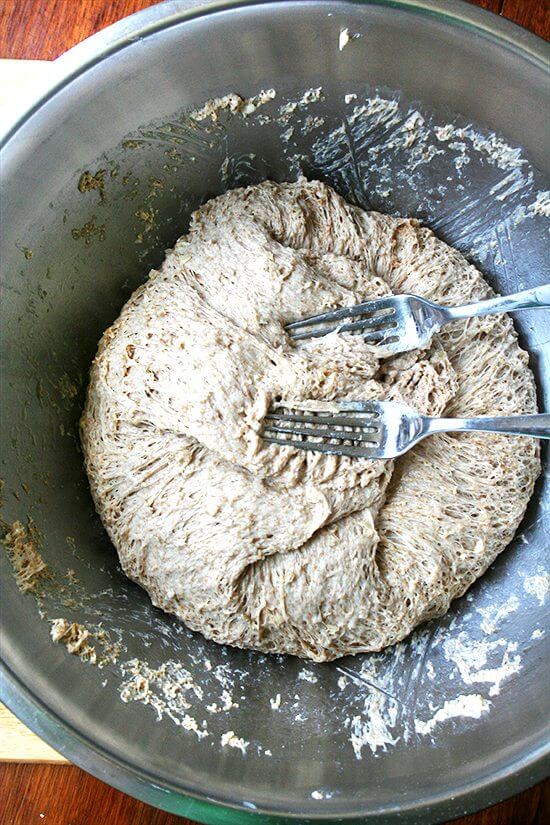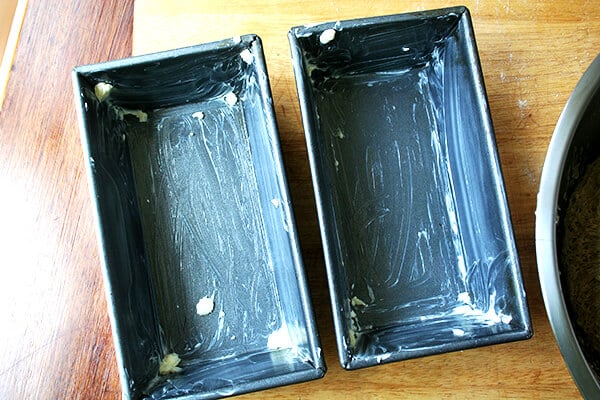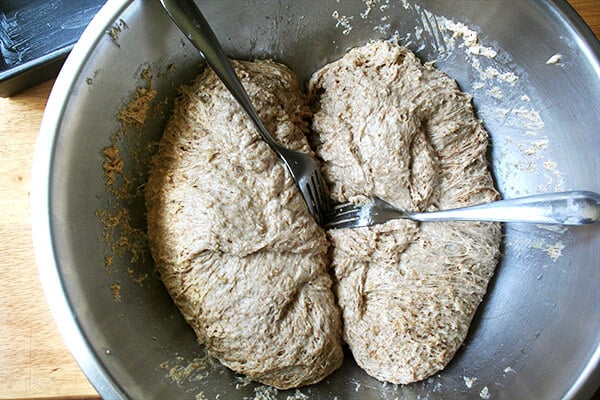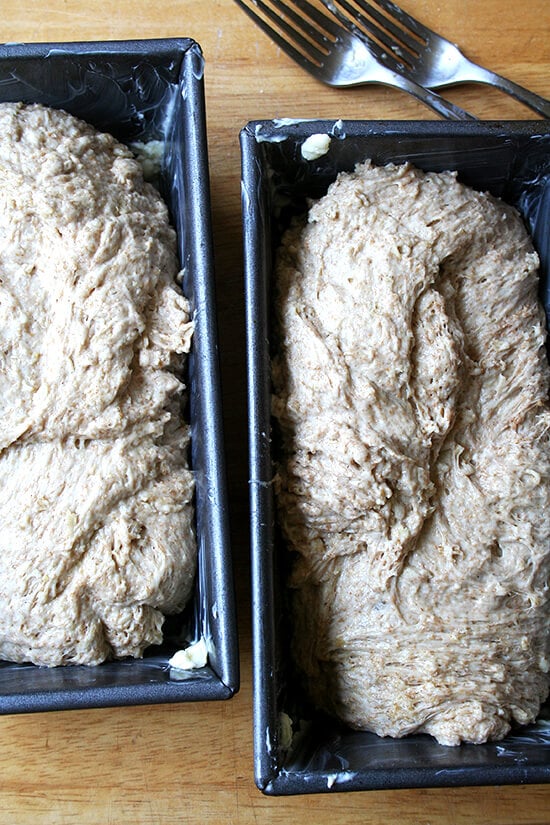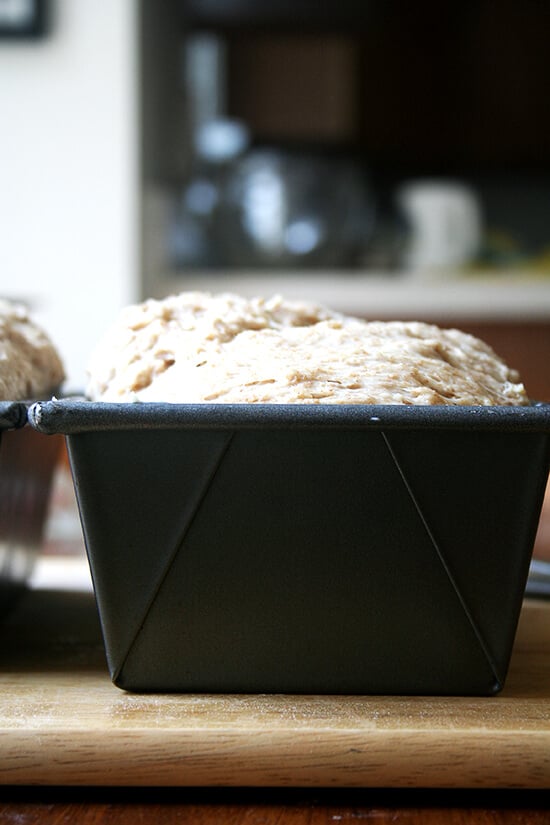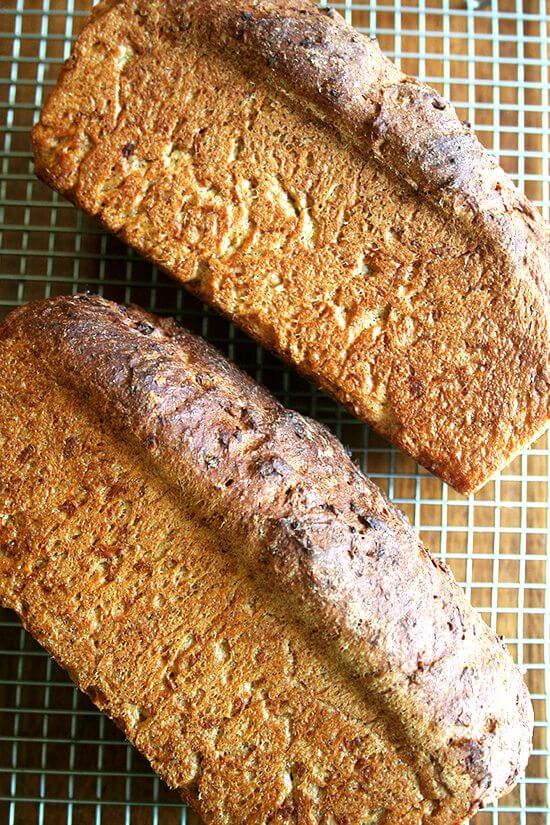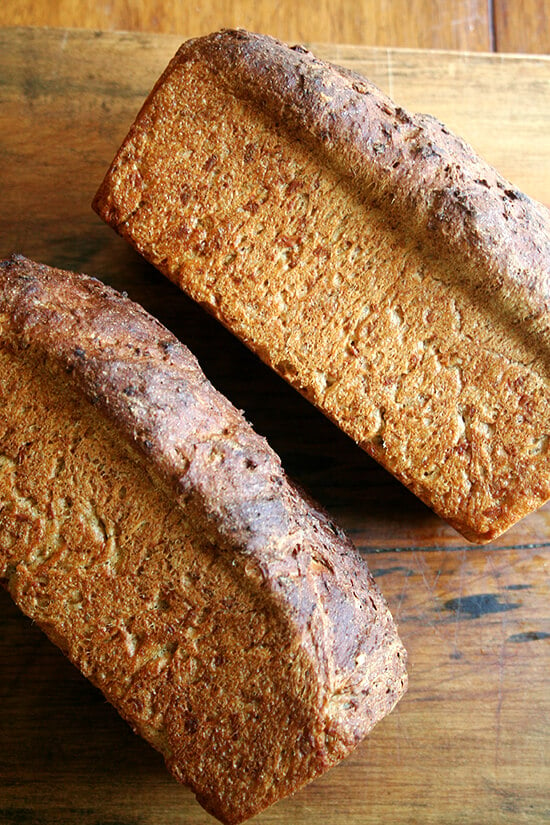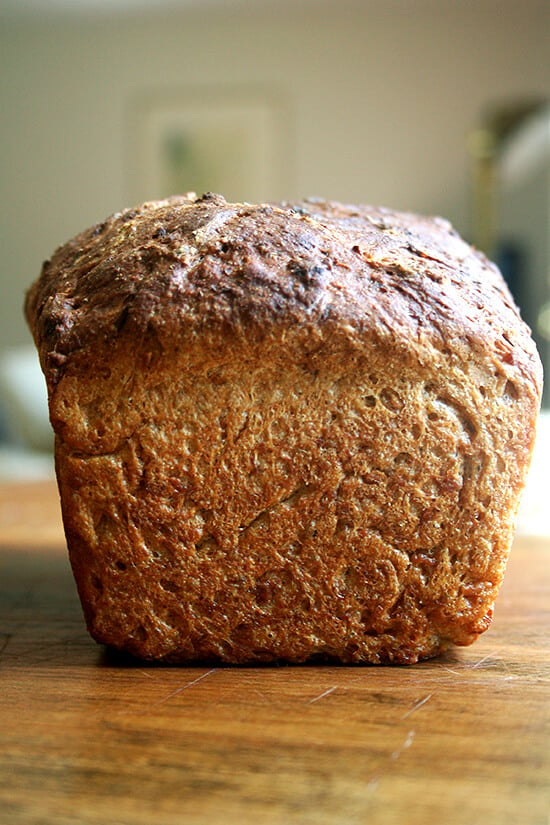 5 Secrets to Foolproof Bread Baking
See how easy bread baking can be in my free ecourse!
Print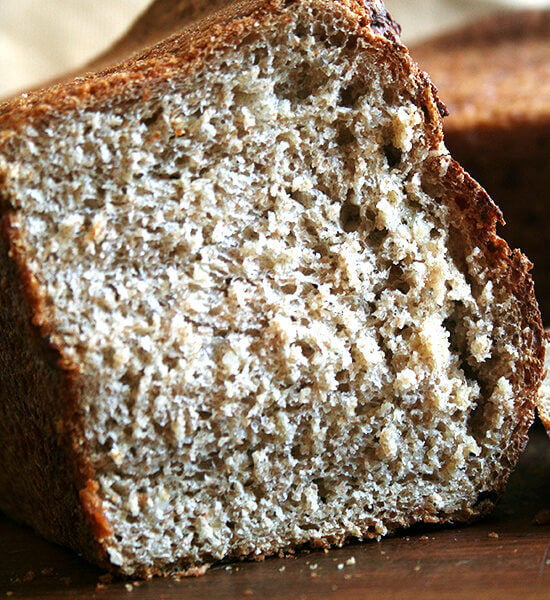 No-Knead Oatmeal Bread
---
---
3/4 cup

(

160 g

) brown sugar

1 tablespoon

kosher salt

1 3/4

(175 g) cups old-fashioned oats

3 cups

(

681 g

) boiling water

2 tablespoons

(

28 g

) butter

2.25 teaspoons

active dry or instant yeast

1/4 cup

(

57 g

) warm water

3 cups

(

384 g

) all-purpose flour

3 cups

(

384 g

) whole wheat flour
---
Instructions
Place brown sugar, salt and oats in a large mixing bowl. Add boiling water. Add butter. Let stand till lukewarm. Note: This is the only place where you could mess up the recipe. The mixture must cool to a lukewarm temperature so that it doesn't kill the yeast.
In a small bowl, sprinkle yeast over the 1/4 cup warm water. Let stand for about 5 minutes. Stir. Add this yeast mixture to the oat mixture and stir. (Note: If using instant yeast, simply whisk it into the two flours in a large bowl. Do still be sure to wait until the water-oatmeal-brown sugar mixture has cooled before adding the flours/yeast. Add the 1/4 cup water to the bowl of water-oatmeal-brown sugar.)
Add the flours a little bit at a time. My old recipe says to add it one cup at a time, but I'm never that patient. Add it as slowly as you can tolerate, stirring to combine after each addition.
Transfer dough to a lightly greased bowl and cover with a damp tea towel or plastic wrap. Let rise in a warm spot until doubled in bulk, about 2 hours. This is what I always do for my "warm spot": preheat the oven to its hottest setting for 1 minute. TURN OFF THE OVEN. (Note: Only preheat the oven for 1 minute total — in other words, don't wait for your oven to heat up to 500ºF and to sit at that temperature for 1 minute. You just want to create a slightly warm spot for your bread to rise.) Place covered bowl in the oven to rise until doubled.
Grease two standard sized loaf pans generously with butter. When dough has risen, punch it down. I use two forks to do this. I stab the dough in the center first, then pull the dough from the sides of the bowl towards the center up onto itself. Then I take my two forks and, working from the center out, I divide it into two equal portions. Place each portion into your prepared loaf pans. Let rise until dough creeps above the rim of the loaf pan.
Preheat the oven to 425ºF. Bake loaves for 10 min. Reduce heat to 350ºF. Bake for another 40 to 45 more minutes or until the bottom of the loaf sounds hollow when tapped — you have to (obviously) remove the loaf from the pan to test this. Turn loaves out into wire racks immediately to cool.
Prep Time:

20 minutes

Cook Time:

50 minutes
We had a wonderful time on vacation. We stopped in Williamsburg on the way to Virginia Beach (obviously to give Ella and Graham a little history lesson); we stayed in awesome cabins; we bought as-fresh-as-fresh-can-be fish (rockfish and sea bass) every night from Dockside, which we grilled whole and devoured; and we spent hour upon hour at the beach.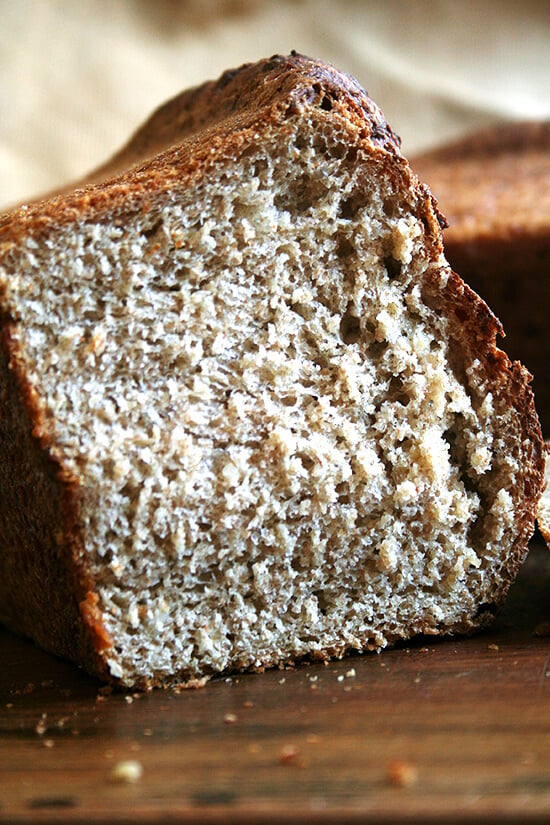 This post may contain affiliate links. Please read my disclosure policy.