Maryland Crab Cakes
This post may contain affiliate links. Please read my disclosure policy.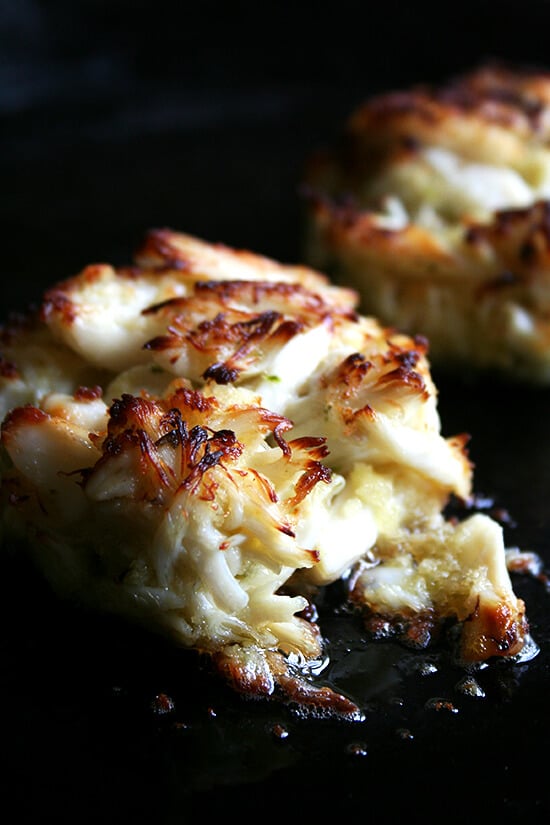 My only goal for my week in Virginia Beach was to eat a good crabcake. Thanks to Dockside, I did. Broiled, lightly seasoned, meaty, the Dockside crabcake embodies everything I hope for in a crabcake.
Finding myself dreaming about this delicacy upon returning home, I called Dockside to find out the details, which they so graciously offered: crabmeat, mayonnaise, panko bread crumbs and Old Bay seasoning. They keep it pretty simple, which came as no surprise. Had they told me they used nothing but crabmeat, I wouldn't have questioned them.
Recreating the Dockside crab cake was surprisingly easy. Because the cakes are broiled — as opposed to pan fried, which (and sorry for stating the obvious) involves flipping — the cakes can (and should) be delicately and loosely formed. In fact, if your cakes are almost falling apart as you're placing them on your broiling pan, it's probably a good sign. A nearly falling-apart crab cake will ensure that the mayonnaise and panko (or pulverized Saltines or bread crumbs or whatever you are using) are doing their job as binders but nothing more.
These cakes broiled for five minutes and disappeared in two. They were delicious.
Final note, crabmeat is expensive. Like, pit-in-your-stomach expensive. Like, oh-shit expensive. Like, how-can-I-rationalize-this-purchase expensive. But, it's worth it. A good crab cake starts with good crab. The rest is simple.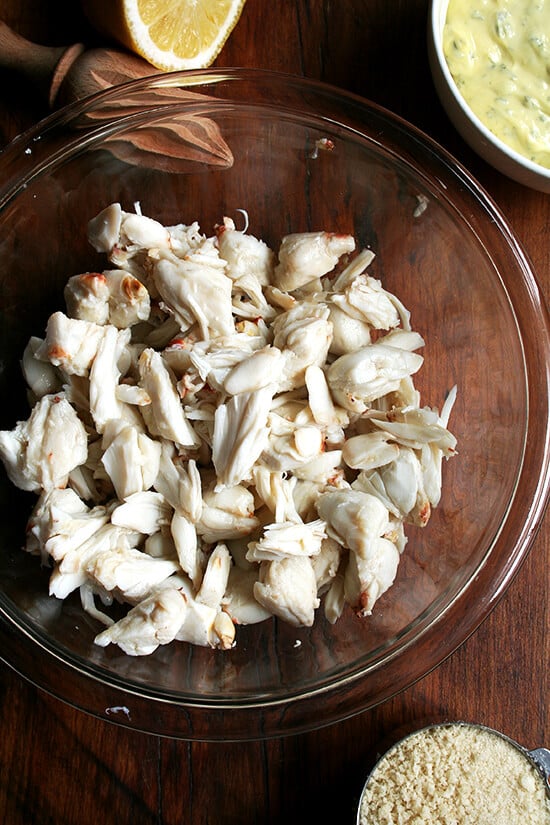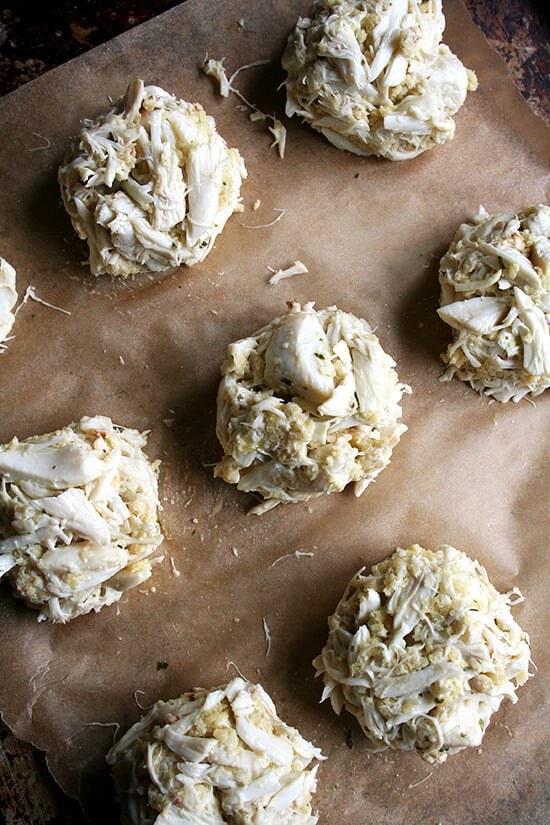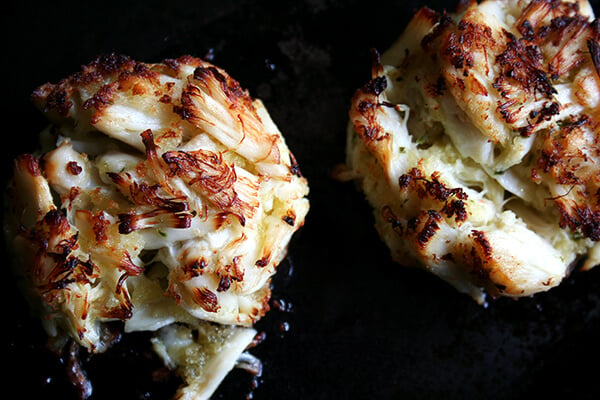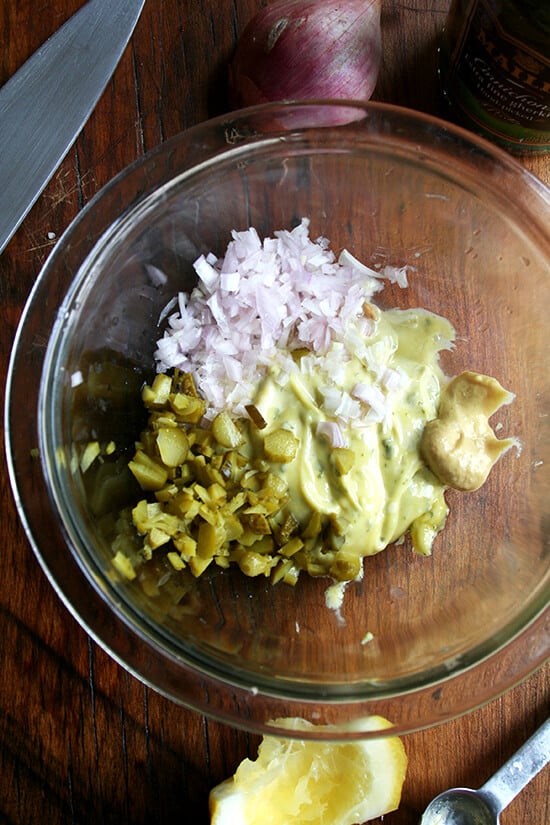 Print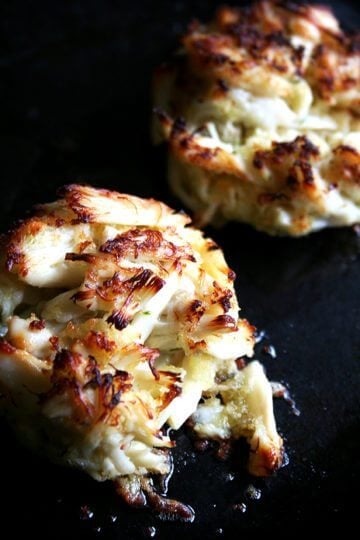 Maryland Crab Cakes with Tartar Sauce
---
Author:

Alexandra

Total Time:

15 minutes

Yield:

2 to 3
Description
This crab cake recipe is inspired by the crab cakes served at Dockside in Virginia Beach. Dockside uses Old Bay seasoning in their crab cakes, but I could barely taste it and because I'm not a huge fan of it anyway, I just omitted it. If you like Old Bay, go for it, but don't over do it — the crabmeat is so tasty on its own.
---
1

lb. jumbo lump or backfin crabmeat
kosher salt

1/4 cup

mayonnaise, preferably homemade with tarragon

6 tablespoons

(

1/4 cup

+

2 tablespoons

) panko bread crumbs
squeeze of lemon (less than half of a lemon, so maybe a teaspoon)
a couple of tablespoons of freshly chopped tarragon, parsley or chives, for mixing with the mayo
melted butter, for brushing
lemon wedges, for serving
tartar sauce (recipe below), for serving, optionalfor the Tartar Sauce:

1/4 cup

mayonnaise, preferably homemade with tarragon

8

cornichons, minced

1/2 teaspoon

Dijon mustard

1 teaspoon

freshly squeezed lemon juice

1

small shallot, minced
pinch kosher salt
---
Instructions
Place crabmeat in a large mixing bowl. Being careful not to break up the lumps too much, spread out the crabmeat into a single layer in the bowl. Season lightly with salt. Add the mayonnaise, panko, lemon juice and herb (if using). Gently fold all of the ingredients together using your hands or a spatula. The mixture should barely hold together when formed into a cake.
Preheat the broiler. (Rack should be about 4 inches from the heat source.) Lightly grease a sheet pan with butter. (Note: Before doing this, take a look at your broiler and make a visual note about where the burning elements will line up with your pan. For instance, I have two coils in my broiler, so when I greased my sheet pan with butter, I greased only the parts where I was planning on placing the crab cakes, which would eventually line up with the two heating elements in the broiler. Hope that makes sense.)
Portion your crab mixture into 8 cakes. I use my 1/4 cup measuring cup as a portioner and my hands to gently form the cakes. Place cakes on sheet pan and chill in the refrigerator for about 15 minutes.
Brush each cake with melter butter. Broil five minutes. Serve with lemon wedges and tartar sauce on the side if desired.
Make the tartar sauce: Place all ingredients in a bowl. Stir. Taste. Adjust accordingly.
Prep Time:

10 minutes

Cook Time:

5 minutes
This post may contain affiliate links. Please read my disclosure policy.