Acrobatic Granola Bars
This post may contain affiliate links. Please read my disclosure policy.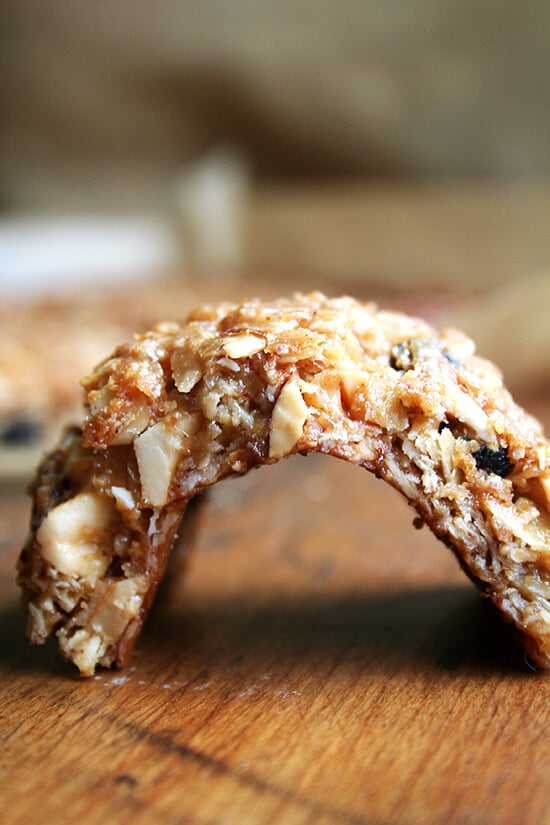 At batch 25, I discovered what I wanted a granola bar to be able to do for me: a backbend. No, no — it's not just that I'm overcome with Olympic spirit and am counting the seconds till I see tumblers spinning across my tv. Well, that too, but it's mostly that I've realized that a granola bar that can hold a backbend without falling apart has just the chew I like.
Over the past few months, many experimentations with various recipes have led to the below formula, which yields a chewy, not-too-sweet bar that can be stored at room temperature in ziplock bags (in contrast to some bars, which require refrigeration to maintain their shape.) During this granola bar-making journey, I've gathered elements from many recipes along the way but from three in particular: Sara's granola bars on Food52 inspired the use of almond butter, which doesn't dominate in flavor the way peanut butter does; the Barefoot Contessa's recipe inspired the base mixture of oats, coconut, and sliced almonds in nearly the same ratio as her granola recipe, which is my favorite; and an All Recipes' recipe inspired the ratio of the "glue" that binds the bars together.
These bars are nearly perfect for me, but that's not to say they'll be perfect for you. The "best" granola bar is kind of a personal thing, and if you care to start experimenting, I have one little tip that might help you out: commit to a base mixture and make a big batch of it. As soon as I resolved that oats, almonds and coconut would be my base, I mixed up a big batch and stored it in a ziplock bag. With this base on hand, whipping up new variations of the bars became effortless.
One final note: I am loath to admit that the "glue" in these bars contains corn syrup. Obviously you don't have to use it if you are opposed. The corn syrup can be replaced with honey, which I can promise will produce just as delicious a granola bar. I just can't promise it will produce any backbends. It's your call.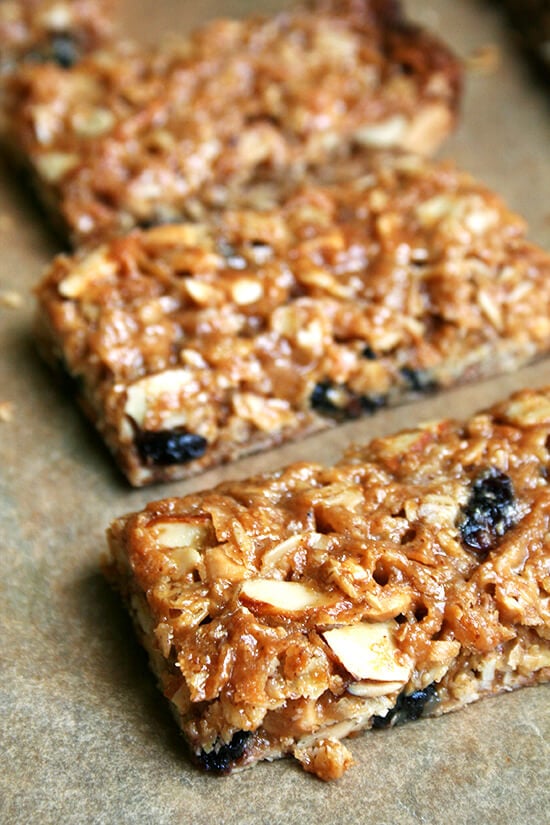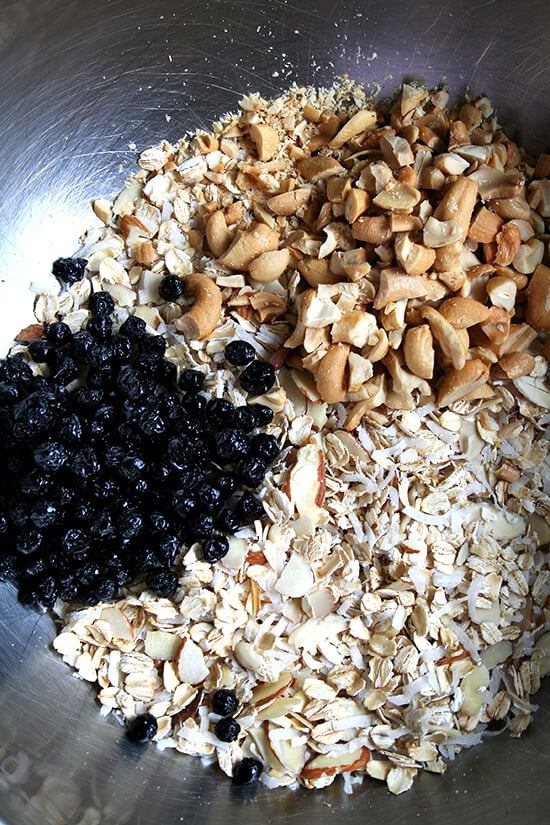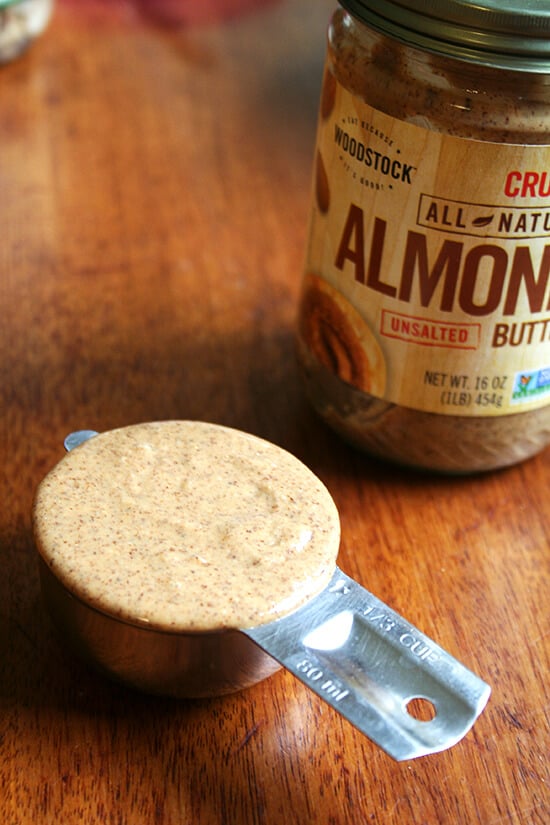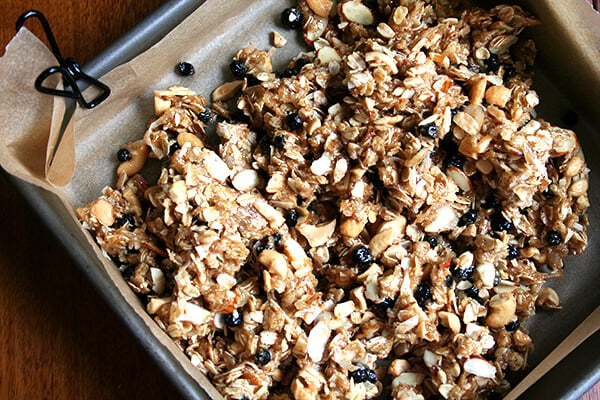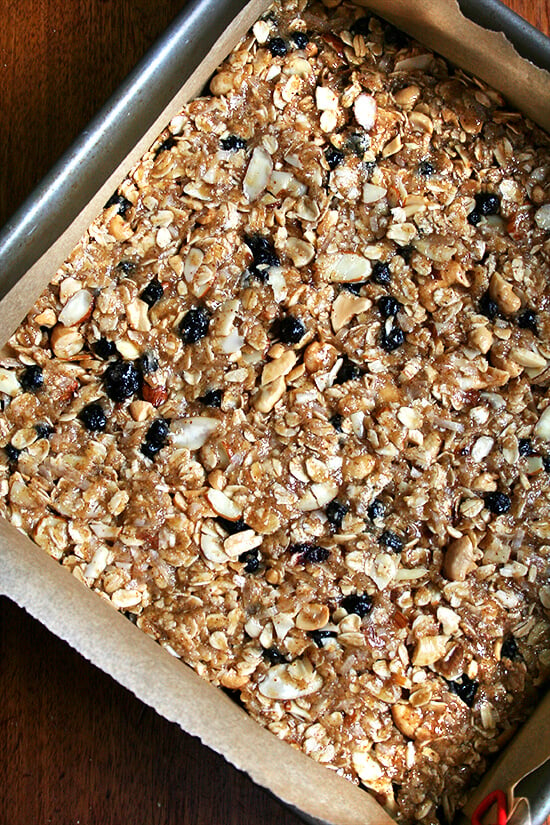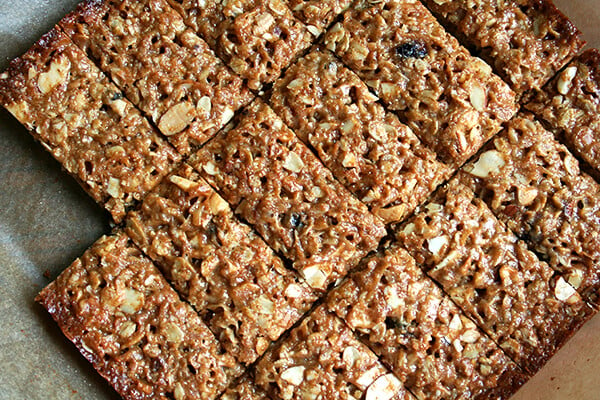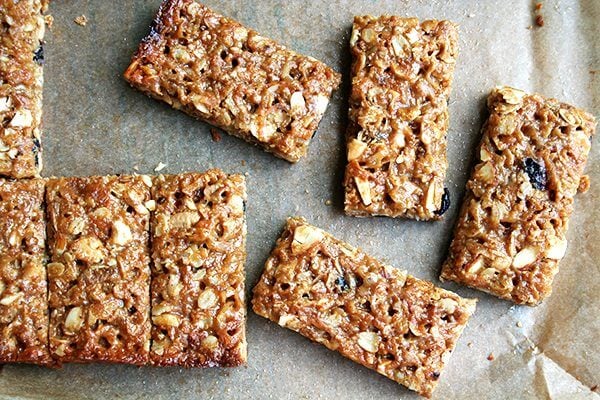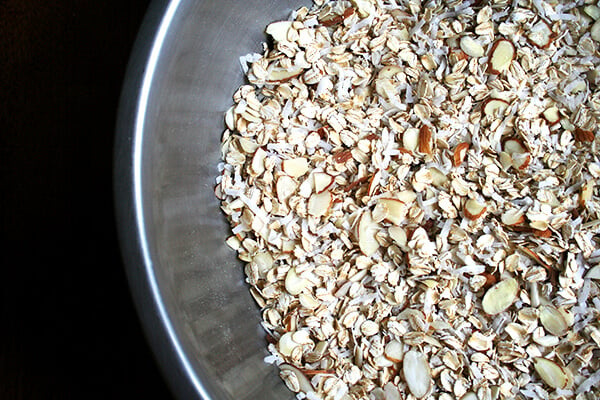 Note: I have supplied a "recipe" for a big batch of the granola bar mix, which I have been keeping on hand to facilitate easy experimentation. I use two cups of the mix per batch of granola bars, but if you don't feel like making a big bag of mix, I have provided the smaller quantities that comprise the two cups in the recipe below.
Print
Chewy Granola Bars
---
Total Time:

60 minutes

Yield:

18 bars per batch
Granola Bar Mix:
4 cups

rolled oats

2 cups

sliced almonds

2 cups

sweetened coconut
Granola Bars:
1/4 cup

unsalted butter, melted

6 tablespoons

brown sugar (

1/4 cup

+

2 tablespoons

)

1/3 cup

almond butter or peanut butter (I prefer almond butter. PB definitely dominates.)

1/4 cup

corn syrup (or honey, just know that the honey might not provide as chewy a texture as you might like)

1 teaspoon

vanilla extract
2 cups

of the above mix (or use

1 cup

of rolled oats +

1/2 cup

slivered almonds +

1/2 cup

sweetened coconut)

3 tablespoons

wheat germ (toasted or untoasted)

3/4

or 1 teaspoon kosher salt (I use

1 teaspoon

, but if you are sensitive to salt, perhaps start with 3/4)

1/2 cup

chopped cashews* (I used toasted and unsalted)

1/4 cup

dried fruit**
* Almonds, walnuts, hazelnuts, pistachios — pick your favorite** In the photos, I used dried blueberries, which I thought I was going to love, but which I found to be a little too overpowering. I prefer dried cranberries and raisins, but imagine cherries, apricots, dates and figs would work nicely, too.
---
Instructions
For the mix:
Combine all in a bowl. Place in a ziplock bag until ready to make the granola bars. (As noted above, this bag will yield 4 batches of granola bars.)
For the bars: 
Preheat oven to 350ºF. Lay a piece of parchment paper over a 9×9-inch baking pan so that it will cover the bottom as well as the sides of the pan. Press the paper into the pan to line it. (If you can secure the parchment paper to the pan with clips, it will help when you are spreading the batter into the pan.)
Melt the butter (if you haven't already), then add it to a small mixing bowl along with the brown sugar, butter, corn syrup and vanilla.
In a large mixing bowl, add the granola bar mix (or the noted smaller quantities of oats, almonds and coconut) along with the wheat germ, salt, cashews and dried fruit. Toss with your hands to combine. UPDATE: I just made a batch this morning (7-17-2012), and this time I pulsed all of these dried ingredients (cashews and dried cranberries included) in the food processor. I like the texture of the baked bar when the ingredients have been pulsed briefly. It's your call. You lose a bit of the chunky texture, so if you like that, maybe try one batch with the dry ingredients pulsed and another batch with them not pulsed. Also, you don't want to purée the ingredients so that they start clumping together. The nuts and dried berries should still be in coarse pieces. (See photo below.)
Add the wet ingredients to the dry ingredients and mix with a spatula until nicely combined. Spread into prepared pan and flatten. Bake for 20 to 25 minutes or until lightly browned on top. (The longer you bake it, the firmer the final bar will be. It might take a batch or two for you to realize what texture you prefer.) Remove from oven and let cool on rack for 25 minutes. Pull up on the parchment paper and remove the block from the pan. Lay it on a cutting board and cut the bar into pieces. Let cool completely before storing.
Prep Time:

10 minutes

Cook Time:

25 minutes
Update 7-17-12: In the batch I made this morning, I pulsed the ingredients briefly in the food processor. I like the texture of the baked bar when the ingredients have been pulsed briefly and will be doing this from here on out.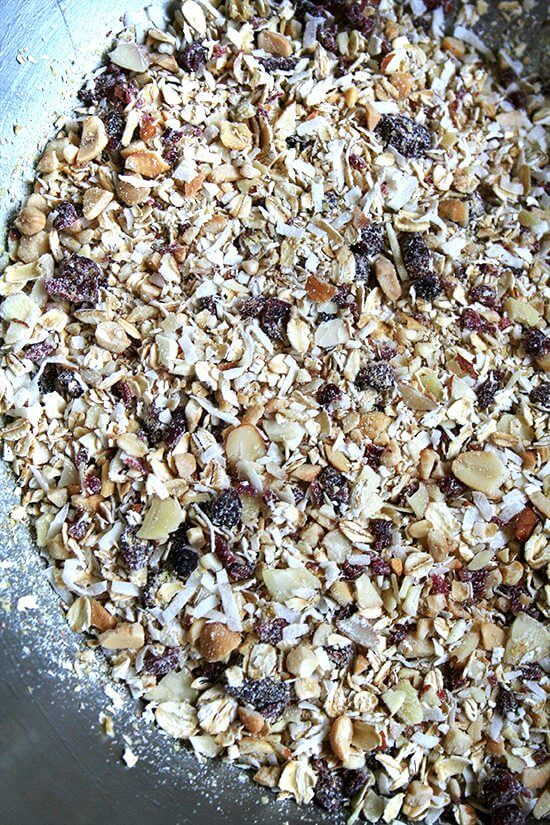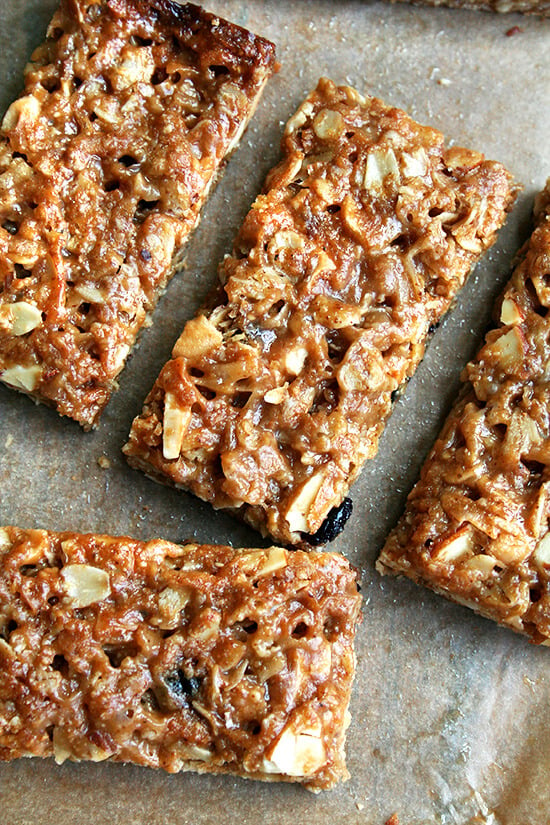 Sorry. Couldn't resist.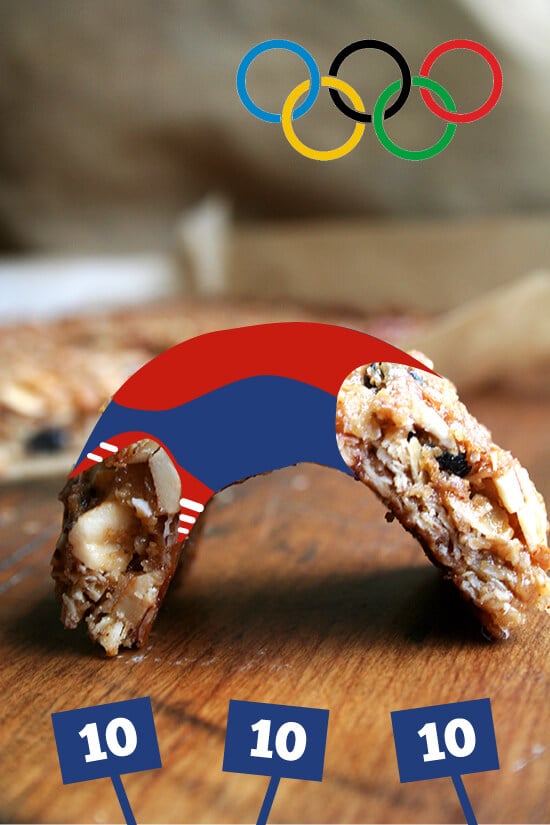 This post may contain affiliate links. Please read my disclosure policy.