Grilled Chicken Caesar Kale Salad & Piadines, sort of
This post may contain affiliate links. Please read my disclosure policy.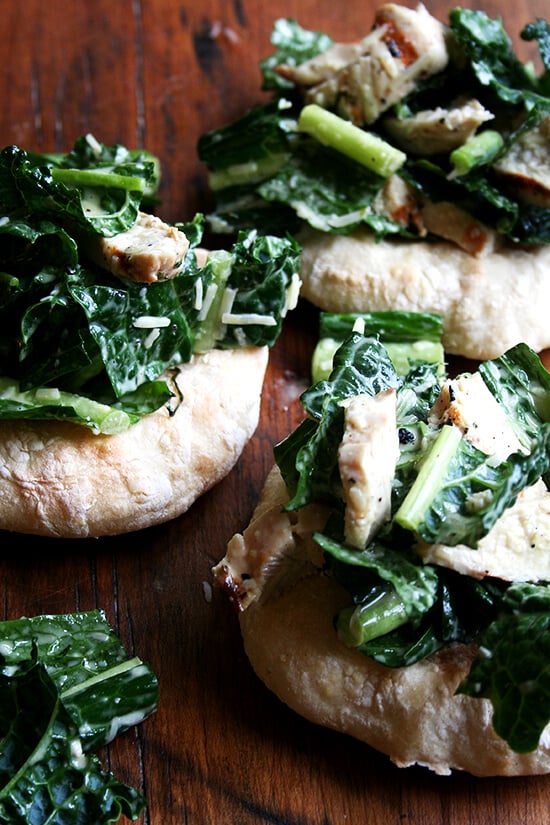 On May 25th, I pressed the "on" button on my food processor. I haven't turned it off since. It's just been going going going, churning out bowlfuls of the kitchn's magical one-ingredient ice cream, batches of Bittman's one-minute mayonnaise, and mason jars full of Darcy's pesto.
The latest addition to the food processor's regimen is caesar dressing, made in the same fashion as the Bittman mayonnaise, through the teeny hole of the food pusher insert. It works like a charm, and I've discovered that if I give the processor bowl a quick little rinsey rinse immediately after I'm finished using it, it's as if I never dirtied it. Umpteen parts? No big deal. Back onto its base it goes; onto the next job it moves.
Anyway, I'm planning a dinner party and thought it might be fun to make little flatbreads — "piadines" I saw them called in a Michael Chiarello cookbook — piled high with caesar salad — boring, I know, but perhaps made interesting by kale — tossed with sliced grilled chicken breasts — boring, I know, but safe. I love this kind of thing, when bread and vegetable and meat are all wrapped up in one casual, fun, summery, light dish.
As you can see, I gave this idea a little test run, and while I still think it has potential, my piadines need a little bit of work. They puffed way up in the oven, almost like pita bread, making them better suited for falafel or chicken souvlaki. I'm looking for something thin thin, as my grandmother would say, and not too crisp but a little less imposing than what I made here. Despite the shape of the bread, however, the combo was delicious, and fortunately, I still have some time to experiment. In the meantime I might just run a few more things by you.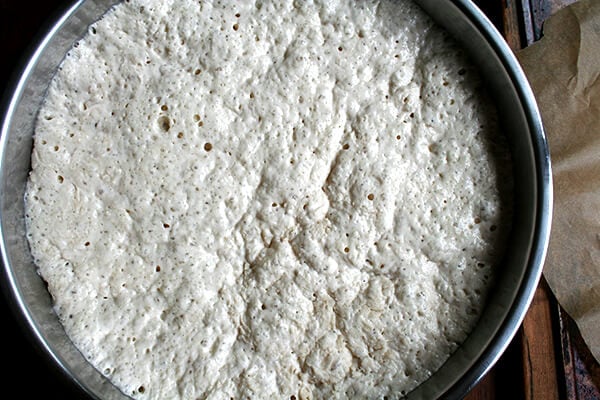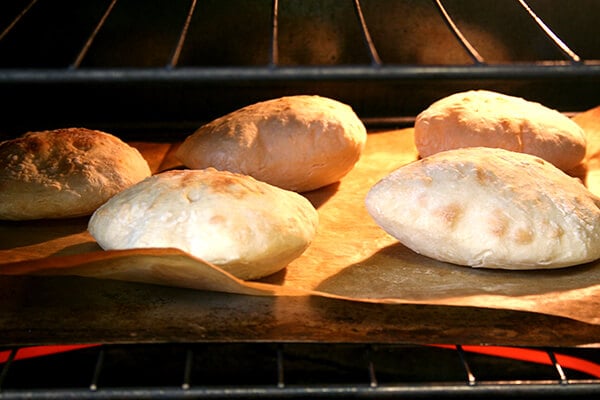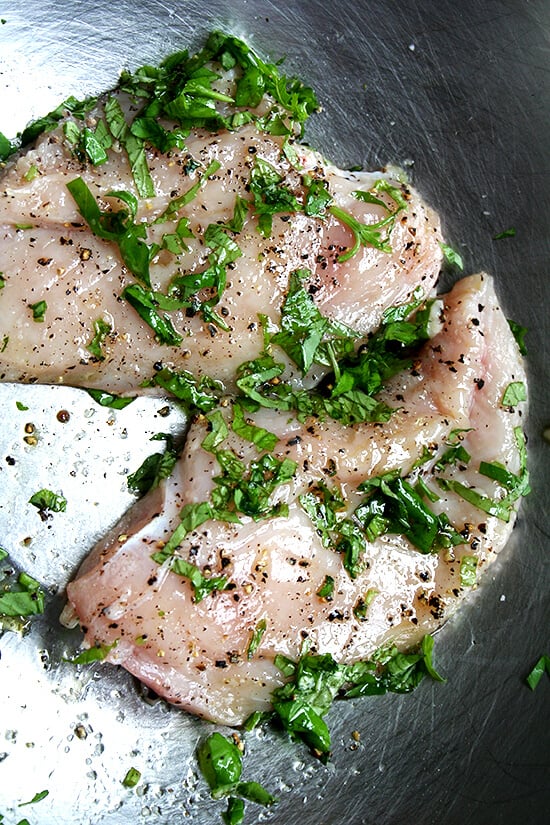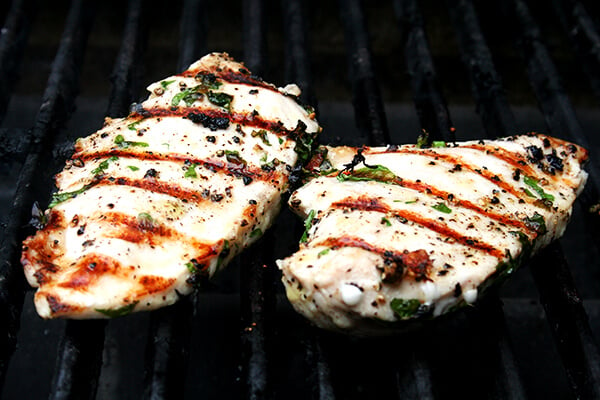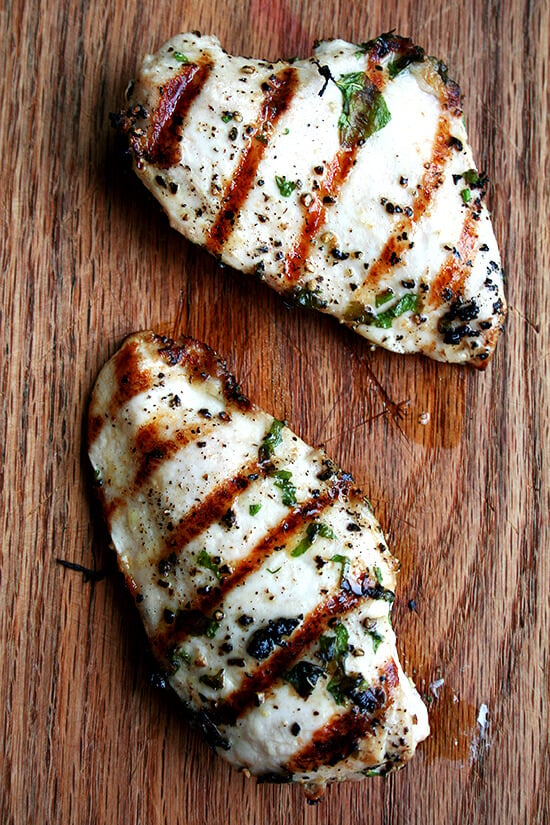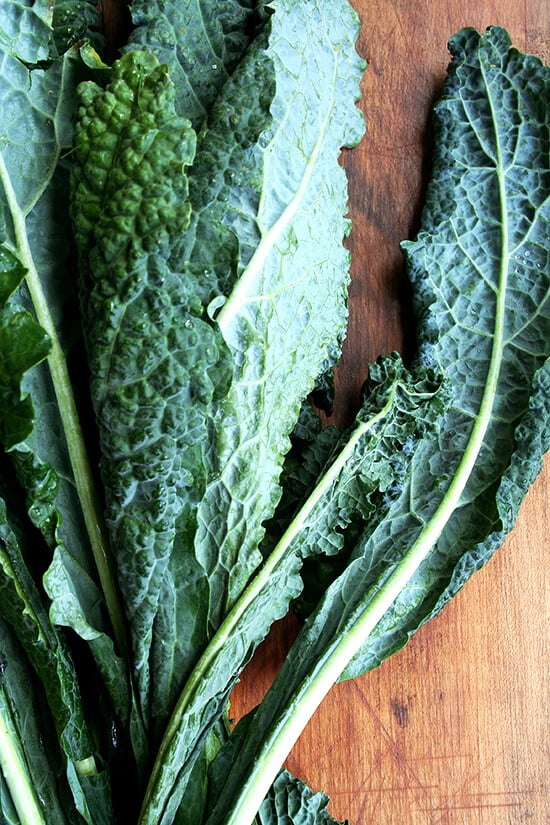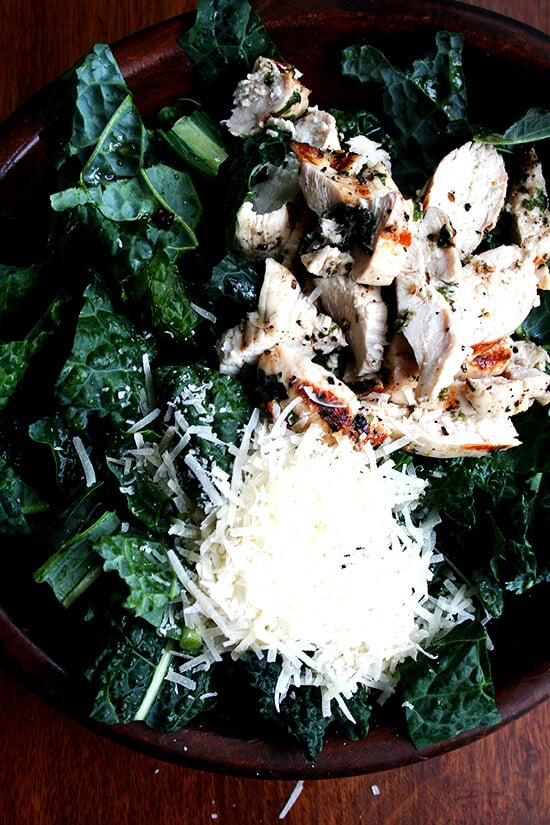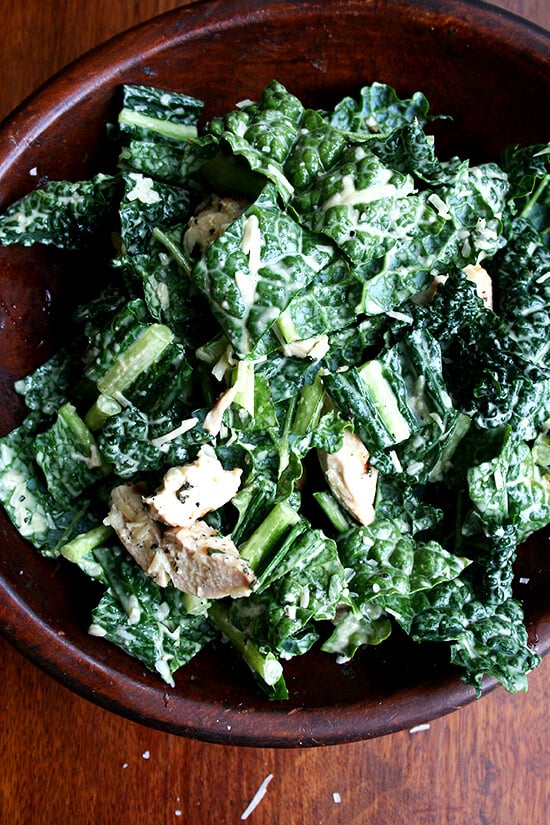 Print
Grilled Chicken Caesar Salad Piadines:
---
Description
Notes: As I mentioned above, my piadines are not quite there. They were delicious, just not flat. I used the Lahey No Knead Pizza Dough, which I adore, and which I think might work if I handle the dough a little more aggressively — next time I might even use a rolling pin to remove as many air pockets as possible.
What's great about something like this for a party is that nearly everything can be prepared ahead of time: kale washed, cheese grated, dressing made, chicken grilled (though it is nice when the chicken is freshly grilled). And with everything prepped, the salad can be assembled in seconds while the flatbreads are baking.
---
Jim Lahey No Knead Pizza dough or your favorite pizza/flatbread/piadine dough portioned into 3-oz balls
kale, washed and torn into salad-sized pieces
freshly grated parmigiano reggiano
caesar dressing (recipe below)
grilled chicken breasts (recipe for two below), sliced
---
Instructions
Preheat the oven to 500ºF. Stretch or roll dough balls into 5-inch rounds. Place on a parchment-lined sheet pan. Bake for 7 to 8 minutes or until lightly golden.
Meanwhile, place kale in a salad bowl with grated parmigiano and sliced grilled chicken breast. Toss with dressing to taste. Taste. Adjust seasoning accordingly.
Remove flatbreads from oven. Place one on each plate. Pile high with salad.
Prep Time:

5 minutes

Cook Time:

8 minutes
---
Print
Food Processor Caesar Dressing
---
Total Time:

10 minutes

Yield:

1.25 cups
3

cloves garlic

3

anchovies
pinch kosher salt

1

egg yolk

1/4 cup

white balsamic vinegar*

1 cup

extra-virgin olive oil
*Lemon juice is obviously more traditional, but white balsamic has a nice flavor, and using vinegar is also easier than juicing lemons… forgive my laziness.
---
Instructions
In the bowl of a food processor, pulse the anchovies, garlic and salt until finely puréed. Add the yolk and quarter cup of white balsamic. Pulse until blended. With the machine running, add the oil in a slow, steady stream. (Your food processor should have a teeny hole in the food pusher insert in the top). When an emulsion forms you can add it a little faster. (Again, the little hole makes this unnecessary.)
---
Print
Grilled Chicken Breasts
---
Total Time:

15 minutes

Yield:

2 breasts; serves 4 when sliced for a salad
2

chicken breasts
kosher salt
freshly ground black pepper
fresh herb of choice — I like basil
olive oil
---
Instructions
Preheat the grill to high. Season chicken breasts all over with salt and pepper. Toss with the fresh herb. Rub lightly with oil. Grill for 2 to 2.5 minutes a side if breasts are smallish. Let rest for five minutes before slicing.
This post may contain affiliate links. Please read my disclosure policy.