A Sprouted Kitchen Feast
This post may contain affiliate links. Please read my disclosure policy.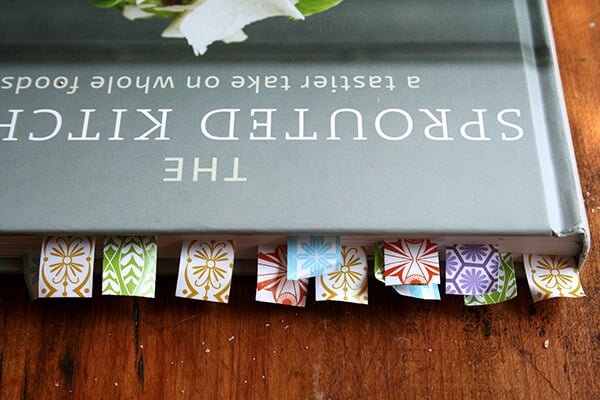 I couldn't make a decision. And my attempts to organize my thoughts — adhering cute page flags to particularly tempting recipes — proved futile. In the midst of this frenzied state of drooling and tabbing, drooling and tabbing, my mother arrived at my doorstep with a bucket of feta (that's normal, right?), a branch of oregano, and a dozen figs. And at once, my vision for our dinner became clear.
As my mother unloaded her basket of goodies into my pantry and fridge, I waved pages of The Sprouted Kitchen cookbook in front of her. Over every image we ooheh and ahhed; over every title we yummed and mmmmed. My mother soon understood my predicament: everything — from the roasted wild cod with meyer lemon and caper relish to the roasted tomato soup with cheesy toasts to the mushroom and brown rice veggie burgers — looked and sounded incredibly enticing.
But thanks to the ingredients my mother had just delivered, the decision was easy: dinner would be mediterranean baked feta with olives and roasted plum tartines with ricotta, substituting figs for the plums and my mother's peasant bread for the wheat baguette — I never pass on my mother's peasant bread. And having just read that Sara, the book's author, encourages readers to "use the recipes as a starting point and to omit or add ingredients according to preferences," I felt OK making a few changes. Figs seemed a suitable stand-in for plums, and Sara in fact recommends pears or persimmons in the fall. Yum.
We soon set to work mixing dough, slicing onions, halving tomatoes, making ricotta, mincing garlic and chopping parsley. And before we knew it, we had the makings of a beautiful spread, as colorful as Hugh's (Sara's husband) photos, as promising as Sara's recipes.
The book, while not a small-plate cookbook, offers lots of wonderful ideas in this category. As I flipped through the pages, the recurring thought was: This would be fun for a party. And it makes sense as one of Sara's goals for the book is to "share recipes that are simple enough to make after work but interesting enough to serve at a dinner party." She certainly has achieved this. We have now eaten the baked feta with a hunk of bread twice this week for dinner — it is so good — and I have never been so eager to invite some friends over for dinner to show them my new tricks. The fig tartines, which disappeared in record time, lit up the table.
Beautifully photographed, thoughtfully written, the book is sure to inspire whoever comes across it. The Sprouted Kitchen cookbook is now available for purchase.
Preparing the baked feta: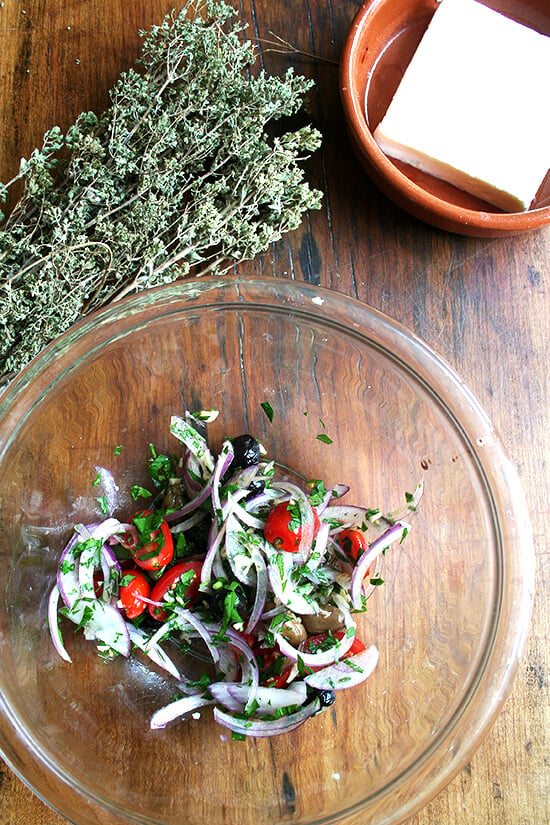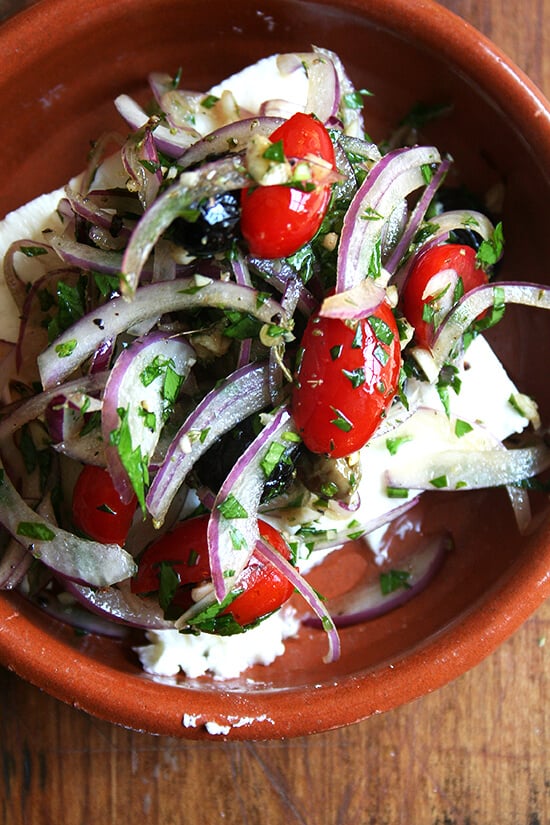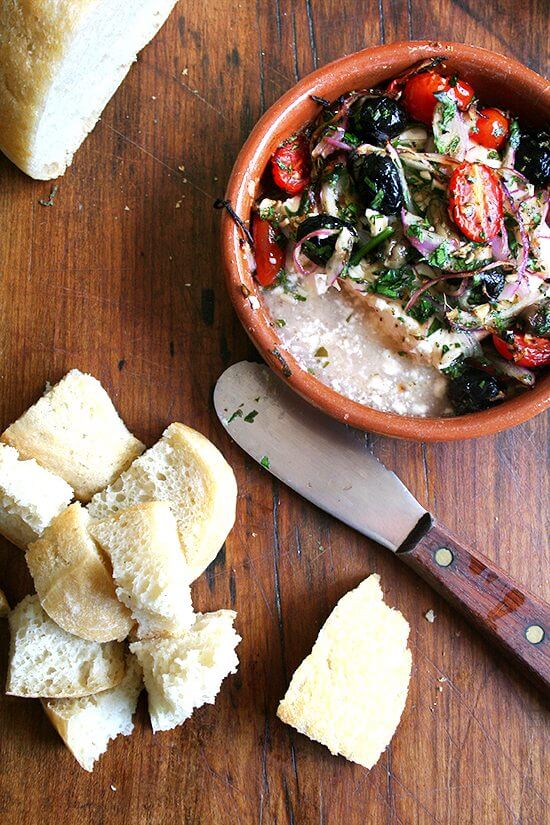 Preparing the roasted fig tartines: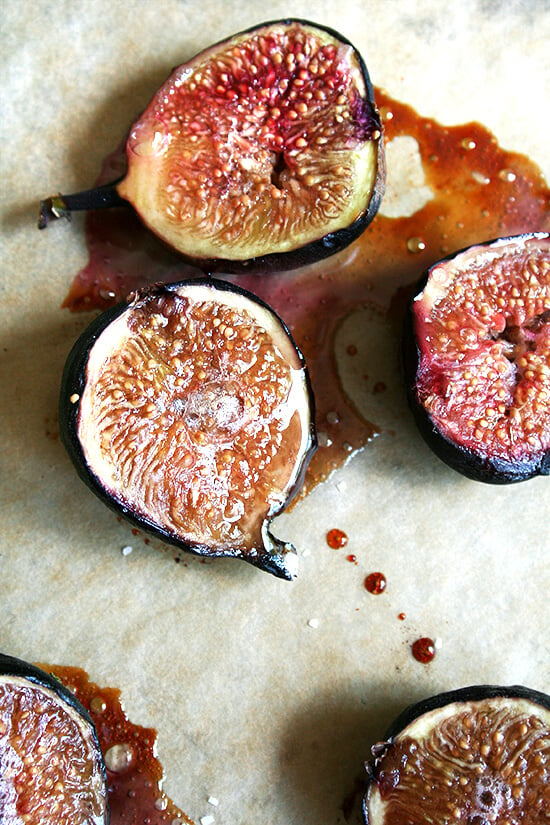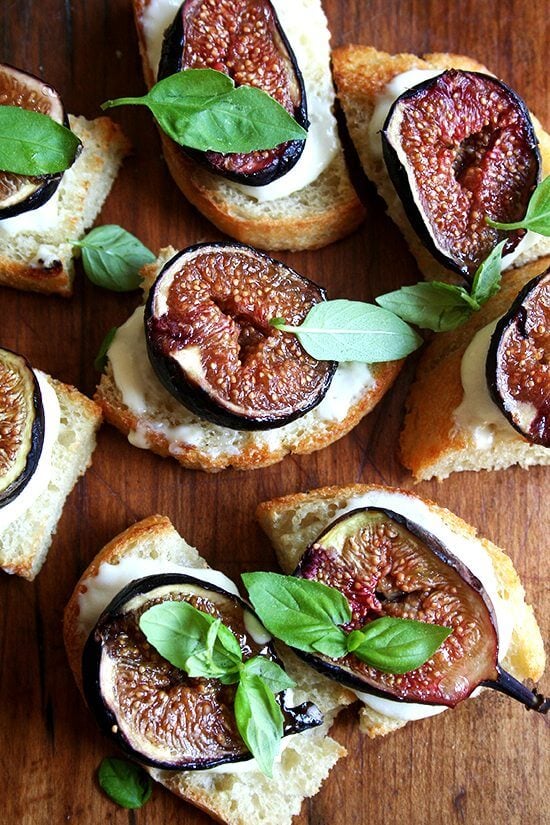 Bucket of feta: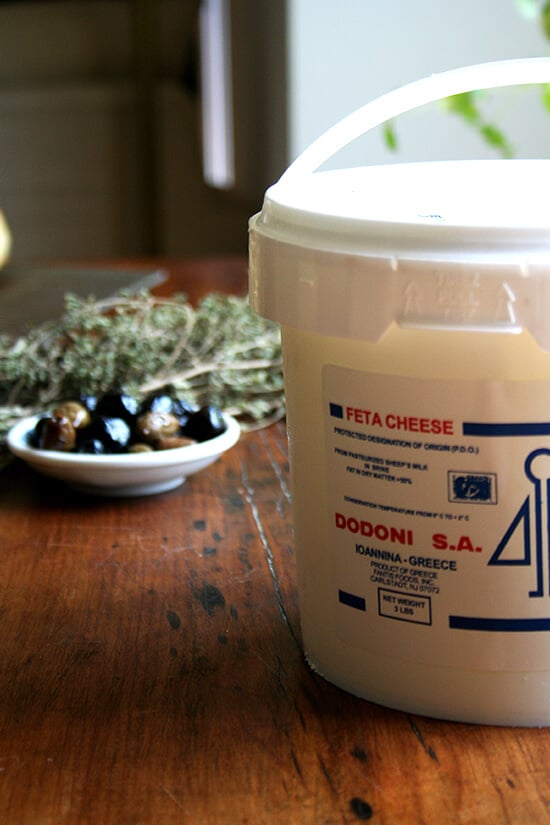 Mom's bread:
Recipes:
Print
Roasted Plum (or fig) Tartines
---
Description
Source: The Sprouted Kitchen
Note: I've supplied the recipe here just as it is written in the book so that you can take a look and make your own adjustments accordingly. As I noted above, I used figs in place of the plums, but roasted them exactly the same — with honey and salt for about 20 minutes. Also, I made homemade ricotta, which is so easy and delicious, and omitted the parmesan and chopped chives (was feeling a little lazy). Finally, I used fresh basil in place of the microgreens.
---
6

ripe plums
sea salt and freshly ground pepper

2 tablespoons

honey, warmed

1 1/3 cups

ricotta cheese

1/4 cup

freshly grated Parmesan cheese

3 tablespoons

chopped chives

1

whole grain baguette

1 cup

microgreens for garnish
---
Instructions
Preheat the oven to 350ºF and line a baking sheet with parchment paper.
Cut the plums into quarters (if using figs, cut them in half) and remove the pits. Gently toss the plum pieces with a pinch of salt and the warm honey. Spread them on the prepared baking sheet, cut side up. Bake until the edges are crisped and caramelized, 20 to 25 minutes. Remove from the oven and let cool.
While the plums are baking, in a bowl, stir together the ricotta, Parmesan, chives, 1/4 teaspoon salt, and a few grinds of pepper.
Turn the oven up to 500ºF. Slice the baguette in half lengthwise. Place the halves, cut side up, on a baking sheet and bake the bread just until toasty, 4 to 5 minutes. Spread the ricotta mixture evenly on both halves and return to the oven just until warmed through, another 1 to 2 minutes. Evenly distribute the roasted plums on top of the cheese. Finish with a few grinds of pepper and garnish with the greens. Cut each baguette half into slices on the diagonal. Serve warm or at room temperature.
Prep Time:

10 minutes

Cook Time:

30 minutes
---
Print
Description
Source: The Sprouted Kitchen
Note: Once you make this once, you'll never need a recipe again. The quantity of the olive salad is dependent on how much feta you choose to warm up. I baked my block (as opposed to grilled) and served it with warm bread. Heaven.
---
1

(8- to 10-ounce) block of feta

1 cup

assorted baby tomatoes, halved

1/3 cup

Kalmata olives, pitted (I didn't…lazy) and coarsely chopped

1/4 cup

thinly sliced red onion

1

clove garlic, minced

2 tablespoons

finely-chopped fresh flat-leaf parsley

1 teaspoon

dried oregano

1 teaspoon

olive oil
Freshly ground black pepper
Crackers, pita chips, or crostini, for dipping
---
Instructions
Heat your grill to medium-high or preheat the oven to 400ºF. Set the block of feta in the middle of a piece of foil for grilling or in a small ovenproof baking dish twice the size of your block of cheese for baking.
In a bowl, mix the tomatoes, olives, onion, garlic, parsley, oregano, olive oil and a few grinds of pepper.
Pile the tomato mixture on top of the feta. For grilling, fold up the edges of the foil so that it will hold in any liquid as it cooks; put it straight on a grill; heat for 15 minutes to warm it through. For baking, put the baking dish in the oven and bake for 15 minutes. It will not melt, just get warm and soften.
Remove from the grill or oven and serve the dip hot with the crackers, pita chips, or crostini.
Prep Time:

5 minutes

Cook Time:

15 minutes
---
Print
Description
Source: The Sprouted Kitchen
Note: This almond butter is SO good. If I wasn't afraid that I might burn out my Cuisinart's motor, I would start making this for gifts immediately. I used maple syrup in place of the honey because I am obsessed with this particular Justin's Nut Butter, but now that I know how to make it, there's no going back.
---
2 cups

raw almonds

1 teaspoon

oil, such as almond, unrefined peanut or extra-virgin coconut (I used coconut and more than a teaspoon)
sea salt

1 1/2 teaspoons

cinnamon (I omitted)

2 tablespoons

honey or maple syrup
---
Instructions
Place the almonds in a food processor or Vitamix and process for about 1 minute. Add the oil, 1/4 teaspoon of salt, and the cinnamon. Continue to process for another 8 to 10 minutes, scraping down the sides of the food processor or Vitamix as needed. You will see a change in consistency from crumbs, to big clumps, to a large ball. Finally, as the oil is released from the almonds, the mixture will smooth itself out. If you want it even smoother, add a bit more oil.
When it is as smooth as you'd like it, stir in the honey or maple syrup. Add more salt to taste and transfer to a glass jar. It will keep covered in the fridge for up to 6 weeks. (I kept mine at room temperature. It disappeared in three days.)
Maple almond butter spread on no-knead oatmeal toasting bread: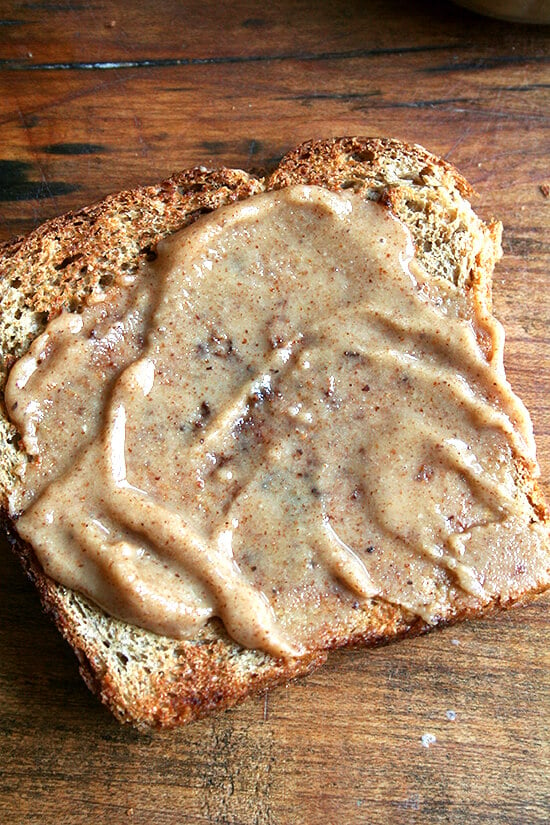 This post may contain affiliate links. Please read my disclosure policy.