French Apple Tart & Cinnamon Snails
This post may contain affiliate links. Please read my disclosure policy.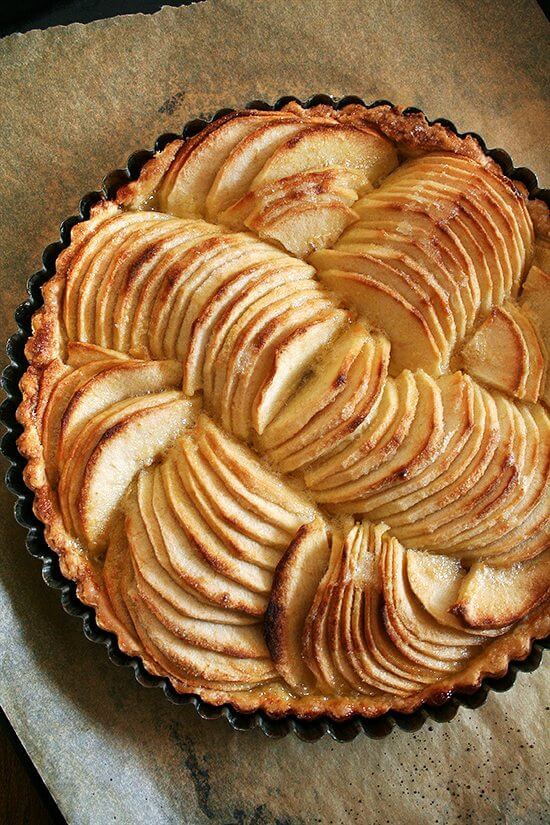 If you struggle with anger management, this post might be a good one to skip. Just send it straight to your trash can if you're reading via email; just skip back to the grilled cheese or the French toast, if you've happened upon here via google. At apple-rosette attempt three, I envisioned flinging this tart frisbie style straight into my tv; at apple-rosette attempt five, I imagined raising it above my head, slamming it straight down, and splattering it all over my kitchen floor.
Fortunately — and I never imagined saying this — I have a child that drives me to read self-help books. I put myself in a timeout for two minutes (grossly ignoring the minute-per-year-of-age rule, which would have had me sitting for half an hour), during which I took a few deep breaths and told myself to let the apple rosettes go.
When I came out of my quiet time, ready to be a nice girl again, I set to work. Within minutes the tart shell brimmed with fanned apple slices, not quite so pretty as Saveur's, but pretty nonetheless. And best of all, not too pretty to eat.\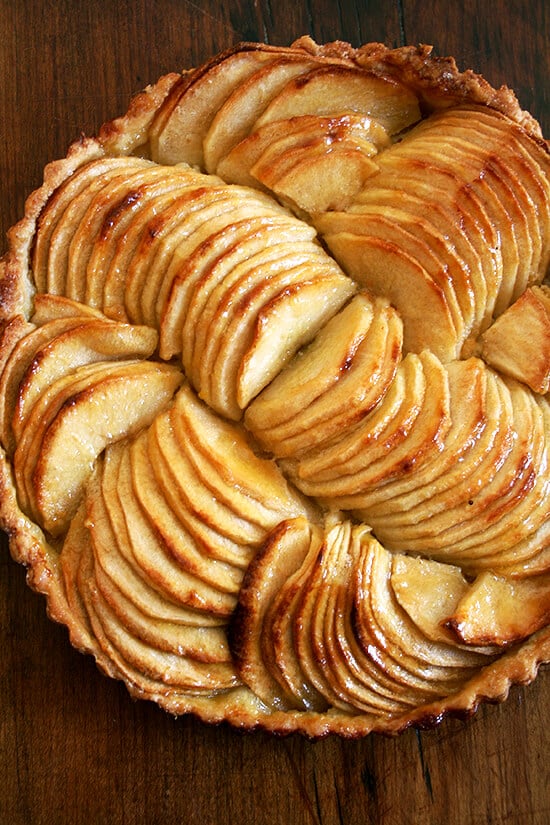 In the Cuisinart, this tart dough comes together in seconds: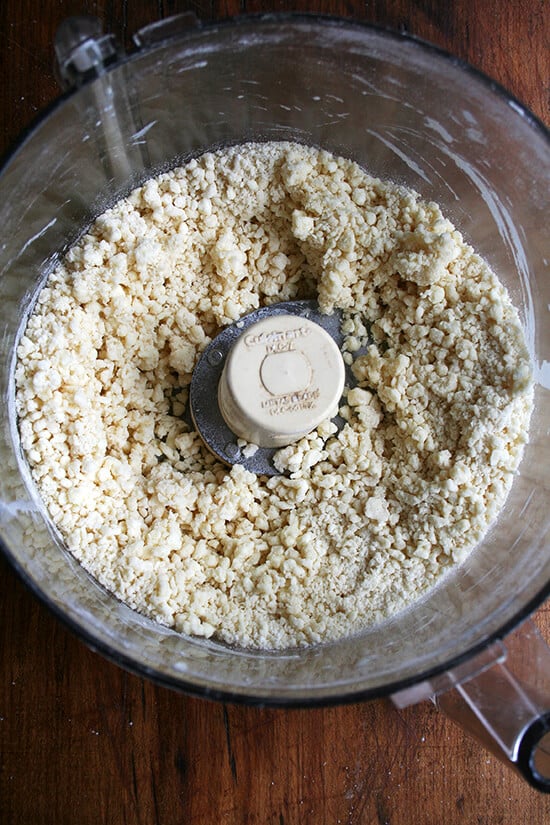 Just as I set out to work, someone ran off with my tart pan. Fortunately, I have another.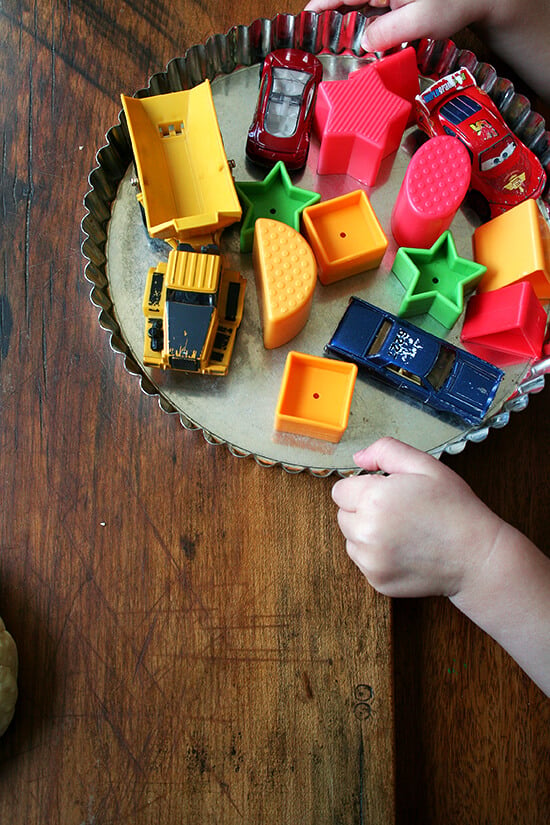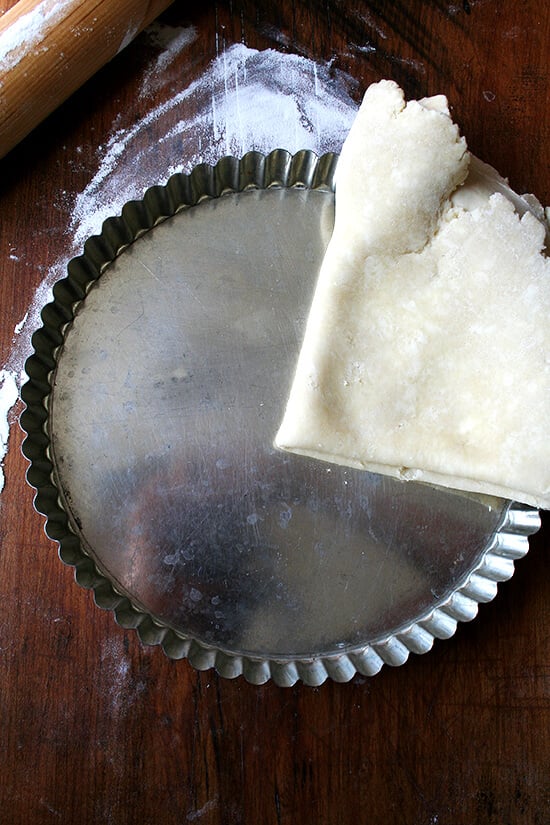 Both the dough and the assembled tart shell must chill for one hour, which allows for plenty of time to peel and slice the apples as well as to make the cinnamon snails with the leftover dough.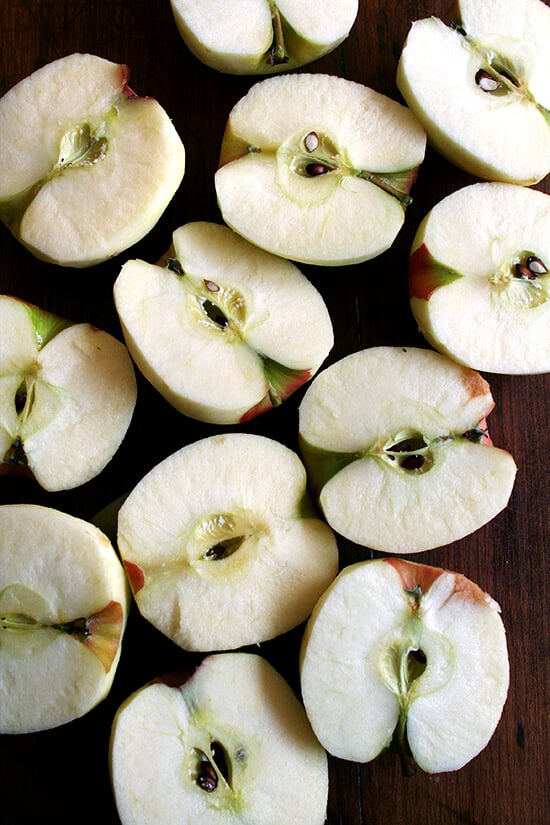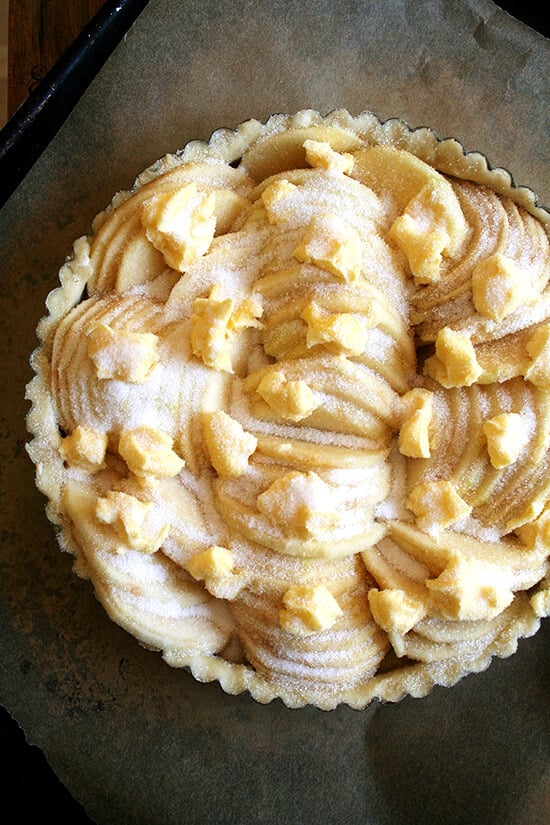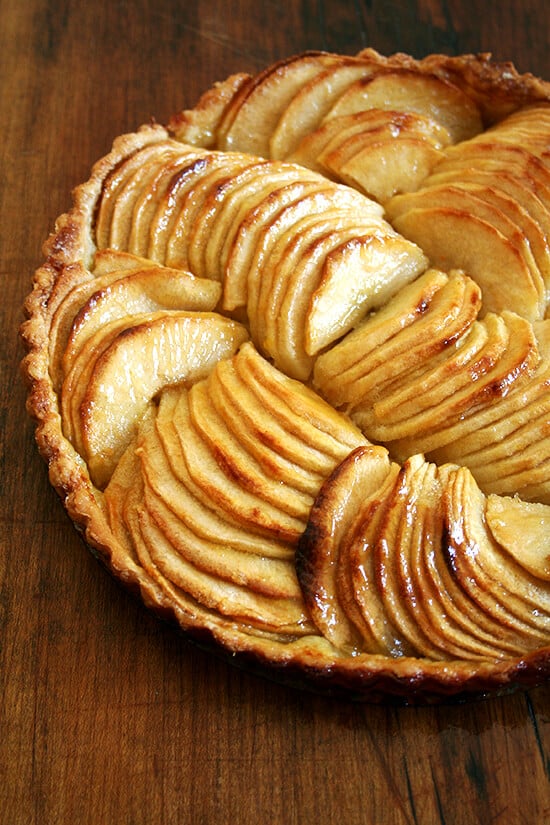 Making the cinnamon snails: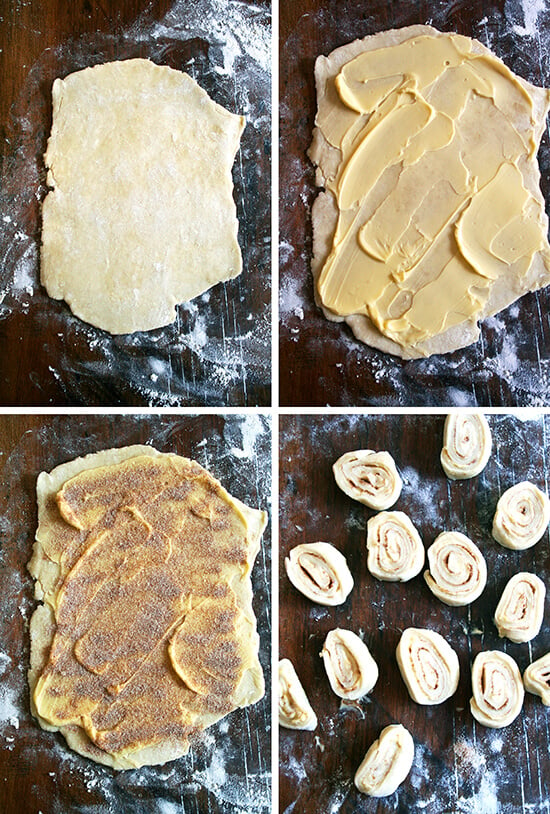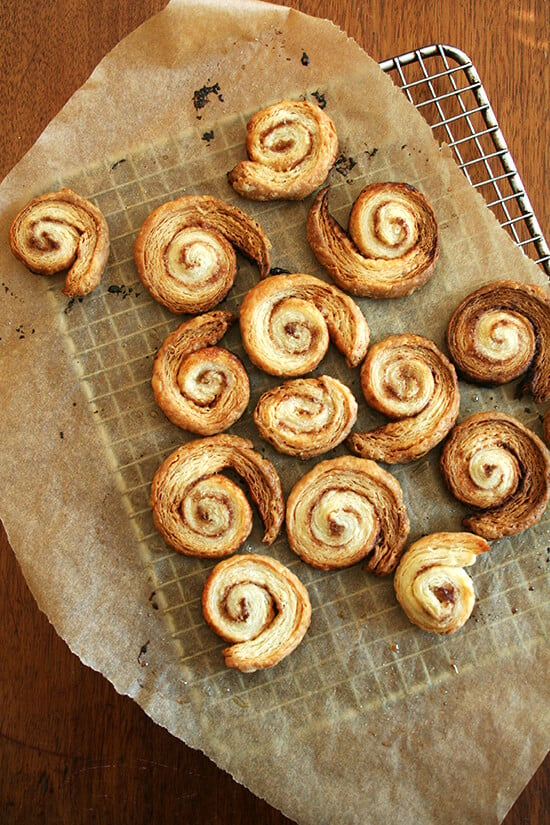 Print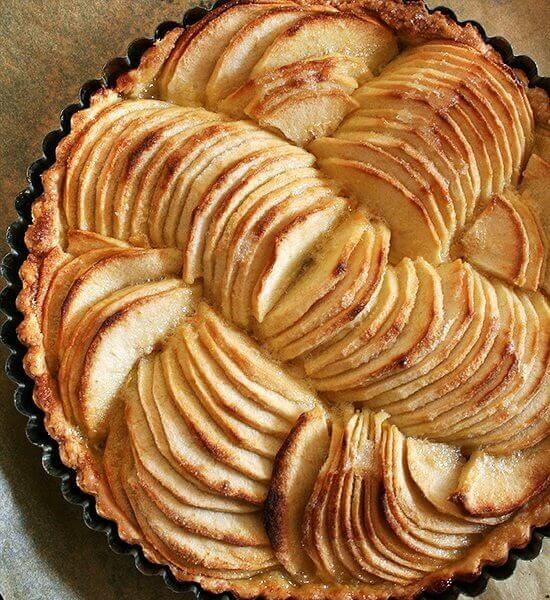 French Apple Tart
---
Description
Inspired by Saveur.
Notes:
To make Cinnamon Snails: Roll out pie dough scraps into a rectangle. Spread with a layer of butter. Sprinkle generously with cinnamon and sugar. Roll into a spiral. Cut crosswise into slices. Bake at 375º for 10 to 15 minutes — just keep an eye on them; they brown quickly at the end.
If you have extra frangipane, broil a slice of brioche, flip it over, broil it now spread with extra frangipane topped with apple slices sprinkled with sugar until it's golden and delicious. Yum.
While the apricot glaze gives the final tart a nice sheen, I prefer it without it.
---
1 1/4 cups

flour, plus more for dusting

1 tablespoon

sugar (optional — this is my addition. I love a little sugar in a tart shell.)

12 tbsp

. unsalted butter, cubed and chilled, divided

1/4 tsp

. table salt

5

to

7

apples, such as Honey Crisp, Fuji, or Pink Lady, peeled, cored, and halved

1/4 cup

sugar
for the frangipane, (optional):
1/2 cup

almond flour

2 tablespoons

sugar
pinch salt

2 tablespoons

butter at room temperature

1

egg (small if possible)

2 teaspoons

vanilla, rum, brandy or bourbon
for finishing:
1/2 cup

apricot jam, optional (not recommended)
Whipped cream or vanilla ice cream, for serving
---
Instructions
Making the pastry: Combine flour, sugar, 8 tbsp. butter, and salt in a food processor and pulse until pea­-size crumbles form, about 10 pulses. Drizzle in 3 tbsp. ice­-cold water and pulse until dough is moistened, about 3 to 4 pulses. (Do not pulse so much that the dough forms a mass — see the photo above with the food processor. It will clump together when you form it into a disk.) Don't wash the food processor!
Transfer dough to a work surface and form into a flat disk; if you aren't using it immediately, wrap it in plastic wrap and refrigerate for up to three days. Otherwise, transfer dough to a lightly floured work surface. Using a rolling pin, flatten dough into a 13″ circle and then transfer to a 11″ tart pan with a removable bottom; trim edges; chill for 1 hour. (Note: My tart pan is 9 inches, but I still roll it out to about 13 inches.)
Combine almond flour, sugar, salt, butter and egg in the dirty bowl of the food processor. Pulse until combined, then add vanilla or alcohol. Purée until smooth.
Heat oven to 375º. Spread a thin layer (about 2 tablespoons) of the frangipane across the bottom surface of your tart shell. Working with one apple half at a time, thinly slice into sections, keeping slices together. Press sliced apple half gently to fan it out; repeat with remaining apple halves. Place 1 fanned apple half on outer edge of the tart dough, pointing inward; repeat with 7 more apple halves (or as many as you are able to fit — with a smaller tart pan, you won't be able to fit as many). Separate remaining apple slices. Starting where the apple halves touch and working your way in, layer apples to create a tight rose pattern. Fill in any gaps with remaining apple.
Sprinkle with sugar (I do not use the full 1/4 cup. Use as much or as little as you like. If your apples are really sweet, you won't need a full 1/4 cup; if you're using a 9-inch tart pan, you also likely won't need a full 1/4 cup.) Dot with remaining butter — this seems like a lot of butter, and you certainly could cut back, but I think it adds flavor. Bake until golden brown, 60—70 minutes. (I do 70.)
If you're doing the apricot glaze: heat apricot jam in a small saucepan until warmed and loose; pour through a fine strainer into a small bowl and set aside. Transfer tart to a wire rack; using a pastry brush, brush top of tart with jam. Let cool completely before slicing and serving with whipped cream.
Prep Time:

25 minutes

Cook Time:

70 minutes

Category:

Dessert

Method:

Oven

Cuisine:

French
Keywords: french, apple, tart, fall, baking, dessert
This post may contain affiliate links. Please read my disclosure policy.