"10-Minute" Butternut Squash Sauce with Pasta (Vegan Option)
This post may contain affiliate links. Please read my disclosure policy.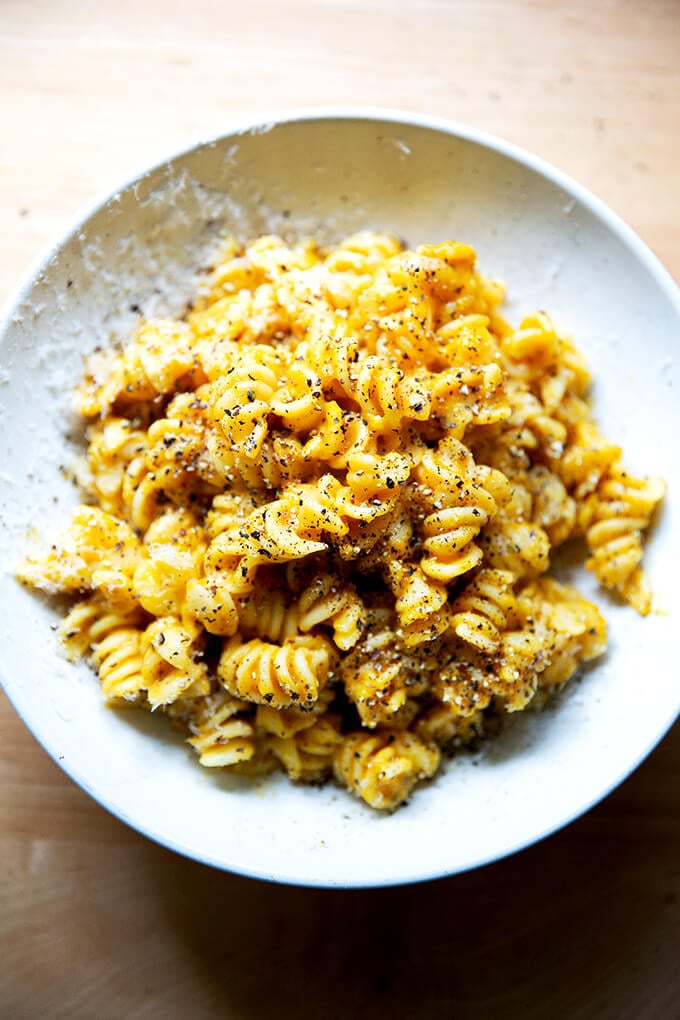 This butternut squash pasta sauce, the recipe for which hails from the November 2006 Gourmet, tastes rich and creamy, but it's actually incredibly light, a simple purée of simmered butternut squash, onion, sage, water, and a little olive oil or butter for richness.
The original recipe calls for a cup of parmesan, but I find I can get away with using much less — the sauce is super flavorful without it or with a handful tossed in just before serving. Butternut squash is known for producing the silkiest, smoothest soups, so it's no surprise it makes a creamy (cream-less!) sauce for dressing pasta, too.
When I make this for my children, I use butter and a little parmesan on top. It tastes like mac n' cheese but tastier. They gobble it up.
When I make it for my friends with various allergies and dietary preferences, I use olive oil and pass parmesan or cashew parmesan (nutritional yeast pulsed with cashews, sea salt, and spices) on the side to keep it dairy-free and vegan.
Kids and adults alike adore this one! You can also use the sauce to make a baked penne — see this recipe: Baked Penne with Butternut Squash-Sage Sauce
What's more? It's fast.
Featured in the "10-minute mains" page of Gourmet, it has nearly lived up to its promise: 10 minutes is a bit of a stretch, but with a little finesse — puréeing the squash and onions in the food processor — the sauce can come together in just under 20 minutes. And if you're good at multi-tasking and set a pot of water onto simmer while your sauce cooks, your dinner can be done, start to finish, in that same time frame.
The rub with this method? You have to wash the food processor. I use the method outlined below, which takes just a wee longer, but which leaves me with fewer dishes.
This is an especially good one to make when the butternut squash and bundles of sage start arriving at the market or in the farmshare or CSA. It's a perfect fall pasta dish, at once hearty, comforting, healthy, and light.
PS: Slow-Cooker Butternut Squash and Apple Soup
PPS: Butternut Squash and Cider Soup with Herbed Flatbread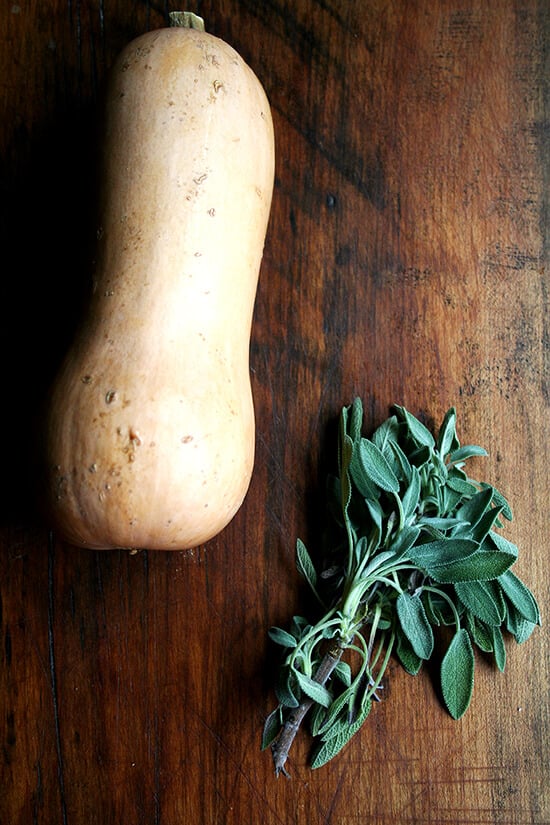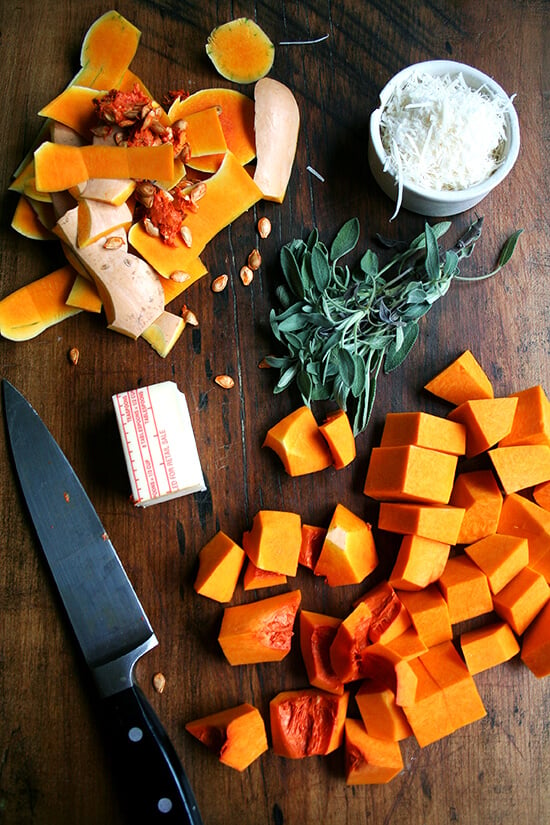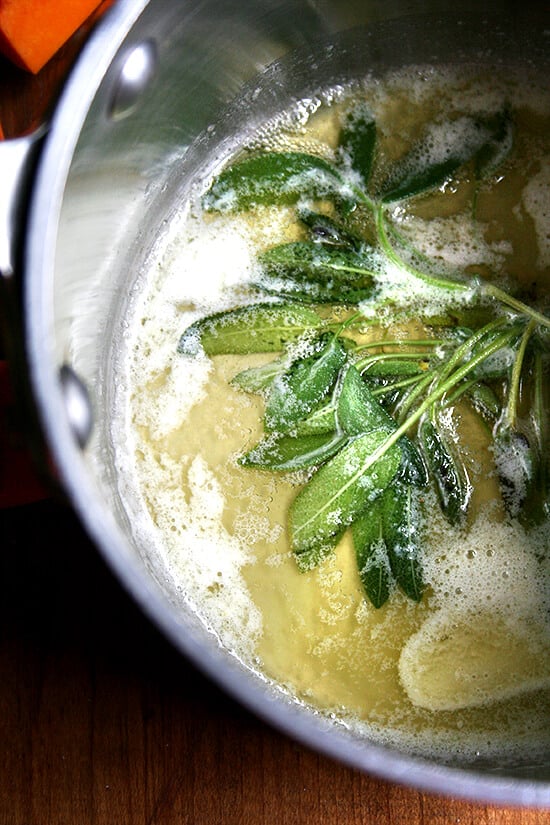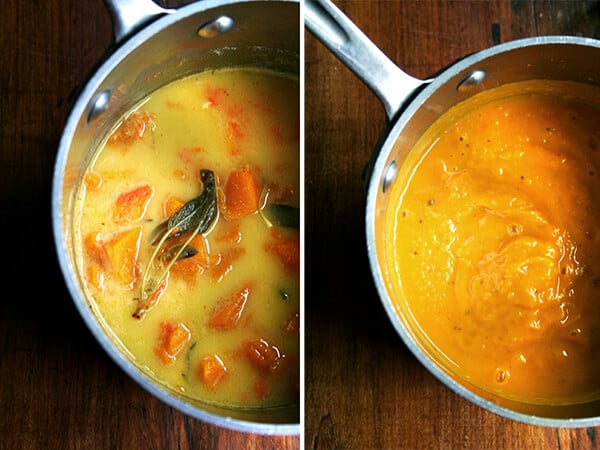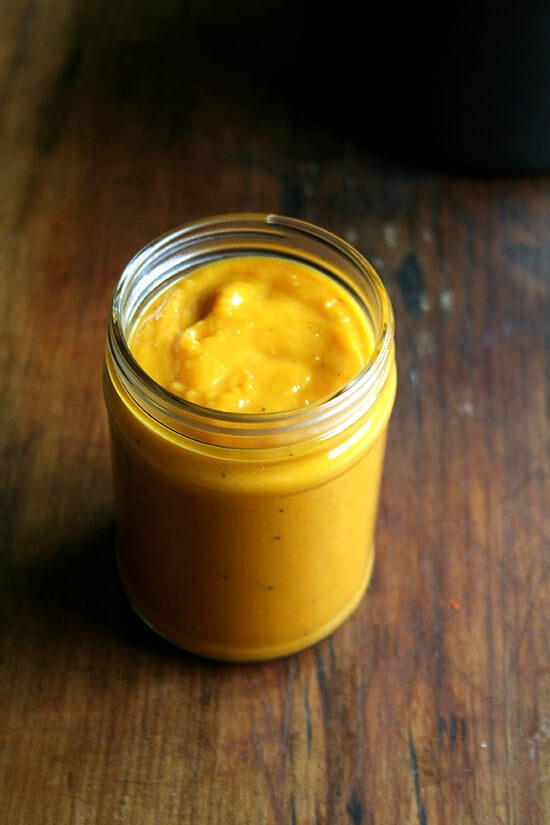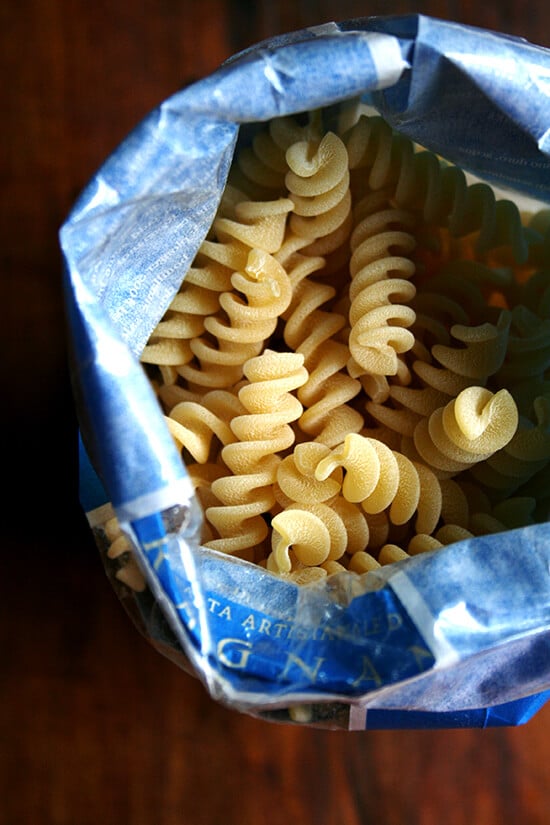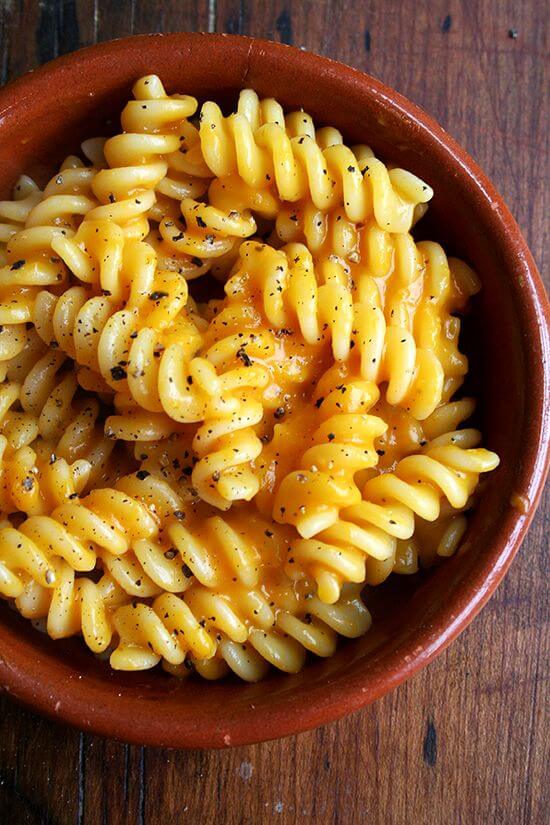 Print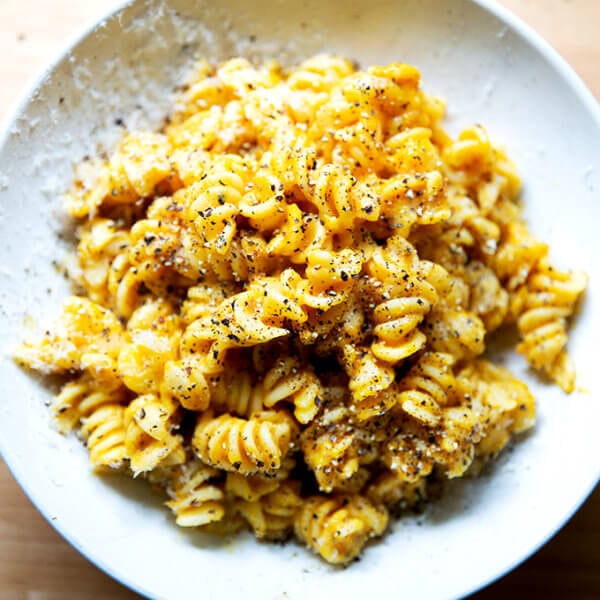 10-Minute Butternut Squash Sauce with Pasta (Vegan)
---
Description
Source: Gourmet 2006
This recipe appeared in the "10-minute mains" section of Gourmet and thus calls for processing the raw squash and onion in a food processor. If you truly want to get this down to the 10-minute range, follow the instructions here.
Otherwise, the method described below takes just a wee longer, and if you have an emersion blender, your clean-up will be super fast, too. To turn this into a soup, thin with a little chicken or vegetable stock, water, or coconut milk until it's the consistency you like.
The original recipe calls for adding a cup of parmesan, which I never have done, because it tastes so deliciously creamy on its own. To make it vegan, use olive oil in place of butter, and sprinkle it with cashew parmesan — this stuff is so good. 
---
For the butternut squash pasta sauce:
1

lb (about) peeled butternut squash pieces (about

4 cups

)

1

small onion, diced (about

1 cup

)

4 tablespoons

unsalted butter or olive oil (for vegan variation)

1 tablespoon

finely chopped fresh sage 
kosher salt
freshly cracked black pepper, to taste
freshly grated nutmeg, optional
For serving:
1

to

2

ounces (

1/2

to

1

cup) finely grated Parmigiano-Reggiano or cashew parmesan (to make it vegan)

1

lb penne rigate or rotini or whatever pasta shape you like
---
Instructions
Heat butter or olive oil in a 5- to 6-quart heavy pot over moderately high heat, then add chopped sage and cook until fragrant, about 15 seconds. Add cubed squash, diced onion, 2 cups water, 1 teaspoon salt, and pepper to taste. If your squash pieces are not submerged in water, add more water just until they are barely covered. Simmer, uncovered, stirring occasionally, until squash is very tender and water has reduced considerably, about 15 to 20 minutes depending on the size of the squash pieces.
While squash mixture simmers, cook pasta in a 6- to 8-quart pot of boiling salted water with a large pinch of kosher salt until al dente. Reserve a few cups of pasta cooking water, then drain pasta in a colander.
When squash is knife tender, it's done. Turn off the heat. If you have an immersion blender, purée mixture right in pot. If you don't, transfer mixture to a food processor or blender and purée until smooth. Taste sauce. Add more salt if necessary. Add a grating of fresh nutmeg if you wish. The sauce should be thick enough to coat the back of a spoon. If it is too thin, simmer over low heat until it thickens. If it's too thick, thin with some of the reserved pasta cooking liquid until it is the right consistency. 
If you wish, stir in Parmigiano-Reggiano. (Note: I do not do this — the mixture tastes wonderful without any cheese, so I just serve the cheese on top of the pasta or I omit it if serving to vegan friends.)
Place pasta in a serving bowl. Toss with enough butternut-sage sauce to coat nicely. Add a handful of parmesan cheese. If necessary, add a little bit of the reserved cooking water to thin it out. Shave parmesan and crack pepper over each bowl before serving.
If you have extra sauce, store it in the fridge for a later date. The sauce thickens as it sits, so on subsequent uses, it will most likely be necessary to use the reserved cooking liquid to thin out.
Prep Time:

15 minutes

Cook Time:

15 minutes

Category:

Pasta

Method:

Stovetop

Cuisine:

American, Italian
Keywords: pasta, simple, butternut, squash, sage, vegan
This post may contain affiliate links. Please read my disclosure policy.