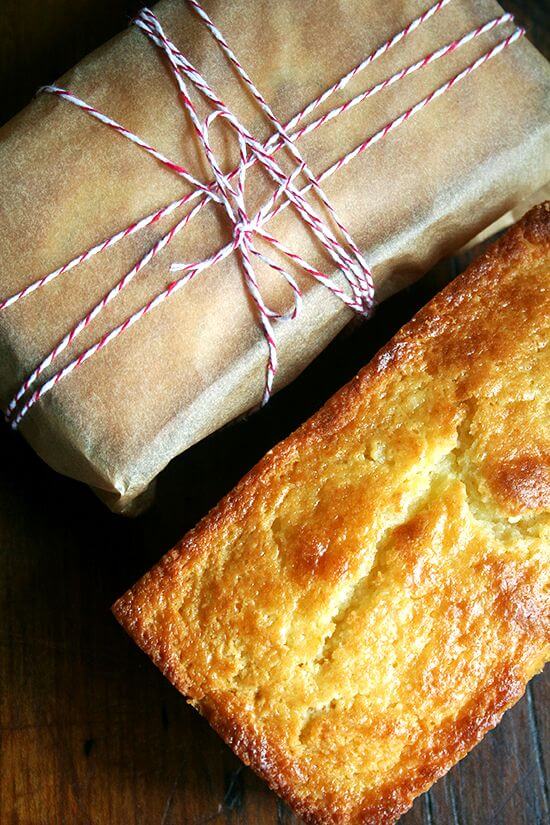 As five of us celebrated a quiet Thanksgiving down here in Virginia, the rest of my family journeyed north to Vermont to the shores of Lake Champlain for a wild gathering with my aunt and uncle. Upon returning, my mother gave me the full report: Of course, the turkey, which she had prepared, was over-cooked, gross and inedible but roasted Jerusalem artichokes saved the occasion as well as an orange-and-ricotta pound cake that her sister prepared twice during their five-day visit.
I had to make the cake immediately. My mother was right. Flavored with orange zest and orange (or almond) liqueur, this incredibly tasty and moist — thanks to a generous amount of ricotta cheese — pound cake is the perfect treat, a particularly nice afternoon snack with a cup of tea, to have on hand this time of year. It would make a lovely gift as well.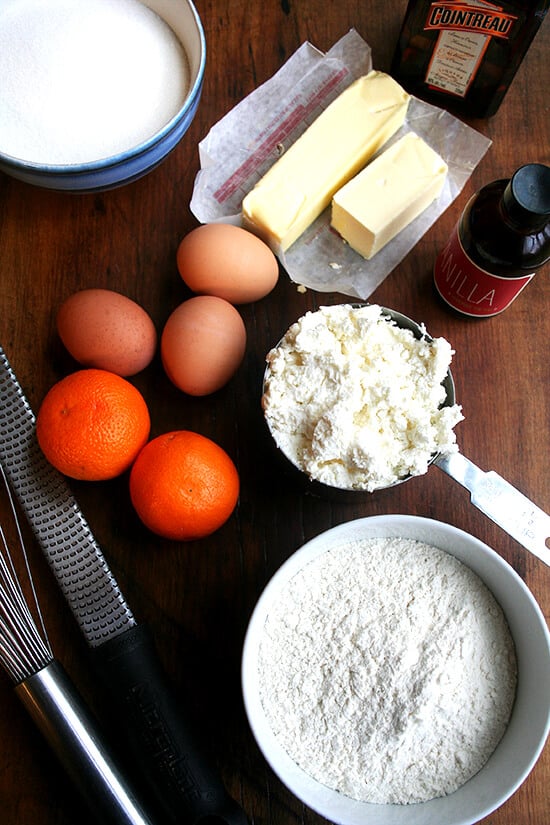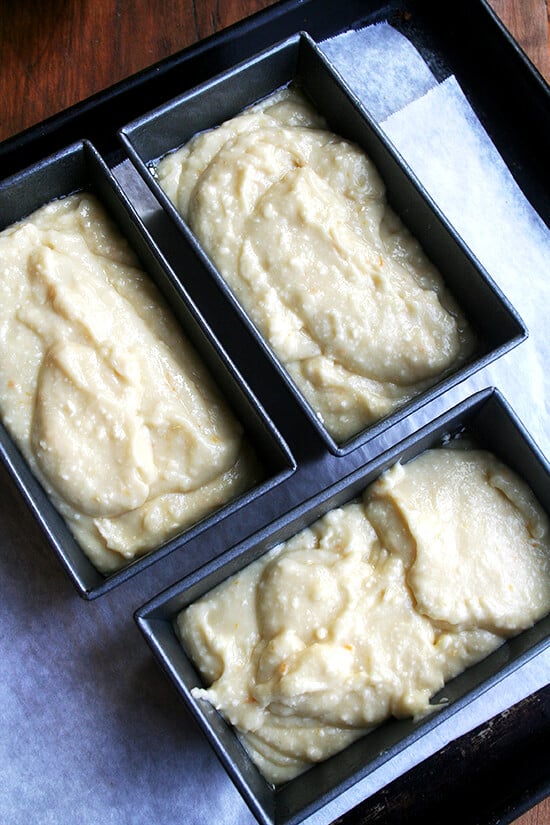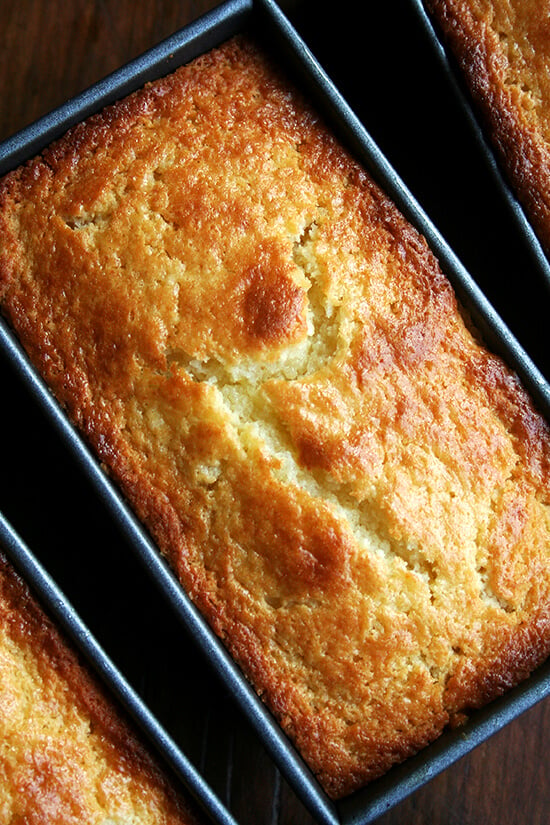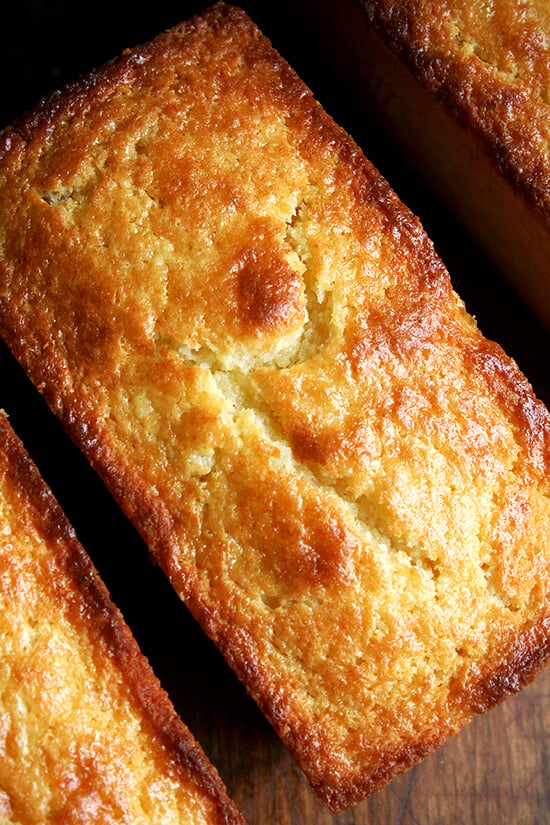 Print
Orange-Ricotta Loaf
---
Author:

Alexandra Stafford

Prep Time:

15 minutes

Cook Time:

60 minutes

Total Time:

1 hour 15 minutes

Yield:

1 9x5x3-inch loaf or three mini loaves
Description
Source: Giada De Laurentiis
** UPDATE: I've since updated this recipe to be one-bowl: it's faster and just as delicious if not more so: One-Bowl Orange-Ricotta Pound Cake **
Notes:
The first time I made this, I used an 8×4-inch loaf pan. The batter rose way above the top of the pan and spilled all over my oven. You really need to use a 9×5-inch loaf pan or something larger for this recipe, or, if you only have an 8×4-inch loaf pan, I would recommend not filling it higher than 3/4 or even halfway to be safe.
I often use three mini loaf pans, because this is a great one for gifting.
---
Ingredients
3/4 cup

(

1 1/2

sticks) unsalted butter, at room temperature, plus more to grease the baking pan

1 1/2 cup

s cake flour  or all-purpose

2 1/2 teaspoon

s baking powder

1 teaspoon

kosher salt

1 1/2 cup

s whole-milk ricotta cheese

1 1/2 cup

s plus 1 table spoon granulated sugar

3

large eggs

1 teaspoon

pure vanilla extract

1

orange, zested

2 tablespoon

s amaretto (or Cointreau or Grand Marnier)
Confectioners' sugar, for dusting (optional)
---
Instructions
Preheat the oven to 350ºF. Grease a 9-by-5-by-3-inch loaf pan (see notes above!) with butter (grease it very well). In a medium bowl, combine the flour, baking powder and salt. Stir to blend.
Using a mixer, cream the butter, ricotta and granulated sugar until light and fluffy, about 3 minutes. With the machine running, add the eggs 1 at a time. Add the vanilla, zest and alcohol until combined. Add the dry ingredients, a small amount at a time, until just incorporated.
Pour the batter into the prepared pan (Note: Do not fill pan higher than 3/4 — save extra batter to bake off in a mini pan or muffin tin … if you fill the pan higher than 3/4 you risk the batter spilling over.) and bake until a toothpick comes out clean and the cake pulls away from the sides of the pan, 45 to 60 minutes (about 35 minutes for mini pans). Let cool in the pan for 10 minutes, then transfer to a rack to cool completely.
---
Category:

Dessert

Method:

Oven

Cuisine:

Italian/American
Keywords: orange, ricotta, pound, cake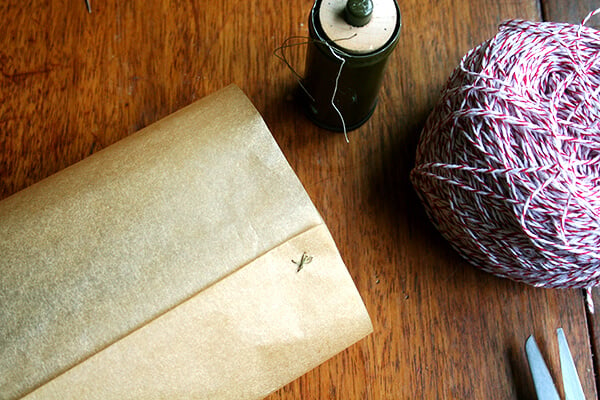 Gift Ideas
1. Anything from Fish's Eddy.
This past August, my sister and I met met up in NYC for one night to spend some quality time together before her baby arrived. After devouring prosciutto-stuffed croissants at Eataly, we started wandering and discovered Fish's Eddy along the way. Had we not had a show to get to, we would have spent the whole day there. It is SO much fun. Anything from this store would make a wonderful gift.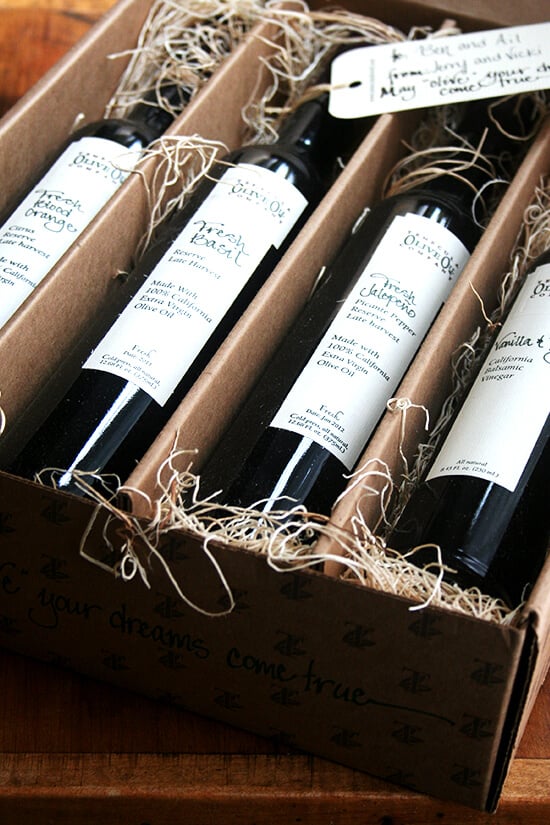 2. A selection of oils and/or vinegars from the Temecula Olive Oil Company.
It has been awhile since I've mentioned the Temecula Olive Oil Company, one of my favorite spots to visit when we lived in southern CA. Every single bottle of olive oil and vinegar that TOOC produces is as good as gold, but if I had to pick my favorite four, these would be it: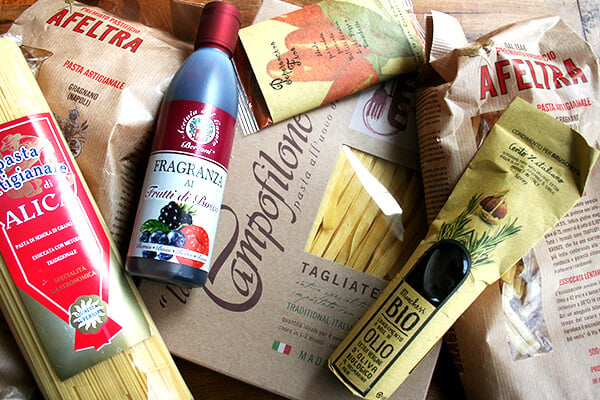 3. Pasta from Po Valley Foods.
For those of you without direct access to Eataly, don't despair: Po Valley Foods sells Afeltra pasta online. The Afeltra pasta, of course, is a treat but so are many of the other varieties, in particular the La Campofilone and the Moro Buckwheat.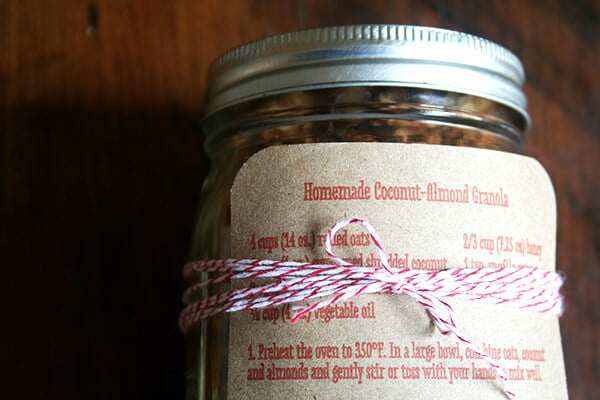 4. Homemade granola with a recipe card.
I saw this packaging idea in a Better Homes and Gardens Food Gifts issue that I picked up at Michael's last week. It's so easy to put together and it looks really cute. Also, the same packaging can be used for countless baked goods — biscotti, cookies, cookie mix, hot cocoa mix, muffin mix, Chex party mix, etc. BH&G used it for a fruit and nut oatmeal mix.
As recommended, I used kraft paper, which I purchased at Michael's, and set up my file to print four cards per page. I have a rounded corner puncher, so I used that on the corners after I trimmed them up.
I have a couple more thoughts: It's especially nice if the paper is thick. I ended up spray mounting a piece of kraft paper to a thicker piece of paper before printing, so that when I cut the cards and tied them to the jars, they didn't look so flimsy. I did not adhere the recipe card to the jar as BH&G recommends — I just secured it with the baker's twine. I am thinking it might be fun to glue a magnet to the back of the recipe card so that the recipient can stick the recipe card to his/her fridge.
I also picked up a sheet of self-adhesive cork, and I'm thinking about trying to print directly on it, but I'm also scared about ruining my printer. I'll keep you posted.
Also, if you cut a circle from your kraft paper to cover the top of the jar, you could use the space to write a note or adhere a cute holiday bell or wreath or candle or something.
5. Julia Child notecards and/or holiday cards.
There is now a holiday card in two colors in the Julia Child notecard collection. They can be purchased here. (Update: apologies … notecards are not available at this time. Contact me with questions, thanks!)
6. Homemade vanilla extract.
Remember that vanilla you started steeping back in July? Well, it's time to bottle it up and wrap it in ribbon.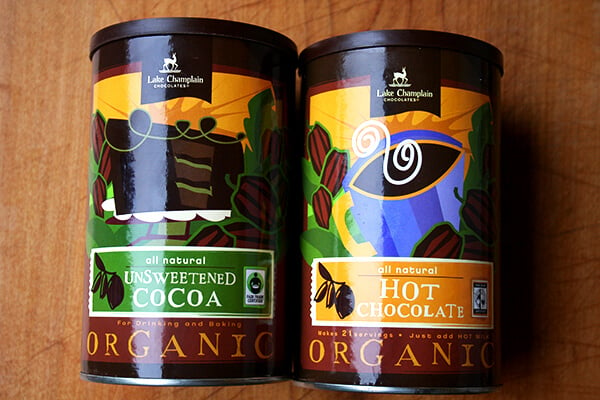 7. Lake Champlain Fair Trade cocoas.
I only just discovered these cocoas from Lake Champlain Chocolates. The hot chocolate would make a wonderful gift for anybody, but the unsweetened cocoas would be especially nice for any baker.
8. Chef's Electrolytic Cleaning Plate plus a box of washing soda.
This isn't very exciting, but if you hate polishing silver so much that any silver you own stays hidden for nobody to enjoy, this is something you should try. It is really kind of magical. This is what you do: fill up your sink with the hottest water you are able to get out of the tap; add washing soda; add electrolytic plate; add silver, making sure the silver touches the plate; rinse; dry; inspect; repeat if necessary.
Tarnished silver:

polished silver:

This book kept me up till the wee hours of the morning. It is nearly impossible to put down once you start. Gabrielle Hamilton's story is as incredible as her writing. There are so many memorable anecdotes that I want to share — that I've wanted to share since I read the book this summer — but I don't want to spoil anything. It's such a great read.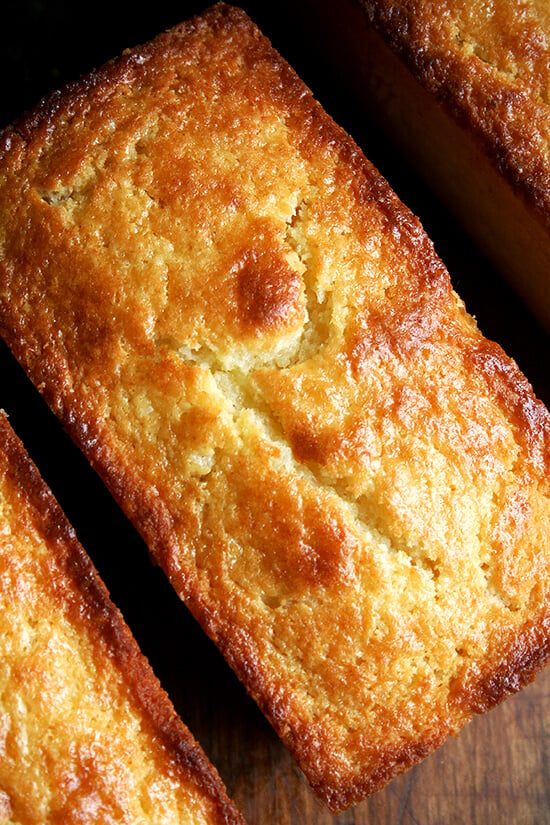 10. The above-pictured orange-ricotta Loaf or any homemade goodie.