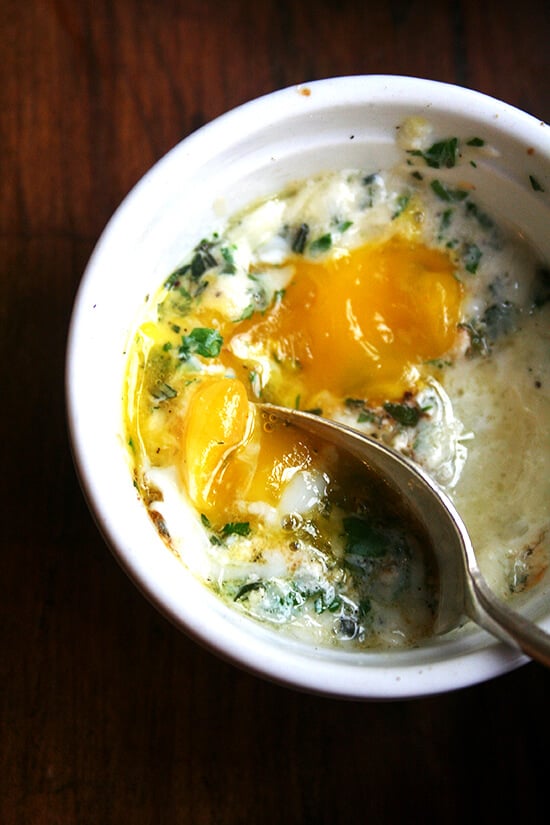 For Sunday morning breakfast I made baked eggs, a dish traditionally reserved in my family for one occasion and one occasion only: Christmas morning. Preparing the eggs down here in Virginia felt odd as I've never made them outside of my mother's Connecticut kitchen, and eating them felt odd, too, because instantly it felt like Christmas morning, and I thus expected to see my sister sitting across from me harmonizing with the Messiah and my brother a few seats down strumming along on his guitar.
Alas, neither of these characters was present and having not inherited a single musical gene, Ben and I tucked into our herb-and-gruyère-topped baked eggs in silence, spooning the perfectly runny yolks over toasted bread, enjoying an unprecedented Christmas morning dress rehearsal.
Tradition aside, I have no good reason to make baked eggs only once a year. They couldn't be simpler to assemble — great for a crowd in fact — and they are far from indulgent: topped with just two teaspoons of cream (or half and half or milk) and one tablespoon of grated cheese, each baked egg is about as decadent as a poached egg. And the combination of the herbs — parsley, sage, rosemary and thyme — with the gruyère and soft-cooked egg along with a few splashes of Tabasco, while certainly festive, is too good to save for one and only one morning a year. Besides, it's not truly the holidays until all of the usual suspects — baked eggs or not — are present. Can't wait to see you, Family.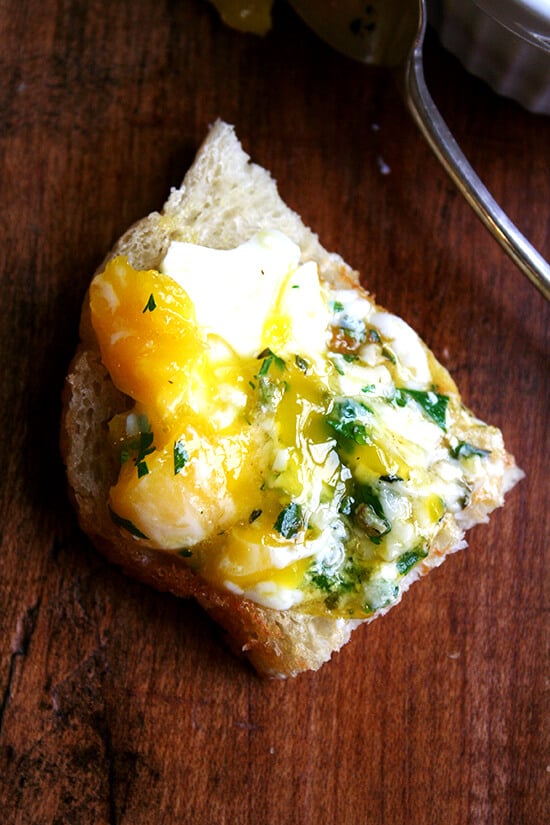 I didn't have any sage, but if you are heading to the store, it's definitely a nice addition: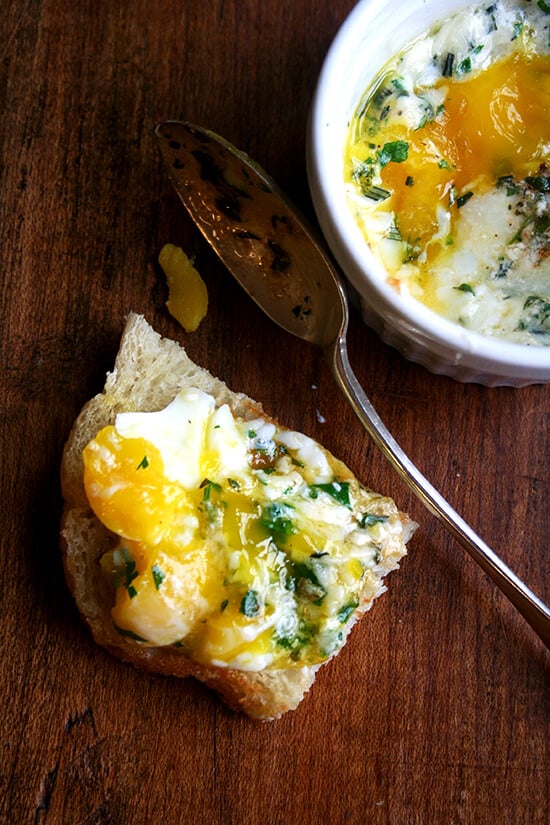 Print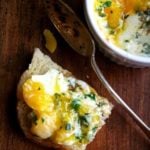 Baked Eggs
---
Author:

Alexandra

Prep Time:

10 minutes

Cook Time:

15 minutes

Total Time:

25 minutes

Yield:

6 to 8
Description
Source: The New York Times Magazine, October 27th, 1985 (My mother truly has been making this since 1985!) Notes: Use the quantities of herbs as a guide — I never measure anymore. Also, getting the desired doneness of the eggs may take some practice. This morning for instance, two of the eggs were perfectly cooked — yolk runny but not too runny; whites nicely set — and two of the eggs were overcooked. I discovered afterwards that the overcooked eggs were in ramekins that were a little bit thinner than the ramekins holding the perfectly cooked eggs. So, the thickness of the ramekin makes a difference as does the temperature of the oven (every oven is different) as does the height of the water in the water bath as does the number of ramekins you have in your baking dish. I advise you start checking for doneness after 9 minutes. Just press the top gently with your finger. Keep in mind, too, that they continue to cook after you take them out of the oven.
---
Ingredients
3 tablespoon

s finely chopped parsley, loosely packed

1 teaspoon

finely chopped thyme, loosely packed

1 teaspoon

finely chopped rosemary, loosely packed

1 teaspoon

finely chopped sage, loosely packed

1 tablespoon

softened unsalted butter (this is for greasing the ramekins, which I forgot to do, so maybe it's optional?)
salt and freshly ground pepper

1/2 cup

heavy cream (or half and half)
Tabasco

8

eggs

8 tablespoon

s grated Gruyère or Swiss cheese
---
Instructions
Preheat oven to 400ºF. Bring a tea pot filled with water to a boil. Combine herbs in a small bowl. Butter eight 4-oz ramekins. Crack one egg into each ramekin.
Season eggs with salt and pepper to taste. Pour 2 teaspoons cream, 1 teaspoon (about) herbs and a few dashes of Tabasco over each egg. Sprinkle with about one tablespoon of cheese.
Place ramekins in a baking dish large enough to ensure they do not touch each other. Pour boiling water into dish so that it reaches one-third of the way up the sides of the ramekins. Bake 9 to 14 minutes depending on variables noted above for medium cooked eggs.
---