Super Easy Marinated Olives
This post may contain affiliate links. Please read my disclosure policy.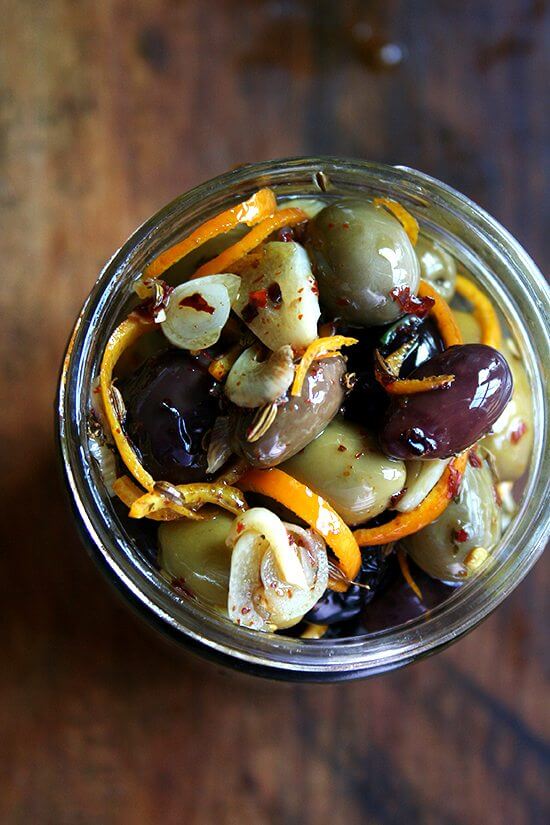 Today I find myself awaiting the arrival of a few dear friends, and for the first time in a long time, I feel very unprepared. You see, they've all gone paleo, and as a result, my usual tricks just won't fly. I've stashed away the biscotti; eaten all of the cheeses; frozen all of the bread.
While my friends have assured me they are all on holiday-paleo hiatus, I can't help but want to have some treats for them. We're having chicken drumsticks for dinner — I'm pretty sure that's what cavemen ate? — and I have some nuts to get us through the early dinner hours, so we certainly won't starve. I also, without doing any research, made a batch of marinated olives, which I have since learned die-hard paleos don't even eat. Oops. I hope my friends were being sincere about their paleo-hiatus statuses.
In any case, marinating olives is about as easy as it gets as far as sprucing up the hors d'oeuvres spread goes. Of course it's totally unnecessary — olives on their own are delicious — but a little garlic and orange zest along with a few spices (crushed red pepper flakes and fennel seed) go a long way, and these flavor elements look so pretty in the serving dish as well. What's more, you shouldn't have to make yet another trip to the store to assemble this dish — it's made with pantry staples.
Hosting a non-paleo party anytime soon? I have few ideas. Perhaps I'll just save these olives for New Year's?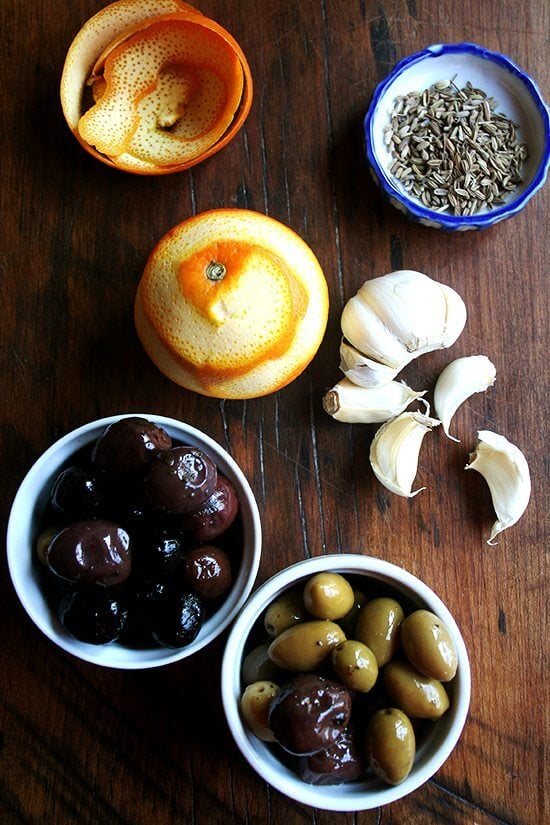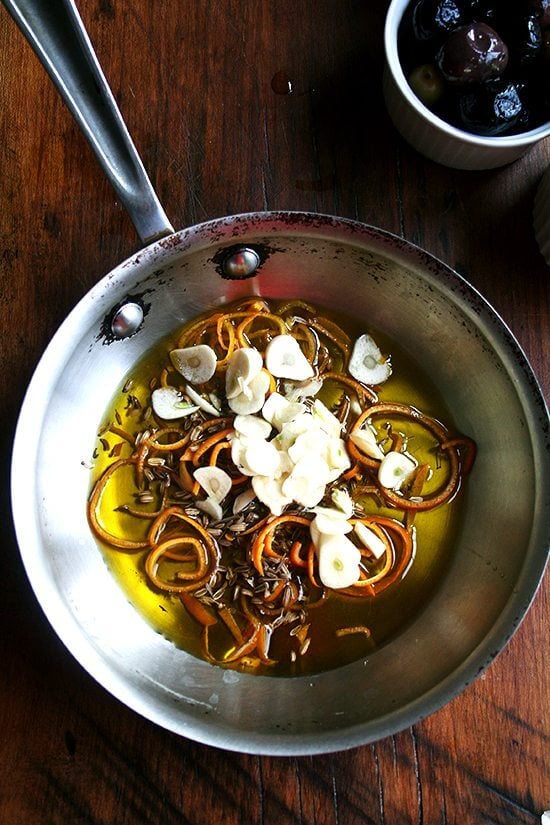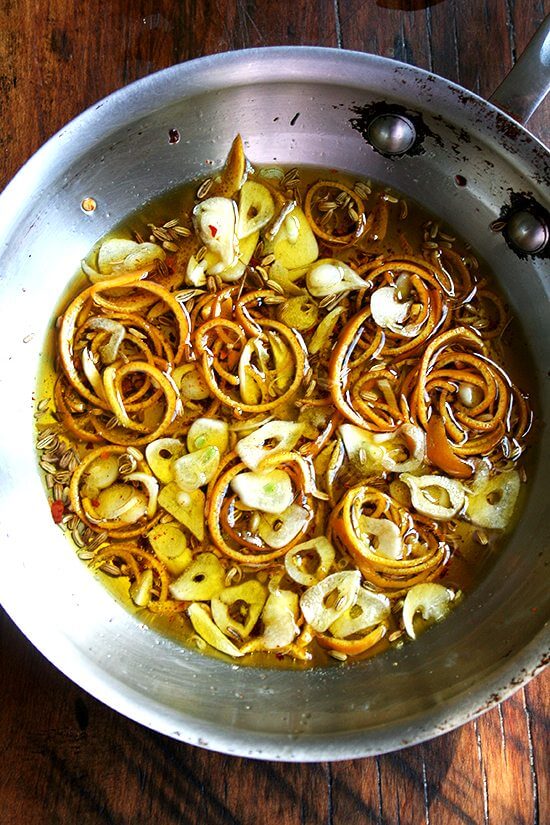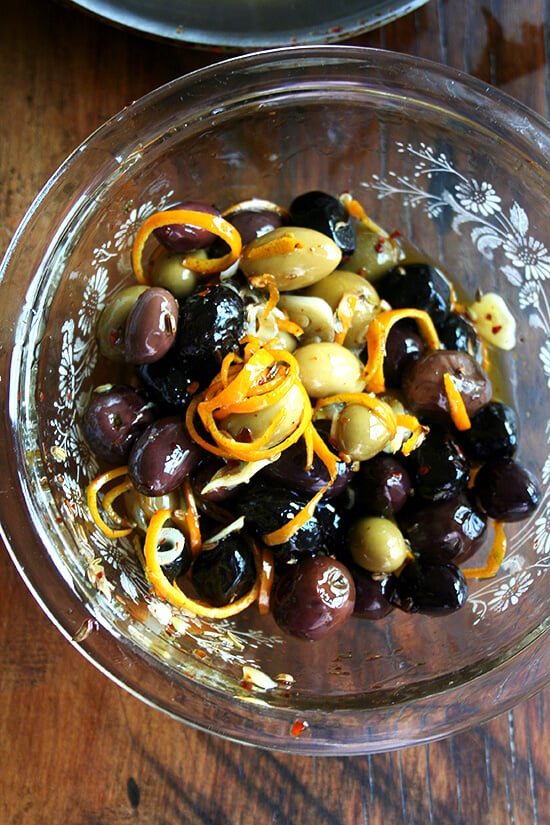 Print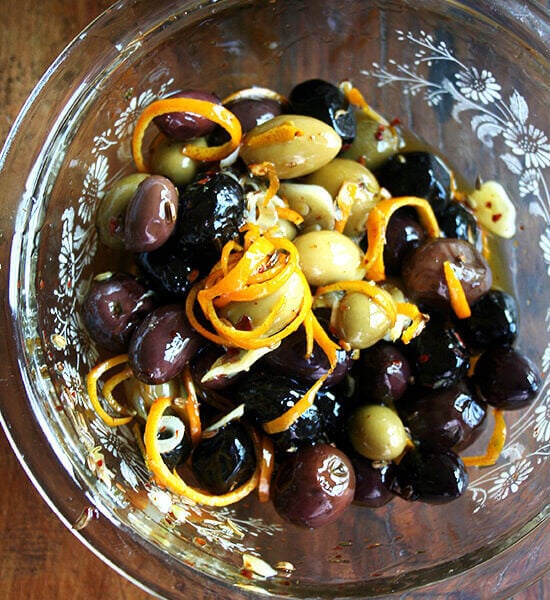 Marinated Olives with Orange Zest, Garlic and Fennel Seeds
---
Total Time:

1 hours 15 minutes

Yield:

1 cup
---
1

orange

4

cloves garlic, peeled

1/4 teaspoon

fennel seed (optional)
crushed red pepper flakes to taste (optional)

1/4 cup

extra-virgin olive oil

1 cup

assorted olives with pits
---
Instructions
Remove the zest of the orange using a vegetable peeler trying as best as you are able to remove as little of the white pith as possible. Try to make some nice long strands. If you have really long strands, cut them into shorter (2- to 3-inches) strands. Working with one strand at a time, roll it up into a tight coil, then cut crosswise down to create long thin strips.
Slice the garlic thinly. Place it along with the orange strands, fennel seed, crushed red pepper flakes and olive oil into a small skillet. Bring to a simmer over high heat, then turn down to low and let simmer for two to three minutes. You do not want the garlic to brown at all, so keep an eye on the pan and remove it from the heat completely if necessary.
Place olives in a bowl. Pour marinade over top. Let sit for at least one hour (if possible) at room temperature before serving or storing. Bring olives to room temperature before serving.
Prep Time:

10 minutes

Cook Time:

5 minutes
This post may contain affiliate links. Please read my disclosure policy.