Pan-Seared Sesame-Crusted Tofu with Nuoc Cham
This post may contain affiliate links. Please read my disclosure policy.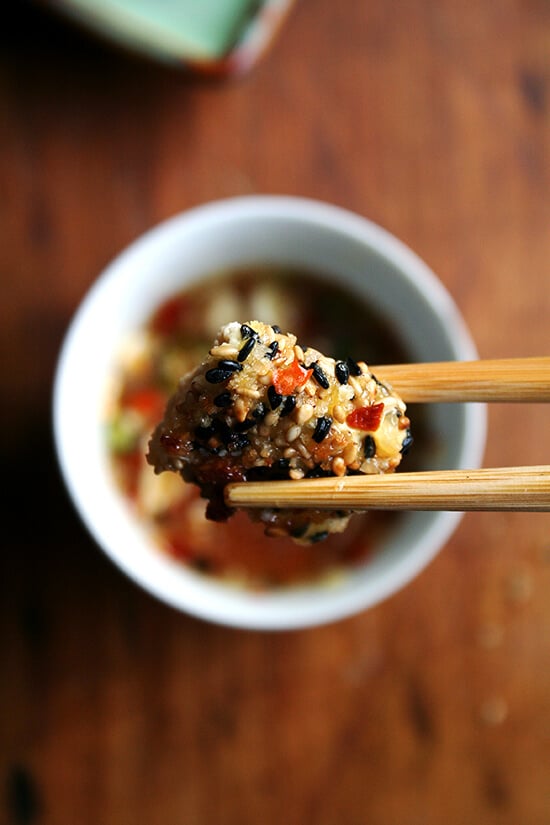 When my paleo friends arrived at my doorstep carrying a Dean and Deluca bag, I suspected my fears about my non-paleo olives were for naught. And when they were as eager to open the bag as Ben and I, my suspicions were confirmed. With it still being pre-2013, we all had one last hurrah with the spoils, snacking on Vahlrona chocolate brownies and an assortment of cookies the size of frisbees for a good day and a half.
It was awesome, but when New Year's Day arrived, I, as many of you can relate I am sure, was ready to detox. I made a grocery list. Wrote out some resolutions. Ate tofu. Watched Happy. Cried a lot. Wrote out a few more resolutions. Went to sleep, for the first time in a long time not feeling stuffed, early. And woke up, for the first time in a long time, feeling like a million bucks.
About this time of year every year, I go on a little tofu binge. I know, I know. There are lots of ways — moderation, namely — to eat healthy without taking extreme measures. But, and I'm not just saying this, I have two tofu recipes in my repertoire, one of which I've already shared with you and could genuinely eat nearly every day, both of which I would serve to company without apology.
This is my tofu recipe number two, which I like very much as well most especially because it means I can douse each bite in nuoc cham, the spicy, sweet, sour condiment ubiquitous at nearly every Vietnamese meal. While the crispy sesame-and-panko coated cubes of tofu are quite good on their own, this dish is all about the sauce. If you like nuoc cham, you'll like this dish, but be warned: one bite of it might make you call up your local Vietnamese restaurant and order a few fresh spring rolls, some grilled grape leaves and a plate or two of bahn xeo, just, you know, to enjoy alongside your tofu. Fortunately, I have no such temptation nearby and thus happily drink my nuoc cham with my tofu. You know what I mean.
Happy detoxing Everyone.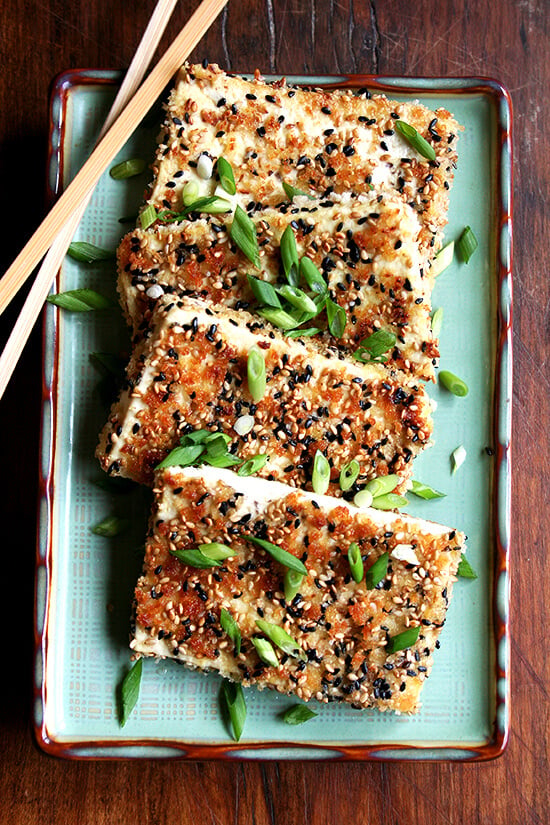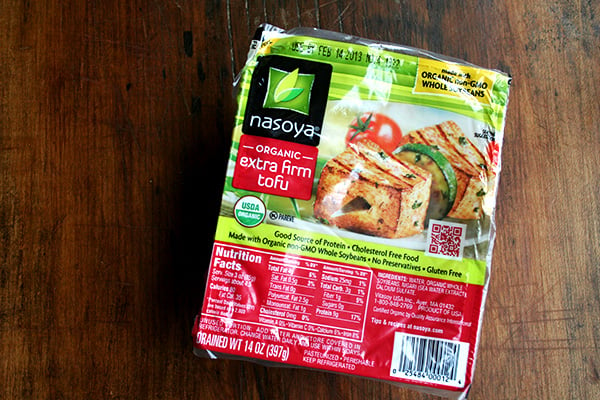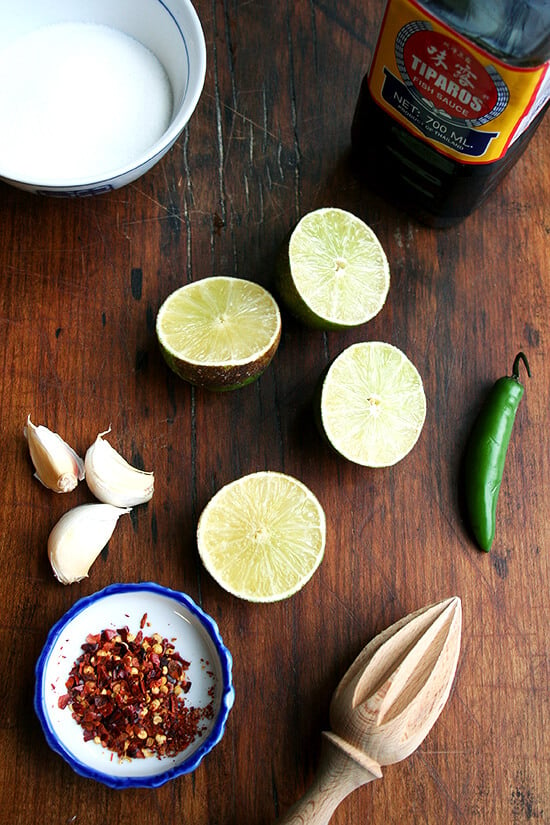 If you like Vietnamese food, chances are you like nuoc cham, the spicy, sweet, sour condiment served with nearly every Vietnamese dish from spring rolls to grilled meat to stir-fries. To me it is heaven. Here are the ingredients: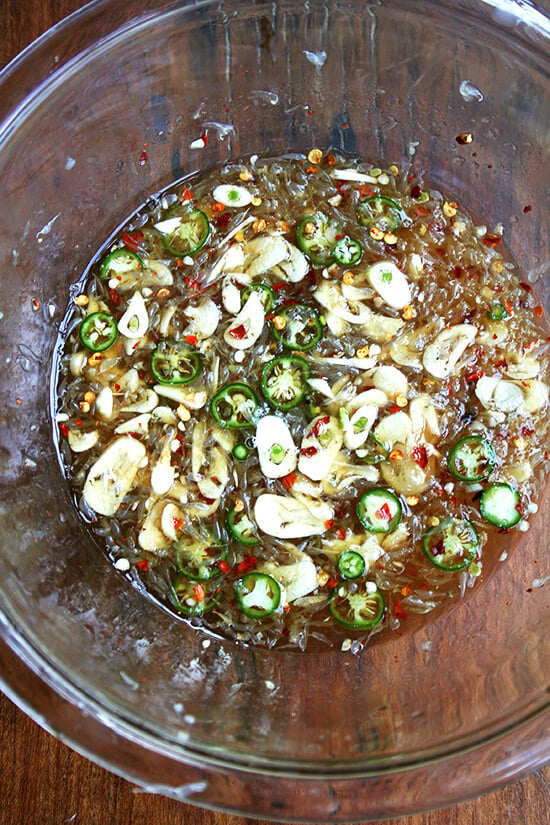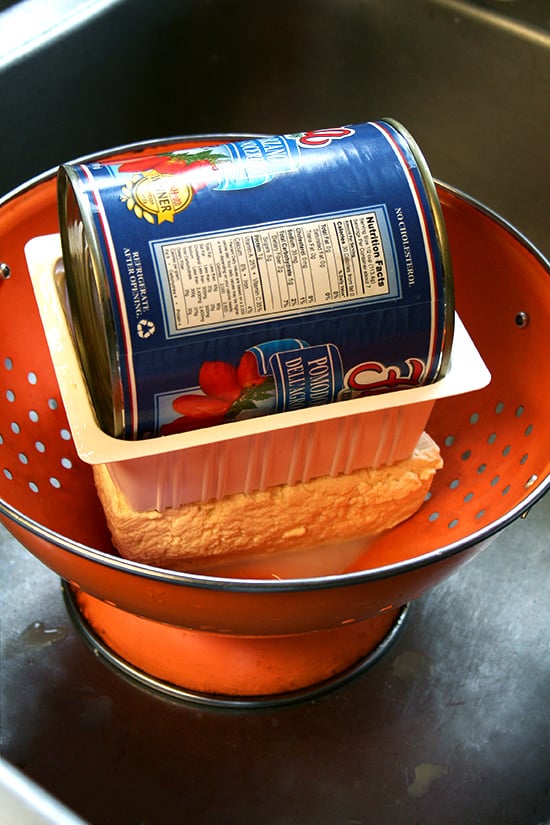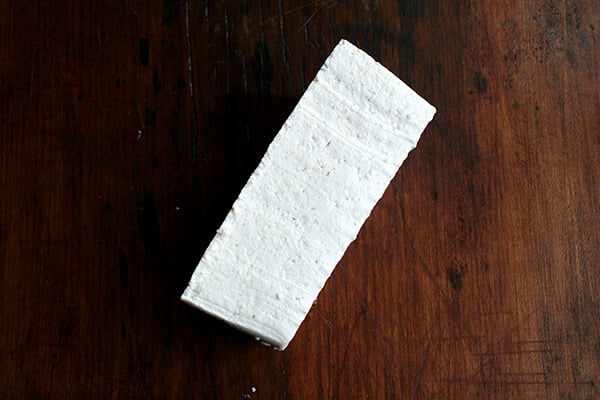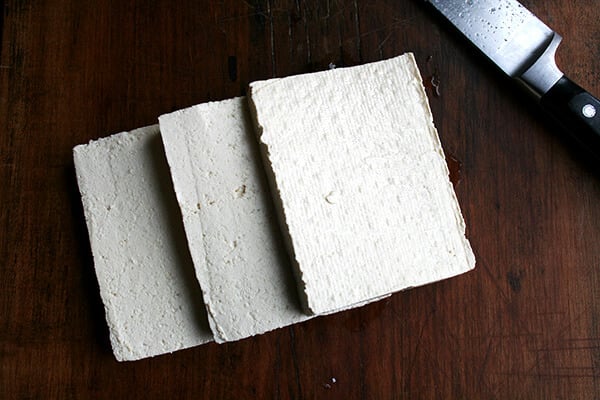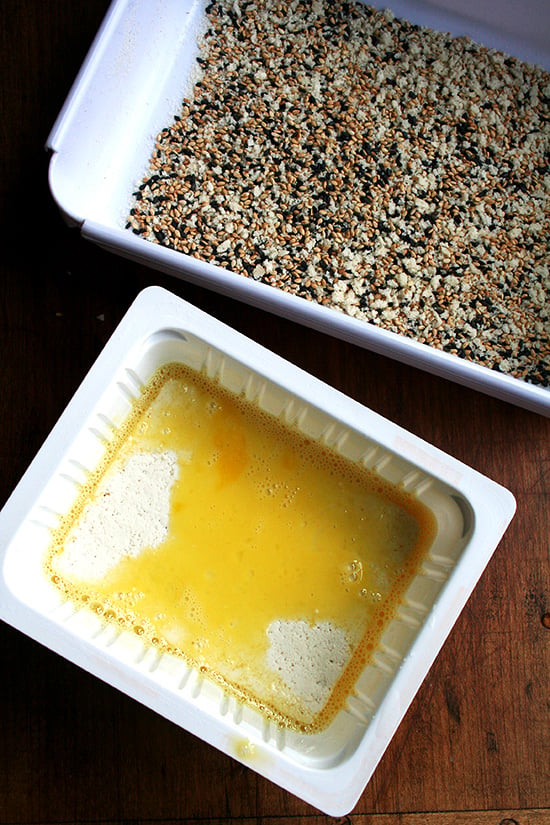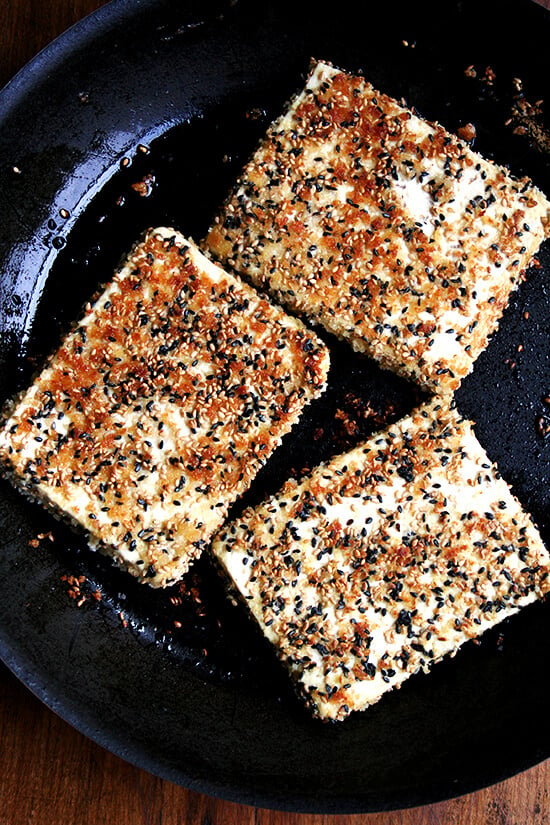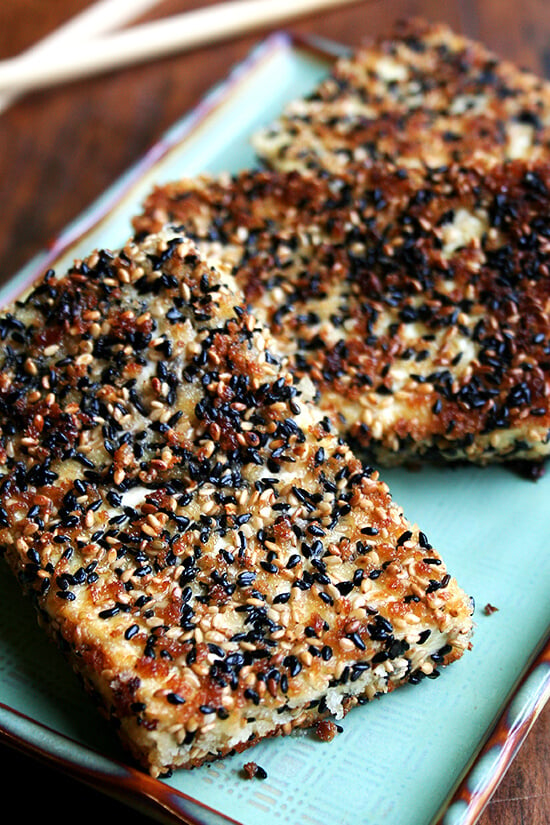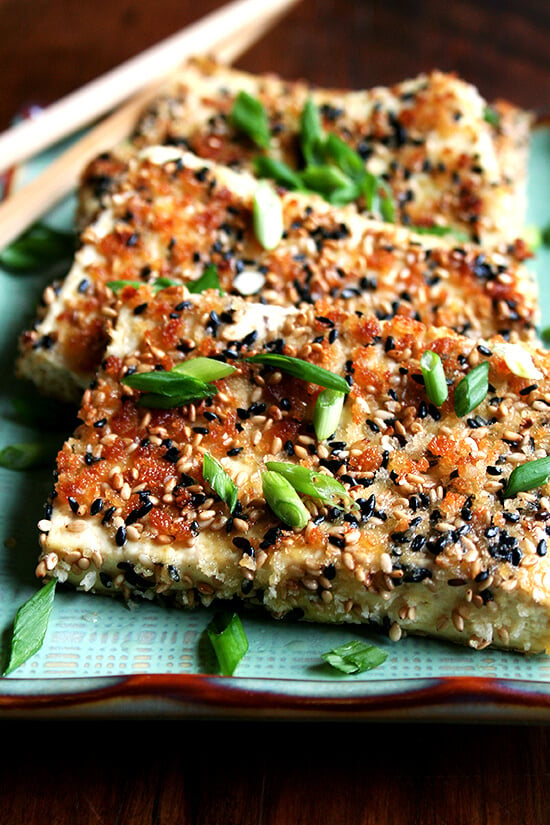 Print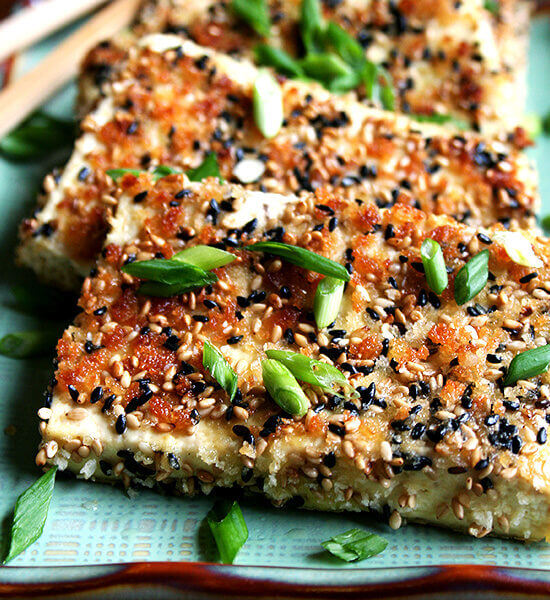 Pan-Seared, Sesame-Crusted Tofu with Nuoc Cham
---
Description
Tofu recipe inspired by a recipe in The New Mayo Clinic Cookbook.
Nuoc Cham adapted from The Asian Grill.
Note: The original recipe calls for an additional tablespoon of sugar, so feel free to taste and adjust seasoning as you wish. Also, author Corinne Trang notes that you can make the sauce more mild or bold depending on how you treat the garlic and chilies: If you mince the garlic and chilies, the flavors will be stronger; if you slice, the flavors will be more mild.
---
for the tofu:
1

lb. (about) extra-firm tofu

1

egg

1/4 teaspoon

kosher salt

3 tablespoons

panko bread crumbs

2 tablespoons

white sesame seeds

1 tablespoon

black sesame seeds
canola oil for frying
scallions, sliced on the bias, for garnish
Sriracha, optional
for the nuoc cham:
1/4 cup

sugar

1/3 cup

fish sauce

1/3 cup

fresh lime juice

2

to

3

garlic cloves, sliced or minced

2

red Thai chilies, halved lengthwise, seeded or not, and thinly sliced

1/4 teaspoon

crushed red pepper flakes, optional (use if you cannot find Thai or other hot chilies)
---
Instructions
Drain the tofu for as much time as possible — 20 minutes to an hour. This is how I drain it: place block of tofu in a colander. Place the package (or some other similar-sized vessel) on top of it and weigh it down with a can of tomatoes or some other relatively heavy canned good. Note: this also can be done ahead of time. I essentially leave mine out all day, but if leaving it out all day worries you, you could line a bowl with paper towels and stick the tofu on the paper towels, weigh it down as described and leave it in the fridge until you are ready to slice and cook it.
Meanwhile make the nuoc cham: In a medium bowl, whisk together the sugar, fish sauce, and lime juice until the sugar is completely dissolved. Add the garlic and chilies and crushed red pepper flakes if you are using. Let stand for 30 minutes. Taste and adjust flavors if necessary. (Sauce can be stored in the refrigerator for up to a week.)
In a small shallow vessel with sides (again, I use the container the tofu came in) beat the egg with a fork and with 1 teaspoon of water. In another small shallow vessel with sides, stir together the salt, panko and sesame seeds.
Carefully cut the drained tofu into three slices. I stand the block up its long thin edge and slice through the block parallel to the largest face of the block, if that makes sense — refer to the photos if this is unclear. Working with one piece at a time, submerge the tofu into the egg, then coat it in the sesame-panko mix, then place it on a clean plate. Repeat with the remaining two slices.
Heat a large nonstick frying pan over medium-high heat. When it's hot, add about 2 to 3 teaspoons of oil. Carefully lay each piece of tofu into the frying pan. Turn the heat down to medium if the slices appear to be browning too quickly. Crisp tofu slices for about 3 to 4 minutes a side, then transfer to a serving platter. I cut each slice in half and then arranged them on a platter, but feel free to present as you wish. Garnish with scallions. Serve with nuoc cham and Sriracha if you wish.
Prep Time:

30 minutes

Cook Time:

10 minutes

Category:

Dinner

Method:

Stovetop

Cuisine:

Asian
Keywords: tofu, nuoc cham, sesame, panko
This post may contain affiliate links. Please read my disclosure policy.