Simple Honey-Baked Chicken Legs
This post may contain affiliate links. Please read my disclosure policy.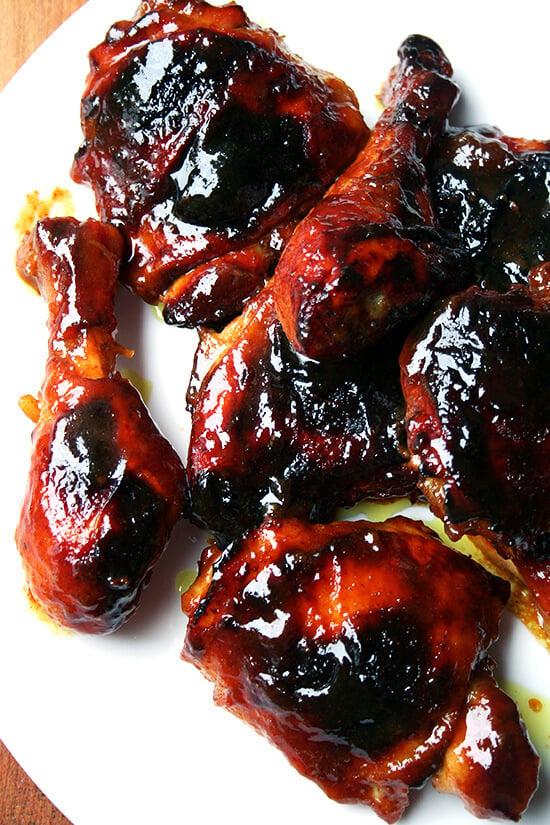 During my recent trip home to CT, my mother taught me how to make her homemade hamburger helper, a favorite of mine and my siblings growing up, a meal we thought the toddlers in the house would enjoy as well.
While the children ate it without complaint, each favoring a different component — macaroni, hamburger, melted cheese — it was the adults who really went to town on it, in particular my brother and brother-in-law who polished off the leftovers after a late-night game of darts (and a few too many whiskeys).
I don't know if it's the need to feed the toddlers I suddenly find at my feet or the trip home or the winter weather, but recently I can't get enough of these old family recipes. My mother learned this one from her aunt Rene, who has been serving it at dinner parties since the 1960's. It is truly a crowd pleaser.
Now, a note, likely an obvious one: For those of you who like savoring the flavor of chicken in its most unadulterated form, perhaps roasted with a few herbs and maybe a lemon wedge or two, this one is not for you. It's all about the sauce, a mixture of honey and mustard, curry powder and mango chutney, that thickens and concentrates during the hour or so spent in the oven. It's the kind of thing that is nearly impossible not to pick up off the plate with your hands, gnaw at the bone, lick your fingers when you're finished. Sorry for the image.
All of that said, the chicken cooks perfectly — the tender, moist meat, which retains its heat so nicely, falls off the bone with every prod of the fork, making a more civilized approach to its ingestion certainly an option.
My Great Aunt Rene would be so proud — my children gobbled it up, and for the first time in a long time, not a word about ketchup was uttered.
This dish takes minutes to throw together. Here is what you need: honey, mustard, butter, curry powder, mango chutney.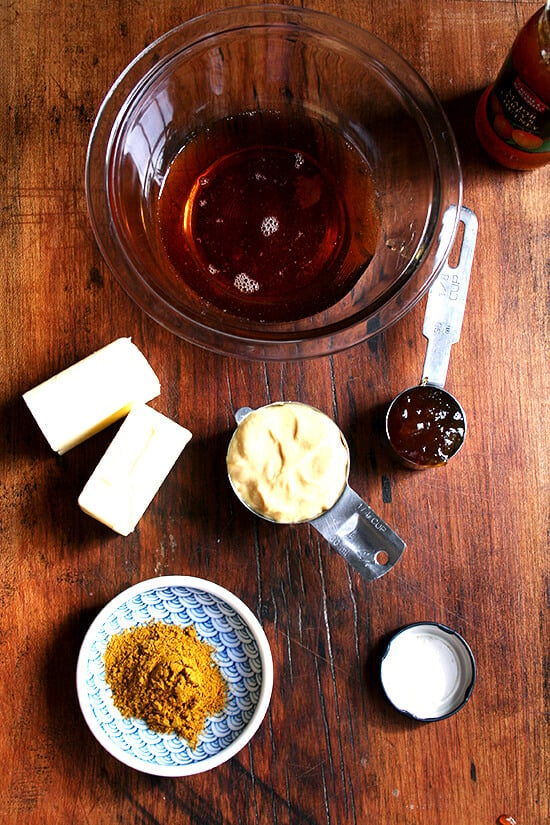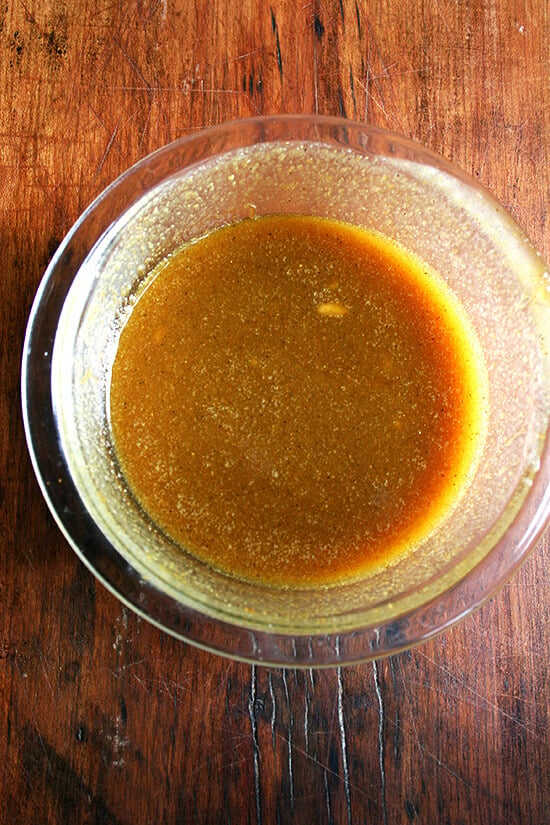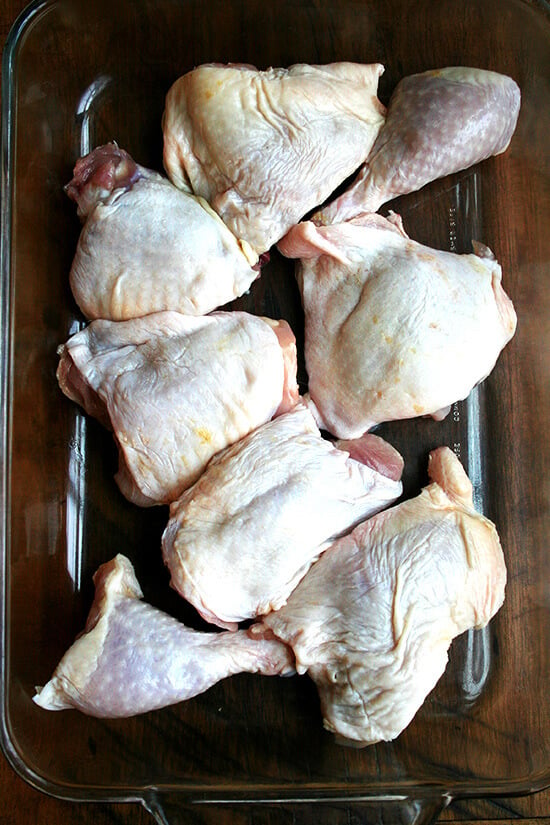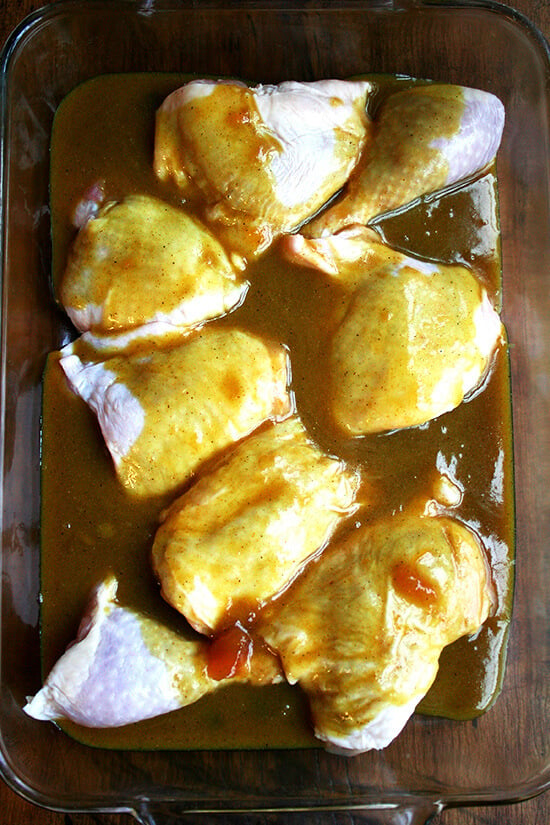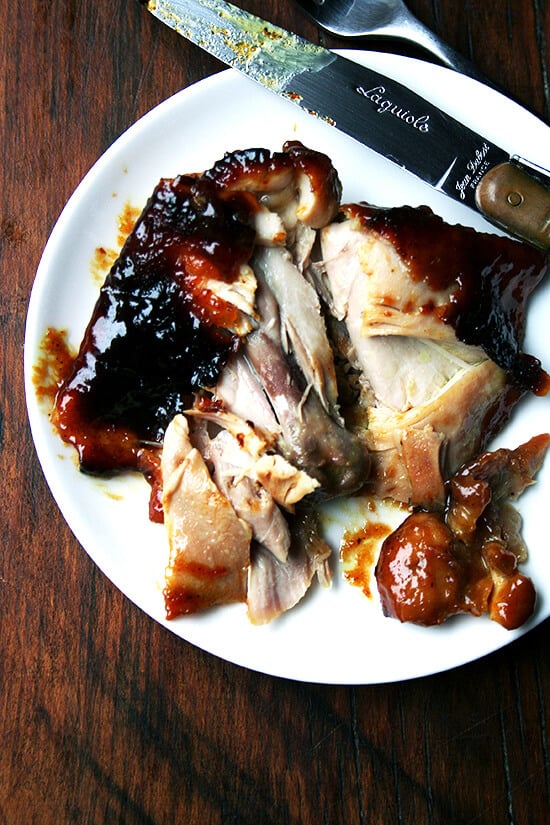 Print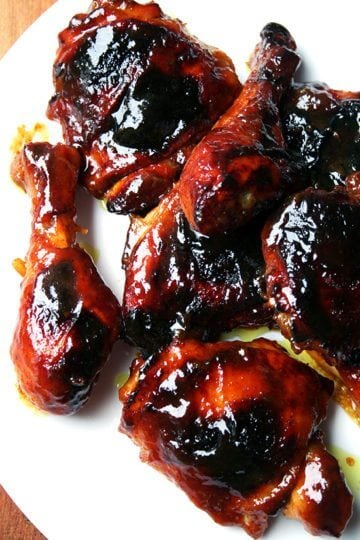 Simple Honey-Baked Chicken Legs
---
Description
Source: Great Aunt Rene With the exception of maybe undercooking it, there is no way to mess this dish up. Take a look after an hour — depending on how many legs you've placed in your pan, it will take more or less time to cook. I've had consistent results with about 1 to 1.25 hours.
---
2

lbs. bone-in skin-on chicken legs*

1/2 cup

butter, melted

1/2 cup

honey

1/4 cup

Dijon mustard

2 tablespoons

mango chutney

1 1/2 teaspoons

curry powder*You can use all thighs all drumsticks or whole legs intact, but you want about

2

lbs. total
---
Instructions
Preheat the oven to 375ºF. Place chicken legs in a greased (I always forget) shallow baking pan skin side up. Combine remaining all ingredients and mix well. Pour over the chicken then toss with a spatula (or your hands) so that the pieces are nicely coated and so the sauce fills the underside of the chicken.
Bake for 1.25 to 1.5 hours. Rene's recipe says to baste every 15 minutes, but it's not necessary to do this. I actually have better results when I don't baste until after the hour mark. Also, keep an eye on it — the sauce chars quickly especially at the end.
Prep Time:

5 minutes

Cook Time:

1 hours 15 minutes
This post may contain affiliate links. Please read my disclosure policy.