Real Sour Cream & Onion Dip
This post may contain affiliate links. Please read my disclosure policy.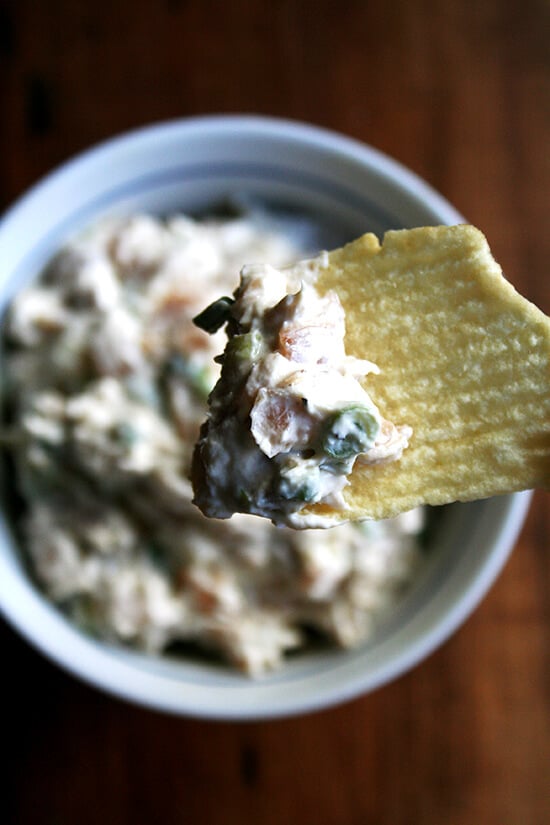 The unfortunate consequence of being deprived of chips and dip as a child is that I am the girl at parties hovering over the crock pot filled with queso dip, piling more than a manageable amount of hot crab spread into my Tostitos scoops, and destroying the poor bowl filled with spinach-artichoke dip.
In addition to childhood deprivation, part of my love for these sorts of dips, I suspect, stems from the fact that I never make them.
As many of you know, so many of these most-adored party dip recipes call for opening a pack of soup mix filled mostly with dehydrated ingredients, two days worth of the recommended salt intake, MSG and a host of nitrates and preservatives. While this knowledge never seemed to prevent me from eating these dips — all willpower dissolves when confronted face to face — for many years it prevented me from making them.
With the recent success of a homemade sour cream-and-onion dip, however, I am hoping homemade queso dip along with a few other classics might be in my future, with any luck before the Super Bowl. Who knew that real sour cream-and-onion dip is astonishingly easy to prepare and far more delicious than its dried-soup variation?
While caramelizing onions takes time — time, not work — throwing together this dip couldn't be much more difficult than opening a box of instant soup. One bite of this sweet-and-tangy dip atop a salty Ruffles potato chip allayed my fears that my Super Bowl guests, upon observing the spread — my mother's olivata, my aunt's whipped feta with roasted red peppers, and not a crock pot in sight — might run out the door.
If you feel like going this homemade-sour-cream-and-onion-dip route, rest assured that your guests will feel right at home watching the game. Just don't forget the Ruffles… for some things there are no substitutes.
PS: Another favorite, easy crowd-pleasing party spread: Black Olive Tapenade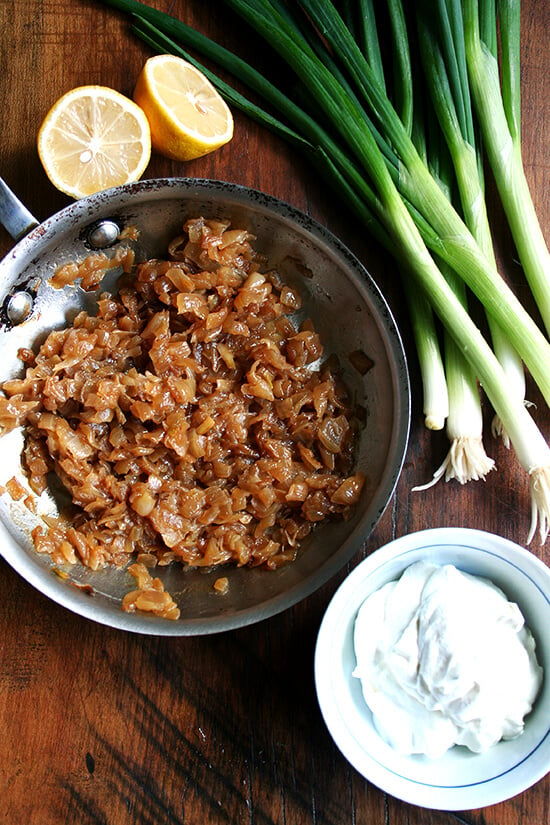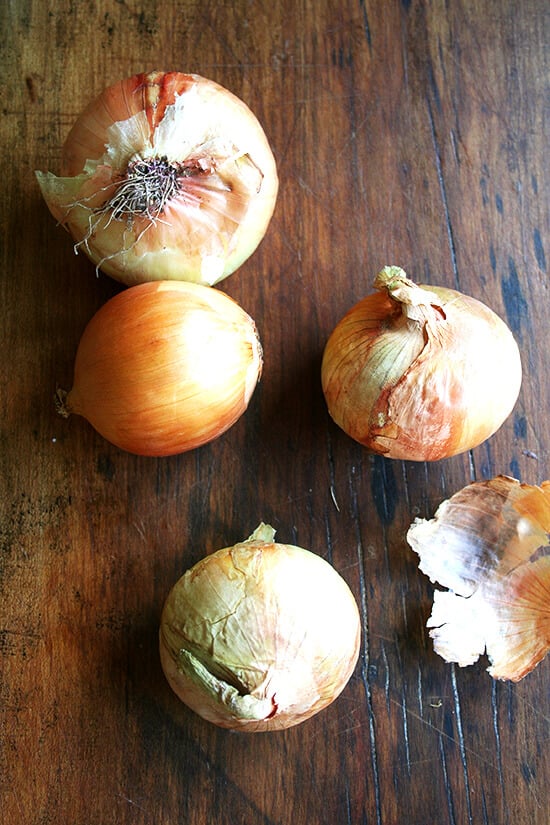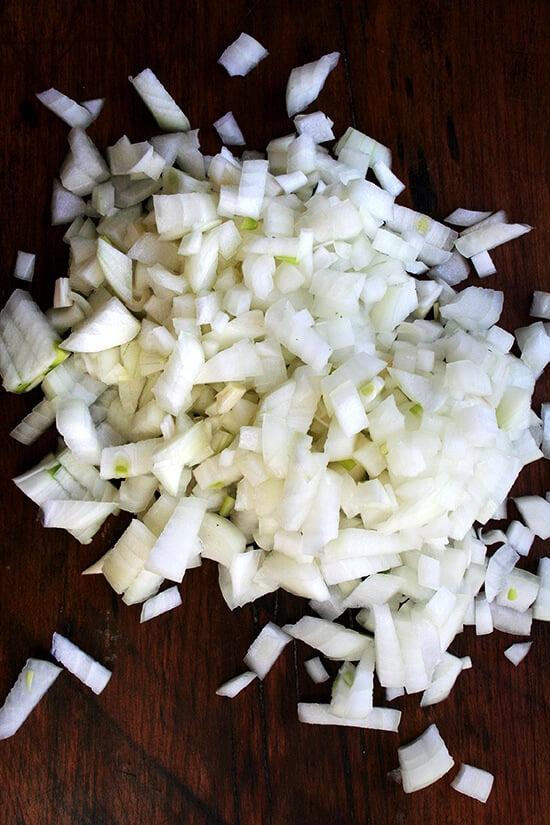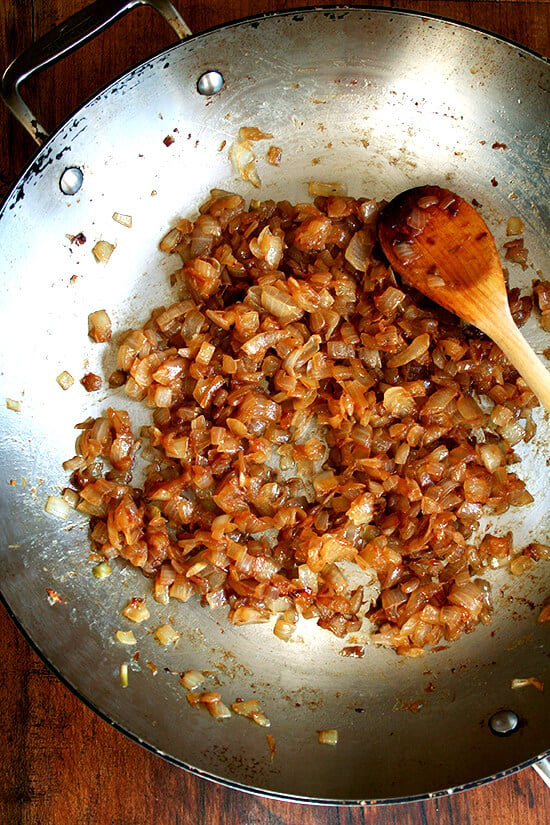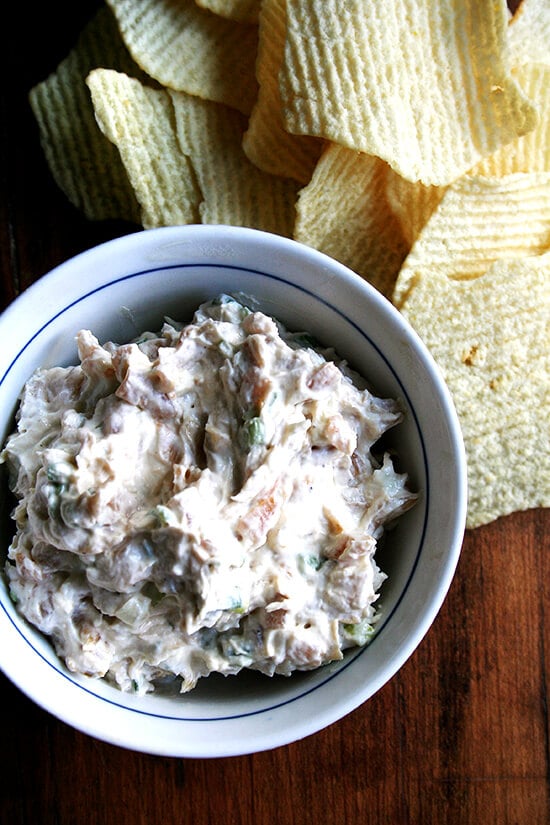 Print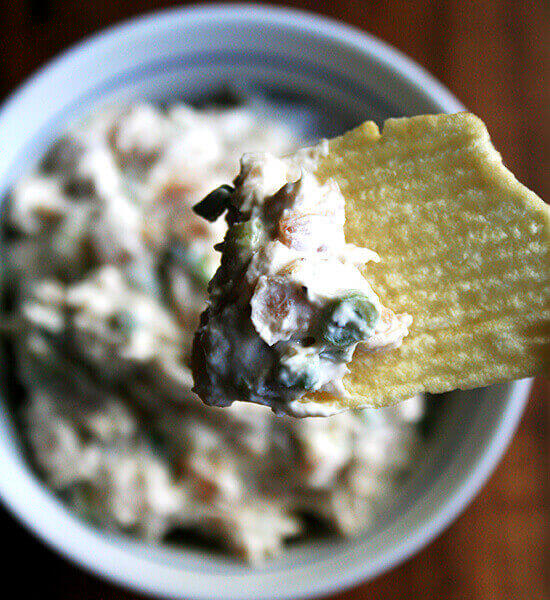 Real Sour Cream & Onion Dip
---
Description
Inspired by a recipe in Sally Schneider's The Improvisational Cook
Notes: When researching recipes for this dip, I came across a ton of variations, many of which called for additional ingredients such as goat cheese, mayonnaise, dried onion powder, etc. While I thought for sure the goat cheese variation would win me over, none of the variations I tried was as good as this simple combination of equal parts caramelized onions and sour cream, some sort of member of the green onion family — scallions, chives, etc — and a little freshly squeezed lemon juice. I know how hard it is to resist trying out those flashy recipes, but I highly recommend giving this simple recipe a go first.
---
for the caramelized onions:
4 cups

diced onion (from about

3

to

4

small to medium onions)

2 tablespoons

butter
kosher salt

1/2 teaspoon

sugar

1/2 teaspoon

vinegar, anything you have on hand
freshly ground black pepper to taste
for the dip:
1/2 cup

sour cream
salt and pepper to taste

4

scallions* or a bunch of chives, thinly sliced (to yield about

1/4 cup

)

1/2 teaspoon

(or more) freshly squeezed lemon juice
---
Instructions
In a large sauté pan, melt the butter over medium heat. Add the onions, season with a pinch of salt and cover the pan. Cook covered for about 15 minutes.
Remove the cover, and increase the heat slightly. Continue to cook for another 10 minutes, stirring occasionally to make sure the onions are not sticking. Sprinkle the sugar overtop and cook for an additional 10 to 15 minutes, stirring more frequently now, until the onions have turned a nice deep brown. Pour in the vinegar, turn off the heat, and scrape the bottom of the pan with a wooden spoon or spatula to remove any browned bits. Take pan off the heat and transfer onions to a large bowl to cool.
This mixture should yield about 1 heaping cup of onions. When the onions have cooled, stir 1/2 cup of them into the sour cream. Taste. Season with salt and pepper to taste. Fold in scallions or chives. Add the lemon juice. Taste and adjust seasoning with more salt, pepper, lemon juice or more caramelized onions if desired. Save any remaining caramelized onions to add to omelets or pasta or more sour cream-and-onion dip.
Prep Time:

15 minutes

Cook Time:

45 minutes

Category:

Dip

Method:

Stovetop

Cuisine:

American
Keywords: real, sour, cream, onion, dip
This post may contain affiliate links. Please read my disclosure policy.