Homemade Hamburger Helper
This post may contain affiliate links. Please read my disclosure policy.
After posting the honey-baked chicken legs recipe, I received a couple of requests for my mother's hamburger helper recipe, a favorite of mine and my siblings as children, a favorite of our growing families today.
There is not much more to say about this dish except that it is true comfort food, completely satisfying and easy to prepare to boot. I hope you and your families enjoy it, too.
Print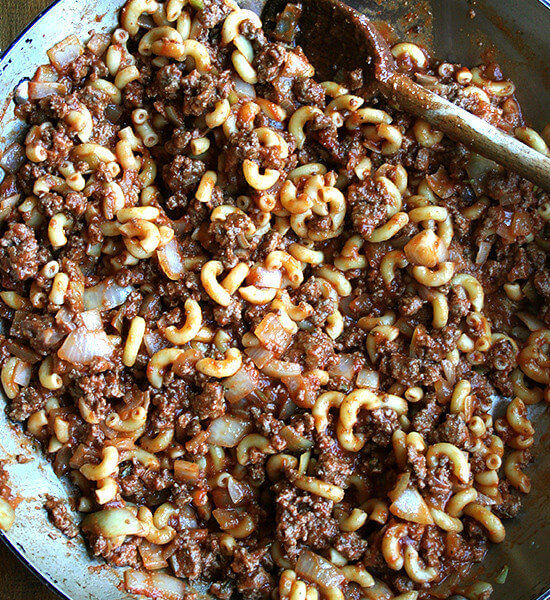 Homemade Hamburger Helper
---
1 cup elbow macaroni
1 lb. ground beef or lamb
extra-virgin olive oil
kosher salt
1 1/2 to 2 cups diced onion
pinch oregano
1 15-oz. can of tomato sauce*, your favorite brand
squirt ketchup
squirt tomato paste
freshly cracked black pepper
1/3 cup grated Parmigiano Reggiano
1 cup grated cheddar cheese
*My mother and aunt swear by Hunt's tomato sauce for this recipe. I normally use Pomi, which has no salt, but for this recipe, I do what the authorities tell me. Use whatever tomato sauce you like best, but if your tomato sauce contains salt, be careful of salting-as-you-go. I suggest, in fact, not salting-as-you-go if your tomato sauce contains salt — wait until everything has been added, including the cheese, to taste and adjust salt as necessary.
---
Instructions
Bring a pot of a water to a boil. Add a pinch of salt and cook the macaroni till al dente. Drain and set aside.
Meanwhile, brown the ground meat in about a tablespoon of olive oil (if your meat is on the lean side) or less (if your meat is on the fattier side). I always start this browning process over high heat and then turn the heat down to medium when the meat starts browning. With a wooden spoon, stir the meat around so that it browns evenly — don't get too fussed here…you just want the meat to be almost cooked through with a few browned bits here and there.
Scoop the meat out of the pan with a slotted spoon into a bowl and set aside. Wipe out the pan you cooked the meat in, add another tablespoon (or more or less depending on how much onion you are using) of olive oil, and sauté the onion until slightly soft, about five minutes. Again, don't get too fussed here — if the onions begin to brown, that's ok; if they don't, that's also ok. You can't mess this up.
Add the ground beef back to the pan. Season with a pinch of oregano. Add the tomato sauce to the pan and stir to coat evenly. Squirt in some ketchup (about a tablespoon) and tomato paste (a couple of teaspoons) and season with pepper to taste. Stir to combine.
Sprinkle in the cheese and stir until melted and combined. Taste and adjust seasoning as necessary. This gets better the longer it sits, so don't be afraid to make it early in the day and reheat it come dinner time. It also reheats in the microwave very nicely.
Prep Time:

15 minutes

Cook Time:

30 minutes

Category:

Dinner

Method:

Oven

Cuisine:

American
Keywords: homemade, hamburger, helper, beef, ground, meat, macaroni, kid-friendly, children
This post may contain affiliate links. Please read my disclosure policy.