Arancini Mac & Cheese
This post may contain affiliate links. Please read my disclosure policy.
On many Sundays during the summer we find ourselves at 2Amys, tired and famished after a long morning at the zoo, trying to keep our two thrashing children from making too much of a disturbance. An order of arancini — deep-fried risotto balls stuffed with cheese — usually does the trick, settling the children (and us) at first bite.
I LOVE arancini, but they're a total pain to make, not only calling for leftover risotto, but also requiring a lengthy assembly process — shaping, stuffing, breading and deep frying. Crispy on the outside, oozing with cheese on the inside, these "little oranges" are worth their every effort — once I made them at home — but they are not something to whip up every day, better ordered out a place like 2Amys, best (not that I speak from experience) picked up at a vendor parked along a Palermo sidewalk.
Arancini macaroni and cheese is a different story. Made with a thin bechamel infused with saffron — the classic seasoning of risotto milanese — this macaroni and cheese shares all of the crispy-creamy goodness of arancini but without all the fuss. This dish is my contribution to the Wisconsin Milk Marketing Board's Fourth Annual 30 Days, 30 Ways, a month-long event celebrating macaroni and cheese. Check out their blog for other mac and cheese ideas, this year all based on classic dishes.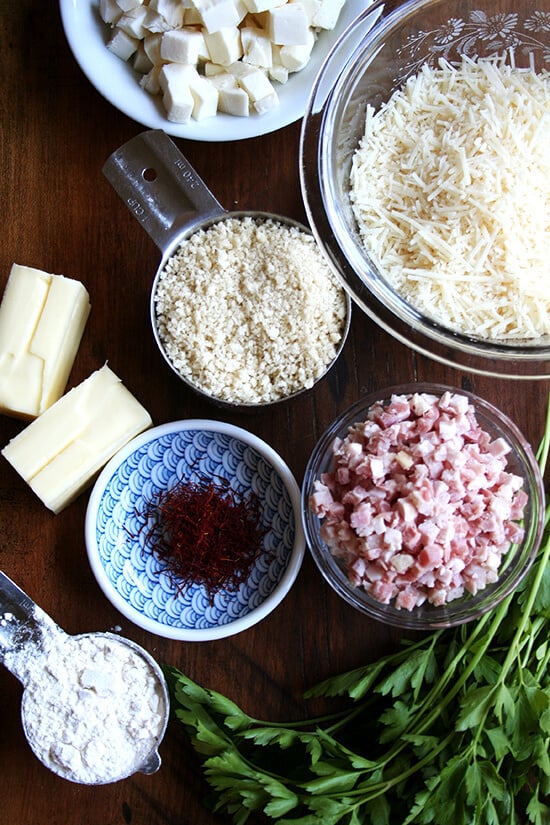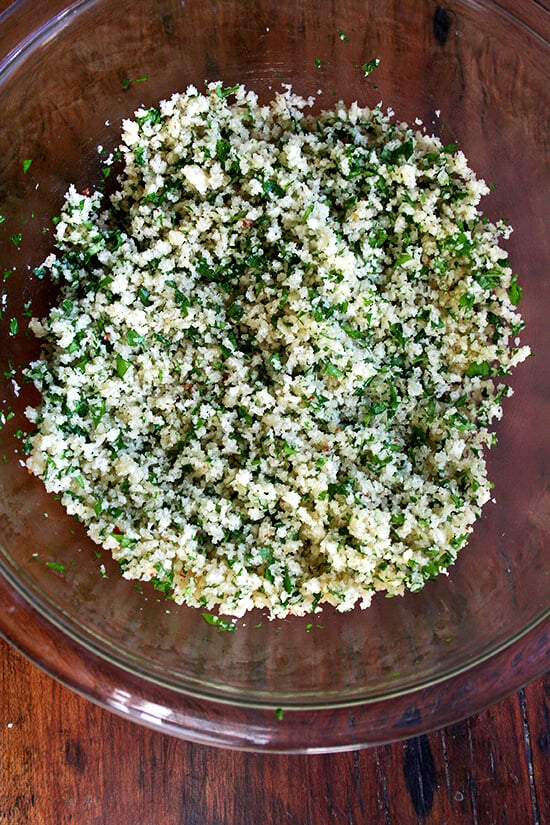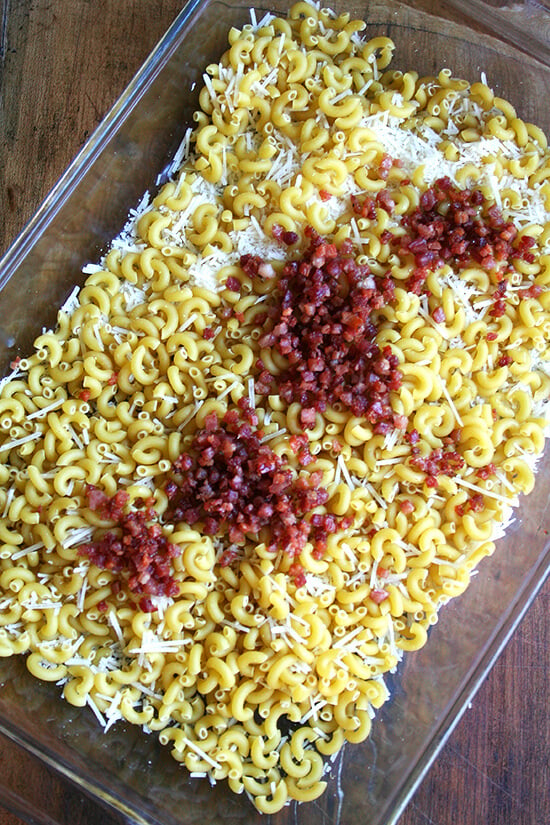 Print
Arancini Milanese Mac & Cheese
---
Description
No-boil method inspired by this Bon Appetit recipe; arancini ingredients inspired by a Mario Batali recipe, suppli al Telefono, in Molto Italiano
---
7 tablespoons

unsalted butter, divided

1/4 cup

flour

3 cups

whole milk

3 cups

water

2 1/4 teaspoons

kosher salt
Freshly ground black pepper to taste
Pinch of saffron* (optional)

4 ounces

(about

1 cup

) pancetta, diced

3/4

pound elbow macaroni

1 1/2 cups

(

6 ounces

) Wisconsin Parmesan Cheese, grated

1 cup

panko bread crumbs

1/4 cup

parsley, finely chopped

1 cup

Wisconsin Fresh Mozzarella, cubed
*Saffron is expensive, but a little goes a long way, so once you purchase some, you will likely have it on hand for a long time. It imparts a lovely flavor, but it can be omitted — the cheese, pancetta and buttered bread crumbs add plenty of flavor on their own.
---
Instructions
Preheat oven to 400°F. Melt 4 tablespoons butter in large saucepan over medium-high heat. Add flour, whisking constantly for about a minute. Add milk and water, whisking to remove any of flour-butter mixture from bottom of pan. Bring to boil, then reduce heat and gently simmer. Add salt, pepper and pinch of saffron. Simmer until mixture begins to barely thicken — it will lightly gloss the back of a wooden spoon — about 10 minutes. Remove from the heat.
Meanwhile, in medium frying pan, crisp pancetta over medium heat until fat is rendered and nicely browned. In 9x13x2-inch baking dish, toss macaroni (there is no need to cook the macaroni in this recipe) with Parmesan Cheese. Transfer pancetta to baking dish using slotted spoon; toss gently to combine. Add remaining 3 tablespoons of butter to pan with rendered pancetta fat and melt over low heat. Add panko to medium bowl; pour butter over top; mix to combine. Stir in parsley; season with salt.
Pour prepared saffron sauce over macaroni mixture — it will feel like an inordinate amount of liquid for the amount of pasta, but it will all get soaked up during baking. It is not necessary to stir mixture. Cover pan with foil and carefully transfer to oven. Bake 20 minutes.
Remove from oven and gently stir. Scatter cubes of Fresh Mozzarella evenly across the mixture. Top with panko bread crumb mixture. Bake additional 15 – 20 minutes, or until top is golden and the macaroni is bubbling. Let sit 10 minutes before serving.
Prep Time:

15 minutes

Cook Time:

1 hours 5 minutes
This post may contain affiliate links. Please read my disclosure policy.