A Card, and 3 Simple Ways to Begin Your Valentine's Day Dinner
This post may contain affiliate links. Please read my disclosure policy.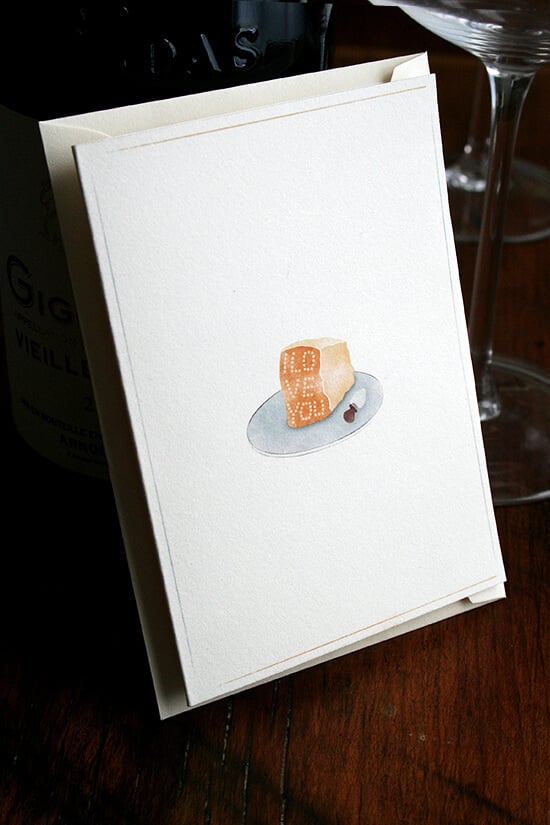 So often, for me at least, the best part of a dinner out happens shortly after I am seated, when the server sets down a warm roll with a pat of soft butter sprinkled with sea salt or a basket of freshly baked focaccia and a little dish filled with olive oil swirled with a few drops of balsamic vinegar. It's these simple details that, when done well, distinguish the meal from one prepared at home, when such delights are often absent and when relishing every morsel is not always the order of the hour.
With that in mind, I have a few very simple ideas for beginning a Valentine's Day dinner at home. If you thrive at arranging delicious things on plates, ideas 1 and 2 are for you. If you like to fuss a little bit more, idea number 3 might interest you more.
But before we get to the food, let's discuss cards. You have to begin Valentine's Day with a card, right? I've added four Valentine's Day cards to the print shop, including the above pictured one, Parmigiano Love. Each Valentine's Day card costs $3 and can be shipped to you for the price of a stamp (45 cents).
(Sorry … cards are not available at this time.)
Finally, the winner of the Wisconsin Cheese Giveaway is Dona. I have emailed you.
Ok, now for the food, starting with the least labor intensive: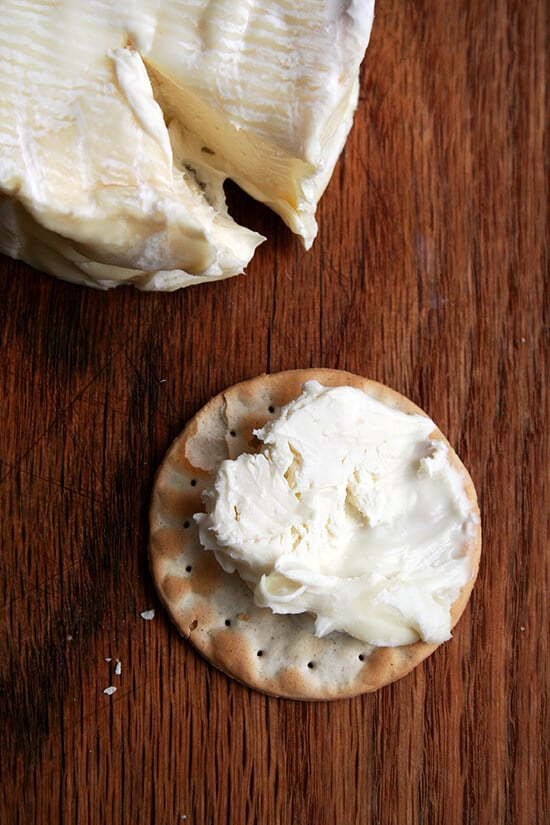 #1. Splurge on a yummy cheese.
A wedge or a round of really good cheese won't set you back much more than $10, and if you're dining at home on Valentine's Day, just consider it free, a little gift from cupid, because you would be spending boodles more out at a restaurant. I nearly cried at the grocery store when I spotted a little disk of Delice de Bourgogne, a triple crème cheese I thought resided only in France and in legitimate cheese shops here. Like Brillat Savarin and Explorateur, Delice de Bourgogne is creamy and rich and goes down easy — it's almost cheating. This triple crème has a nice stank, too, and don't let that deter you — it tastes much milder than it smells, and its thin chalky rind and smooth buttery paste are so unbelievably delicious.
What's more, its beverage pairing of choice is champagne. It couldn't be more perfect for Valentine's Day. As with most cheeses, be sure to let it sit at room temperature for an hour or so before serving.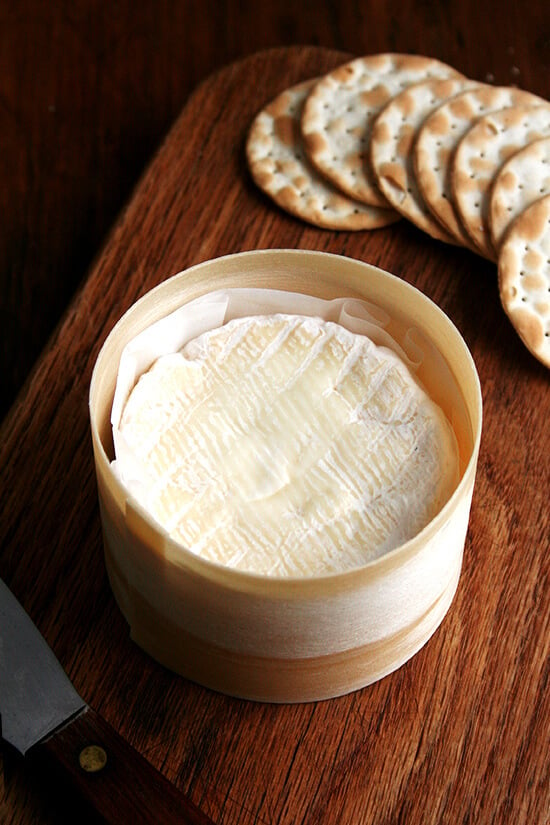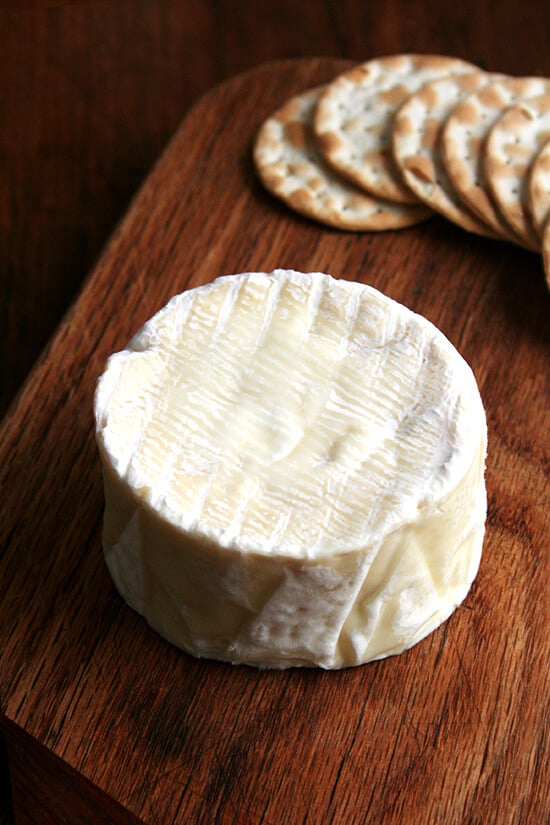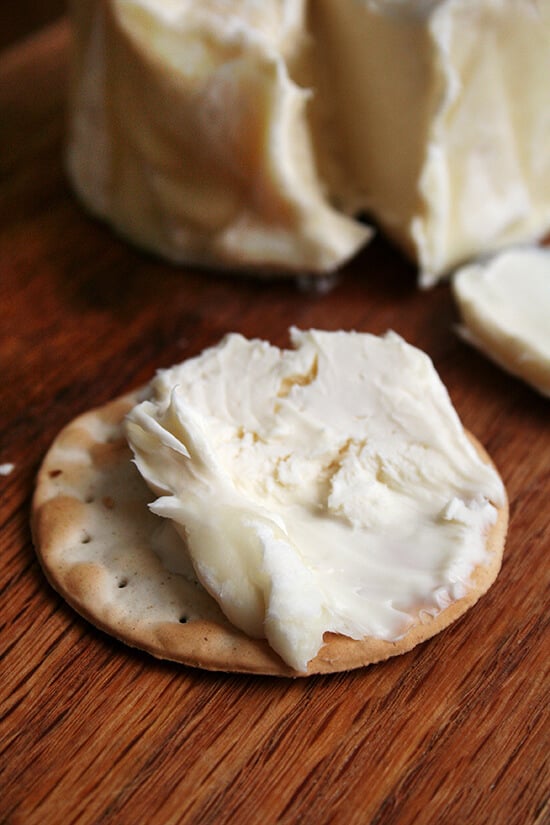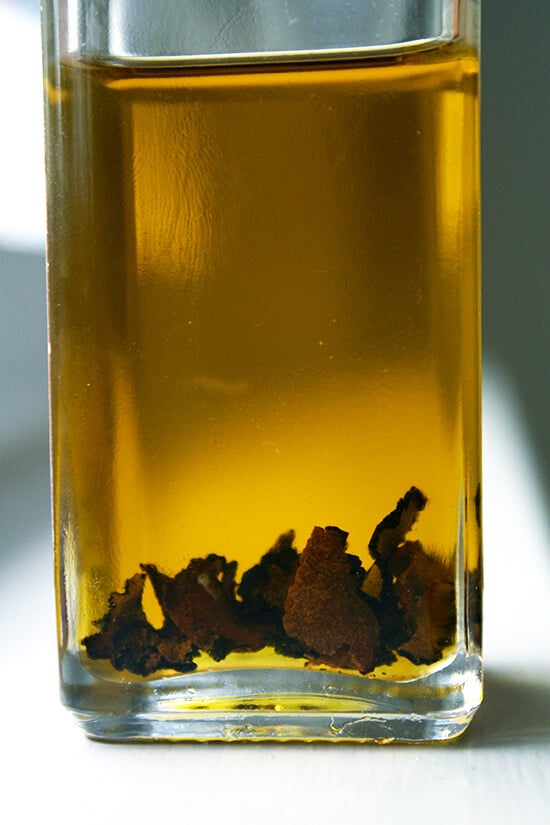 #2: Sprinkle Burrata with Sea Salt and Drizzle it with Olive Oil…truffle if you have it.
Burrata, as you all know, on its own is one of the most delicious cheeses (foods?) ever created. While additional seasonings are totally unnecessary, a little sprinkling of sea salt and a drizzling of olive oil (truffle, if you have some, is a serious treat) truly heighten its deliciousness. Because burrata's shelf life is short, I have taken pains to make sure none of it has gone to waste these past few days, enjoying it morning, noon and night spread onto toasted bread with the above-mentioned adornments. It has been heavenly.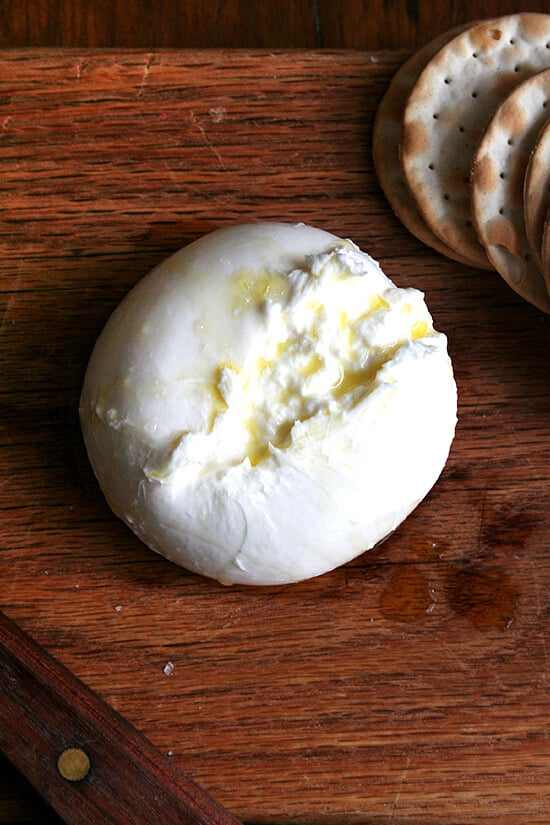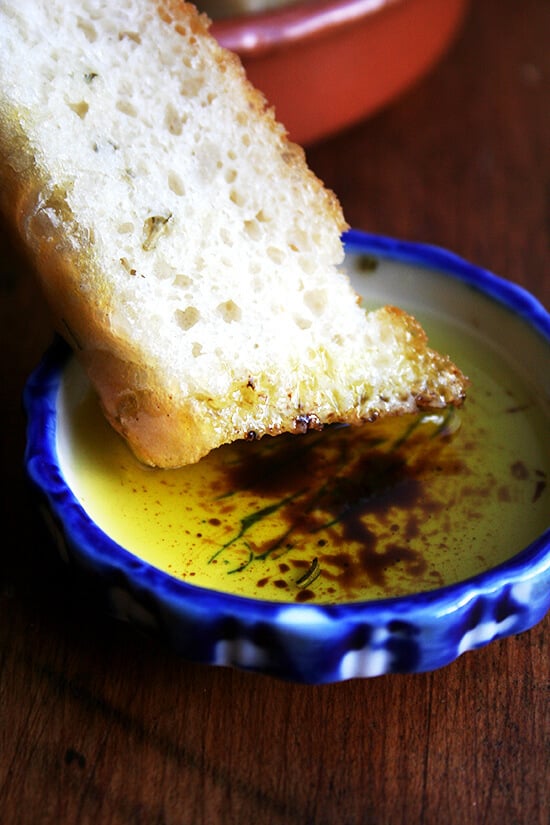 #3: Make an Herb-Infused Olive Oil and Serve it with Freshly Baked Bread
At home, I always reach for the butter when I have fresh bread on the table. But a dinner at Bistro Bethem several months ago reminded me of the joys of dipping bread in good olive oil and balsamic vinegar. If you have some good olive oil on hand, by all means, just pour some into a shallow dish and kick off your evening. But if you don't, know that making an herb-infused oil — I chose basil — is incredibly easy and rewarding: after a very brief heating (about a minute) of the herbs and oil together on the stovetop, followed by a two-hour (at least) steeping, a decent olive oil becomes a magnificent one, both aromatic and flavorful, a delectable recipient for homemade bread.
Print
Basil Olive Oil
---
Total Time:

2 hours 10 minutes

Yield:

1 cup
1 cup

extra-virgin olive oil
a bunch of basil*, about 1 1/2 cups packed
*I chose basil, and I used stems and leaves during the steeping process. Feel free to substitute your herb of choice for the basil.
---
Instructions
Holding the basil over a small saucepan, cut it, using scissors, into chunks and let it fall into the pan. Pour oil over top. Turn the burner to high, and when you see the basil leaves start to flutter in the oil, turn the heat down to low and let the herbs heat for no more than one minute — lift the pan from the heat source if the herbs and oil are moving too rapidly. Remove pan from the heat source. Let basil steep for 2 hours at least — you can make this in the evening and let it steep overnight, too. Strain the oil into a storage jar, squeezing out as much of the oil from the basil as you are able. (Note: It feels wasteful discarding the basil after the steeping. One thing you can do is purée it in a food processor or blender and then rub it on chicken or steak with some minced garlic for a simple marinade.)
Prep Time:

5 minutes

Cook Time:

5 minutes
Basil oil and balsamic caramel:

Drizzled with olive oil and sprinkled with rosemary and sea salt, the peasant bread dough makes a nice faux focaccia. I've updated the peasant bread recipe with this variation if you want to try it out. But, if you want to make a true focaccia, this Peter Reinhart recipe is wonderful.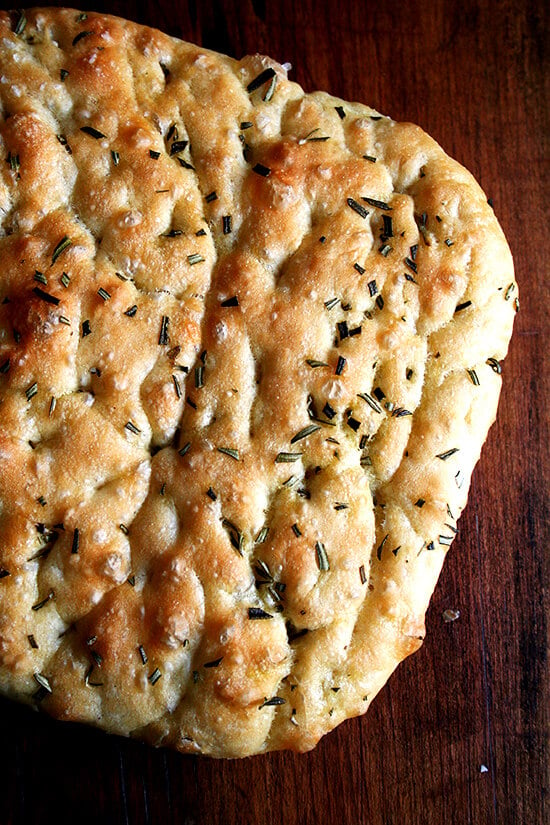 This post may contain affiliate links. Please read my disclosure policy.