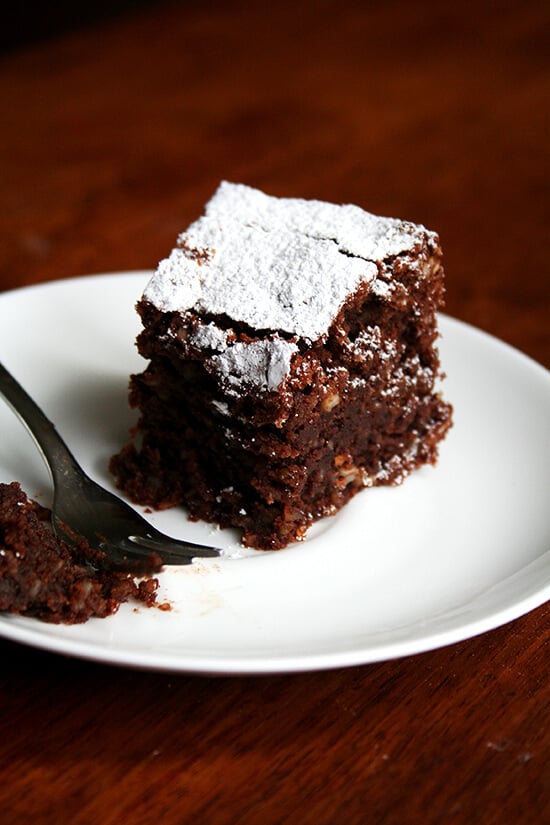 On Christmas Eve my mother served this torta caprese — a flourless, chocolate-almond torte originating from the Isle of Capri — for dessert. If this is any indication of how it was received, not a single person sitting at the table, nine in total, turned down seconds. Later that evening, Santa even helped himself to thirds.
I love this class of cakes, those that can stand on their own, that don't beg for layers of buttercream, pools of crème pâtissière, glazes of chocolate ganache or even dollops of whipped cream. This one, like the orange-and-olive oil cake and the Chez Panisse almond torte, fits into this class.
Containing no flour and leavened only by whipped egg whites, this torte is at once light, rich and moist. Ground almonds give it a wonderful texture throughout, and a splash of Grand Marnier offers a hint of orange. Made with bittersweet chocolate, it is perfectly sweet, and when it bakes, that brownie-like, most-delicious, paper-thin crust forms on the top-most layer. It is every bit elegant the finale of a special occasion should be, Valentine's Day or otherwise. I hope you find an occasion to celebrate it soon.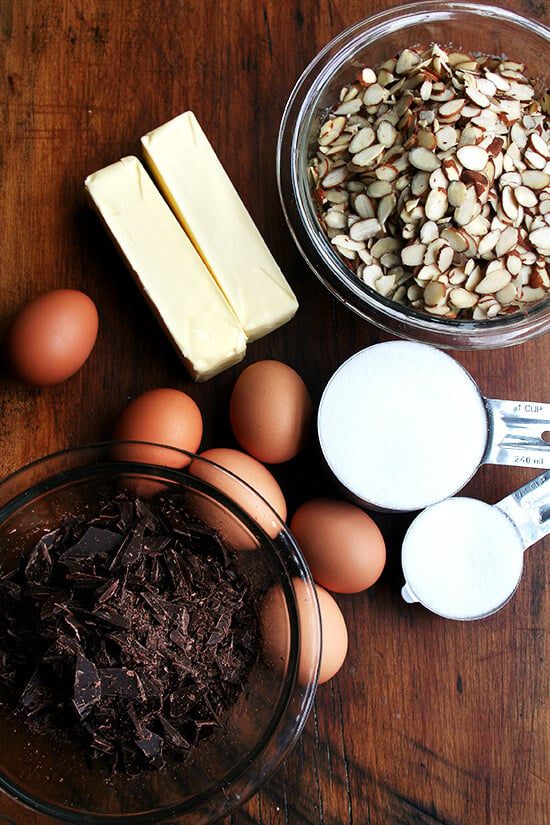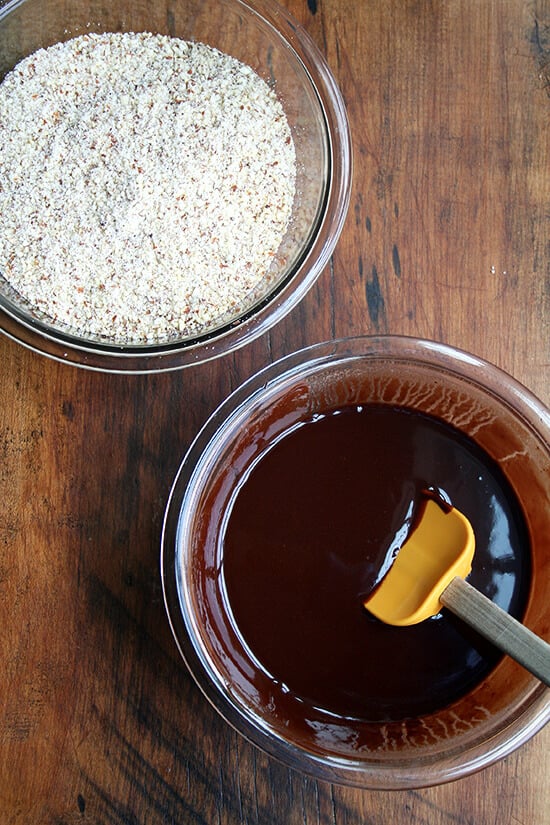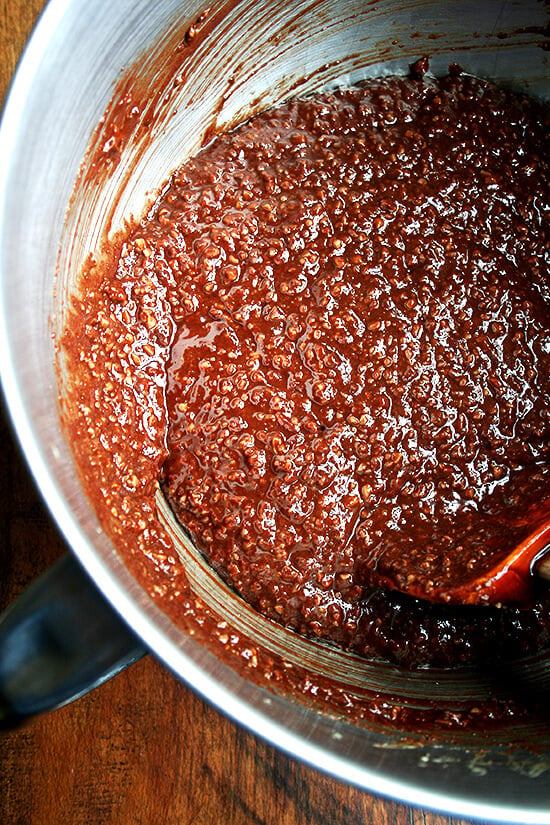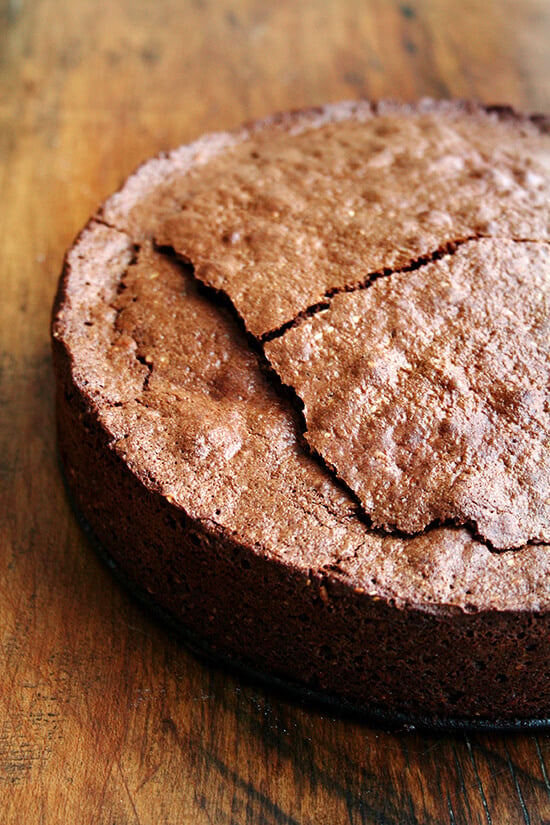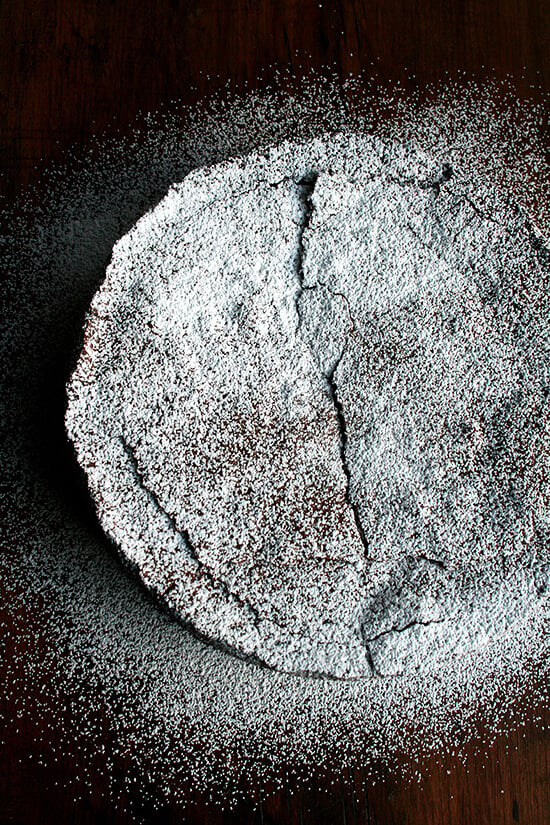 Print
Torta Caprese
---
Description
Source: The Best American Recipes 1999
Notes: Like the orange-and-olive oil cake and the Chez Panisse almond torte, this one stays moist and delicious for days, so don't be afraid to make it ahead of time. If you are abstaining from alcohol, the Grand Marnier, or other liqueur, is truly optional — delicious and moist with or without. And for whatever reason, the recipe doesn't call for salt and doesn't need it, but next time I make it, for no reason but curiosity, I might add a quarter teaspoon of sea salt.
---
Scale
Ingredients
12 oz

unblanched whole almonds (about

2 cup

s)

1 1/4 cup

s sugar, divided

8 oz

bittersweet**, coarsely chopped

1/2

pound (2 sticks) unsalted butter

6

large eggs, separated, at room temperature

2 tablespoon

s Grand Marnier, optional
Confectioners' sugar for sprinkling
---
Instructions
Preheat oven to 325ºF and set a rack on the lower or middle level. Butter a 9-inch springform pan. Line the bottom of the pan with a circle of parchment paper.
Grind the almonds in a food processor, in three batches, pulsing each batch with 2 tablespoons of the sugar, using 6 tablespoons in all.
In a bowl over simmering water or in the top of a double boiler or in the microwave (I used the microwave), melt the chocolate and butter together. Set aside.
Beat the egg yolks in a large bowl with an electric mixer until lemon-colored, about 5 minutes. Gradually beat in 10 tablespoons of the sugar. Add the chocolate mixture, stirring to mix well. Add the ground almonds and stir to incorporate. Add the 2 tablespoons of Grand Marnier, if using, and stir to combine.
In a clean bowl, beat the egg whites with the remaining 1/4 cup sugar until they form firm peaks. In two additions, fold the egg whites into the chocolate mixture.
Pour the batter into the prepared cake pan and smooth the top. Put the pan on a cookie sheet (I don't do this) and bake for 1 1/2 hours (my mother and I have had consistent results baking this torte for 55 minutes) or until a toothpick inserted in the center comes out clean.
Let cool in the pan on a wire rack for 15 minutes before removing the sides of the springform pan, then cool completely.
When the cake has cooled, turn it upside down onto a serving plate — we never flip this torte over. The top crackly layer is so pretty. But if you do decide to flip, peel off and discard the parchment paper. Just before serving, sift confectioners' sugar over the top.