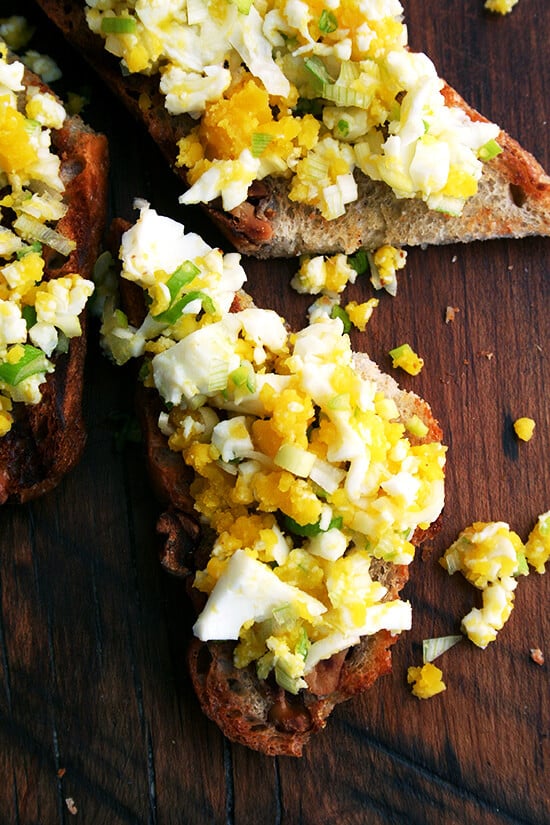 Over the weekend while looking to employ the half dozen loaves of walnut bread cluttering my countertops, I stumbled upon this little gem of a tartine in Nancy Silverton's Sandwich Book. Silverton had apparently prepared this snack — grilled bread topped with hard-boiled eggs bathed in a warm anchovy sauce — for Mario Batali one summer evening when he stopped by the piazza in the Italian town where she had been vacationing. Smitten with the combination, Batali insisted that Silverton include this creation in her nearly completed book celebrating the Thursday-night sandwich tradition at her restaurant, Campanile. And, with the addition of arugula, she did.
It all sounded too idyllic — an Italian piazza, a summer evening, a vacation, a warm anchovy bath — not to try immediately. And so, my introduction to bagna cauda, a classic Italian sauce made with anchovies, garlic, olive oil, butter and lemon juice came by way of an untraditional recipient — hard-boiled eggs — at an unconventional time of day — breakfast — and I am sorry this meeting occurred only because I now have to accept that for 31 years I have been missing out on some serious goodness.
I have no excuse. I have been reading about bagna cauda, which translates to "hot bath," for years in all of my favorite west coast cafe cookbooks — Zuni, Chez Panisse, Tartine — all of which suggest (in their own way) serving the sauce with raw vegetables, anything from endive to asparagus to spring onions to artichokes, as a light appetizer paired perhaps with a glass of rosé. A variation in the Zuni Cafe Cookbook calls for mincing part of a lemon and includes chopped walnuts, and this chunky sauce gets spooned over fish, anything from grilled tuna to sea bass to shrimp.
All of these ideas sound so completely delicious, and I hope soon to explore bagna cauda's versatility by introducing it to the second half of my day. At the moment, however, I'm just so content to be breathing anchovies at these wee hours of the morning. I think many of you might enjoy this too.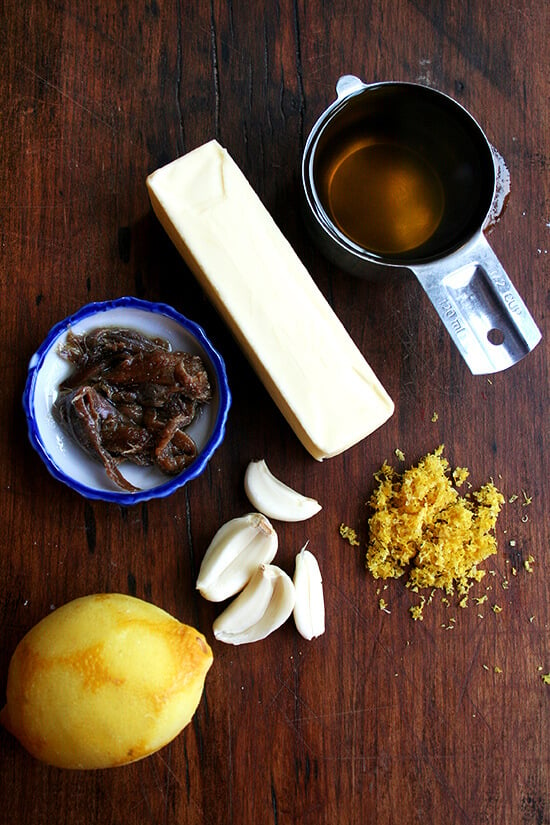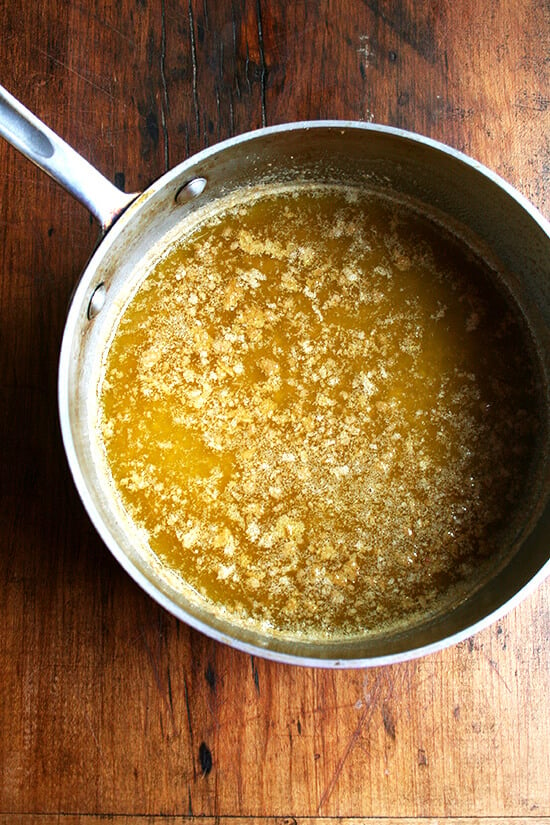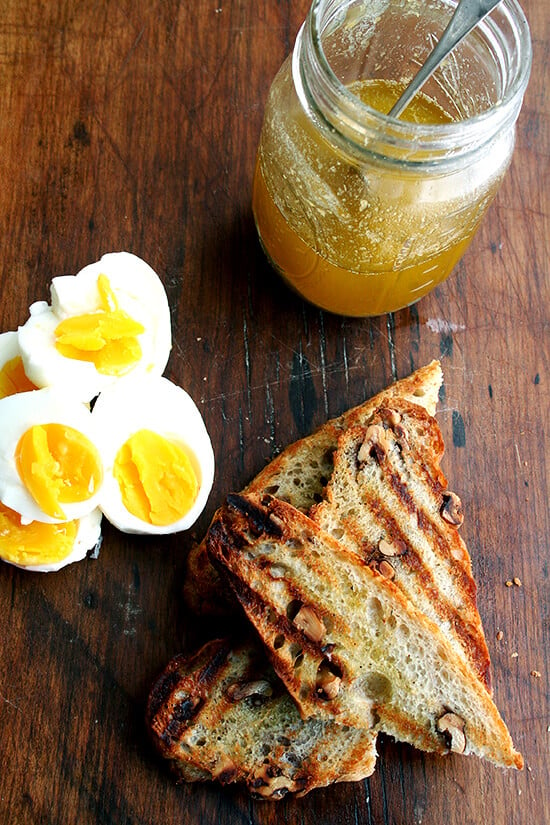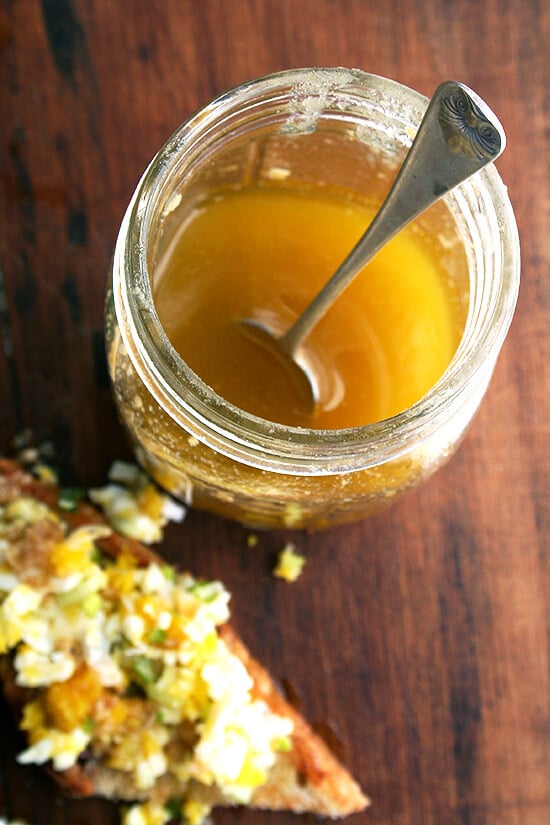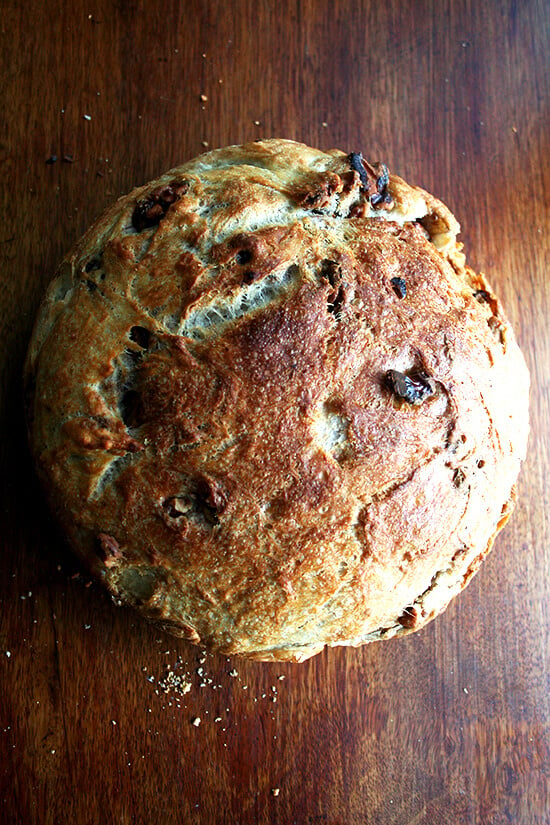 Now, for the walnut bread, to which I am grateful mostly for bringing bagna cauda into my life. I tried several variations this past week, many of which unfortunately ended up in my food processor to be used at a future date. For every variation, I've based the proportions off a recipe in Tartine Bread, replacing the leaven (which takes days (weeks?) to make) with a sponge that sits for 45 minutes. In one of the variations, I tried increasing the amount of walnut oil and adding honey, but, surprisingly, I didn't like how these additions affected the texture of the bread without offering much difference in flavor. I also tried baking the bread in buttered pyrex dishes versus the hot dutch oven, but again, I was disappointed — I think this sort of bread really needs that crusty crust, which the hot dutch oven (as much of a pain as working with it can be) so nicely achieves. The recipe I've enclosed below produces a savory loaf with a light, tender crumb and a crispy exterior all around — it is particularly delicious paired with cheese, namely Delice de Bourgogne.
Then flour, water, walnut oil and salt are added: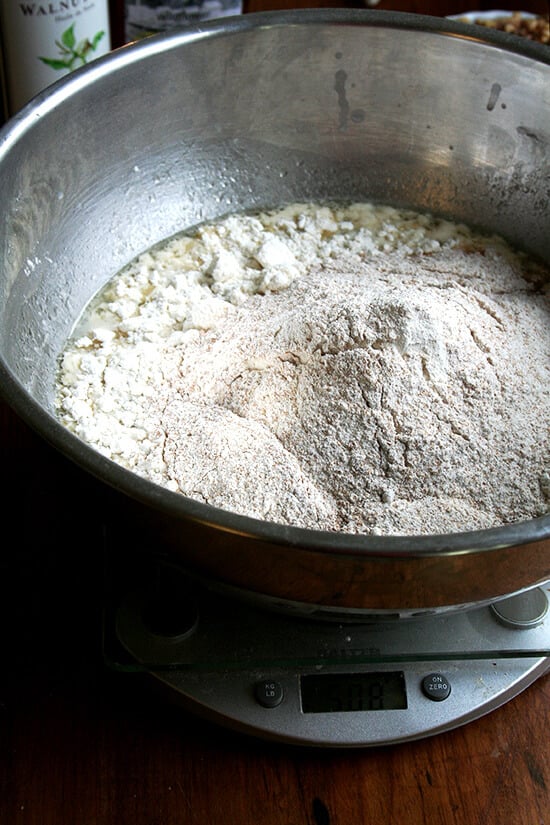 Then the dough rises for a few hours: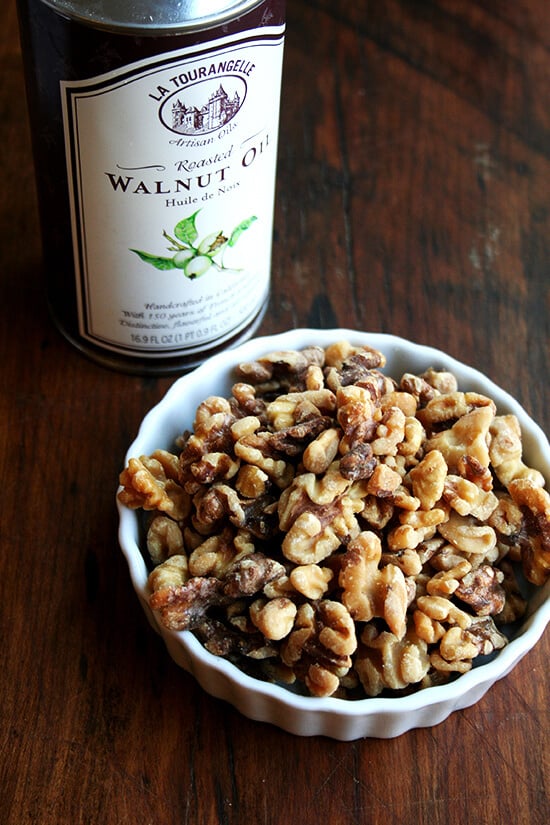 In the meantime, walnuts are toasted and their bitter skin is removed: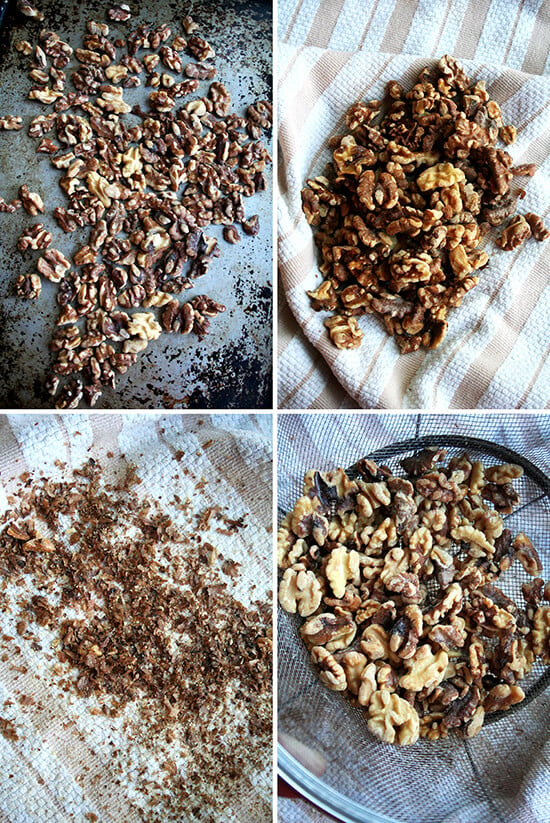 After punching down the dough, walnuts get added: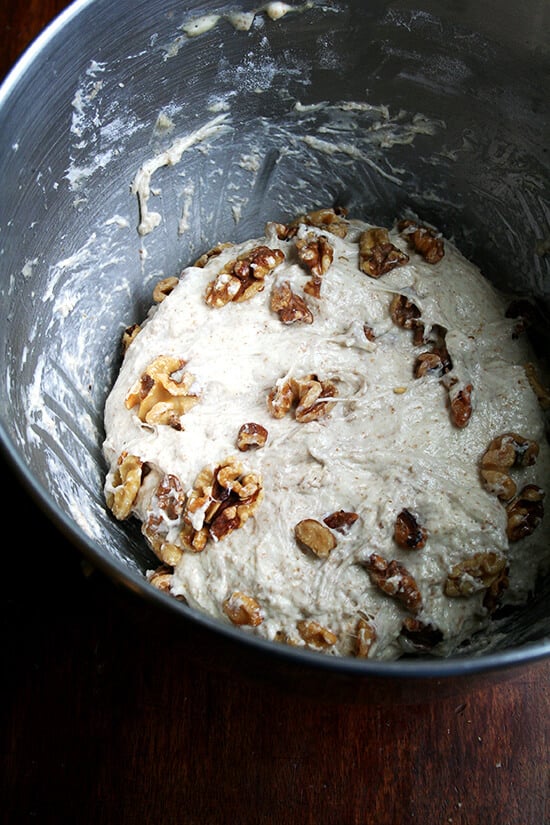 After another rise, it gets plopped into a hot dutch oven:

After about 35 to 40 minutes, the loaf emerges golden and crusty: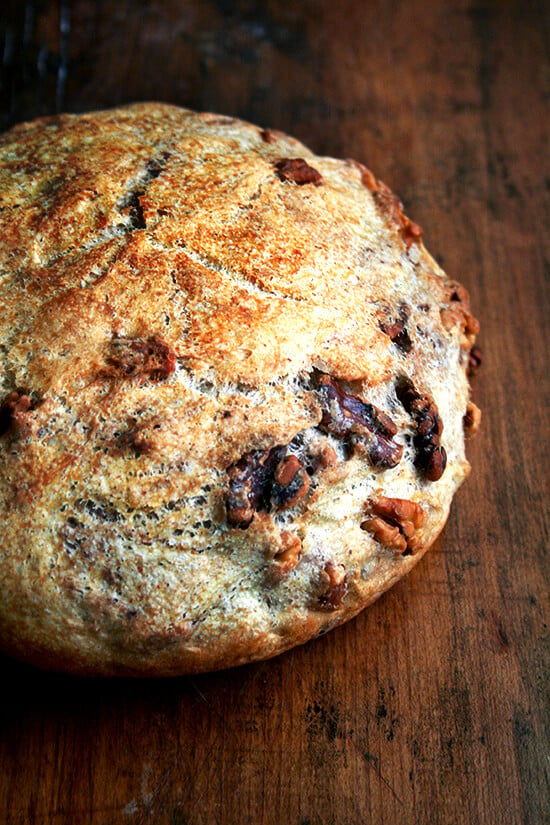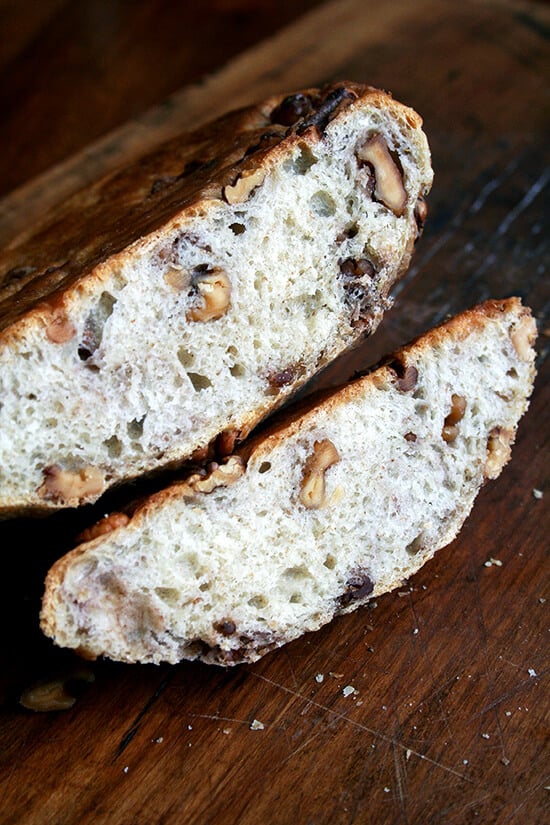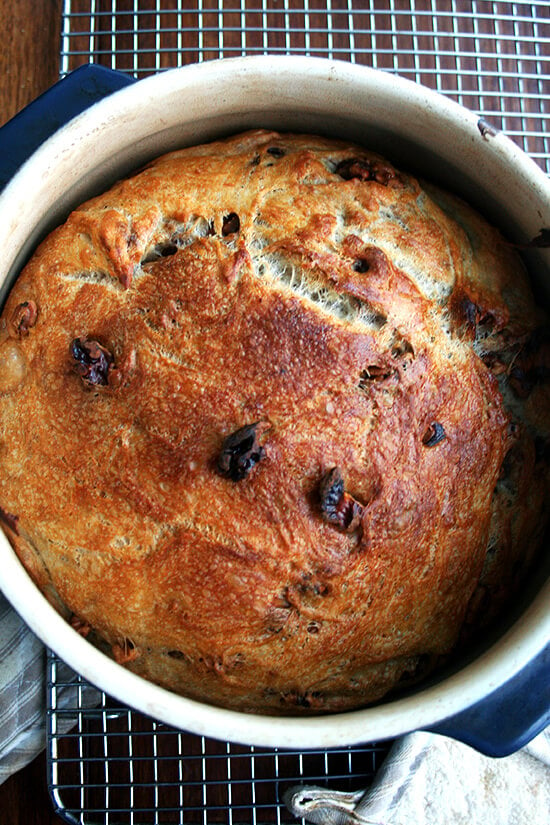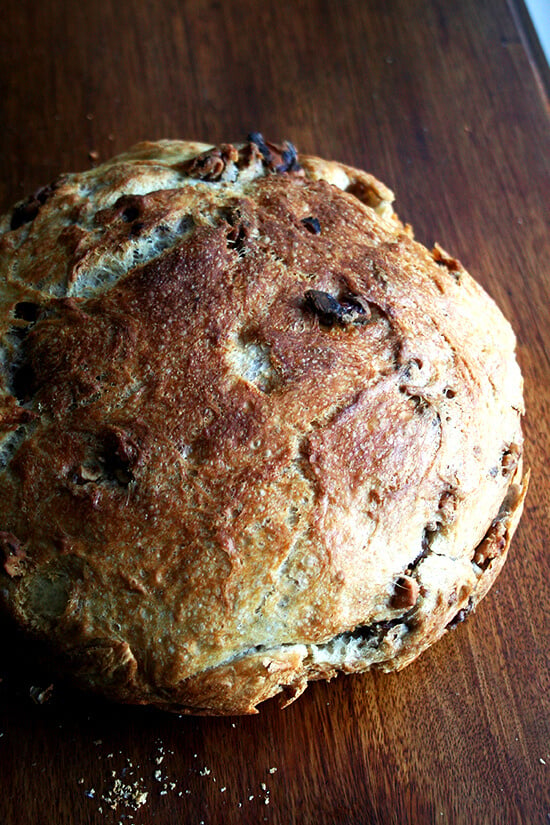 While I know very few of you will likely have the time to make the walnut bread before or on Valentine's Day, it truly is a wonderful complement to all sorts of cheeses, in particular Delice de Bourgogne. I caved and bought another wheel this week…this is a tradition that must end soon.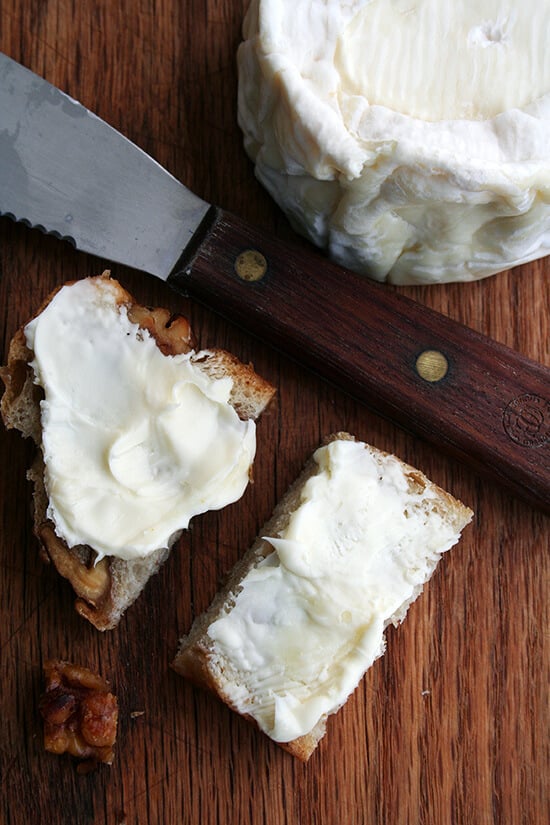 Many of the loaves I made this week ended up in the food processor and ultimately my freezer. I'm hoping that after a little toasting in olive oil, these walnut breadcrumbs will be a nice addition to a salt-roasted beet salad come springtime.