Toast with Hard Boiled Eggs & Bagna Cauda // Also, Walnut Bread
This post may contain affiliate links. Please read my disclosure policy.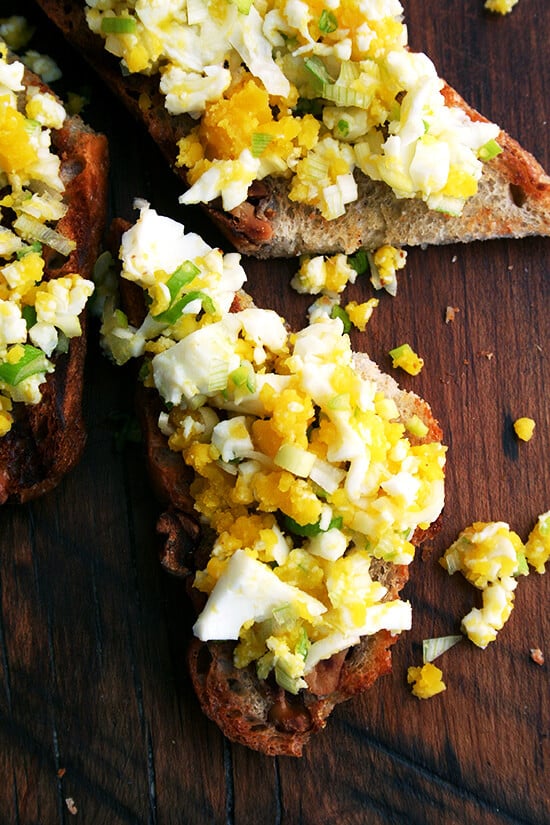 Over the weekend while looking to employ the half dozen loaves of walnut bread cluttering my countertops, I stumbled upon this little gem of a tartine in Nancy Silverton's Sandwich Book. Silverton had apparently prepared this snack — grilled bread topped with hard-boiled eggs bathed in a warm anchovy sauce — for Mario Batali one summer evening when he stopped by the piazza in the Italian town where she had been vacationing. Smitten with the combination, Batali insisted that Silverton include this creation in her nearly completed book celebrating the Thursday-night sandwich tradition at her restaurant, Campanile. And, with the addition of arugula, she did.
It all sounded too idyllic — an Italian piazza, a summer evening, a vacation, a warm anchovy bath — not to try immediately. And so, my introduction to bagna cauda, a classic Italian sauce made with anchovies, garlic, olive oil, butter and lemon juice came by way of an untraditional recipient — hard-boiled eggs — at an unconventional time of day — breakfast — and I am sorry this meeting occurred only because I now have to accept that for 31 years I have been missing out on some serious goodness.
I have no excuse. I have been reading about bagna cauda, which translates to "hot bath," for years in all of my favorite west coast cafe cookbooks — Zuni, Chez Panisse, Tartine — all of which suggest (in their own way) serving the sauce with raw vegetables, anything from endive to asparagus to spring onions to artichokes, as a light appetizer paired perhaps with a glass of rosé. A variation in the Zuni Cafe Cookbook calls for mincing part of a lemon and includes chopped walnuts, and this chunky sauce gets spooned over fish, anything from grilled tuna to sea bass to shrimp.
All of these ideas sound so completely delicious, and I hope soon to explore bagna cauda's versatility by introducing it to the second half of my day. At the moment, however, I'm just so content to be breathing anchovies at these wee hours of the morning. I think many of you might enjoy this too.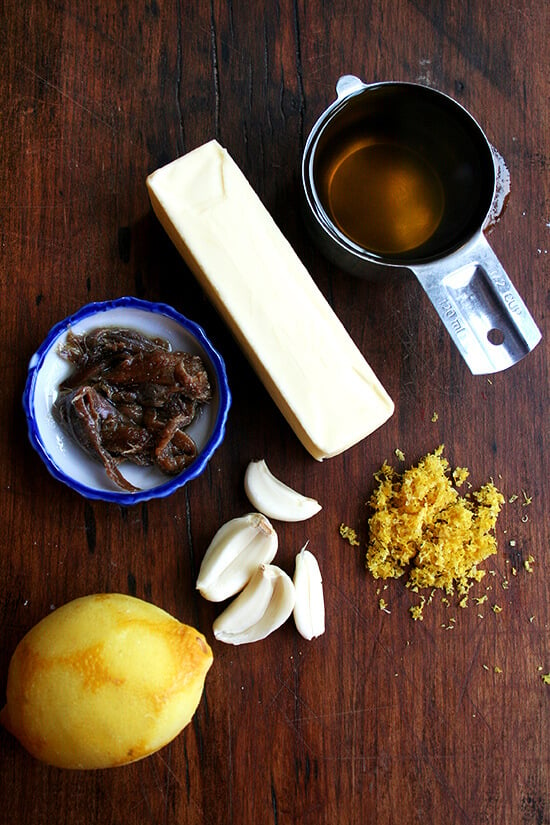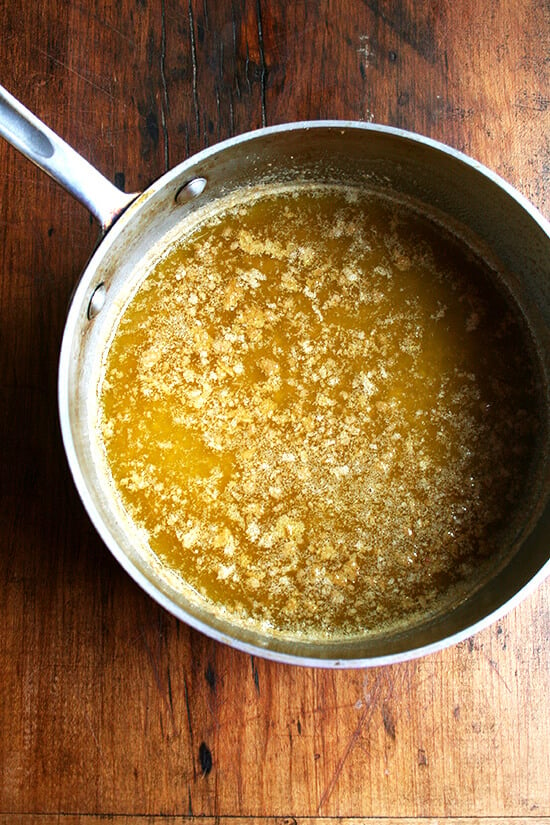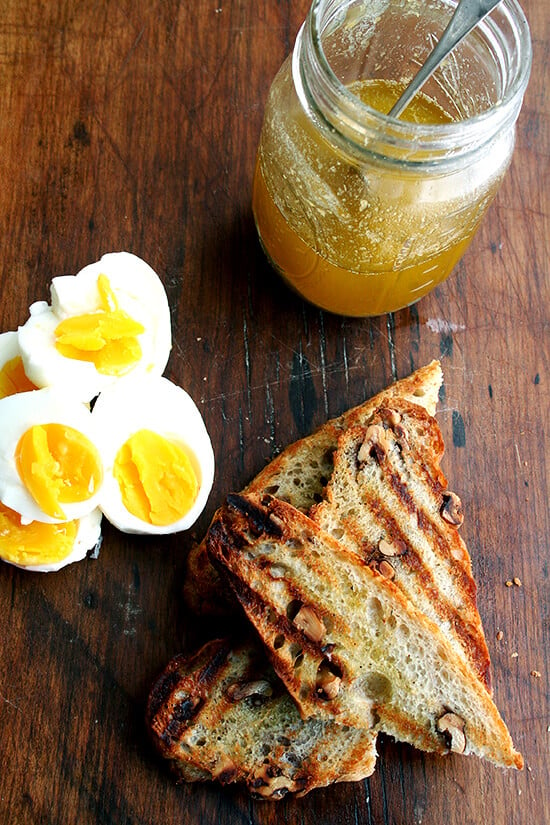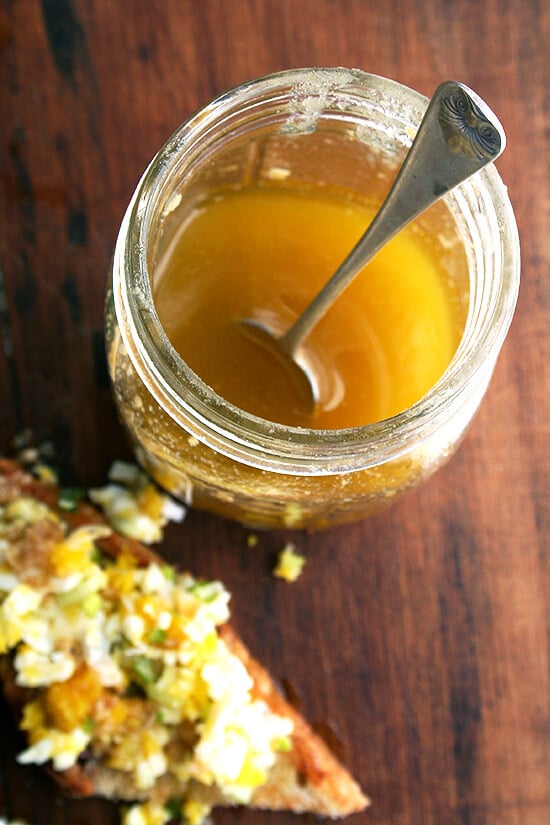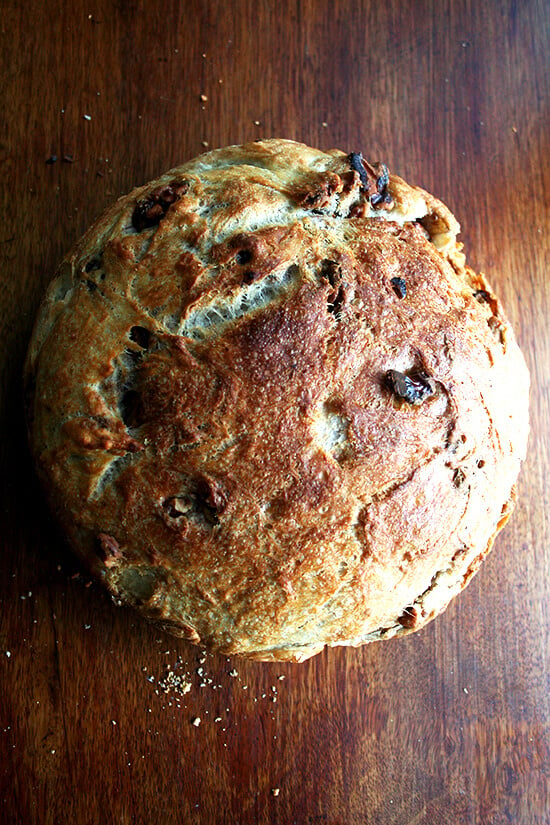 Now, for the walnut bread, to which I am grateful mostly for bringing bagna cauda into my life. I tried several variations this past week, many of which unfortunately ended up in my food processor to be used at a future date. For every variation, I've based the proportions off a recipe in Tartine Bread, replacing the leaven (which takes days (weeks?) to make) with a sponge that sits for 45 minutes. In one of the variations, I tried increasing the amount of walnut oil and adding honey, but, surprisingly, I didn't like how these additions affected the texture of the bread without offering much difference in flavor. I also tried baking the bread in buttered pyrex dishes versus the hot dutch oven, but again, I was disappointed — I think this sort of bread really needs that crusty crust, which the hot dutch oven (as much of a pain as working with it can be) so nicely achieves. The recipe I've enclosed below produces a savory loaf with a light, tender crumb and a crispy exterior all around — it is particularly delicious paired with cheese, namely Delice de Bourgogne.
Then flour, water, walnut oil and salt are added: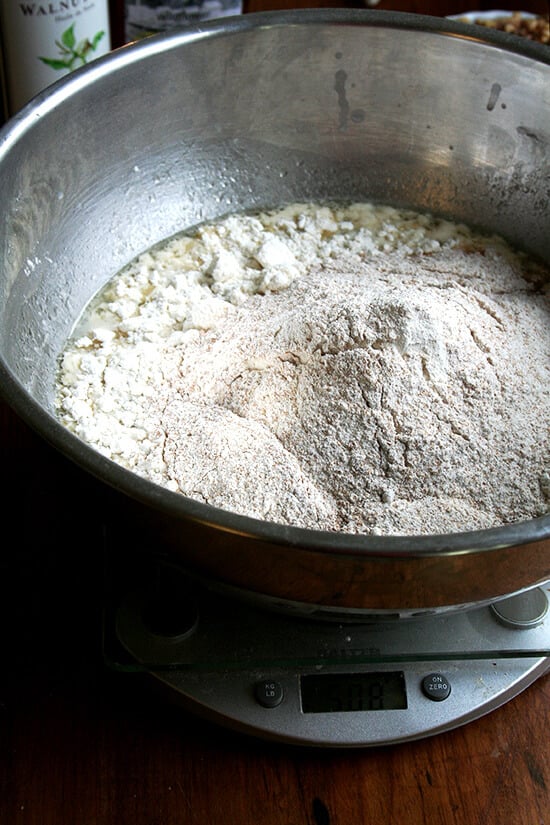 Then the dough rises for a few hours: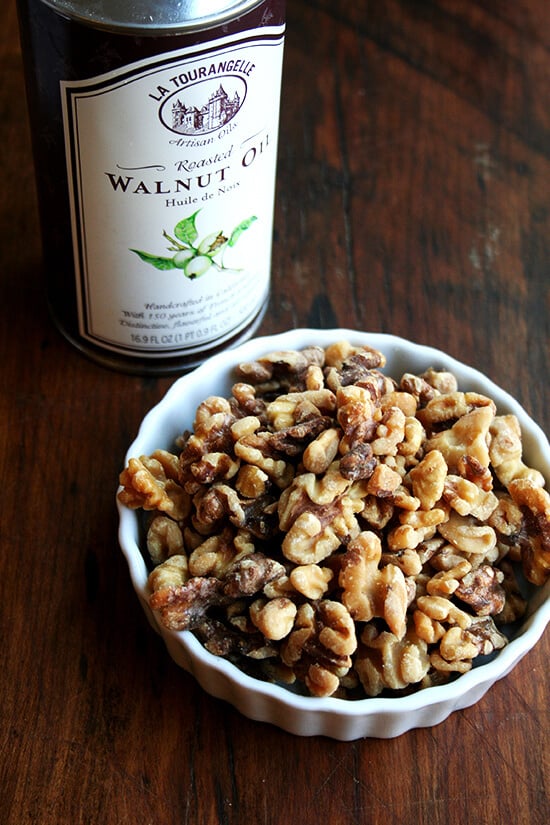 In the meantime, walnuts are toasted and their bitter skin is removed: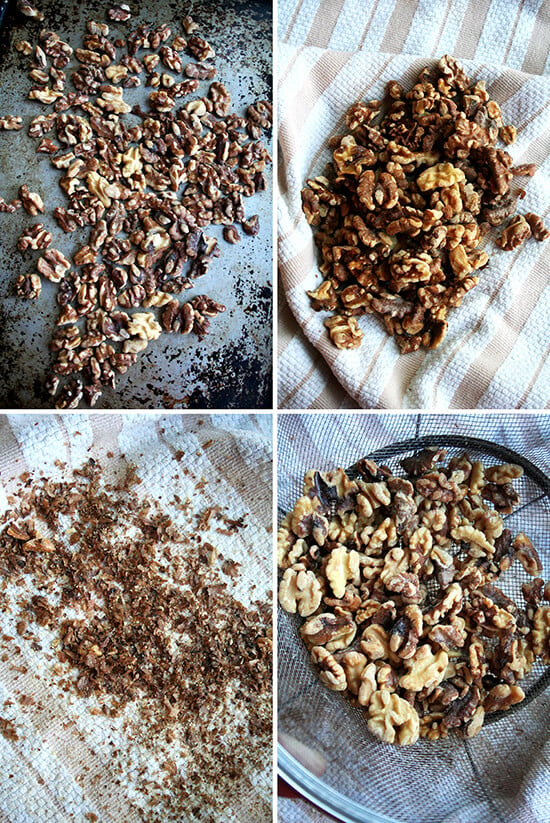 After punching down the dough, walnuts get added: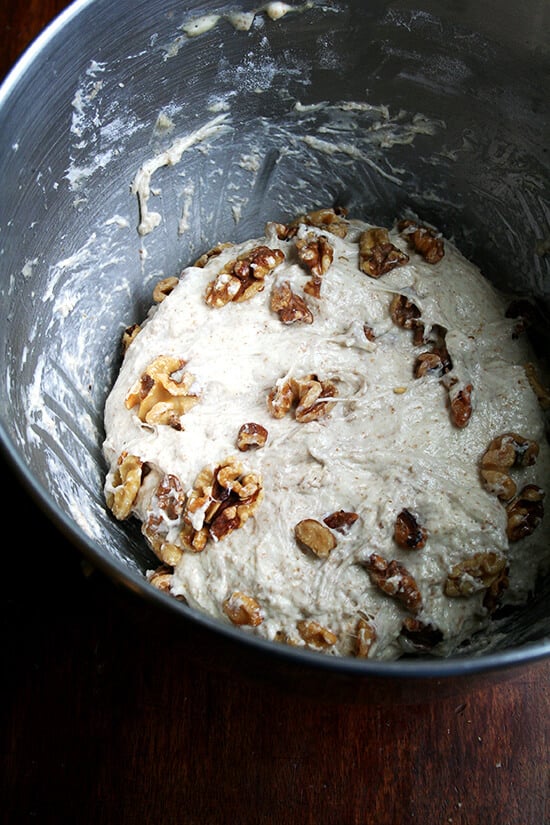 After another rise, it gets plopped into a hot dutch oven:

After about 35 to 40 minutes, the loaf emerges golden and crusty: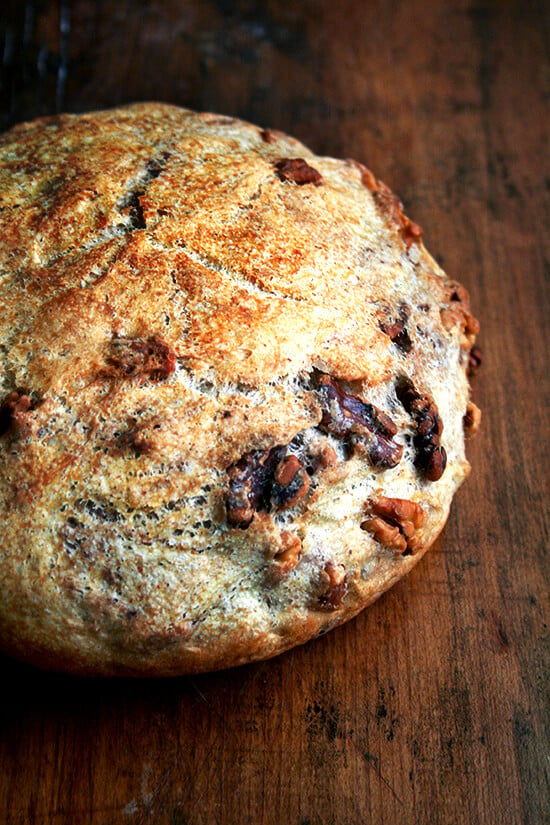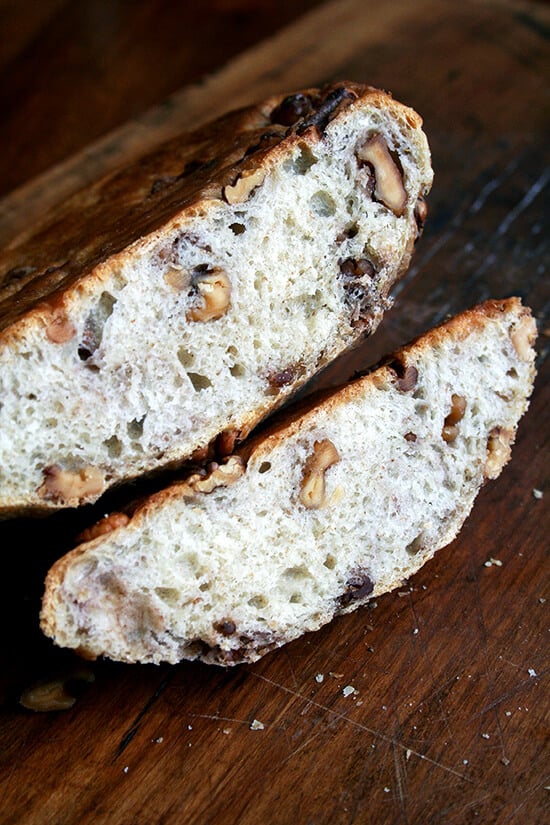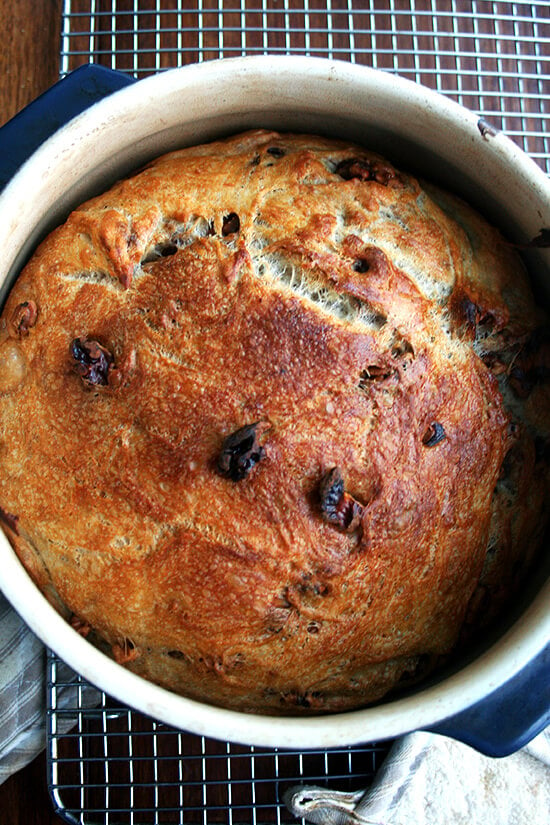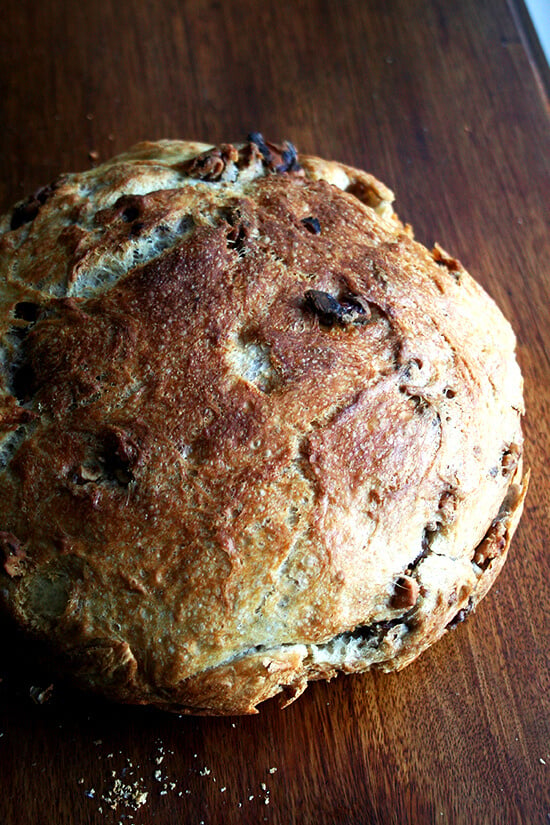 While I know very few of you will likely have the time to make the walnut bread before or on Valentine's Day, it truly is a wonderful complement to all sorts of cheeses, in particular Delice de Bourgogne. I caved and bought another wheel this week…this is a tradition that must end soon.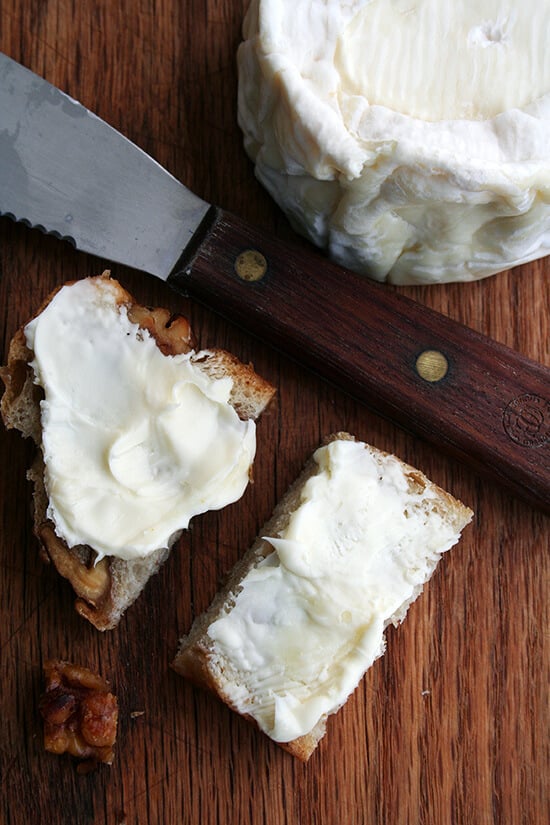 Many of the loaves I made this week ended up in the food processor and ultimately my freezer. I'm hoping that after a little toasting in olive oil, these walnut breadcrumbs will be a nice addition to a salt-roasted beet salad come springtime.

Print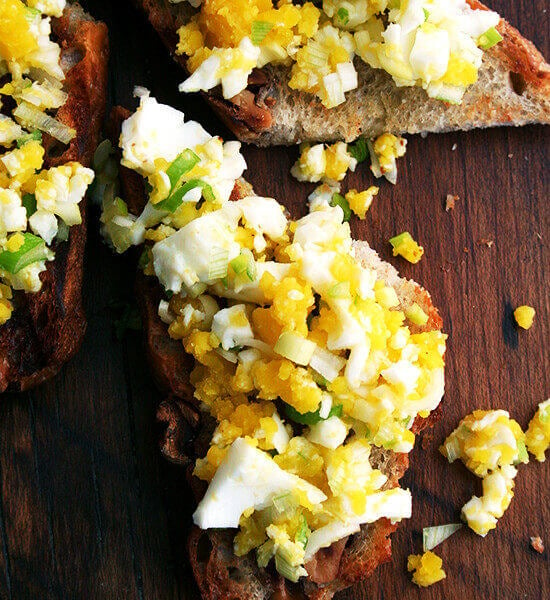 Hard-Boiled Eggs on Toast with Bagna Cauda
---
---
for the bagna cauda:
2

to

3

fat garlic cloves, peeled and finely chopped (about

1 tablespoon

)

4

3-inch-long salt-packed* anchovies, rinsed well, backbones removed, finely chopped (about tablespoon)

1

stick (4 ounces) unsalted butter

1/2 cup

extra-virgin olive oil

1/2 teaspoon

finely chopped lemon zest

3

to

4

teaspoons fresh lemon juice, or to tastes
Kosher salt, to taste
*I still have never used these guys. Have been meaning to order a tin for the longest time. The oil packed anchovies work just fine if you can't find the salt-packed.
6

eggs (or however many you wish)
arugula (I didn't have any, but this sounds wonderful)
grilled bread (I used my panini machine, but toasted bread is just fine, too)
---
Instructions
Using a mortar and pestle (I used the food processor…lazy), pulverize the garlic and anchovies until a smooth paste.
Transfer the paste to a small saucepan. Add the butter and olive oil and bring to a simmer over low heat. Continue simmering for about 5 minutes. Remove the pan from the heat and stir in the lemon zest and lemon juice. Season with salt to taste. Note: This can be made ahead of time and stored in the refrigerator until ready to use. Just be sure to rewarm it slightly before serving — I used the microwave.
for the hard-boiled eggs:
Place the eggs in a saucepan and add enough cold water to cover. Bring the water to a boil and immediately turn off the heat. Let the eggs sit in the pan for 15 minutes. Remove the eggs to a bowl and allow to rest for at least 2 minutes. When the eggs are cool enough to handle, crack the eggs on each side and then roll them back and forth with your hand, breaking up the shell. Remove and discard the shell.
to assemble the sandwiches:
Arrange the arugula over each piece of bread. Cut the top 1/2 inch off the eggs and, using a spoon, scoop them out of their shells in large spoonfuls onto the bread. Note: I tried this, but failed. I just had an easier time peeling the eggs, gently mashing them with a fork, seasoning them with a pinch of salt and pepper and a few chopped scallions (just because I had them), and then spooning this mixture over the grilled bread. Drizzle each piece with a few spoonfuls of the warm bagna cauda. Serve more bagna cauda on the side just in case.
Prep Time:

15 minutes

Cook Time:

15 minutes
Print
Walnut Bread
---
Total Time:

4 hours 30 minutes

Yield:

2 small loaves or 1 large loaf if you own a large Dutch oven with straight sides (notes below)
Description
Notes:
While this is not a difficult bread to make, it is not a quick (although much of the time required to make the bread is hands-off — the dough rises slowly). If you are looking for a super simple, totally delicious, fast dinner bread, try this peasant bread. The key with this bread is to be patient every step of the way, from letting the sponge rest at least 45 minutes to allowing each rise as much time as possible.
I really like baking this bread in a preheated Dutch oven. If you don't have one, you can bake the loaves in buttered pyrex bowls or just free form on a baking sheet, but just know that the crust won't be thick and crispy. Also, I prefer to make one large loaf versus splitting the dough in half — I just think it bakes better and tastes better — but if you don't have a straight-sided Dutch oven, as I do not, this can be a pain. As much of a pain as it is, until I get a proper pan, I will continue to bake it in this Dutch oven even though it means I have to crush it a little bit when I remove it.
The proportions of this dough are based off the proportions for the basic country bread in Tartine Bread. Here, in place of making a leaven, which takes days/weeks and calls for zero yeast, you make a sponge that sits for 45 minutes.
The breakdown of timing for the various steps is as follows: 1. Initial sponge sits for 45 minutes (or an hour or more if time allows). 2. Initial rise takes 2 to 4 hours. 3. Final rise takes 1 hour. 4. Loaves bake for 35 to 45 minutes.
---
1/4 cup

lukewarm* water

1/4 tsp

. sugar

1 tsp

. yeast (instant, active dry, rapid rise — whatever you have)

1/3 cup

(

1.75 oz

|

50 g

) all-purpose or bread flour
1 1/2 cups

plus 2 tablespoons (

13 oz

|

375 g

) lukewarm water

2 tablespoons

walnut oil, divided

3 1/2 cups

(

16 oz

|

450 g

) all-purpose or bread flour

1/3 cup

(

1.75 oz

|

50 g

) wheat flour

2 teaspoons

(

0.5 oz

|

14 g

) kosher salt
*To make lukewarm water, I always place a tea kettle on to boil and use 25% boiling water and 75% cold water. So here, I'll mix 1 tablespoon of boiling water with 3 tablespoons of cold water to get my quarter cup of lukewarm water.
---
Instructions
make the sponge:
In a small bowl, stir together the water and the sugar. Sprinkle the yeast overtop. Let stand five minutes or so until you see that the mixture is somewhat foamy. (This is an unnecessary step, but when you see that it's foamy, you know that your yeast is active.) Stir in the 1/3 cup flour. Cover bowl with plastic wrap and let sit for 45 minutes or for as long as an hour and a half if time allows). The mixture should have at least doubled in bulk and look somewhat bubbly.
Meanwhile, toast the walnuts. Preheat the oven to 350ºF. Spread walnuts on a baking sheet and bake for about 10 minutes. This might take more or less time — keep an eye on them and set a timer. Nothing is worse than burning a sheetpan worth of nuts. Remove pan from oven and let nuts cool. Transfer walnuts to a clean tea towel and rub well to remove as much skin as possible. Transfer nuts to a colander or sieve and shake it over the sink to remove any excess skin. (Note: This skin removal process is an extra step, but I think it's worth it because the skin can be so bitter.)make the dough:
Transfer this sponge to a large mixing bowl and stir in the water, 1 tablespoon of the walnut oil, flours and salt. Using a spoon or your hand, mix until the ingredients are well blended. Cover the bowl in plastic wrap and place in a warm spot to rise. (Note: If you need to create a warm spot, preheat your oven at a lowish setting for 1 minute — essentially, just turn your oven on for a minute and then turn it off. In other words, do not let the oven get up to 350ºF, for example, and then heat at 350ºF for that minute.) This initial rise can take anywhere from 2 to 4 hours. Be patient. One day my dough doubled in 2 hours; another day it took over 4. (Note: Now, I can't say for sure because I haven't tried this with this recipe, but I imagine (because I've had success with other recipes doing this) that you could place the dough in the fridge overnight at this point and let it rise slowly in the cool environment. If you need to go to work in the morning and the dough has risen considerably, just punch it down, cover it up, and place it back in the fridge.)
When the dough has doubled, punch it down using your hands or two forks or however you like to do this. Sprinkle the walnuts over top and gently knead them into the dough so that they are evenly dispersed. If your hand gets too sticky (which they likely will), dip them in water to make the kneading process a little easier. Once the walnuts have been added, drizzle the dough with the additional tablespoon of walnut oil and turn the dough to coat, adding a drizzling more of the walnut oil if necessary. (Notes: Adding flour at this point versus water to help with the sticking issue might be an instinct for many of you, but I shied away from adding flour after reading some of the notes in Tartine Bread. I think adding too much flour can affect the final flavor and texture of the bread, so I prefer to use water. This step is a little annoying, but just get through it quickly without worrying too much that the walnuts are completely evenly dispersed — they will be.)
OK, at this point, you will either divide the dough in half or leave it whole. If you have a large Dutch oven with straight sides, then just leave the loaf whole. Having made this several times now, this is my preference — I love the big boule it creates, even though removing it from my sloped-sided Dutch oven after it has finished baking is such a process. In some of the pictures here, you can see that I divided the dough in half and baked each separately in my sloped-sided Dutch oven, which made the removal process easy. If you divide the dough in half, place each half in a well greased bowl to complete this second rise. If you leave it whole, just leave the dough in the same mixing bowl you have been using. Place bowls in a warm draft-free spot.
Place a large Dutch oven with a lid or two Dutch ovens with lids in the oven and preheat the oven to 500ºF. If time allows, leave the Dutch oven in the oven for a whole hour. If not, 30 minutes is fine, too. When the loaves have nearly doubled (about an hour or less), remove the Dutch oven and lid from the oven being careful not to burn yourself. Remove the lid from its base and carefully plop the dough into the Dutch oven. Place the cover on top and return pot to the oven. Turn heat down to 450ºF. Bake for 20 minutes. Carefully remove top after 20 minutes and continue baking for an additional 20 to 25 minutes (if you have made one large loaf) or for 15 to 20 minutes (if you are baking smaller loaves). Once the loaves look nicely browned on top, turn them out onto a cooling rack. Let cool for as long as you are able to resist.
Prep Time:

20 minutes

Cook Time:

1 hours 20 minutes
This post may contain affiliate links. Please read my disclosure policy.