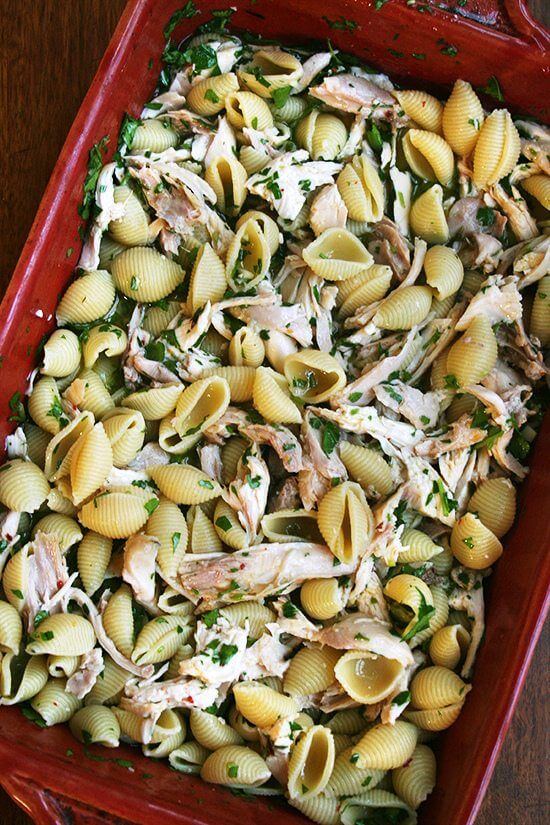 Do you ever find yourself needing to prepare a meal for a friend? Perhaps a new mom? Or someone on bed rest? Or just someone in need?
As comfortable as I feel in the kitchen, cooking for these sorts of occasions makes me panicky. I never know what to make. I know comfort food is the name of the game, but I worry that my comfort food might not comfort others.
Fortunately, I have friends who thrive in these situations — friends who can throw casseroles together in their sleep; friends whose pantries never fail them at these critical moments; friends whose freezers at any given time are stocked with a half dozen of these sorts of meals already. It was one of these such friends who passed along this recipe after I mentioned I had no idea what I was going to make for my friend who had just returned from the hospital with a new baby girl. I didn't even have to note that this new mom was avoiding dairy and a few other foods. Amanda knew exactly the recipe I needed.
This baked pasta with chicken has become a favorite in my house and not just for passing along to friends in need. Unlike so many baked-pasta recipes, this one contains neither cheese nor bechamel. The sauce, made with white wine, olive oil, lemon, herbs and garlic, tastes, without the fishiness, like the broth that bathes linguine and clams in giant porcelain bowls in classic Italian restaurants. It's both light and comforting, and it demands lots of warm crusty bread.
I love making this recipe when I have leftover roast chicken, which recently has come by way of spatchcocking. Have you ever spatchcocked a chicken? It's incredibly easy and rewarding, the result being, so far as I can tell, perfect roast chicken in about half the time.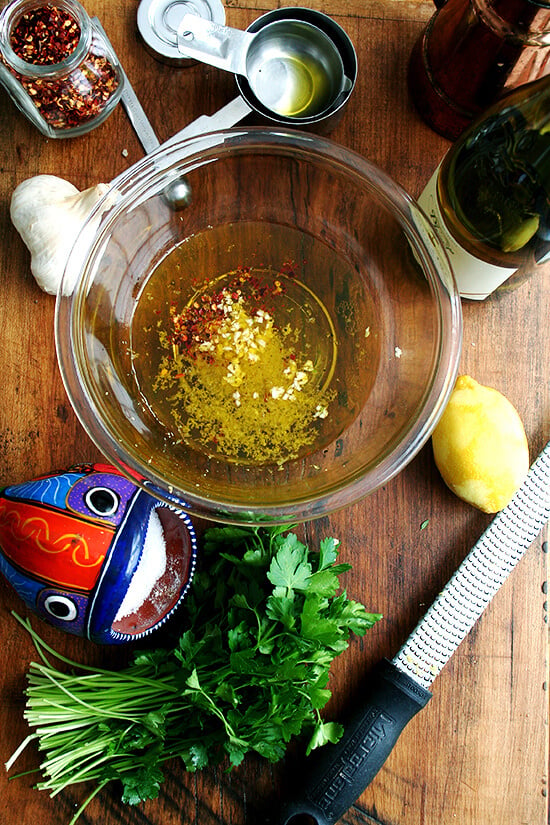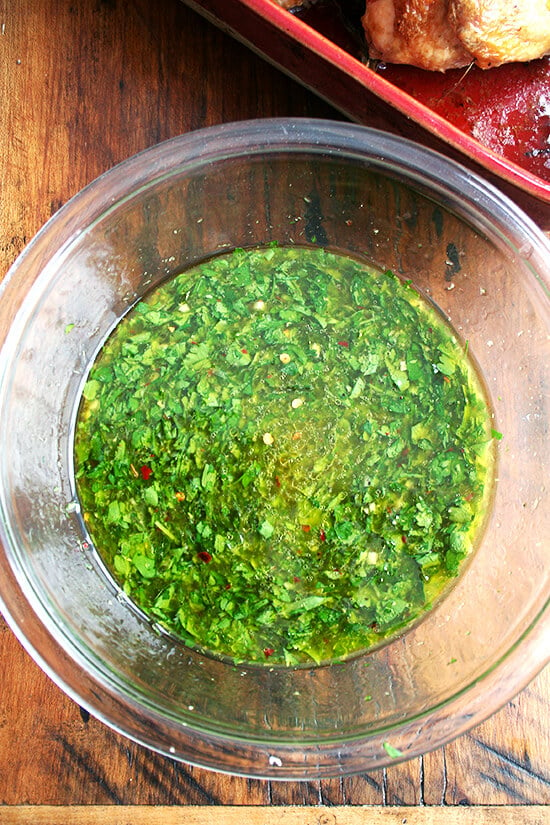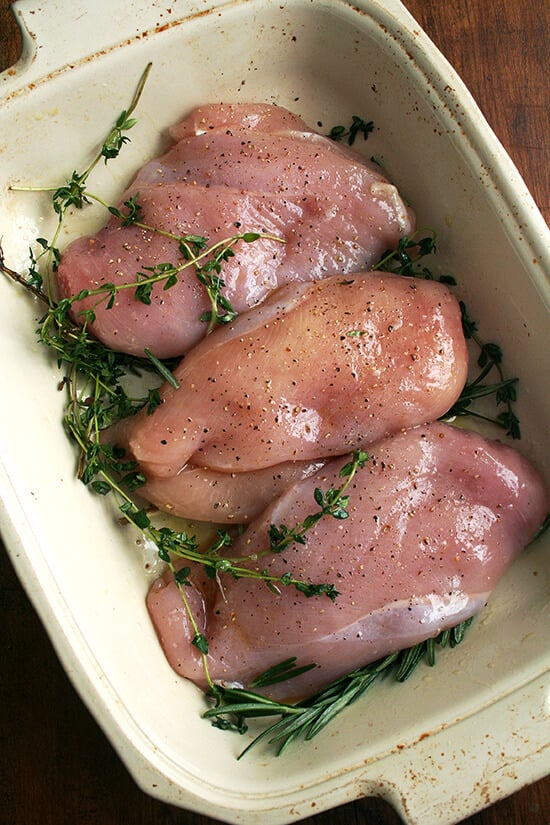 Have you ever spatchcocked a chicken? Have you ever tried saying spatchcocked without laughing? Still can't do it. But fortunately the giggles don't get in the way of my spatchcocking: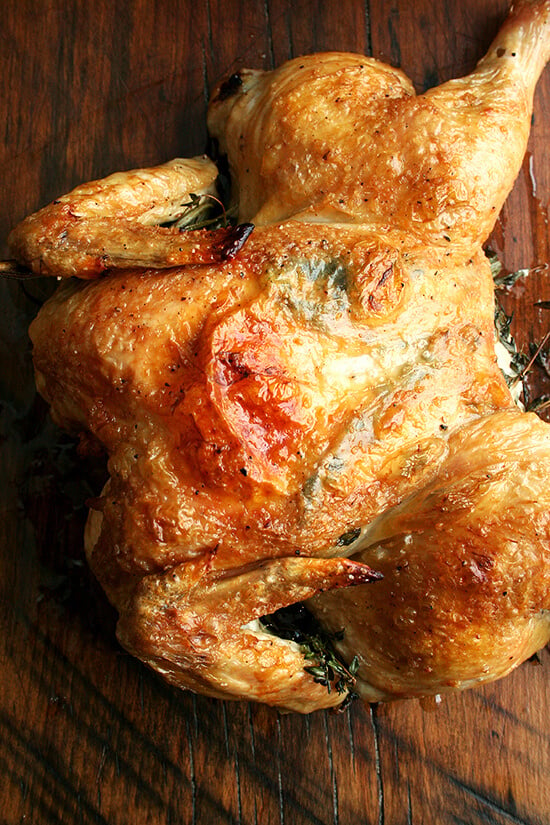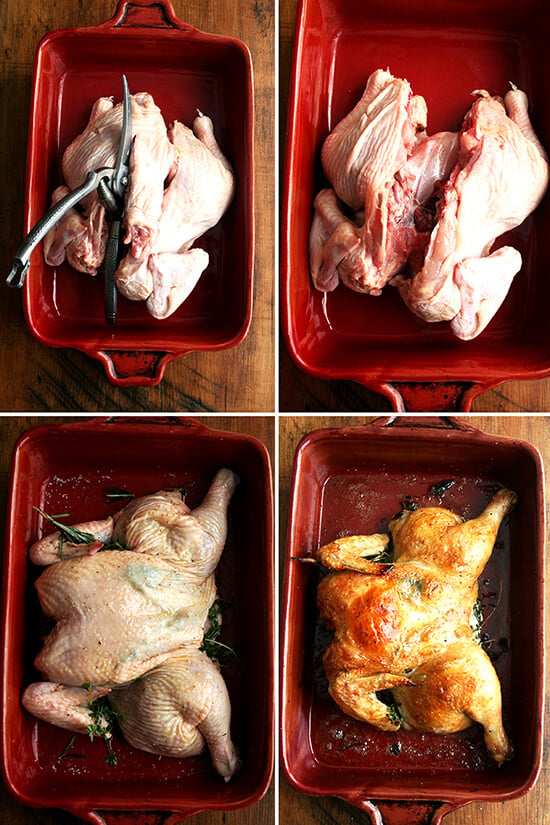 Print
Spatchcocked Chicken
---
Ingredients
1

whole chicken
Olive oil
Kosher salt and pepper to taste
A few sprigs rosemary and thyme, if you have them
---
Instructions
Preheat oven to 500ºF. Place whole chicken breast side down on a work surface. Using poultry shears (or a knife), remove the backbone. Drizzle some olive oil in a large roasting pan. Place chicken in the pan breast side up and press down firmly to flatten. Season all over with kosher salt and pepper. Tuck any herbs you have on hand under the skin and under the chicken itself. Drizzle with olive oil and rub all over. Roast for about 30 minutes. If serving right away, let rest 10 minutes before carving. If you are planning on pulling meat from the bones, let rest until cool enough to handle.
---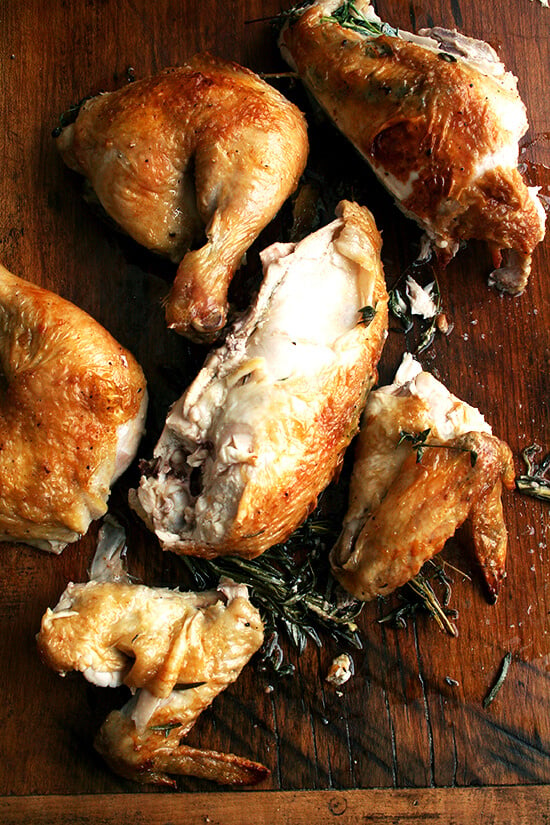 Print
Pasta with Chicken, Lemon & White Wine — A Meal to Take to a Friend // Also, Spatchcock Chicken
---
Description
Pasta with Chicken, Lemon & White Wine — A Meal To Bring To A Friend Author: Alexandra Prep time: 1 hour Cook time: 25 mins Total time: 1 hour 25 mins Serves: 4 I have made this recipe several times now, and I especially love it with leftover roasted chicken (as pictured in the first photo of the post). I recently discovered spatchcocked chicken (see recipe above), which tastes just like roast chicken but cooks in half the time. This recipe is a great way to use up any leftover chicken: just pull any meat off its bone and place it in a Tupperware until you're ready to prepare this meal. As noted in the recipe, however, I think many people prefer chicken breasts, so I've included instructions (not that any of you likely need them) for cooking breasts below. If you're bringing this to a friend, a nice addition is a loaf of crusty bread because there is lots of nice sauce to sop it all up with. If passing the meal off to a friend: Place all of the ingredients in a disposable foil roasting pan or a resealable freezer bag — this meal can be frozen for up to 3 months. Label and date and provide reheating instructions: Thaw in refrigerator overnight before baking. Bake covered in foil for 20 to 25 minutes.
---
Ingredients
1/2

lb shells

1 1/2

lbs. cooked chicken*

1/2 cup

fresh parsley, chopped

2

to

3

cloves garlic, minced
zest of

one

lemon

1 teaspoon

kosher salt
freshly cracked pepper to taste

1/4 teaspoon

crushed red pepper flakes

2/3 cup

white wine

1/2 cup

chicken stock

1/4 cup

olive oil

2 tablespoon

s freshly squeezed lemon juice*I think you'll find that many people prefer chicken breasts to dark meat, so this is what I do when preparing this for others: Preheat the oven to 400ºF. Place three boneless skinless chicken breasts in a roasting pan. Coat them lightly with olive oil. Season them with salt and pepper on both sides. Tuck in any herbs you have — rosemary and thyme are nice. Roast for

15

to

20

minutes or until just cooked through. You don't want to overdo it here because the whole mixture cooks together in a casserole pan for

25

minutes covered in foil. Err on the side of slightly under-cooking the chicken. If you are like me and prefer dark meat or like a mix of both dark and white meat, spatchcocked chicken works nicely here. See above for a recipe.
---
Instructions
Place a large pot of water on to boil. Cook pasta al dente — I cook it very al dente because the pasta eventually bakes for 25 minutes covered in foil. Drain and set aside.
Dice chicken (or shred if you're using roast chicken) and set aside.
Combine remaining ingredients in a bowl and whisk to blend.
If passing along to a friend, see notes above. Otherwise, preheat the oven to 350º F. Place pasta and chicken in a 9×13-inch baking dish. Pour sauce over top. Toss to combine. Cover with aluminum foil. Bake 20 to 25 minutes or until everything is nicely heated through.
---