The Best Croutons and How Best to Eat Them
This post may contain affiliate links. Please read my disclosure policy.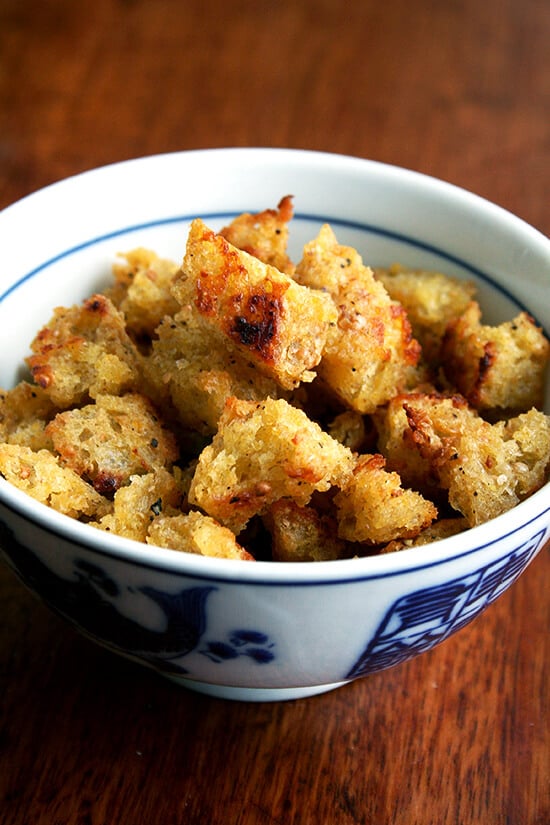 Fernand came to the café where I waitressed in sunny CA every Sunday afternoon for the same meal: an omelet, a baguette, and a side of Dijon mustard. He ate his omelet methodically, spreading mustard over each slice of bread first, spooning bits of his creamy eggs overtop next. A mustard-slicked slice of bread accompanied every bite of omelet.
I always thought this mustard routine was a little odd. Slatherings of butter, cheese, and jam made sense to me. Mustard felt foreign. But when I read the description in The Zuni Cafe Cookbook of Madeleine's omelet, and more specifically of the croutons that lace that omelet, I wondered if Fernand, or the French, were on to something.
Before we get to the croutons, a little background might be helpful: Madeleine is the sister of Jean and Pierre Troisgros, the brothers who ran the restaurant Les Frères Troisgros in Roanne, where Judy Rogers spent a year as a young teenager watching, tasting and recording everything that she could. During this year, too, at least twice a week, Rogers would escape to Madeleine's home kitchen and delight in dinners of scrambled eggs filled with nutty hard cheeses and croutons or with lightly browned potatoes and bacon.
Given the generous amount of Dijon mustard and mustard seeds that dress Madeleine's croutons, I suspect Fernand would approve of them wholeheartedly. And finding them in an omelet might just send him over the moon. Golden on the outside, chewy on the inside, mustardy throughout, these croutons are irresistible. And while they certainly are not as hard core as straight up mustard bruschetta, I should have known better than to question the eating habits of a French wine purveyor from Burgundy.
So, what's the best way to eat these little nuggets? Well, perhaps we should start with how you shouldn't eat them, which is how I ate them this afternoon for lunch, which is popcorn style, bowl in lap while gazing out the window, popping down one after another. This was a treat, therapeutic even as my children were nowhere in sight, but perhaps not recommended. A salad is an obvious and good option (I did save a few for this purpose), but I suspect their best home is in the center of an omelet, Madeleine style, surrounded by some sort of melty Gruyère-type cheese. I think the French are in fact on to something with this bread-mustard-egg combo. Perhaps something to ponder this weekend. Maybe over dinner this evening?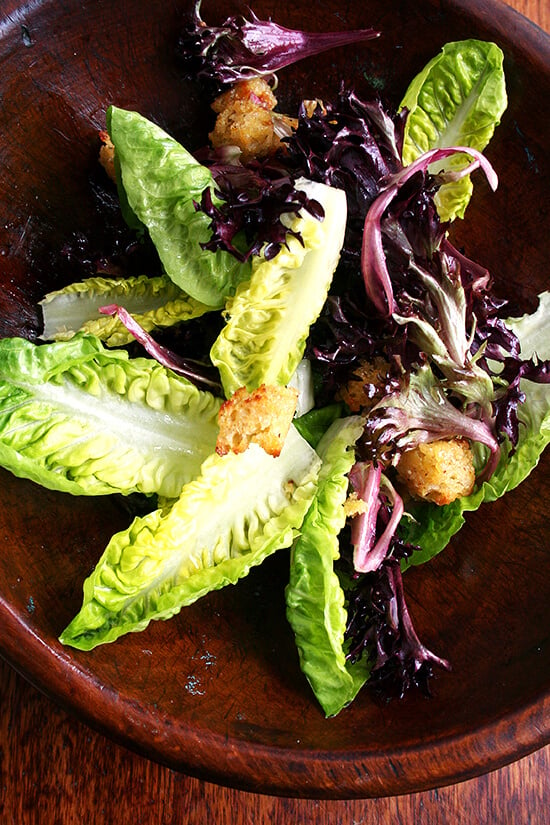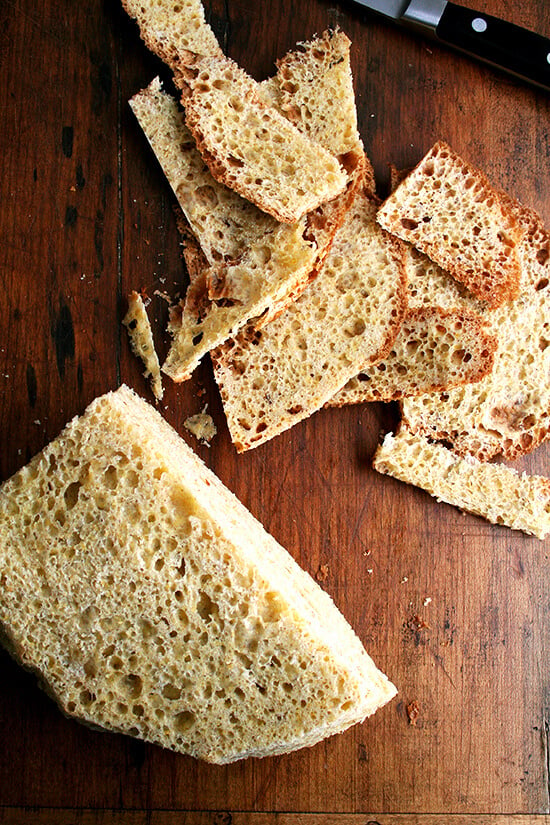 Whole mustard seeds, lightly crushed in a mortar, go into the dressing,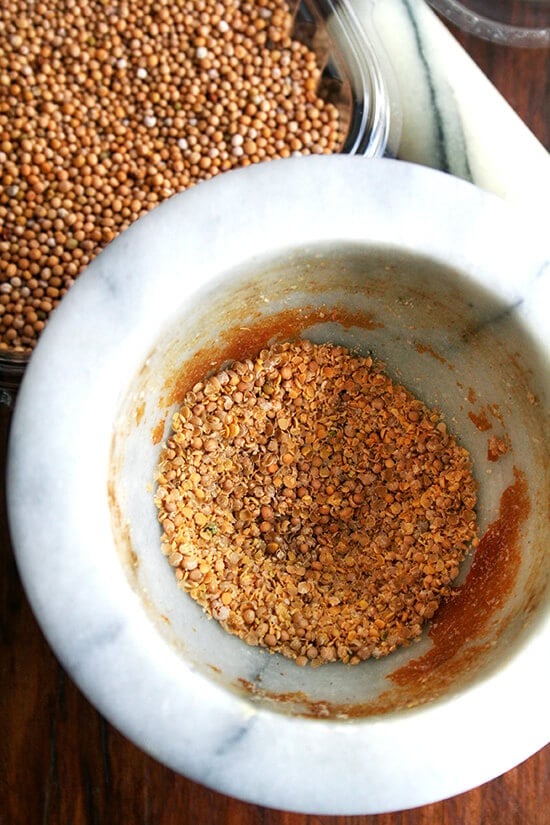 along with melted butter, Dijon mustard, dry white wine or vermouth, and tons of black pepper: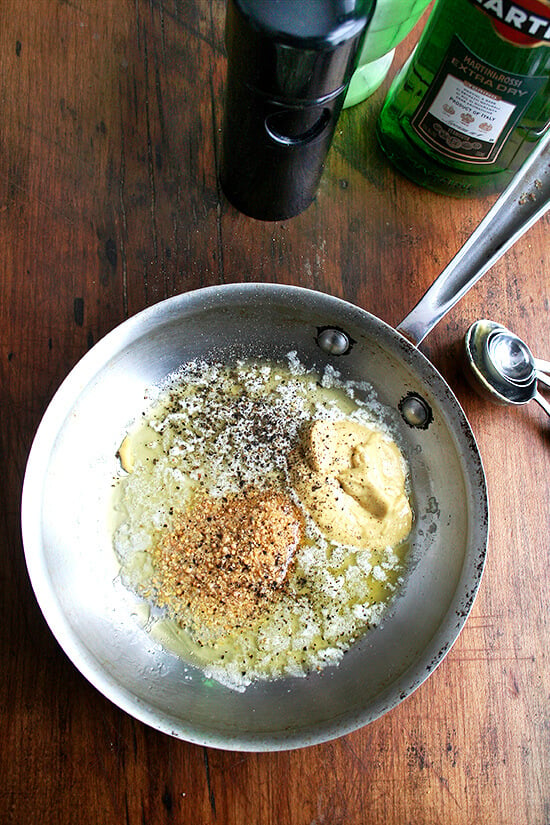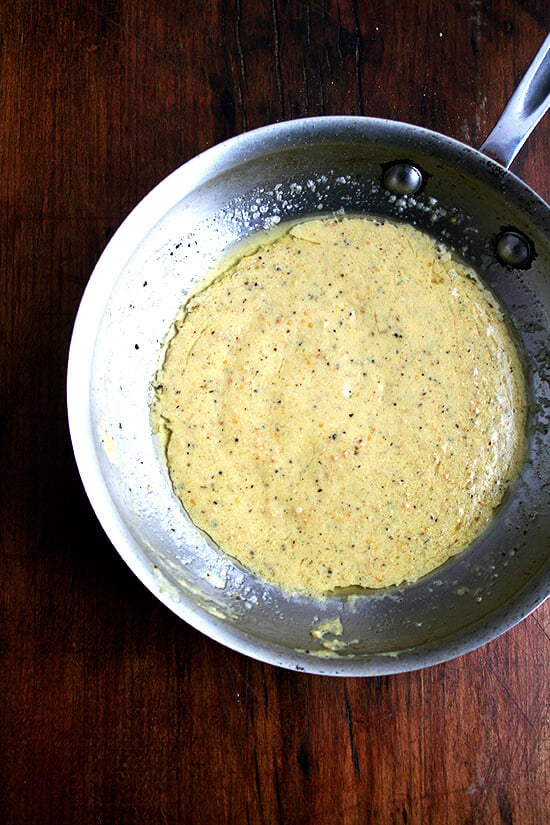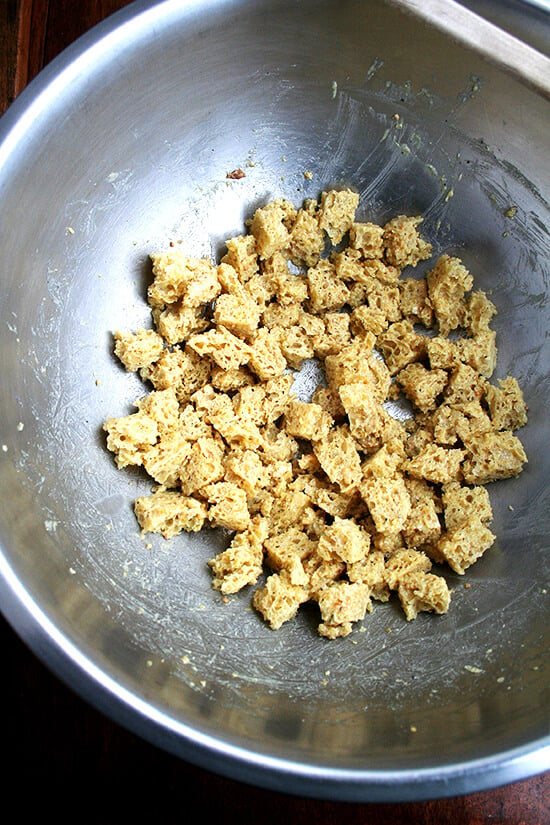 Print
---
stale, chewy, peasant-style bread, most of the crust removed*

2 tablespoons

unsalted butter

1 tablespoon

Dijon mustard

1.5 tablespoon

dry white wine or dry white vermouth (I used the vermouth)

1 teaspoon

mustard seeds, lightly crushed in a mortar
freshly ground black pepper
kosher salt to taste
* Recipe suggests 2.5 oz, but I think you'll need a little more. I weighed my 2.5 cups of crustless cubed bread, and it weighed more like 7 oz. I know all breads are different, and mine likely is a little denser than what Zuni was using. Also, I used more like 3 cups of cubed bread.
---
Instructions
Preheat the oven to 400° F.
Tear the bread into small, fluffy wads, about 3/4 inch and smaller. Tear a few of the wads into crumbs. You should get 2 to 3 cups.
Melt the butter in a small saucepan or skillet, then remove from heat and whisk in the mustard, wine, seeds, and lots of black pepper. The mixture should be the texture of a thick vinaigrette. Add the bread and toss well to coat. (I did this in a large bowl, but if your saucepan is large enough to hold all the cubes, just go ahead and add the bread directly to the pot.) Rub the bits of bread against the sides of the pan to grab all the dressing, then massage them gently to make sure the dressing reaches the inside of the wads. (I didn't really do all of this — just gave them a nice toss, but feel free to massage as you wish.) Taste for salt. (I didn't add any more salt.)
Spread the bits of bread out on a sheet pan and toast for 5 to 10 minutes (or longer), until unevenly golden on the outside but still slightly chewy in the middle. The smaller crumbs will be crisp through. Toss into a salad, or if adding to an omelet, keep the croutons in a warm spot.
Prep Time:

15 minutes

Cook Time:

15 minutes
This post may contain affiliate links. Please read my disclosure policy.