Quinoa with Walnuts, Radishes & Spring Onions
This post may contain affiliate links. Please read my disclosure policy.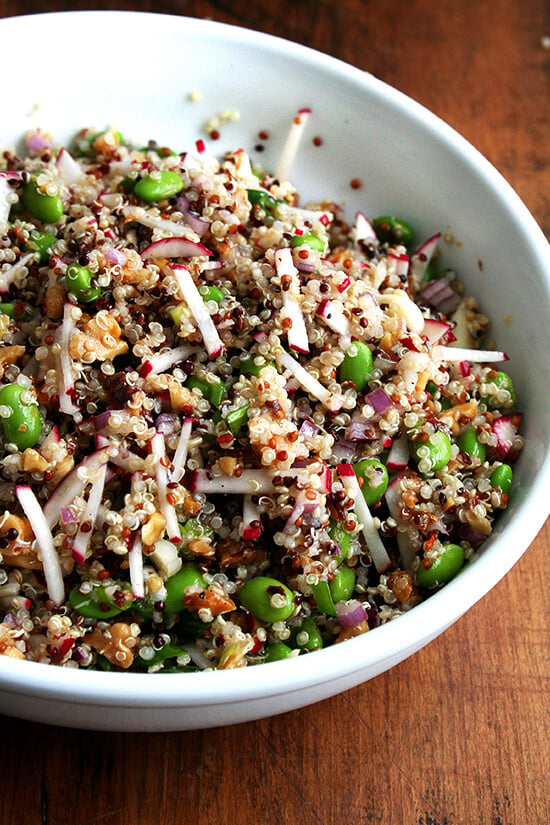 A few weeks ago I discovered that for all the years I have been cooking quinoa I have been doing it wrong. The quinoa I have made, as a result, while edible and receptive to countless seasonings and additions, has never kept my attention for very long — after the odd week-long-quinoa binge, I'd forget about it for months.
But after posting the radish entry a few weeks ago, I received a comment from a dear old friend who managed several of the Philadelphia farmers' markets while I lived there. Joanna pointed me to a Yotam Ottolenghi recipe for a quinoa salad with radishes, fava beans, avocado and a lemon vinaigrette she had recently made for some friends to rave reviews.
A quick google search led me to the recipe. While the ingredient list had me foaming at the mouth, it was the first few lines of the instructions that really struck me: Place the quinoa in a saucepan filled with plenty of boiling water and simmer for 9 minutes. Drain in a fine sieve, rinse under cold water and leave to dry.
PLENTY of boiling water. Simmer for NINE minutes. RINSE under cold water. Is this news to you, too? Why has every package of quinoa instructed me to cook it as if it were rice — 1 part grain to 2 parts water — in a covered pot? And to cook it for at least 15 minutes but often for as long as 20? And after the cooking process, to let it rest off the heat under its steaming lid for an additional 5 to 10 minutes?
Until last week, I didn't know that when quinoa is cooked pasta-style, it doesn't turn to mush but remains crunchy and nutty, becoming more than just a vessel for transporting other flavors. Even in a salad surrounded by toasted walnuts, spring onions, slivered radishes, and steamed edamame, it offers texture and flavor of its own. A simple dressing of olive oil and freshly squeezed lemon juice with just a pinch of crushed red pepper flakes works best, both complementing quinoa's flavors while not oversaturating its delicate texture. And while I adore avocados and cheese of all kinds, I love a quinoa salad that is crunchy throughout. In the upcoming months, cucumbers, cherry tomatoes, and diced bell peppers will nicely replace the spring onions and edamame used here, and this fall, pomegranate seeds and green olives — with perhaps some flavors from another favorite salad — will be welcomed replacements as well.
My 10-day quinoa binge is going strong. It's looking promising, my friends — quinoa, I believe, is here to stay.
A Few Notes on Quinoa
• Some say to rinse before cooking; others don't. I rinse. Unless you like to toast your quinoa before you cook it (see below) there's no reason not to rinse it, and rinsing quinoa removes a bitter coating that can affect the flavor of the cooked quinoa.
• Some say to toast quinoa before cooking; others don't. If you toast quinoa, you don't want to rinse it first — it will stick to your pan. I've toasted quinoa a few times and haven't noticed a huge difference in flavor, so I skip toasting, mostly out of laziness, but feel free to give it a try.
• Quinoa is actually an edible seed related to beets, spinach and tumbleweeds and has been in cultivation for over 4,000 years. It is high in protein, fiber, calcium and several other minerals.
• There has been some discussion in the news about the increase in worldwide demand for quinoa causing harm to quinoa producers. Most recently, a journalist from The Guardian wrote "that poorer people in Peru and Bolivia, for whom [quinoa] was once a nourishing staple food, can no longer afford to eat it." Statements such as these not only confuse consumers but also can do more harm to quinoa producers than good. I recommend reading this Slate article, It's OK to Eat Quinoa, if you find yourself confused as well and would like to learn more about this complicated issue. For me, there is no question that organizations such as Fair Trade and companies such as Alter Eco are striving to improve the quality of life of their quinoa producers. You can read more about the efforts and changes Alter Eco has made and continues to make to improve the lives of their partners here.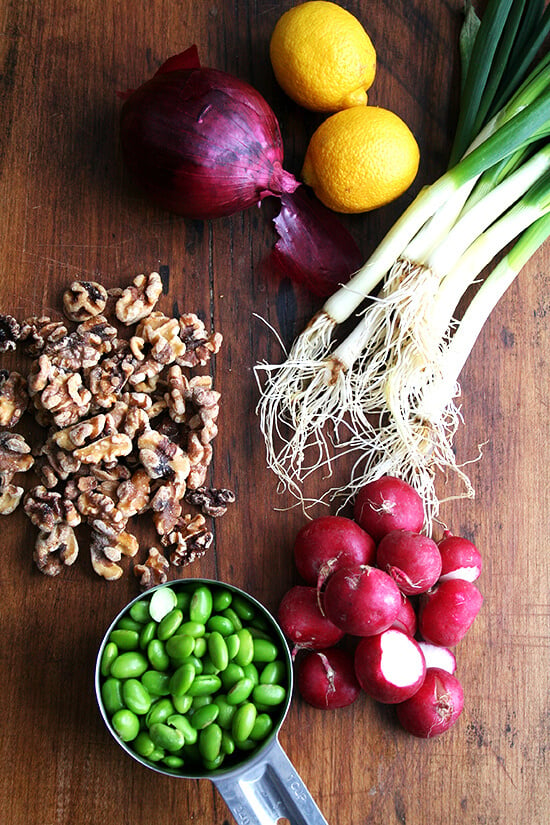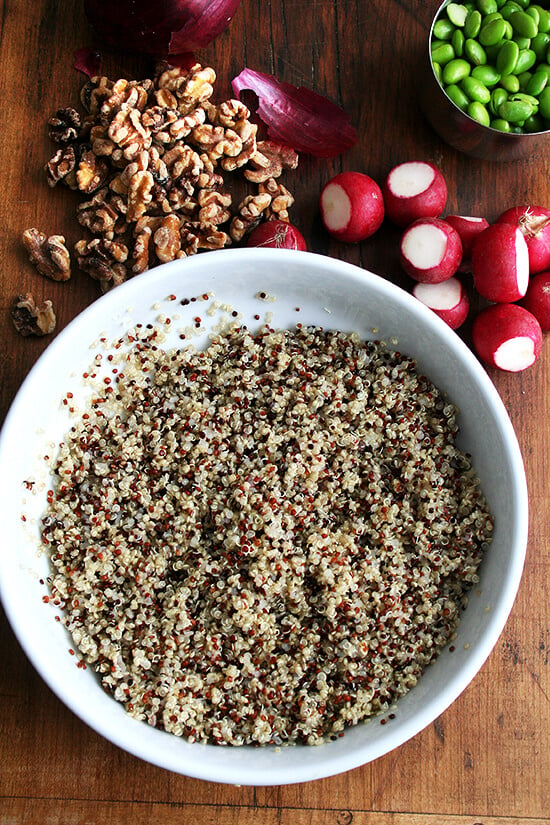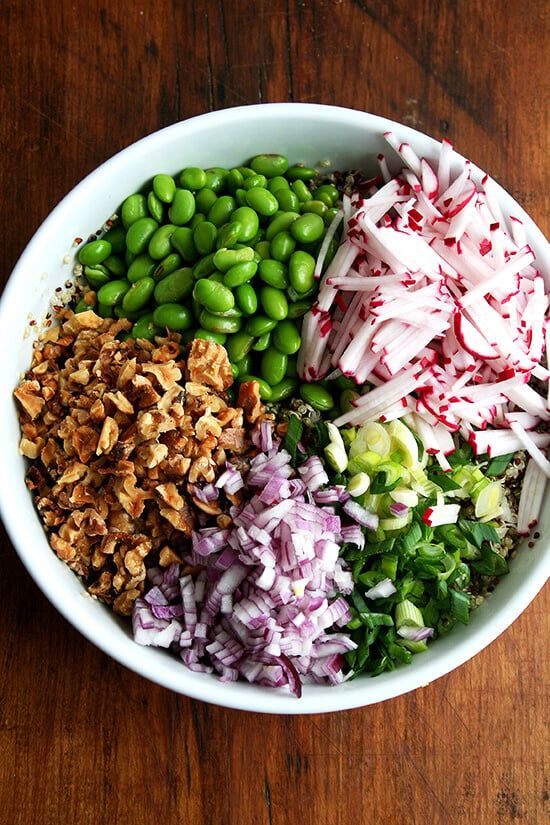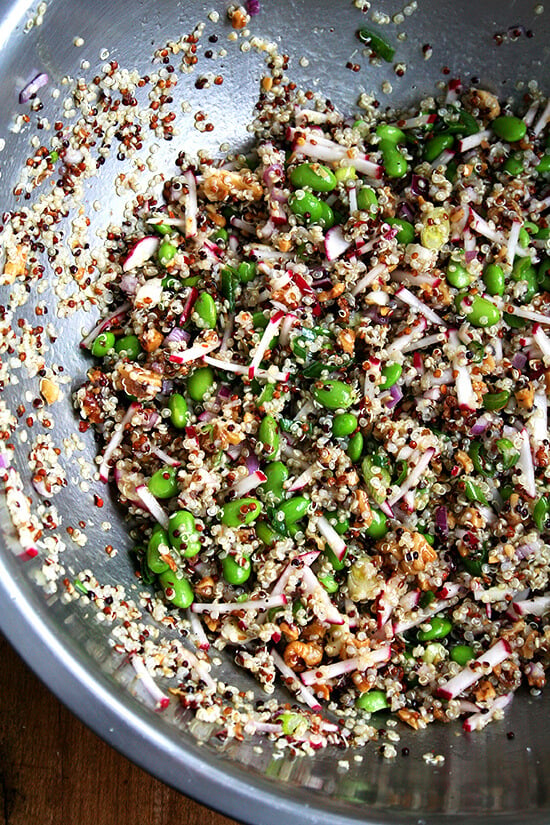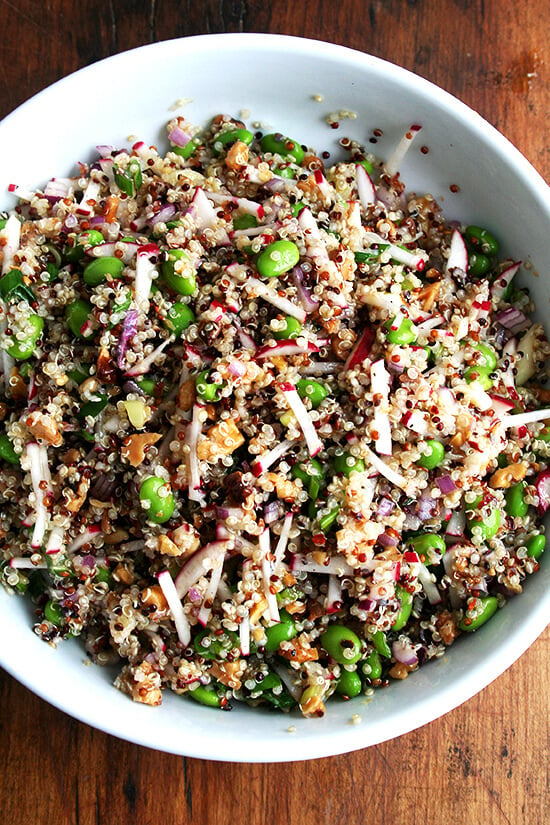 Print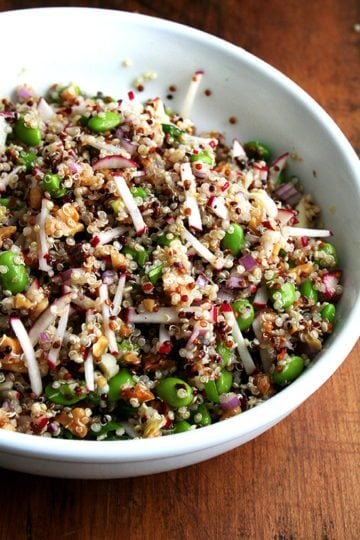 Quinoa with Walnuts, Radishes & Spring Onions
---
Description
Inspired by a salad from Yotam Ottolenghi's Plenty.
The original recipe calls for fava beans, garlic, purple radish cress, cumin, and avocado. All of these sound like wonderful additions/flavors, so feel free to improvise with herbs you have on hand — basil, parsley, mint, chives, etc — and other fruits/veggies/nuts, etc.
As I noted above, as much as I adore avocados, I like my additions to quinoa salads to be on the crunchy side, which is why I have chosen the ingredients below, but again, feel free to add what you like — I don't know of anyone who wouldn't welcome a few slices of avocado in the mix.
Finally, an essential piece of equipment for cooking quinoa is a fine-meshed sieve. You need this piece of gear for both rinsing the quinoa before you cook it, and for draining the quinoa after you cook it.
---
1 cup

quinoa

1 cup

frozen edamame (or fresh fava beans if you can find them)

1 cup

walnuts, toasted*, and chopped

1

small red onion, minced to yield 1/4 to 1/2 cup

4

to

5

scallions or spring onions, rinsed, trimmed and finely sliced, white and most of the greens

8

to

10

radishes
kosher salt and pepper to taste
crushed red pepper flakes (optional)

1

to

2

lemons

1/3 cup

extra-virgin olive oil
* Toast walnuts at 350ºF for 8 to 10 minutes — watch closely to prevent burning. Place the toasted walnuts in a tea towel and rub together to remove papery skin. Transfer walnuts to a sieve and shake again to remove any additional skin. I know this is fussy, but it makes a difference. I have more detailed instructions here.
---
Instructions
Bring a large pot of water to a boil. Meanwhile, place quinoa in a fine-meshed sieve and rinse under cold water. When the water comes to a boil, add the quinoa and simmer for 9 minutes. Drain in a fine-meshed sieve and run under cold water until cool. Set aside to dry.
Meanwhile, cook the edamame. This is what I did this time, but feel free to use your own method: Bring a tea kettle of water to a boil. Place edamame in a bowl. Cover with boiling water. Let stand for 2 to 3 minutes. Drain. Rinse under cold water until cool. Set aside.
Meanwhile, slice up your radishes: If you have a mandoline, carefully slice each radish into thin disks. Note: if you keep the stem intact, you have a little handle to grab onto while you run the radishes down the mandoline's plane — find a more detailed visual explanation here. Alternatively, thinly slice the radishes with a knife. Stack the circles on top of each other and slice straight down to get mini matchsticks.
Place the drained and dried quinoa into a large mixing bowl. Season all over with salt and pepper to taste. Crush some red pepper flakes over top if you are using. Add the edamame, walnuts, red onion, scallions, radishes, olive oil and the juice of one lemon to the bowl. Toss and taste. Adjust seasoning as necessary. I added the juice of another lemon, but my lemons were on the small side. I also added more crushed red pepper flakes — I think a bit of heat is really nice in this salad.
This post may contain affiliate links. Please read my disclosure policy.