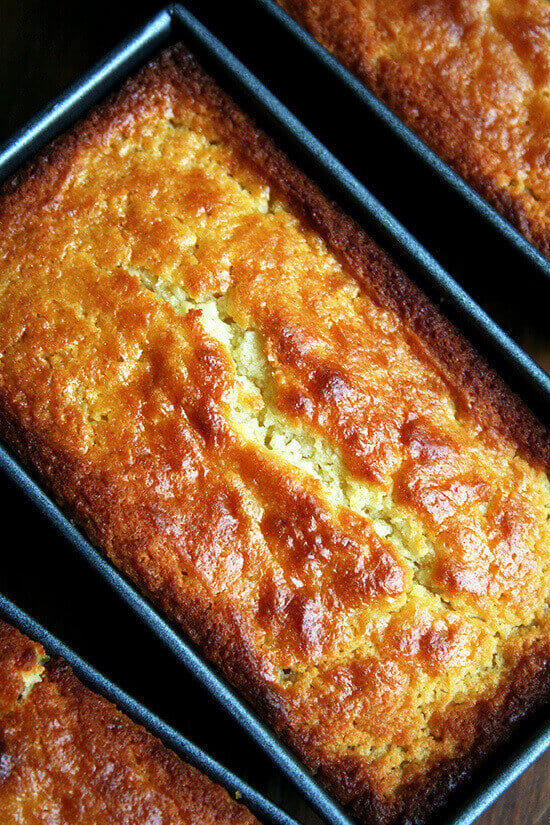 This pound cake is a variation of one I made over the holidays, which called for orange zest and orange liqueur. Here, lemon zest and juice have replaced the orange zest and liqueur, and the baking powder has been reduced a tad, too. Like the orange and ricotta cake, this one is incredibly moist and delicious, and while the peak of lemon season has passed, somehow nothing feels springier than lemony treats. It's also a cinch to throw together.
**UPDATE: The cake has been updated and is even easier to throw together: One-Bowl Orange-Ricotta Pound Cake (Simple substitute lemon zest for the orange zest and fresh lemon juice for the orange liqueur.)**
A Mother's Day Lesson
On one Mother's Day many years ago, my sister and I ordered our mother a beautiful bouquet of flowers. Although unoriginal and basically thoughtless, the idea might have been somewhat good had we not used mom's credit card to pay for the transaction. Oops. Let's just say once the details of the purchase surfaced, mother was less than pleased.
"Have I taught you nothing?!" she cried. "All I want is a card! All I EVER want is a card! It's so simple. A handmade card!"
Roger.
While I likely knew all of that back then, over the years I have learned that I can't go wrong on gift-giving occasions when I keep in mind the things that truly make our mother happy, namely said handmade card, photos, phone calls, tins of sardines, cold beer, popcorn, Jack Black, tea (preferably PG Tips served in thin-thin porcelain cups), an extra pair of scissors… simple things, really.
She also happens to love lemons, and when she arrived yesterday after an 8-hour drive from Connecticut to find a few loaves of this lemon-ricotta pound cake on the table, a teakettle whistling, and an accordion photo book featuring a few of her favorite little people, let's just say I received a you-know-what-makes-me-happy sigh and hug, which I can only hope pushed that memory of the aforementioned Mother's Day a little further into the distance.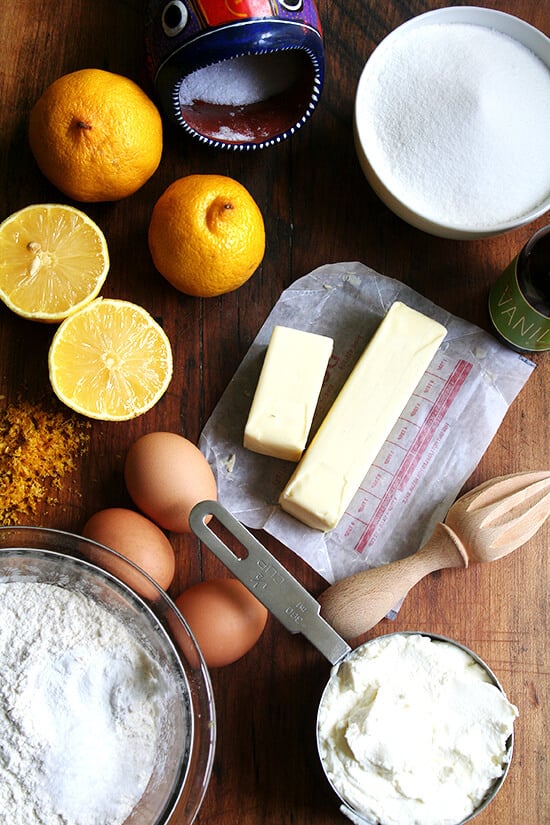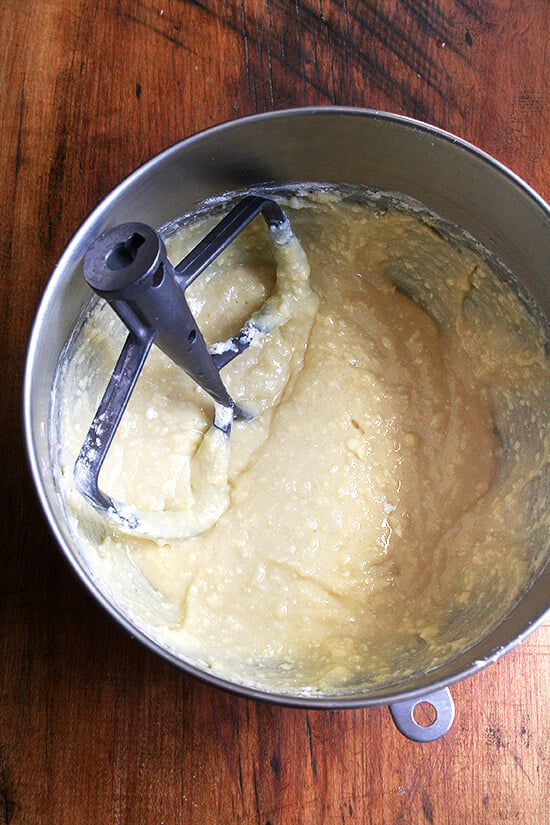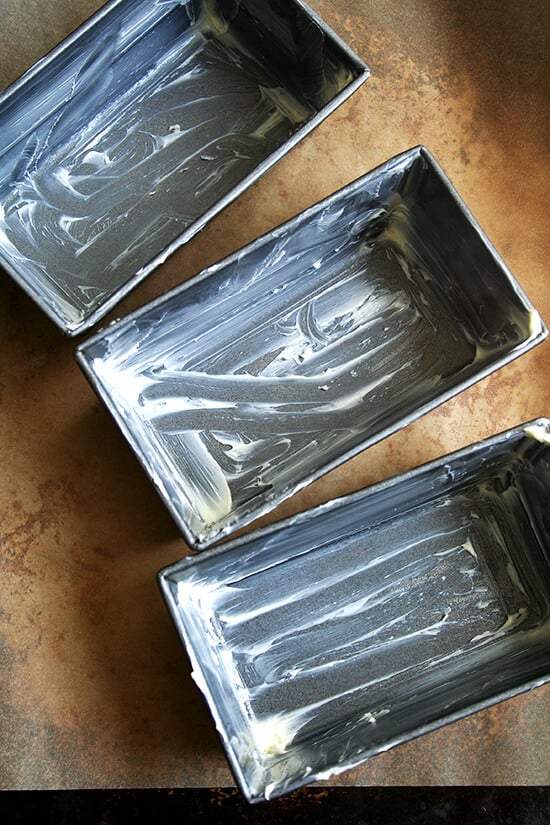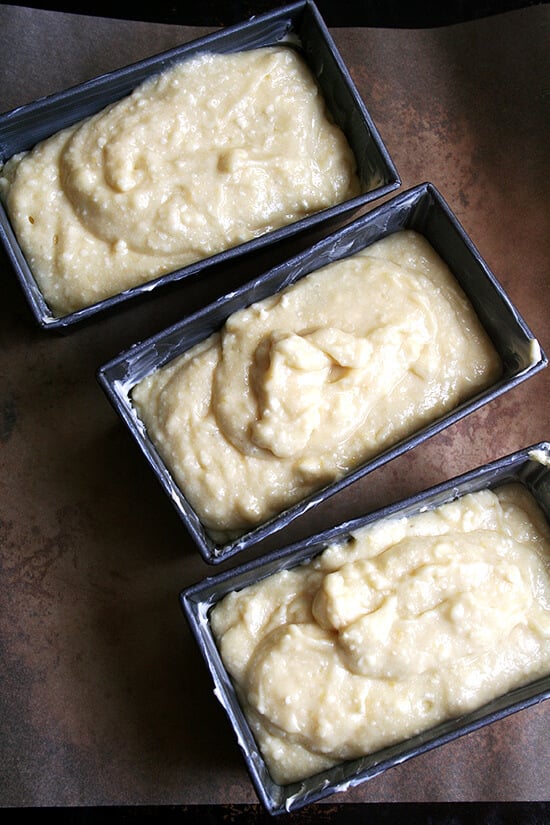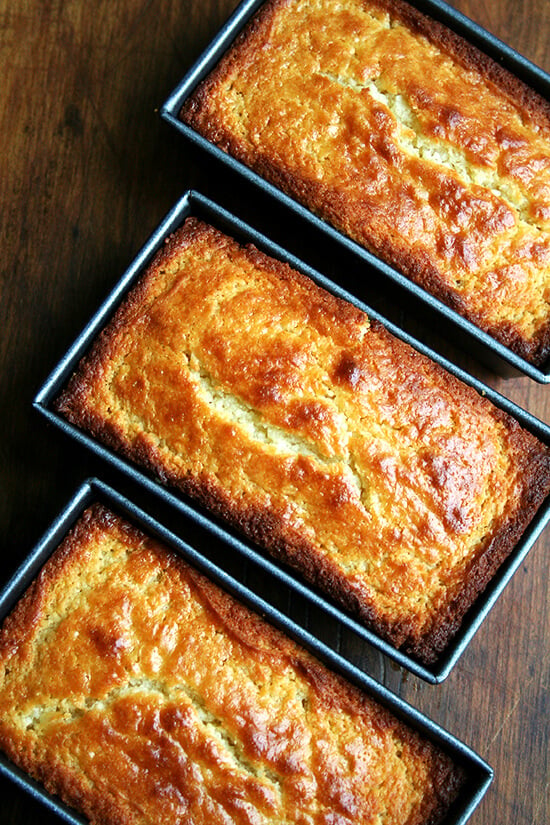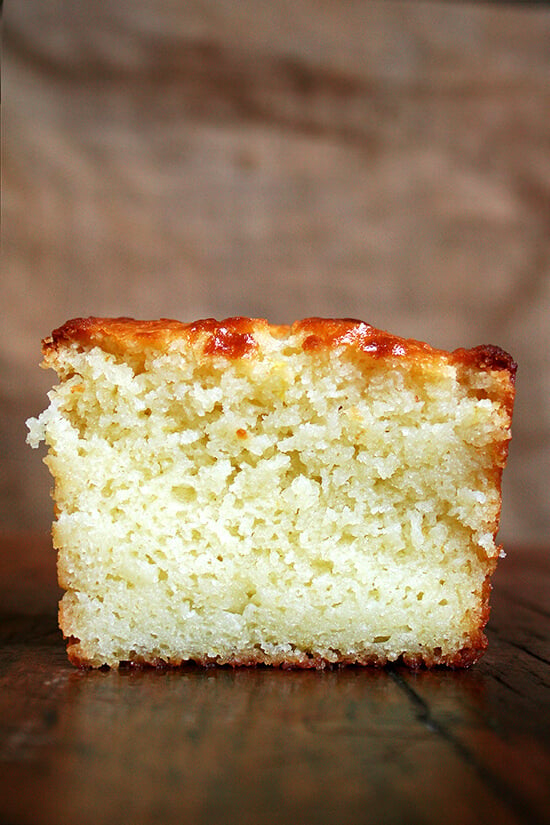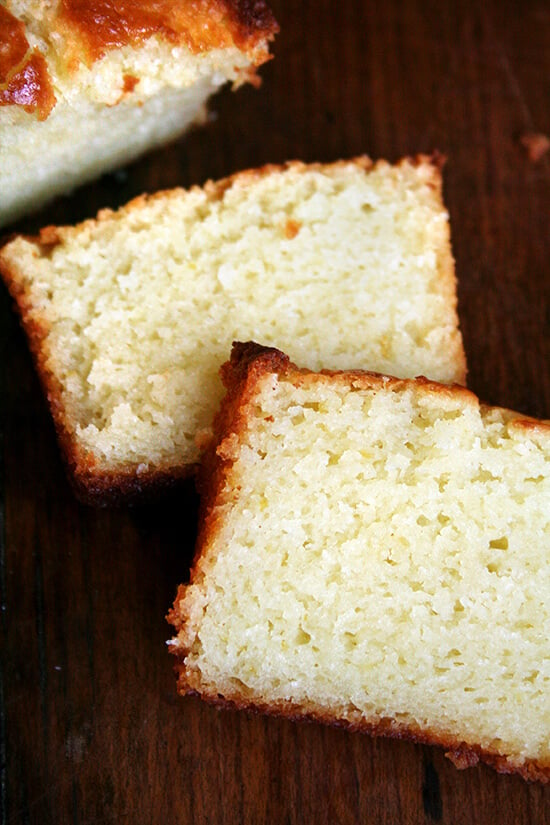 Print
Lemon Ricotta Pound Cake
---
Author:

Alexandra Stafford

Prep Time:

20 minutes

Cook Time:

60 minutes

Total Time:

1 hours 20 minutes

Yield:

1 9x5x3-inch loaf or three mini loaves
Description
Source: Giada De Laurentiis
** UPDATE: I've since updated this recipe to be one-bowl: it's faster and just as delicious if not more so: One-Bowl Orange-Ricotta Pound Cake ** Substitute lemon zest for the orange zest and 2 tablespoons lemon juice for the orange liqueur.
Notes:
The first time I made this, I used an 8.5×4.5-inch loaf pan. The batter rose way above the top of the pan and spilled all over my oven. You really need to use a 9×5-inch loaf pan or something larger for this recipe, or, if you only have an 8.5×4.5-inch loaf pan, I would recommend not filling it higher than 3/4 or even halfway to be safe.
I often use 3 three mini loaf pans to bake this pound cake, because this is a great one for gifting.
---
Ingredients
3/4 cup

(1 1/2 sticks |

6 oz

| 170 g) unsalted butter, at room temperature, plus more to grease the baking pan

1 1/2 cup

s (

6.75 oz

| 196 g) cake flour (I use all-purpose)

2 teaspoon

s baking powder

1 teaspoon

kosher salt

1 1/2

(13 oz | 366 g) cups whole-milk ricotta cheese

1 1/2 cup

s plus 1 tablespoon (

12.5 oz

| 360 g) granulated sugar

3

large eggs

1 teaspoon

pure vanilla extract
zest of

1

to

2

lemons

2 tablespoon

s freshly squeezed lemon juice (less than

1

lemon, usually)
---
Instructions
Preheat the oven to 350ºF. Grease a 9-by-5-by-3-inch loaf pan (see notes above!) or 3 three mini loaf pans with butter (grease pans very well). In a medium bowl, combine the flour, baking powder and salt. Stir to blend.
Using a mixer, cream the butter, ricotta and granulated sugar until blended, about 3 minutes — I never really go over three minutes, and it's ok if there are some visible pieces of butter. In other words, the batter will not look entirely smooth (see photo). With the machine running, add the eggs 1 at a time. Add the vanilla, zest and lemon juice until combined. Add the dry ingredients, a small amount at a time, until just incorporated.
Pour the batter into the prepared pan and bake until a toothpick comes out clean and the cake pulls away from the sides of the pan, 50 to 60 minutes (or 5 to 10 additional minutes — cover loosely with foil if top is getting too brown) for standard loaf pan and 40 to 45 minutes for mini pans. (Note: Times might vary dramatically depending on the type of pan you are using. If you are using Pyrex or Corningware or some other glass or ceramic loaf pan, the loaves might take an hour or an hour and 15 minutes to bake. If you notice the top browning too much before the cake is finished, cover it loosely with a sheet of aluminum foil.) Let cool in the pan for about 15 minutes, then run a knife around the edges of the pan(s) and transfer loaf/loaves to a rack to cool completely.
---
Category:

Dessert

Method:

Oven

Cuisine:

American
Keywords: lemon, pound cake, ricotta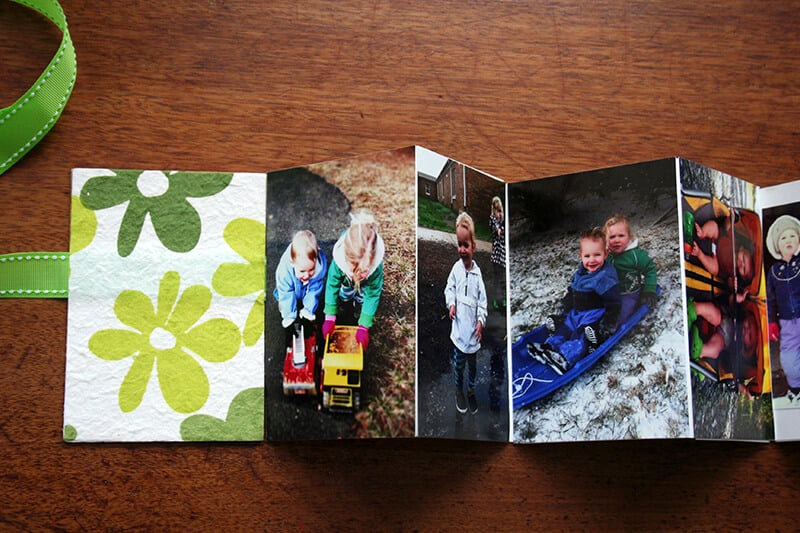 Handmade Accordion Photo Book
Size = 3.5 x 5 inches
16 photos total
The inspiration for this accordion book came from a post on A Cup of Jo a few weeks ago featuring these beautiful brag and photo books made by Pinhole Press. Find a Pinhole Press coupon here.
Materials:
28″x22″ poster board (this standard size will provide enough for four of these 16-photo accordion books)
ruler
X-acto knife (or scissors)
self-healing cutting board (if you are using x-acto knife)
scoreboard (optional, but a nice tool to have)
paper cutter (optional, just nice to have)
some sort of thick, sturdy board such as matboard (enough for two 3.5 x 5-inch sheets)
decorative paper to line inside of book covers (enough for two 3.5 x 5-inch sheets)
some sort of plain material to line outside of book covers (I found adhesive cork board/paper at Michael's that worked really well)
spray mount
ribbon (enough for two 25-inch long strips)
16 photos (3.5 x 5-inch or 4 x 6-inch — you'll need to trim them down somewhat no matter what size you are able to print them)
Instructions:
1. Using whatever tools you have — I use a ruler, X-Acto knife, and self-healing cutting board — cut poster board into a strip 5 inches wide and 28 inches long (the length of the poster board if you've purchased that size.)
2. If you have a scoreboard, score the strip every 3.5 inches, flipping the strip of paper over every time you make a new score. Fold this strip up into an accordion and set aside.
3. Cut the thick sturdy board, the decorative paper and the plain paper into 3.5 x 5-inch sheets (you need two of each material in this size). If you have found some sort of adhesive paper such as the cork board I mentioned in the materials, peel off the backing and place it on one side of the sturdy board. Alternatively, spray mount or glue it on to the board. Repeat with other board. Lay each of these boards down on newspaper so that the plain side is facing up. Spray some spray mount over the surface (or use glue) of one of the boards and lay one ribbon down about halfway down the long side of the board making sure that a couple of inches of ribbon extends over one side, and the remaining ribbon extends over the other. Repeat with remaining board.
4. Apply more spray mount over the ribbon and exposed board and place the decorative piece of paper over the top to cover the ribbon and board. Repeat with remaining board.
5. Trim the edges of the photos so that they are just under 3.5 x 5-inches in size — if they are 3.5 x 5 inches exactly or slightly larger, they will create issues during the folding process, so it's best to trim them just under 3.5 x 5 inches. Stretch out the long sheet of poster board. Apply spray mount evenly over the strip. Lay one photo in each space. If you feel you need to apply more spray mount at any point, just be sure to cover any adjacent photos because if they get sprayed, they will cause sticking issues when you are ready to fold up your book.
6. Flip over this strip and apply spray mount to the other side. Line up the two ends of the book next to the photo strip making sure the short end of the ribbon is closest to the photo strip. Lay the short end of the ribbon over the strip of poster board making sure that the book cover is close to the photo strip but not too close — a teensy bit of space helps when you are ready to fold. Repeat with other end. Lay remaining photos onto photo strip making sure they are oriented appropriately with the photos that you applied to the other side of the strip.
7. Let dry briefly before folding and wrapping.