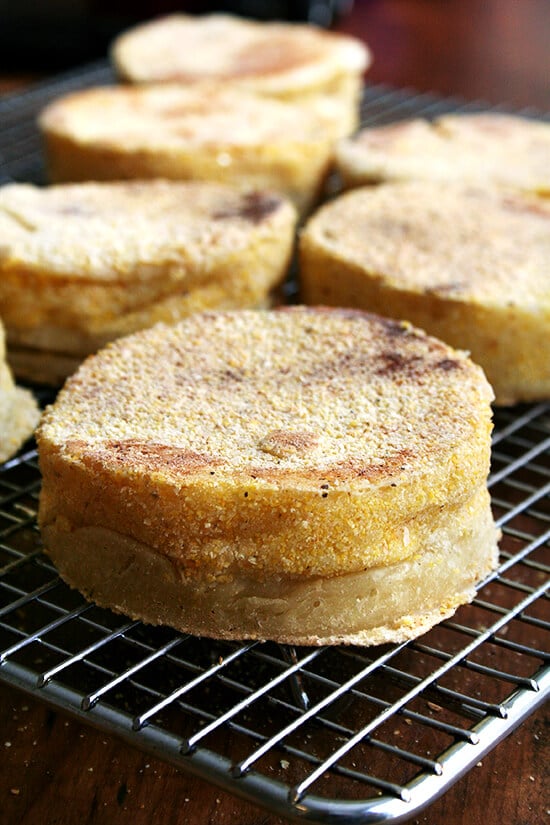 When my mother comes to visit…
… she rouses in the wee hours of the morning, brewing coffee, making oatmeal, preparing the kitchen for the pitter patter of hungry, cranky, little (and big) bodies.
… all day long she runs up and downstairs — seriously, she's forgotten how to sit down — fetching clothes, doing laundry, making dinner.
… somehow she finds time to make me an Earl Grey tea latte — so good! — every morning, to make dinner every evening, and to bake a cake with Ella somewhere in between, this time a storybook recipe called "happy winter chocolate cake," which, as many of you might suspect by now, is dry and disgusting.
… she, perhaps still seeing me as a three-year-old needing positive reinforcement, oohs and ahhs over every little thing I make, even a batch of completely inedible lemon ice cream. She tries not to wince as she forces a few bites down but finally agrees that cloying lemon ice cream and repulsive happy winter chocolate cake belong in the garbage together.
… she brings me fun gadgets like English muffin rings, because she knows I've been on a little English muffin-making kick recently.
… she also brings recipes. Her track record for selecting winners is astonishingly good.
… and when she sees how happy the sight of eight beautiful English muffins puffed in cornmeal-crusted rings makes me, she thinks about what might make me even happier, perhaps something sweet to spread across those nooks and crannies. She opens the fridge — remember, she can't sit down for one second — to see what I've got on hand and 45 minutes later, she pours homemade strawberry jam, so fresh and bright, perfectly sweet and lemony, gelled to just the right consistency into an old bonne maman jam jar.
… and because some things are too good to resist, my mother finally finds a reason to join us all at the table.
Ben and I are convinced the house is going to fall to pieces when my mother heads home this weekend. My friends, on Friday we welcomed Wren Cobbett Stafford to the family. Ella and Graham aren't quite sure what to make of their little sister, but they are surviving at the moment. I have been terribly unresponsive to comments this past week, but hope to catch up soon. I hope you all are well. Have a wonderful Memorial Day weekend!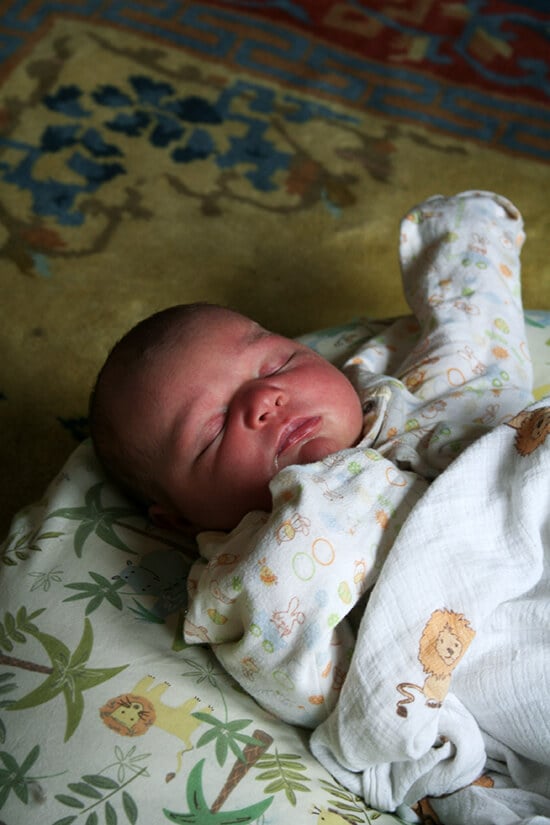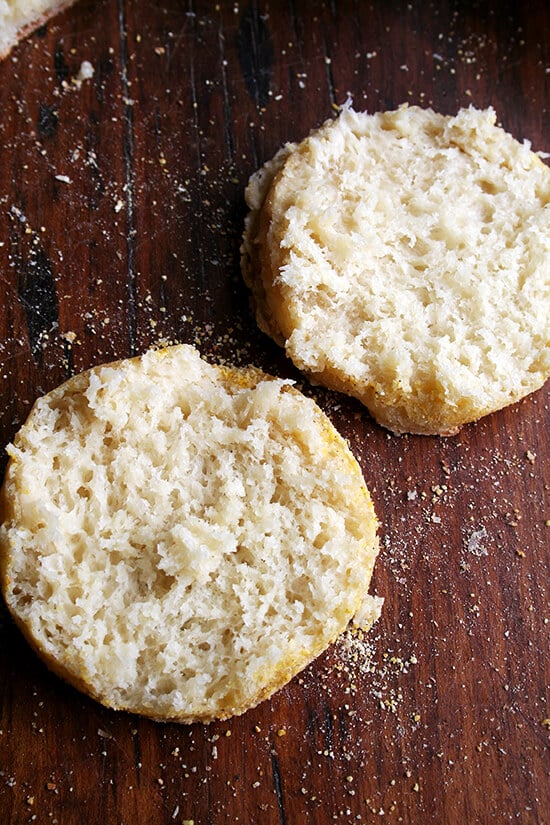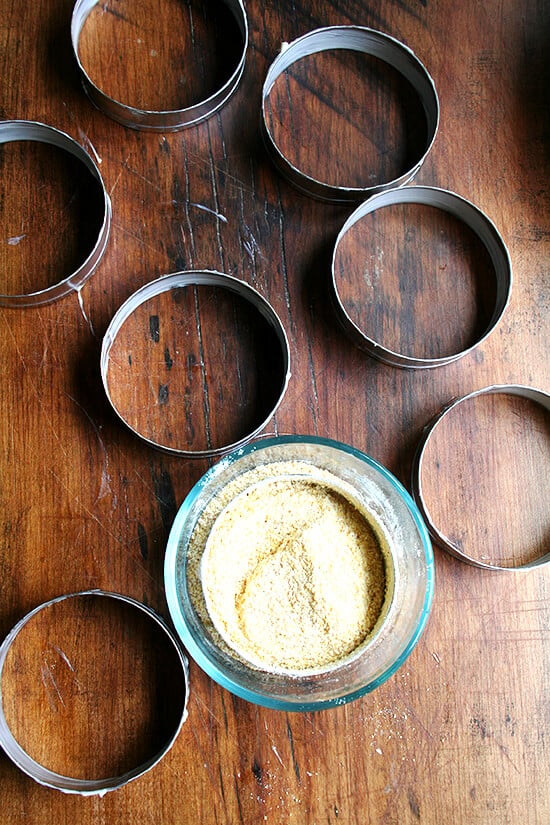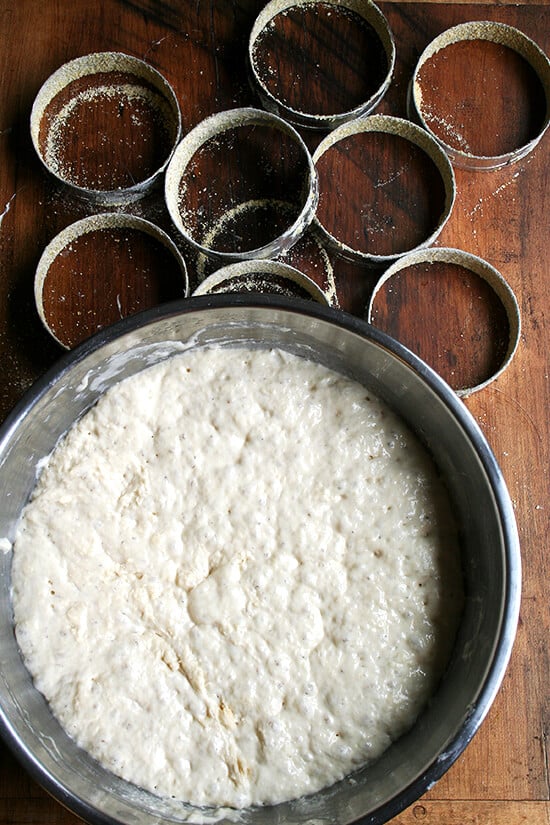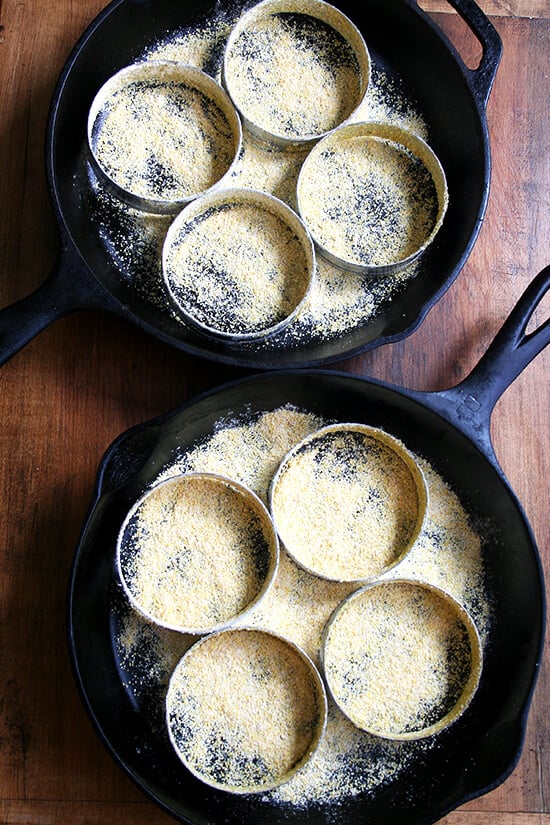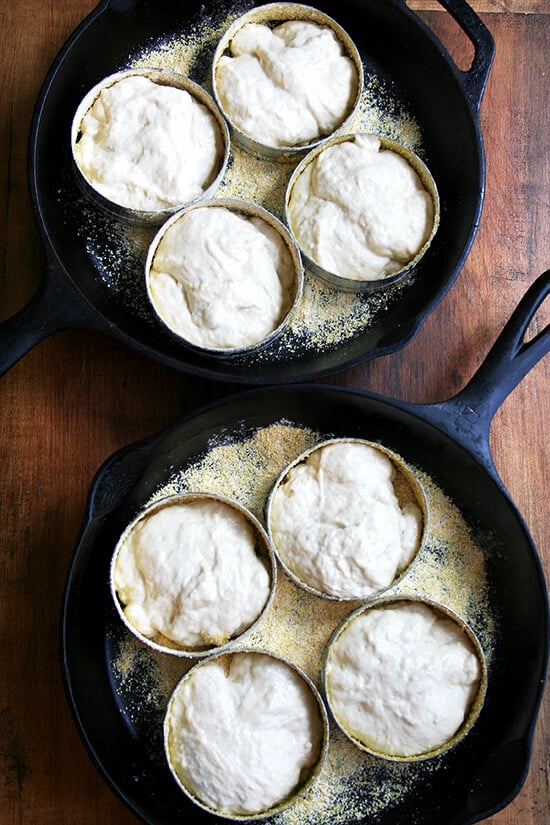 Don't let the dough rise quite this high…flipping the muffins will be a little tricky if you do.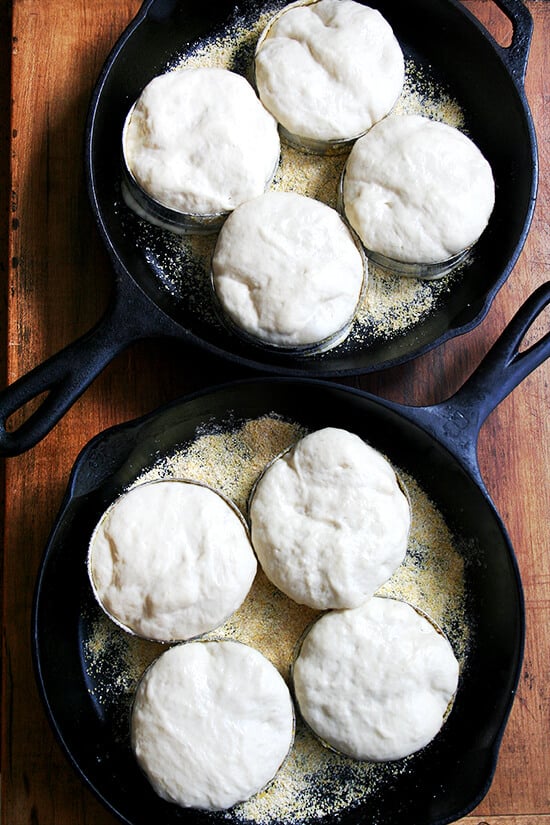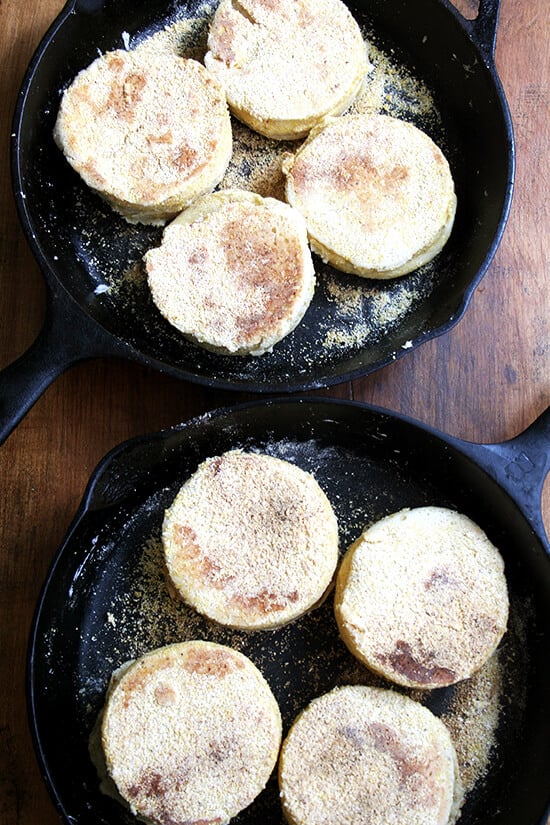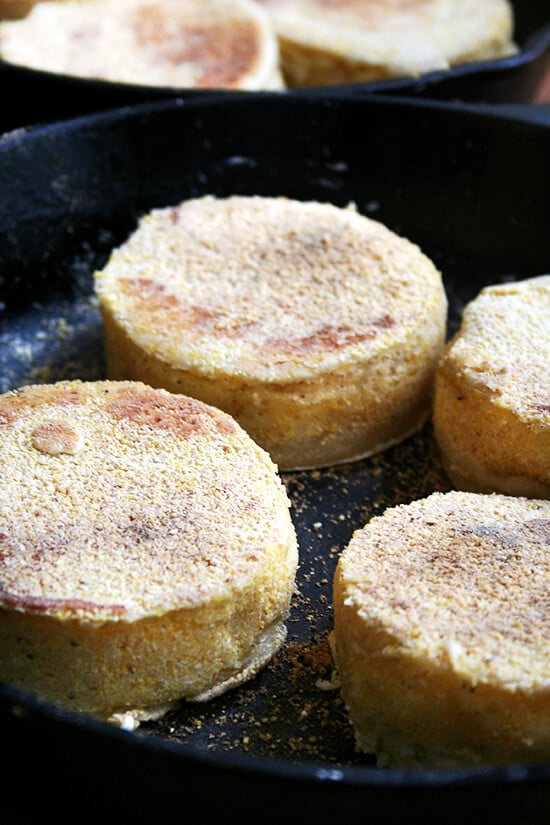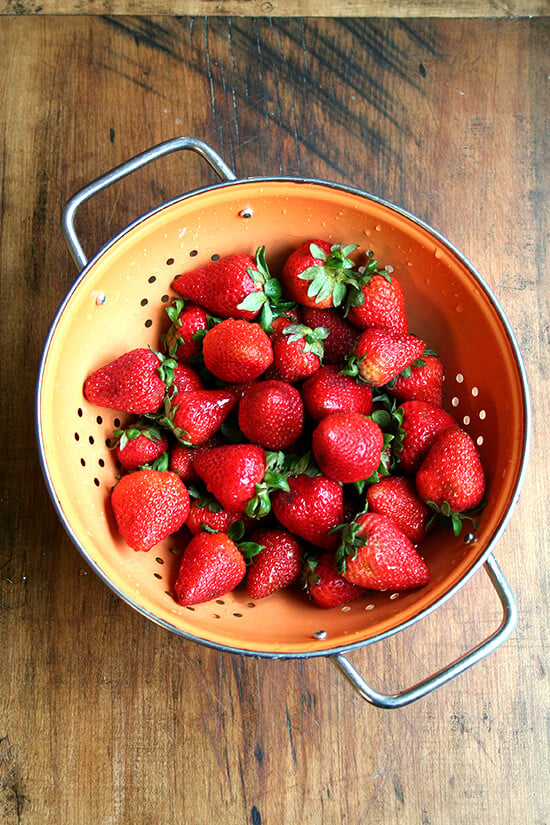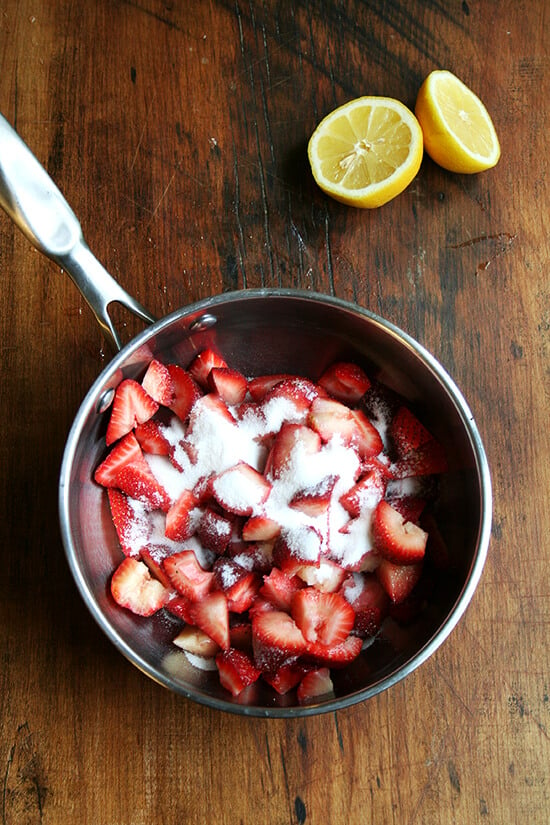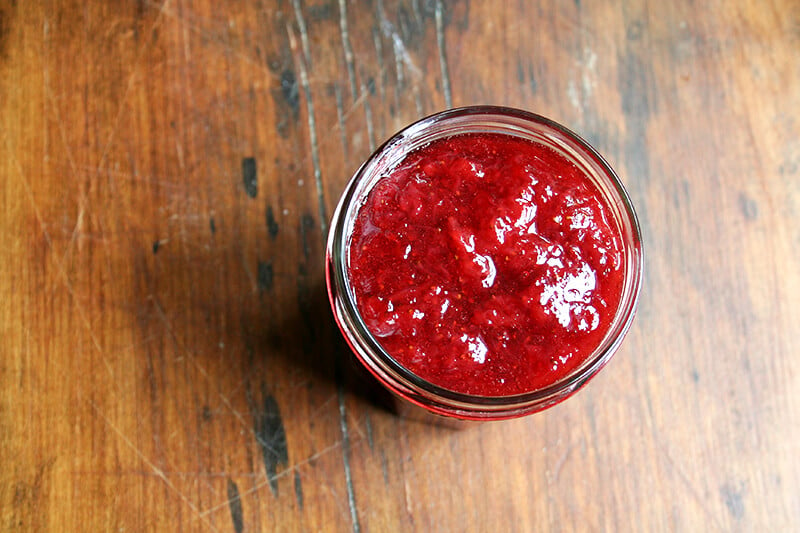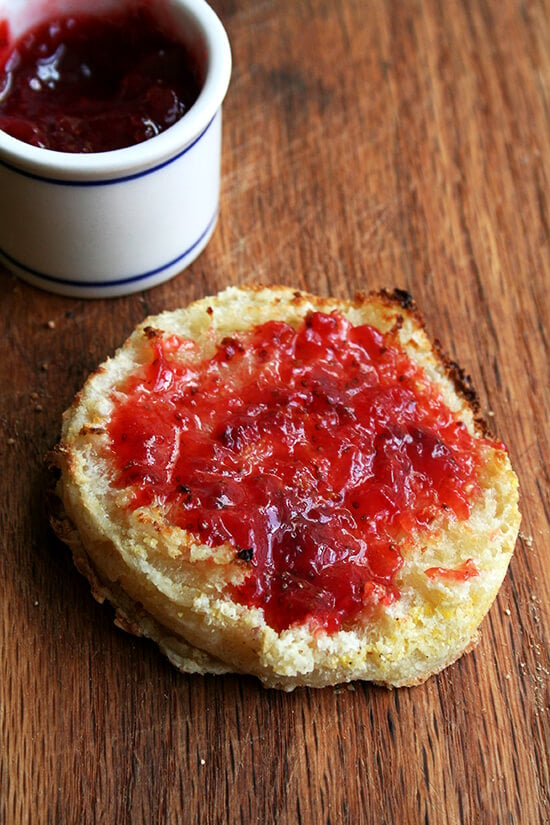 Print
English Muffins
---
Prep Time:

15 minutes

Cook Time:

20 minutes

Total Time:

2 hours 15 minutes
Description
Recipe Adapted from Williams Sonoma Bread (I can't find a direct link to this book…will update this once I do — mom says it's a good one.)
Note: You mix this dough the night before cooking or the day of cooking. I have provided instructions for both ways below, but when I made these, I mixed the dough at night after dinner. Because of this, I didn't bother warming the water or milk or blooming the yeast. I simply whisked all of the dry ingredients — flour, instant yeast, salt and sugar — in a large bowl, then added cold water, cold milk and the oil. After whisking this up, I stored the dough in the fridge overnight. The following morning, I let the bread rise at room temperature for about an hour before proceeding with the rest of the recipe.
Also, you do not need to have muffin rings to make this recipe, but if you are not opposed to collecting gadgets, they are kind of fun to have on hand. I made this recipe from the WSJ a few weekends ago, and I did not use rings, and the muffins puffed on the griddle beautifully. The WSJ recipe was very good as well — the muffins were delectable, truly, and the process was a little less fussy than this one — but I think this recipe is a little better…you get a few more of those nooks and crannies.
Also, Williams Sonoma offers these instructions for fashioning the rings from aluminum foil: Fold a 7×12-inch sheet of aluminum foil in half lengthwise and then into thirds, forming six layers in all. Bend the strips into circles 3.5 inches in diameter and secure with tape at the top.
---
Ingredients
1 1/2 teaspoon

s active dry or instant yeast (see note above if using instant yeast)

3/4 cup

+ 2 tablespoons (

6 oz

. | 180 ml) lukewarm water (110ºF | 43ºC)

3 cup

s (

15 oz

. | 470 g) unbleached bread flour

2 teaspoon

s kosher salt

1 teaspoon

sugar

3/4 cup

+ 2 tablespoons (

6 oz

. | 180 ml) lukewarm milk (110ºF | 43ºC)

2 tablespoon

s corn oil (I used canola)
cornmeal for coating muffin rings and skillets
---
Instructions
If you are baking these muffins the day you mix the batter: dissolve the yeast in the lukewarm water and let stand until bubbles begin to rise, about five minutes. Meanwhile, whisk the flour, salt and sugar together in large bowl. Stir in the lukewarm milk, oil and water-yeast mixture, and beat until smooth making an almost pourable batter (mine wasn't quite pourable). Cover bowl with plastic wrap and let rise in a warm spot until doubled, 60 to 70 minutes.
If you are mixing the dough the night before you bake the muffins: whisk all of the dry ingredients — flour, instant yeast, salt and sugar — in a large bowl. Add cold water, cold milk and the oil. Whisk until combined and store in the fridge overnight. The following morning, let the bread rise at room temperature for about an hour (or until doubled) before proceeding with the rest of the recipe. Note: if you are using active dry yeast, let it bloom in warm water as described in step 1.
Place a griddle or two heavy frying pans (I used two cast iron skillets) in the oven. Turn the oven to its lowest setting and heat for five minutes. Turn the oven off. Remove griddle/pans from oven and sprinkle with cornmeal. Butter the inside of eight 3.5-inch muffin rings and dip in cornmeal to coat. Arrange the rings on the griddle or pans.
Stir the dough to deflate. Scoop about 1/4 cup dough into each ring. (Note: If you have extra dough, divide it evenly among the rings.) Place the griddle/pans back into the barely warm oven and let rise for 30 minutes or less. Remove the griddle/pans from the oven when the dough has risen to the rim of the rings — you don't want the dough to be spilling over the rim of the rings as it is doing in the picture above. This creates issues when flipping.
Set the griddle/pans over medium-low heat. Cook slowly, loosening the muffins from the pan with a spatula after five minutes to prevent sticking, until the bottoms of the muffins are a very pale brown, 8 to 10 minutes. Using a spatula flip the muffin (ring still intact) and lightly brown on the second side for another 8 minutes.
Transfer muffins to a wire rack to cool. When ready to eat, split muffins in half with a fork, then toast them.
---
---
Print
Simple Strawberry Jam
---
Prep Time:

5 minutes

Cook Time:

1 hours

Total Time:

1 hours 35 minutes
Description
Guided by a recipe for "low-sugar" jam in Mark Bittman's How to Cook Everything
Note: Use this recipe as a guide. Strawberries vary dramatically in sweetness, and depending on ripeness, the level of pectin will vary, too. My mother added lemon to taste and followed Bittman's plate-in-the-freezer trick for determining doneness.
Plate-in-the-freezer trick to determine in advance if your fruit will gel: Stick a plate in the freezer for 10 minutes. When it has cooked down to mush, place one teaspoonful on a cold plate. Place the plate in the fridge. Check it after 2 minutes. If the jam has gelled, you're all set. Otherwise, continue cooking the jam for 5 to 10 minutes longer using this technique to check for doneness as you wish.
---
Ingredients
12 oz

. strawberries (to yield about

3 cup

s once hulled and quartered), hulled and quartered

3/4 cup

to 1 cup sugar (or more or less depending on sweetness)
freshly squeezed lemon juice (mom ended up using about 2 tablespoons)
---
Instructions
Place the strawberries and 3/4 cup of the sugar in a small saucepan. Add about a tablespoon of lemon juice. Turn the heat to medium high. Stick a plate in the freezer if you feel you are going to want to test the jam for doneness before it cools.
Cook, stirring frequently, breaking up the fruit with the back of a fork, until the sugar dissolves and the mixture liquifies. Taste and add more sugar if necessary.
Turn the heat to medium-low and cook, stirring occasionally until the mixture is thick, about 30 minutes (or more or less — Mom ended up cooking the jam for about 45 minutes). Use the plate-in-the-freezer trick if you wish to determine doneness. Taste and add more lemon juice or sugar if necessary. Cool and refrigerate.
---