Rhubarb Ice Cream + Rhubarb Jam
This post may contain affiliate links. Please read my disclosure policy.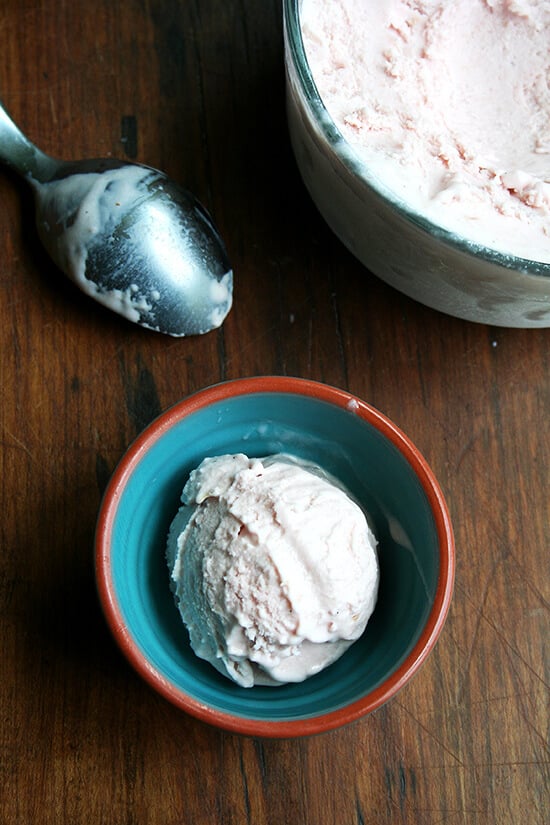 The trouble with homemade ice cream, in my experience at least, is its half-life: what tastes smooth and creamy, light and airy on day one, becomes icy and hard, choppy and crystalized on day two. The texture after a day in the freezer just doesn't compare to the best store-bought varieties.
So when I tried Jeni's Splendid ice cream recipe for the first time a few weeks ago, what struck me more than the flavor — dark chocolate heightened by coffee — was the texture: dense and creamy, almost chewy, a consistency that persisted for days. Jeni's ice cream scoops as well as the big dogs even after a week in the freezer.
For those unfamiliar with Jeni, let me fill you in: Jeni Bauer opened Jeni's Splendid Ice Creams in 2002 in Columbus, Ohio, and her company now operates nine shops in Ohio and one in Tennessee. In her book, Jeni's Splendid Ice Creams at Home, Jeni shares her ice cream base recipe, which can be transformed however your heart desires. So far, I've made the darkest chocolate ice cream in the world, a recipe from Jeni's book, and this rhubarb ice cream, a combination of Jeni's base and a vanilla-bean flecked rhubarb jam, which I only wish I could can by the barrel-full before rhubarb season passes.
Made without water or pectin, this jam comes together in about 25 minutes. It is spring preserved in a jar, and I only fear it might distract you from making this most-delicious, subtle and springy rhubarb ice cream. It will take utmost discipline to stay on course, to not be lured by visions of homemade bread and toasted English muffins and buttermilk currant scones. One bite of this brilliant magenta-hued jam, and I worry all ice cream-making aspirations will melt away. And I can't blame you. Just know that if you do get around to making the ice cream, you will go to sleep happy and wake dreaming of new ice cream flavors — toasted coconut, buttermilk almond, salted caramel come to mind. Sweet dreams, Everyone, and happy almost weekend.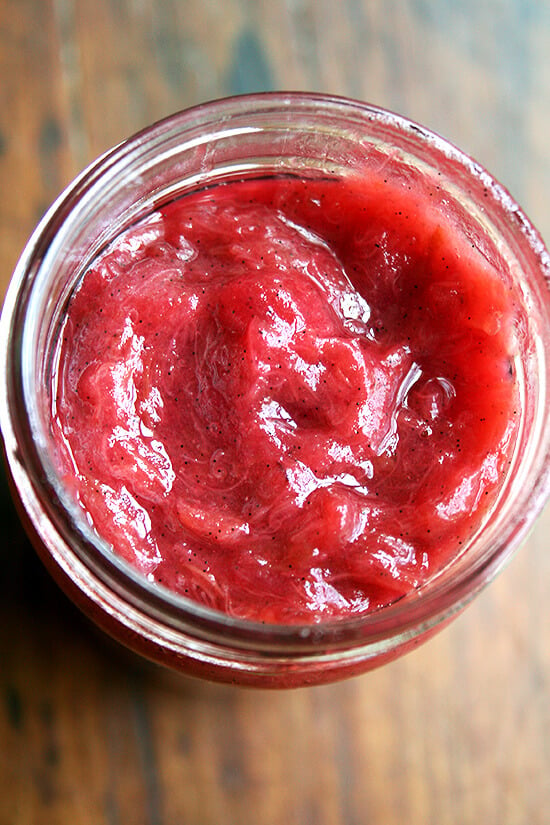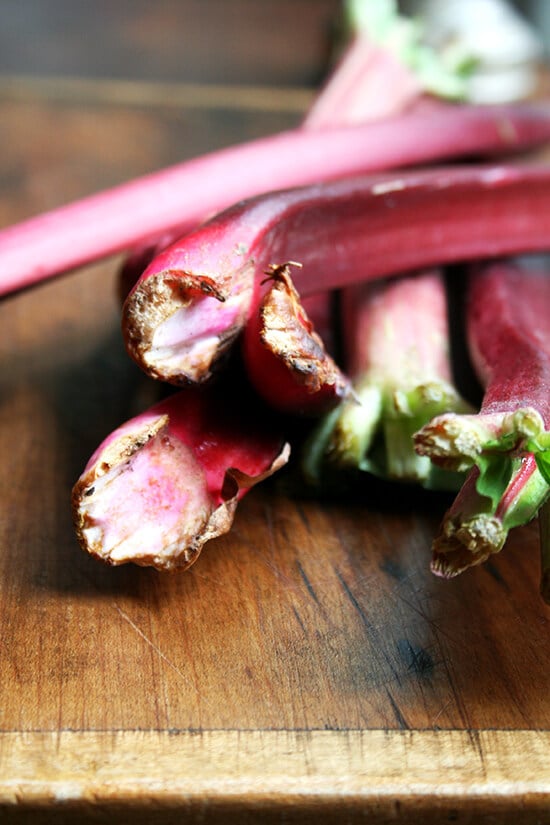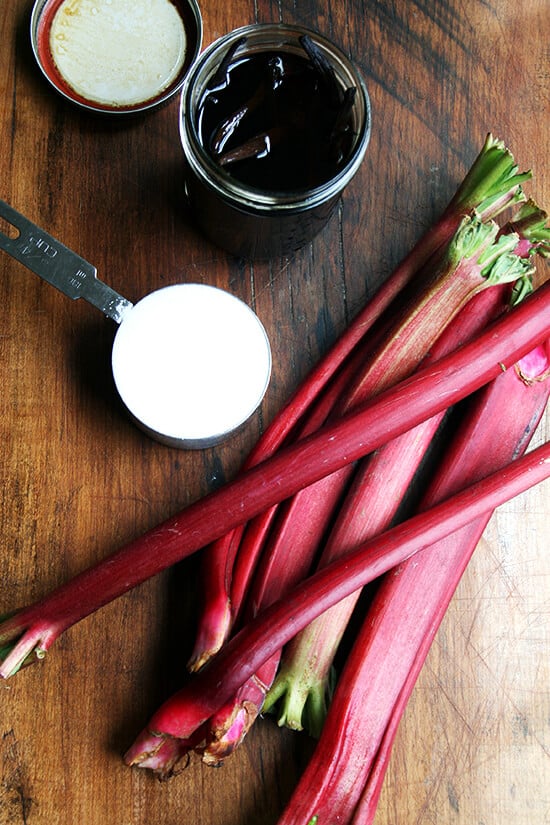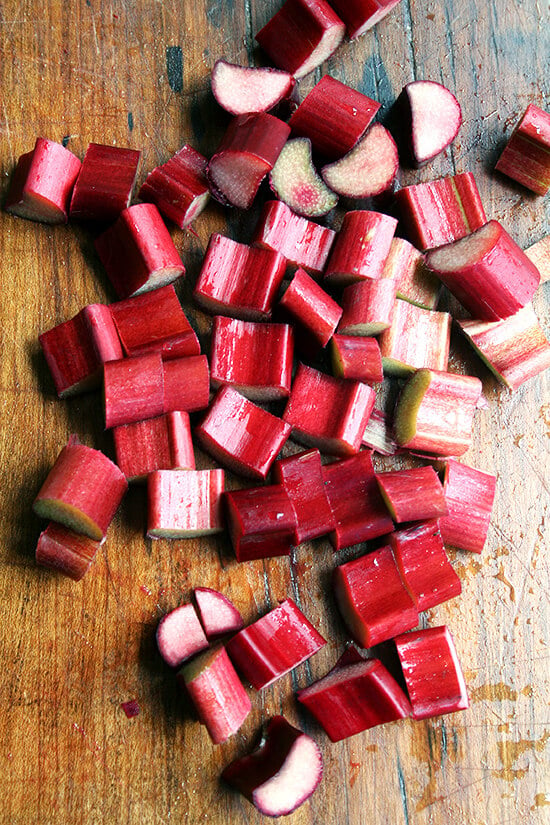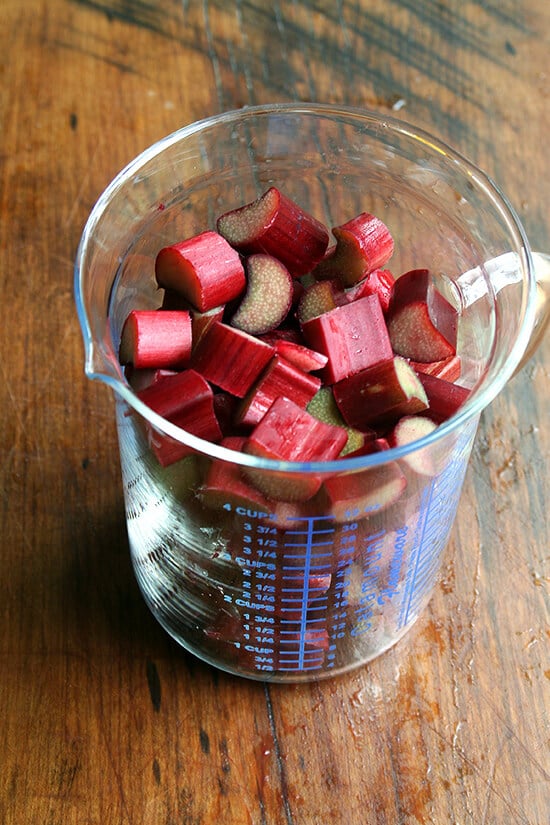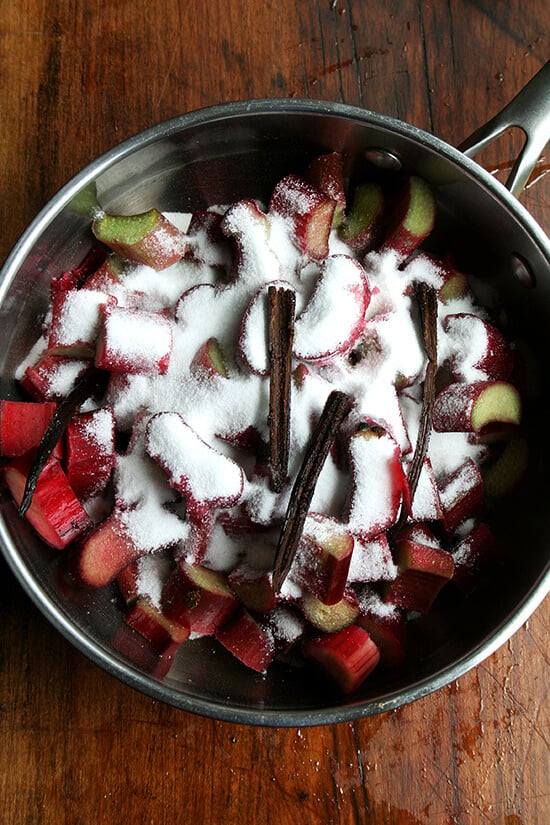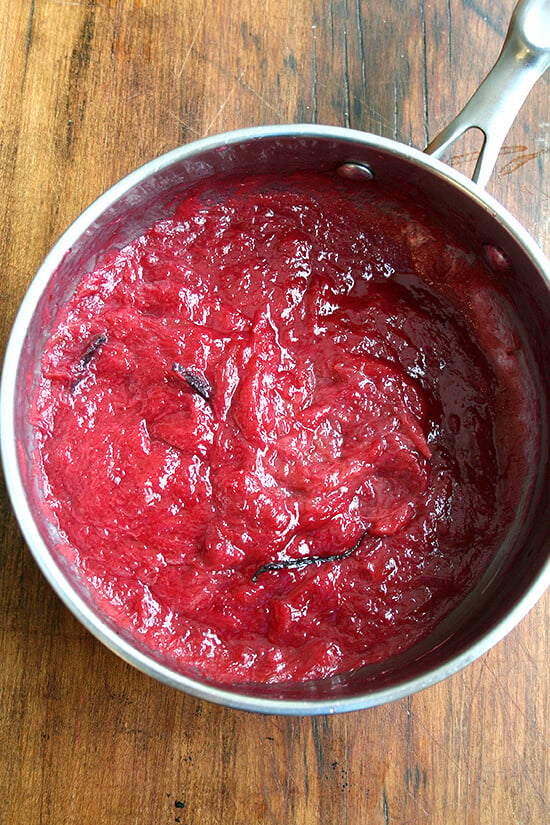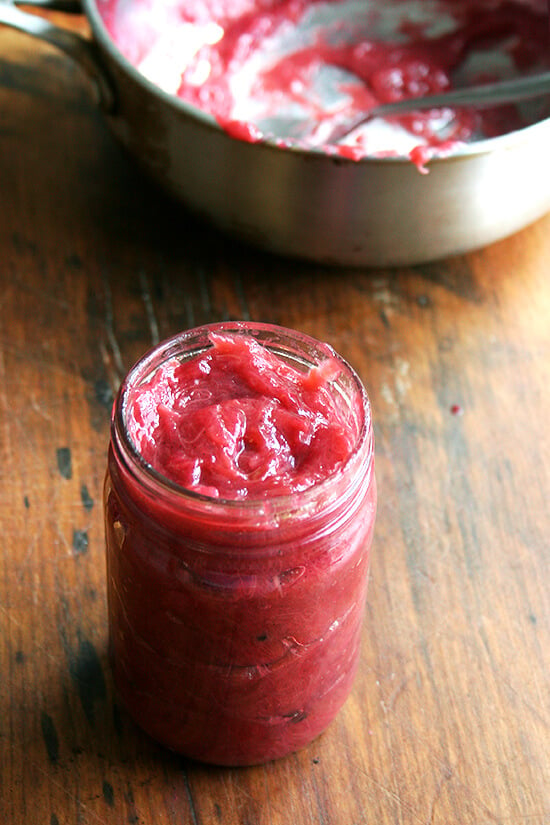 Ingredients for Jeni's Splendid base recipe: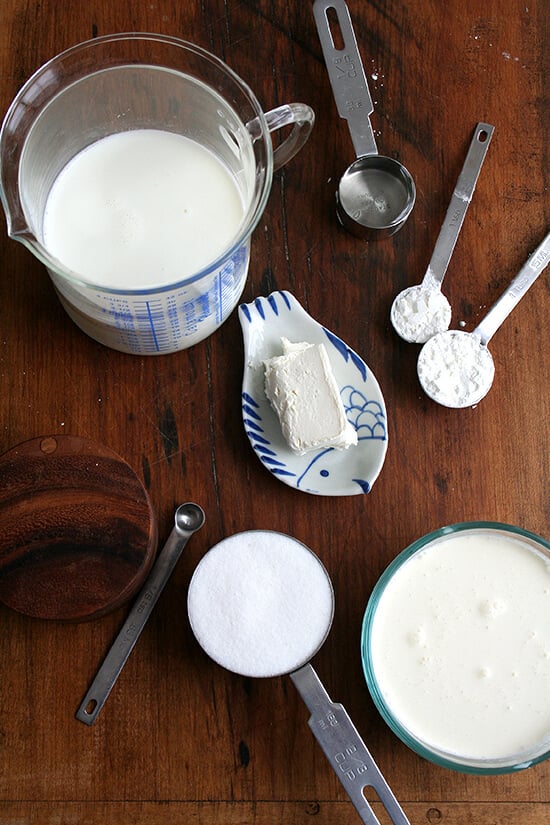 Rhubarb purée and ice cream base: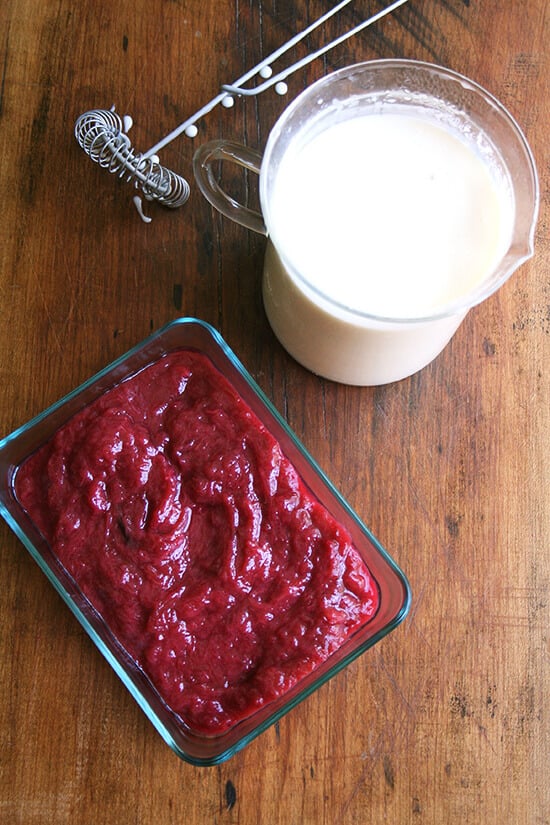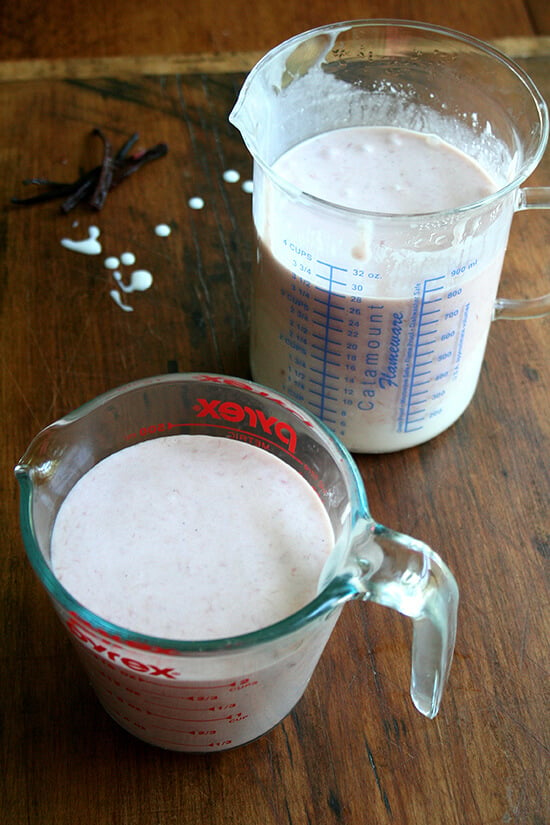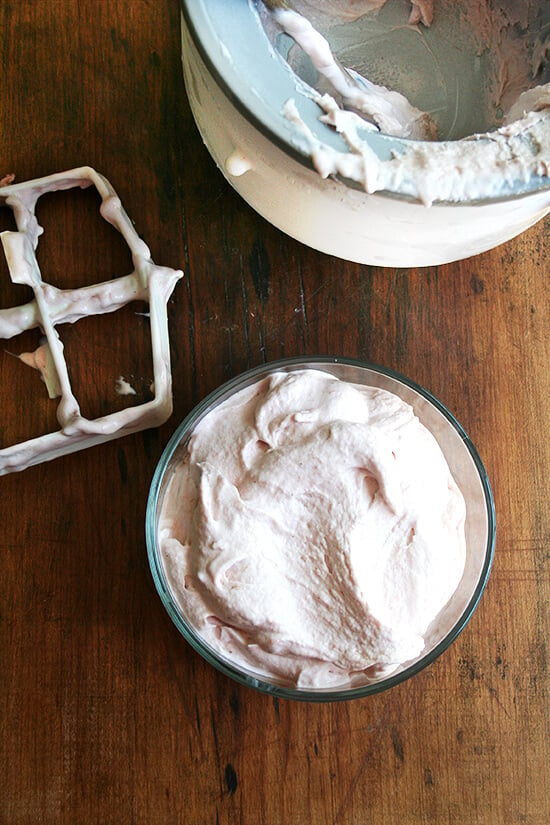 OK, as I noted above, I love this jam, and what would make me so happy is if you decided to make both the jam and the ice cream. Soooo, if you're planning on visiting a farmers' market this weekend, maybe consider picking up a few pounds of rhubarb? I promise it will be worth it. If you are feeling very motivated, your weekend cooking experiments will take no time if you start by making Jeni's Splendid ice cream base today or tomorrow — you might have all of the ingredients on hand.
Print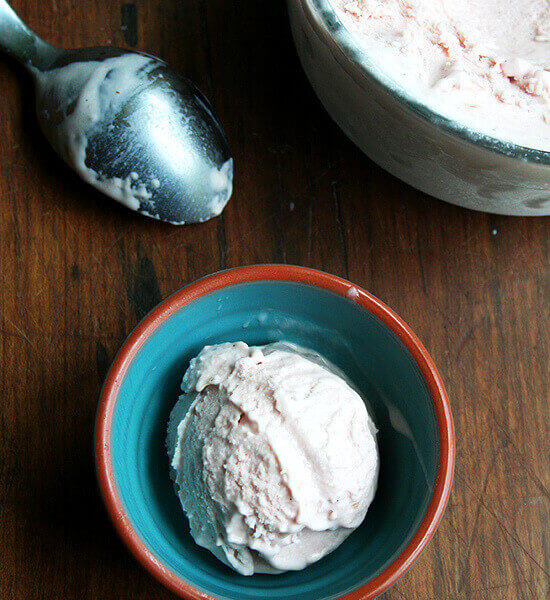 Rhubarb Ice Cream
---
---
2 cups

milk

4 tsp

. cornstarch

1 1/4 cups

heavy cream

2/3 cup

sugar

2 tbsp

. light corn syrup

1/4 tsp

. kosher salt

3 tbsp

. (

1.5 oz

) cream cheese, softened
1

recipe rhubarb jam (see below)
---
Instructions
In a bowl, stir together 1/4 cup milk and the cornstarch; set slurry aside.
In a 4-qt. saucepan, whisk together remaining milk and the cream, sugar, syrup, and salt; bring to a boil over medium-high heat. Cook for 4 minutes; stir in slurry. Return to a boil and cook, stirring, until thickened, about 2 minutes.
Place cream cheese in a large bowl and pour in 1/4 cup hot milk mixture; whisk until smooth. Then whisk in remaining milk mixture. Pour mixture into a plastic bag; seal, and submerge in a bowl of ice water until chilled. (I don't do this step. I just pour the mixture into a large liquid measuring cup and store it in the fridge until I'm ready to use it.)
Purée rhubarb jam in a food processor or blender. (I know this is an annoying extra step, but I think it's important for the rhubarb purée to be nice and smooth. Also, if you quickly give your processor or blender a rinsy rinse right after you purée it, it's as if it never happened. Go on, be quick now.) Whisk rhubarb purée and Jeni's Splendid ice cream base together in a large bowl until nicely blended. Because the combination of Jeni's Base and the rhubarb jam yields a large quantity, I suggest churning only half of the mixture at a time: pour half of the mixture into an ice cream maker and process according to manufacturer's instructions. Transfer ice cream to a storage container and freeze until set, at least 4 hours.
Let ice cream stand at room temperature for 5 to 10 minutes before scooping and serving.
Prep Time:

20 minutes

Cook Time:

15 minutes

Category:

Dessert

Method:

Ice Cream Machine

Cuisine:

American
Keywords: icecream, rhubarb, summer, dessert
---
Print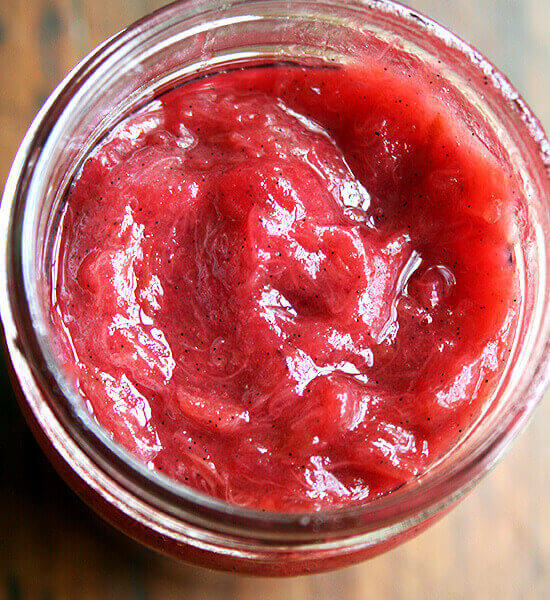 Rhubarb Jam
---
Description
Adapted from Chef de Cuisine
---
about a pound of rhubarb*, to yield about 3 1/2 to 4 cups once chopped

3/4 cup

sugar

1

vanilla bean
*If you start with a pound of rhubarb, by the time you trim the ends, you will have (shockingly) less than a pound of rhubarb, which will yield closer to 3 cups of chopped rhubarb. If you start with more like a pound and a half or a pound and a quarter of rhubarb, the yield once chopped will be closer to 4 cups. I have made the jam both ways and prefer it on the less sweet side — 1lb. 6 oz of rhubarb untrimmed left me with 4 cups of chopped rhubarb. You can always add more sugar about halfway through the cooking process if you find the jam to be too tart, but I doubt you will.
---
Instructions
Wash rhubarb. Trim ends. Cut into 1/2-inch pieces. Place rhubarb in a saucepan with sugar. Split the vanilla bean in half lengthwise and scrape out the caviar with a paring knife. Place caviar and remaining pod in pan with rhubarb and sugar. Cover pan, place over medium heat and cook until the mixture is bubbling and the rhubarb has released a significant amount of its juices, about 5 to 10 minutes.
Uncover the pan, give the mixture a stir, and continue to cook until most of the liquid has evaporated and the mixture is thick and jam-like in consistency, another 10 or 15 minutes. Stir frequently and use a spatula or spoon to breakdown any big pieces of rhubarb. Remove from heat and let cool. Transfer to a jar and store in the fridge for at least a week.
Prep Time:

10 minutes

Cook Time:

25 minutes
I'm not trying to distact you from making ice cream, but if you get around to making both the jam and the ice cream, you may as well bake up a couple loaves of peasant bread: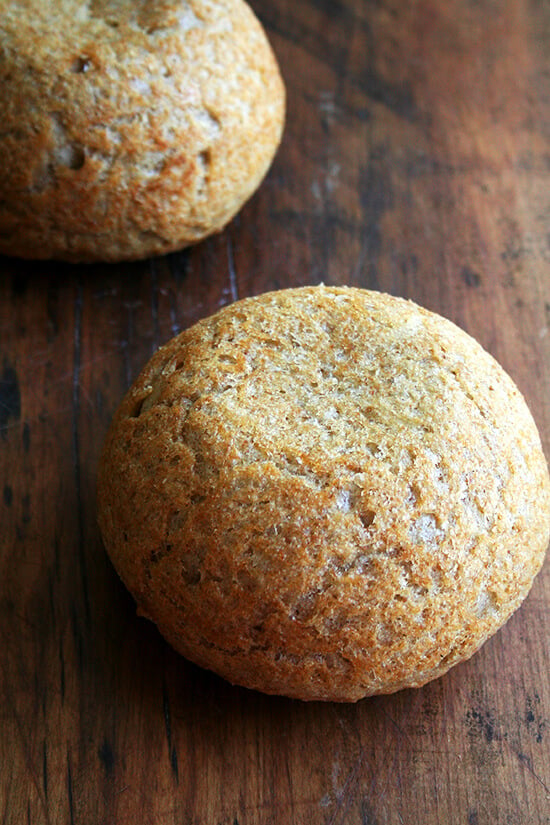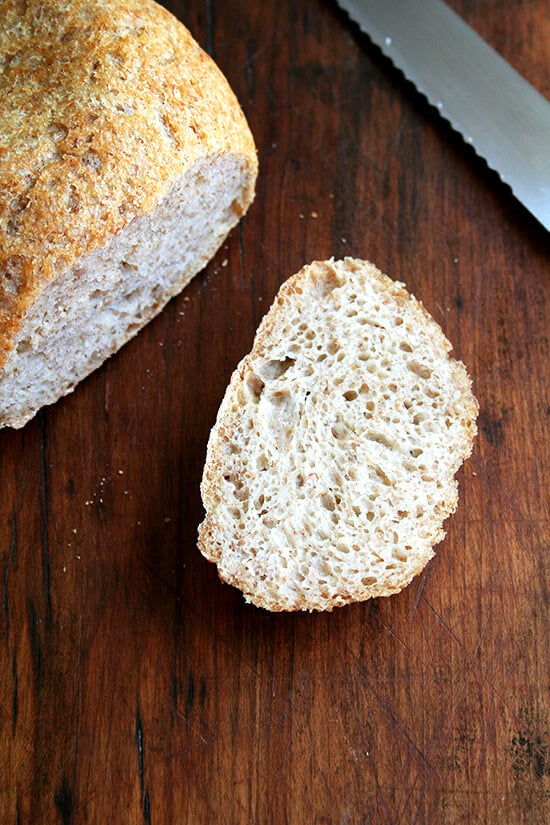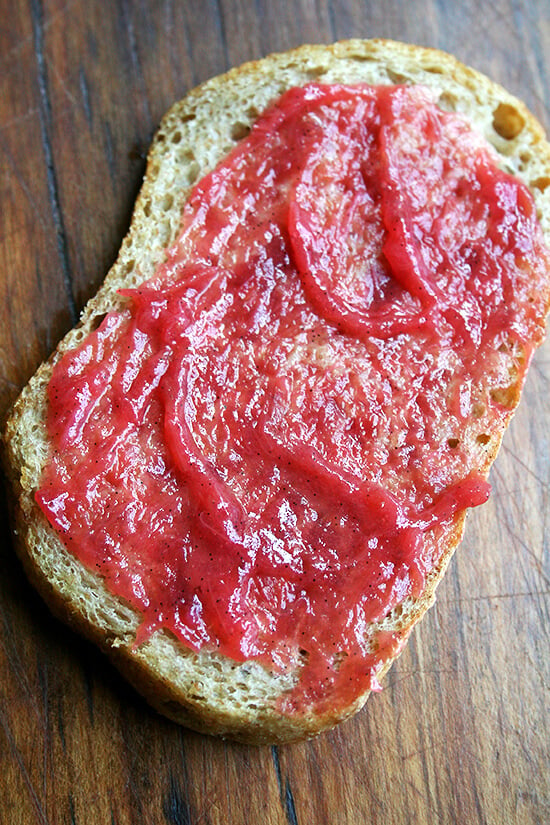 This post may contain affiliate links. Please read my disclosure policy.