Last Minute Father's Day Gift Idea: Aretha Frankenstein's Waffle Mix
This post may contain affiliate links. Please read my disclosure policy.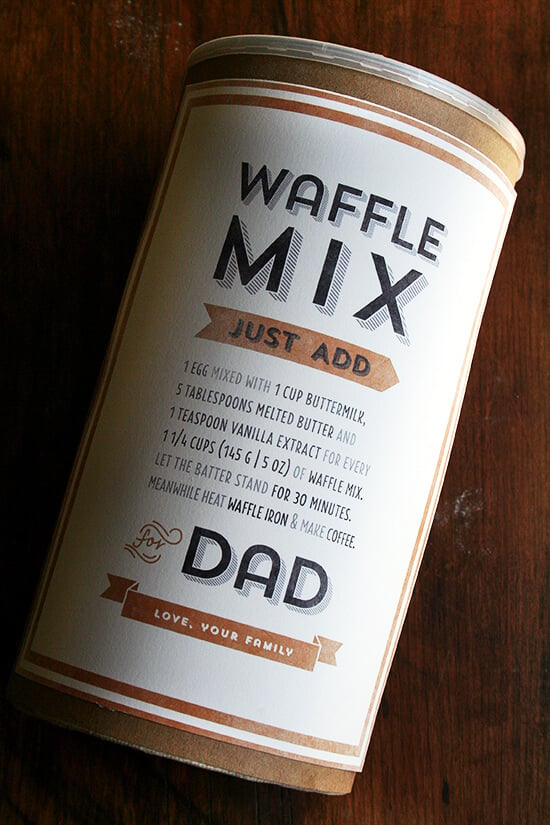 A few days ago, Ben came home from work to be greeted by shrieks of joy from the children. They lept into his arms, then immediately threw themselves to the ground in the living room where they began their usual game of "tackle."
And then it struck me: those were the first giggles I had heard from the children all day. Oops. Note to self: Try to make the children laugh at least once before Ben gets home from work. And maybe try not to be so wretched all day long. Oiy. It's sad but true. I have been such a terror lately. Ben often consoles me by reminding me of something Amy Chua says to her husband in her Battle Hymn of the Tiger Mother book: "You can be the one they adore because you make them pancakes and take them to Yankees games." This always makes me laugh, but as I have no aspirations of being a Tiger Mom, I think I have some things to work on.
Anyway, for Ben's Father's Day gift this year, I made him a big batch of waffle mix to facilitate his breakfast making for the children and decorated an empty Quaker Oats canister with a personalized label, which you can download and use, too, if you are still looking for a Father's Day gift. (Materials and instructions are below.)
(Update: label not downloadable at this time … apologies!)
Many of you know of Aretha Frankenstein's Waffles of Insane Greatness. Since trying the recipe several years ago now, I haven't made any other waffle recipe. They are widely adored for their crisp crust and crepe-like interior, and as far as waffle recipes go, mixing up a batch is pretty easy — there is no yeast or long overnight rise, and there are no whipped egg whites.
Even so, and perhaps this is just a reflection of how lazy I've gotten, I still find the recipe to be kind of a pain to make. There are six dry ingredients (flour, cornstarch, baking powder, baking soda, salt, sugar) and four wet ingredients (egg, buttermilk, butter and vanilla) to measure out, and for the amount of waffles one batch yields — enough to feed about two to three people — I always find the recipe to be more work than it should be.
So, several months ago, I weighed out ten times the amount of dry ingredients, whisked them together, and stored the mixture in a ziplock bag. Having never made a dry-ingredient mix in bulk before, I was a little worried about how the waffles would turn out, but it worked like a charm. Making waffles has never been so easy. Now, on waffle-making mornings, all I have to do is measure out about 1.25 cups (152 g) of the mixture and whisk it together with the melted butter, buttermilk, egg and vanilla. It's a piece of cake.
These waffles are a family fave as I am sure they are for many of you. Happy Father's Day to all of you dads out there!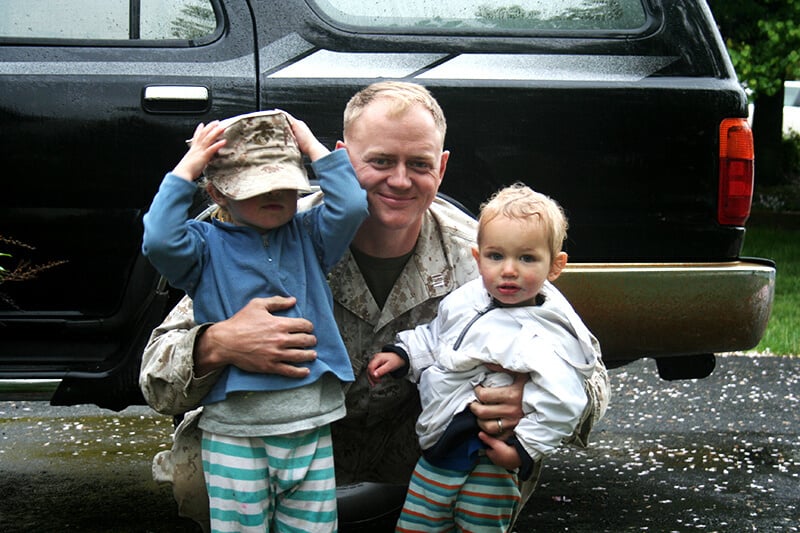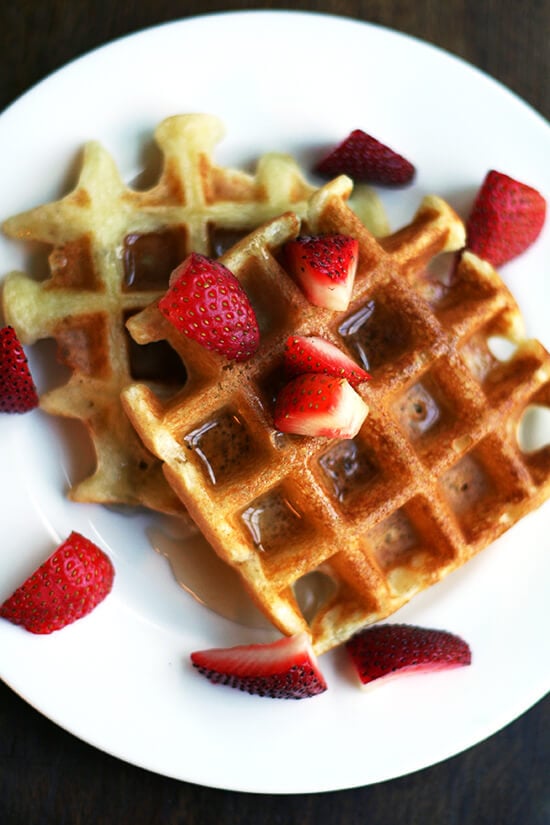 Materials for making this gift: an empty Quaker Oats (the large size) canister, brown craft paper (or whatever color you like) to cover the canister, the waffle mix (recipe below), and nice paper to print out the label.: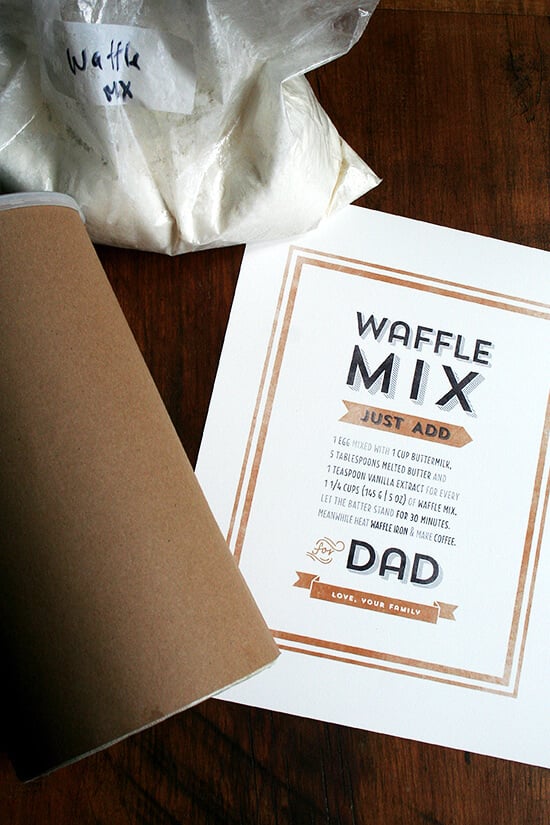 Once you have a big batch of waffle mix on hand, on waffle-making mornings, all you need to do is melt butter and whisk it together with buttermilk, an egg, and vanilla: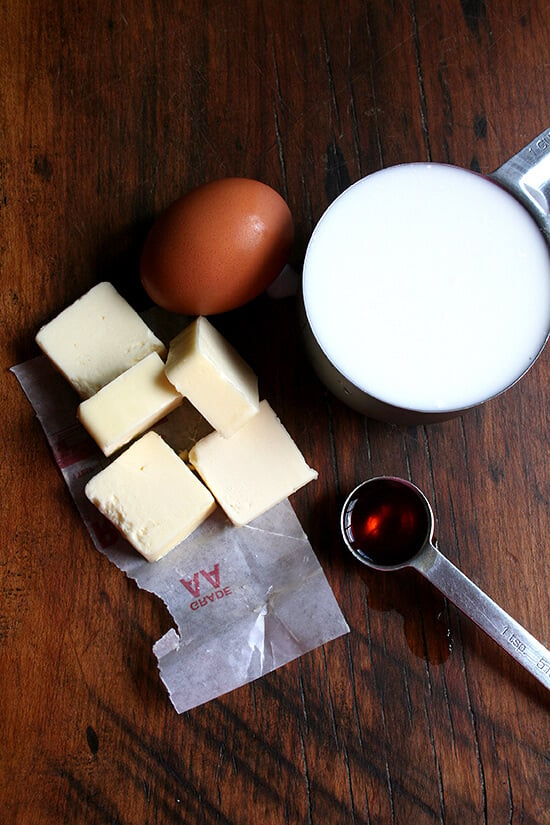 Print
Aretha Frankenstein's Waffles of Insane Greatness Mix
---
Total Time:

60 minutes

Yield:

10 batches, serves many people
Description
Note: The best way to mix up this waffle mixture is to use a scale — it will take no time at all if you do and it will be more accurate. Also, if you would like to make just one batch, find the recipe on Food52.
---
This waffle mixture is 10 times the mixture of dry ingredients in the original recipe:
1000 g

all-purpose flour (

7 1/2 cups

)

380 g

cornstarch (

2 1/2 cups

)

76 g

(

5 tablespoons

) sugar

22 g

(

5 teaspoons

) baking powder

34 g

(

5 teaspoons

) salt (I used table salt)

16 g

(

2 1/2 teaspoons

) baking soda
For every 1 1/4 cups or 152 g of this mix (which serves 2 to 3 people), you will need:
1

egg

1 cup

buttermilk

1/3 cup

(

5.3 tablespoons

) melted butter

1 teaspoon

vanilla extract
---
Instructions
In a large bowl, carefully whisk all dry ingredients together. Store in a ziplock bag until ready to use.
When ready to use, whisk egg and buttermilk in a small bowl. Whisk in melted butter and vanilla extract. Measure out 152 g (or 1.25 cups) of the waffle mix and add to the bowl. Stir until combined. The batter is on the thin side but if the mixture looks too thin, (which only seems to happen to me when I make a double batch) add more of the waffle mix by the tablespoon to the bowl. Stir until it's the right consistency. Let stand for 30 minutes.
Heat waffle iron. Cook according to your machine's instructions. We have found that the middle setting (5 on a scale of 10) works best for us. The higher setting (on our machine at least) seems to be too hot.
Prep Time:

15 minutes

Cook Time:

15 minutes
To make the gift:
• ziplock bag
• one batch of waffle mix (recipe above)
• empty Quaker Oats canister
• brown craft or construction paper to cover the canister
• spray mount or glue for affixing paper and label to canister
• waffle mix label
This post may contain affiliate links. Please read my disclosure policy.