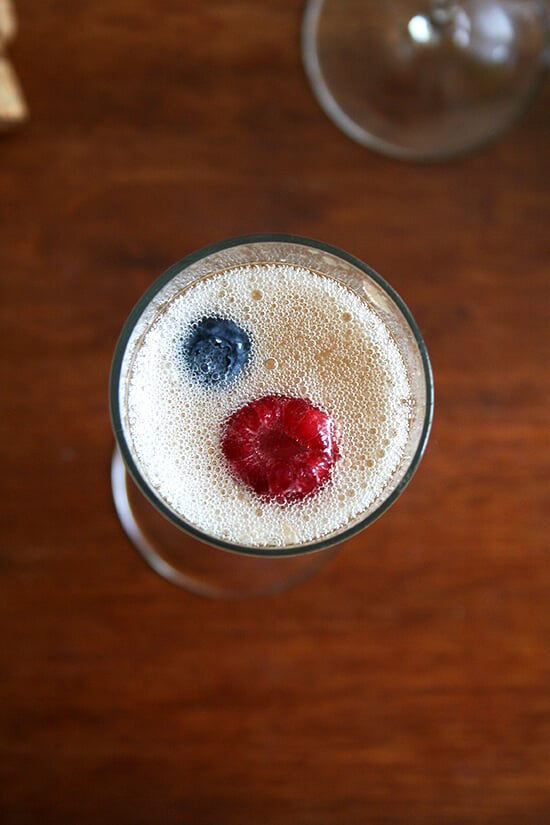 I have never considered myself a mixologist but for a gathering last Sunday, I found myself filling champagne flutes red Solo cups with peach-flavored liqueur, opening bottles of Cava, garnishing cocktails with diced peaches.
If I'm going the mixed-drink route, I tend not to stray from my gin and tonic, always with a lemon just as my British granny, affectionally known as Granny "Puff Puff" for allowing my sister and me puffs of her cigarettes as we wished, taught me. But after the warm reception of both the traditional sangria and the sangria Penedès I brought to last Sunday's gathering, I think I could get into mixing it up in the drink's department. I've never felt as equally proud as disappointed to see revelers return to the fridge searching for more of the "peach stuff," which had long been polished off. Next time I'll make a double batch.
Now, I understand that it is the Fourth and your liquor store might be closed, but go take a peek in your liquor cabinet. You might be surprised to find a bottle of peach schnapps collecting dust in the back corner, and many of you likely have bitters and grapefruit juice on hand. Mixing up the peach base for this sparkling cocktail takes no time, and if you happen to have some red, white or blue berries on hand, nothing could be more festive. Happy Fourth!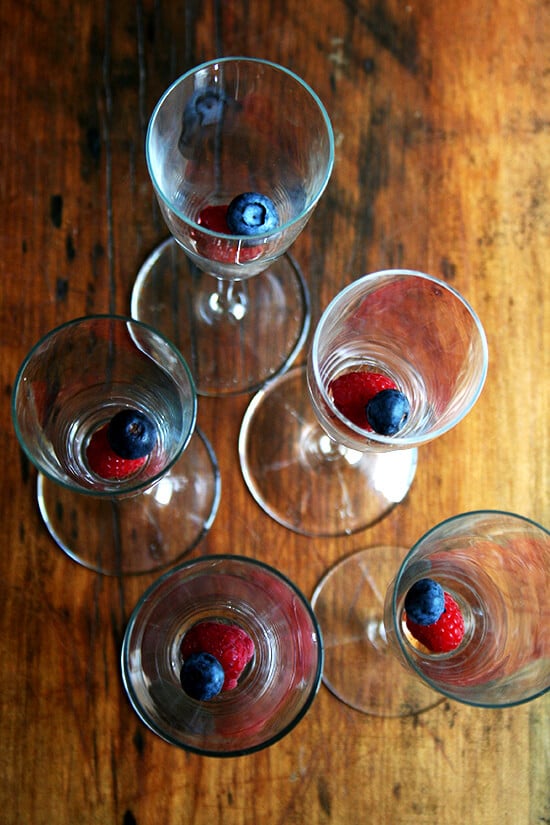 Print
Sparkling Peach Cocktail or Sangria Penedès
---
Prep Time:

5 minutes

Total Time:

5 minutes

Yield:

4-6 servings
Description
Source: New York Times
Note: This is not a drink to feed a crowd. If you are looking to make 10 to 12 cocktails, definitely make a double batch of the peach syrup, and buy two bottles of Cava.
---
Ingredients
10 ounces

Mathilde or other peach liqueur (I had peach schnapps on hand)

2 ounces

fresh (or not) grapefruit juice

5

dashes Scrappy's lavender (or not) bitters

2 ounces

simple syrup

1

peach, diced into small cubes (or blueberries or raspberries)

1

bottle Cava
---
Instructions
In a pitcher or other container, combine peach liqueur, grapefruit juice, bitters and simple syrup.
To serve, pour 1 1/2 ounces of the mixture into a champagne flute and top with Cava. Garnish with peach cubes.
---
---
Print
Traditional Sangria
---
Prep Time:

5 minutes

Total Time:

4 hours 5 minutes

Yield:

10 1/2 cups (about 16 servings)
Description
Source: New York Times via Rafael Mateo, Pata Negra, New York
---
Ingredients
2

bottles dry garnacha red wine

1

bottle rosé

12 ounces

orange soda (I used Fanta)

1 ounce

Torres orange liqueur or Triple Sec (I used Cointreau)

2 ounces

brandy

1 tablespoon

sugar, or to taste

2

apples, cored and diced, (or st

one

fruit such as peaches, plums, nectarines, etc)

2

oranges, cut into wedges (or st

one

fruit such as peaches, plums, nectarines, etc)
---
Instructions
In a large vessel, combine all liquid ingredients. Stir with a wooden spoon. Let rest for 5 minutes. Taste, and add sugar if desired, stirring to dissolve. Refrigerate for at least four hours, preferably overnight. (Note: I added all of the diced fruit at this step.)
To serve, fill glasses with ice. Pour 5 ounces sangria into each glass and garnish with fruit.
---