Cucumber & Green Grape Gazpacho | Quinoa Salad with Mango, Lime & Ginger
This post may contain affiliate links. Please read my disclosure policy.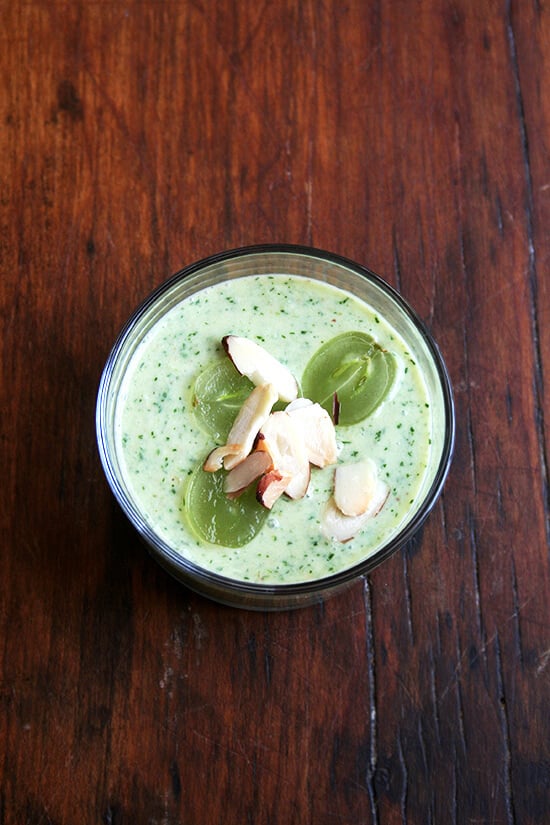 I arrived at the Albany airport to find my auntie Marcy waiting at baggage claim ready to snatch Wren from my arms and to feed me, as always, immediately.
She led me to her car, and before I could even buckle my seatbelt, she had pulled a ball jar filled with cucumber and green grape gazpacho — one of my favorites — from a cooler and handed me a Lifefactory water bottle — I want one! — filled with ginger-mint-and-orange-flavored water.
Feeling nourished and ready to face the task of the day — find me a place to live — we zoomed off in Marcy's mobile spa, equipped with coolers holding bowls of quinoa and mango salad, a brown paper bag sheathing a loaf of Shelburne Farms chili cheese ciabatta, and a little baggy holding rice crispy treats for dessert. My auntie spoils me.
I returned home to a heat wave craving nothing more than this cool summery meal. As I mentioned, this white gazpacho, loaded with dill, is one of my favorites. I find nothing more refreshing this time of year, and had I not been so worried about disappointing some of you, I would have shared this recipe ages ago. You see, some of you may be turned off by the zing of the raw garlic. One clove imparts an amazing amount of bite, and while you certainly could leave it out, I fear something would be lost without it. While variations of white gazpacho can be found all over Spain (so I'm told), raw garlic (along with the stale bread) seems to be a constant. This soup makes a wonderful first course, especially when every sip is accompanied by slivers of toasted almonds and sweet grapes.
I have few worries about this quinoa salad, seasoned with fresh ginger and lime, a mixture of slivered snap peas, toasted cashews, minced serranos, diced mango, and sliced scallions. This spicy-crunchy-sweet combination benefits from a brief rest in the fridge, which helps the ginger permeate the salad, and if you feel like being extra fussy, I suggest folding in the diced mango just before serving to keep the salad as crisp and bright as possible.
Friends, the weekend in the Albany area proved a success. I found a house owned by a botanist who, over the years, has managed to grow a peach tree, a pear tree, an apple tree, and rhubarb all in her backyard. I returned home unable to answer any questions about the house itself — Number of bedrooms or bathrooms? Was there a dishwasher? A place for tools? Bathtub for the children? — responding to every question with: "But it has a peach tree in the backyard." How could I possibly have passed it up? Hmmm, I'm not sure I'm the one who should have been tasked with the house-hunting, but we'll make it work, right? Hope you all are staying cool.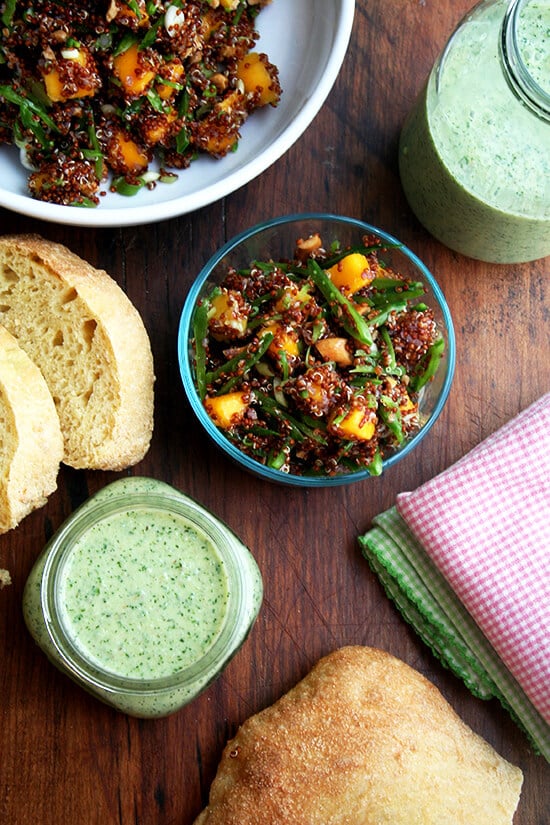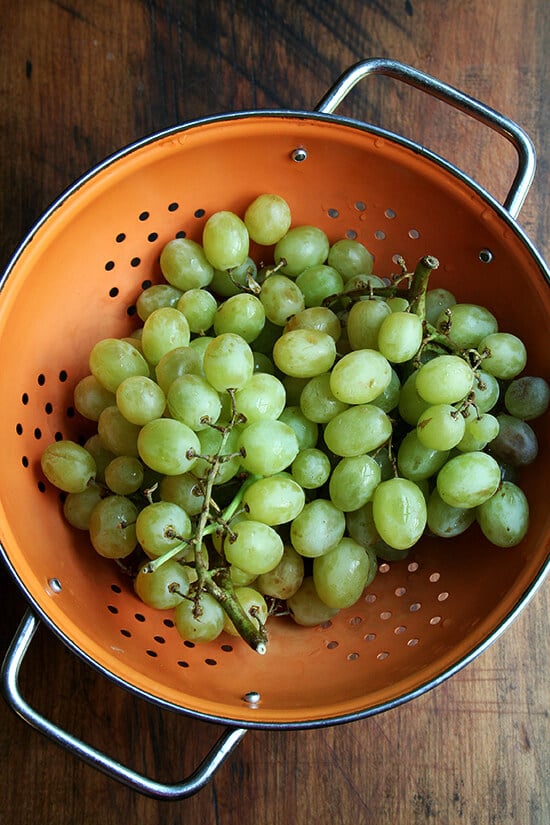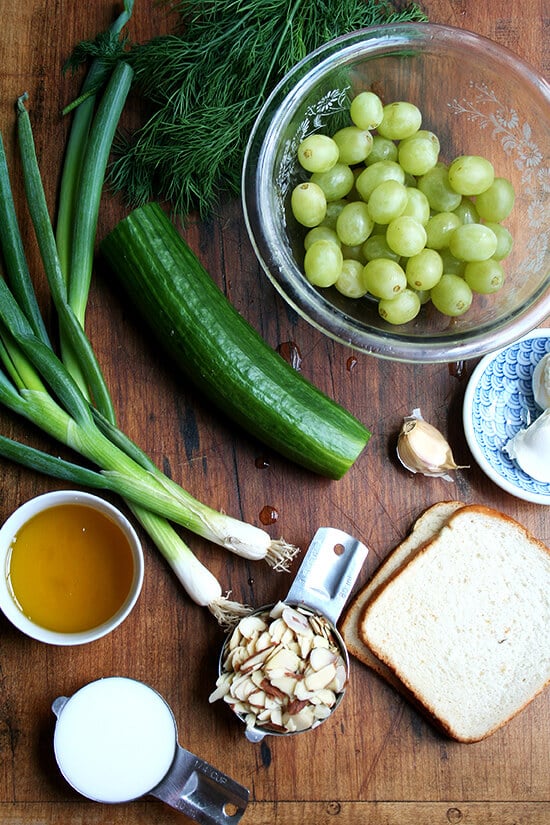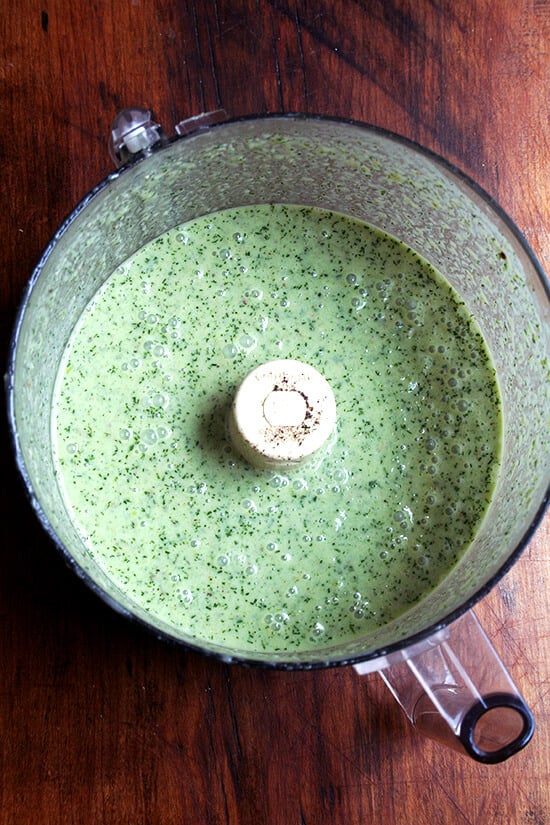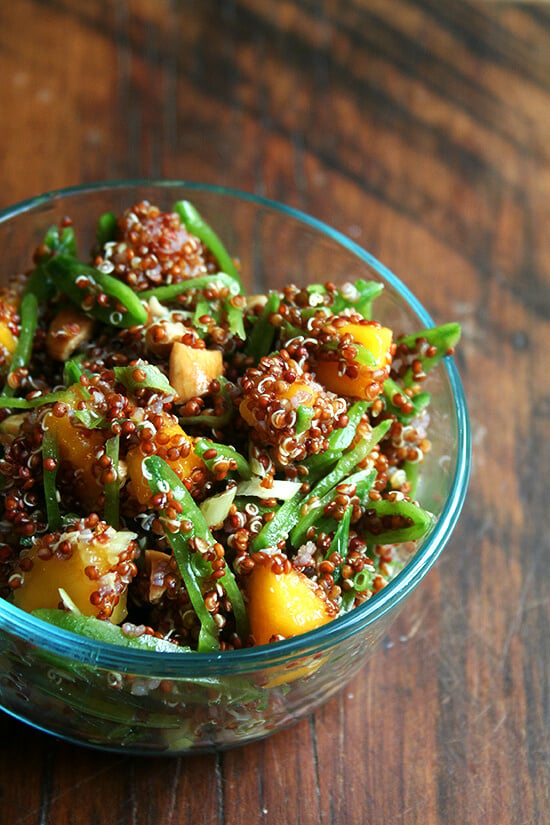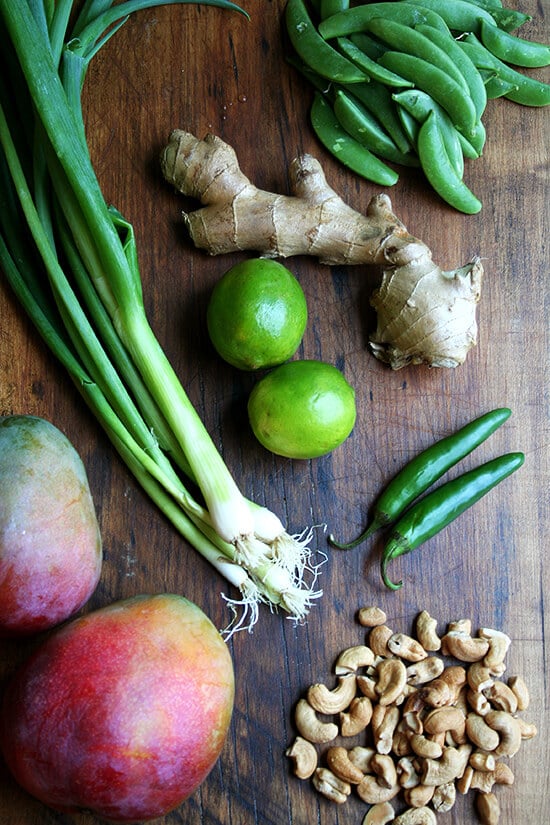 This was my first go with red quinoa — I love it. It's got a nice crunch and lovely nutty flavor: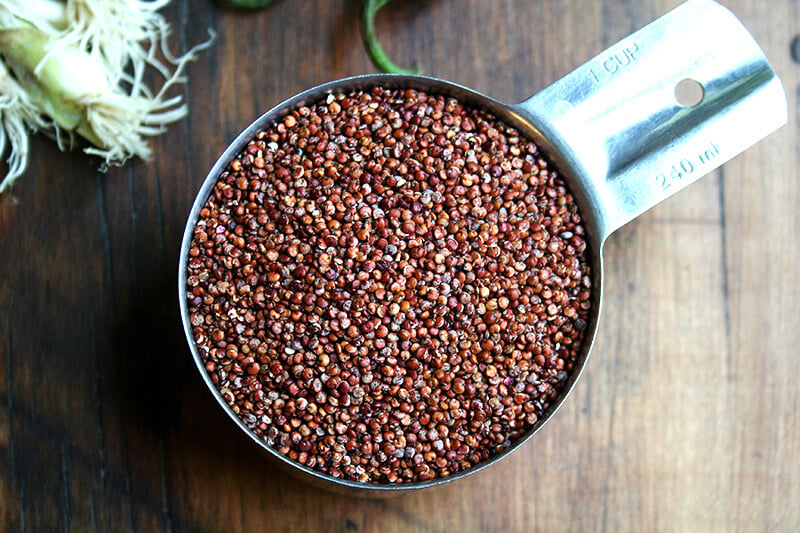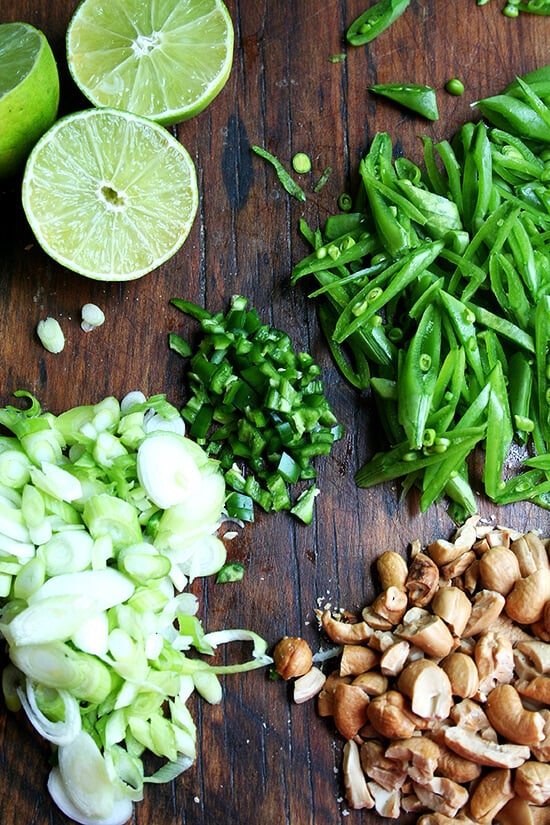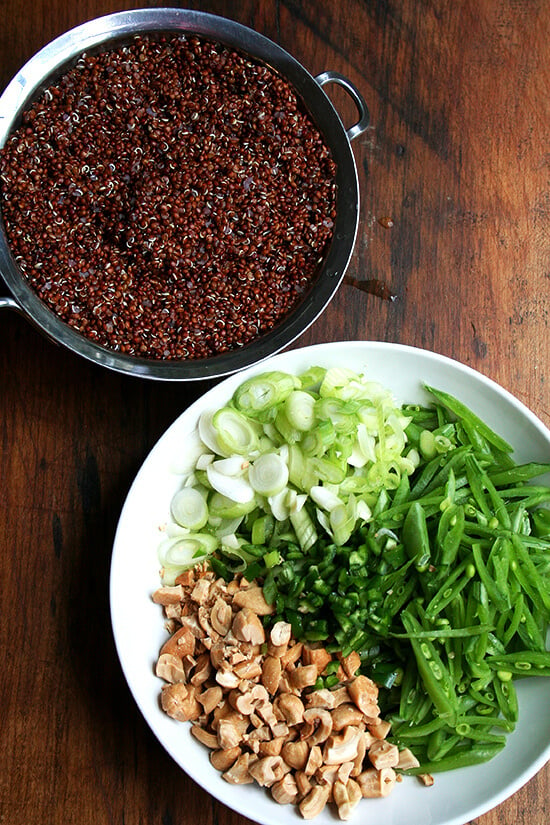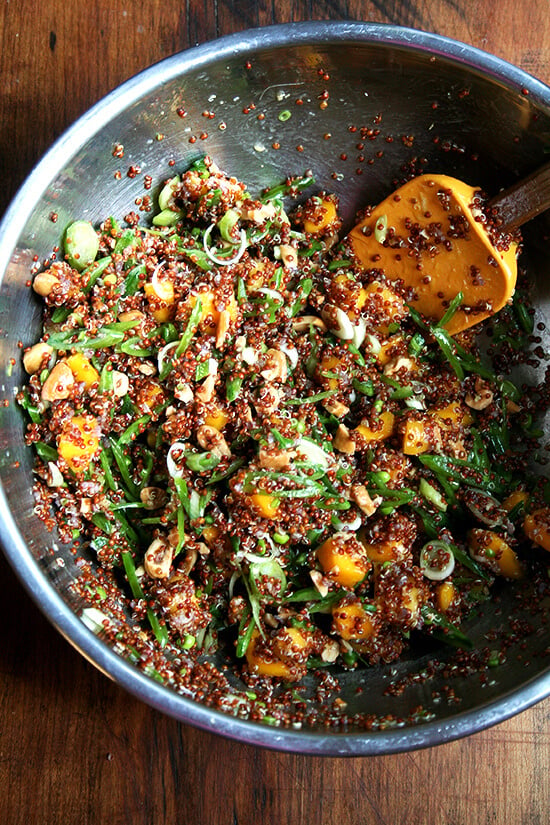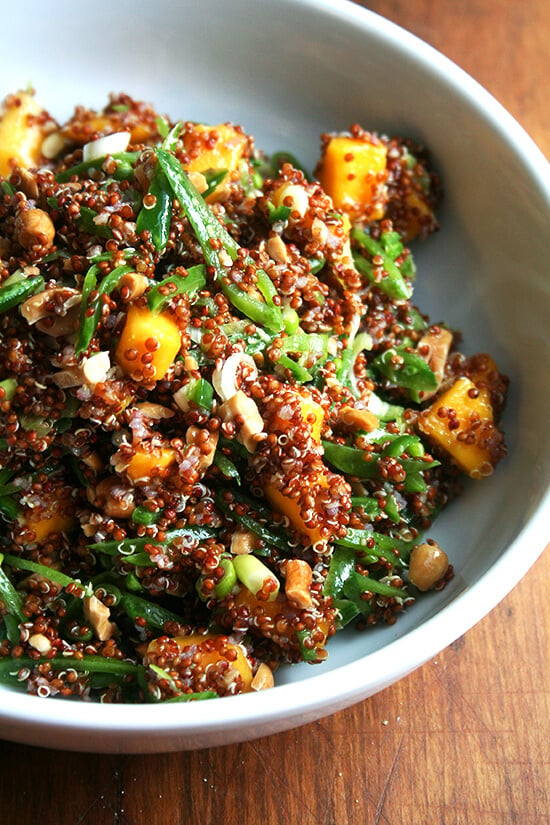 Print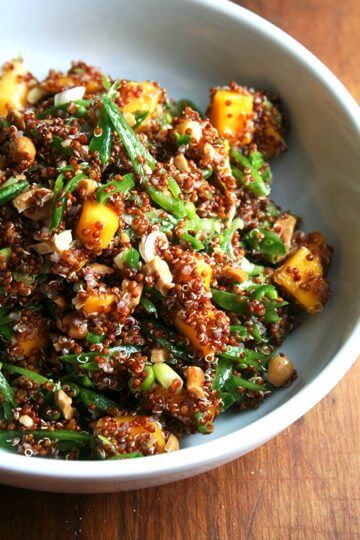 Quinoa Salad with Mango, Lime & Ginger
---
Total Time:

1 hours 25 minutes

Yield:

4 servings
Description
Note: An essential piece of equipment for cooking quinoa is a fine-meshed sieve. You need this piece of gear for both rinsing the quinoa before you cook it and for draining the quinoa after you cook it.
Also: More on cooking quinoa properly and a few notes on Fair Trade quinoa can be found here.
---
1 cup

quinoa (I like red quinoa, Alter Eco brand, if you can find it)

1 cup

snap peas, stem removed

1/2 cup

cashews, (roasted unsalted)

4

to

5

scallions or spring onions, rinsed and trimmed

2

mangoes, peeled

1

–

2

serrano chilies (or Thai bird chilies or jalapenos — whatever hot chilies you like best)
an inch-long (or slightly bigger) knob of ginger, peeled
kosher salt and pepper to taste

1/3 cup

extra-virgin olive oil

1

to

2

limes, juiced
---
Instructions
Bring a large pot of water to a boil. Meanwhile, place quinoa in a fine-meshed sieve and rinse under cold water. When the water comes to a boil, add the quinoa and simmer for 9 minutes. Drain in a fine-meshed sieve and run under cold water until cool. Set aside to dry.
Meanwhile, prepare the remaining ingredients: Slice the snap peas on a bias and set aside. Roughly chop the cashews. Slice the scallions (white and light green portions) thinly. Slice down around the pit of the mango to remove, then dice the flesh. Remove the seeds from the chilies, then finely dice. Grate the ginger on a box grater or finely dice with a knife or purée in a food processor. You need about a tablespoon (or more or less to taste) of minced ginger flesh/juice.
Place the drained and dried quinoa into a large mixing bowl. Season all over with salt (I used one teaspoon kosher salt to start) and pepper to taste. Add the snap peas, cashews, scallions, chilies, mangoes (or not if you have time to let the salad marinate in the fridge for a bit), minced ginger, olive oil and about two tablespoons of lime juice to the bowl. Toss and taste. Adjust seasoning as necessary. I added two more tablespoons of lime juice and a pinch more salt. Let salad marinate in the fridge for an hour (if you have the time). Fold in mangoes just before serving.
Prep Time:

10 minutes

Cook Time:

15 minutes
---
Print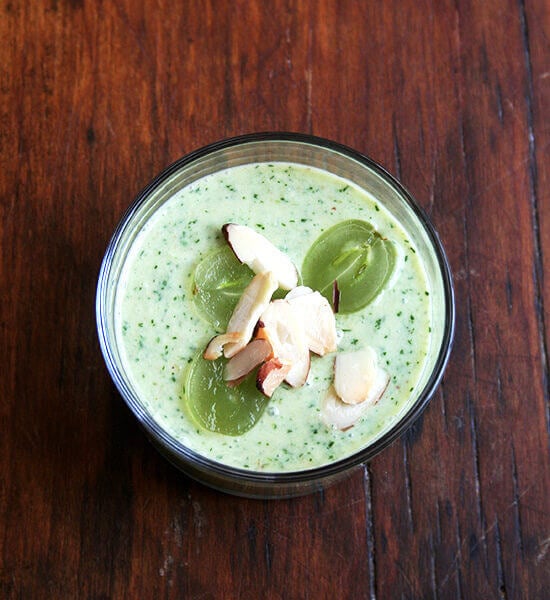 Cucumber & Green Grape Gazpacho
---
Total Time:

25 minutes

Yield:

4 servings
Description
Source: Fine Cooking
Note: If you like cool summer soups, another favorite of mine is this watermelon gazpacho
---
1/2

lb. plus a handful for garnish seedless white (green) grapes, rinsed

2

slices white sandwich bread

1/3 cup

sliced almonds

1

seedless cucumber*

2

scallions (white and light green parts)

1

clove garlic**

3

Tbs. fresh dill (or more)

2

Tbs. cream cheese (I used mascarp

one

because I had it on hand.)

1/4 cup

milk

1

to

2

Tbs. white-wine vinegar (I used

3 tablespoons

of white balsamic vinegar.)

2

Tbs. extra-virgin olive oil
kosher salt and freshly ground pepper

*The half English cucumber that I used measured about 6-inches in length.

**Some people find even just one clove of garlic to be too biting. So, you might want to start with 1/2 a clove or omit it altogether if you are garlic averse. Update: July 19th: Made a batch this morning without the garlic — I don't think anything was really lost without it, and Ben actually preferred it without the garlic. I don't mind the bite of the raw garlic, but if I were serving this to company, I would probably omit it to be safe. I'm also dying to try adding a minced hot chili to this soup…will report back.
---
Instructions
Place grapes in a bowl and put it in the freezer. Tear the bread into chunks and chop it in a food processor until it's reduced to fine crumbs. Put the crumbs in a small bowl, stir in 1/3 cup cool water, and set aside. Toast the almonds in a dry skillet over medium-low heat, stirring frequently, until deep golden brown, 10 to 12 minutes. Transfer to a plate to cool.
Meanwhile, prepare the other ingredients: Cut off and discard the cucumber ends. Thickly slice the cucumber. Roughly chop the scallions, garlic and dill.
In a food processor, chop the garlic and 1/4 cup of the almonds until very fine. Add the breadcrumbs and cream cheese and process until well blended. Add the cucumber, scallions, dill, milk, vinegar, and the grapes from the freezer. Process until puréed as finely as possible, 1 to 2 minutes. With the machine running, pour in the oil. Taste and season with salt and pepper. I ended up adding a teaspoon of kosher salt and an extra tablespoon of white balsamic vinegar. Chill until ready to serve.
Garnish with a few halved grapes and the remaining toasted almonds.
Prep Time:

15 minutes

Cook Time:

10 minutes
This post may contain affiliate links. Please read my disclosure policy.