Baked Steel Cut Oatmeal
This post may contain affiliate links. Please read my disclosure policy.
This baked steel cut oatmeal is one of my all-time favorite recipes. The whole thing can be assembled the night before and popped in the oven the following morning. Or it can be assembled and baked immediately. It is infinitely customizable to your preferences — you can make it dairy-free, vegan, with or without nuts, and with any fruit your heart desires 🙂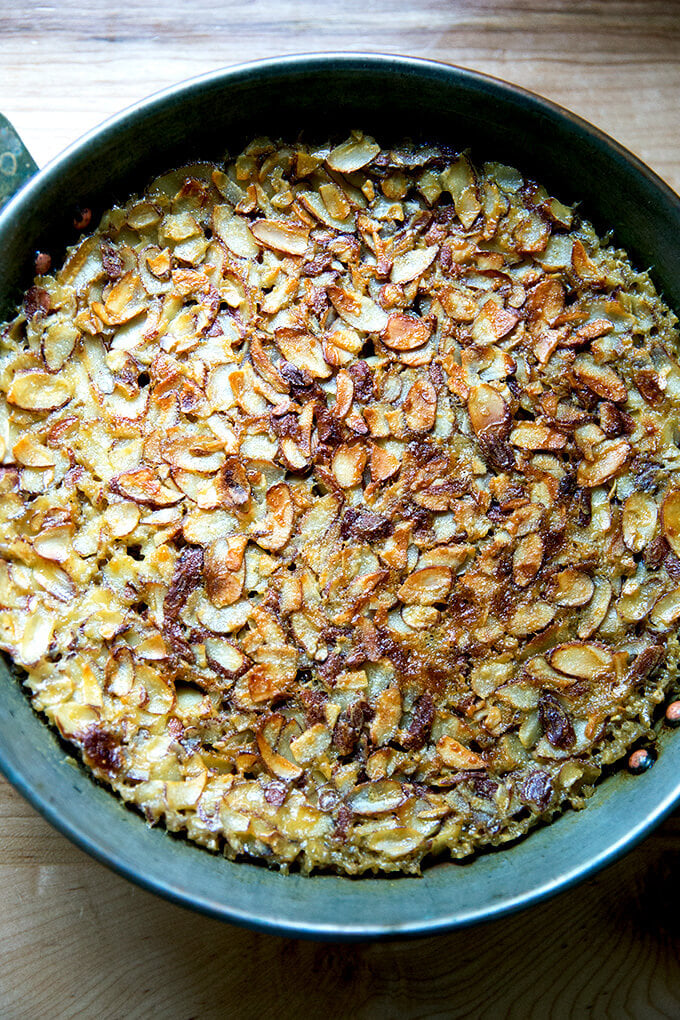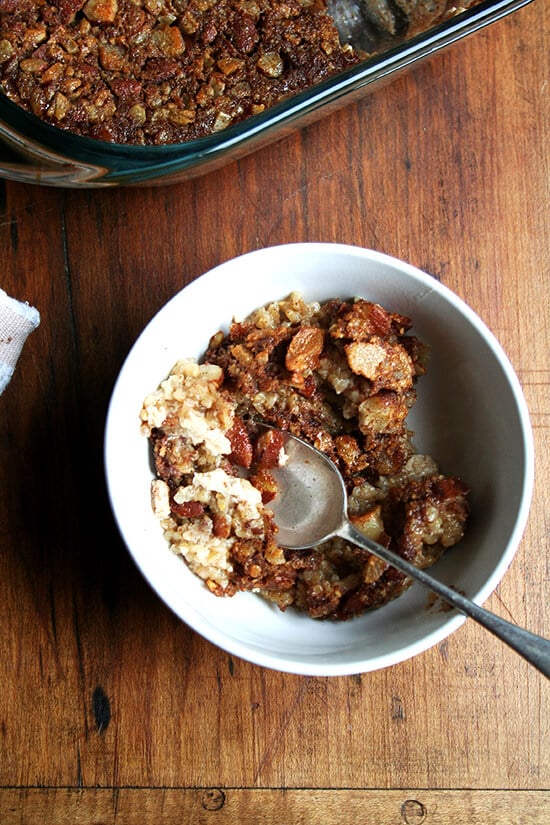 Yesterday, while three movers packed away our lives into boxes, I snuck one last dish into the oven, a mixture of steel cut oats, cinnamon, maple syrup, and coarsely chopped almonds, a dish I have been addicted to in some form or another since March.
For months, I made this baked oatmeal using rolled oats and, as suggested, always mixed up the dry ingredients the night before baking, which allowed for easy preparations in the morning. But about a month ago I discovered that when steel cut oats replace the rolled oats, the morning effort disappears altogether: the entire dish — egg, milk, melted butter, baking powder and all — can be assembled the night before baking.
I love this oatmeal. When it bakes, the mixture separates into distinct layers, the nuts forming a crisp-like topping, the berries bobbing underneath, the creamy oats and custard forming the foundation. The steel cut oats, flavored with cinnamon and maple, remain firm and chewy, which along with the nuts offer the loveliest texture throughout. I could eat the whole pan in one sitting.
I love these oats with berries. I love them without. I love them freshly baked. I love them cold, straight from the fridge. I like them with walnuts. I love them with almonds. I could eat them at every meal. I like them so much that when Ben tells me he can't make it home for dinner, I think, "Yes, I get to eat my oats!" And while these oats are the perfect kind of thing to make for a crowd, at the moment I'm not at all upset that my children don't like them. This is the kind of dish I hope so very much you will all whisk up tonight before hitting the hay, so you, too, have something to savor, with friends or without, all Saturday morning long.
PS: Favorite Blueberry-Almond Smoothie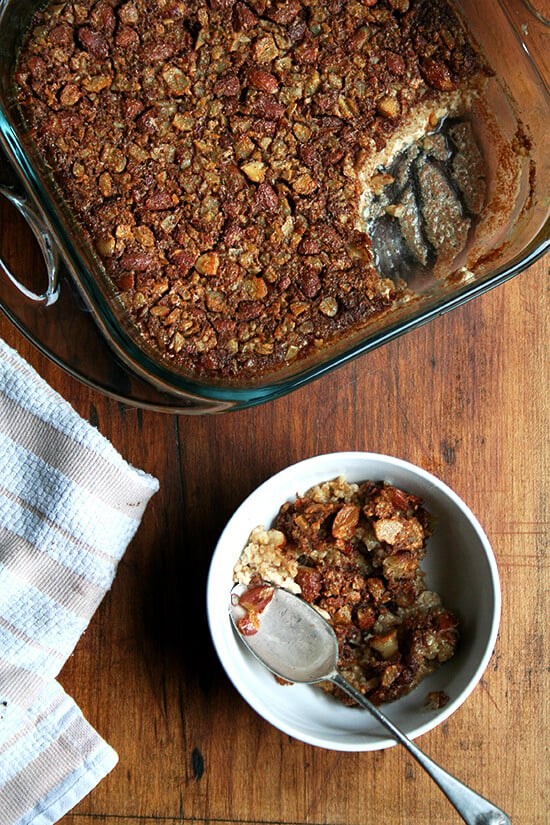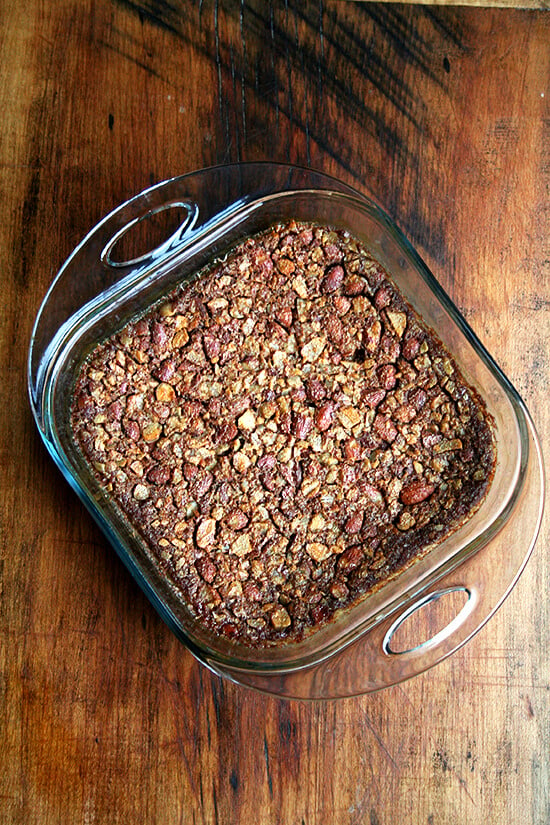 You can make these oats with or without berries: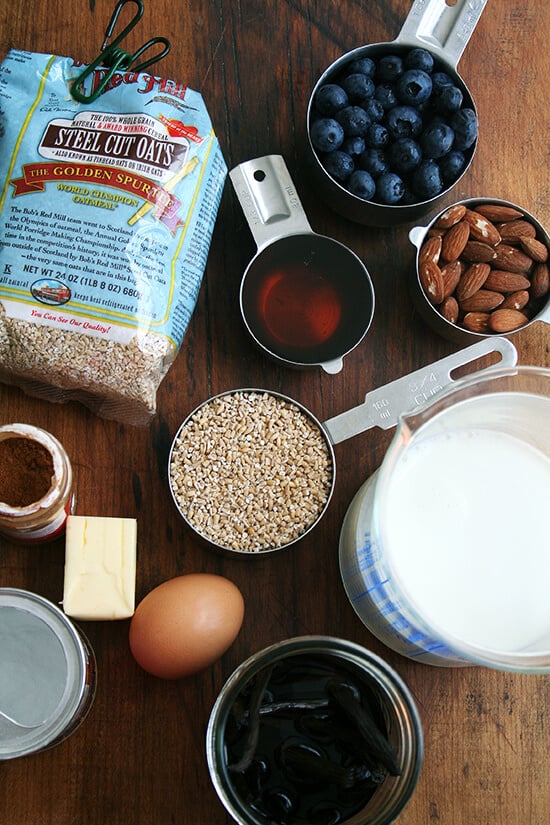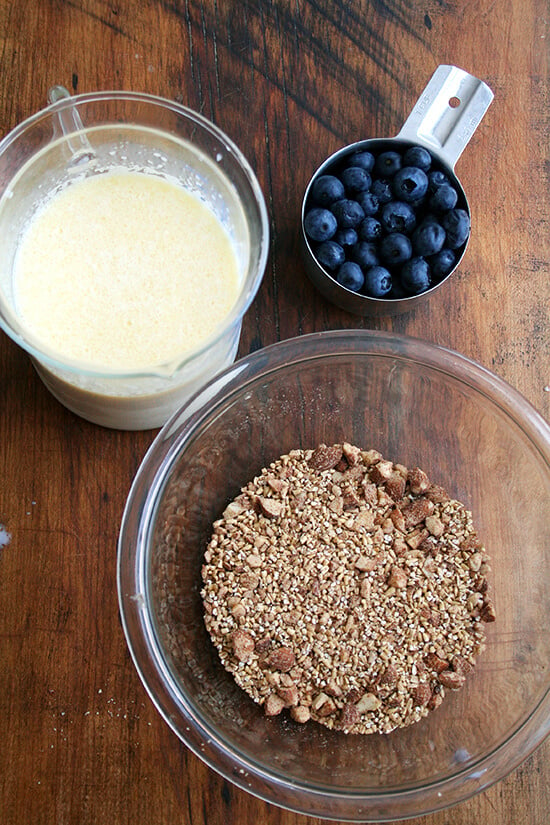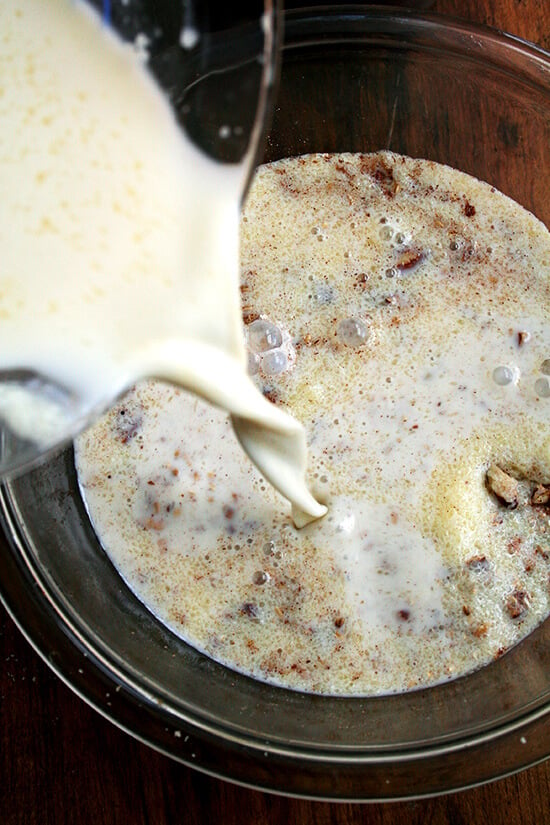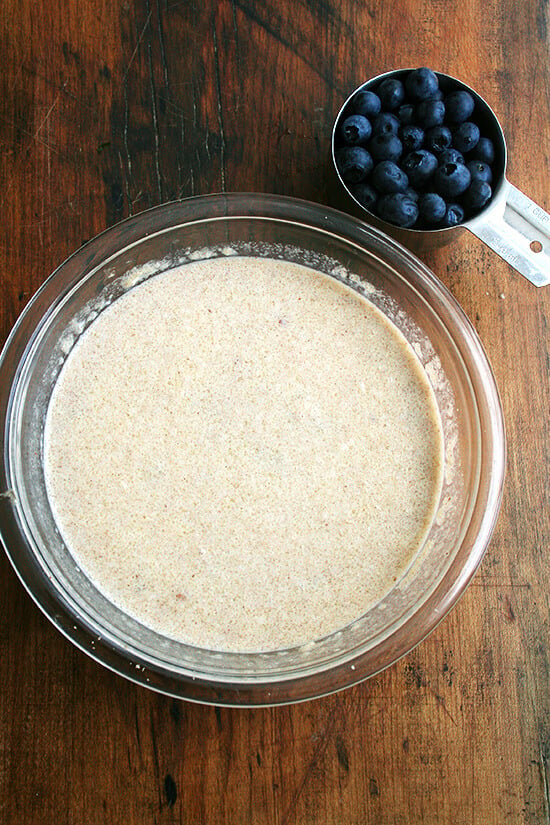 I like my Pyrex 8-inch square baking dish for this one: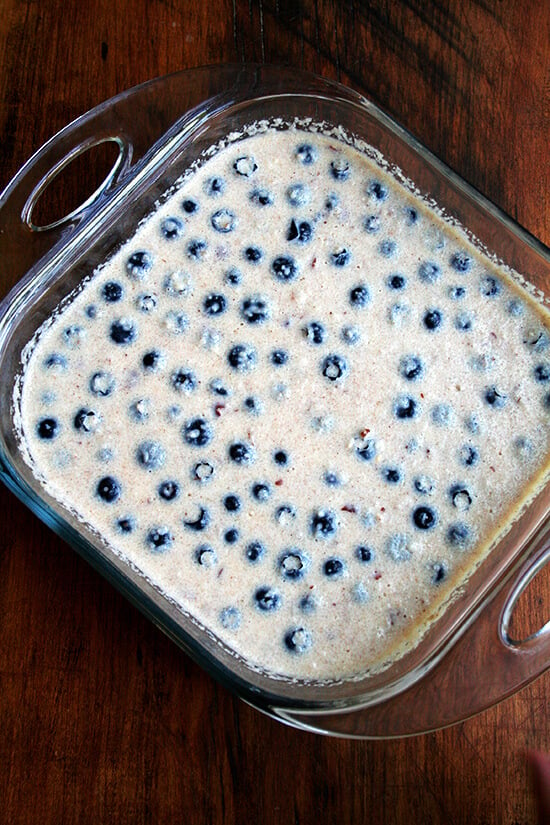 By mid morning the pan usually looks like this: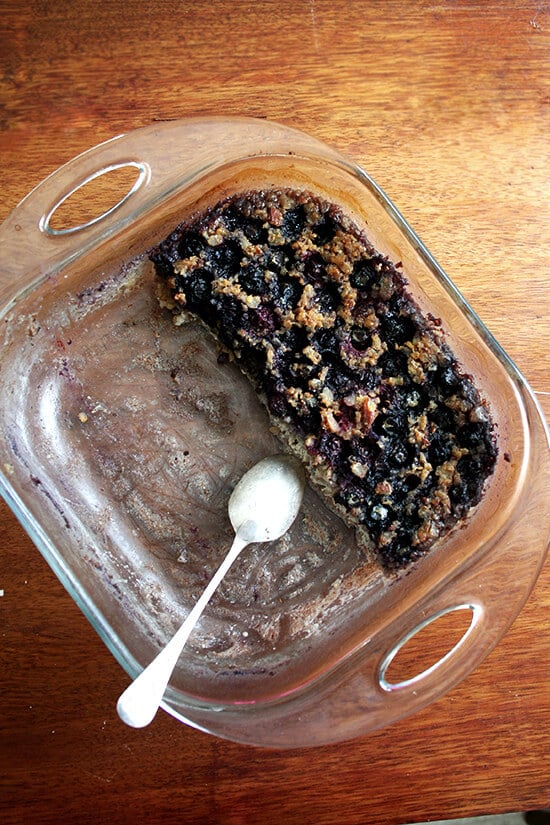 By noon: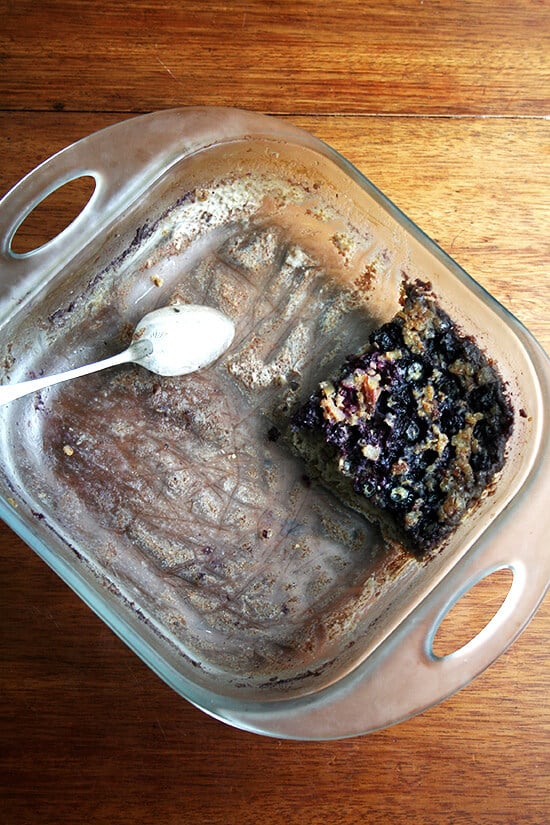 By early afternoon: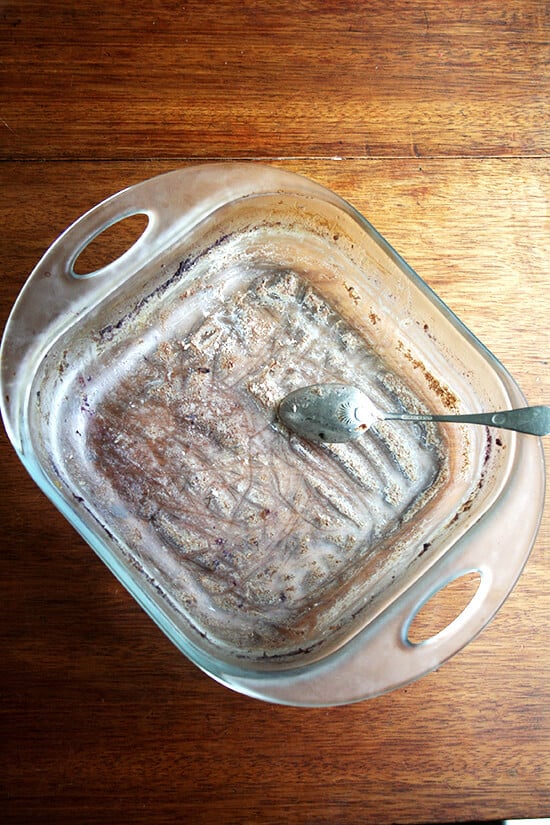 Individual bowls of steel cut oats: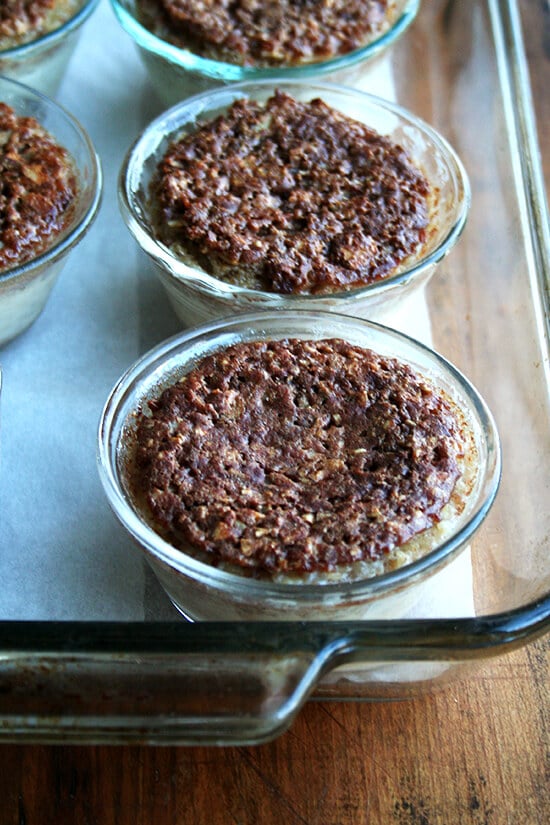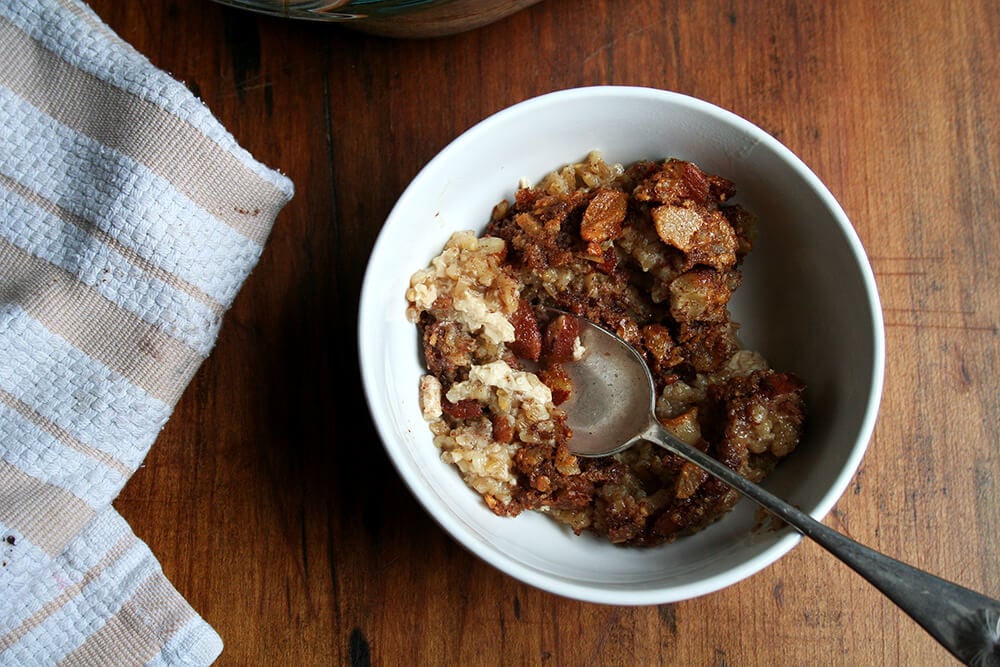 This is also delicious with apples: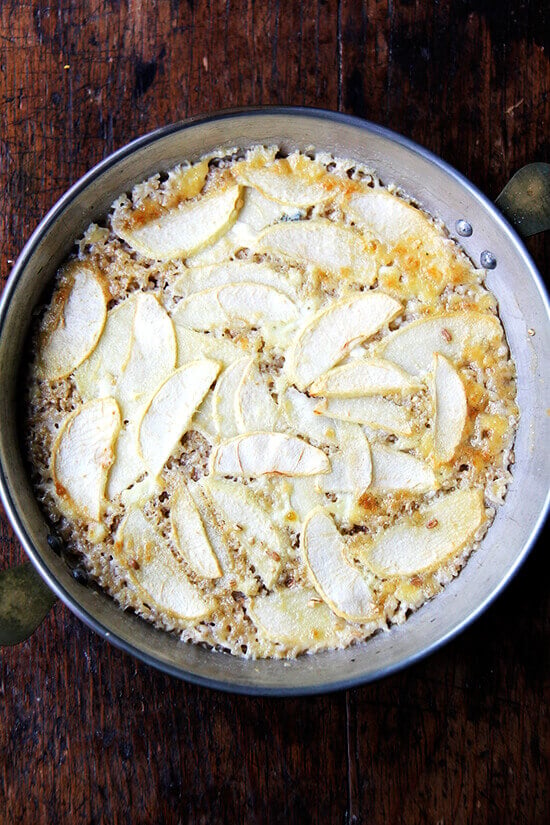 Print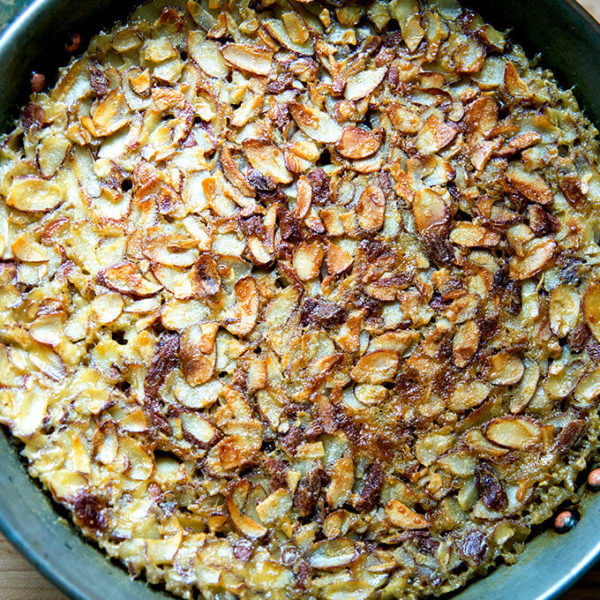 Baked Steel Cut Oatmeal
---
Description
Inspired by Heidi Swanson's recipe in Super Natural Every Day via Orangette
I like my Pyrex 8-inch square baking dish for this one. You can also use six 6-oz ramekins.
If you are mixing this at night and baking in the morning, follow the recipe through step 2, omitting the fruit. Store mixture in baking vessel or in a Tupperware. In the morning, give the mixture a stir. Scatter berries (if using) into an 8-inch baking dish. Pour milk-oat mixture over the berries; then proceed with recipe.
As I noted, I like these baked oats both with berries or other fruit and without, so don't hesitate to make them if you don't have any berries on hand — they are so good on their own. I have used both almonds and walnuts. I do toast the walnuts. I don't toast the almonds — it doesn't seem to matter. The mixture can be assembled the night before, though it doesn't have to be.
Update, Oct 2014: Almonds are my preference. Peeled, sliced apples are also my preference. I omit the cinnamon. I also now do 1/4 cup maple syrup as opposed to 1/3 cup.
If you are making individual portions, I think the easiest method is this: mix dry ingredients as instructed in step 1; spoon about three tablespoon of the dry ingredients into six 6-oz ramekins; then pour liquid over top. The liquid will reach the top of each ramekin. To prevent a catastrophe, I suggest lining a 9×13-inch baking dish with parchment paper and placing the filled ramekins in the dish to bake.
---
3/4 cup

steel cut oatmeal

½ cup

(

60 g

) almonds (sliced, untoasted are great) or walnuts halves, toasted and chopped

1 teaspoon

baking powder

1½ teaspoons

ground cinnamon, optional

½ teaspoon

fine sea salt or kosher salt

¾

to

1 ½

cups (

90

to

185

g) blueberries, optional—I like using 1 peeled, sliced apple

2 cups

(

475

ml) milk, 2% or whole

1/4

to

1/3

cup (

80

ml) maple syrup, I find 1/4 cup to be sweet enough

1

large egg

3 tablespoons

(

45 grams

) unsalted butter, melted and cooled slightly

2 teaspoons

vanilla extract
---
Instructions
See notes if you are refrigerating this overnight. Otherwise, preheat the oven to 375ºF. In an 8- or 9-inch baking pan, mix together the oats, the nuts, baking powder, cinnamon, if using, and salt. Place the sliced apples or berries on top.
In a medium bowl, whisk together the milk, maple syrup, egg, butter, and vanilla. Pour the milk mixture over the oat mixture, and shake the pan to distribute.
Transfer pan to the oven and bake for 55 to 60 minutes (Note: Several commenters have had issues with browning too quickly, so I advise checking after 30 minutes, and if it looks as though it is browning quickly, turn oven down to 350 and check periodically for doneness), or until the top is golden and the oat mixture has set. Remove from the oven, and allow to cool for a few minutes before serving.
Prep Time:

10 minutes

Cook Time:

55 minutes

Category:

Breakfast

Method:

Oven

Cuisine:

American
Keywords: oatmeal, steel cut, oats, overnight, baked
This post may contain affiliate links. Please read my disclosure policy.