Shells with Red Pepper-Tomato Sauce
This post may contain affiliate links. Please read my disclosure policy.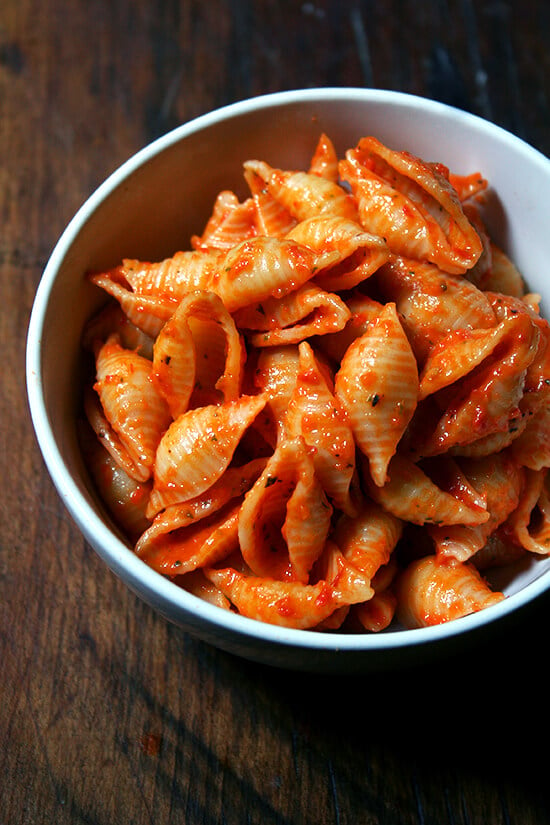 To say that the move north — from the weeks of packing to the two-day drive to the week of unpacking — has taken a toll on the children's diet would be an understatement. There has been too much takeout, too many salty snacks, too many drive-thru visits. And I fear there has been irreparable damage: A few days ago when I pointed to a bunch of carrots in one of Graham's favorite books, he, with complete confidence, identified them as, "hotdogs."
Oiy. In this season of vegetable bounty, there is no excuse. I immediately set to work making a pasta sauce — sauce counts as a vegetable, right? — I learned years ago from The Tra Vigne Cookbook, a recipe Michael Chiarello learned from Jacques Pèpin. In the book, Chiarello pairs the sauce with stuffed chicken thighs and notes that any leftover sauce can be used to poach fish roulades, no doubt a suggestion made by Pèpin.
3-Step Red Pepper Tomato Sauce
There are three distinct phases that occur when making this sauce, and once you can identify them, you'll never need to refer to this recipe again:
In phase one, diced tomatoes and peppers simmer with a small amount of water.
In phase two, the peppers and tomatoes release their juices and the ratio of liquid to solids increases dramatically.
In phase three, the peppers and tomatoes become meltingly tender and begin sticking to the bottom of the pan as the last bit of liquid evaporates.
After this transformation, which takes about 25 minutes, into the blender go the vegetables along with a handful of basil, a dab of butter and a drizzling of olive oil. Whizzed into a light orange purée, the finished sauce can be used on anything from pizza to eggplant involtini to simple shells garnished with shaved Pecorino, a dish adored by picky children and agreeable adults alike.
To me this sauce is the essence of summer, and while I can't promise it will work miracles on your toddler's vocabulary, it might help make strides. Last night, when I pointed to a tomato in the same favorite book, Graham exclaimed, "Apple!" I've never been so proud.
Finally, I just want to thank you all so much for your kind words in regard to the last post. Also, we, or Ben I should say, added another panel of pegboard to one of our kitchen walls. While it is a relatively simple project, I wrote up a rough how-to guide in case any of you are interested and need a little direction: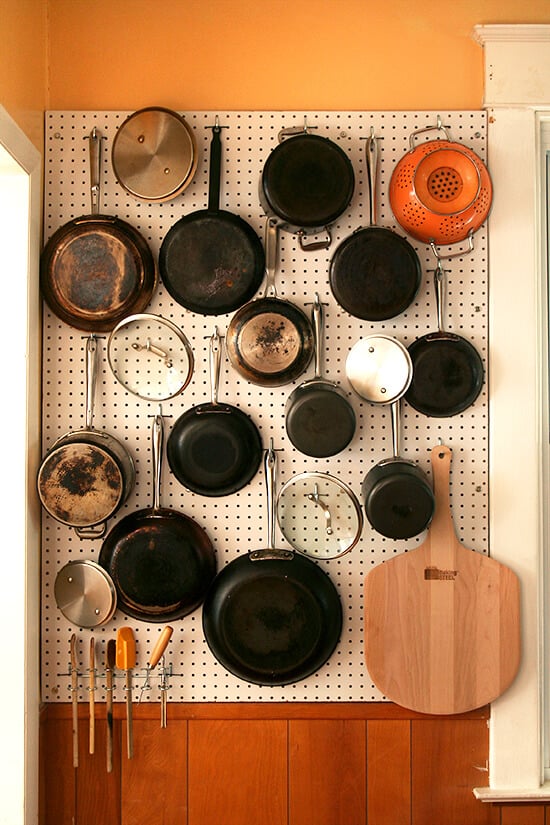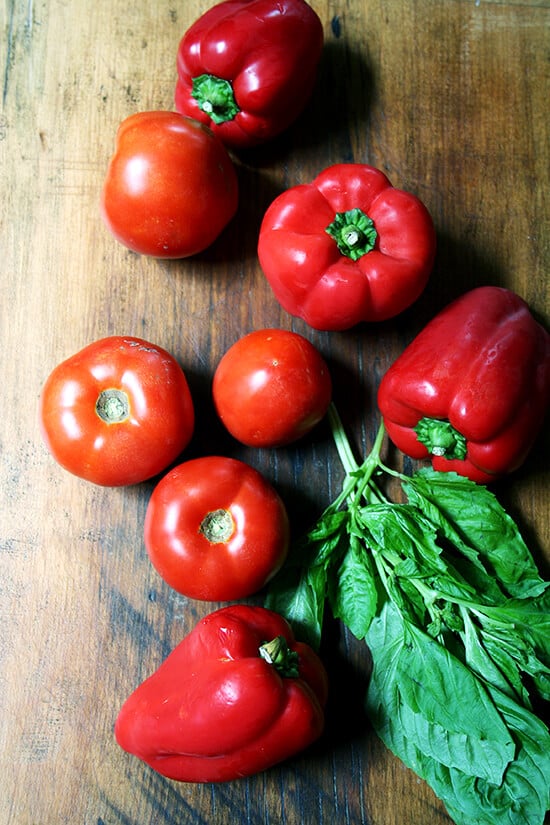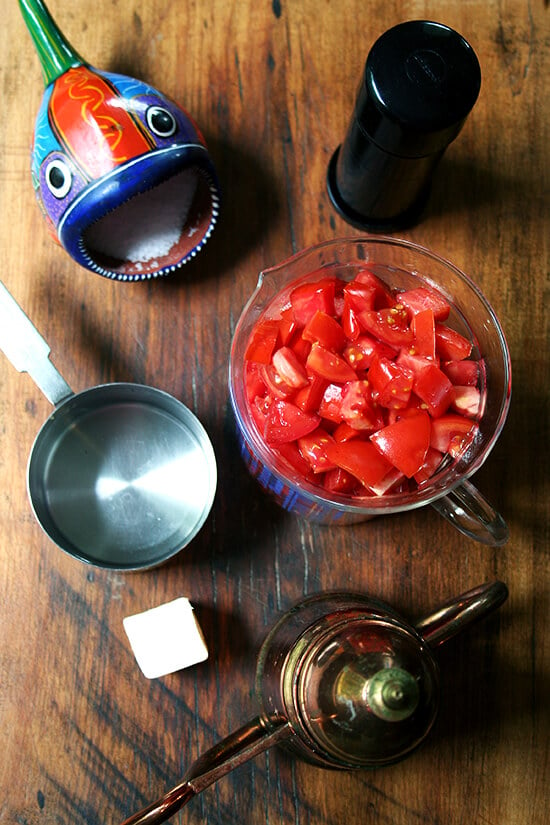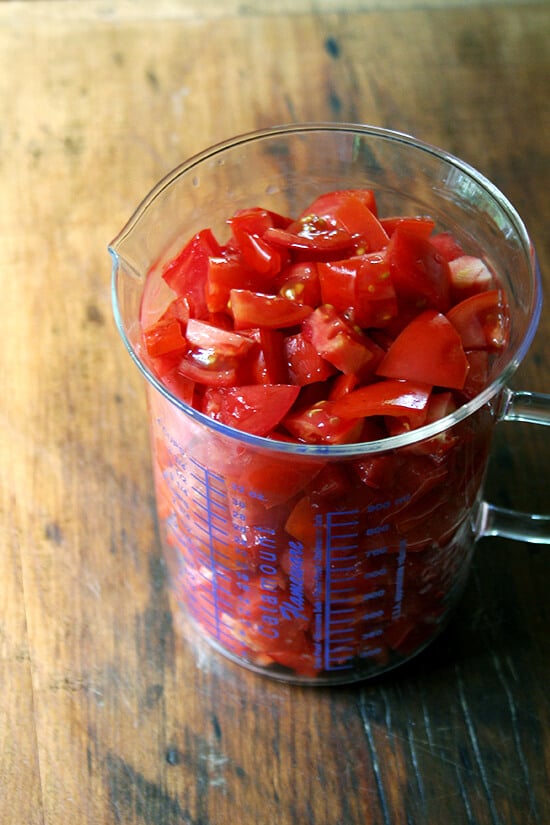 Pot filled with 2 cups tomatoes, 2 cups bell peppers, and 1/2 cup water: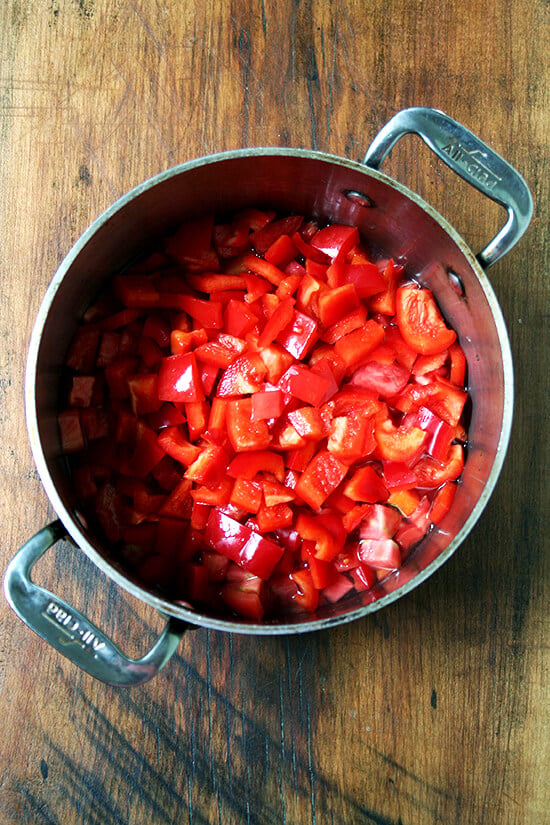 After about 25 minutes of simmering, the sauce will start looking like this. It's almost ready for the blender at this point: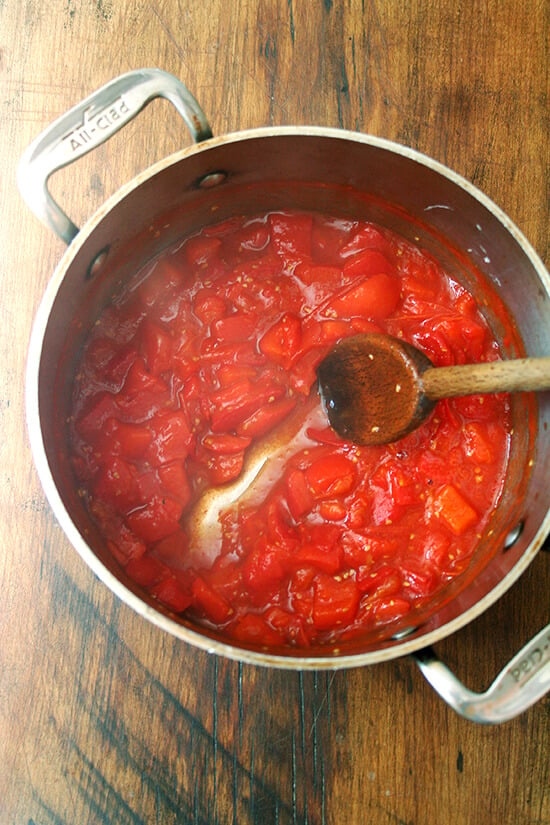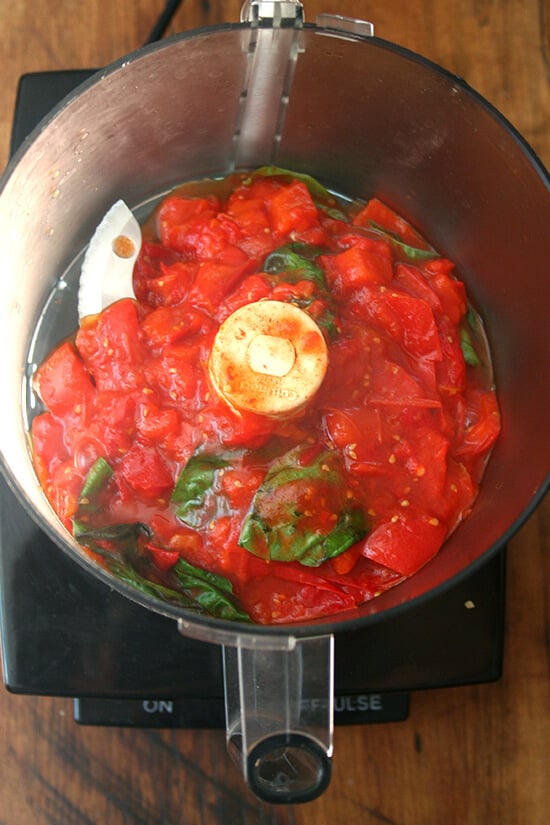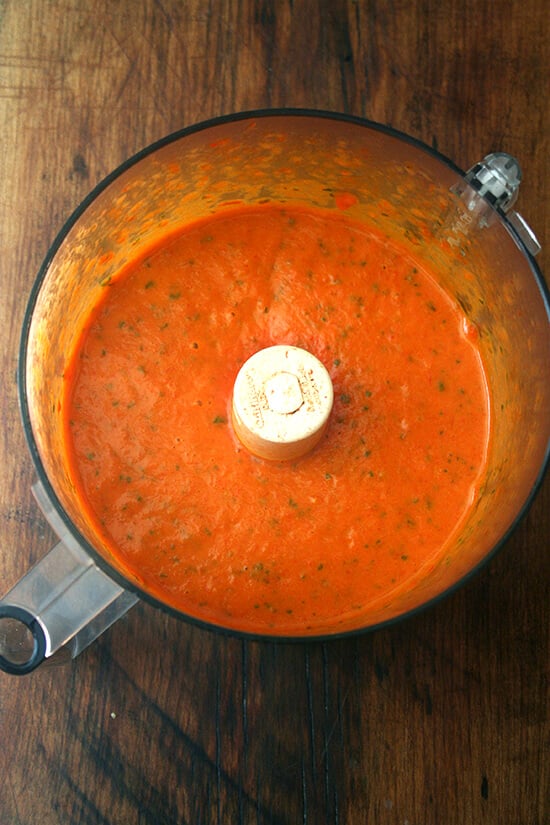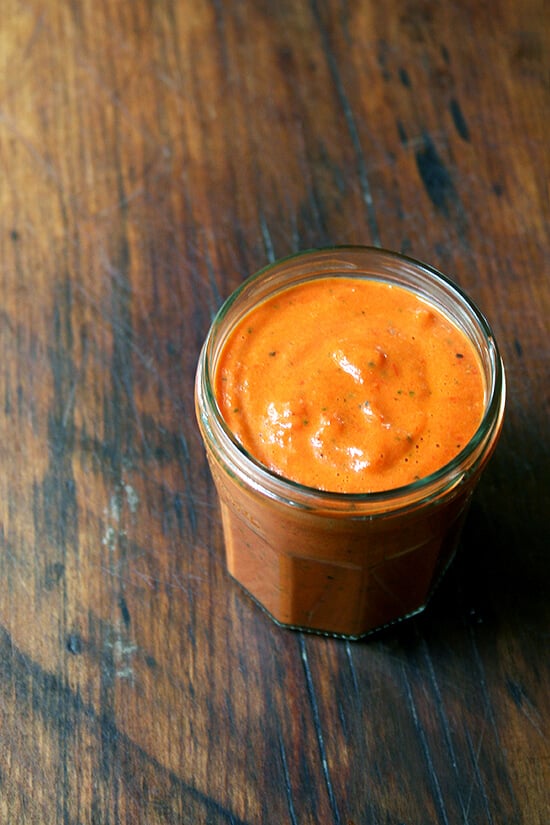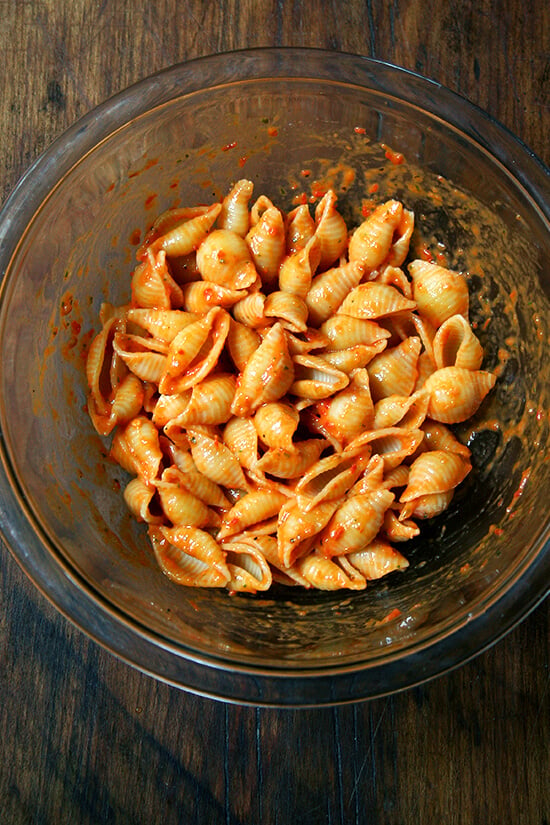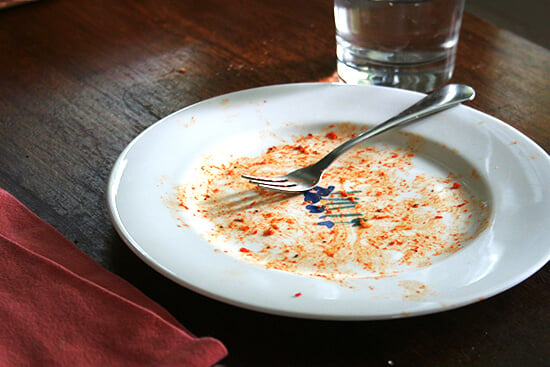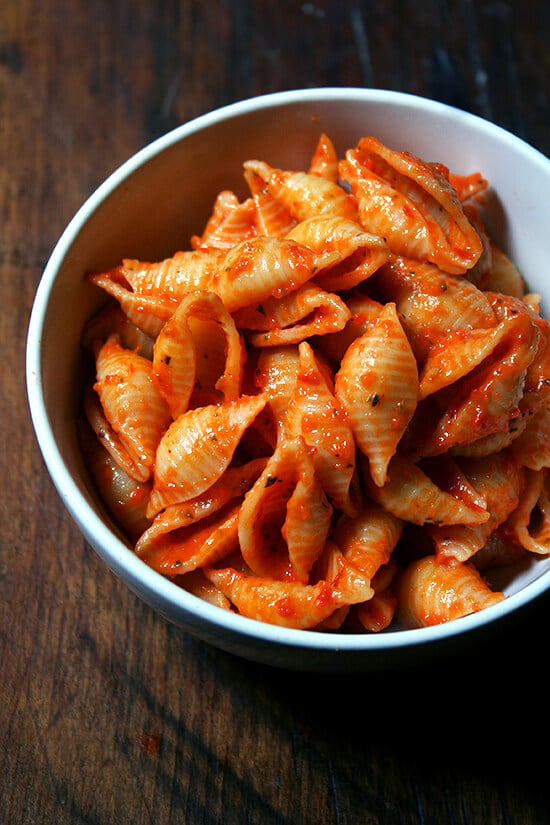 Print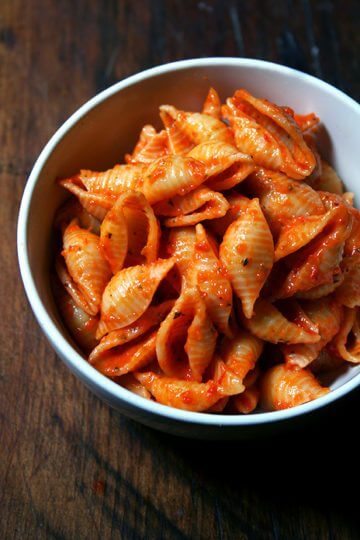 Red Pepper-Tomato Sauce
---
Author:

Alexandra

Total Time:

30 minutes

Yield:

2 cups
---
2

red bell peppers, stemmed and seeded, diced to yield about

2 cups

2

beefsteak tomatoes, diced to yield about

2 cups

kosher salt and pepper to taste

1/4 cup

loosely packed fresh basil leaves

2 tablespoons

butter, room temperature

2 tablespoons

olive oil
---
Instructions
Place peppers and tomatoes in a medium-sized saucepan or pot. Pour in 1/2 cup water and turn heat to high. Season with 1 teaspoon kosher salt and pepper to taste. Bring to a simmer, then turn heat down to medium high. Set a timer for 25 minutes.
After about five minutes, the tomatoes and peppers will begin to release their juices, and the whole mixture should be bubbling. Adjust the heat if necessary so that the mixture stays at a constant bubble — medium to medium-high should do it. Stir every five minutes or so to make sure the tomatoes and peppers are not sticking to the bottom of the pan. If they are, add water by the 1/4 cup.
When the peppers and tomatoes are tender and nearly all of the liquid has evaporated and the tomatoes and peppers are beginning to stick to pot, add the basil, butter, and oil to the pot, give it a stir, then transfer the contents of the pot to a food processor or blender. Blend until smooth. Taste. Adjust seasoning with more salt and pepper as necessary.
Prep Time:

5 minutes

Cook Time:

25 minutes
This post may contain affiliate links. Please read my disclosure policy.