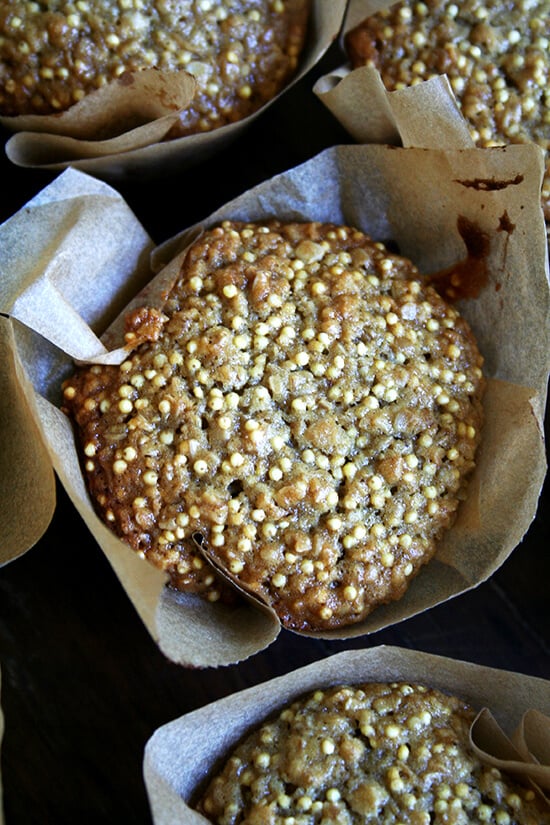 Every time I visit Philadelphia, I have high hopes of hitting up all of my favorite spots: La Colombe for a cappucino, Cafe Lutecia for a croissant, Ding Ho for fresh rice noodles, Reading Terminal Market for a soft pretzel, Fork for brioche French toast and Metropolitan Bakery for a millet muffin.
But on a recent overnight visit I had time for neither a coffee nor a croissant, and I returned home craving all of my favorite carbs but most of all a brown-sugar, millet-studded muffin.
Having tried unsuccessfully in the past to make these muffins at home, I knew I had my work cut out for me. And to be polite to you, I'll spare you the details of all of the various rounds and focus on the end product: a one-bowl, hand-mixed batter, made with oil not butter, a mix of brown sugar and white, buttermilk, and an astonishing amount of oats and millet, a seed that offers a delightful crunch and nutty flavor.
The inspiration for the makeup of this batter comes from Tazzaria's oatmeal muffin, an all-time favorite and one that happens to be, as far as muffins go, on the healthy side. In the end, the millet muffins here resemble Metropolitan's mostly by way of the ratio of millet in each bite: a full cup of raw millet goes into a standard 12-cup recipe.
If you've never experienced a baked good loaded with millet, you'll likely be suspicious. I was too. I promise you, however, one bite of these seedy muffins will convince you that these teensy pearls should be relegated to the birds no more. I hope you all are enjoying a wonderful long weekend. Happy Baking!
Notes: Millet can be hard to come by if you don't live near a health food market or a Whole Foods or something of the like, and it is often located in the bulk section of these places. It happens to be gluten free, and because oats (when noted) are also gluten free, this recipe can easily be made gluten free: just substitute one cup of your favorite gluten-free flour mix (homemade or otherwise: I've had success with Hodgson Mill and C4C) for the one cup of flour and be sure to use gluten-free oats: I've used Bob's Red Mill. The gluten-free millet muffins will be crumbly but the flavor will still be delicious.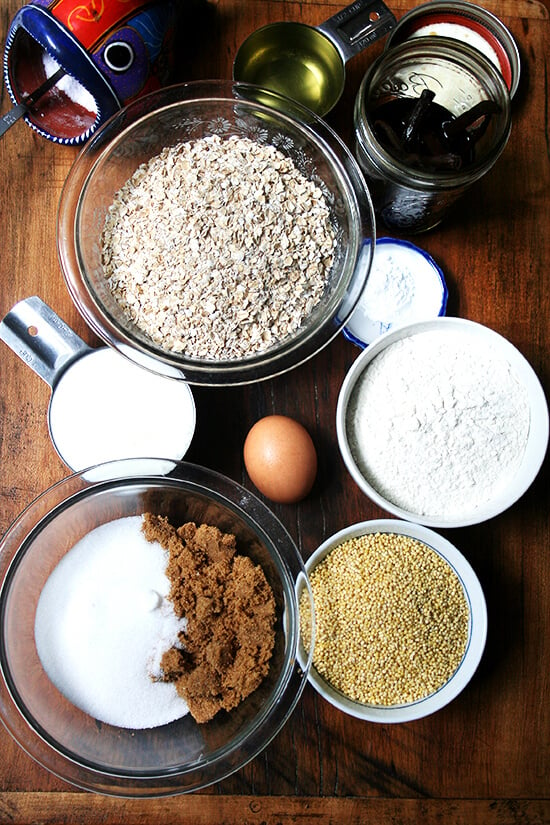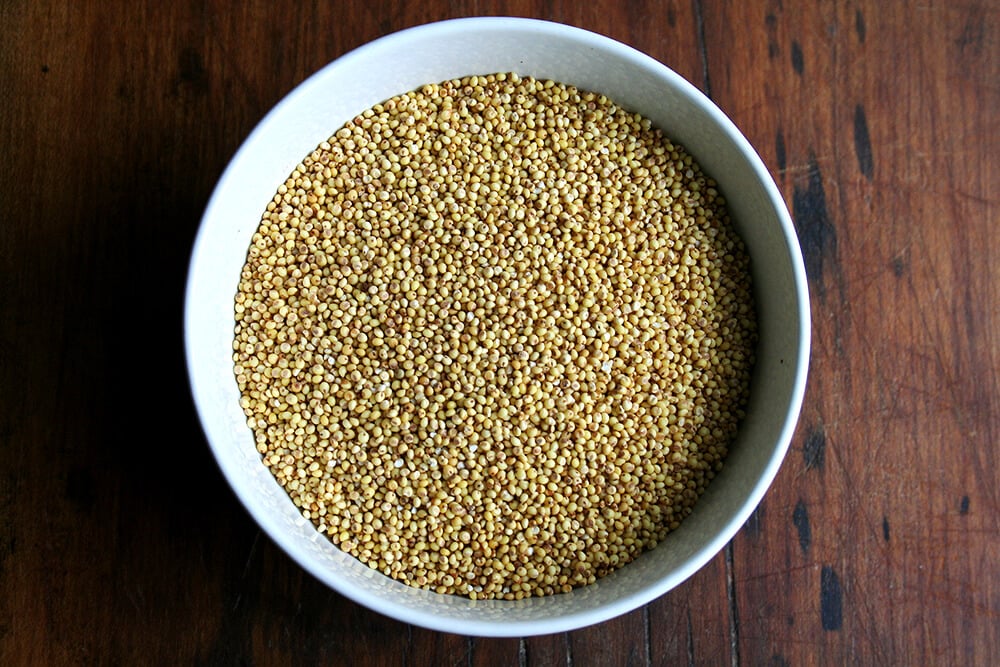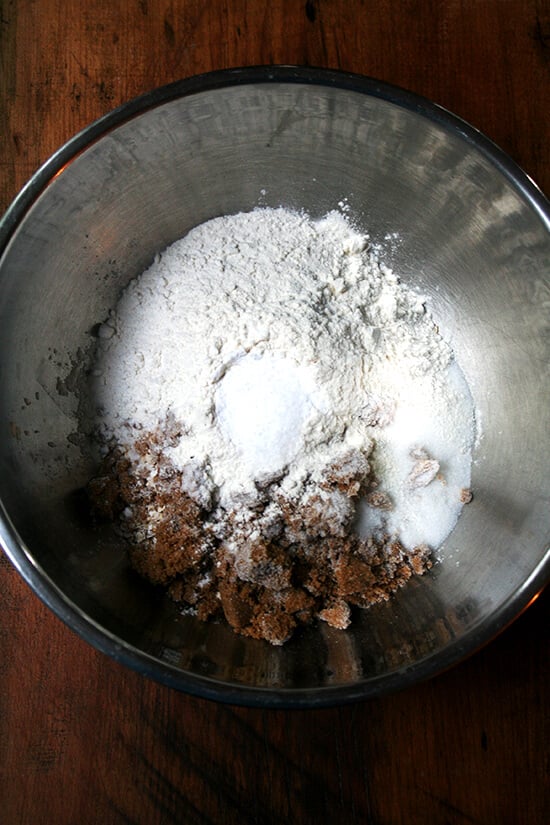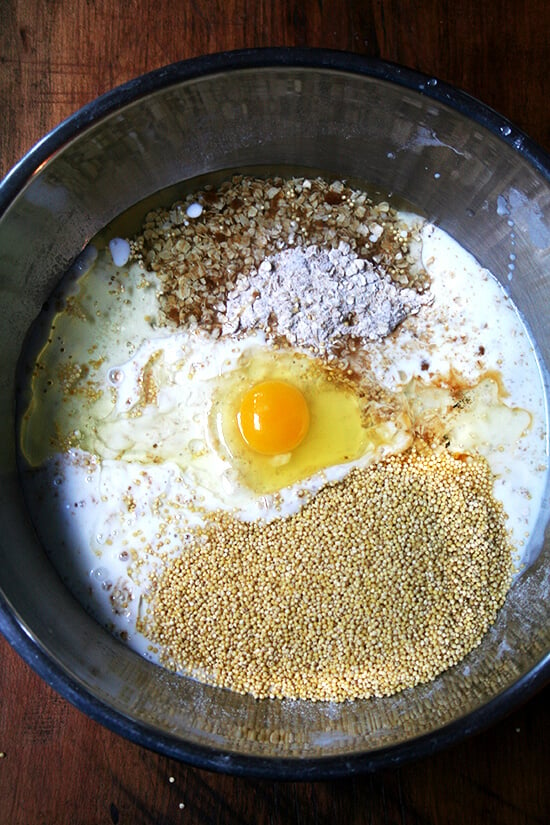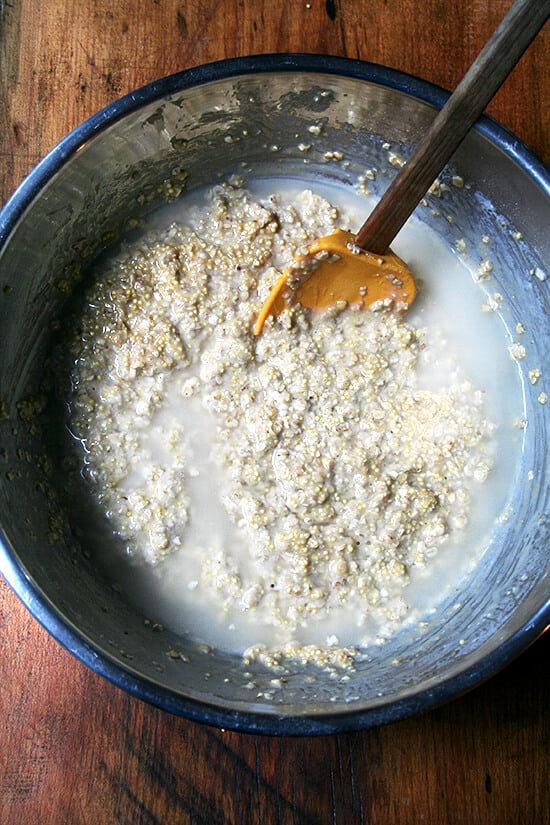 If you find yourself without muffin liners, you can make them out of parchment paper. Filling these liners is easier if you make them before you mix up your batter and weigh them down with a tomato or anything that fits in the cup: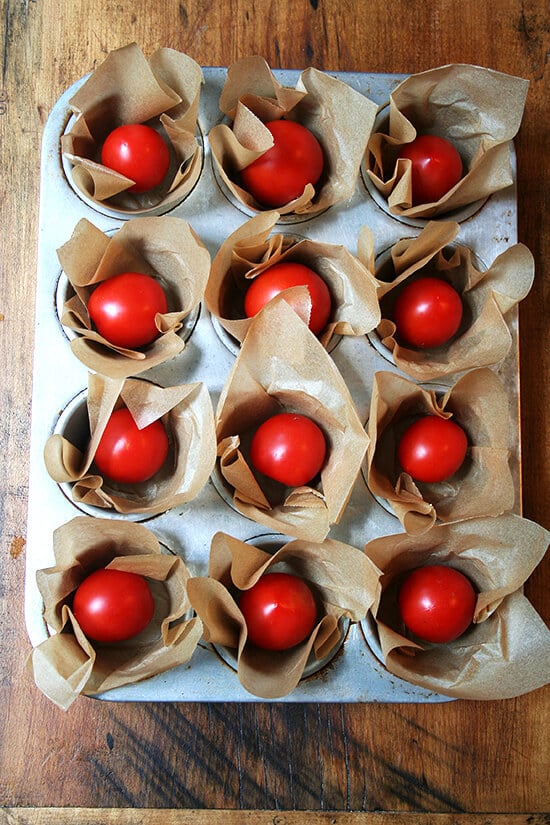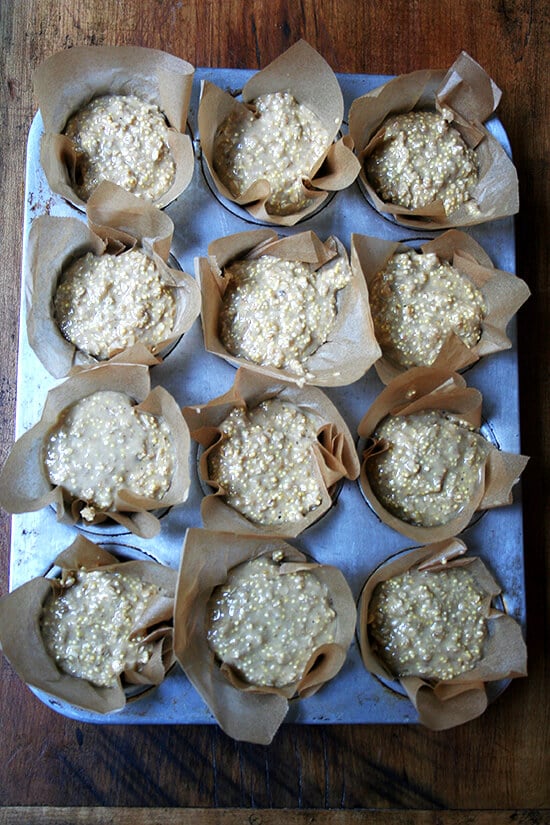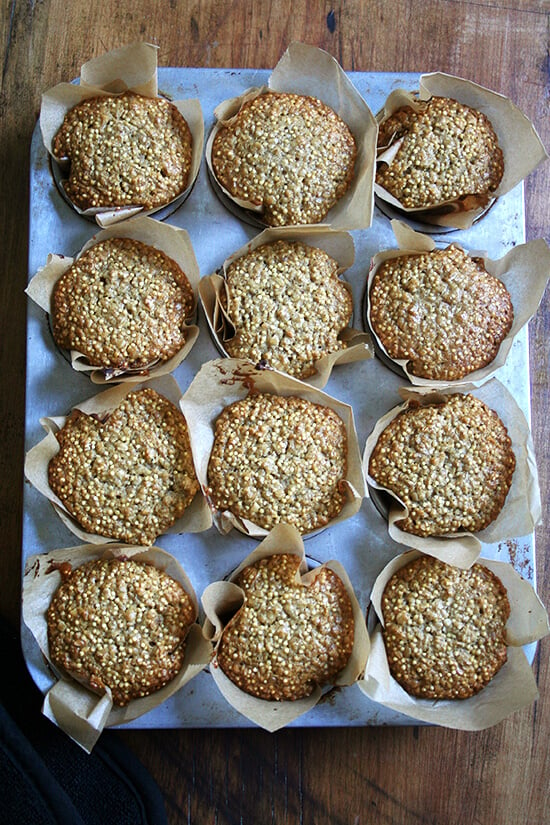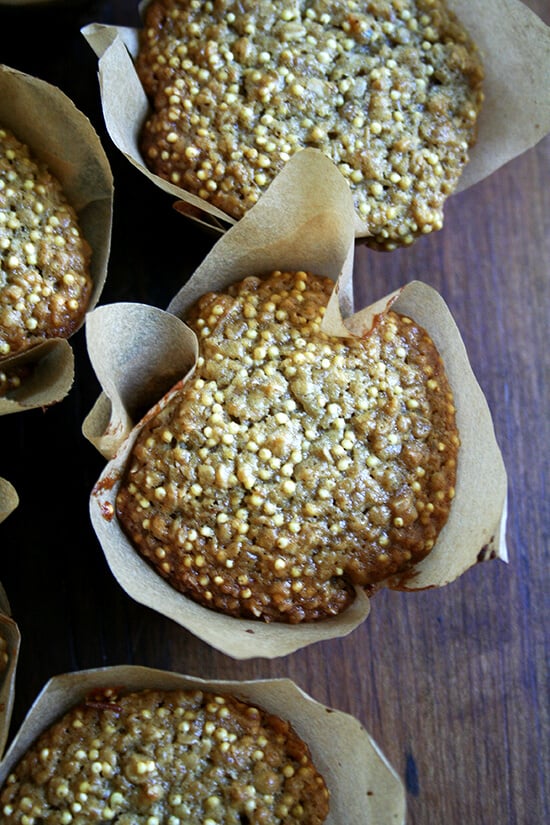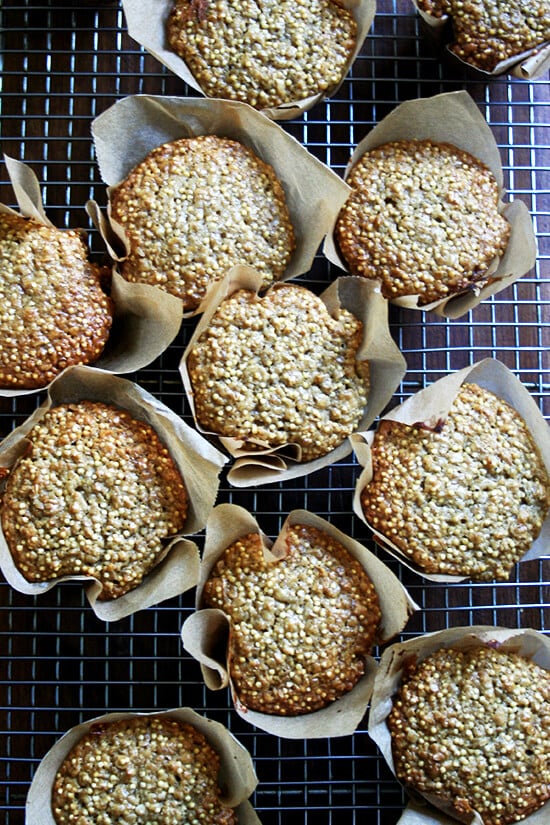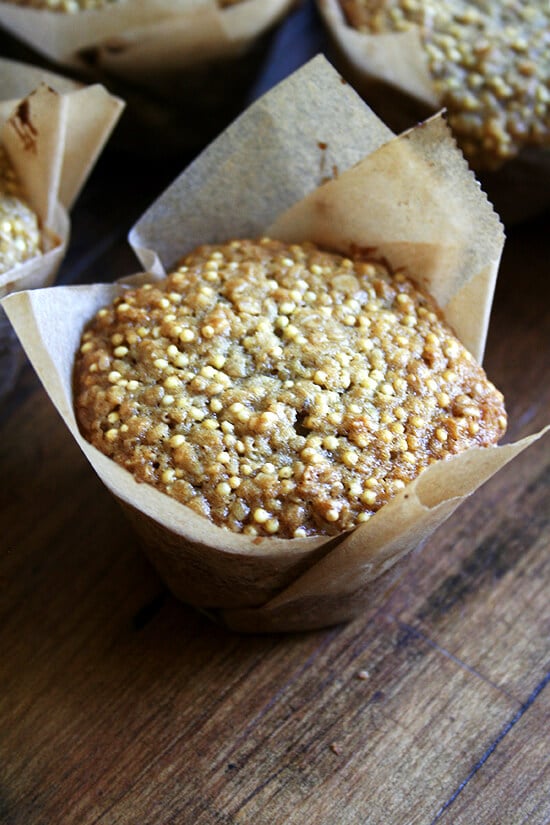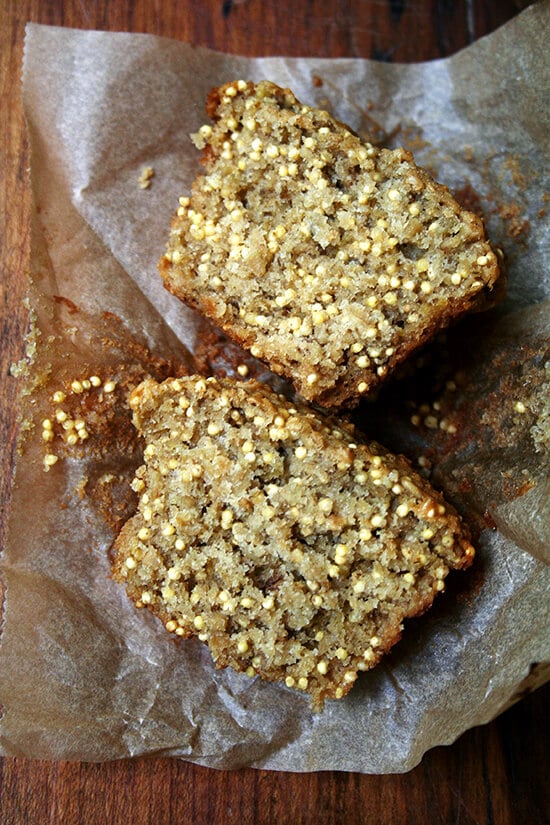 Print
Millet Muffins
---
Prep Time:

10 minutes

Cook Time:

30 minutes

Total Time:

55 minutes

Yield:

12 muffins
Description
Inspired by this recipe in Bon Appetit
Original recipe hails from Tazzaria
Notes:
• If you don't have millet, make these oatmeal muffins, the recipe that inspired this one and one of my all-time favorites.
• This muffin batter can be made ahead of time and baked off as you wish: the muffins taste as good on day 8 as on day 1.
• If you do want to bake off the whole recipe in one go, use a quarter cup measuring cup to fill your standard pan. You'll have some leftover batter, likely enough for 1 jumbo muffin or a few small muffins. Try to refrain from dividing that leftover batter among the filled cups — the muffins bake more evenly when they are not over filled, and you can always bake off the remaining batter in a greased or lined ramekin.
• You can make your own liners by cutting sheets of parchment paper approximately into 5×5-inch squares. It's kind of a pain to do this, but they look pretty, and they work remarkably well. As noted in the photo above, it's helpful to make the liners before you mix up the batter and to weigh down each one with anything that will fill in the cup. I also love these liners.
---
Ingredients
2 1/3 cup

s (230g) quick-cooking oats*

1 cup

(136g) all-purpose flour or gluten-free flour if you are making gluten-free muffins

1/2 cup

(114g) packed, dark brown sugar (light would probably be just fine)

1/2 cup

(116g) sugar

1 1/2 teaspoon

s baking soda

1 teaspoon

kosher salt

1 cup

buttermilk

1/2 cup

canola oil

1

large egg

1 teaspoon

vanilla extract

1 cup

millet**

1/3 cup

boiling water
*I have the best results using the 1-minute Quaker Oats but rolled oats work just fine, too. And although I haven't tried this, I bet you could quickly pulse rolled oats in a food processor to make them behave more like quick-cooking oats. If you want to make gluten-free muffins, make sure to buy gluten-free oats.
**If you are feeling ambitious, you can toast the millet at 375ºF for 12 minutes. It is important to let the toasted millet cool completely before using. While it's simple enough to do this, I don't find it adds that much more flavor, and it's just an extra step. My vote: skip it.
---
Instructions
Preheat oven to 375°F. Spray a standard muffin pan (12-cup) with nonstick spray or line them with paper muffin liners. Whisk oats, flour, sugars, baking soda and salt together. Add buttermilk, oil, egg, vanilla and millet. Whisk to blend. Stir in 1/3 cup boiling water and let stand 5 minutes. Batter will be on the wet side. Divide batter among prepared muffin cups.
Bake muffins until tester inserted into center comes out clean, 25 to 30 (maybe as many as five minutes longer) minutes. Cool 10 minutes. Turn muffins out onto rack; cool. Serve warm or at room temperature.
---
Toasted millet: As noted above, I say skip the toasting.

Bob's Red Mill Gluten-Free Oats and Hodgson Mill Gluten-Free Flour:

Gluten-free millet muffin top:

A halved gluten-free millet muffin: You can see the texture is quite crumbly.