Toasted Muesli // Camping at Heart Lake, Lake Placid
This post may contain affiliate links. Please read my disclosure policy.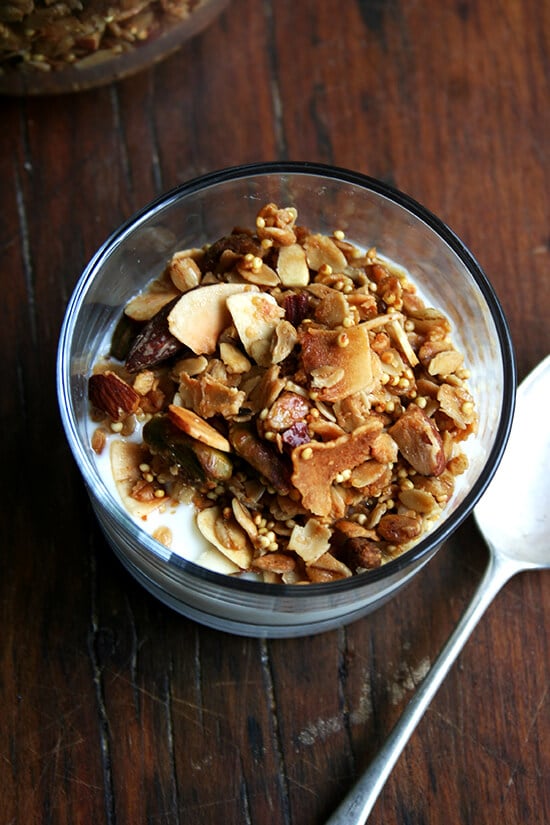 If I were to look back on my life and find myself eating a bowl of muesli, it would most likely mean I was with my brother and sister at my dad's house for the weekend. We would have found the box, the only cereal option, nestled with the Jaffa Cakes, the After Eights, and the Earl Grey tea in the kitchen cupboard, and it would likely be several months old, its powdery contents stale, any dried fruit petrified.
If we were in luck, there might be some milk in the fridge. If we were in more luck, that milk might be just a day or two past expiration. And if the stars were really aligning for us, we would avoid getting our fingers pinched in the mousetrap set in the silverware drawer while searching for a spoon. My English father is many things: a man of the kitchen he is not.
It comes as no surprise then that I absolutely adore this toasted muesli, which resembles the muesli of my youth in name only, and which resembles a traditional muesli mostly by ingredient makeup. Like granola, the oat mixture is toasted with a little oil — three tablespoons of olive oil — and a sweetener — a half cup of maple syrup. Like muesli, the mixture can be bulked up with dried fruit and puffed cereal or other grains and nuts. A healthy scoop of millet offers the nicest crunch, and the lightly toasted mixture, less sweet than granola, can be enjoyed with milk or yogurt alike.
It's another one of those breakfast foods that I go to bed dreaming about, that I can't keep from eating all day long, that I want to pack in Mason jars and give to anyone who stops by my door, that we ate day and night this past weekend in the woods, and that I made immediately upon returning home because I couldn't bear the thought of breakfast without a scoop or two in my yogurt.
If you haven't yet come around to adding a cup of millet to your baked goods, this recipe might be a nice introduction to the seed. Shortly after posting the millet muffin recipe, my friend Darcy reminded me of Talley's muesli recipe, which had introduced her to millet, which she adored wildly, and which she still makes regularly. I have a feeling I will be making this muesli all fall, and I hope you will, too.
This recipe can be adapted to what you have on hand. I like oats, unsweetened coconut, sliced almonds and millet: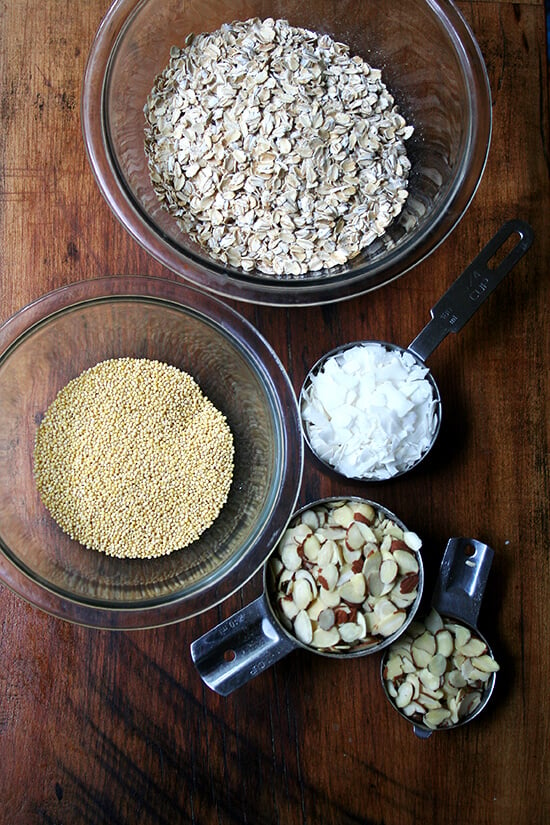 The millet soaks for 30 minutes in boiling water: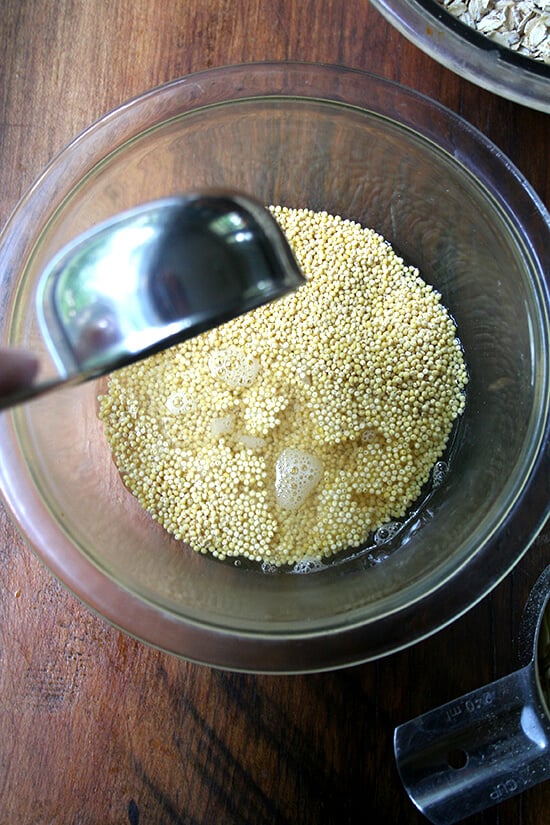 After the millet is soaked and drained,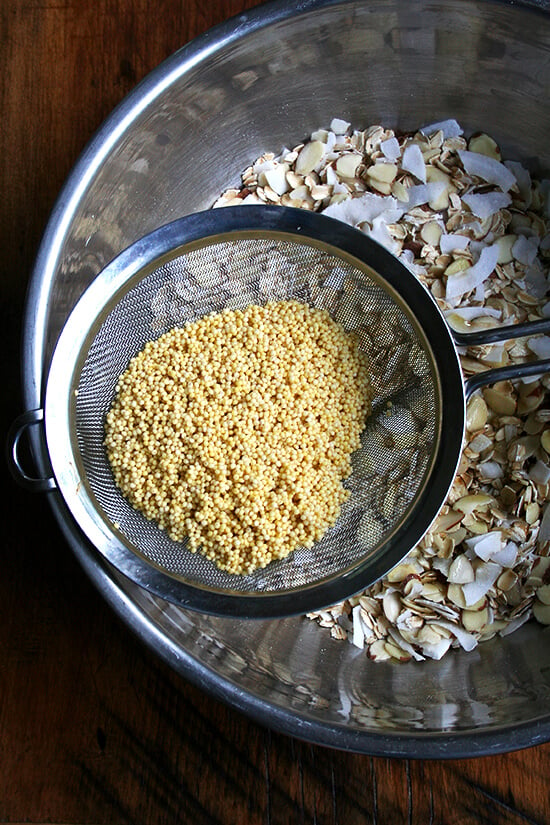 it's ready to be added to the mixture of oats and nuts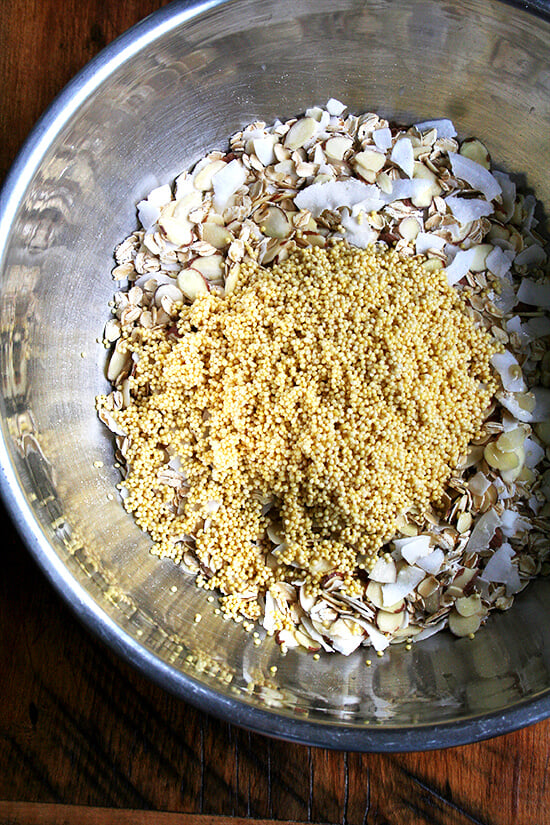 and tossed with 3 tablespoons of olive oil and 1/2 cup of maple syrup.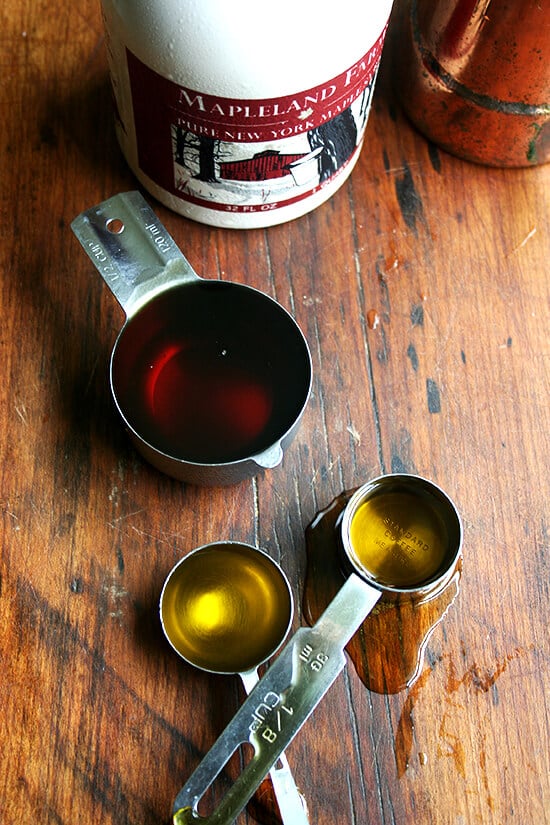 And after 30 to 40 minutes with a few stirs here and there, it is done: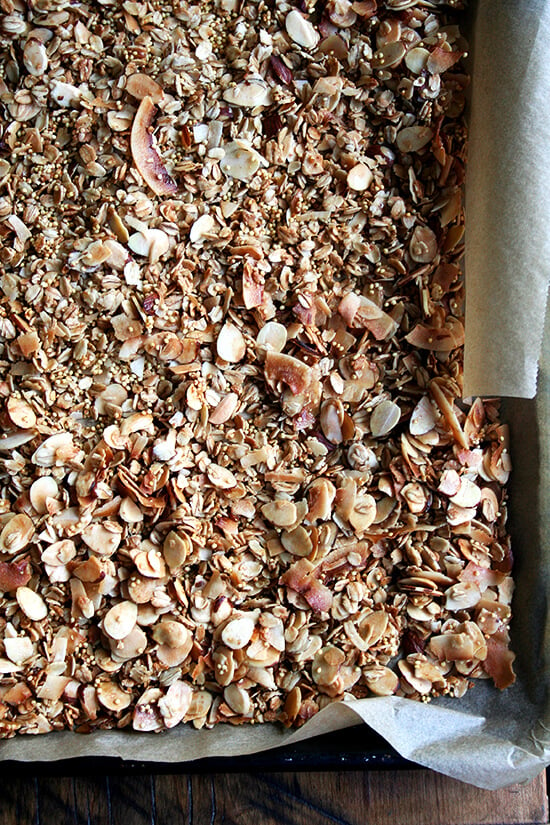 Once the toasted muesli has cooled, you can add whatever dried fruit and/or puffed cereal you have on hand, though it is totally delicious without any of these additions: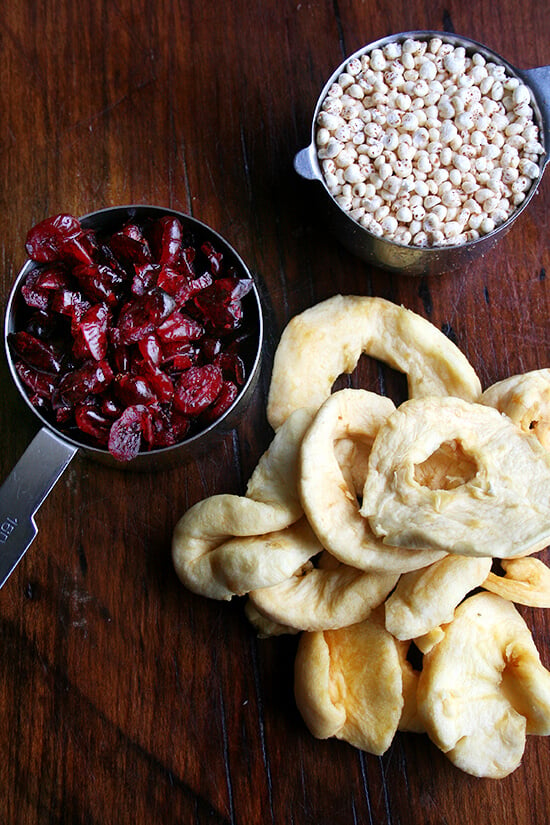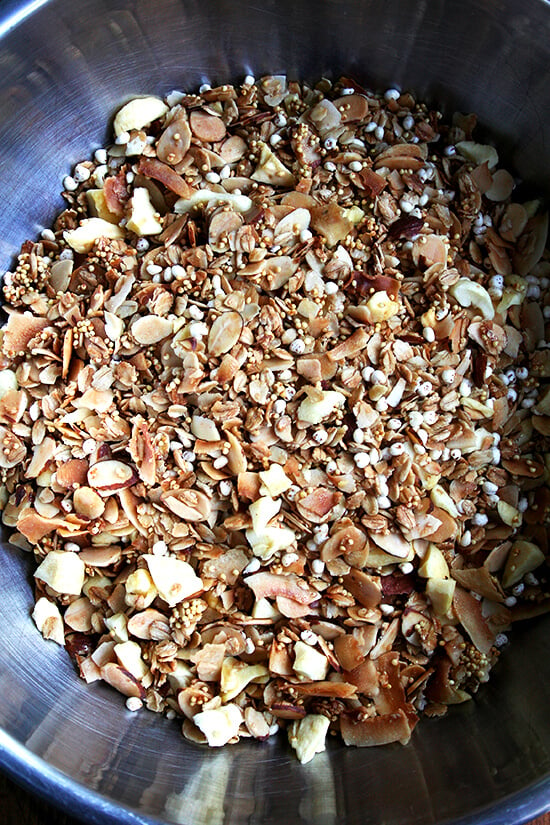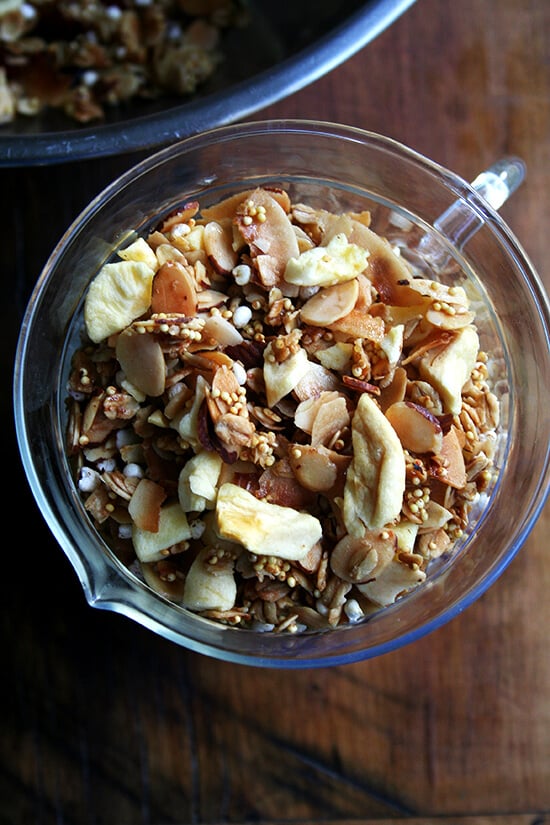 I couldn't find unsweetened cranberries, so I added a handful of sweetened ones to a half batch as an experiment. I loved the flavor but was happy I had added only a handful because they are on the sweet side.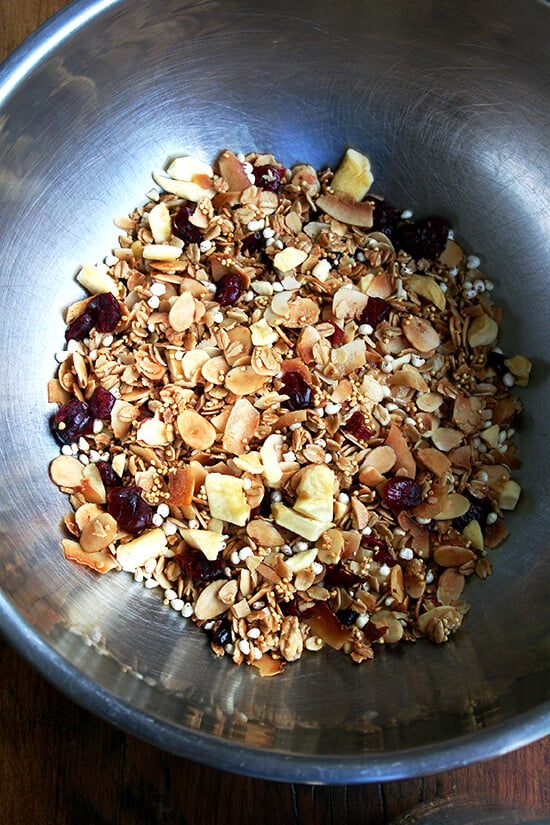 Camping: Heart Lake, Lake Placid
Mt. Jo, Heart Lake, Lake Placid

Some food for the weekend: peasant bread, millet muffins, muesli, granola bars, no-bake energy bites (see below), a bar of chocolate, etc.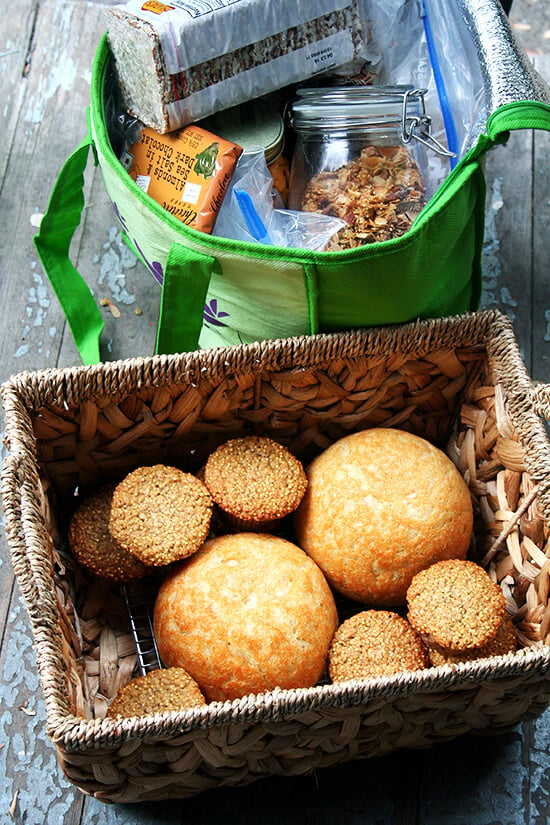 A friend in VA introduced me to these widely popular no-bake energy bites: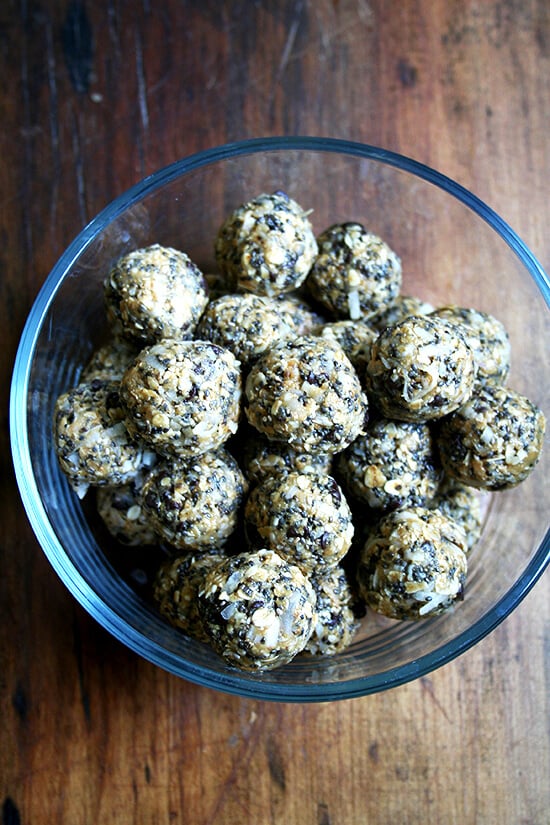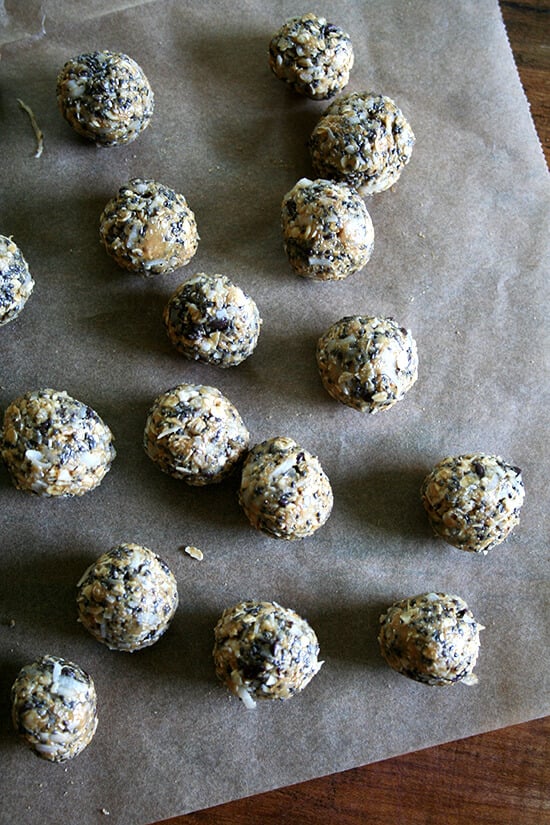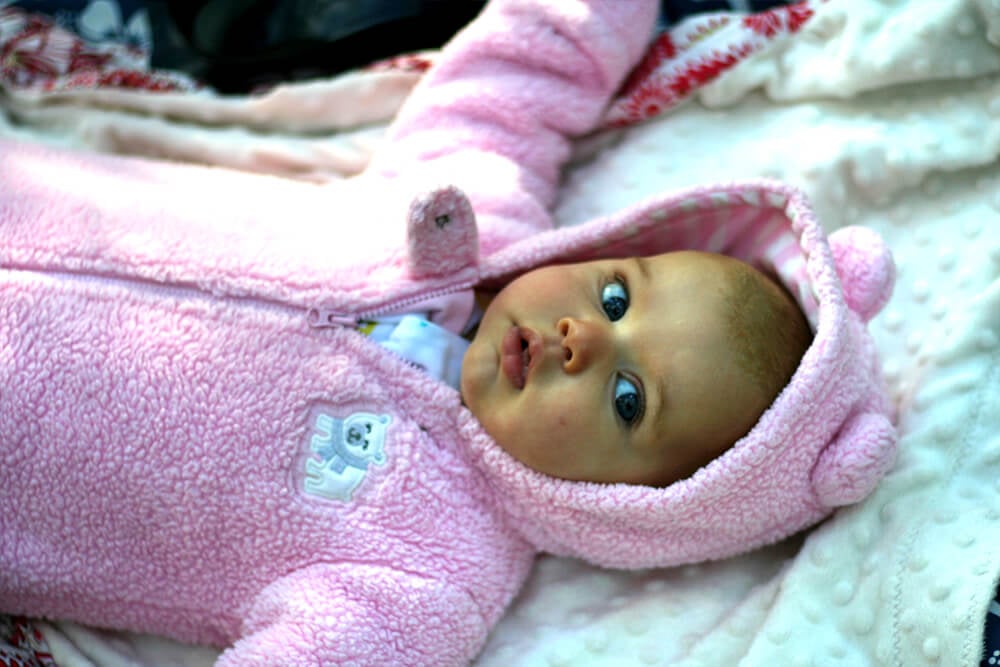 and so, we warmed up with some bloodies…are we bad parents?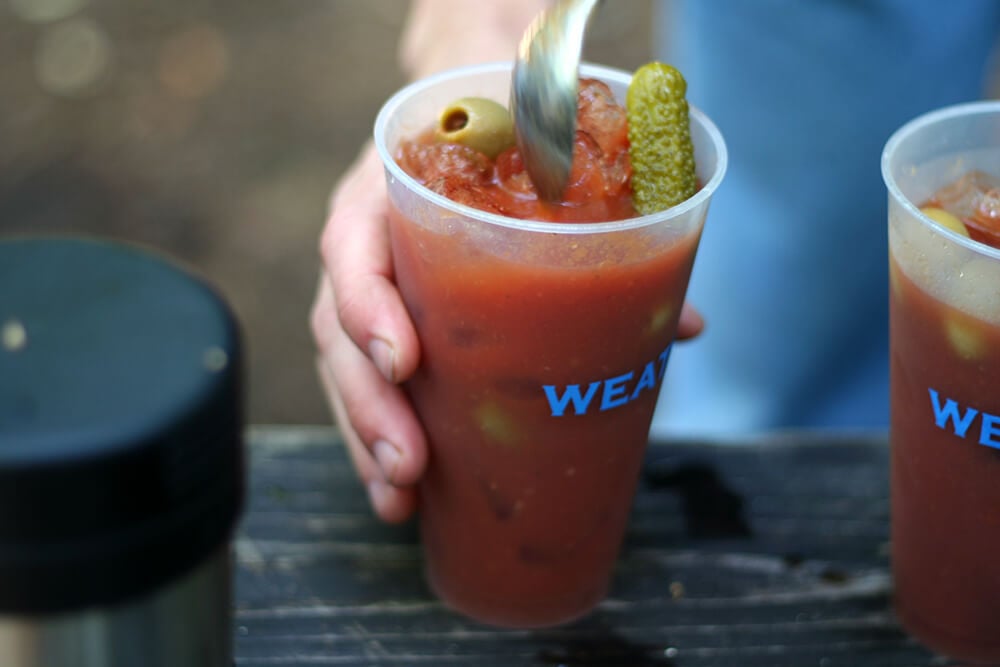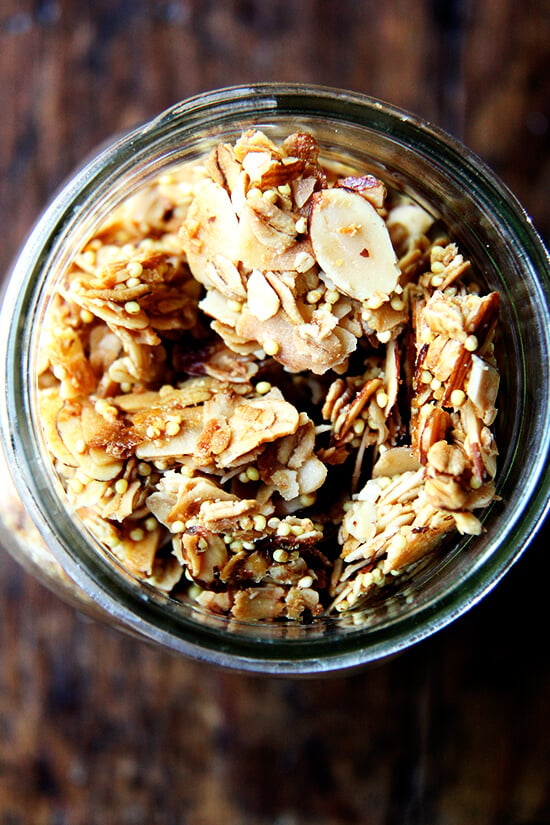 Print
Toasted Muesli
---
Total Time:

1 hours 15 minutes

Yield:

6 servings
Description
I've updated this recipe here: Coconut Oil Granola.
Recipe from House to Haus and The Garden of Eden (via Whole Living October 2012)
Note: This recipe is meant to be adapted to your tastes and to what you have on hand. I love the simple combo of oats, coconut, almonds and millet, and I actually prefer the muesli without any dried fruit or puffed cereal. So, if you like dried fruit, add it; if you don't, the toasted muesli is delicious on its own or with fresh fruit. Also, if you know you like puffed cereal, go ahead and buy it, but if you are not sure, taste the muesli on its own first — I could only find an enormous bag of puffed millet, which certainly won't go to waste — I'm going to try it in these granola bars — but it's not something I see myself using on a regular basis.
---
1/3 cup

boiling water

1/2 cup

(

102g

) whole millet

2 cups

(

204g

) oats (not instant)

3/4 cup

(

48g

) unsweetened coconut flakes

1/2 cup

sunflower seeds (I still haven't made this with sunflower seeds)

3/4 cup

mixed chopped nuts (I always used

1 1/4 cups

(

128g

) sliced almonds — no sunflower seeds, no other nuts)

1/2 cup

maple syrup

3 Tbsp

olive oil (I actually prefer grapeseed oil or canola oil now — more neutral flavor)

1 tsp

sea salt
Optional add-ins:
2/3 cup

unsweetened dried cranberries (I couldn't find unsweetened, so I just threw in a handful)

1/2 cup

mixed assorted dried fruit chopped (I used

1 cup

dried apples)

1/2 cup

puffed millet (puffed quinoa would work, too)
---
Instructions
Preheat the oven to 325ºf. Note: I now bake this at 300ºF for about 40 minutes or until golden — I find the lower temperature bakes the mixture more evenly. So, if you have the time, preheat oven to 300ºF.
In a small bowl, pour boiling water over millet, cover with a plate and let sit for 30 minutes. Note: I don't do this step anymore. Doesn't seem necessary.
In a large bowl mix the drained millet, oats, coconut flakes, sunflower seeds (if using) and the chopped nuts with the maple syrup, olive oil and salt. Stir to coat.
Line a baking sheet with parchment paper and spread the muesli mixture out on it. Place it in the oven and bake, stirring every 10 minutes or so, until the mixture is lightly toasted, about 20-30 minutes. Note: I don't start stirring until after 20 minutes or so. And I probably cook the mixture for a total of 40 minutes, checking every 10 minutes after the 20-minute mark.
Let the muesli cool and then add the dried fruit and puffed millet if using. Stir to mix. Store the muesli in an airtight glass container for up to 2 weeks.
Prep Time:

5 minutes

Cook Time:

40 minutes
Print
No-Bake Energy Bites
---
Total Time:

40 minutes

Yield:

20 balls
Description
Adapted from Smashed Peas and Carrots
Note: This recipe is meant to be adapted to your preferences and likes. This is just what I did/had on hand.
---
1 cup

oatmeal (I used quick oats)

1/2 cup

peanut butter (I used cashew butter)

1/3 cup

honey

1 cup

coconut flakes (I used unsweetened shredded)

1/2 cup

ground flaxseed (I used whole chia seeds…too lazy to grind them)

1/2 cup

mini chocolate chips

1 tsp

vanilla
---
Instructions
Mix everything above in a medium bowl until thoroughly incorporated. I added some salt, too — maybe a half (whole?) teaspoon of sea salt. Let chill in the refrigerator for half an hour. Once chilled, roll into balls and enjoy. Store in an airtight container and keep refrigerated (or not) for up to 1 week.
This post may contain affiliate links. Please read my disclosure policy.