Apple Cider Donuts // Homemade Yogurt // Argyle Cheese Farmer // Saratoga Apple // Apple-Yogurt Muffins
This post may contain affiliate links. Please read my disclosure policy.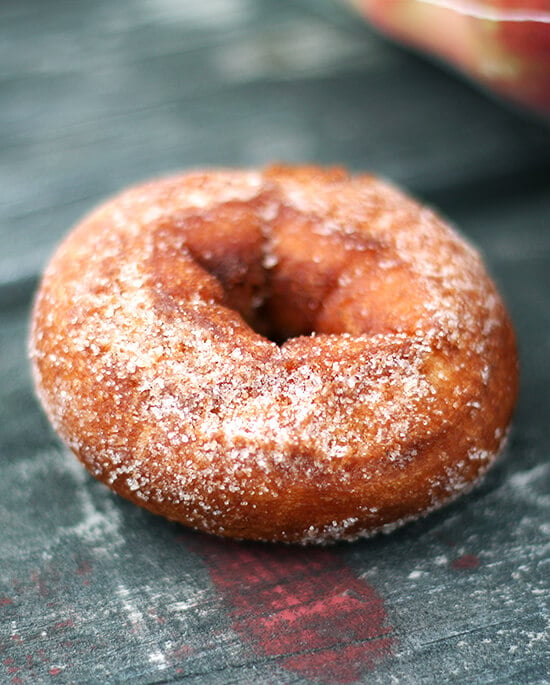 We passed Saratoga Apple en route to Argyle, but the stand's happening scene — live music, wood-fired pizza, alpaca petting — lured us back on our way home. We soon discovered the main attraction: apple cider donuts. Made on the premises, these warm, cinnamon-and-sugar coated, crispy on the exterior, feather-light donuts disappeared by the tray-full about as quickly as they emerged from the fryer.
Upon returning from the stand, I read online that Saratoga Apple's donuts "have been known to inspire jealousy, ecstasy, and even inter-state travel." I wasn't surprised. I have never tasted anything so delicious. And of course I immediately had to tell everyone I knew — new friends, my neighbors, the mailman, everyone at the Niskayuna Coop — about my experience. I quickly learned that apple cider donuts are kind of a "thing" around here. And that you don't need to travel 40 miles to find a good one. And that one of the most popular spots in the area is, as the crow flies, two miles away. So much to learn, so little time.
We passed Saratoga Apple on our way to Argyle Cheese Farmer, the farm that makes the most delicious yogurt, buttermilk and cheeses, but most notably a Greek yogurt lightly sweetened with maple syrup. All of the ACF Greek yogurts have a light, whipped, mousse-like texture, a consistency achieved by whipping the strained yogurt in a stand mixer. After watching them make their Greek yogurt online, I had to try it out for myself, starting with the yogurt.
I couldn't be more happy with the yogurt-making experience as well as the end product. Watching the transformation, as with other homemade dairy endeavors — crème fraîche, ricotta, butter — is magical, and the active work, which entails monitoring a thermometer first and keeping an eye on the clock second, is minimal.
Moreover, as promised, the process is cost-effective: my first half gallon batch cost $3.22, but from here on out, each batch will cost about $2.75, the cost of a half gallon of milk. This is a welcomed bonus because since discovering ACF as well as adding toasted muesli to the daily regimen, our yogurt intake as a family has increased tenfold (or something like that).
And wait, did I mention how pure and clean and delicious the yogurt tastes? Just something to keep in mind if you've got that making-cultured-dairy-products-at-home bug. I'm on my third batch, and there's no going back.
A few more things:
• Fall is in the air! A few favorite fall recipes here.
• Also, the next Baking Steel pizza post is up: Grated Summer Squash with Ricotta and Basil.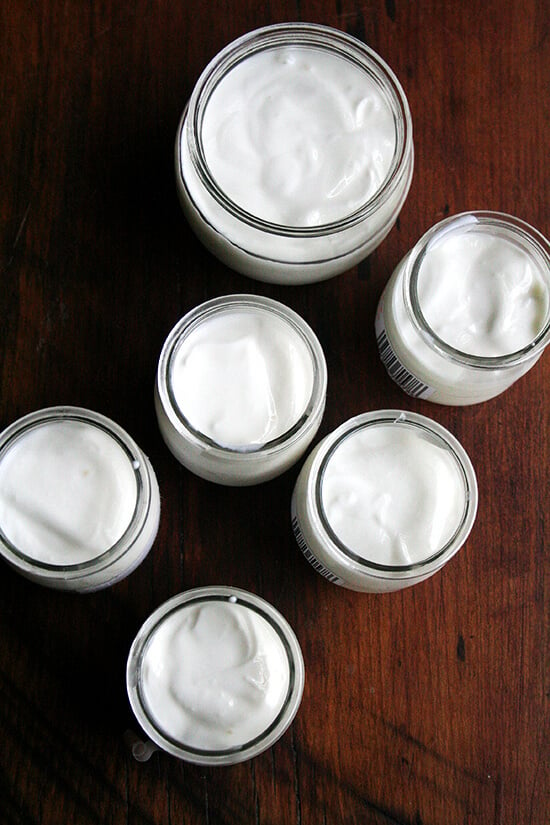 After you make one batch of yogurt, you can use your homemade yogurt to make the next batch. You need 2 tablespoons of yogurt for every quart of milk.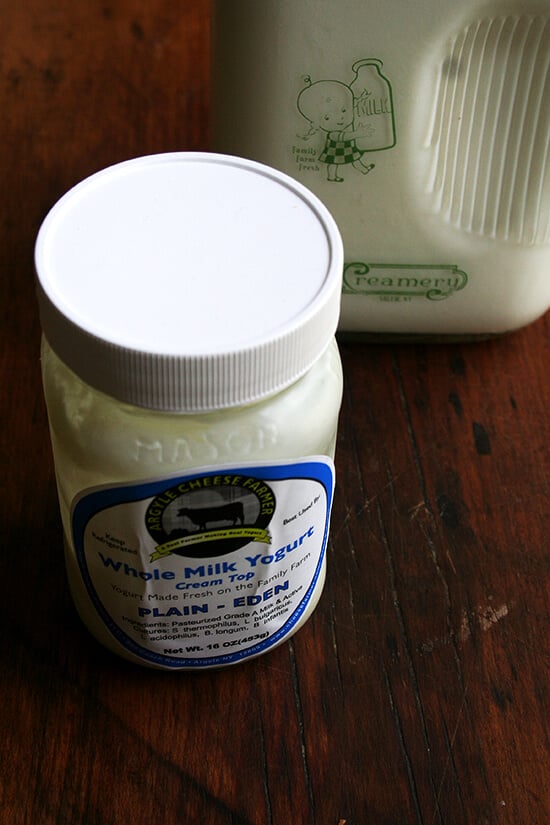 While you can use any milk you like, it's worth splurging on some good milk for this sort of project. I buy this milk at the Niskayuna Coop, and after the one-time $1.50 bottle deposit fee, each half gallon costs $2.75, so from here on out, every 1/2 gallon batch of yogurt I make costs $2.75 plus the cost of 1/4 cup of the homemade yogurt, which comes out to be about $0.12 (For details on the math, see below).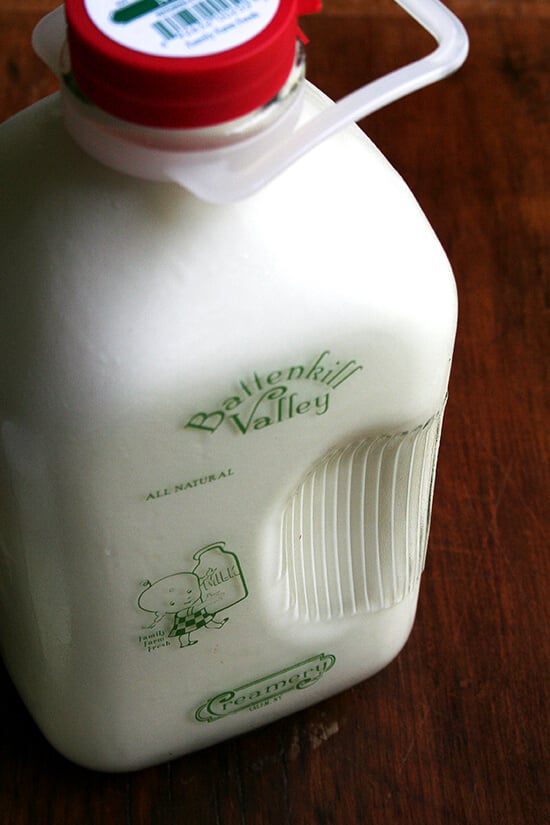 Making yogurt entails heating milk to 180-190 degrees: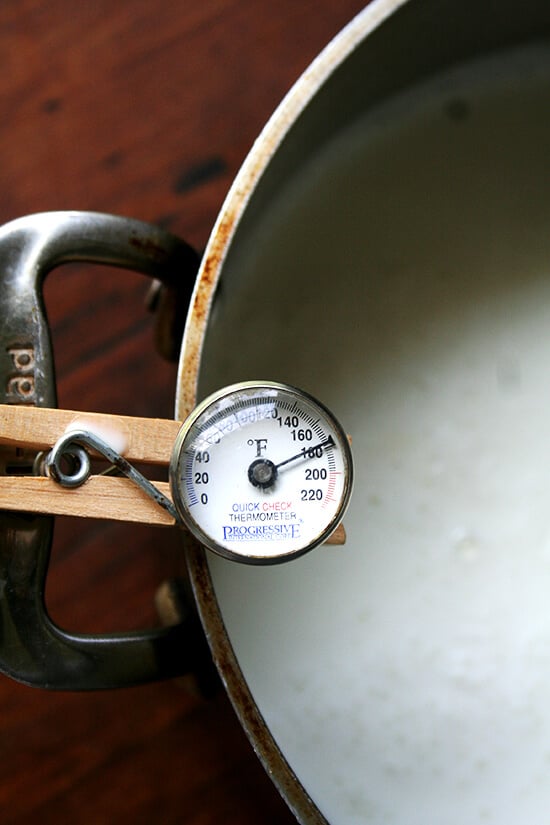 Then cooling it to 115 degrees and stirring in two tablespoons of yogurt for every quart of milk used: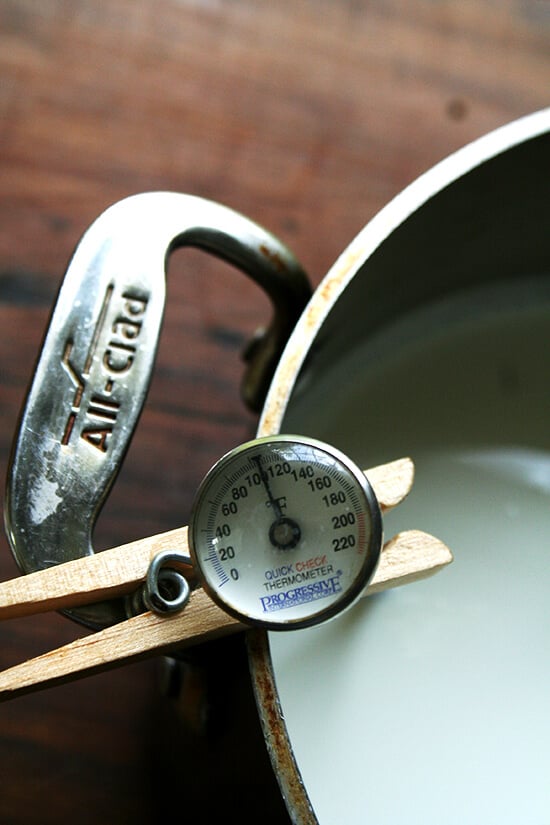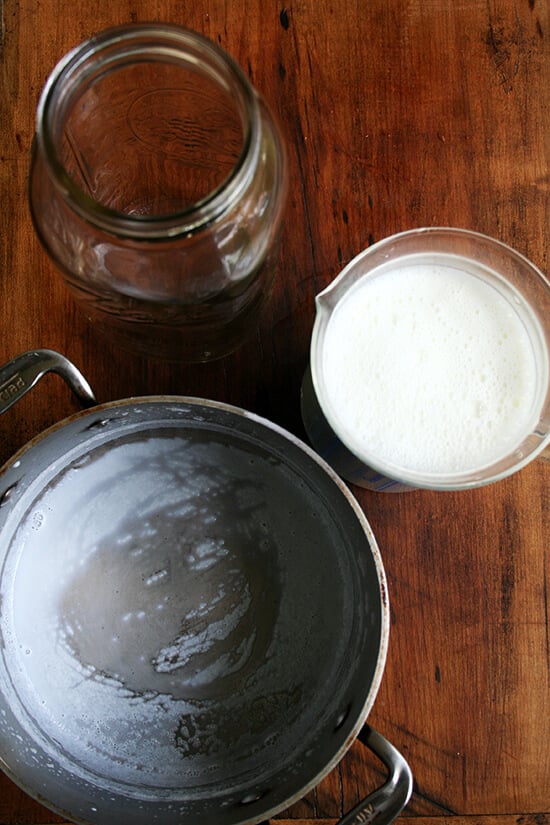 You can pour the cooled milk-yogurt mixture into a large vessel…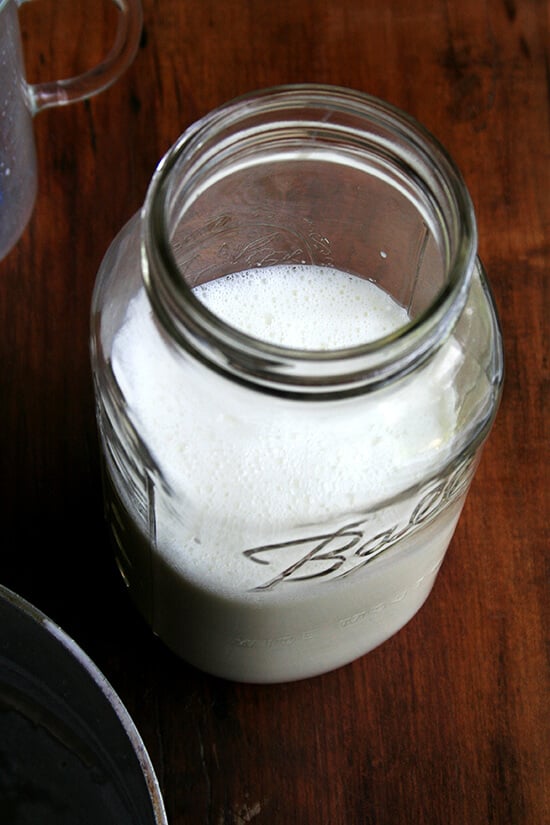 … or several smaller Mason jars. I recommend smallish (the 2-cup size is nice) glass jars.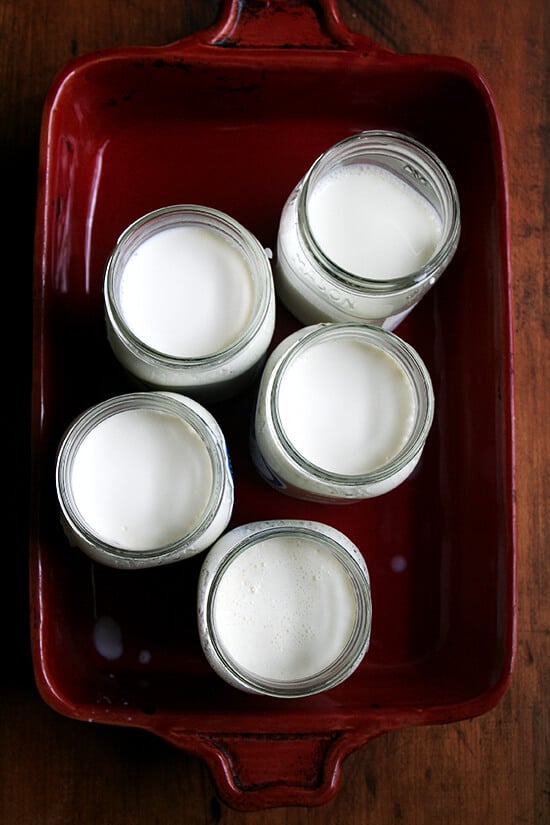 Then you swaddle the covered jars or jar in a blanket…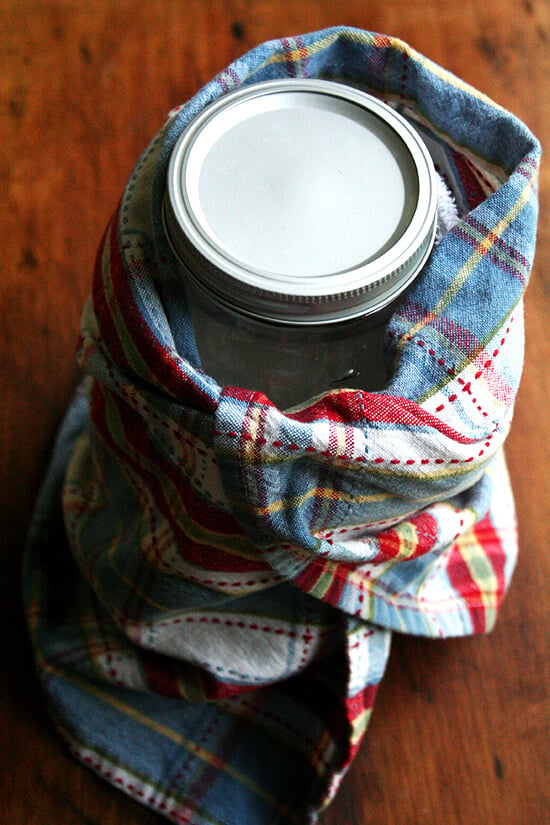 and place in a warm spot such as the oven with the light on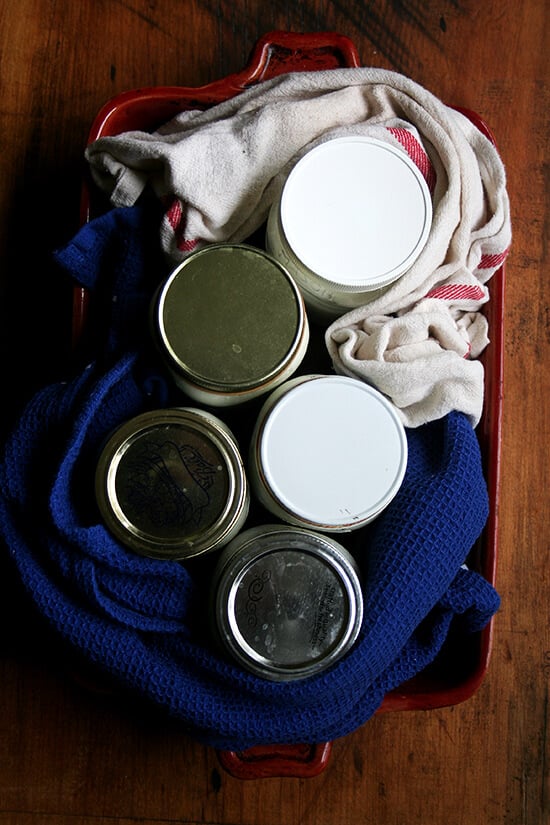 or a sunny spot on your deck or front porch.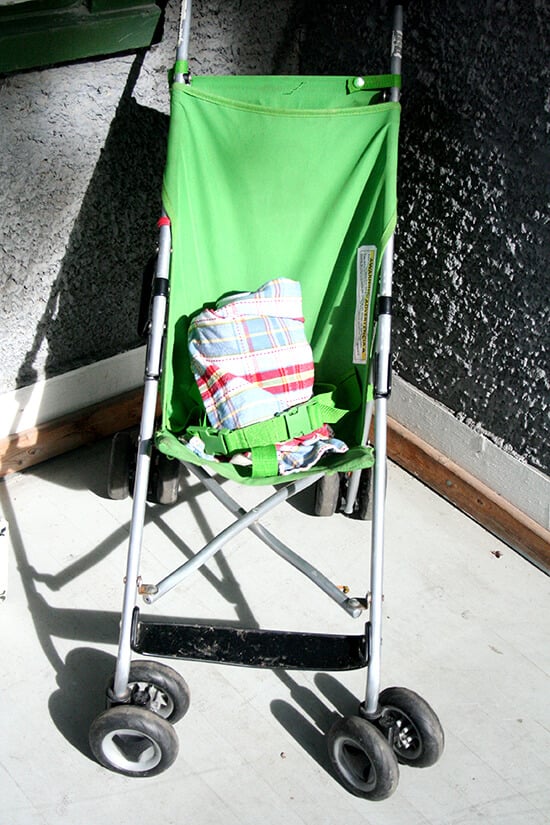 In about 4 hours, the yogurt will have set and is ready to be chilled. After it is chilled, you can portion it into smaller containers: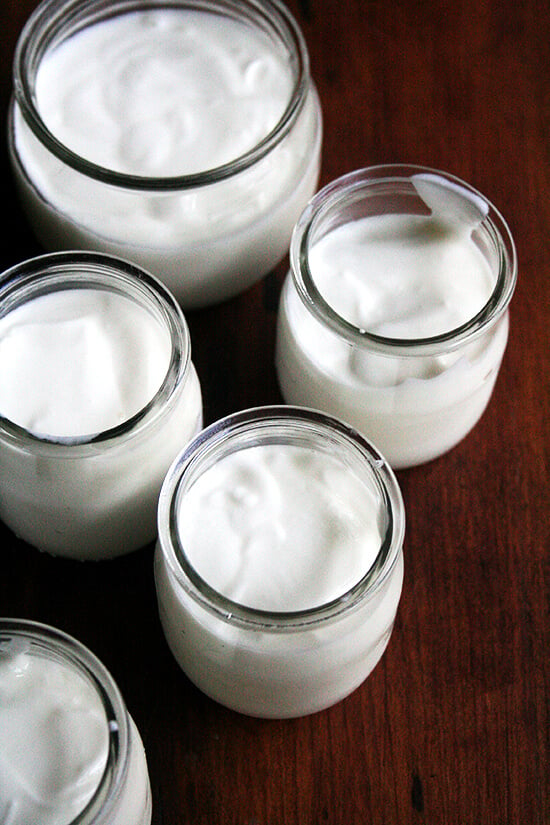 Strain yogurt in a cheesecloth or a yogurt strainer or a coffee filter set over a sieve to make thick, Greek-style yogurt. Drain for at least 18 hours.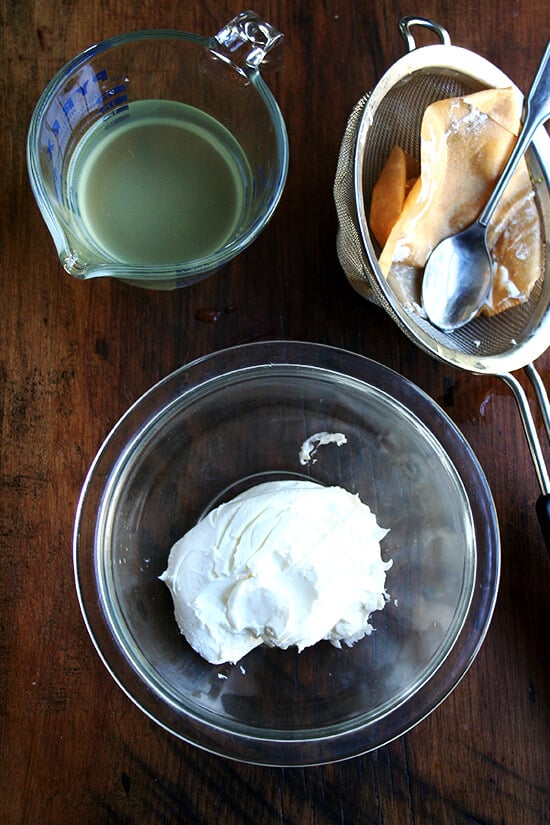 My absolute favorite Argyle Cheese Farmer yogurt is the Greek Maple. All of the ACF Greek yogurts have a light, whipped, mousse-like texture, which is achieved by whipping the strained yogurt in a stand mixer. You can watch them make it on this video.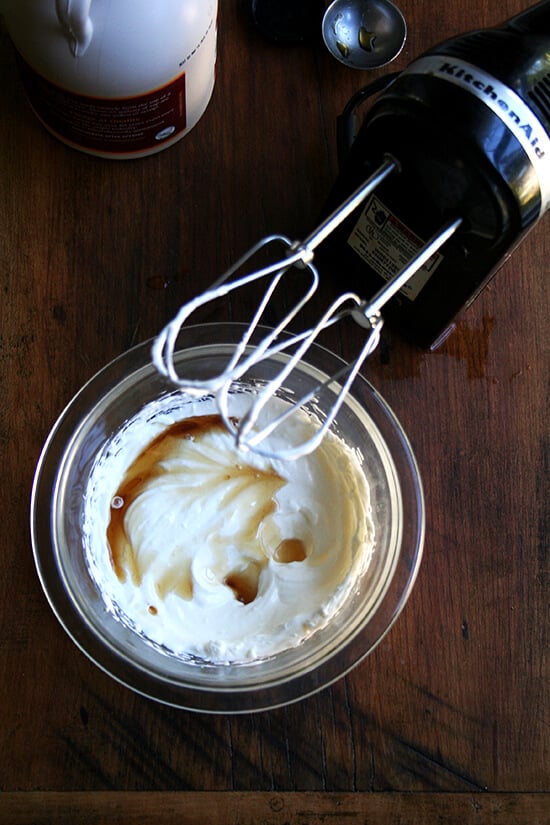 Saratoga Apple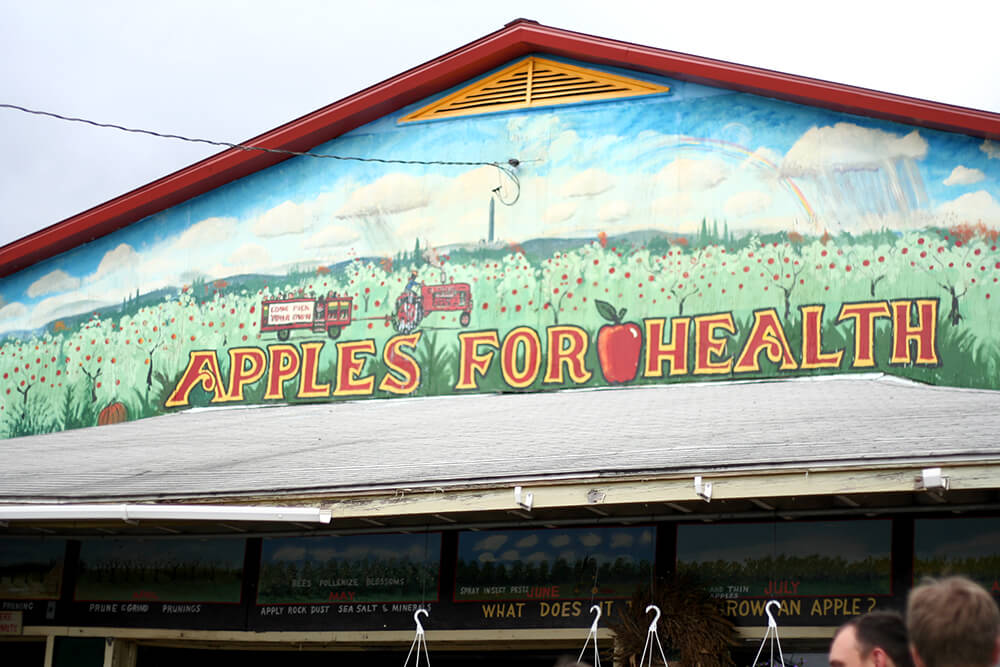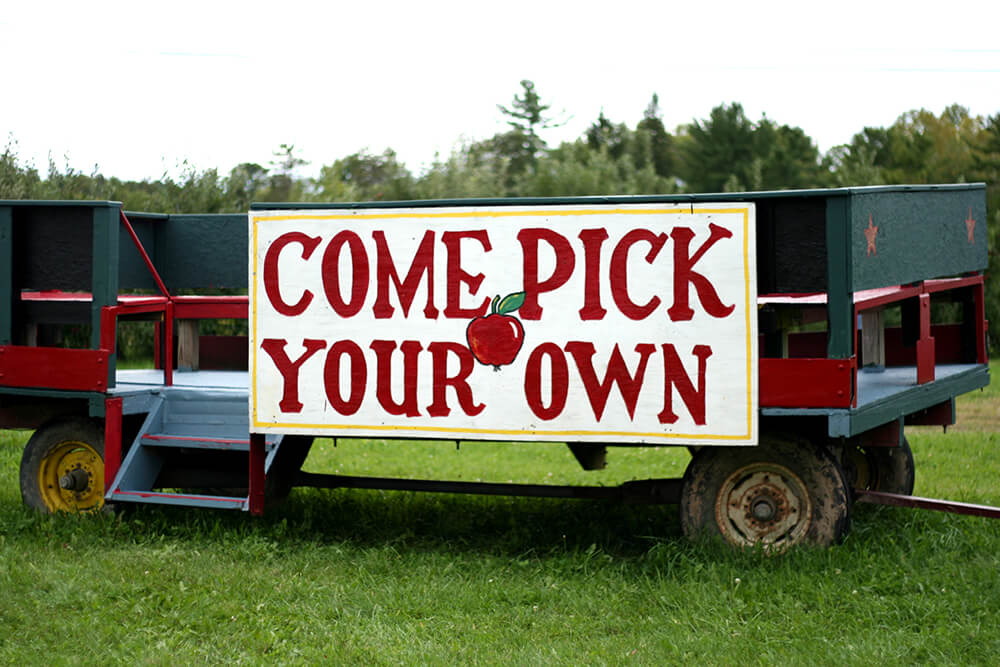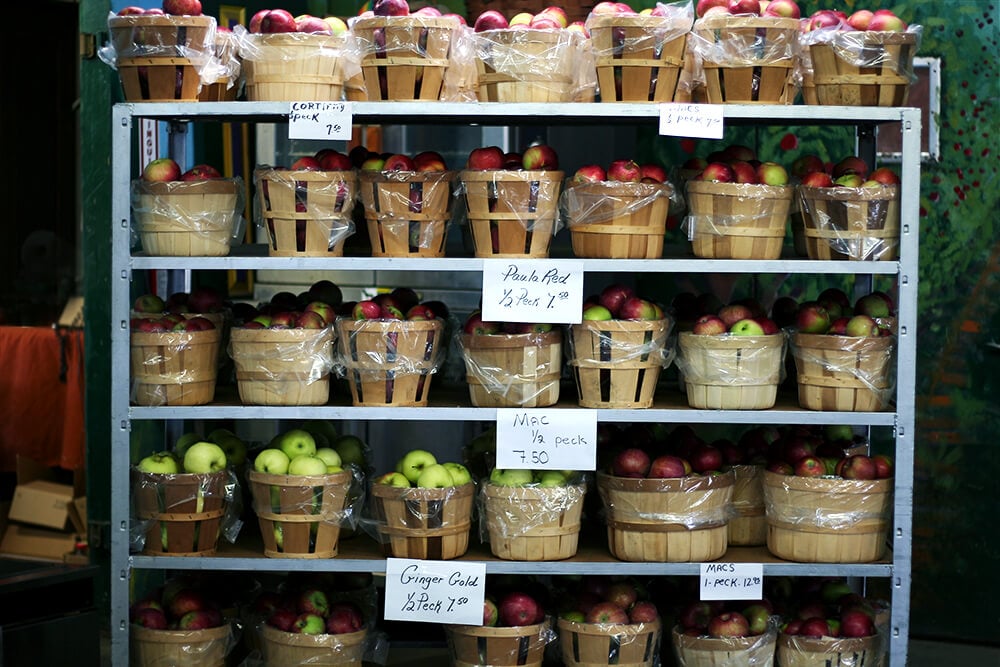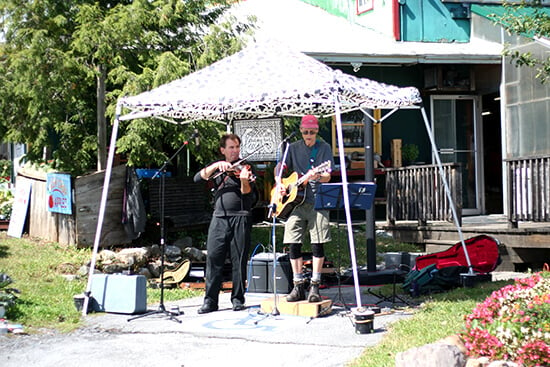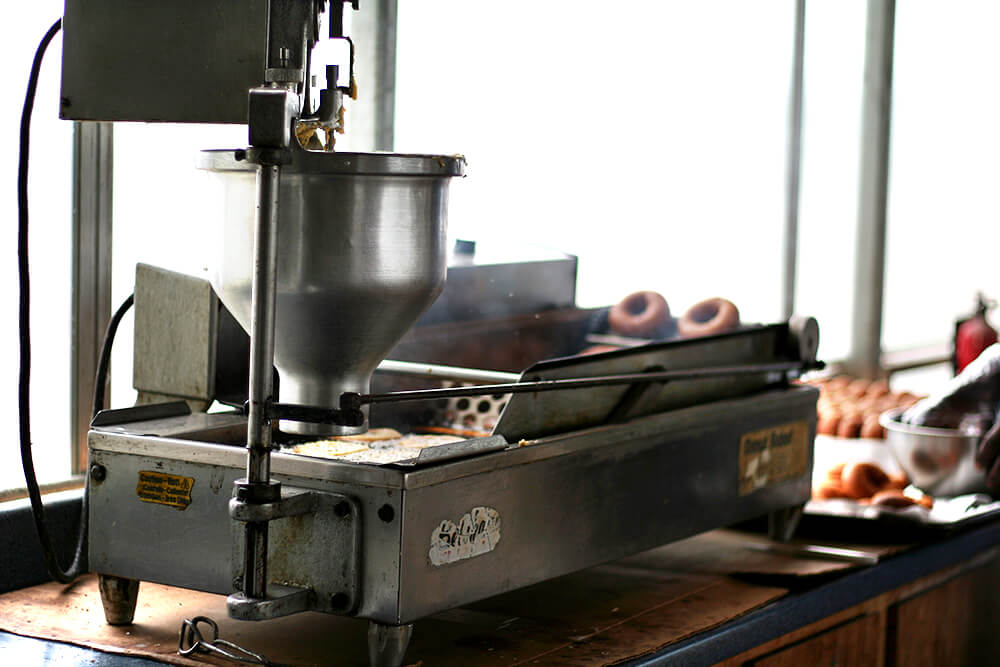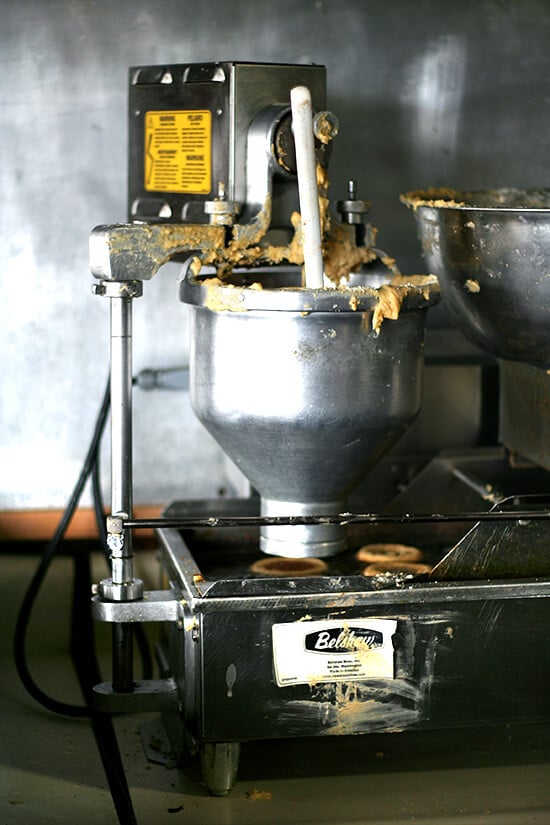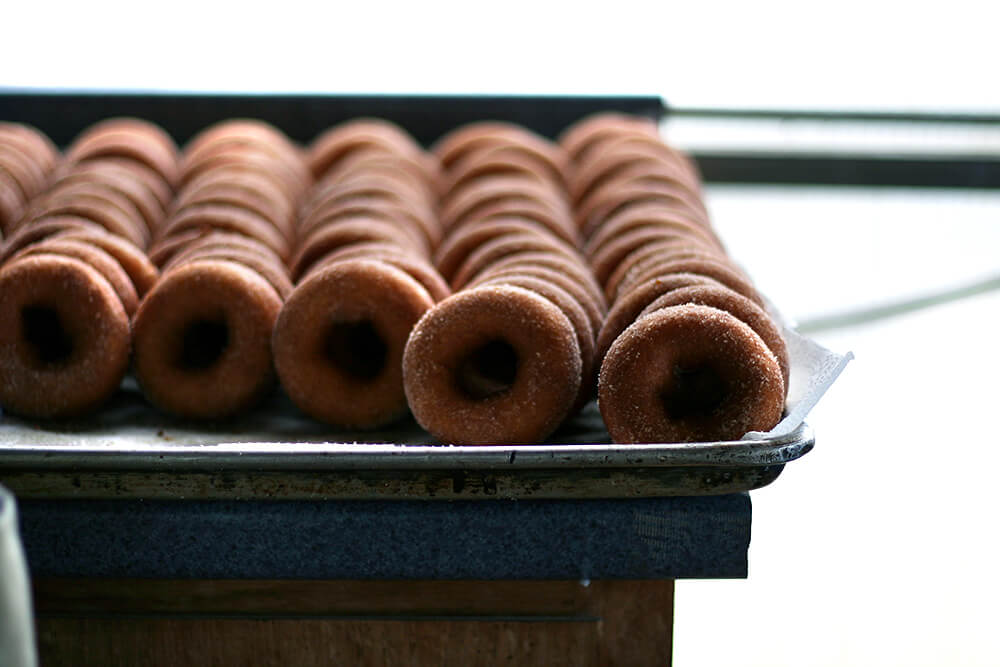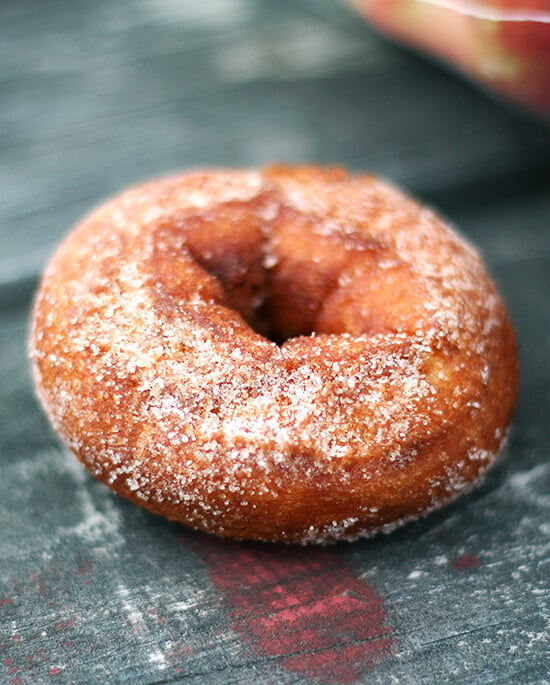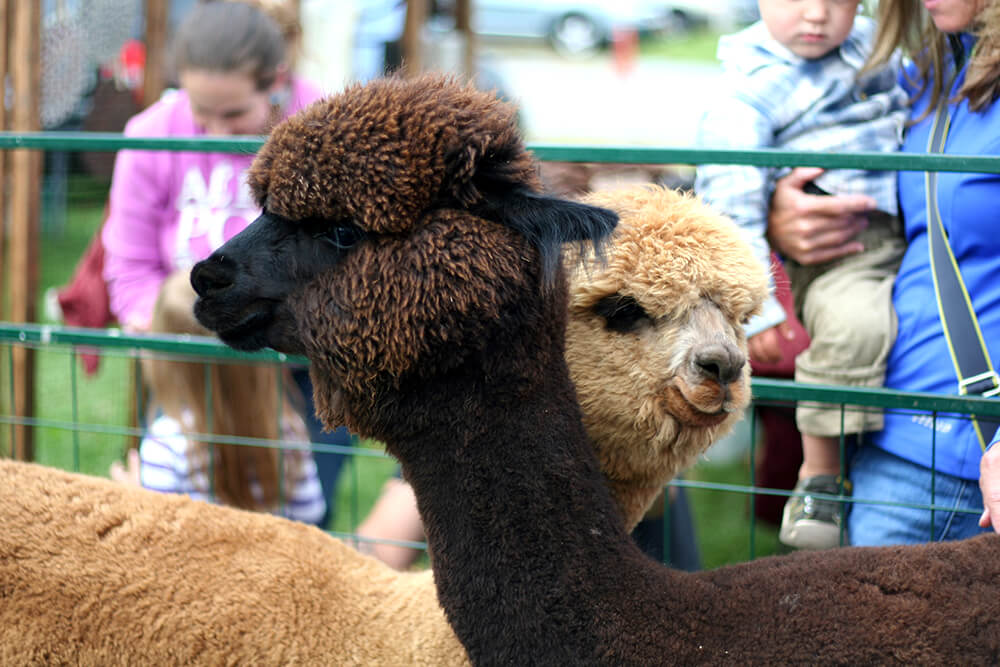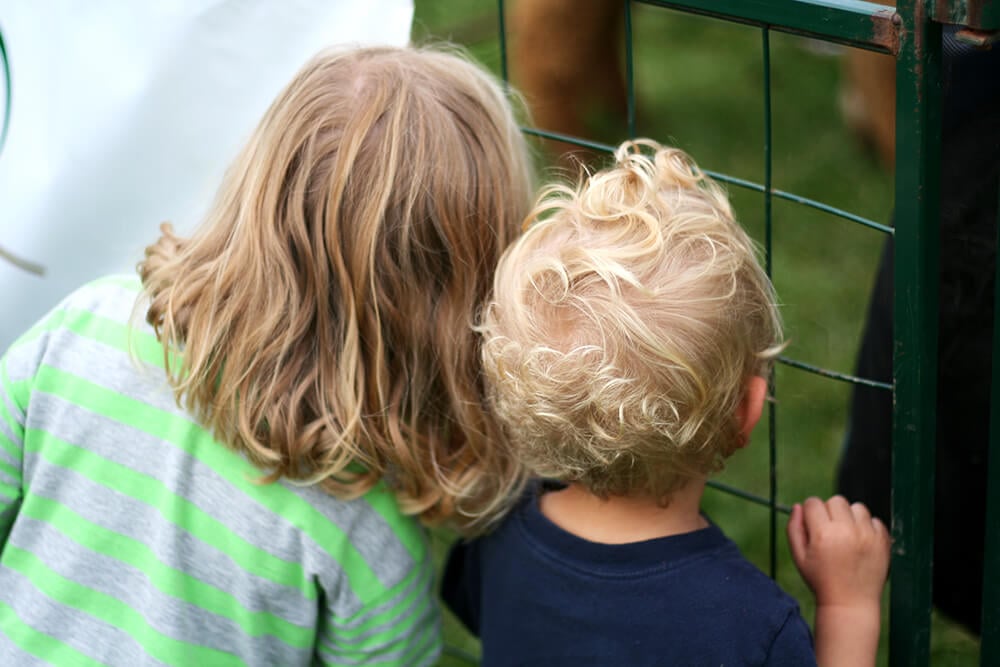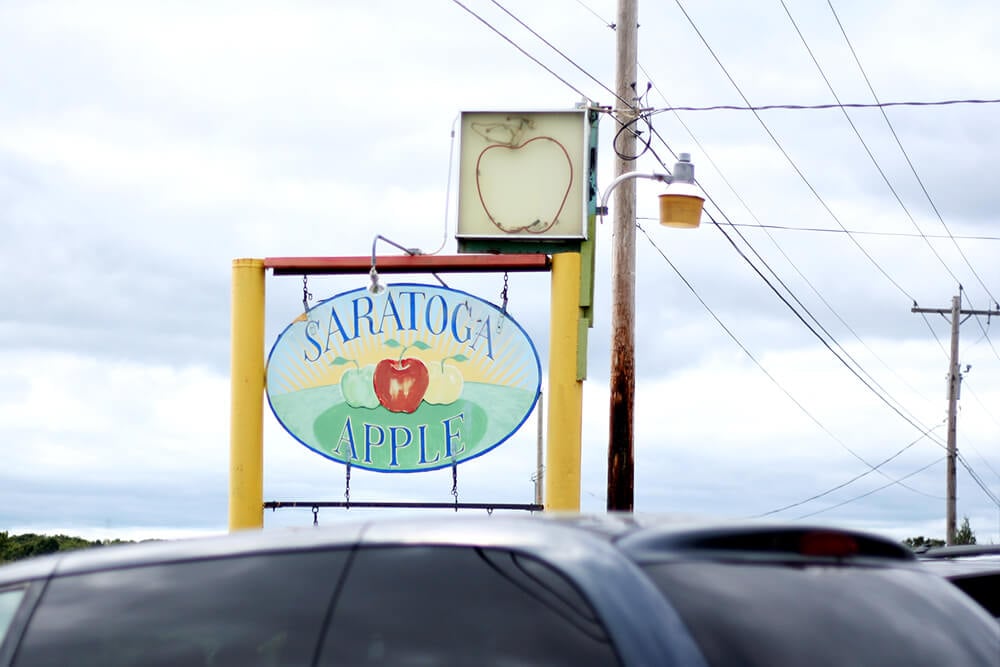 Incidentally, I made a batch of oatmeal-apple-yogurt muffins with my homemade yogurt — it's a simple, delicious and, as far as muffins go, relatively healthy recipe. See below.

Print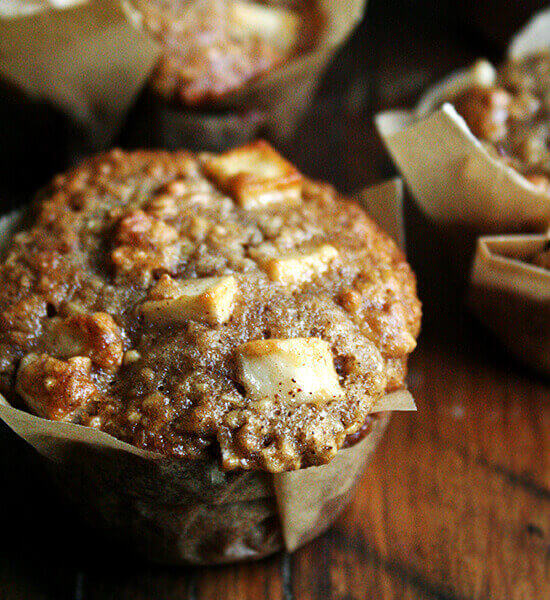 Oatmeal-Apple Yogurt Muffins
---
Total Time:

55 minutes

Yield:

15-18 muffins
Description
Inspired by this recipe in Bon AppetitOriginal recipe hails from Tazzaria
Notes:
This muffin batter can be made ahead of time and baked off as you wish: the muffins taste as good on day 8 as on day 1.
If you do want to bake off the whole recipe in one go, use a quarter cup measuring cup to fill your standard pan. You'll have some leftover batter, likely enough for 1 jumbo muffin or a few small muffins. Try to refrain from dividing that leftover batter among the filled cups — the muffins bake more evenly when they are not over filled, and you can always bake off the remaining batter in a greased or lined ramekin.
You can make your own liners by cutting sheets of parchment paper approximately into 5×5-inch squares. It's kind of a pain to do this, but they look pretty, and they work remarkably well. It's helpful to make the liners before you mix up the batter and to weigh down each one with anything that will fill in the cup. I also love these liners.
---
2 1/3 cups

(

230g

) quick-cooking oats*

1 cup

(

136g

) all-purpose flour

1/2 cup

(

114g

) packed, dark brown sugar (light would probably be just fine)

1/2 cup

(

116g

) sugar

1 1/2 teaspoons

baking soda

1 teaspoon

kosher salt

1/2

to

1 1/2

teaspoons cinnamon (I prefer a light cinnamon flavor)

1 cup

yogurt

1/2 cup

canola oil

1

large egg

1 teaspoon

vanilla extract

1/3 cup

boiling water

2

apples, peeled and diced (I used Cortland)
*I have the best results using the 1-minute Quaker Oats but rolled oats work just fine, too. And although I haven't tried this, I bet you could quickly pulse rolled oats in a food processor to make them behave more like quick-cooking oats.
---
Instructions
Preheat oven to 375°F. Spray a standard muffin pan (12-cup) with nonstick spray or line them with paper muffin liners. Whisk oats, flour, sugars, baking soda, salt, and cinnamon together. Add yogurt, oil, egg, and vanilla. Whisk to blend. Stir in 1/3 cup boiling water and let stand 5 minutes. Batter will be on the wet side. Fold in diced apples. Divide batter among prepared muffin cups. (Note: Again, you will have extra batter, so don't divide the whole batter among the cups — save some for another day or bake off the rest in ramekins.)
Bake muffins until tester inserted into center comes out clean, 25 to 30 (maybe as many as five minutes longer) minutes. Cool 10 minutes. Turn muffins out onto rack; cool. Serve warm or at room temperature.
Prep Time:

15 minutes

Cook Time:

25 minutes
Print
Homemade Yogurt | Homemade Greek Maple Yogurt
---
Total Time:

4 hours 35 minutes

Yield:

2 quarts
Description
Source: Harold McGee: They do the work, You Reap the Yogurt
Notes: I am finding the homemade yogurt making process to be cost effective. Here's the breakdown: 1 jar of plain ACF yogurt (about 2 cups) costs $3.79, which means, 1/4 cup costs about $0.47. The milk I buy costs $2.75 for a half gallon, so the first batch of homemade yogurt cost me $3.22. There are 128 tablespoons in a half gallon, so every tablespoon of homemade yogurt has a value of $0.03, so every quarter cup has a value of about $0.12. So, from here on out the cost of my 1/2 gallon batches of yogurt is about $2.87, and over time, as long as I keep using my homemade yogurt to make subsequent batches, the cost eventually will nearly equal the cost of the milk: $2.75.
---
4 tablespoons

yogurt

1/2 gallon

whole milk
maple syrup (if making Greek-maple yogurt)
---
Instructions
In a large saucepan, heat the milk to 180 – 190ºF, or to the point that it's steaming and beginning to form bubbles.
Let the milk cool to around 115 to 120ºF. Place yogurt in a small bowl. Thin it out with some of the milk, then stir this mixture into the pot with the remaining milk.
Pour the milk-yogurt mixture into a warm jar or container or an insulated bottle, cover it, and keep the milk still and warm until it sets, usually in about four hours. Harold McGee swaddles his quart jar in several kitchen towels but also recommends putting the container in an oven with the light bulb on.
Once the yogurt sets, refrigerate it to firm its structure. To make a thick Greek-style yogurt, spoon it into a fine-mesh strainer or colander lined with cheesecloth or sieve lined with a coffee filter, and let the whey drain into a bowl for several hours.
To make Argyle Cheese Farmer-style Greek yogurt, place your strained yogurt in a stand mixer. Whip it until it's light and airy. Add maple syrup by the tablespoon to taste. Chill until ready to eat. I find the light texture becomes even more mousse-like once it chills for a bit.
Prep Time:

5 minutes

Cook Time:

10 minutes
This post may contain affiliate links. Please read my disclosure policy.