Orecchiette with Brown Butter, Brussels Sprouts & Walnuts
This post may contain affiliate links. Please read my disclosure policy.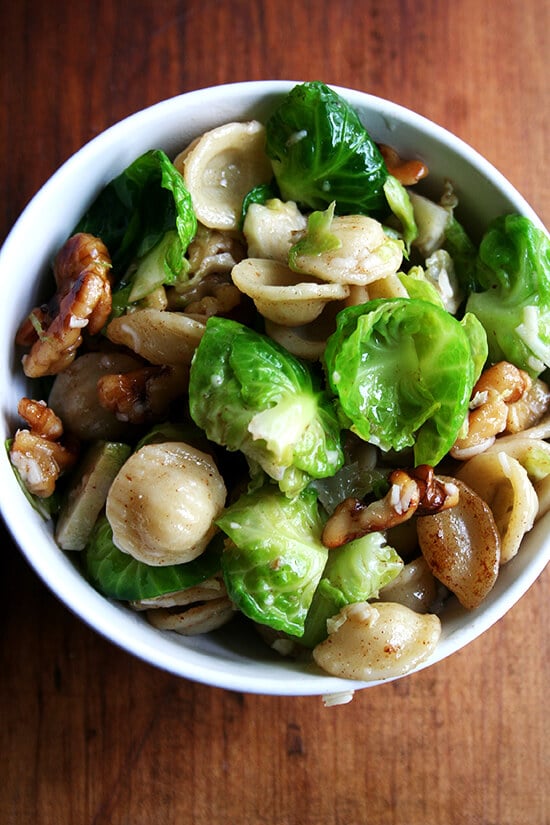 Friends, I opened the mailbox this morning and found a hand-written note from a dear old friend. I had to transcribe it and share it with you.
Dear Ali,
I hope this letter finds you well. I just wanted to write because with the holiday season rapidly approaching, I know you and I and many of your friends will be spending a lot of time together. I feel awkward reaching out like this, but I think it's best I voice my concerns now. You see, while I love that you and so many others have discovered my versatility — really, I mean it, I loved those blondies — I'm feeling a little torn about all of the attention I've been receiving in recent years.
OK, I'll just say it: the truth is is that I miss sage. And I miss crisping up its leaves in a pan filled with butternut squash ravioli. And I miss being tossed with ribbons of pappardelle and toasted pine nuts. And I miss bathing with fillets of sole.
There. I said it. I just wanted to remind you of, well, what I once considered my strength. I think you will understand. And I hate to impose, but if you wouldn't mind sharing this with anyone you think might be interested, I would so appreciate it.
Your friend,
Brown Butter
Friends, our pal BB seems so down. What can we do about this? I'm hoping this orecchiette with Brussels sprouts, walnuts and Pecorino might just boost his spirits. It's one of my favorites right now, not only because the Brussels sprout leaves and little ears of pasta share the same shape, but also because it is irresistibly delicious and relatively easy to throw together. Peeling the sprouts is kind of a pain, but I can think of more tedious tasks (naming 20 trucks 20 times a day comes to mind) and the whole process takes no more than 10 minutes.
After the sprouts are separated into leaves, the rest is simple. While the pasta is cooking, the butter can be browned, the walnuts toasted and the cheese grated. During the last minute of the pasta's cooking time, the Brussels sprouts enter the pot, and after the pasta and sprouts are drained, everything is tossed together: pasta, sprouts, brown butter, walnuts and cheese. So easy, so delicious. I think BB will approve.
PS: Brown Butter Blondies are delish. Also: Brown Butter Orzo Risotto.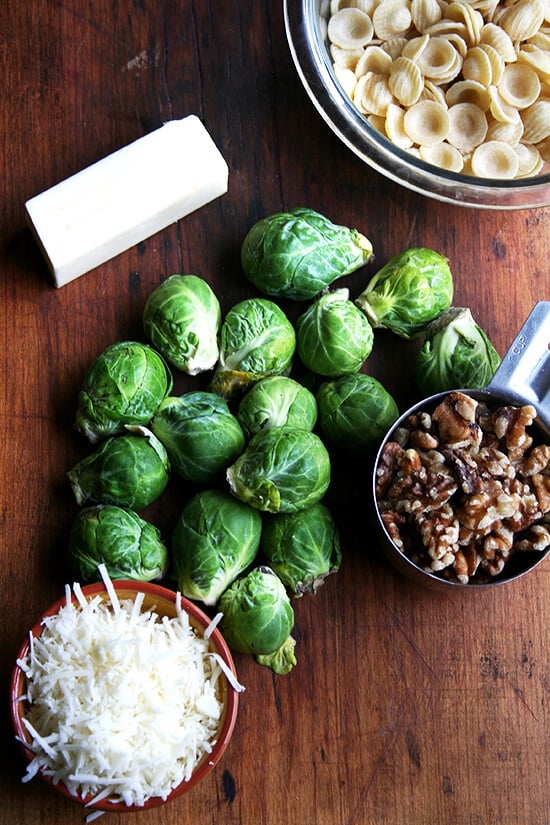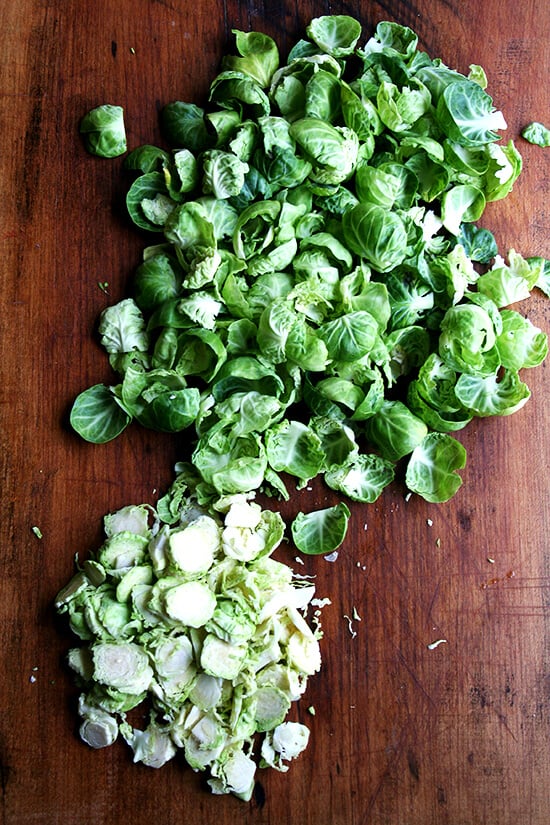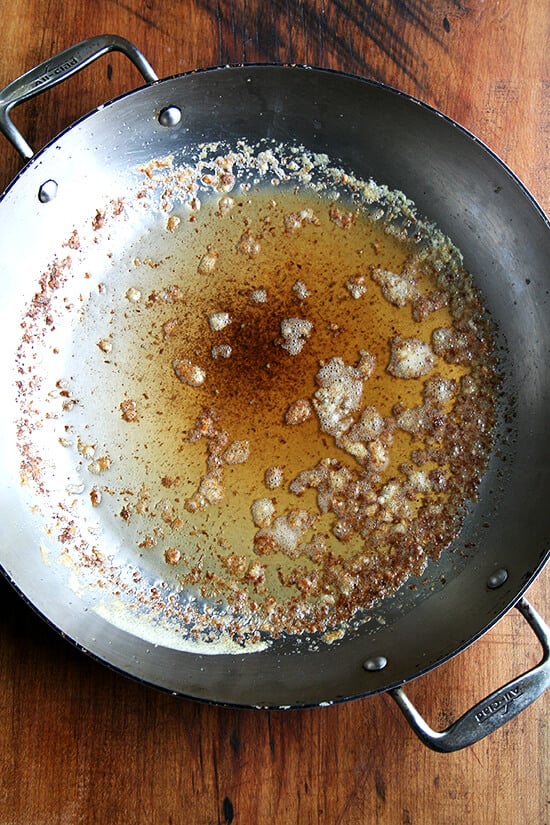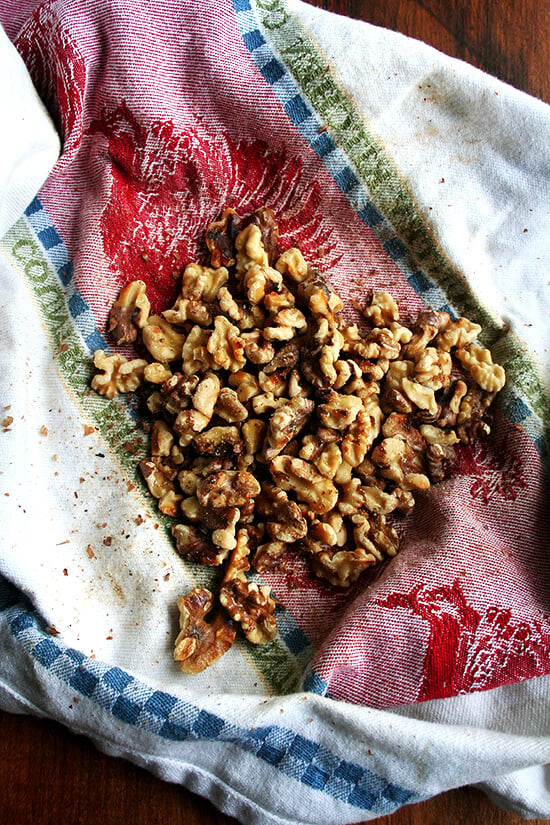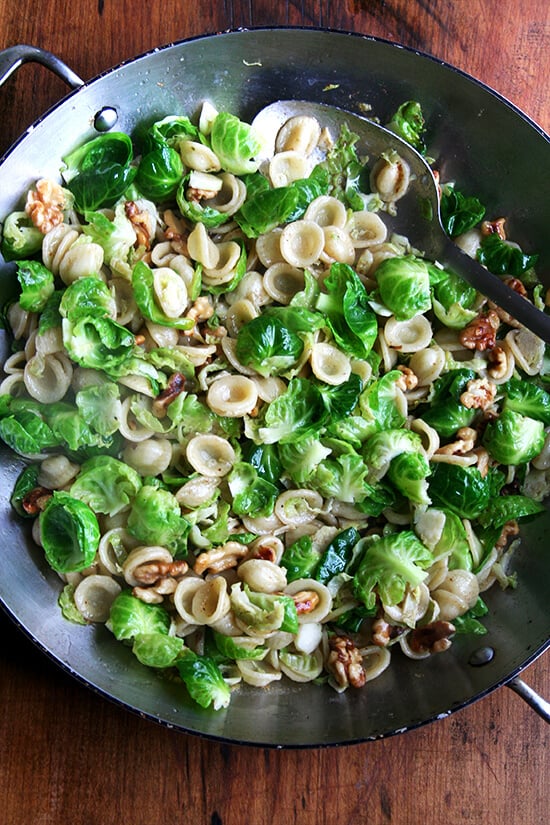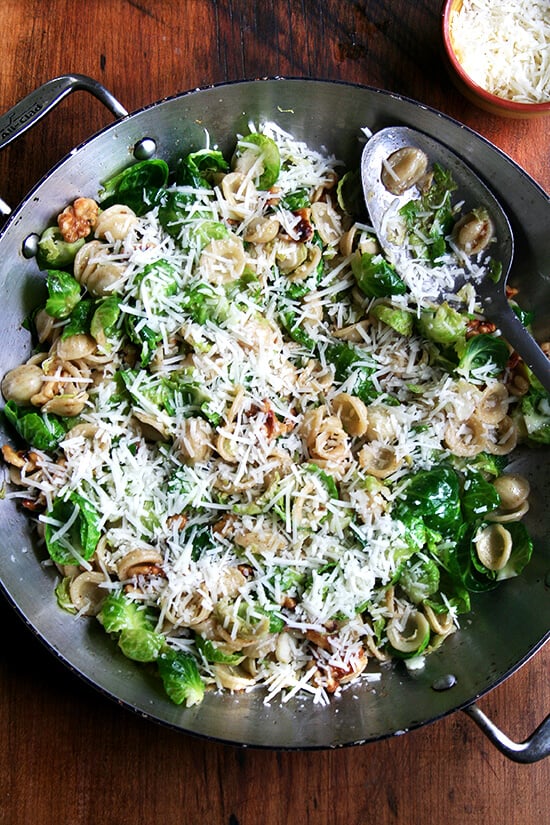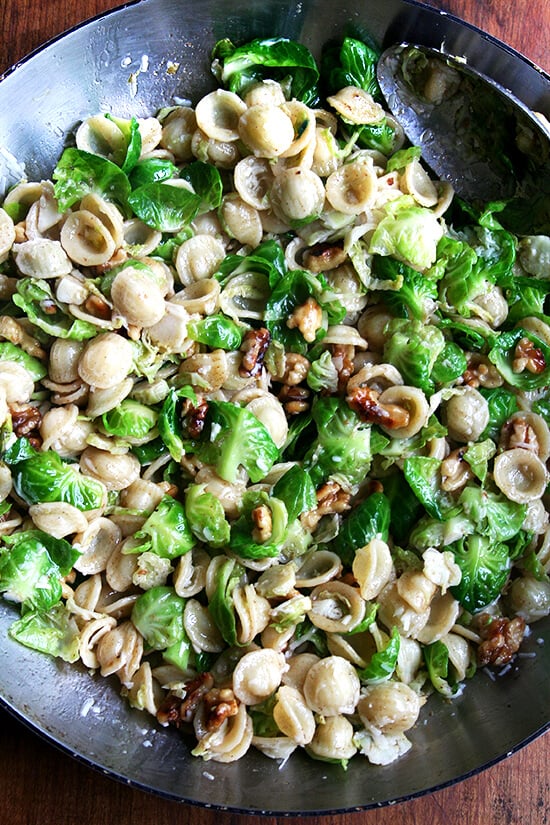 Print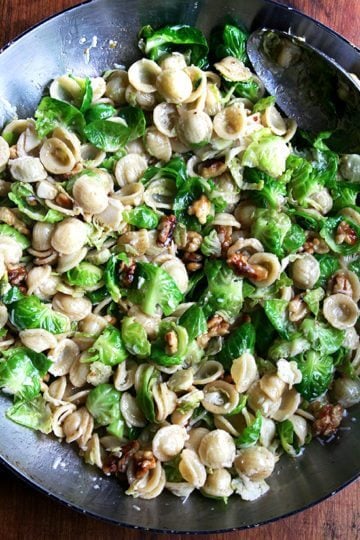 Orecchiette with Brown Butter, Brussels Sprouts & Walnuts
---
Description
Pasta: I used to always make this with 8 ounces of pasta, which really let's the brown butter notes shine, but 8 ounces of pasta simply is not enough for my family anymore. I get great results using 12 ounces of pasta and a bit more of the reserved pasta cooking liquid. 
---
12 ounces

Brussels sprouts 

8

to

12

ounces orecchiette or whatever pasta you like, see notes above
kosher salt

6 tablespoons

(

3 oz

|

85 g

) unsalted butter

1 cup

walnuts

2 ounces

grated Pecorino or Parmigiano (

1/2

to

1

cup)
freshly cracked pepper and salt to taste
Flaky sea salt to taste 
---
Instructions
Cut the stems off of each sprout and start separating the leaves. It helps to cut above the stem a little bit higher than you would normally — you also might have to make another cut after you've started peeling away the leaves. When you reach the heart of the sprout, it will be really hard to peel back the leaves. Stop peeling and set the heart aside. Once all of the sprouts are peeled, thinly slice the hearts. Set sprout leaves and hearts aside.
Put a large pot of water on to boil. Add 2 tablespoons kosher salt.
Meanwhile, in a large sauté pan (large enough to fit the pasta and Brussels sprouts) melt the butter over medium heat. Once the butter begins turning brown and smelling nutty, turn off the heat.
Meanwhile, in a small sauté pan over medium heat, toast the walnuts until they become lightly browned and fragrant, about 10 minutes. (Alternatively, toast the walnuts at 350ºF for 8 to 10 minutes — watch closely to prevent burning.) Place the toasted walnuts in a tea towel and rub together to remove papery skin. Transfer walnuts to a sieve and shake again to remove any additional skin. This is a little fussy and optional. Set aside.
Check the cooking time of the pasta you are using. Set the timer for one minute less than the time recommended for al dente. For example, if your orecchiette cooks in 9 minutes, set the timer for 8. After the 8 minutes, add the Brussels sprouts to the pot. Cook 1 minute more. Reserve at least 1 cup of the cooking liquid and set aside. Drain the pasta/sprouts.
Bring the brown butter back up to temperature over medium or medium-high heat. Add the pasta/sprouts to the pan, 1/2 cup of the reserved cooking liquid, the walnuts, and a handful of the parmesan or Pecorino. Toss. Taste. Adjust with the flaky sea salt and pepper to taste. If necessary add some more of the pasta cooking liquid to the pan — it's nice to have reserved pasta cooking liquid on hand if you make this ahead and need to reheat it.
Prep Time:

15 minutes

Cook Time:

10 minutes

Category:

Pasta

Method:

Stovetop

Cuisine:

American, Italian
Keywords: brown butter, orecchiette, Brussels sprouts, walnuts
This post may contain affiliate links. Please read my disclosure policy.