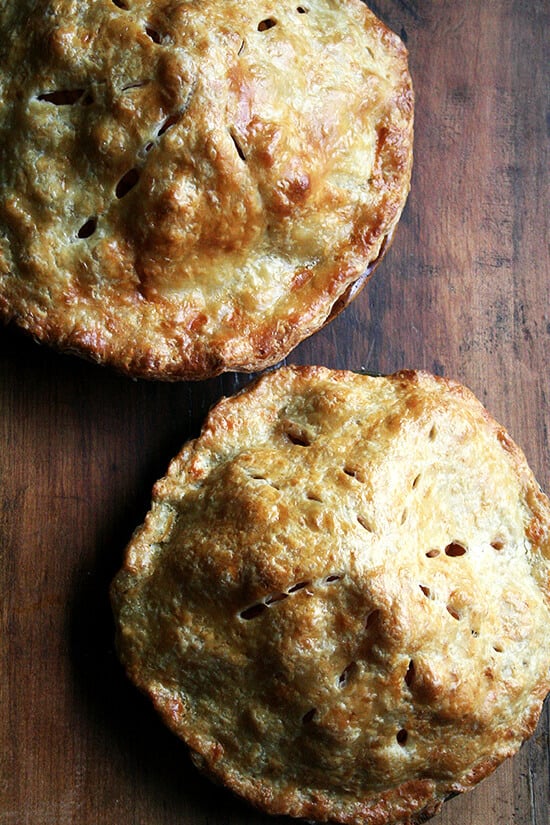 When my friend Anne announced she was getting married in my neck of the woods and asked if I might be interested in making some apple pies in place of a wedding cake, I immediately called my aunt Marcy to consult. I hadn't made a pie in a long time — years! — and I not only needed a refresher on the basics — how many apples? what spices? tapioca or flour? how much sugar? — I also needed help with the logistics: would I realistically be able to make, bake and store enough pies to feed an entire (albeit small) wedding? Could I face this challenge with grace and dignity?
The conclusion we came to pretty quickly was no. Absolutely not. In my wise old age I have learned that sometimes it just makes sense to accept my limitations. Deep thoughts by Ali.
After explaining to Anne that for the wellbeing of everyone in my house I would have to decline, we came up with a saner solution: I would make two ceremonial pies for the pie-cutting ritual. Two pies I could handle. Nobody in my house would be harmed.
In the past few weeks, I've done a few test runs, seeking guidance from my aunt, the pie master in our family, the entire way. When it comes to making pies, Marcy cuts no corners, uses refrigerated bowls, a chilled marble rolling pin, and cold cold flour and butter. She follows the fraisage technique, using the heel — not the palm! — of her hand to cut the butter into the flour. She seasons the apples with both cinnamon and cloves, lemon juice and zest, and prefers tapioca to flour as a thickener. She never uses fewer than 10 apples per pie.
Over the years Marcy's pies have developed such a reputation that other members of my family are afraid to weigh in on the subject of pie. During these past few weeks, I've called both my mother and sister to seek their advice on various pie-making matters, but from both of them each time I faced the same response: Ask Marcy.
I have done my best to relay my aunt's pie-making wisdom here, with the exception, however, of the fraisage method, a technique I have not yet attempted, one that, once conquered, elevates the pie maker to the pie master: Marcy's pie crusts boast an unparalleled level of flakiness. And so, I'm afraid, I leave you today with a quandary: To fraisage or not to fraisage? Perhaps something to ponder while apple picking this weekend? Happy Friday, Everyone.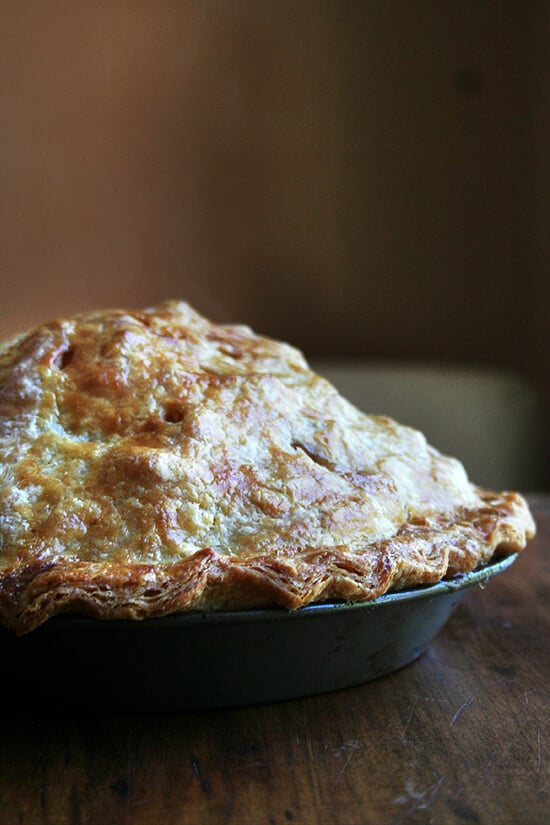 I actually prefer my apples cut into bigger chunks than pictured below. Will update photo as soon as I can: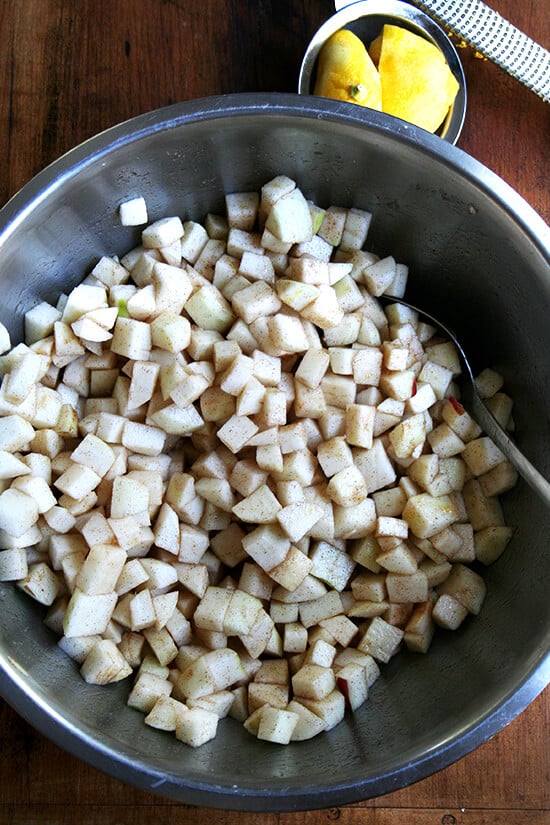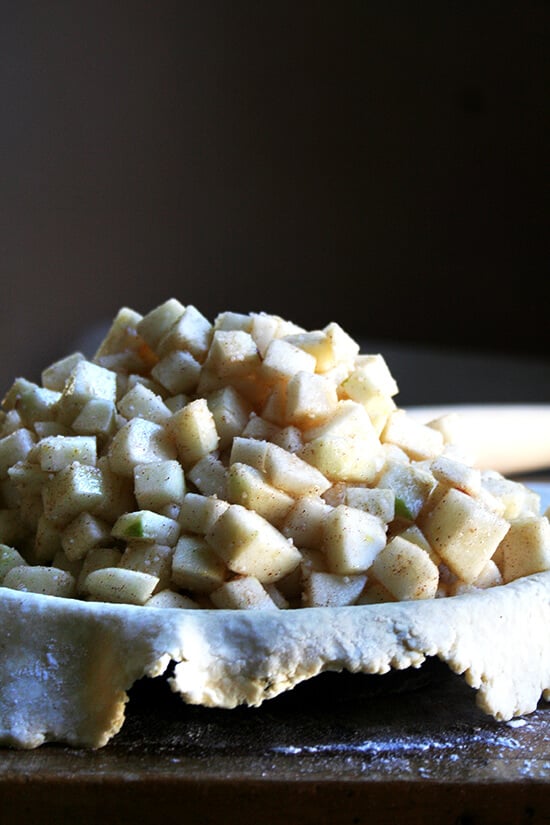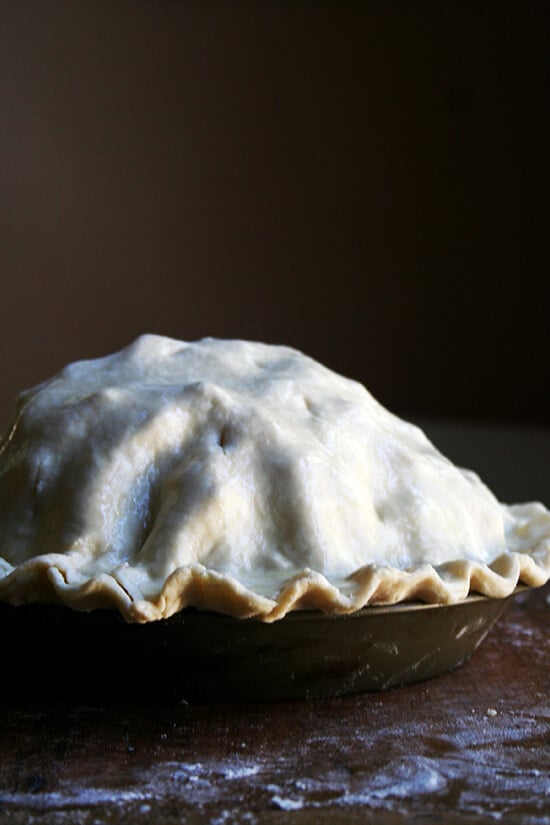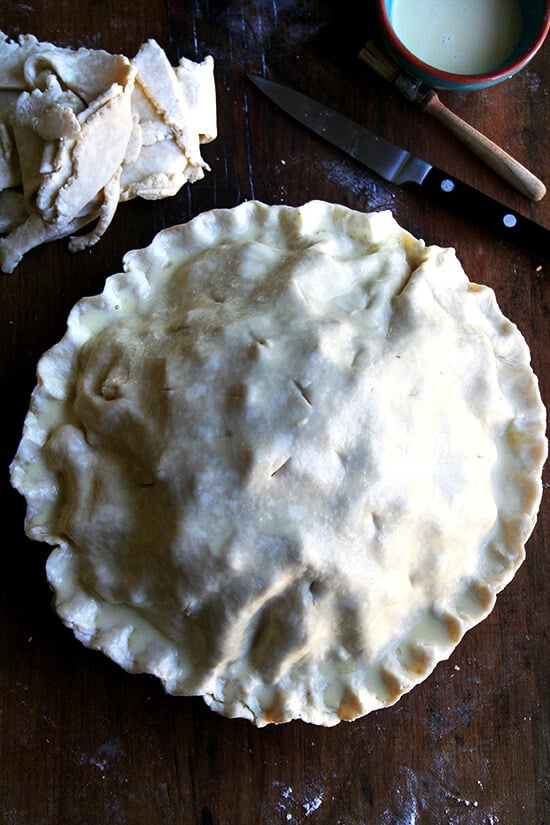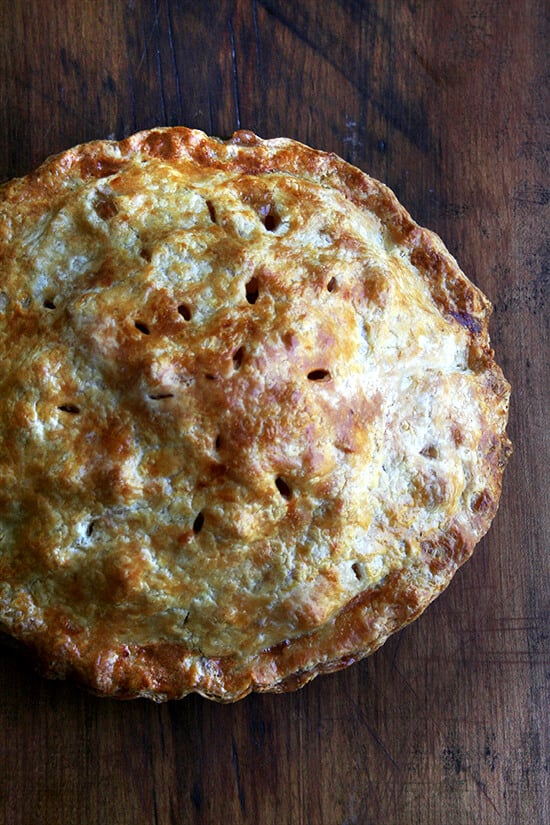 A dear friend living in Chicago gave me this piebox this past summer. Isn't it fun?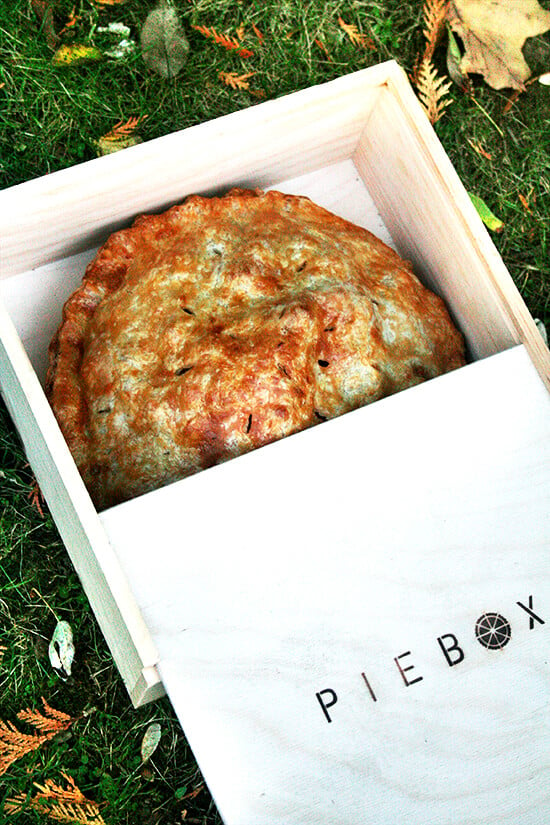 You can order one here: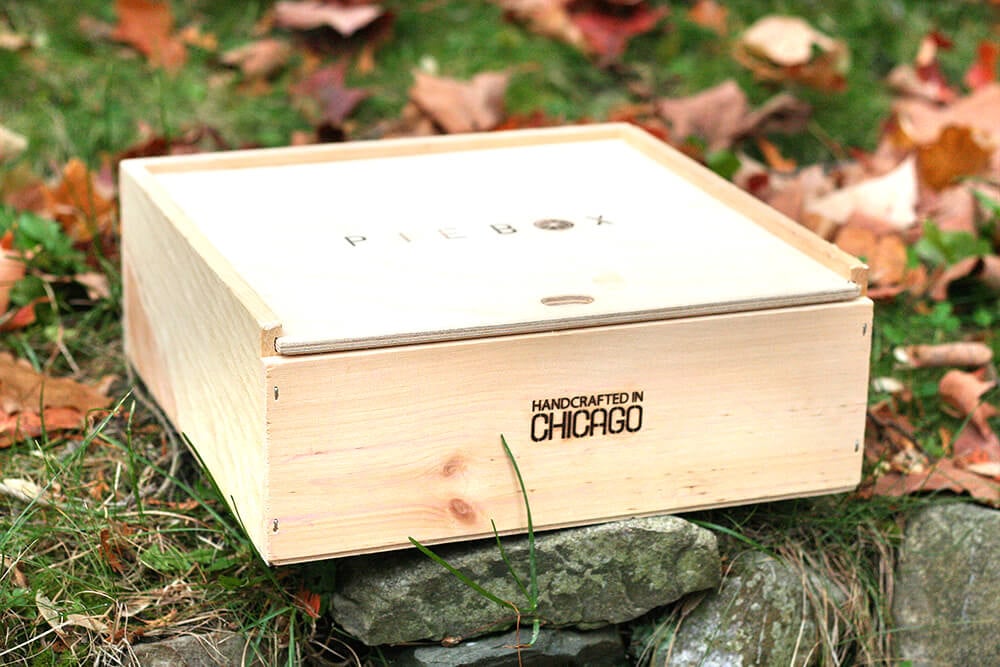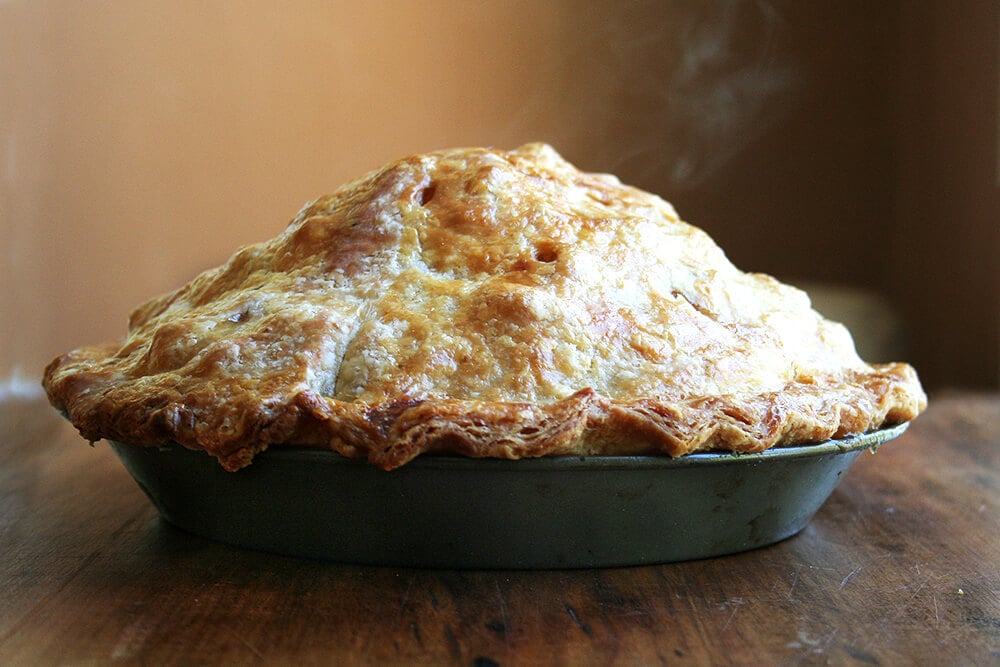 PS: The next Baking Steel post is up: an Apple Galette made with the trimmings of this pie as well as a few leftover apples that couldn't quite fit into the mound.
Pie Dough:
No matter what pie dough recipe you use, the principles of making it will always be the same: keep the ingredients cold, cold, cold. Purists will say that making a pie dough in the food processor is a no-no, but I find it works very well, and if you are making a lot of dough, using a processor will save you a lot of time. Here are a few things to keep in mind:
•If you don't store your flour in the freezer, consider placing it in the freezer the day before you plan on making the dough.
• To start the pie-dough making process, cut your butter into smallish slices or cubes, place them on a plate (or some other vessel) and stick them in the freezer. Fill a large liquid measuring cup with ice and water. Set aside.
• If you want to make several batches of dough, rather than multiply the recipe and shove all of the ingredients in the processor at once, make separate batches consecutively. For example, I recently tripled the pie dough recipe below. To start, I cut up the butter and placed each portion on a separate plate in the freezer. Then I filled a four-cup liquid measuring cup with ice and water. Then I lined up three big mixing bowls and filled each with 320g flour, 2 T. sugar, and 1/2 tsp salt. Then I made one batch at a time using the food processor, wrapping each batch in plastic wrap before proceeding with the next batch. I know I am stating the obvious for many of you, but sometimes these tips are helpful for others.
• On my local PBS station, I recently watched a Martha Stewart pastry episode during which she reminded viewers to: "Make it cold; bake it hot." A good rule of thumb is to bake your pie on the lowest rack of the oven at a high temperature to start (around 425ºF for 20 minutes or so), and then to reduce the heat to a lower temperature (350ºF or so) for the remaining baking time, anywhere from 30 to 60 minutes longer. Every oven is different, of course, so this rule might not apply to you. I have been baking my pies directly on my Baking Steel, which helps produce a beautifully crisp bottom crust.
• When you are rolling out your dough, again, try to keep tools and ingredients cold — my aunt uses a marble rolling pin that she keeps in the freezer.
You don't want to over-process the dough: it should come together when you pinch it with your fingers. And when you dump out the dough onto a sheet of plastic wrap or a tea towel or whatever you are using to store the dough, it will look like a pile of crumbs, not a cohesive ball. It will come together into a cohesive ball when you pack it into a disk.

Wouldn't it be nice to head into the holiday season with a freezer full of pie dough? It's just as much work to dirty your food processor for one batch of pie dough as it is for 5. Just a thought.

Update: October 12th, 2013, Anne & Matt's Wedding: