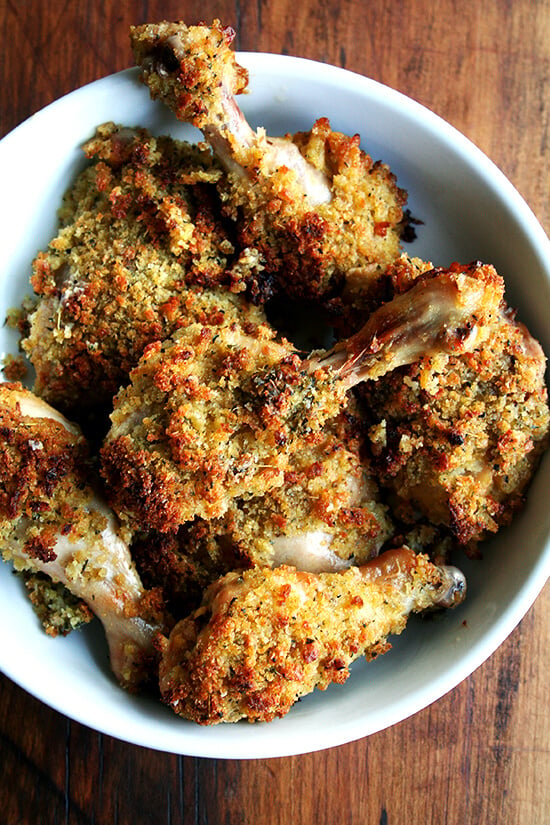 So, as you can see, I'm kind of on a Barefoot Contessa kick right now. And it's not stopping here. I've got one more recipe coming, something sweet and chocolaty and festive, and I can't wait to share it.
In the meantime, let's talk about this chicken, which has become a favorite around here, both piping hot right out of the oven for dinner and cold straight from the fridge for lunch. Like the vodka sauce, this one comes from Foolproof; unlike the vodka sauce, this one wasn't entirely foolproof, for me at least.
It may have been my oven, which I'm slowly figuring out, but I blame it mostly on the panko, which didn't brown up after 40 minutes in the oven. Even after I cranked up the oven at the end as instructed, the fully cooked chicken emerged with a pale, only slightly crispy skin. And is there anything less appetizing than that?
Despite its pallid complexion, the chicken, roasted with a layer of mustard, was incredibly moist and delicious, the flavors of thyme, garlic and lemon permeating the meat. And the fix — substituting fresh breadcrumbs for the panko and roasting at a slightly higher temperature for the entire time — made all the difference. After 40 minutes, the chicken emerged once again fully cooked, but this time with a beautifully golden coating begging to be devoured. With just a gentle prod of the knife, the meat, steaming hot, fell off the bone, salty, herbed breadcrumbs spilling all around. Heaven.
I rarely make breaded meat dishes — the flour-egg-coating assembly line always deters me — but this one is simple. A quick dip in a mustard-buttermilk bath provides enough glue for the breadcrumbs to adhere, and roasting versus pan frying makes the hands-on time minimal. This one will surely be entering the weekly dinner rotation. I hope it enters yours, too.
PS: A few ideas for some weekend baking:
1. Something sweet: Brown Butter Spoon Cookies. After posting the Brown Butter Orecchiette with Brussels Sprouts recipe a few weeks ago, one of you pointed me to this must-try Brown Butter Spoon Cookie recipe. I have since made two batches, and I have a feeling I will be making them constantly this holiday season. Many of you probably have already heard of these cookies or have made them yourself — they seem to have quite the following. I recommend reading as many of the user reviews as you can handle. I picked up some good tips. I used a measuring teaspoon to shape the cookies, and I skipped the jam part, but I might try with jam this weekend.
2. Something savory: My friend Katie back in Virginia has been making beautiful loaves of sandwich/toasting bread. She even went to a King Arthur baking class, took detailed notes and shared them in this post. I'm dying to try the "head and shoulders" method of shaping.
3. Something sweet and savory: Darcy's Challah looks delectable!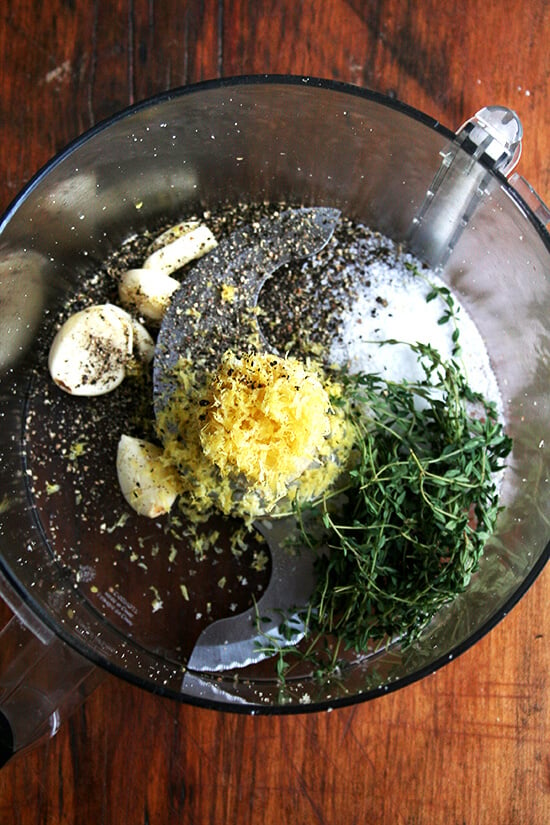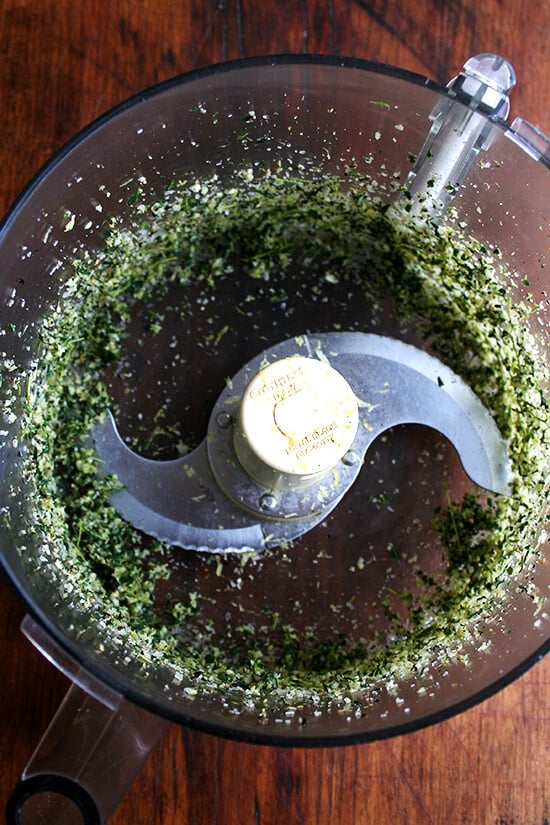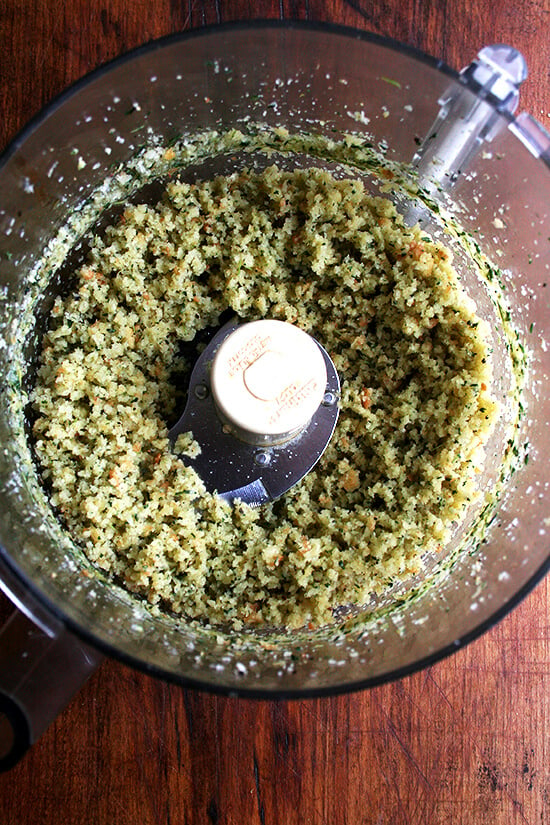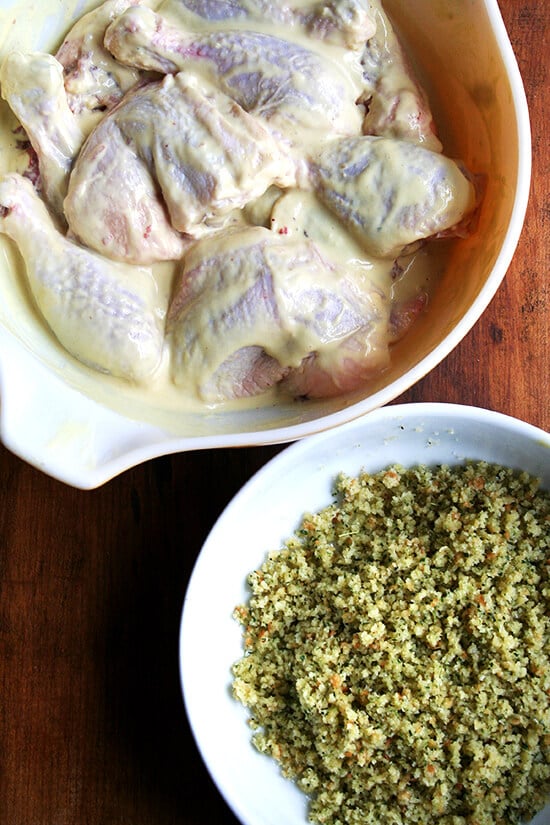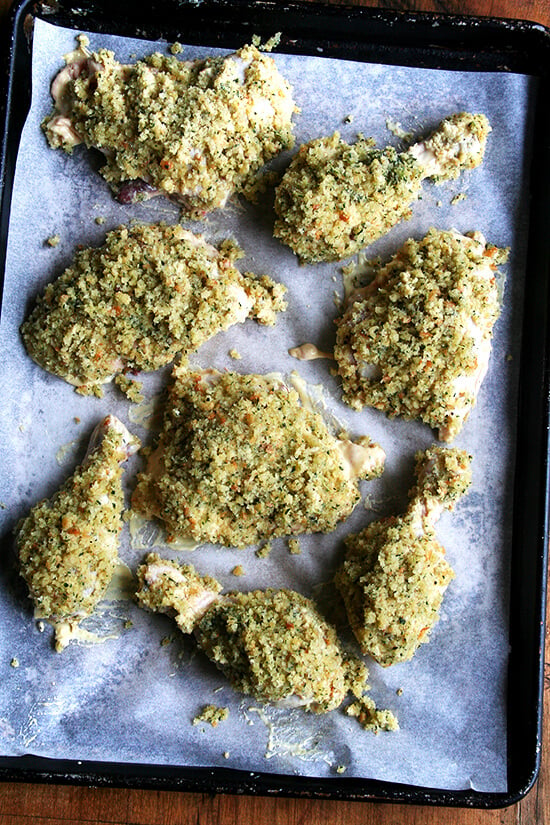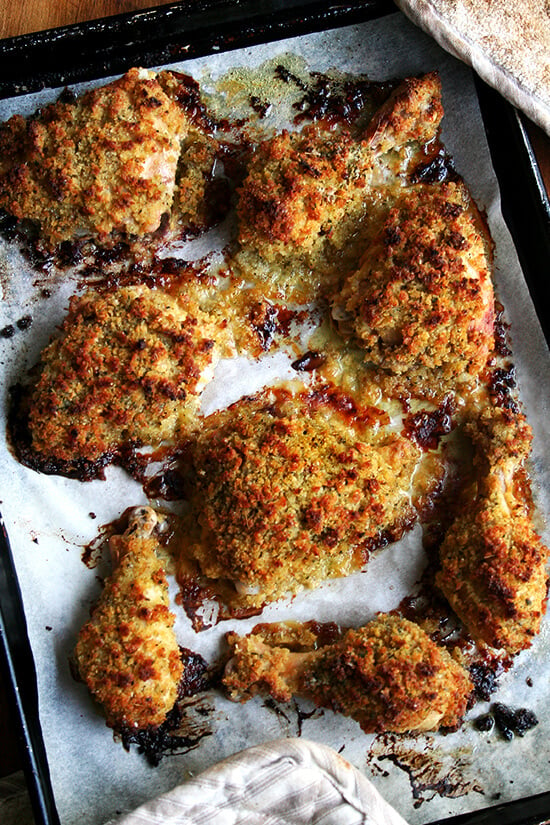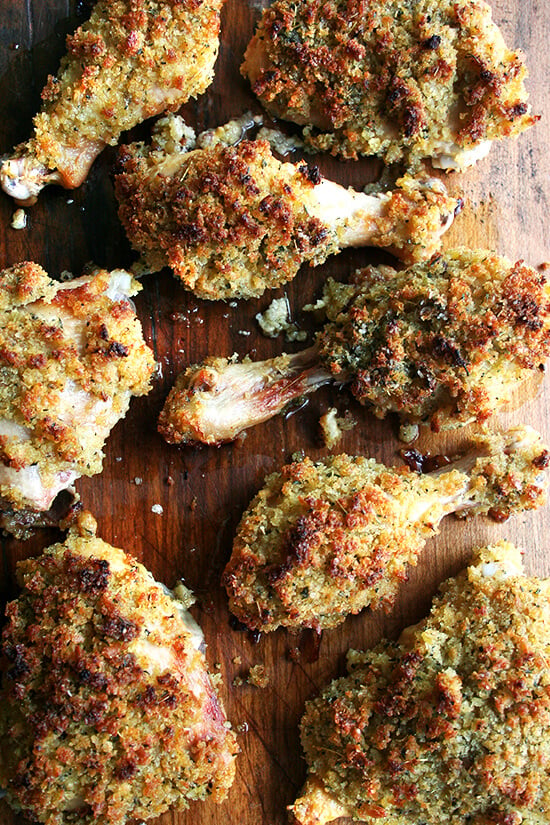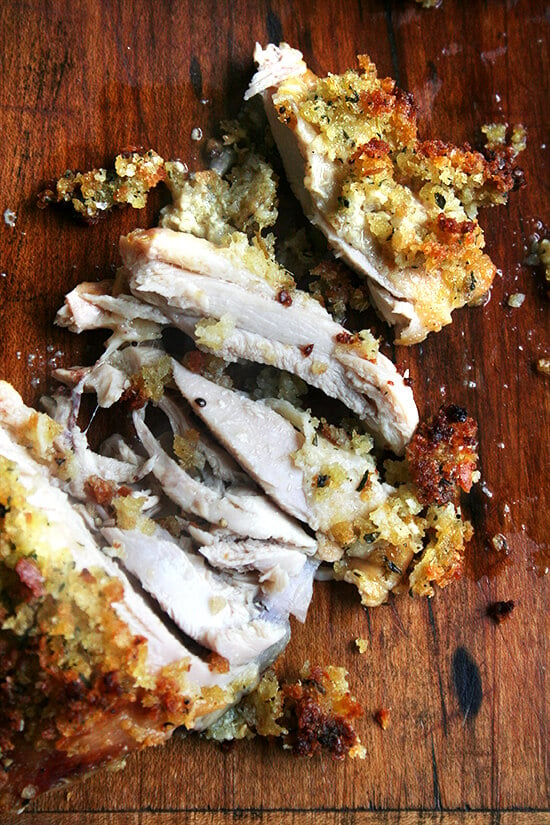 I've posted this video before, but since we're talking about cutting up chickens, I'm posting it again. One more relevant post: making the most of a whole chicken. And this post has more detailed instructions on cutting up the chicken.
These brown butter spoon cookies are completely irresistible: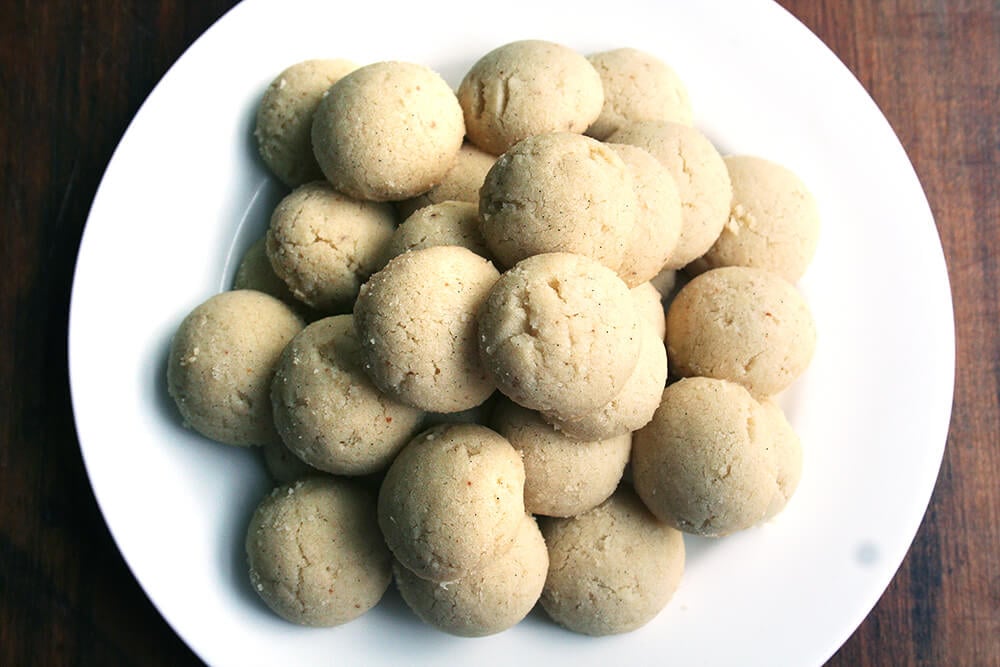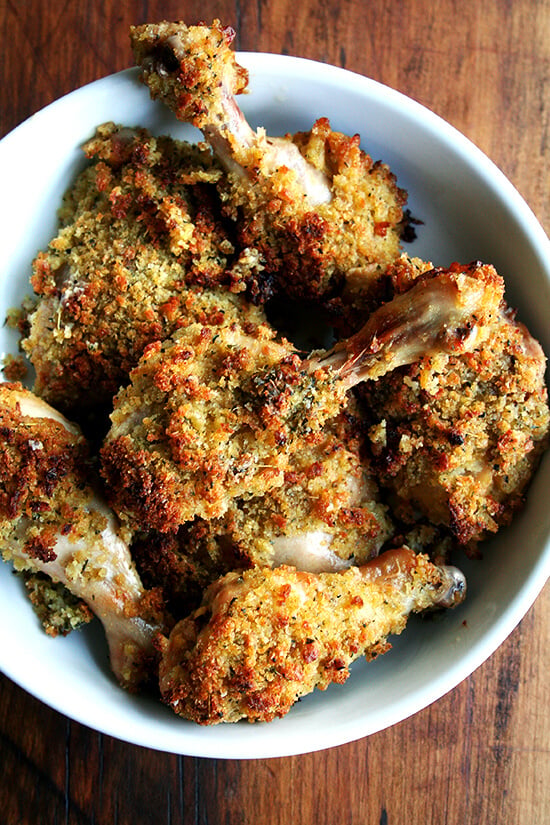 Print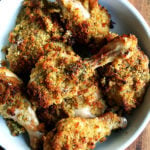 Ina Garten's Mustard-Roasted Chicken
---
Author:

Prep Time:

10 minutes

Cook Time:

40 minutes

Total Time:

50 minutes

Yield:

4

to

6

1

x
Description
Adapted from the Barefoot Contessa's Foolproof
You can find the original recipe online in various places, but these are the basic changes I've made: fresh bread crumbs versus panko; 4 tablespoons olive oil versus 2 tablespoons olive oil + 2 tablespoons butter; buttermilk versus white wine; 4 thighs and 4 drumsticks versus 1 chicken cut into 8 pieces; oven temp at 400ºF the entire time.
If you are up for a little adventure, this is what I suggest: Buy two chickens. Cut them up (video guidance here). Use the 4 thighs and 4 drumsticks here. Remove the breasts from the bones and make these tarragon chicken breasts on a subsequent evening. With the wings, necks, back bones and breast bones, make stock. After two hours of gentle simmering, pull the meat from the stock bones and make a simple chicken salad: mayonnaise + relish + a squeeze of lemon. Return the bones to the pot and gently simmer for another hour.
Also, if you feel like getting ahead, you can marinate the chicken in the mustard and buttermilk overnight or for a few hours; if you don't have time, don't worry. I made this for my in-laws without marinating the chicken at all, and they raved. Because the buttermilk is thicker than wine, I find the breadcrumbs stick to it better. If you marinate the chicken, too, the buttermilk definitely acts as a tenderizer.
---
Scale
Ingredients
4

bone-in, skin-on thighs and 4 bone-in, skin-on drumsticks

½ cup

Dijon mustard

½ cup

buttermilk

4

garlic cloves, peeled
a small handful fresh thyme leaves (if the strands are soft, no need to strip the leaves)
zest of

one

lemon
Kosher salt and freshly ground black pepper

2 cup

s fresh breadcrumbs

1/4 cup

olive oil
---
Instructions
Preheat the oven to 400ºF and place oven rack in the middle of the oven. In a small bowl, whisk together the mustard and buttermilk. Place the chicken in a large bowl and pour the mustard-buttermilk mixture overtop. Toss to coat.
Place the garlic, thyme strands (stems, if they are soft, and all), lemon zest, 1 1/2 to 2 teaspoons kosher salt (use 1.5 tsp if you are sensitive to salt), and 1 teaspoon pepper (or a few large cracks on the grinder) in a food processor fitted with the steel blade and process until the garlic is finely minced. Add the breadcrumbs and olive oil, and pulse a few times to moisten the breadcrumbs. Pour the mixture into a wide, shallow bowl or onto a large plate — something with sides is best.
Line a sheet pan with parchment paper (for easy clean-up — this is not necessary, but I like using parchment.) Dip each piece of chicken skin-side down only into the crumb mixture, pressing gently to make the crumbs adhere. Place the chicken on the sheet pan crumb-side up. After one or two pieces have been dipped, the crumb mixture might not adhere to the chicken as well. Just use your hands to press the remaining crumbs onto the chicken pieces.
Bake the chicken for 40 minutes. Check on the chicken. If necessary cook another five minutes or until the crumbs are browned. Let rest 5 to 10 minutes before serving. Serve hot, warm, or at room temperature.