Beatty's Chocolate Cake
This post may contain affiliate links. Please read my disclosure policy.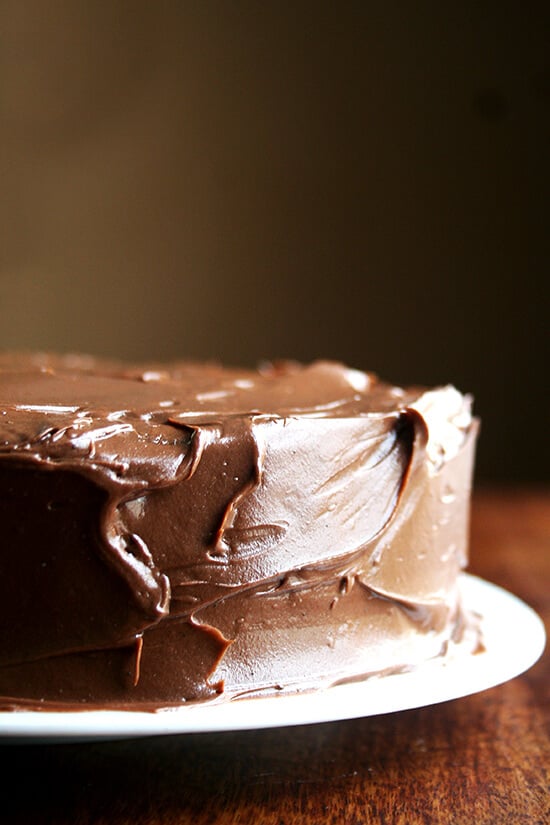 Earlier this month, upon realizing that I had officially become my mother, not only in my preferences, but also in how I impose my preferences on others — dark meat chicken, cakes without frosting — I decided it might be wise to branch out a bit, to bake a cake with not one but two layers and to guild it not with a delicate dusting of powdered sugar but with a slathering of silky frosting.
It was a healthy exercise. You see, I didn't know that frosting — chocolate buttercream in this case — has the ability to silence a table surrounded by both toddlers and adults and afterwards to elicit unprompted comments such as: "You are such a good cooker." This cake, made with buttermilk and oil — no butter — and exclusively cocoa — no melted chocolate — is incredibly light and moist and stays this way — tasting freshly baked — for days. It's another Ina Garten recipe, one she begged for from a friend, the grandson of Beatty, after taking one bite.
I'm so happy I branched out. Because while I am completely embracing that I am my mother's daughter, adoring almond tortes and torta capreses, I understand there is a time and a place for layers of cake and frosting. A silent table is always (or almost always) a sign of success.
Now, let's stay focused: Fair Trade. October is Fair Trade month, and like last year, I am sneaking in at the tail end to join the discussion. Let's review what Fair Trade means:
• Fair Trade helps farmers (more than 1.2 million worldwide) in developing countries build sustainable businesses that positively influence their communities.
• Products that bear the Fair Trade logo come from farmers and workers who are justly compensated.
• Fair Trade ensures that farmers follow internationally monitored environmental standards and also provides financial incentives and resources for organic conversion, reforestation, water conservation and environmental education.
• Fair Trade empowers women to play an active role in their families and in their co-ops by starting businesses with guaranteed access to health care, certain job rights and freedom from harassment.
• Fair Trade supports education with revenues set aside to build schools and maintain enrollment.
Earlier this year, Lake Champlain Chocolates earned Fair for Life – Social & Fair Trade Certification, a rigorous certification that looks at a company's practices as a whole, including the ingredients used in its products. All of LCC products are made from top-quality ingredients, and I particularly love the LCC unsweetened cocoa for baking, which I have on hand year round. This time of year, too, I stock up on LCC hot cocoa, both for me and to give as gifts. For the first giveaway, LCC will send one of you three tins of hot cocoa, one each of the Organic, the Mocha, and the Spicy Aztec.
For the second giveaway, Fair Trade will send one of you a beautiful cloth bag filled with Fair Trade goodies ranging from chocolate to vanilla extract to lip balm (details and photos below).
To enter the giveaway, just leave a comment below. Tell me what dish/food/tradition you most look forward to on Thanksgiving or anytime during this holiday season. Note: there are two givewaways here and so there will be two winners.
Update: The Giveaway is now closed. Congratulations: to Ridie Ghezzi and Kelly. I have emailed you.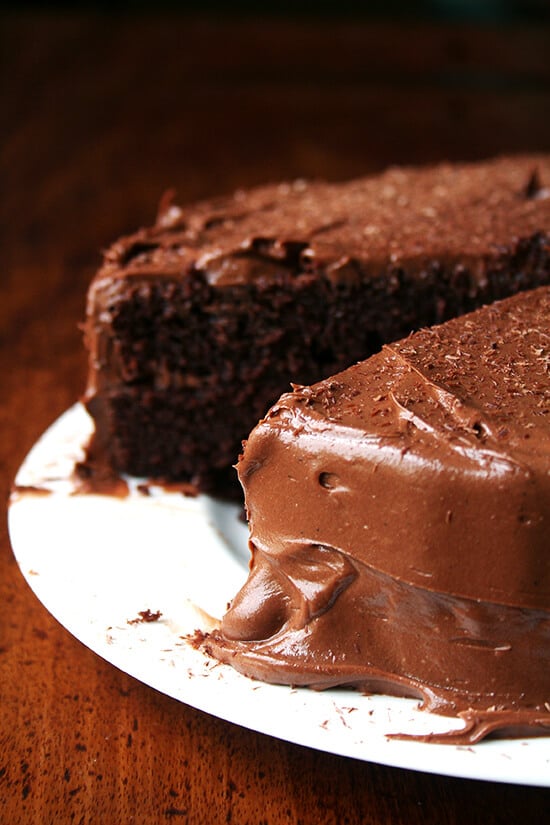 Giveaway #1: Three tins of Lake Champlain Chocolates Fair Trade hot cocoa:

Giveaway #2: From Fair Trade, a prAna cloth bag…

… filled with goodies: coffee (different than pictured below…I drank the Allegro and Just Love Coffee Roasters coffee before snapping a picture…sorry!), Honest iced tea, hot tea (Numi Tea and Rishi Tea), Frontier All-Natural vanilla extract, Eco Lips One World lip balm, Tcho chocolates and Alter Eco chocolate and truffles: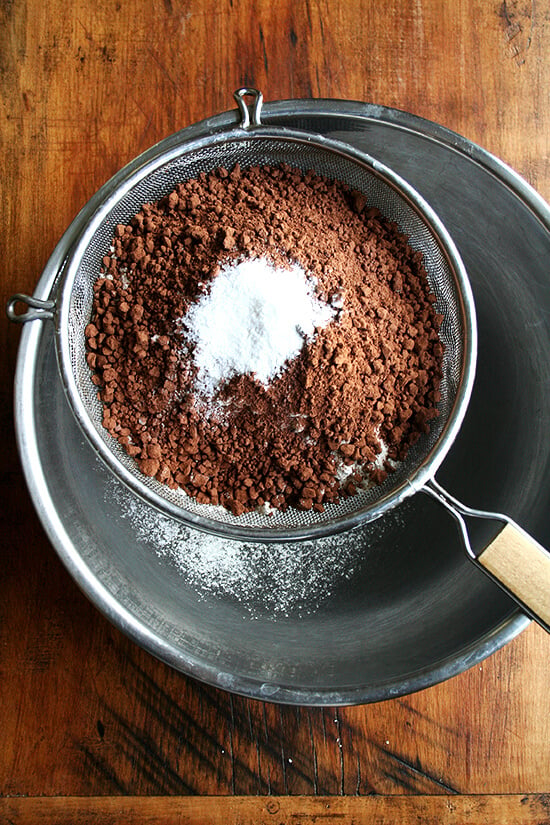 Sifting the dry ingredients: flour, cocoa, sugar, baking powder, baking soda, salt: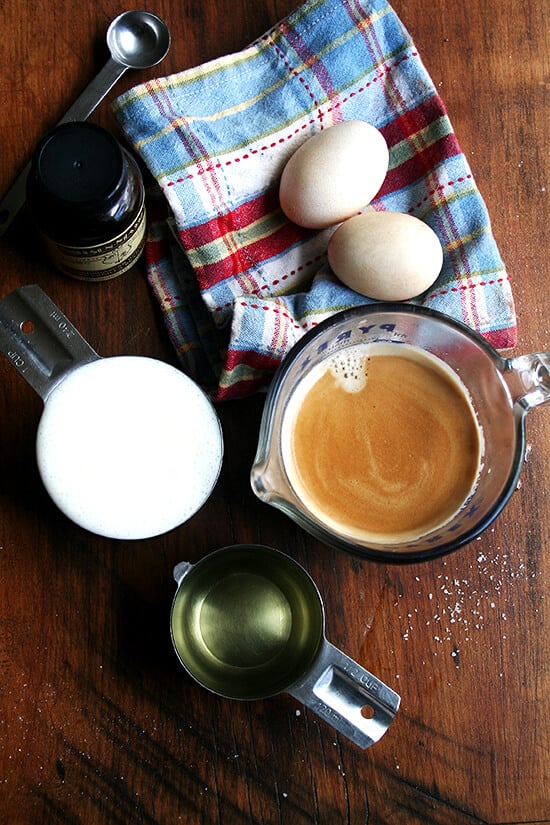 Wet ingredients: buttermilk, oil, eggs, vanilla, coffee:

A friend who had been reading Bouchon Bakery this summer introduced me to this vanilla bean paste. I'm a fan: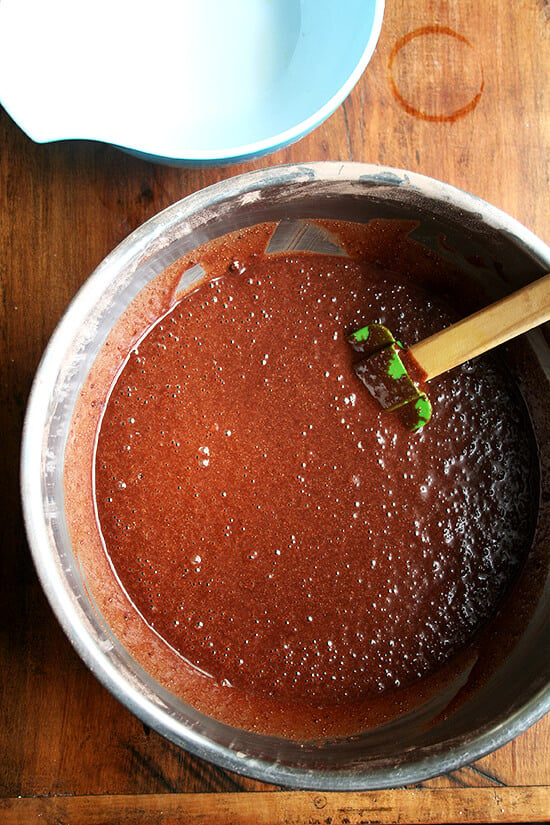 I saw the coolest trick on my PBS station, Create, for cutting a perfect circular cake pan liner. On a recent (for me at least) episode of Baking with Julia, Markus Farbinger, a chef from the CIA, teaches Julia how to make a most delectable looking Viennese poppy seed torte. As he's preparing his pans for baking, he lays a sheet of parchment paper on top of an upside down cake pan, rubs the back of his knife along the edge, and pops out a near perfect circle to lay in the inside of his pan. I found that to get a clean cut I needed to use something with a sharper edge, so I used the bottom of a tart pan with a removable bottom. If you don't have such a tart pan, try using the bottom of your cake pan — you might, at the very least, be able to score the parchment paper and finish it off with scissors: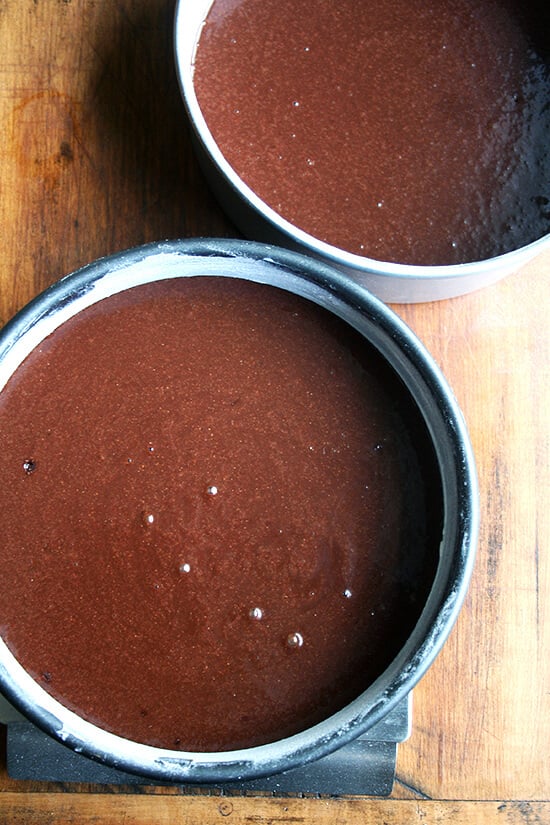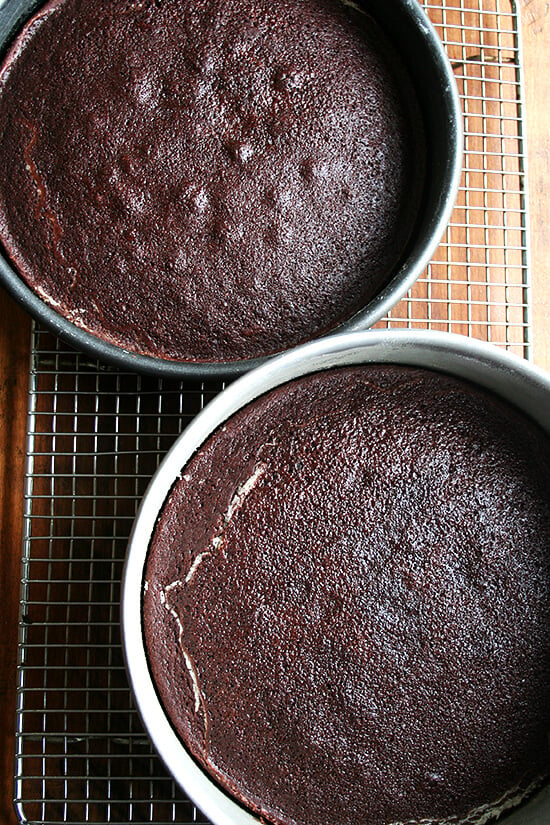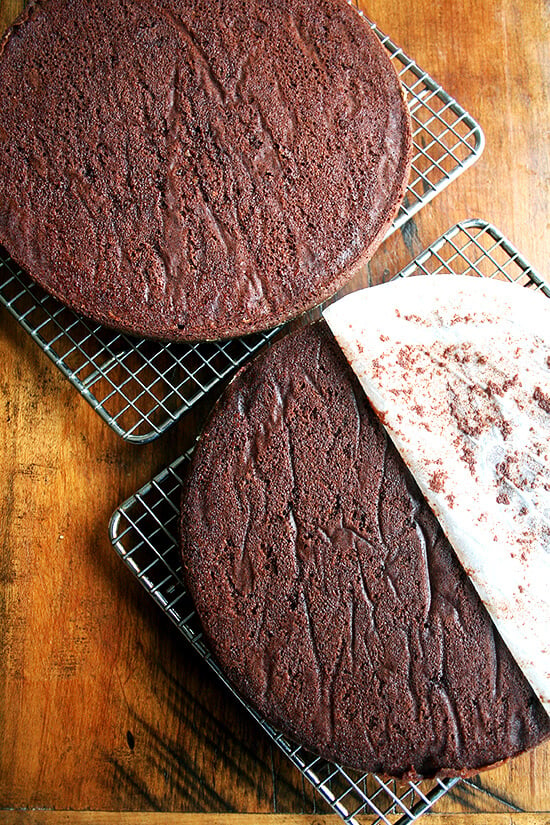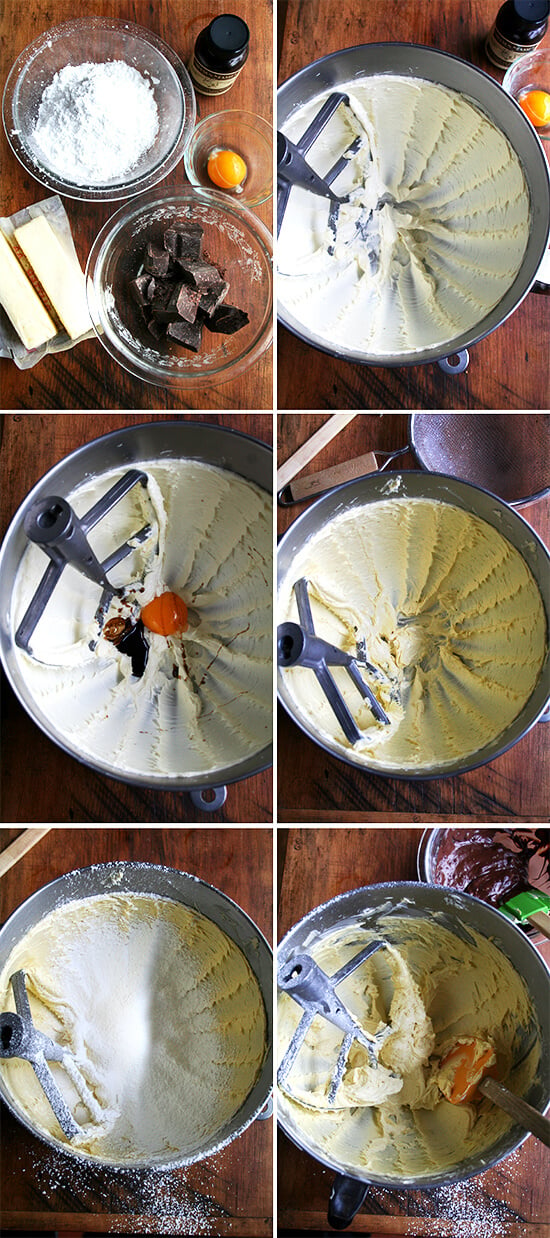 Making the chocolate buttercream: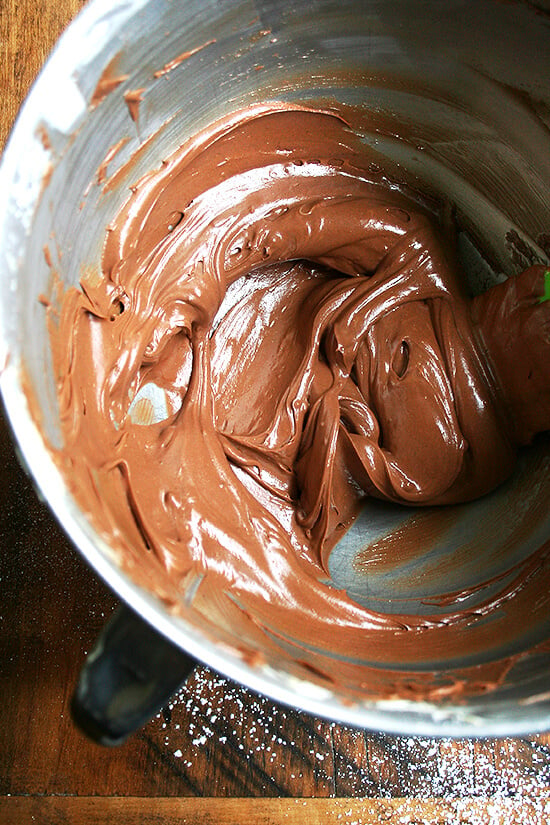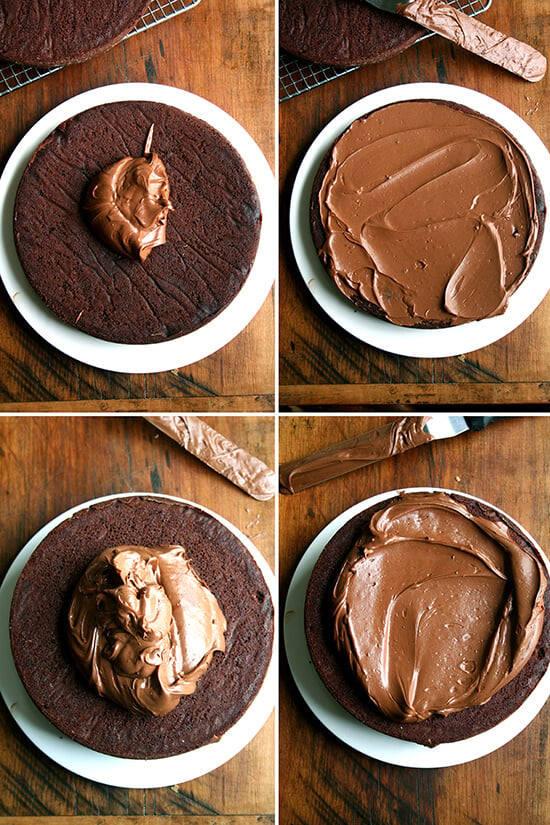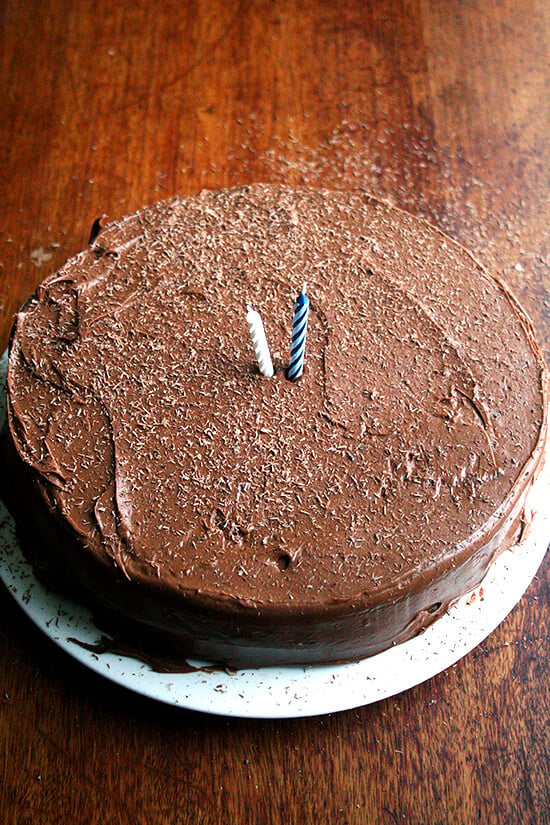 Print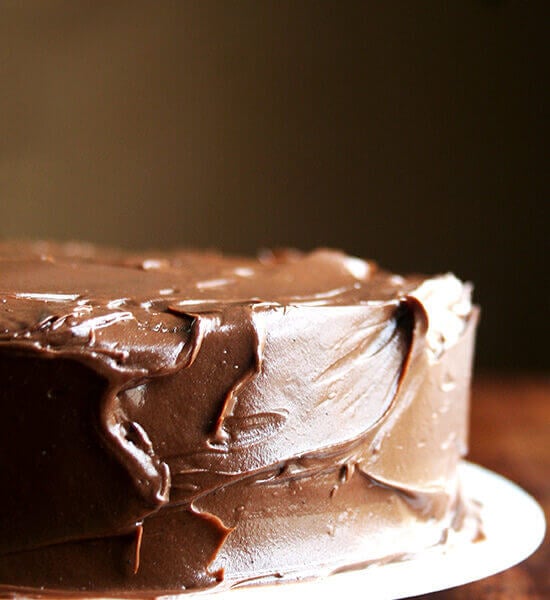 Beatty's Chocolate Cake
---
Prep Time:

20 minutes

Cook Time:

40 minutes

Total Time:

1 hours 45 minutes

Yield:

8 servings
Description
Source: Barefoot Contessa at Home
Confession: When I baked this cake over the weekend, I forgot to add the two teaspoons of baking soda, which is why these rounds look on the thin side in the photos above. If you decide to make this cake, you can look forward to layers twice as thick and twice as light. This is the third time I've made this cake this month, and of course I had to goof on the day I decided to take pictures. Anyway, without baking soda, this cake is still delicious, but the texture of the cake when it is made properly is SO light and lovely. Also, Ina makes this cake in the stand mixer, but it doesn't seem necessary, so I whisk by hand.
Also, this cake is similar to the double chocolate cake I made last year, which is richer and denser and also delicious. Not a chocolate fan? Angel Food Cake is a favorite birthday tradition in my family.
---
Butter, for greasing the pans

1 3/4 cups

(

7.75 oz

|

222 g

) all-purpose flour, plus more for pans

2 cups

(

14.75 oz

|

418 g

) sugar

3/4 cups

(

2.25 oz

|

66 g

) good cocoa powder

2 teaspoons

(

3/8 oz

|

10 g

) baking soda

1 teaspoon

baking powder

1 teaspoon

kosher salt

1 cup

buttermilk, shaken

1/2 cup

vegetable oil

2

extra-large eggs (

98 g

) at room temperature

1 teaspoon

pure vanilla extract or vanilla bean paste

1 cup

freshly brewed hot coffee
Chocolate Buttercream, recipe follows
---
Instructions
Preheat the oven to 350 degrees F. Butter two 8-inch x 2-inch round cake pans. Line with parchment paper, then flour the pans.
Sift the flour, sugar, cocoa, baking soda, baking powder, and salt into a large mixing bowl. Whisk until combined. In another bowl, combine the buttermilk, oil, eggs, and vanilla. Add the wet ingredients to the dry. Add the coffee and stir just to combine. Batter will be really thin. Pour the batter — if you feel like being really precise, pour about 690g of batter into each pan — into the prepared pans and bake for 35 to 40 minutes, until a cake tester comes out clean. Cool in the pans for 30 minutes, then turn them out onto a cooling rack and cool completely.
Place 1 layer, flat side up, on a flat plate or cake pedestal. With a knife or offset spatula, spread the top with frosting. Place the second layer on top, rounded side up, and spread the frosting evenly on the top and sides of the cake.
---
Print
Chocolate Buttercream
---
Prep Time:

15 minutes

Cook Time:

5 minutes

Total Time:

20 minutes
6 ounces

good semisweet chocolate (Ina recommends Callebaut.)

1/2

pound (2 sticks) unsalted butter, at room temperature

1

extra-large egg yolk, at room temperature

1 teaspoon

pure vanilla extract

1 1/4 cups

(

5 3/8 oz

|

152 g

) sifted confectioners' sugar

1 tablespoon

instant coffee powder (optional — I skipped this)
---
Instructions
Chop the chocolate and place it in a heat-proof bowl set over a pan of simmering water. Stir until just melted and set aside until cooled to room temperature. Alternatively: Melt in the microwave at 30 second to 1 minute intervals until spreadable.
In the bowl of an electric mixer fitted with a paddle attachment, beat the butter on medium-high speed until light yellow and fluffy, about 3 minutes. Add the egg yolk and vanilla and continue beating for 3 minutes. Turn the mixer to low, gradually add the confectioners' sugar, then beat at medium speed, scraping down the bowl as necessary, until smooth and creamy. If you are adding the coffee, dissolve the powder in 2 teaspoons of the hottest tap water. On low speed, add the chocolate and coffee to the butter mixture and mix until blended. Don't whip. Spread immediately on the cooled cake.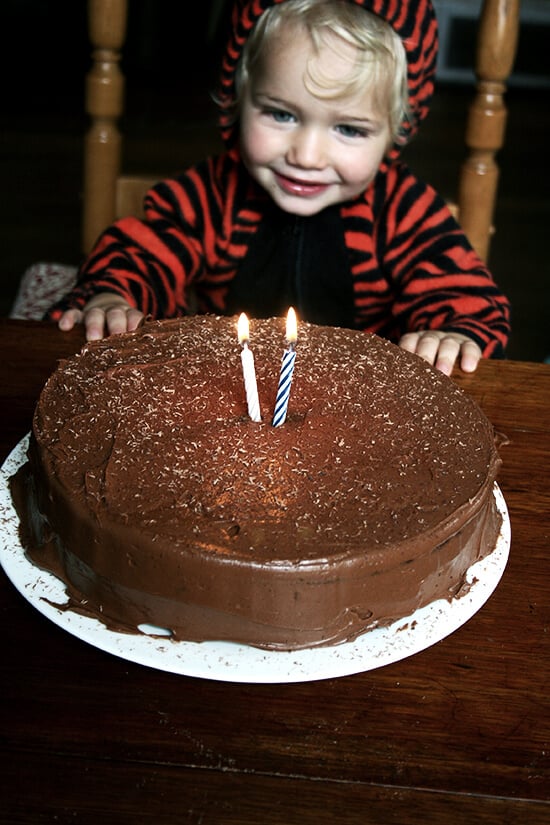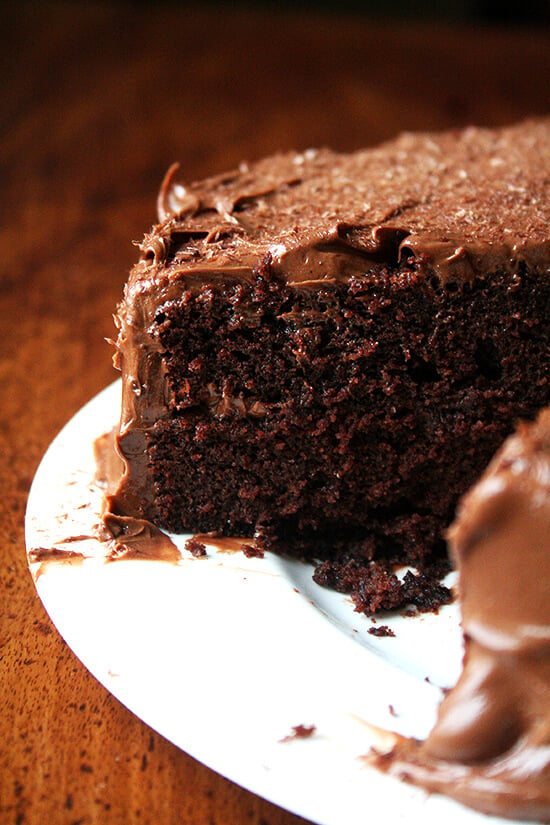 This post may contain affiliate links. Please read my disclosure policy.