White Bean, Escarole & Sausage Soup
This post may contain affiliate links. Please read my disclosure policy.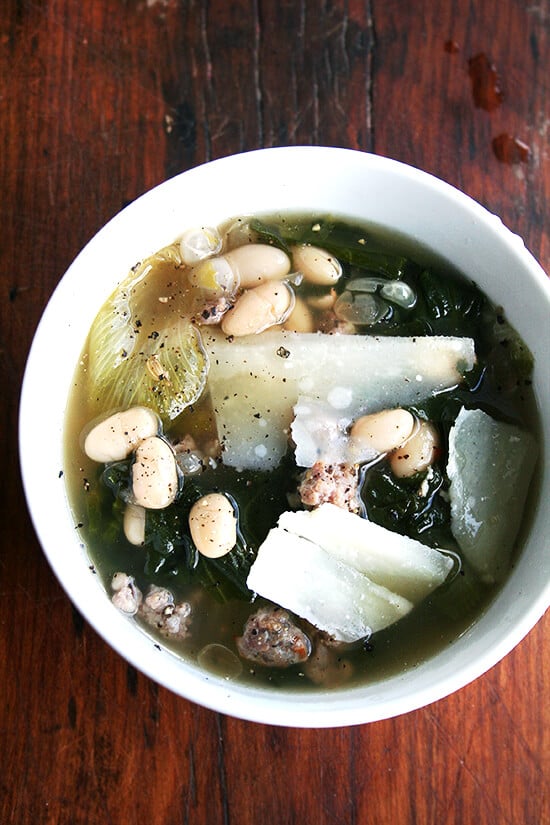 There is a not-so-little known deli in my town called Gershon's, and the first time Ben and I stopped in, we found ourselves in the to-go line staring up at the overwhelming menu board during the midday rush, the trail of hungry regulars growing behind us with every passing second, the decision of what to order becoming harder with every beep-beep-beep of the opening front door.
Fortunately, the man standing behind us offered us guidance, telling us to order the #1, a corned beef and pastrami sandwich, the one he orders every week, the one he has ordered every week since discovering Gershon's 21 years ago. It seemed like a safe bet.
Served on rye bread, this sandwich, buckling with meat, dripping with Russian dressing, spilling with slaw, couldn't have been more delicious. And as we chomped on our pickles and picked at our chips, we wondered if we too might fall into the #1-for-life routine. But fortunately, something happened — the weather turned — and when we found ourselves at Gershon's again, this time to dine-in on a Saturday afternoon, we decided to warm up with a cup of the daily soup, white bean with escarole and sausage.
I wasn't surprised that we loved the soup — what's not to love about the classic combination of bitter greens with beans and sausage? — but I was surprised about what we loved most about the soup: the broth, which was light and pure tasting. When I returned a few days later to pick up a quart of the soup to-go, I asked how it was made, and I was told there was nothing to it: no additional spices, so secret vegetables. The broth, they told me, gets most of its flavor from the sausage spiced with crushed anise and fennel seeds along with crushed red pepper flakes.
I've been making this soup at home now for a few weeks, and as long as I have homemade stock in the freezer and cooked beans on hand, it's a snap to throw together. And like so many soups and stews, this one tastes better with every passing day in the fridge, no doubt a result of the seasonings in the sausage permeating the broth.
Friends, it is COLD out there. Like frost-on-the-windshield cold, hat-and-mittens-on-in-the-house cold, hot-chocolate-and-biscotti-every-afternoon cold, soup-and-bread-for-dinner cold. Go on, soak those beans, make some stock, chop that escarole. Nothing will warm you up faster. Have a great weekend.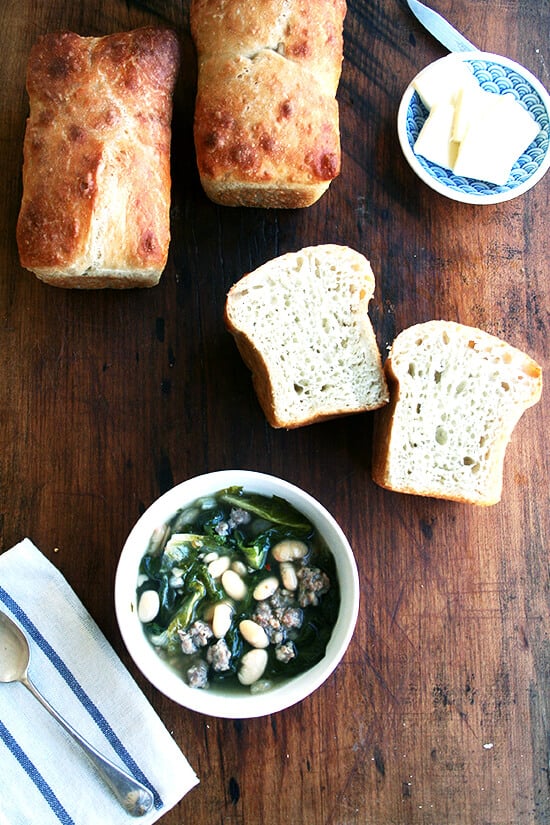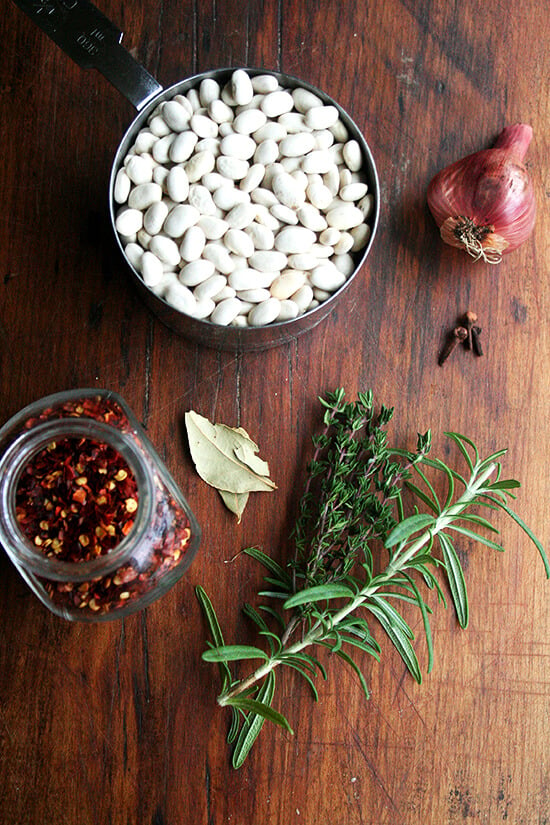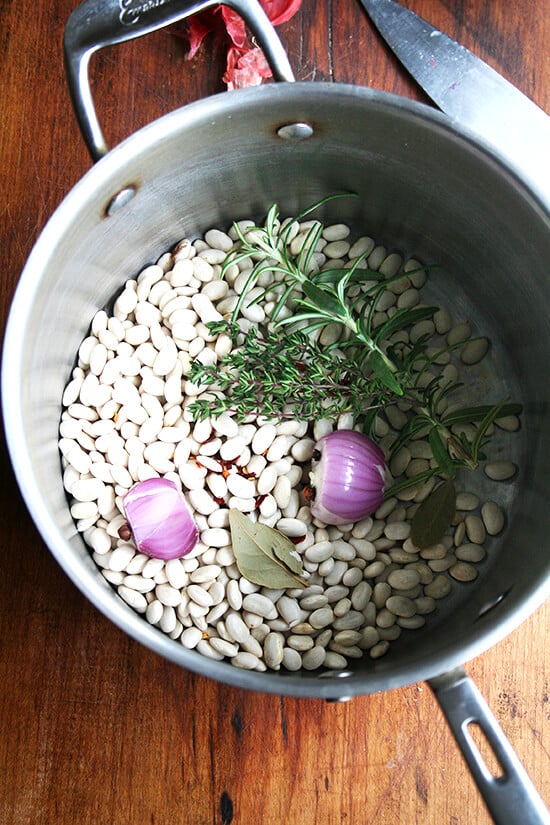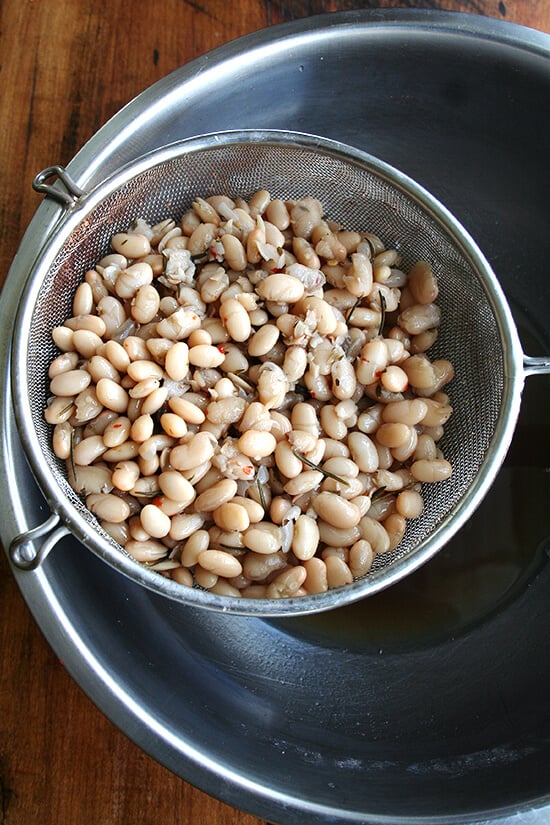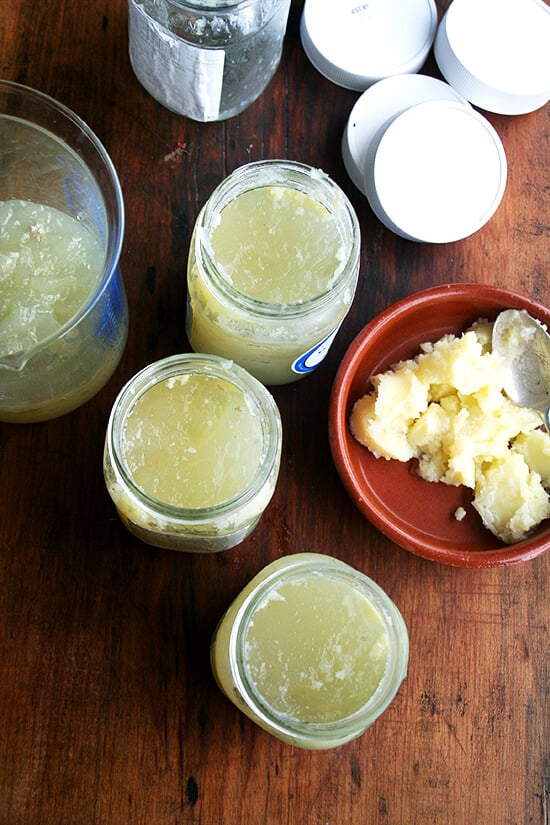 As you all know, the key to making good soup is starting with good stock. And if it looks like this — nice and giggly — once it has completely cooled and its layer of fat has been removed, chances are you've got a flavorful stock on your hands: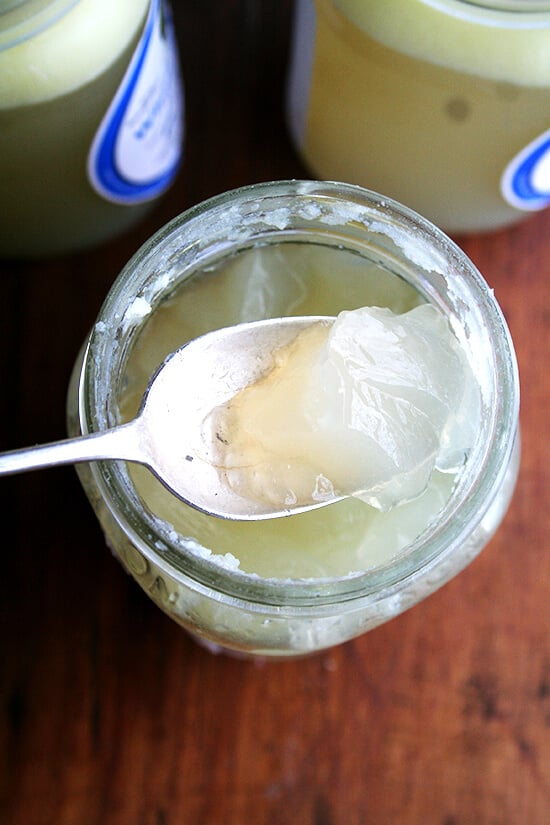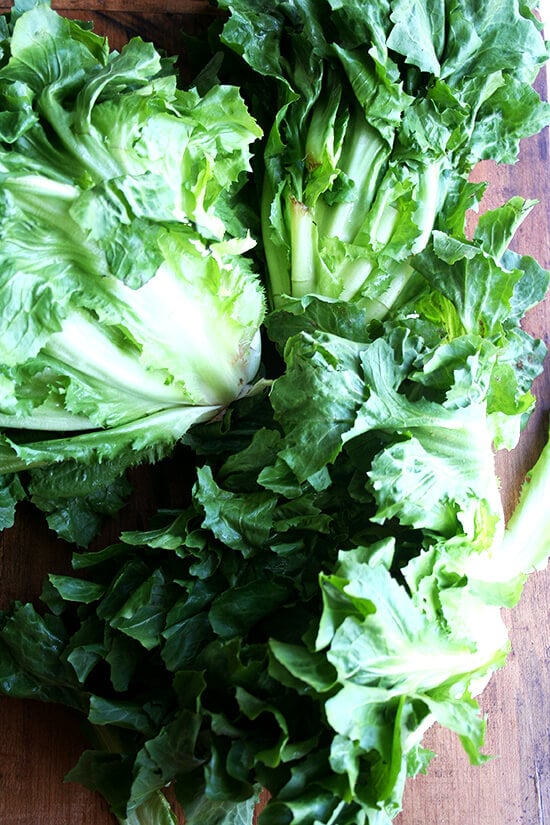 Escarole is super dirty; be sure to soak it in some cold water to let the dirt settle: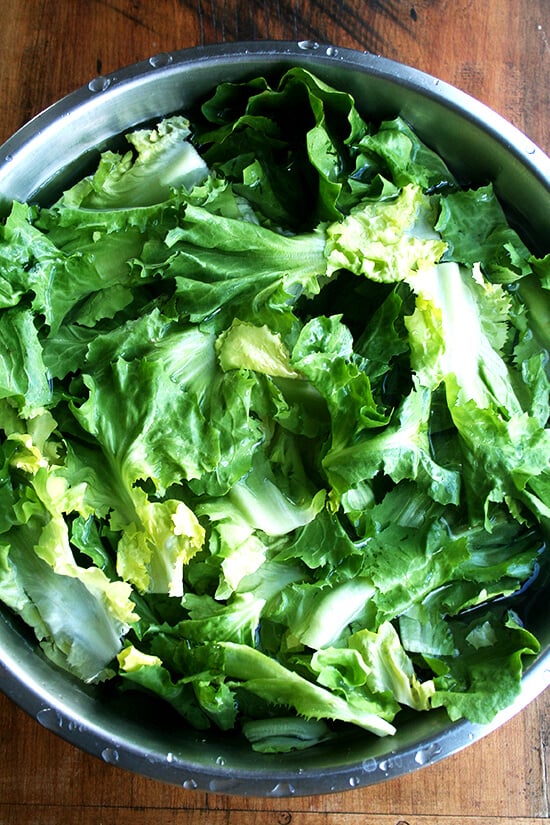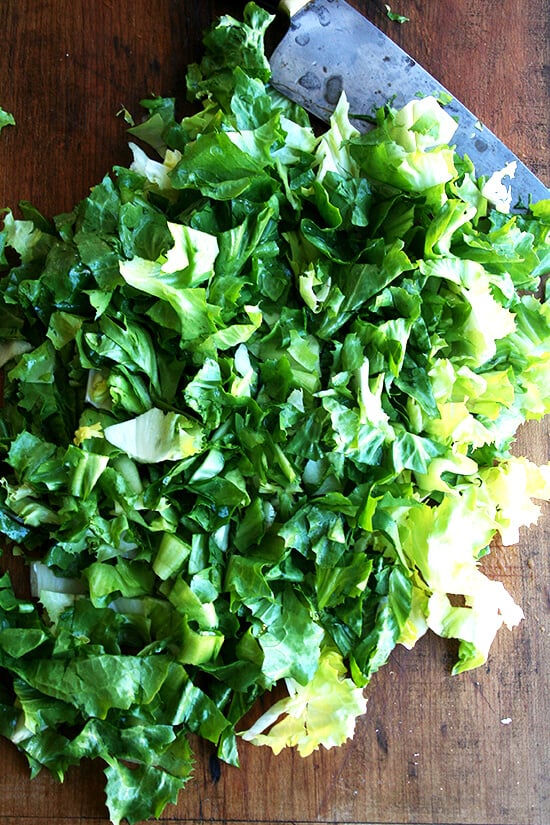 Sausage from Bella Terra Farm at the Sunday Schenectady Green Market:

And if you're making soup, you may as well make a few loaves of bread. These are mini loaves of the peasant bread — just divide the dough into thirds and bake in mini loaf pans: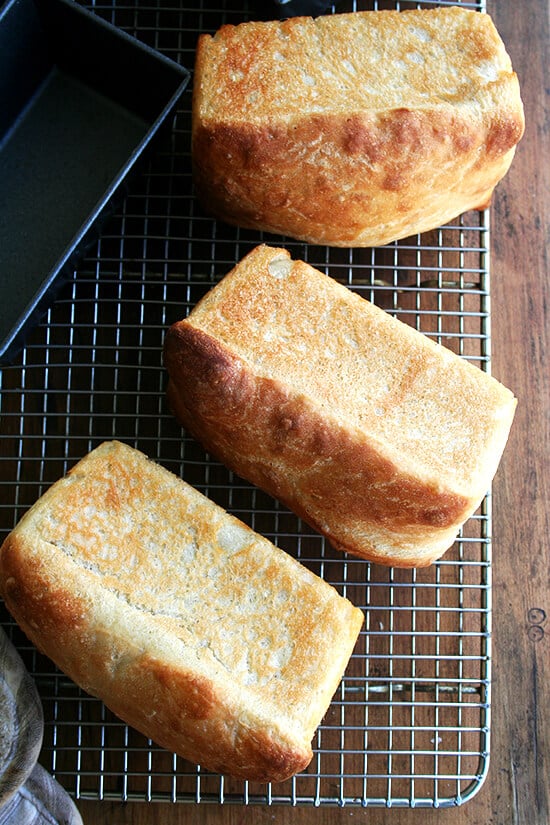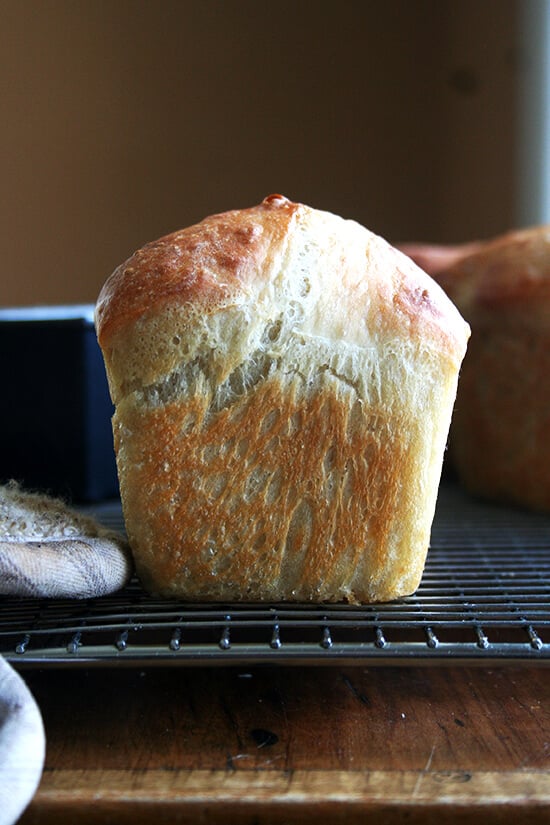 If you have leftover beans, store them in their cooking liquid. And if you have leftover escarole, you can make the classic sautéed greens with cannellini beans: sweat a sliced onion over medium heat; increase the temperature to high; add the washed, slightly wet escarole; season with salt and crushed red pepper flakes; toss with tongs every so often; add white beans (with a splash of their cooking liquid); toss and season to taste.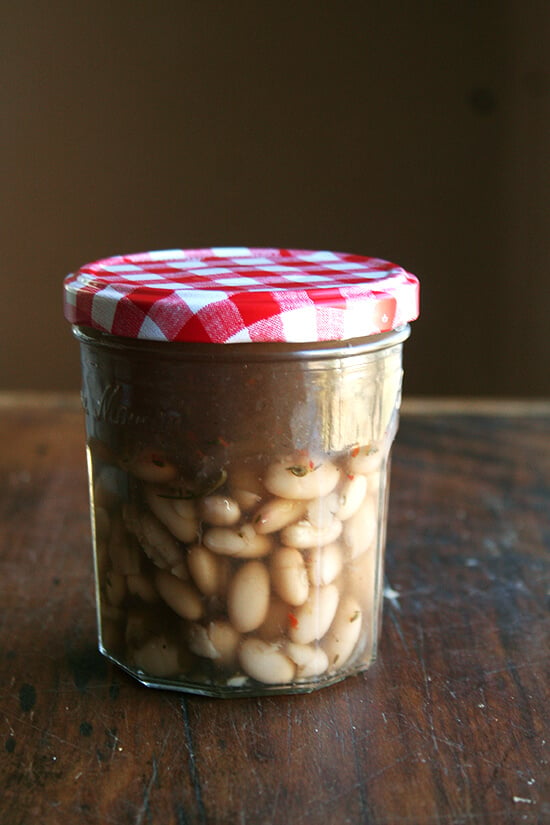 Print
White Bean, Escarole & Sausage Soup
---
Description
Note: If you don't have stock on hand or cooked white beans on hand, this isn't the fastest soup to throw together. But if you do, you're golden. I suggest making the stock one day — I like to make it after dinner, especially after a chicken dinner when I can throw the roasted chicken bones as well as any other uncooked chicken bones or parts into the pot. And while the Health Department probably wouldn't approve, I always just turn off the stove after it has simmered for three hours, cover it, and deal with straining it and bottling it till the morning.
The beans are easy enough to cook the same day you make the soup, but if you cook them ahead, just store them in their cooking liquid in the fridge or freezer until you are ready to use them. Also, I always forget to soak them, but it really doesn't matter.
---
6

to

8

cups homemade chicken stock (recipe below)

1/2

lb. to 1 lb. escarole, depending on tastes

1

lb. hot Italian sausage, removed from casing

2

to

3

cups cooked white beans (recipe below or from

two

15-oz cans, drained and rinsed)
kosher salt and pepper to taste
Parmigiano Reggiano for serving
---
Instructions
Place stock in a large soup pot and bring to a very gentle simmer. If you have a rind from a wedge of Parmigiano or Pecorino or something of the like, drop it into the stock. Meanwhile, cut the core end of the escarole off and place the leaves in a large bowl filled with cold water. Let sit for at least 5 minutes. Scoop the leaves out and place in a colander. Roughly chop the leaves — you don't want the leaves to be teensy, but you don't want them to be so large that they are falling out of your spoon either.
Meanwhile, brown the sausage over medium heat in a skillet. (No need to add any oil to the pan to brown it — the fat from the sausage should be enough.) Once it is mostly cooked through, transfer it to a paper-towel lined plate to drain.
Add 2 cups of white beans to the soup pot. Add a half pound of the escarole to the pot. Pat it down with a wooden spoon so that it's submerged. Once it has wilted, add the sausage. Stir. If the soup looks like it needs more beans and greens, add them; if you like your soup on the brothier side, let it be. (Note: I add the full pound of greens and 3 cups of beans.) Simmer 15 minutes.Taste the broth. Add salt and pepper to taste. Note: This soup gets better with every passing day. As it sits in the fridge, the sausage (and the Parmigiano rind if you are using it) really flavors the broth.
Prep Time:

10 minutes

Cook Time:

25 minutes

Category:

Soup

Method:

Stovetop

Cuisine:

Italian
Keywords: Italian, white, bean, soup, sausage, escarole
Print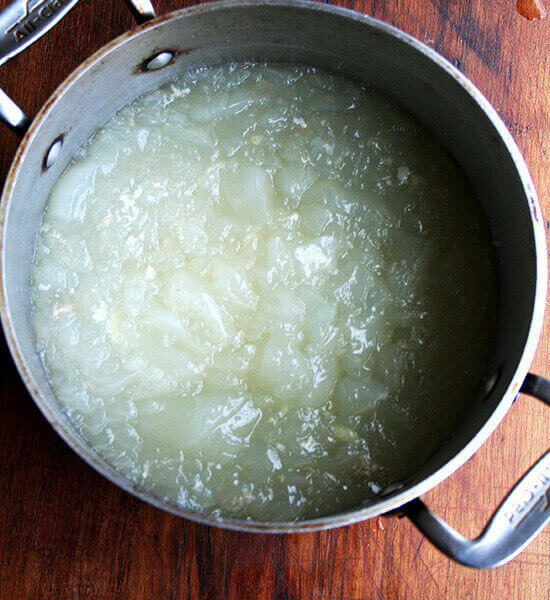 Homemade Chicken Stock
---
Description
Making stock is as simple as throwing chicken bones/parts in a pot, covering them with water, and letting them simmer for a few hours. Additions such as onions, carrots, celery, bay leaves, peppercorns, etc., of course, enhance the flavor of the stock, but if you don't have them on hand, don't worry. You can make stock with chicken bones/parts exclusively — no vegetables, no spices. The above-pictured jars of stock in fact were made without anything but bones and chicken.
The below recipe is what my mother taught me, and if you are making stock with the end goal of soup (versus rice/casseroles/gratins/etc.) in mind, I recommend making the effort to get some vegetables and spices in the pot.
---
3

lbs chicken, such as a whole chicken or wings or legs or just bones

2

stalks celery

2

carrots

1/2 tsp

. whole peppercorns

1

bay leaf

1

onion, cut in half, studded with 4 cloves total (

2

in each half)
---
Instructions
Place chicken or chicken bones into a large pot. Add remaining ingredients. Cover with cold water. Bring to a boil, then turn down the heat so that the water is gently simmering. Scoop off and discard any scum that bubbles up at the surface. Let simmer for about 2 hours.
Place a colander over a large bowl. Pour contents of stock pot through the colander. Discard all of these pieces once they have cooled. Transfer stock to storage containers and place in the fridge overnight or until completely chilled and fat has formed a solid layer at the top of the container. Scoop off this fat and discard. Freeze stock or store in fridge for at least a week.
Prep Time:

5 minutes

Cook Time:

2 hours 10 minutes

Category:

Stock

Method:

Stovetop

Cuisine:

American
Keywords: homemade, chicken, stock, simple
Print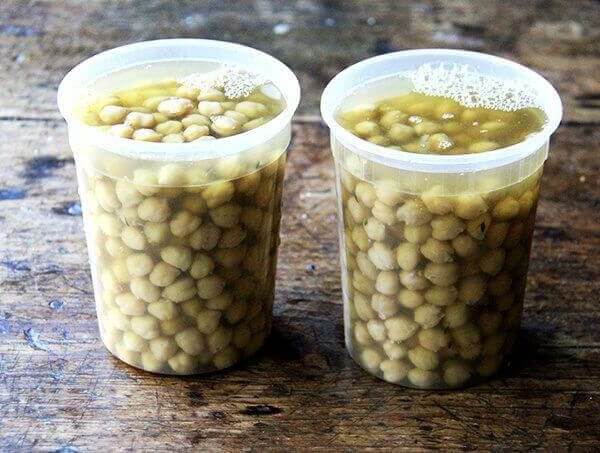 How to Cook Beans and Chickpeas from Scratch
---
Description
Adapted from Cook's Illustrated's The Science of Good Cooking
See post above if you wish to cook your beans in an Instant Pot or slow cooker. 
---
1

lb. dried chickpeas or beans

3 tablespoons

+

1.5 teaspoon

kosher salt

1

small onion, halved through the core

1

bay leaf

1/4 cup

olive oil
a few sprigs thyme, optional

1

clove garlic, smashed, optional

1 teaspoon

, crushed red pepper flakes, optional
---
Instructions
Place the chickpeas or beans in a large bowl and cover with water by at least 3 inches. Add the 3 tablespoons of salt and stir to dissolve. Let sit at room temperature overnight or for 8 to 10 hours at least.
Drain, rinse and place in a large pot with the remaining 1.5 teaspoons of salt and the remaining ingredients. Cover with water by three inches. Bring to a boil, then lower heat and cook at a gentle simmer for about 45 minutes or until the beans are cooked through. Note: Add water as need to ensure the beans/chickpeas are completely covered with water the entire time. Also, times will vary considerably depending on the type and age of your beans. It may take more or less than 45 minutes.
Let beans cool in their cooking liquid. Discard thyme sprigs, bay leaf, and onion. Store beans in their cooking liquid for 5 to 7 days in the fridge or up to 3 months in the freezer.
Prep Time:

10 hours

Cook Time:

1 hour

Category:

Beans

Method:

Boil

Cuisine:

American
Keywords: chickpeas, beans, legumes, scratch, brining
This post may contain affiliate links. Please read my disclosure policy.