Applesauce-Yogurt Cake + Homemade Applesauce
This post may contain affiliate links. Please read my disclosure policy.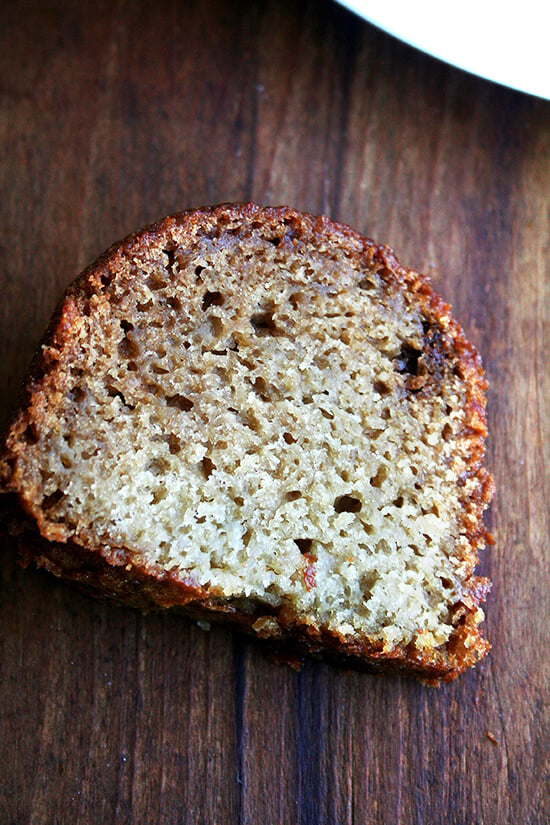 I don't know how anyone could find fault in something as delectable as Teddie's apple cake, as fun as the big apple pancake, or as glorious as the Balzano apple cake, but I happen to live with a few such people. And I know I shouldn't take offense to a three-year old's aversion to "texture" of any kind, but when I see a piece of cake picked to pieces, apples and crumbs scattered across the plate, my blood pressure rises.
In an effort to please these little beings — seriously, there's nothing like a toddler's behavior at the dinner table to shatter my confidence in the kitchen — I called my old neighbor, Geri, from Virginia, to get her recipe for applesauce-yogurt cake, something she always seemed to have on hand this time of year, a cake my children (and I) couldn't get enough of when we found ourselves across the street at her house.
Geri started making this cake years ago when her father, who loved sweets, was advised to watch his diet. She found the recipe in some sort of low-fat, heart-healthy cookbook/website and has been making it ever since — for her father, for her own family, for her friends, for nearly every fall gathering and holiday.
Made with 1 1/4 cups yogurt and 1 3/4 cups applesauce, this cake is one of the moistest cakes I have ever made, and I can assure you it does not taste like diet food in any shape or form. And unlike some cakes that get moister the day after they are baked, this one is moist immediately, no doubt a result of the quantity of applesauce and yogurt. Moreover, it bakes beautifully and evenly every time — I don't know why I don't use my Bundt pan more often — and it looks pretty to boot.
Are you expecting company next week? This might be a good little thing to have on hand. It takes no time to throw together — you absolutely do not need to make the applesauce — and it's the kind of thing that can be enjoyed at any point in the day, early in the morning with coffee, later in the afternoon with tea. Have a wonderful weekend, Everyone.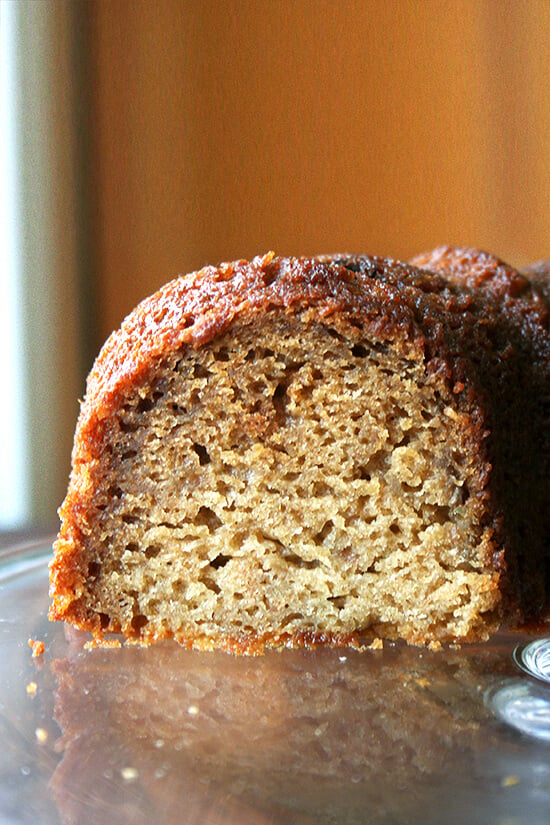 Can you believe the color of this applesauce? It doesn't always turn out quite this brilliantly — see photos of other batch below — but the key to getting a beautiful pinkish hue in your applesauce is to 1. Leave the skin on the apples when you make the sauce and 2. Use the right kind of apples. I've been using Empires, which consistently produce a beautifully colored, not-so-sweet sauce. The skin on the Empires I used for this batch were particularly deep red in hue. Macintosh apples will also create a nice pink sauce.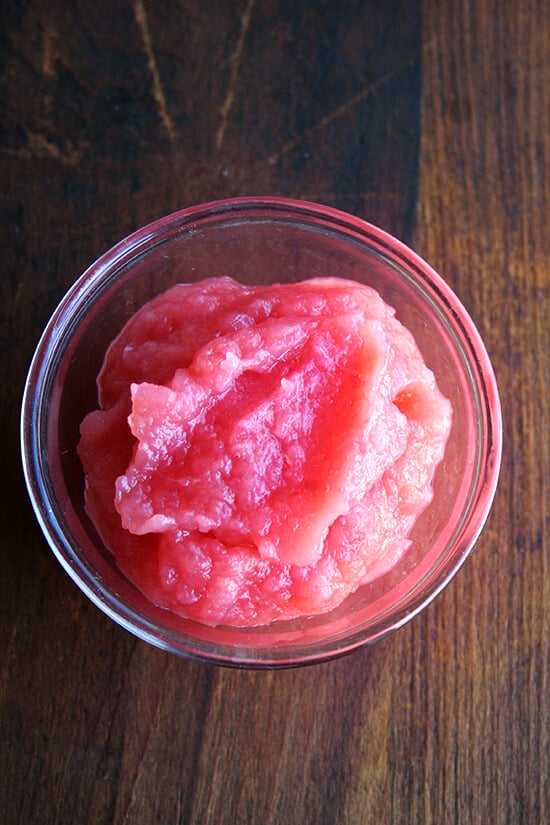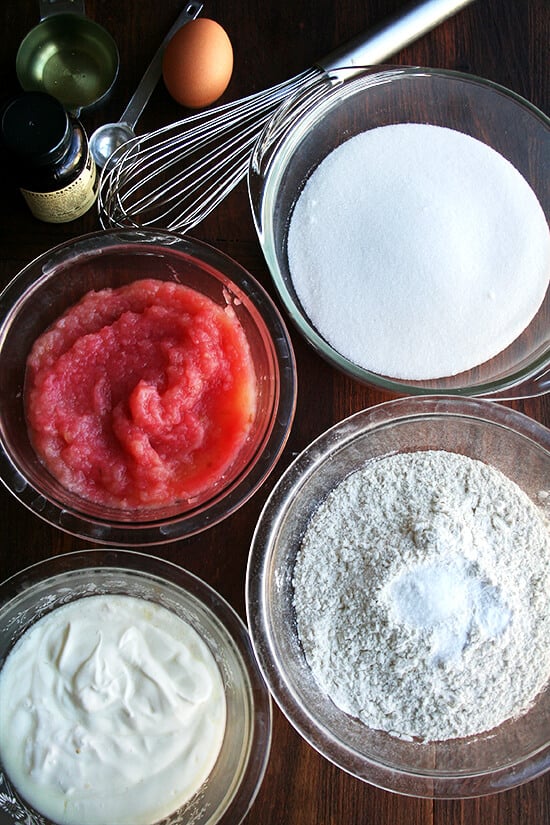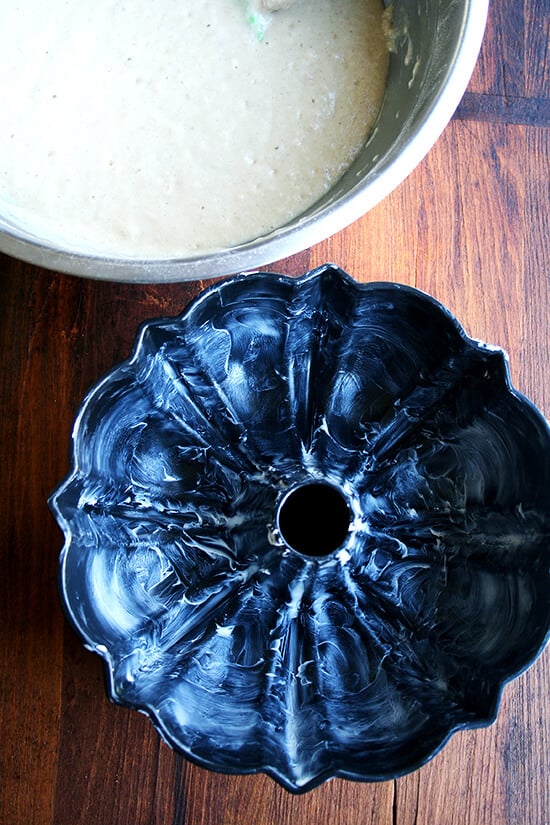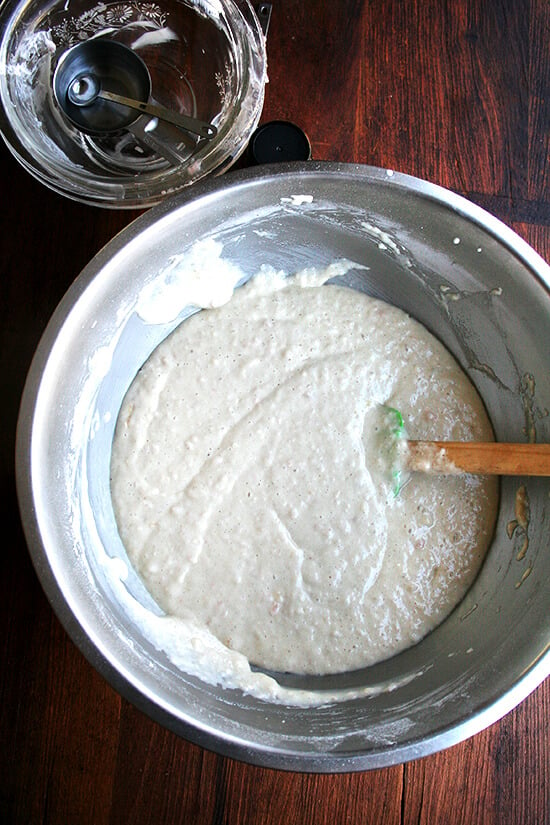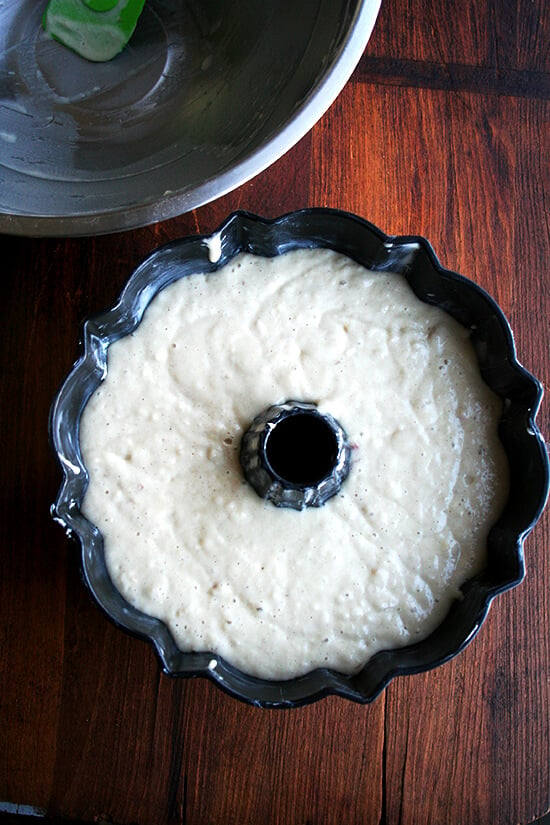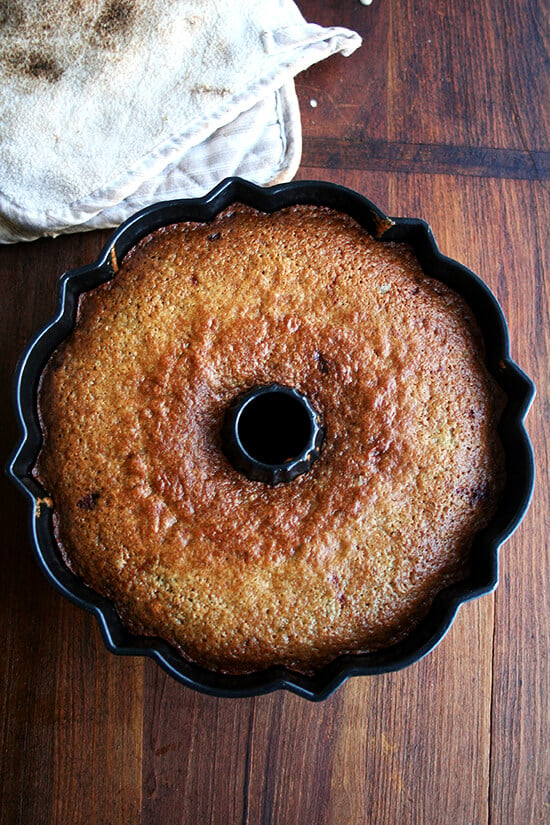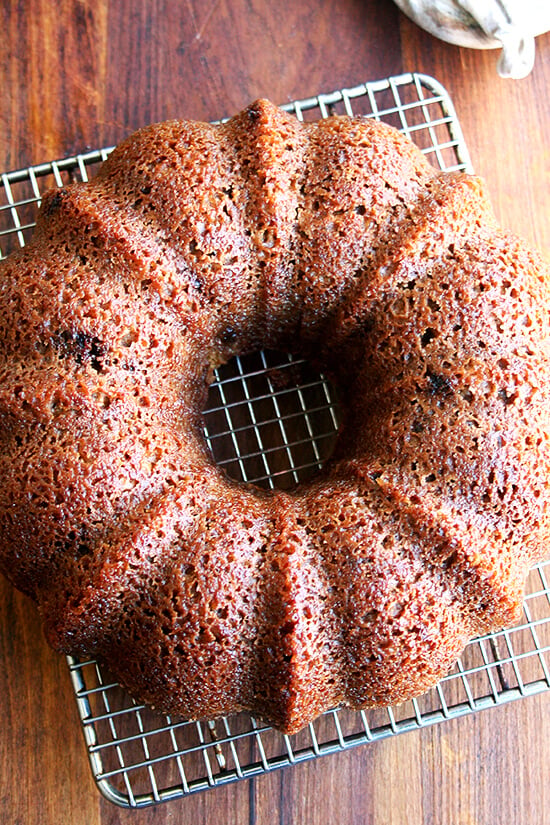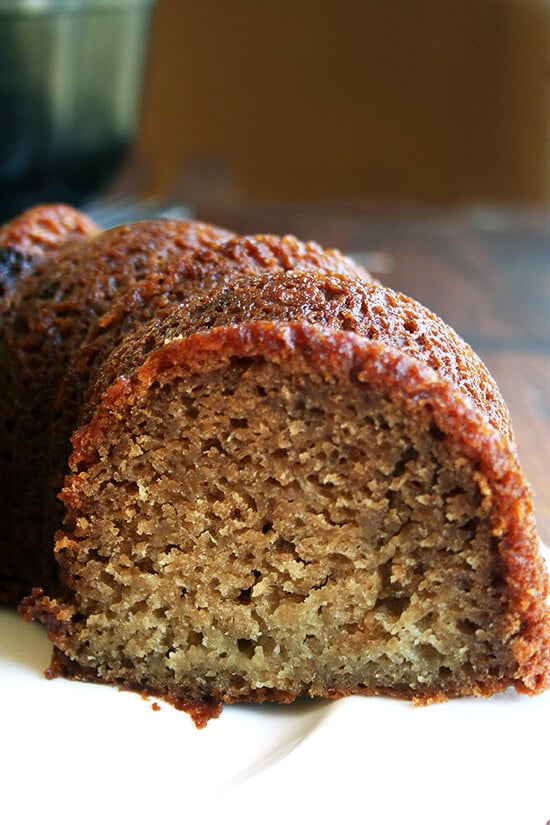 You know that you don't need anything more than apples and water to make a good applesauce, right? There really is no reason to add extra sugar or spice or juice. If your finished sauce is on the tart side, you of course can add a little bit of sugar, but I never do. In case you need an applesauce-making refresher, here you go: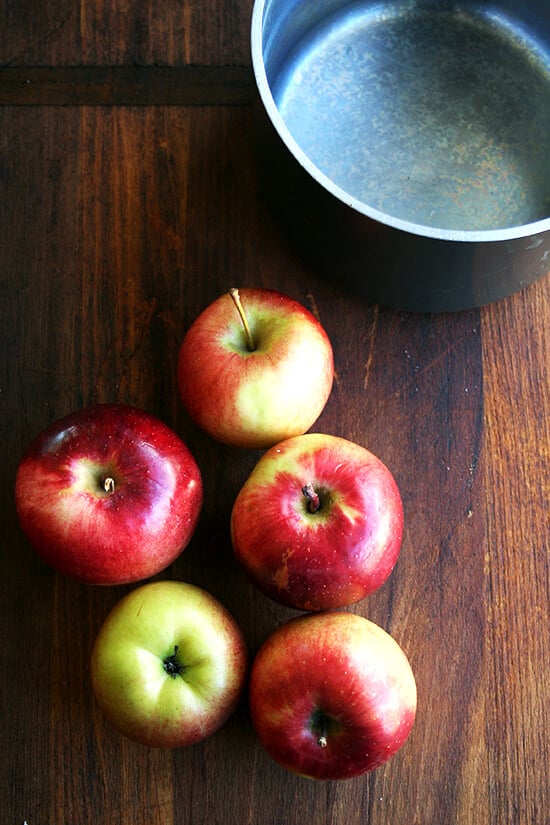 Cut straight down around the core of the apple; discard the core; place apple pieces in pot with a little water — for these five apples, I used 1/3 cup water: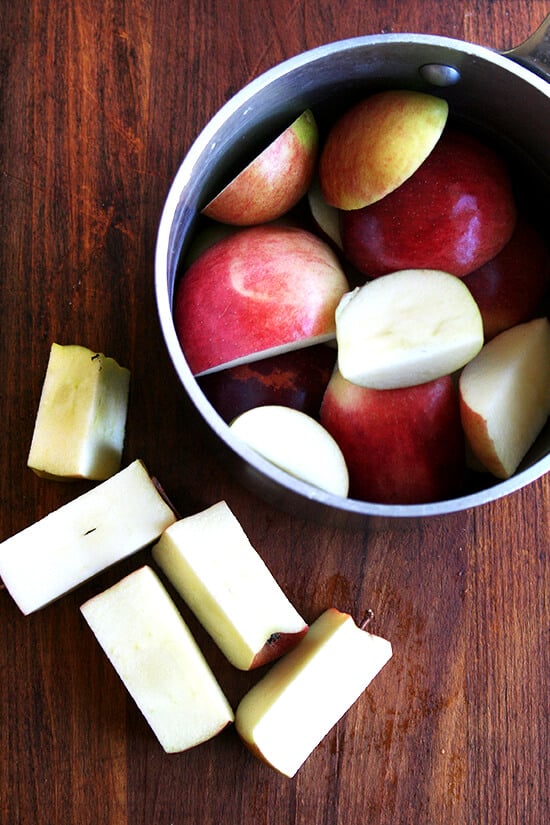 Bring to a boil; turn the heat down to low; cover the pot and let the apples cook until tender, 15 to 20 minutes (or longer if you are using more apples). Watch closely at the end — as all of the water evaporates, the juices concentrate and can burn quickly: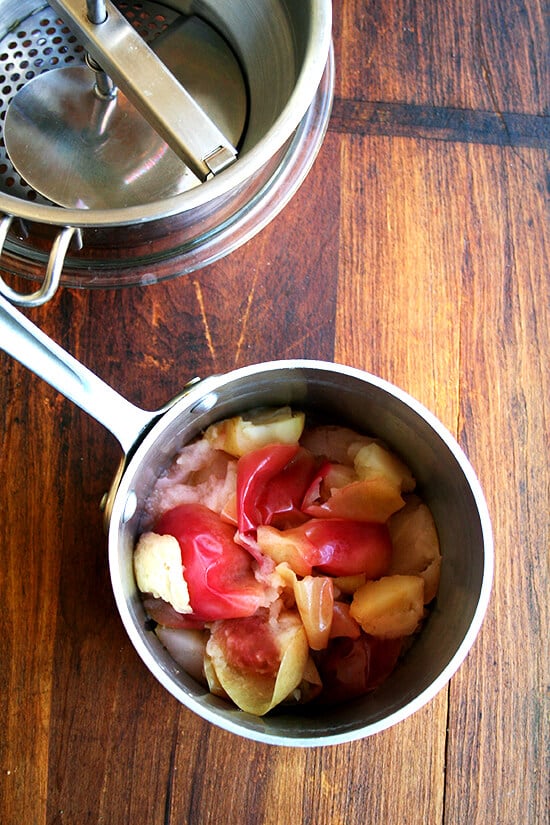 Using a slotted spoon (or not if there is very little water left in the pot), transfer the apples to a food mill and crank away: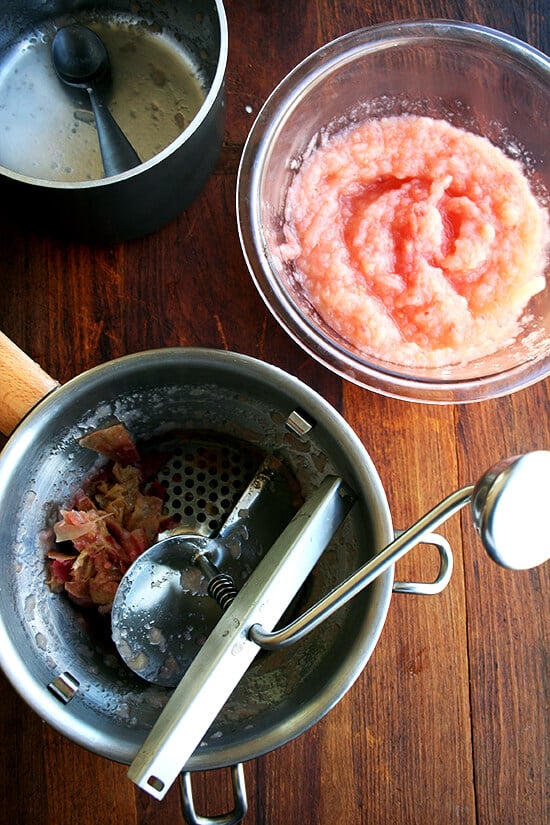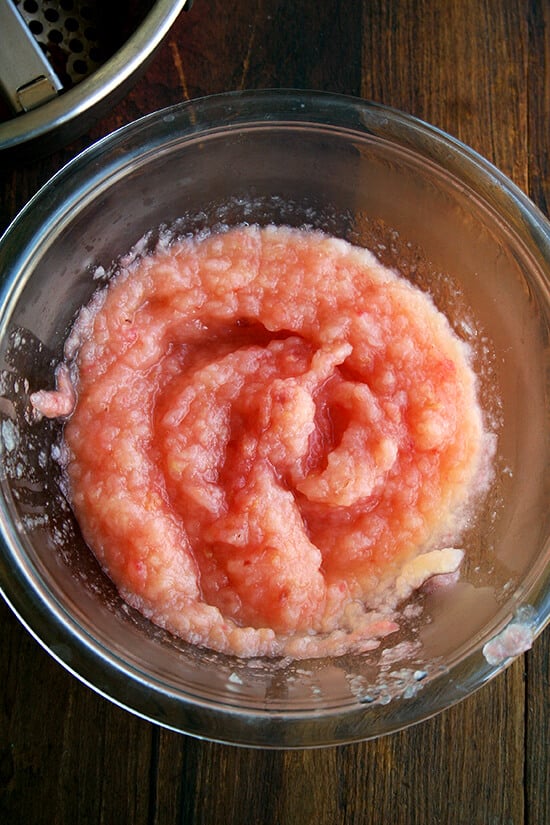 Print
Geri's Applesauce – Yogurt Cake
---
Author:

Alexandra Stafford

Prep Time:

10 minutes

Cook Time:

50 minutes

Total Time:

1 hours 15 minutes

Yield:

12 servings
Description
Notes: I am sure some of you might want to cut back the sugar here, but I'm not sure how to advise, because I already cut it back by a quarter cup, and I promise promise promise you that this cake is not too sweet. Also, 2 cups of sugar for a cake this size isn't inordinate. Teddie's apple cake, which is about the same size, also calls for 2 cups of sugar.
I have made this cake twice now, once with cinnamon and once without (using vanilla in place of the cinnamon), and I like it both ways. It all depends on your preferences. If you're in the mood for all of those fall spices, use cinnamon along with a pinch of allspice and cloves. If you're already over the spiced taste, use vanilla. Just know that the texture of the cake will be divine no matter what spices you use.
Also, Geri uses Dannon plain nonfat yogurt, and her cake always came out incredibly deliciously, but I get nervous about these things sometimes and can't keep myself from buying the full-fat tubs. I used Stonyfield whole milk plain.
You absolutely do not need to make the applesauce, but if you're feeling up for it, go for it. While you're at it, maybe make enough to serve at Thanksgiving, too?
Finally, some of you might like an alternative to the vegetable/canola oil, and I'm not sure how to advise on this one either. I haven't explored baking with coconut oil enough to say how it might affect the texture. I'm thinking the best substitute might just be an olive oil (not extra-virgin) or grapeseed oil.
---
2 3/4

(12.3 oz | 350 g) cups flour

2 cups

(

14.75 oz

|

418 g

) sugar

2 1/2 teaspoons

baking soda

1 1/4 teaspoons

baking powder

3/4 teaspoon

kosher salt

1 teaspoon

cinnamon (optional, see notes)

1 3/4 cups

applesauce

1 1/4 cups

yogurt (see notes regarding fat percentage)

1

egg

1/3 cup

vegetable oil or canola oil

1 1/2 teaspoons

vanilla extract
---
Instructions
Preheat the oven to 325ºF. Grease a 12-cup Bundt pan.
In large bowl, whisk flour, sugar, baking soda, baking powder, cinnamon (if using) and salt.
In a separate bowl, mix applesauce, yogurt, egg, oil and vanilla. Add to dry ingredients and stir until just combined.
Pour into prepared pan.
Bake for 50-60 minutes, or until toothpick inserted in center comes out clean. Mine have consistently been done at 55 to 60 minutes.
Cool 15 to 30 minutes or longer — I think I let mine sit for 45 minutes before turning it out onto a cooling rack. Before turning it out, you might want to run a paring knife around the center circle to loosen it a bit.
Category:

Dessert/Cake

Method:

Oven

Cuisine:

American
Keywords: Applesauce, yogurt, cake, moist
This post may contain affiliate links. Please read my disclosure policy.