Moist Applesauce Bundt Cake
This post may contain affiliate links. Please read my disclosure policy.
With its perfectly moist texture and soft crumb, this applesauce bundt cake is a serious crowd-pleaser. Made with 1 1/4 cups yogurt and 1 3/4 cups applesauce, it will be one of the moistest bundt cakes you ever make. Super simple, it bakes beautifully and evenly every time.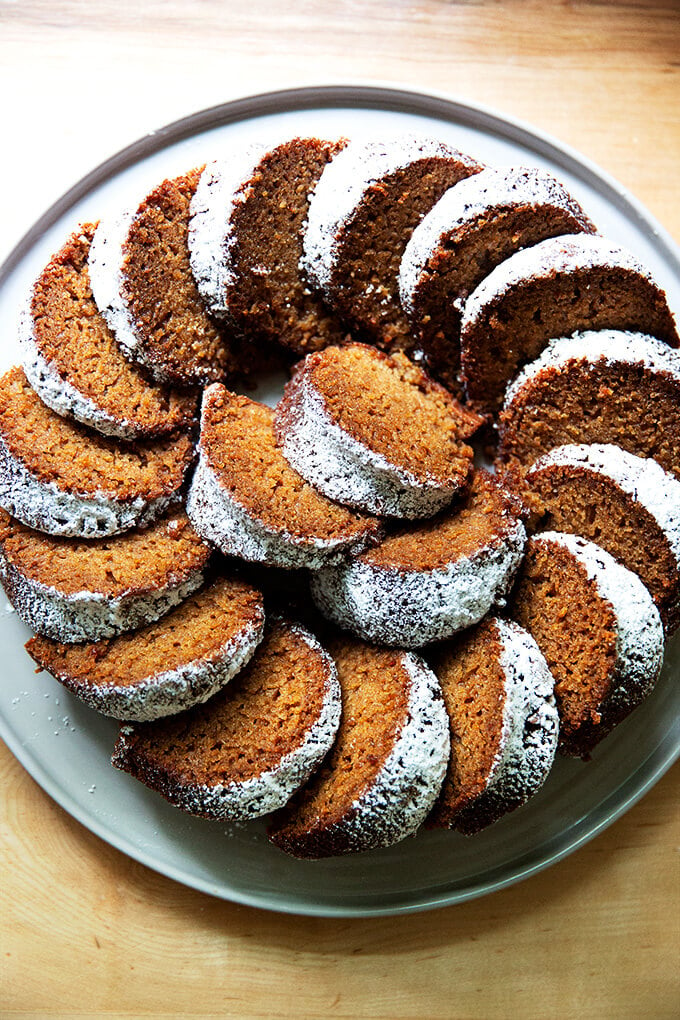 Are you expecting company anytime soon? This applesauce bundt cake might be a good little thing to have on hand. It takes no time to throw together, and it's the kind of thing, like this one-bowl orange ricotta pound cake and this lemon-ricotta pound cake, that can be enjoyed at any point in the day, early in the morning with coffee, later in the afternoon with tea.
I learned the recipe from my old neighbor, Geri, from Virginia, who always seemed to have this cake on hand anytime she was entertaining. My children and I (and the neighborhood!) couldn't get enough of it when we found ourselves at her house for one of her legendary gatherings.
Geri started making this cake years ago when her father, who loved sweets, was advised to watch his diet. She found the recipe in some sort of low-fat, heart-healthy cookbook/website and has been making it ever since — for her father, for her own family, for her friends, for nearly every fall gathering and holiday.
Made with 1 1/4 cups yogurt and 1 3/4 cups applesauce, this cake is one of the moistest cakes I have ever made, and I can assure you it does not taste like diet food in any shape or form. And unlike some cakes that get moister the day after they are baked, this one is moist immediately, no doubt a result of the quantity of applesauce and yogurt. Moreover, it bakes beautifully and evenly every time — I don't know why I don't use my Bundt pan more often — and it looks pretty to boot.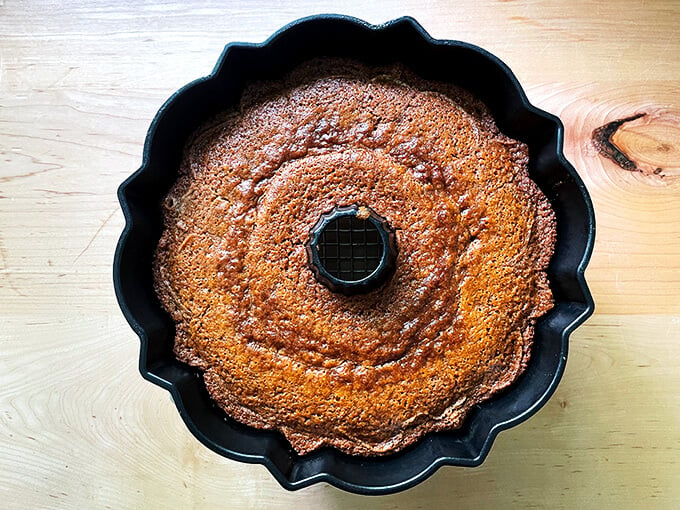 Best Bundt Cake Pan
I love the shape of a classic, scalloped Bundt pan. I've had the 12-cup, Nordic Ware Original Bundt Pan for years, and I absolutely love it — cakes bake super evenly every time.
How to Get Cake Out of Bundt Pan
There is nothing more crushing than turning out a cake, from a Bundt pan or other vessel, only to find a huge chunk of it stuck to the interior. Four tips:
Be sure to grease your pan really, really well. I use a generous amount of butter, and I take my time as I grease. If you prefer nonstick spray, that works well, too.
Let the cake cool in the pan sufficiently before turning it out. I let this cake cool for 45 minutes before turning it out.
Buy a good Bundt pan. I have never had issues with cake sticking in the (well greased) Bundt pan I mentioned above.
Set a plate or a cooling rack over the top of the Bundt cake; then flip it over together … video coming soon.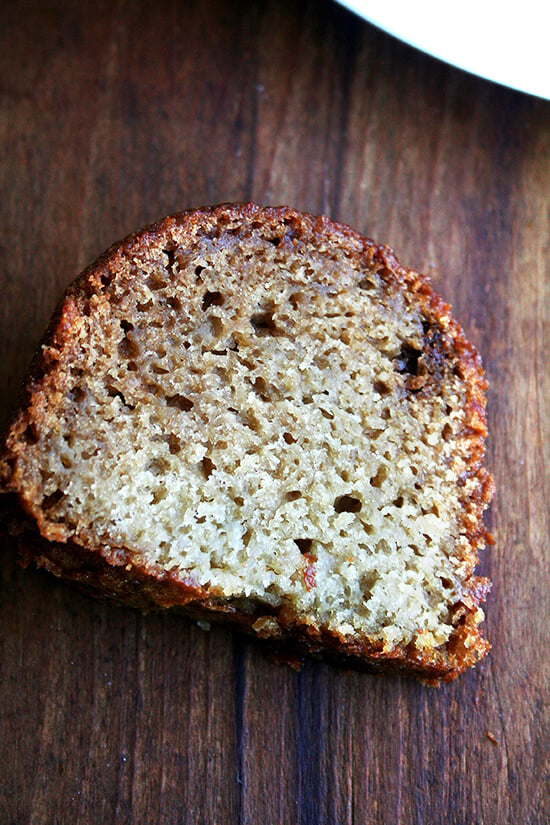 What makes a cake moist?
Often fat, either in the form of oil or butter, is what makes a cake moist, but in this cake the moisture comes primarily from two other sources: yogurt and applesauce. Applesauce is frequently used as a lower-calorie substitute for butter and oil — it miraculously goes a great job providing richness without all the fat. As noted above, there are large amounts of both yogurt and applesauce in this cake as well as a small amount of oil, all of which makes for an incredibly moist cake.
Note: Because sugar is hygroscopic, meaning it attracts and holds onto water molecules, it helps make and keep baked goods moist. There is a fair amount of sugar in this cake, though not an inordinate amount given its size. Many commenters have had success cutting the sugar back considerably, so read those if you are interested in cutting back.
A Few Other Apple Recipes To Make This Fall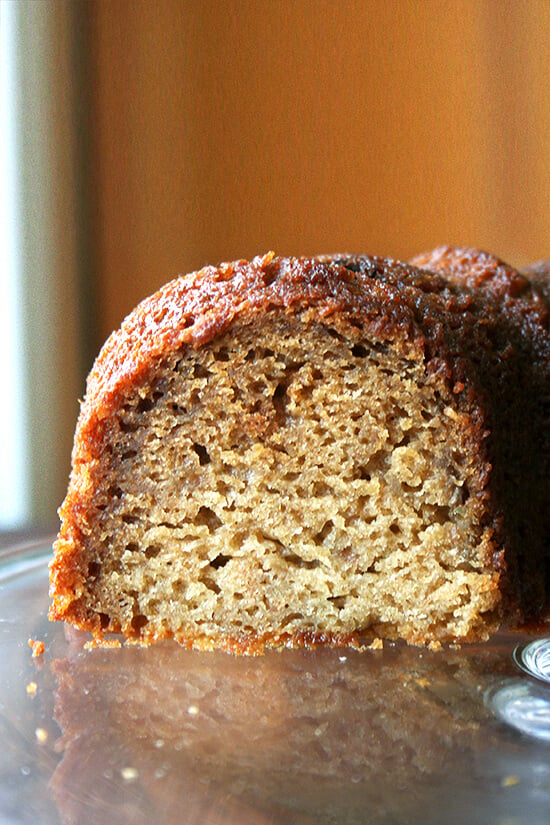 How to Make Applesauce Cake
First, gather your ingredients. Whisk together the dry ingredients. Stir together the wet ingredients.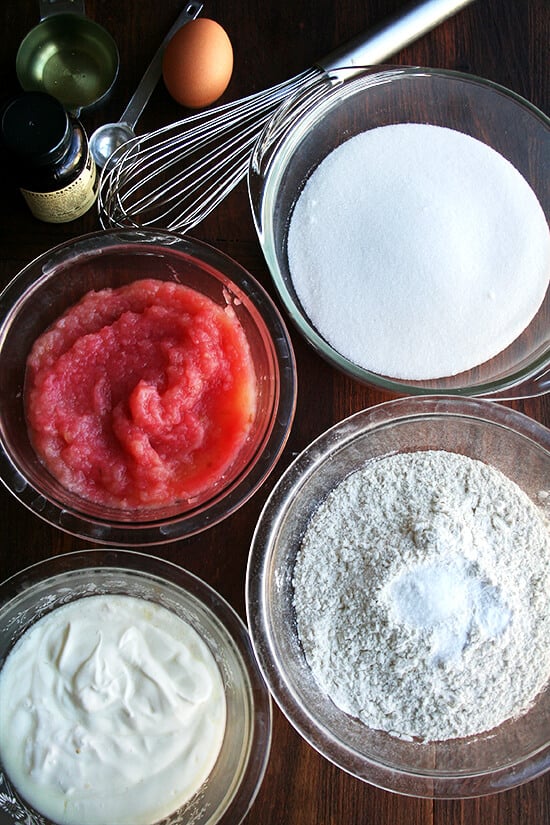 Then combine the two.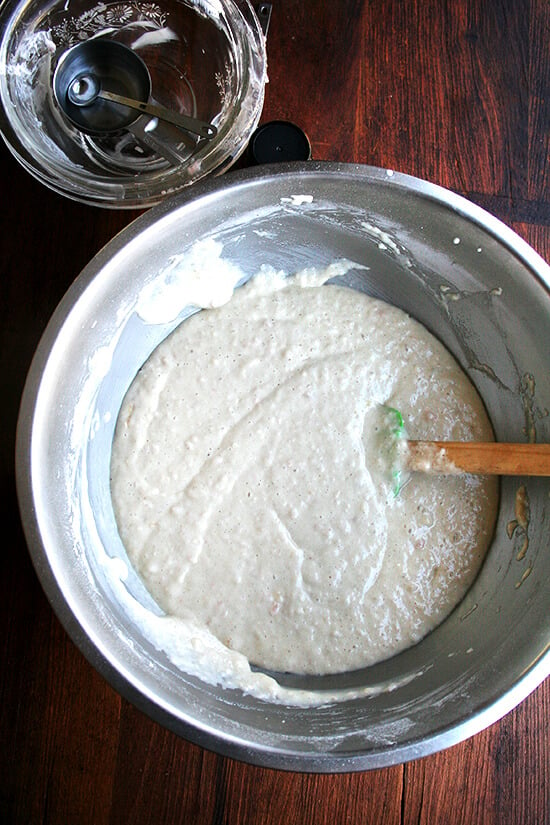 Grease a Bundt pan well with butter or nonstick spray.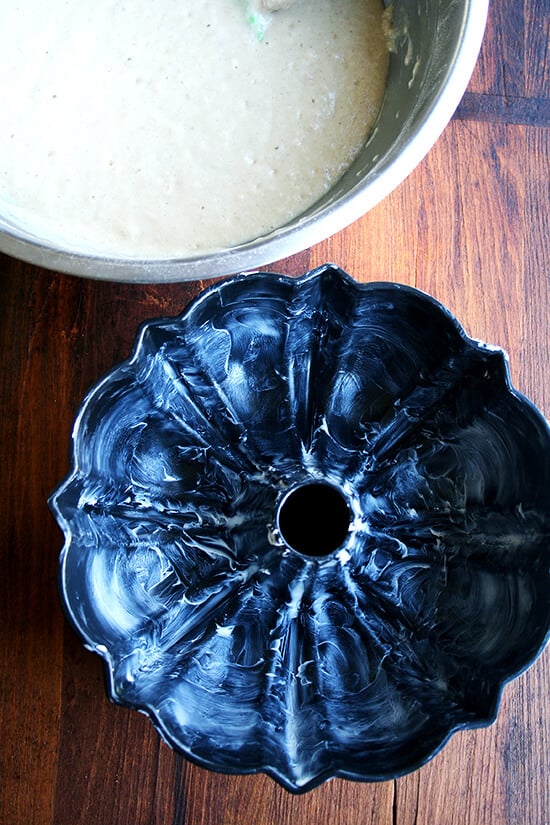 Pour batter into pan. Transfer to oven and bake at 325ºF for about an hour.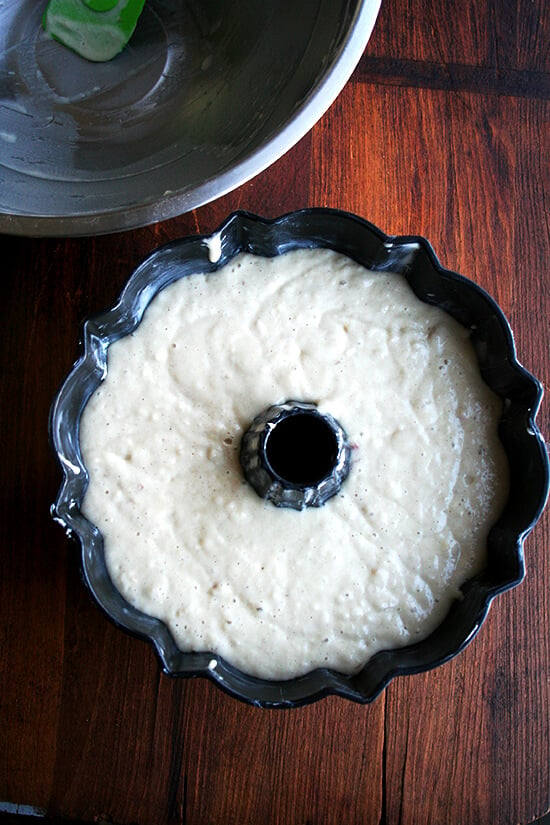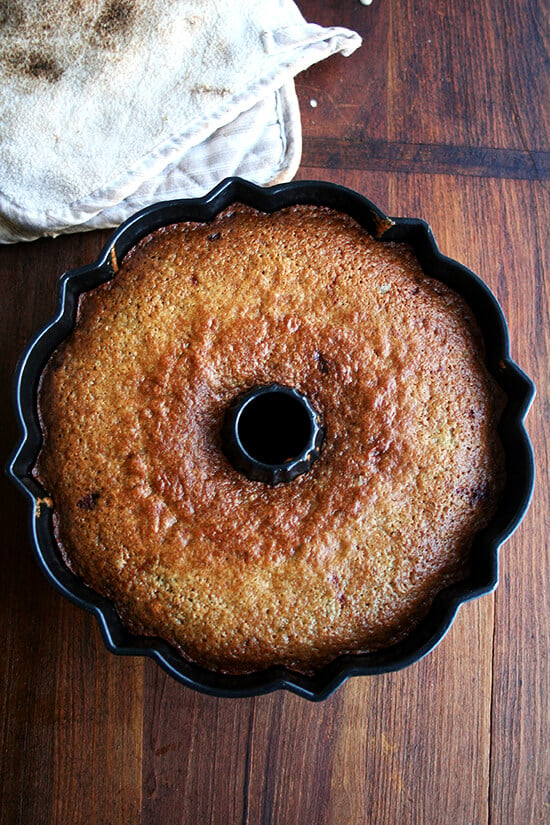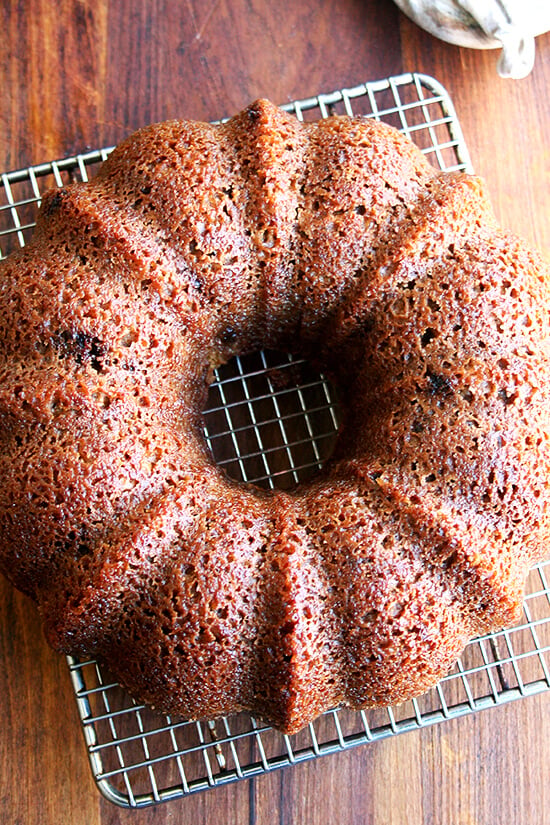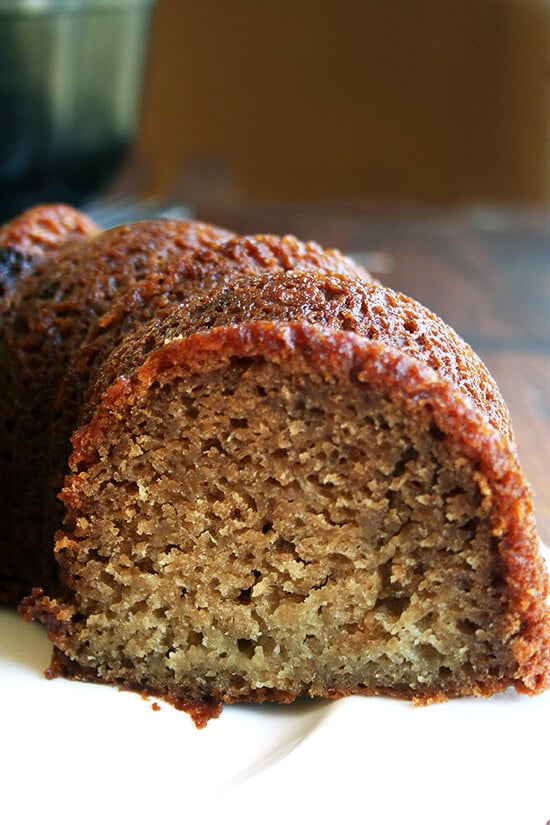 If you wish, you can dust with powdered sugar: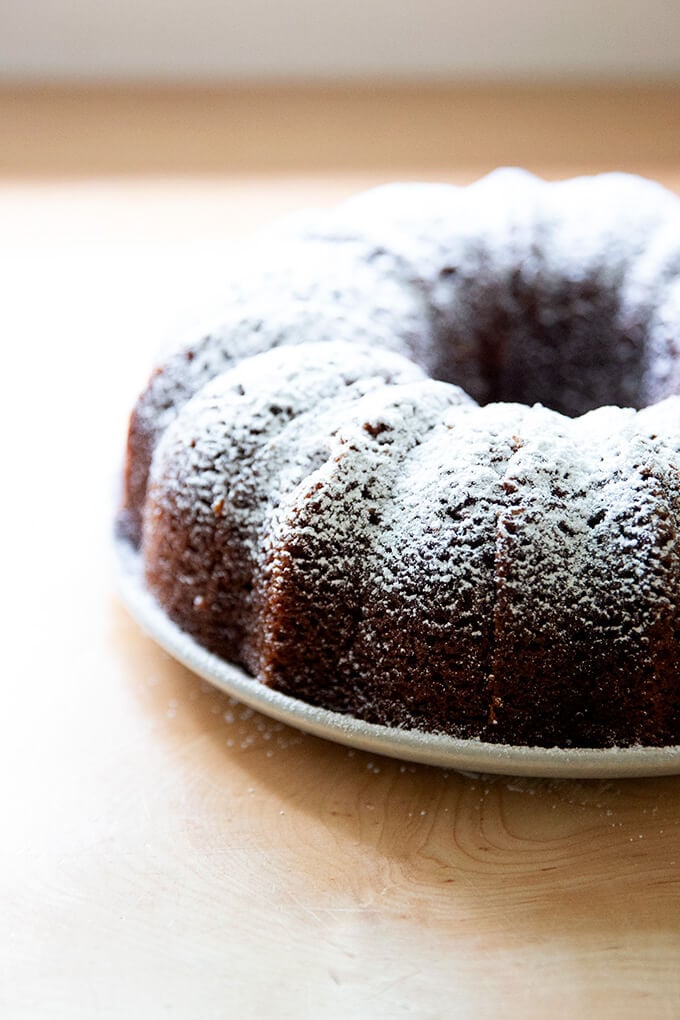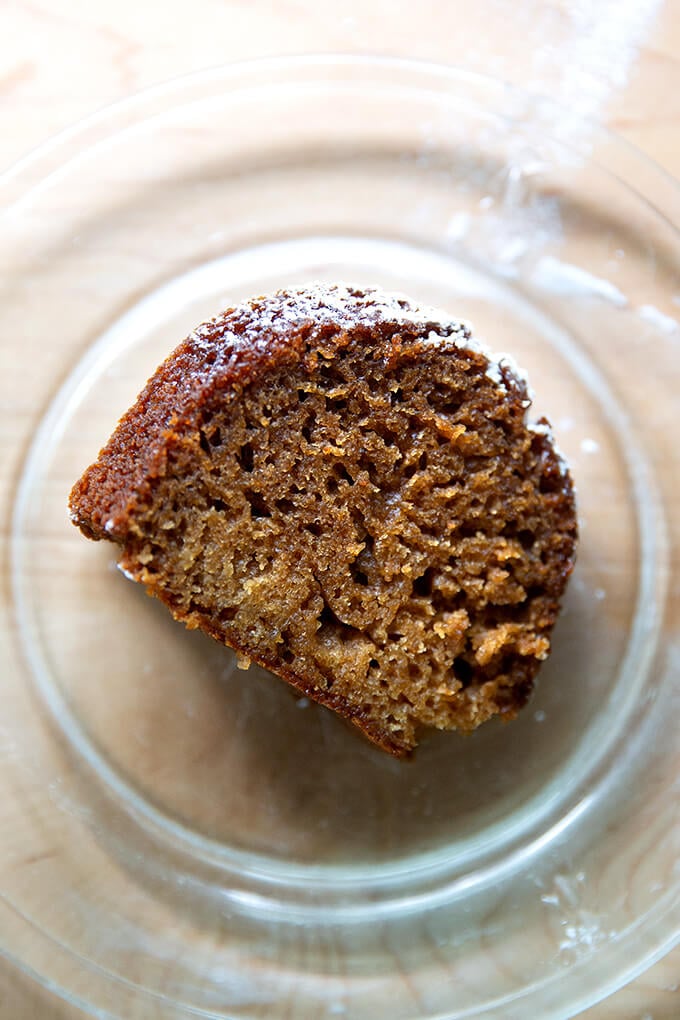 How to Make Applesauce
You absolutely do not need to make homemade applesauce to make this cake, but should you feel inclined, know this: it's super easy! To make really, really good applesauce, you need nothing more than apples and water — no extra sugar, no extra spice. Here's what you do: Gather some apples.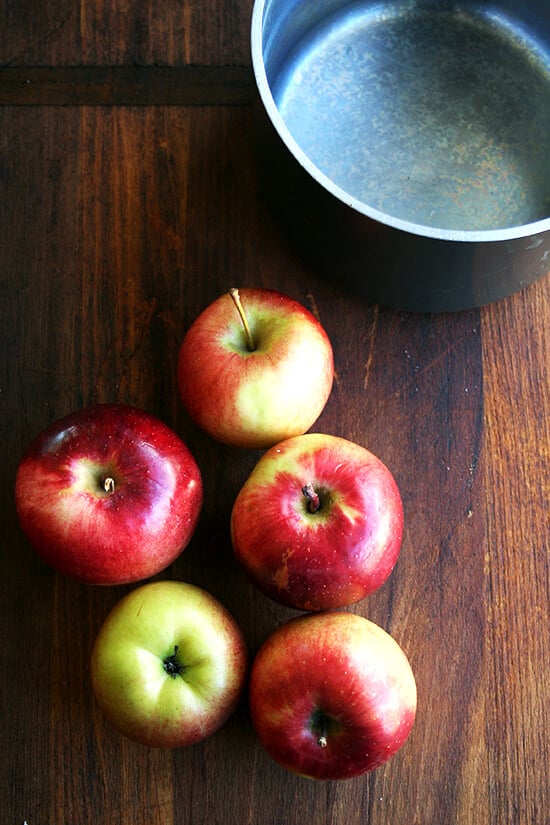 Cut straight down around the core of the apple; discard the core; place apple pieces in a pot with a little water — for these five apples, I used 1/3 cup water: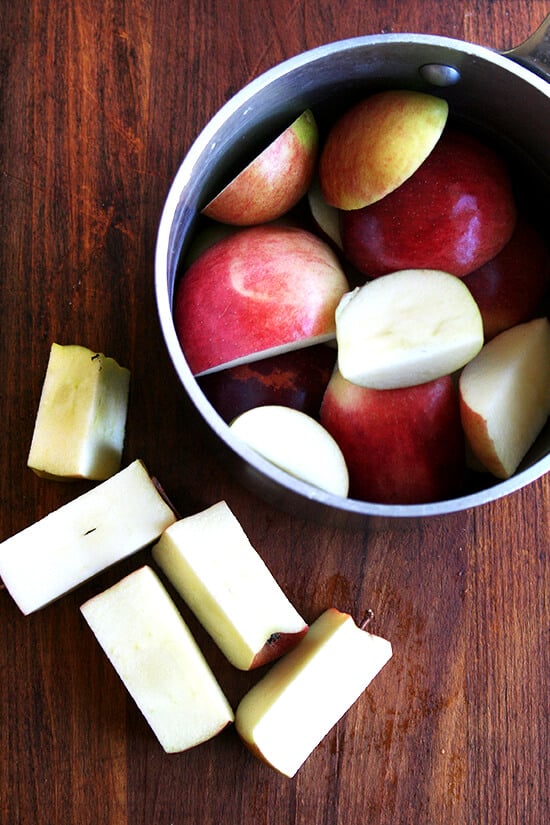 Bring to a boil; then turn the heat down to low. Cover the pot and let the apples cook until tender, 15 to 20 minutes (or longer if you are using more apples). Watch closely at the end — as all of the water evaporates, the juices concentrate and can burn quickly: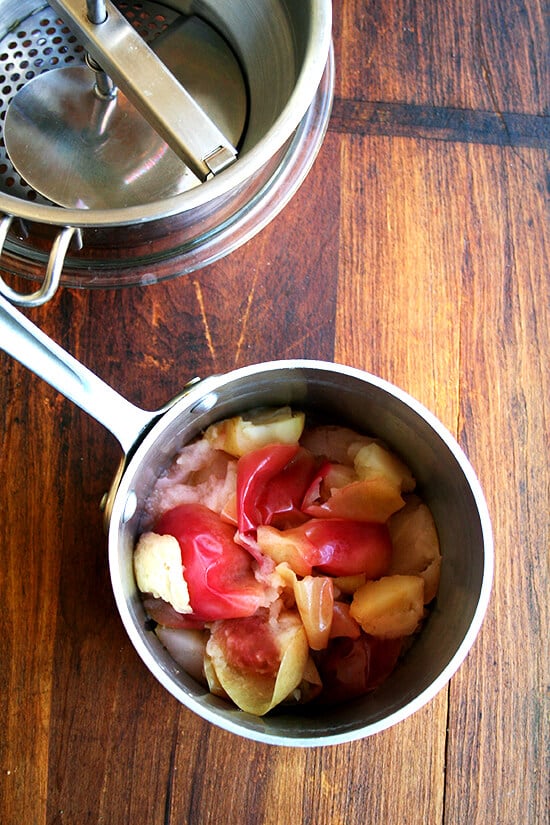 Using a slotted spoon (or not if there is very little water left in the pot), transfer the apples to a food mill and crank away: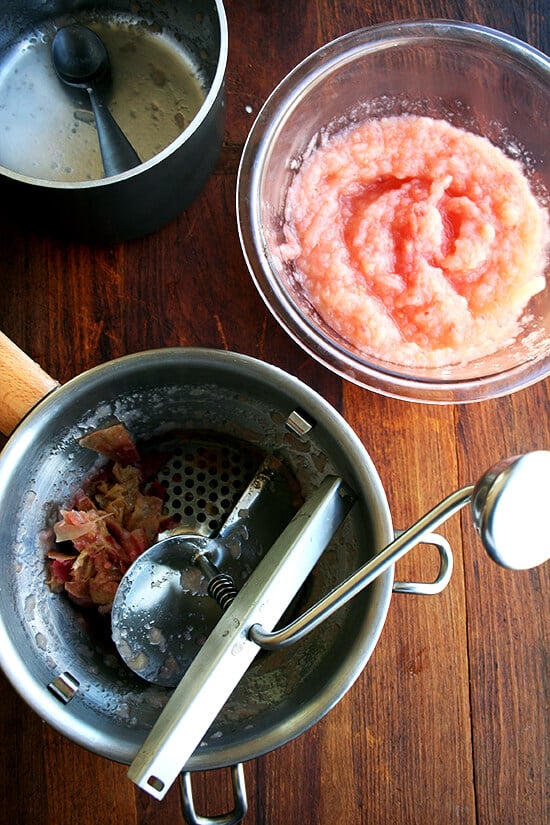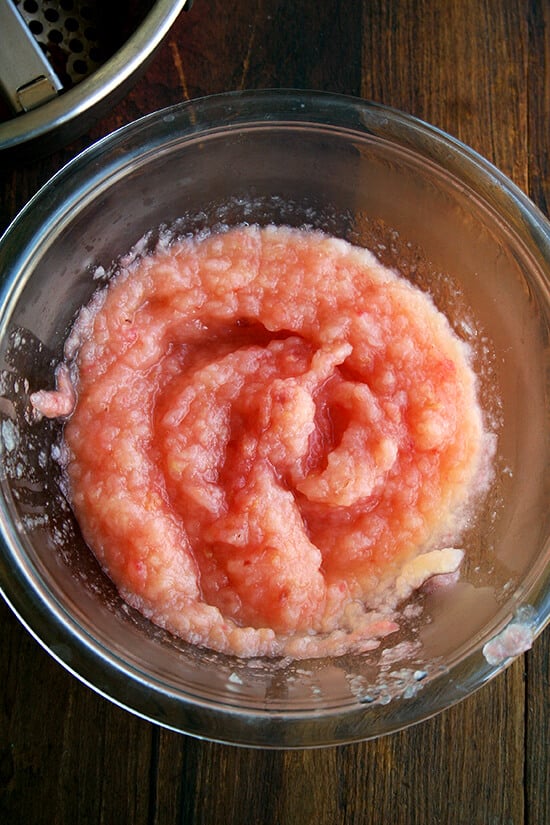 Can you believe the color of this applesauce? It doesn't always turn out quite this brilliantly, but the key to getting a beautiful pinkish hue in your applesauce is to 1. Leave the skin on the apples when you make the sauce and 2. Use the right kind of apples. I've been using Empires, which consistently produce a beautifully colored, not-so-sweet sauce. The skin on the Empires I used for this batch were particularly deep red in hue. Macintosh apples will also create a nice pink sauce.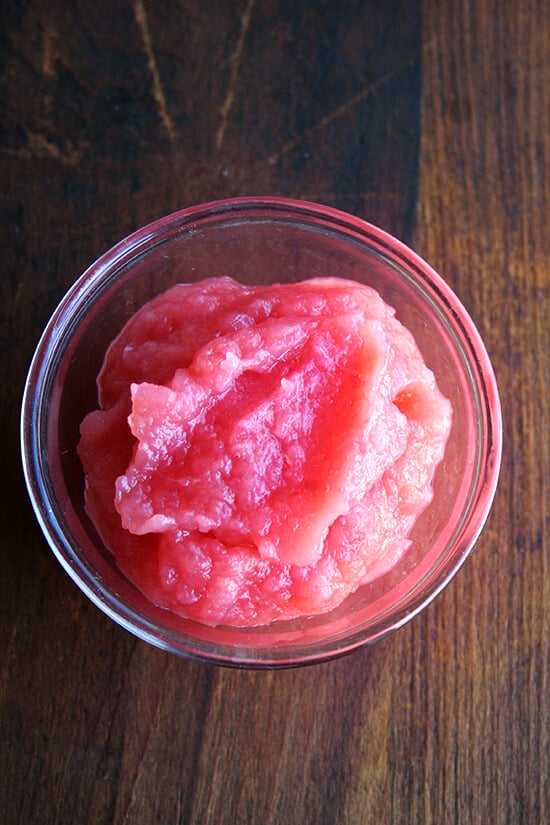 Print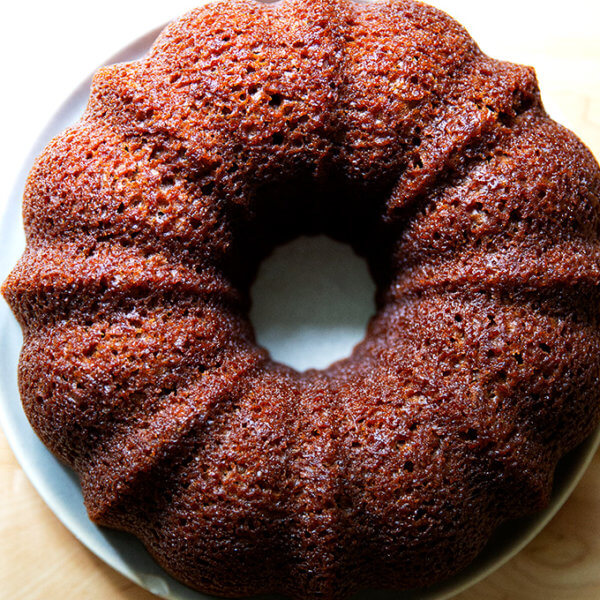 Moist Applesauce Bundt Cake
---
Author:

Alexandra Stafford

Total Time:

1 hours 15 minutes

Yield:

12 servings

Diet:

Low Fat
Description
With its perfectly moist texture and soft crumb, this applesauce cake is a serious crowd-pleaser. Made with 1 1/4 cups yogurt and 1 3/4 cups applesauce, it will be one of the moistest bundt cakes you ever make. It's super simple, and it bakes beautifully and evenly every time.
Notes:
Sugar: Over the years many of you have asked if you can cut the sugar back in this recipe, and many of you have reported back with successful results. Some of you have used 1 cup, others have used 1.5 cups. Encouraged by you, I recently made the cake with 1.5 cups (330 g) of sugar, and it was a great success. That said, I promise you this cake is not too sweet with 2 cups of sugar. Teddie's apple cake, which is about the same size, also calls for 2 cups of sugar.
Cinnamon: I like it this cake both with cinnamon and without. It all depends on your preferences. If you're in the mood for those warming fall spices, use cinnamon. If you're not in the mood for the spiced flavor, use vanilla. The texture of the cake will be divine no matter what spices you use.
Yogurt: Geri, the woman who shared this recipe with me, uses Dannon plain nonfat yogurt, and her cake always came out incredibly deliciously. I get nervous about these things sometimes and can't keep myself from buying the full-fat tubs. I used Stonyfield whole milk plain.
To freeze: Let the cake cool completely — this may take several hours from when you turn it out onto a cooling rack. Then wrap the cake in plastic wrap and tuck it into a jumbo Ziplock bag. Freeze for up to 3 months; thaw overnight on the counter before serving.
---
2.75 cups

(

350 g

) flour

2 cups

(

418 g

) sugar

2 1/2 teaspoons

(

13 g

) baking soda

1 1/4 teaspoons

(

5 g

) baking powder

1 teaspoon

(

7 g

) kosher salt

1 teaspoon

cinnamon (optional, see notes)

1 3/4 cups

(

465 g

) applesauce

1 1/4 cups

yogurt (

323 g

) (see notes regarding fat percentage)

1

egg

1/3 cup

(

83 g

) grapeseed oil, avocado oil, vegetable oil or other neutral oil

1 1/2

  teaspoons (5 g) vanilla extract
---
Instructions
Preheat the oven to 325ºF. Grease a 12-cup Bundt pan.
In large bowl, whisk flour, sugar, baking soda, baking powder, cinnamon (if using) and salt.
In a separate bowl, mix applesauce, yogurt, egg, oil and vanilla. Add to dry ingredients and stir until just combined.
Pour into prepared pan.
Bake for 50-60 minutes, or until toothpick inserted in center comes out clean. Mine have consistently been done at 55 to 60 minutes.
Cool 15 to 30 minutes or longer — I let mine sit for 45 minutes before turning it out onto a cooling rack. Before turning it out, run a paring knife around the center circle to loosen it a bit. See notes above if you wish to freeze the cake for a future date. 
Prep Time:

10 minutes

Cook Time:

50 minutes

Category:

Dessert/Cake

Method:

Oven

Cuisine:

American
Keywords: Applesauce, yogurt, cake, moist
This post may contain affiliate links. Please read my disclosure policy.