Roasted Chicken with Clementines
This post may contain affiliate links. Please read my disclosure policy.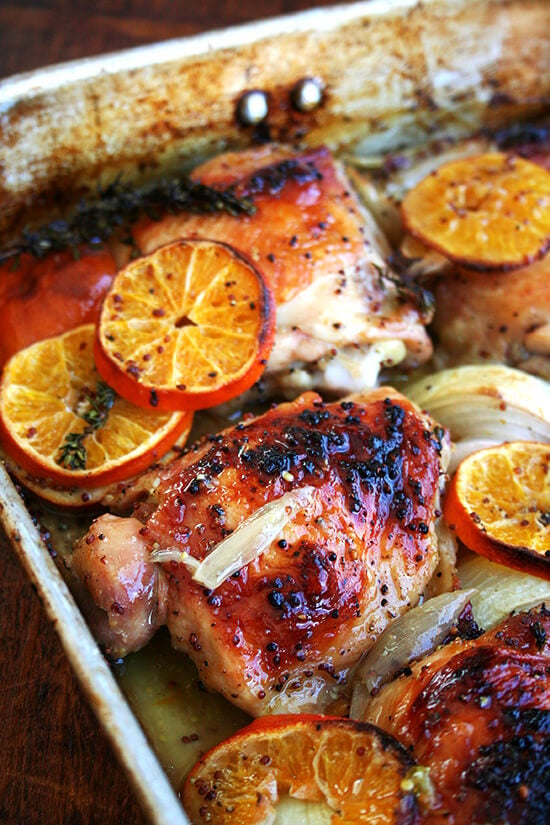 Upon receiving Jerusalem early last summer, I poured through it cover to cover, reading about hummus wars and baba ghanoush, feeling inspired to start burning eggplants and preserving lemons with every turn of the page.
Every recipe and photo made me want to run to the kitchen, but six months later I'm only just enjoying my first real taste of the cookbook: roasted chicken with clementines, a recipe my mother has been urging me to make since the start of citrus season.
This recipe calls for high heat — 475ºF — for a long time — just under an hour — which allows the chicken skin to brown and the vegetables to caramelize beautifully. The liquid, a mixture of freshly squeezed citrus juice and some sort of anise-flavored liqueur (Arak, Ouzo or Pernod), keeps the chicken meat incredibly juicy below its crispy skin.
Ottolenghi and Tamimi suggest serving this chicken with plain rice or bulgur, but the volume of slightly sweet, mustard-seed laced juices pooling below the chicken demands, in my opinion, lots of crusty bread.
The predominant flavor in this dish is anise, which comes into play from three sources: the liqueur, the fennel wedges, and the crushed fennel seeds. Anise can be overpowering when used in excess, and if it's not your favorite flavor, you can tailor the dish to your liking, using onions in place of the fennel wedges and omitting the crushed fennel seed altogether.
When made without fennel or fennel seeds, the anise-flavor is more subtle — preferable for me in fact — and while I haven't tried substituting white wine for the liqueur, I suspect a more neutral-flavored alcohol would work just fine as well.
As the authors note in the preface of the recipe, this is a "sweetly comforting dish you will always want to come back to." It's festive and colorful, and with clementine season in full swing, there couldn't be a better time to get this dish on your table.
What are you plans for the New Year? We're lying low with a few friends, having one last hurrah with the punch, hoping not to get too sozzled, and looking forward to some good laughs while opening our 2013 resolutions' jar. Wishing you all a very happy New Year!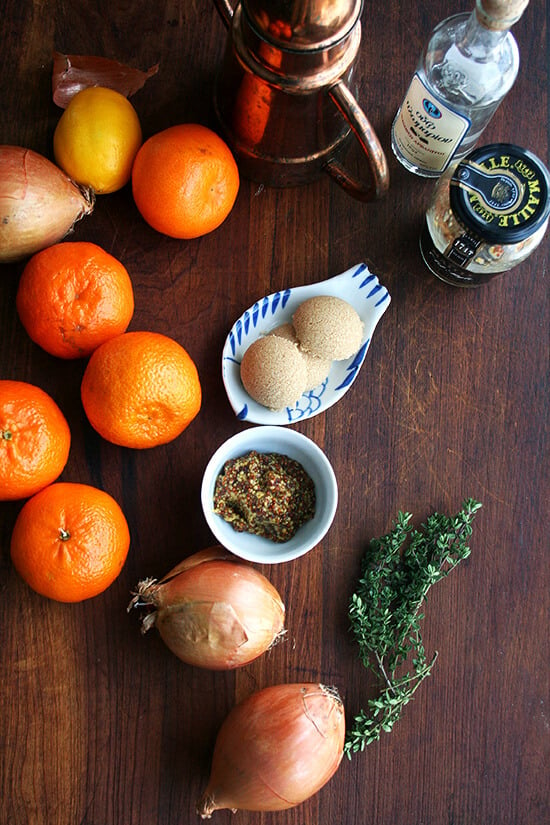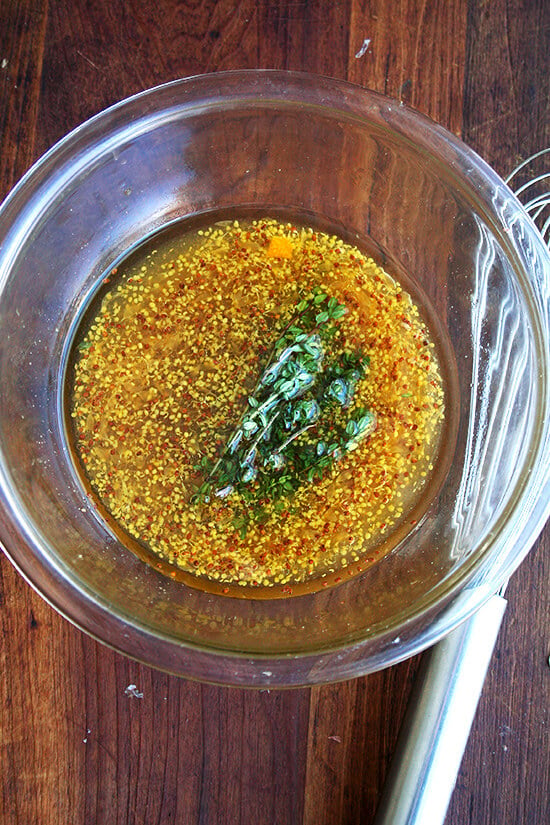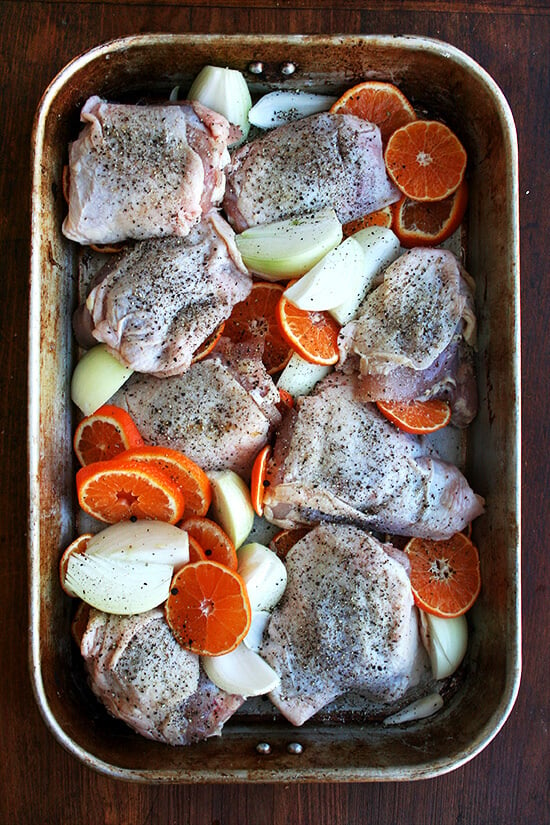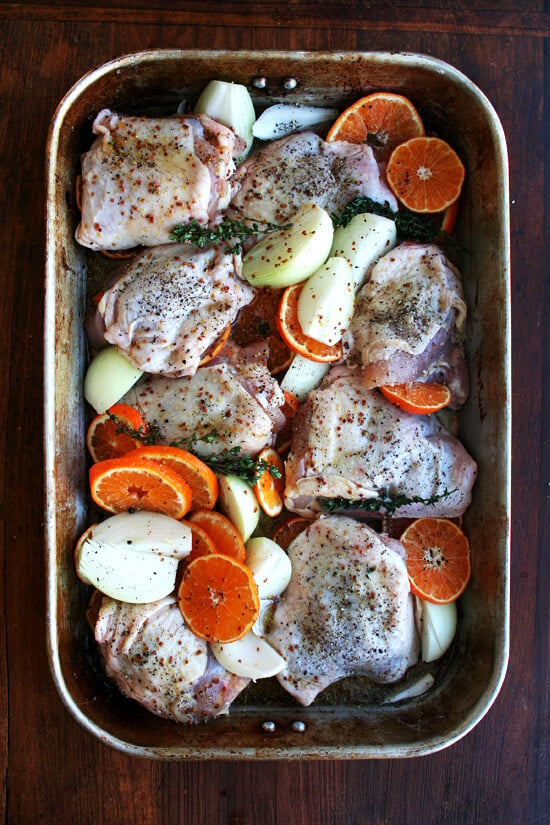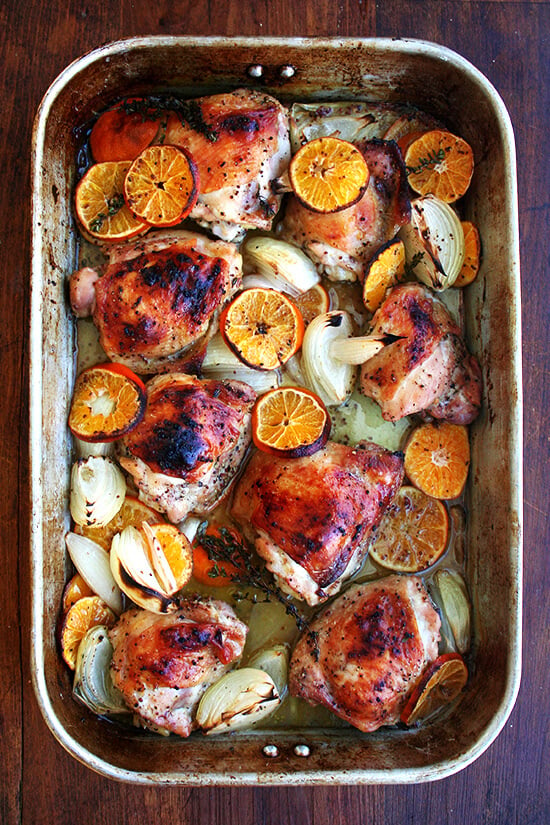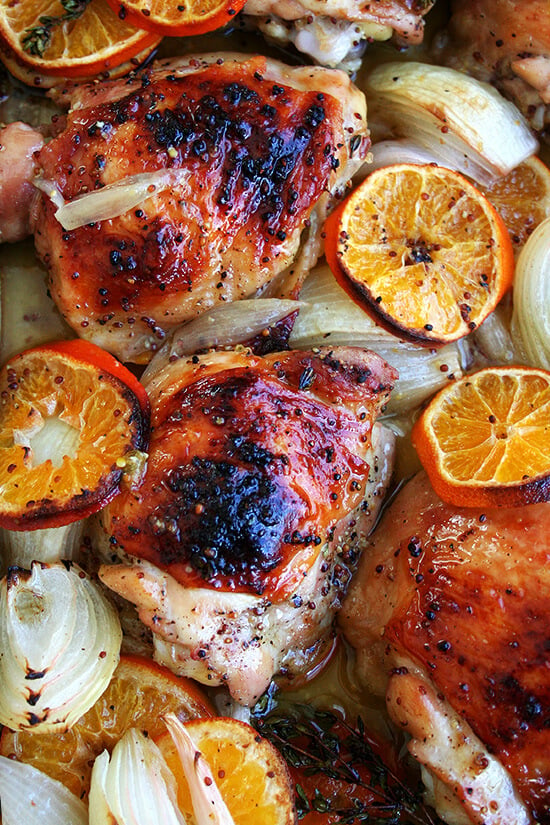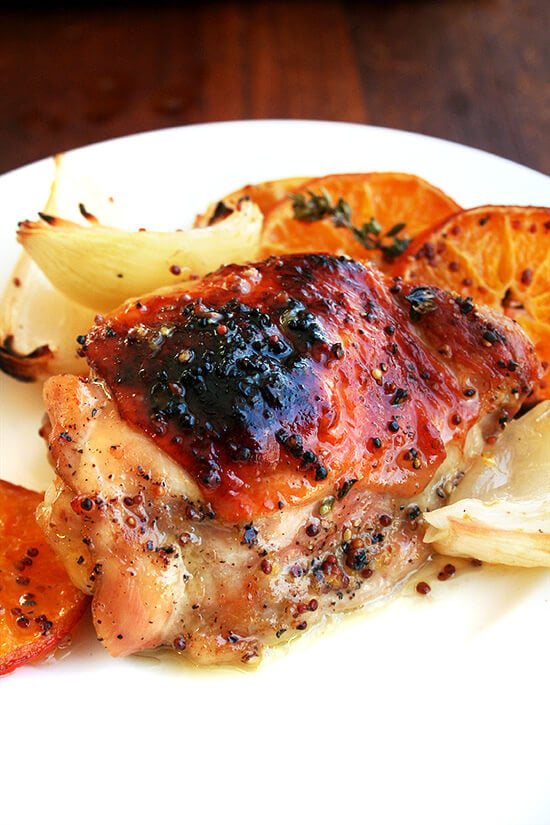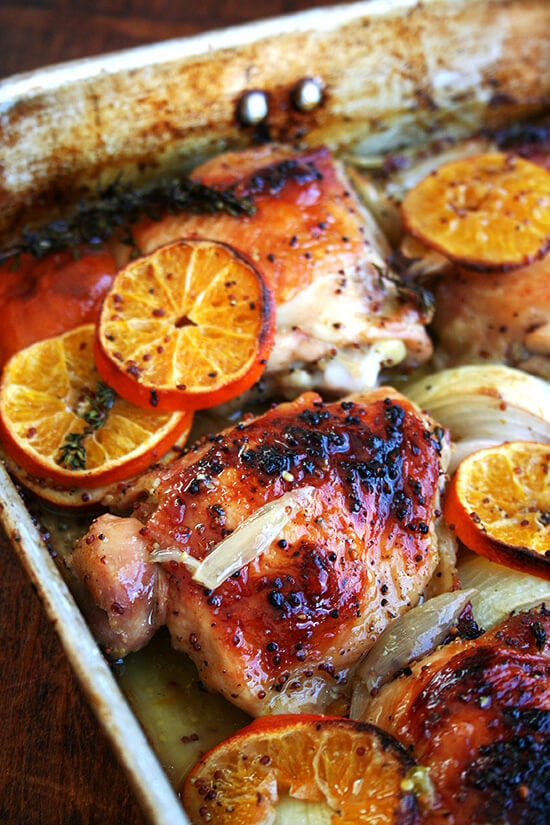 Print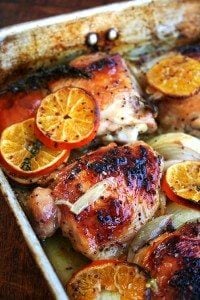 Roasted Chicken with Clementines
---
Author:

Alexandra Stafford

Prep Time:

10 minutes

Cook Time:

55 minutes

Total Time:

1 hours 5 minutes

Yield:

6 to 8
Description
Adapted from Jerusalem by Yotam Ottolenghi and Sami Tamimi
Feel free to take liberties with the ingredients here. I've made this using 6 tablespoons of clementine juice (versus 3 T. orange and 3 T. lemon), which works just fine. The original recipe called for fennel bulbs (not onions), but I have used a mix of both fennel and onions, and I have also used leeks in place of the onions.
The key is to use a large enough roasting pan that allows space between each piece of chicken. If the chicken is crowded together it won't brown properly. Marinating overnight is not necessary though it's nice to know that you can assemble this dish ahead of time.
Also, all of the clementine pieces, as pretty as they appear, are not edible: the ones that are exposed (above the juices during the roasting) crisp up, becoming almost candy-like but bitter in taste; the ones that remain under the juices during the entire cooking process, however, are soft and delicious. I have not tried this, but it might be worthwhile to strategically arrange some of the clementine pieces under the chicken and juices.
---
Ingredients
1/3 cup

Arak or Ouzo or Pernod (or white wine)

1/4 cup

olive oil

3 tablespoons

freshly squeezed orange (or clementine) juice

3 tablespoons

freshly squeezed lemon juice

2 tablespoons

grainy mustard

3 tablespoons

light brown sugar or honey

2 teaspoons

kosher salt
freshly ground pepper

8

bone-in, skin-on chicken pieces (a mix of thighs and drumsticks is nice)

4

clementines, unpeeled, sliced thin
a few sprigs of thyme

2

to

3

medium onions (or fennel bulbs) cut lengthwise and then into quarters

2 teaspoons

fennel seeds, lightly crushed (optional — I omit)
---
Instructions
In a large mixing bowl, whisk together arak, oil, orange and lemon juices, mustard, brown sugar and salt. Season with pepper, to taste.

If you are roasting immediately: Place chicken skin side up in large roasting pan with clementine slices, thyme sprigs, onion pieces (or fennel wedges) and crushed fennel seeds (if using). Pour sauce over top and gently toss everything together with your hands.
If you are marinating: Place chicken with clementine slices, thyme sprigs, onion pieces (or fennel wedges), and crushed fennel seeds (if using) in a large mixing bowl or ziplock bag. Turn several times to coat. Marinate chicken for several hours or overnight.

Preheat oven to 475ºF degrees. Transfer pan to the oven. After 30 minutes, check on the chicken. If the skin is browning too quickly, turn the oven down to 400ºF and continue roasting until the skin is brown and crisp, 20 to 25 minutes longer. I roast the chicken at 475ºF for 45 minutes and at 400ºF for 10 minutes, but every oven is different, so just keep an eye on it. Remove pan from the oven.
Transfer chicken and clementines and onion pieces with juices to a serving platter. Let rest 5 to 10 minutes before serving. Or, proceed to step 4, which I have never done.
Optional: Pour cooking liquid into a small saucepan. Place over medium-high heat, bring to a boil, then simmer until sauce is reduced and you are left with about 1/3 cup. You can degrease by using a spoon to remove some of the fat from top of the sauce. Pour heated sauce over chicken.
Category:

Chicken

Method:

Roasting

Cuisine:

Middle Eastern
Keywords: roast, chicken, clementines, Yotam, Ottolenghi
This post may contain affiliate links. Please read my disclosure policy.