Mollie Katzen's Chocolate Eclipse
This post may contain affiliate links. Please read my disclosure policy.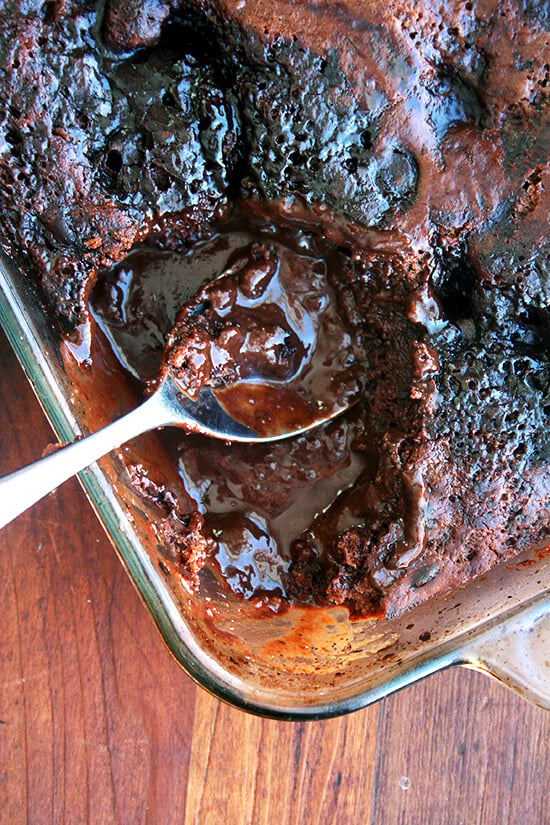 So you probably have your Super Bowl menu all lined up. Chips and dips, sliders and smokies — your bases are covered. But have you thought about dessert? No? Phew. Because I've got just the thing: Mollie Katzen's Chocolate Eclipse, a pudding cake that feeds a crowd. Everyone will go gaga.
I learned about Chocolate Eclipse from one of you — thank you! — via email, and after finding the recipe online, I made it immediately. It was too intriguing not to.
Now, let me preface this by saying I know absolutely nothing about making pudding cakes — chocolate, lemon, buttermilk, whatever — but this cake was like none I had made before, including its dainty, molten soft chocolate kin.
The process starts off familiarly: wet ingredients (buttermilk, vanilla, melted chocolate and butter) get stirred into dry ingredients (flour, brown sugar, salt and leavenings), chocolate chips are folded in, and after everything is mixed together, the batter gets spread into a 9×13-inch pan.
But then the assembly takes a wild turn. After the batter is covered by a blanket of brown sugar and cocoa powder (which ultimately become the pudding), 2.5 cups of boiling water get poured overtop. As the water meets this sandy layer, plumes of cocoa rise and swirl, and when the cake begins looking like a Breaking Bad set prop, you'll need some encouragement. Katzen offers it: "It will look terrible, and you will not believe you are actually doing this, but try to persevere."
In the oven, the pudding layer sinks to the bottom and the cake rises to the top, emerging with a surface dimpled with deep fudgy craters. When inverted into serving bowls, the built-in fudge sauce becomes the topping, and while a scoop of vanilla ice cream would make for an ultimate experience, this pudding cake is utterly delicious on its own.
Katzen notes that Chocolate Eclipse tastes best about an hour or two after it has emerged from the oven, but waiting this long will take some serious meditation. And you don't have to. Try refraining for at least 30 minutes, then tuck in.
Chocolate Eclipse: part cake; part pudding. Who says you can't have your cake and eat your pudding, too? Have a wonderful weekend, Everyone.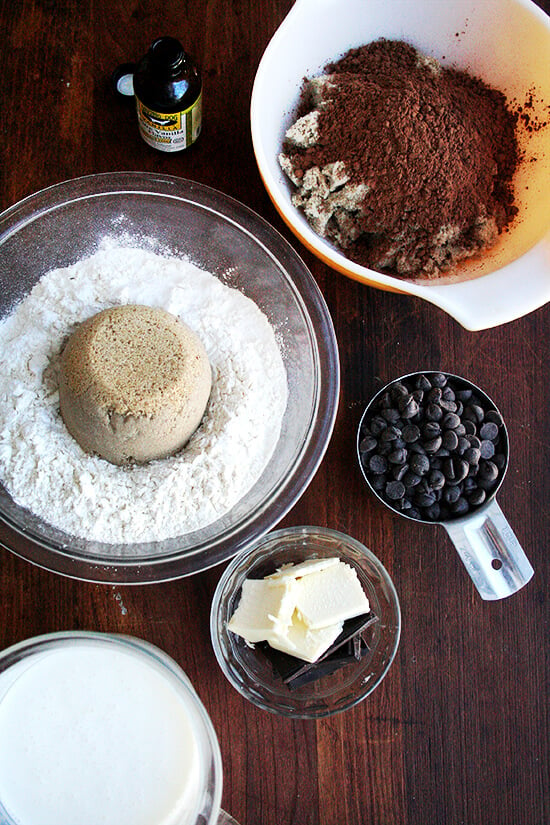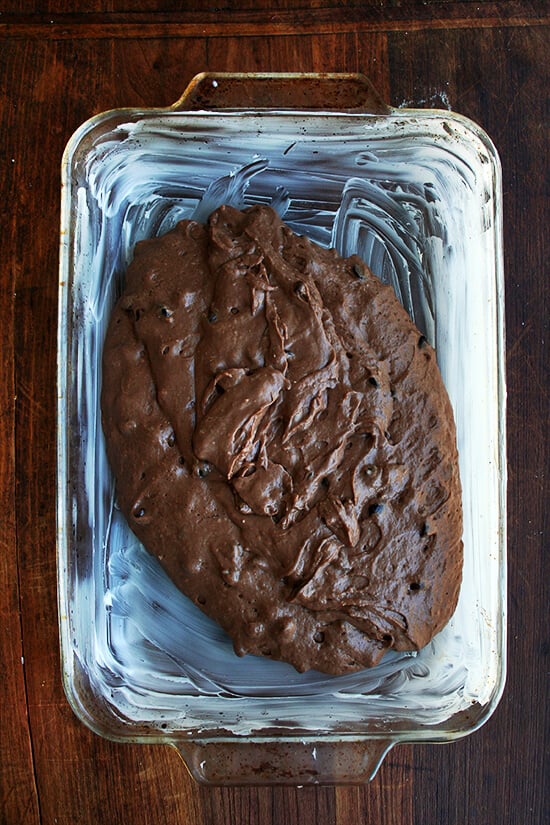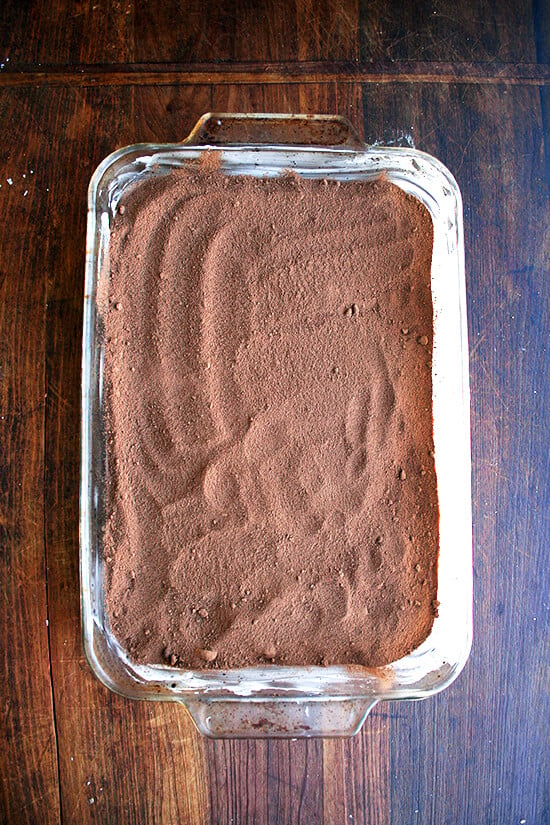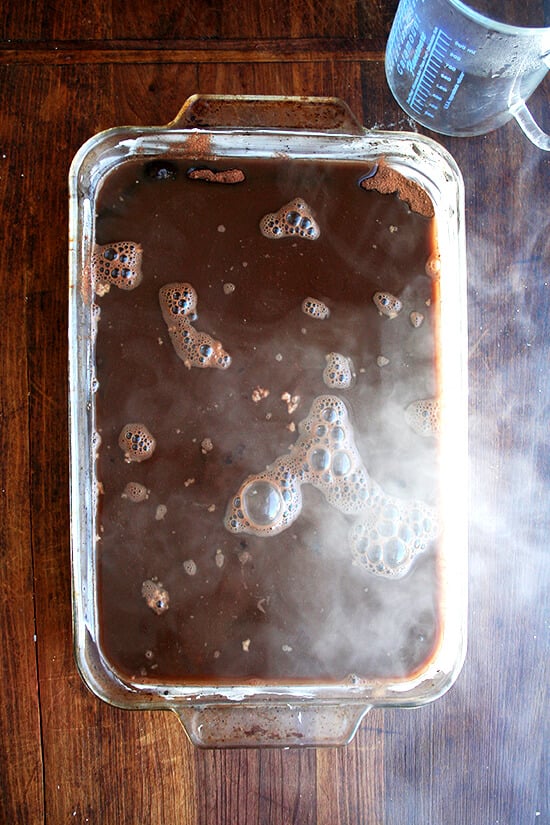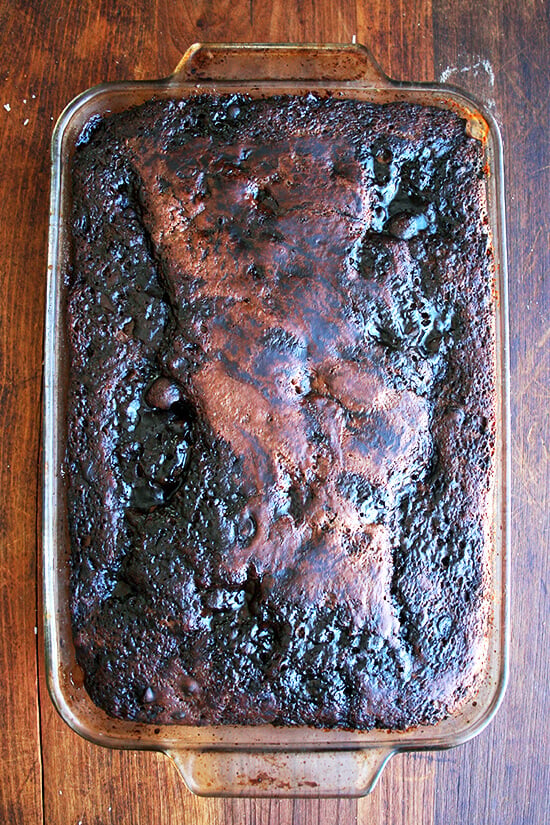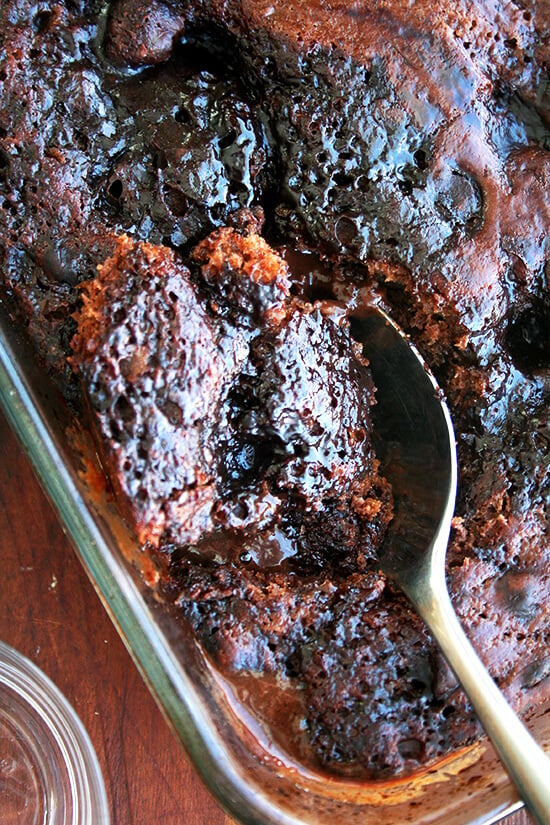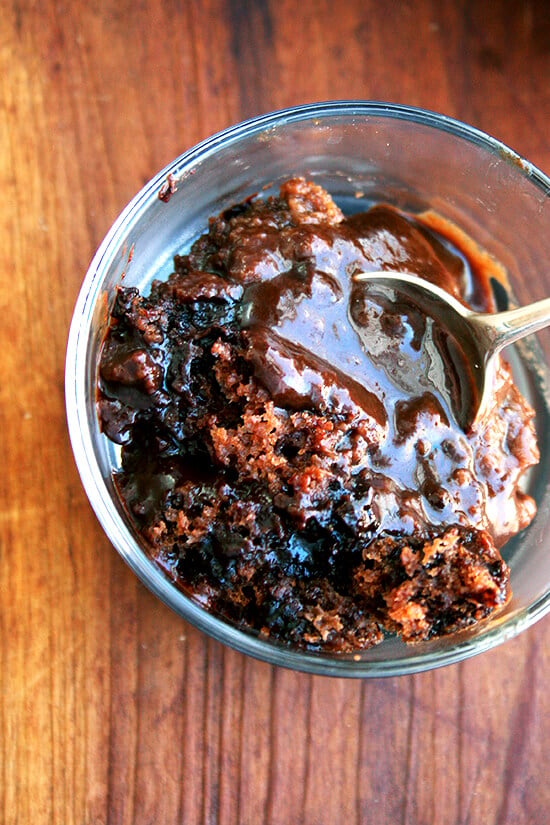 A few ideas for Super Bowl Sunday: Real Sour Cream and Onion Dip, Honey Soy Chicken Wings, The Easiest (Best?) Ribs, Sheet Pan Mac n' Cheese, Traditional Mac n' Cheese, Baked Fontina, Cheese Sticks, Buttermilk Cornbread, My Favorite Brownies, Brown Butter Blondies with Sea Salt, Soft and Chewy Chocolate Chip Cookies.
More Super Bowl ideas here.
Print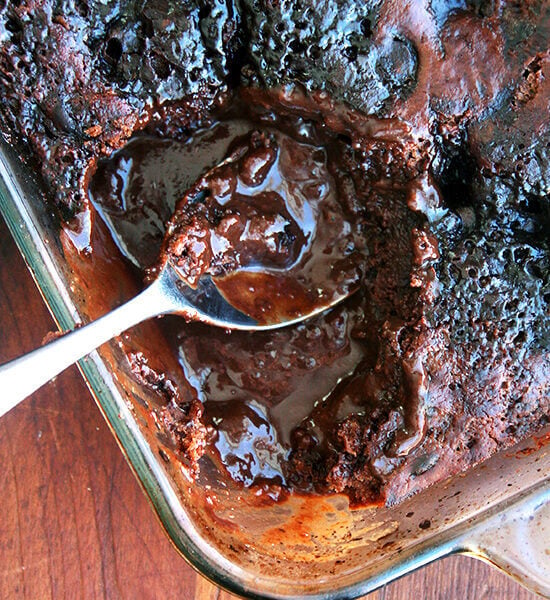 Mollie Katzen's Chocolate Eclipse
---
Total Time:

1 hours 35 minutes

Yield:

12 servings
---
butter for greasing

2 tablespoons

butter

2 ounces

unsweetened chocolate

2 cups

buttermilk

1 teaspoon

vanilla extract

2½ cups

(

11.25 oz

|

318 g

) unbleached all-purpose flour

2¼ cups

packed brown sugar, divided (w

eight

measurements in recipe)

3 teaspoons

baking powder

1 teaspoon

baking soda

½ teaspoon

salt

1 cup

semisweet chocolate chips (optional)

½ cup

plus 2 tablespoons (

1.75 oz

|

48g

) unsweetened cocoa

2½ cups

boiling water
---
Instructions
Preheat the oven to 350°F. Butter a 9 x 13-inch baking pan.
Melt the butter and chocolate together. (I did this in the microwave.)
In a separate saucepan, heat buttermilk gently until just a little warmer than body temperature being careful not to boil or cook it. (Note: I barely heated my buttermilk because I was so worried about it curdling, and next time, I am going to just skip this part. I will report back.) Remove from heat and set aside.
In a large mixing bowl combine flour, 1 cup (7.25 oz | 208 g) of the brown sugar, baking powder, baking soda, and salt. Mix well (use your hands, if necessary, to break up any little lumps of brown sugar), making as uniform a mixture as possible.
Pour melted chocolate and butter into dry ingredients. Pour in buttermilk and vanilla. Stir until combined. Stir in chocolate chips, if desired. Spread into the prepared pan.
Combine the remaining 1¼ cups (260 g | 9.25 oz) brown sugar with the unsweetened cocoa in a small bowl. Sprinkle this mixture as evenly as possible over the top of the batter.
Pour on the boiling water. It will look terrible, and you will not believe you are actually doing this, but try to persevere.
Place immediately in the preheated oven. Bake for 30 to 40 minutes (I say closer to 30 — I did 31), or until the center is firm to the touch.
Cool for at least 30 minutes before serving. Invert each serving on a plate so that the fudge sauce on the bottom becomes a topping. Serve hot or at room temperature.
Prep Time:

15 minutes

Cook Time:

50 minutes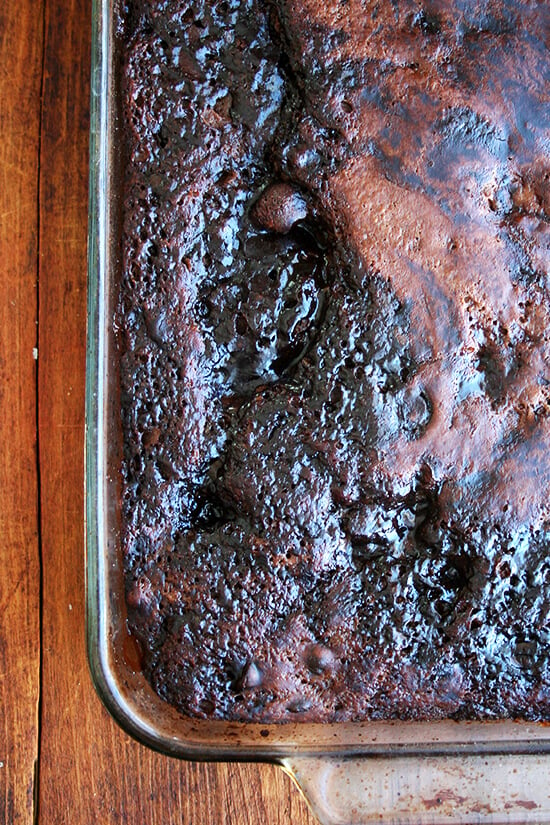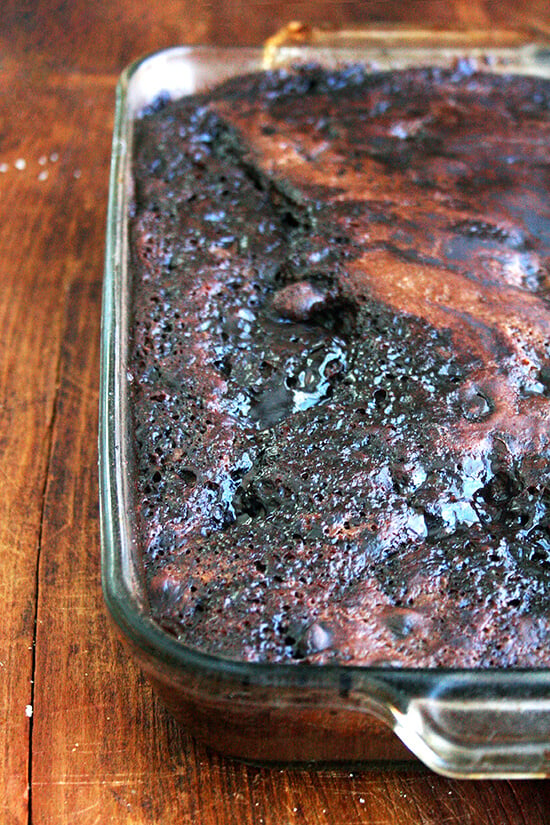 Incidentally, this might be one of my favorite kitchen tools: a 4-cup catamount measuring cup. It is made of borosilicate glass (super strong glass, the material of the old Pyrex), which means you can, among other things, put the measuring cup directly over a flame. I know, amazing, right? I feel like Walt every time I use it.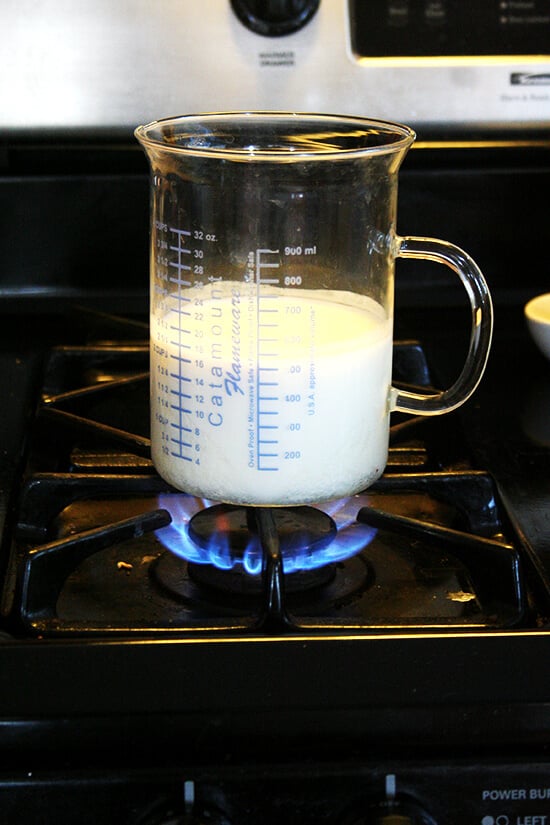 This post may contain affiliate links. Please read my disclosure policy.