Canal House Chicken and Rice
This post may contain affiliate links. Please read my disclosure policy.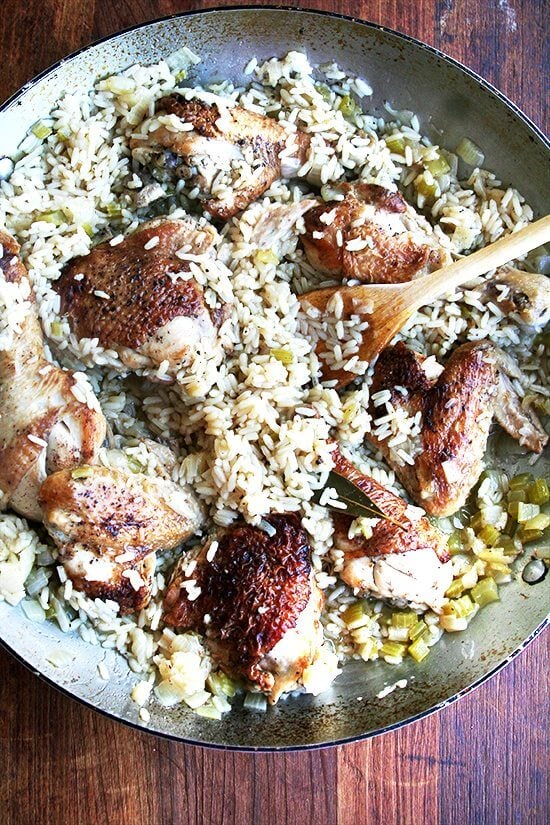 Last week, a friend, a reliable source of all things cooking — books, ingredients, attire, drinks — texted me a recipe. It came from Canal House Cooking Volume No. 6: The Grocery Store, and she described it as a small miracle.
I, of course, made the dish, "chicken and rice," immediately, and then made it again, and then made it once more last night. The dish is miraculous foremost for its reception — we ALL gobble it up — but also for its simplicity: it's a one-pot wonder calling for nothing more than butter, one onion, a few stalks of celery, one chicken, rice and water. I added a bay leaf because I can't not when cooking rice — that's what my mother does — but otherwise, I followed the text-message recipe to a T.
You'll be tempted to use stock instead of water — I was — but it's not necessary. For the first 20 minutes of stove-top cooking, the chicken braises with diced onions, celery and water, during which time that water essentially becomes a light broth. During the next 30 minutes, the rice cooks in that broth with a little more water, absorbing all of the flavors of the vegetables and meat, fluffing up perfectly around the pieces of falling-off-the-bone tender chicken.
You can add peas if you like — my friend does — and you could add some parsley for color, but don't get too fancy — there is something beautiful about the monochromaticity of this miracle dish. Tan has never tasted so good.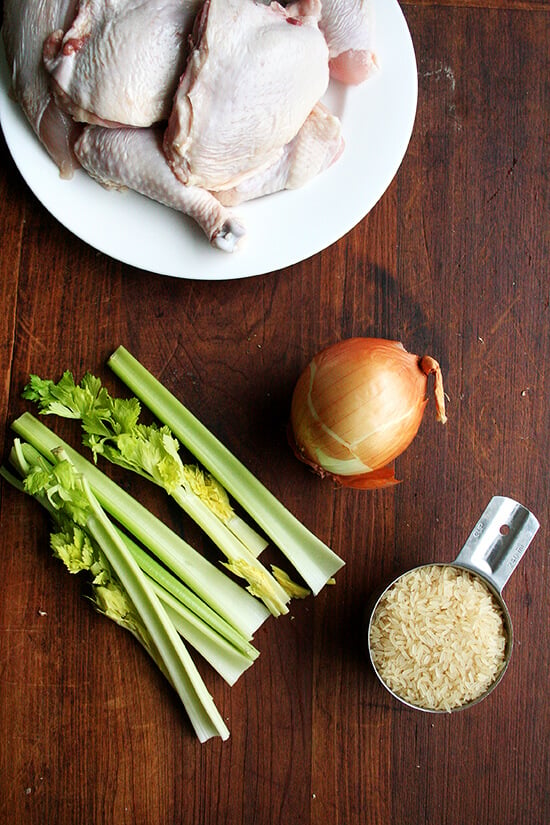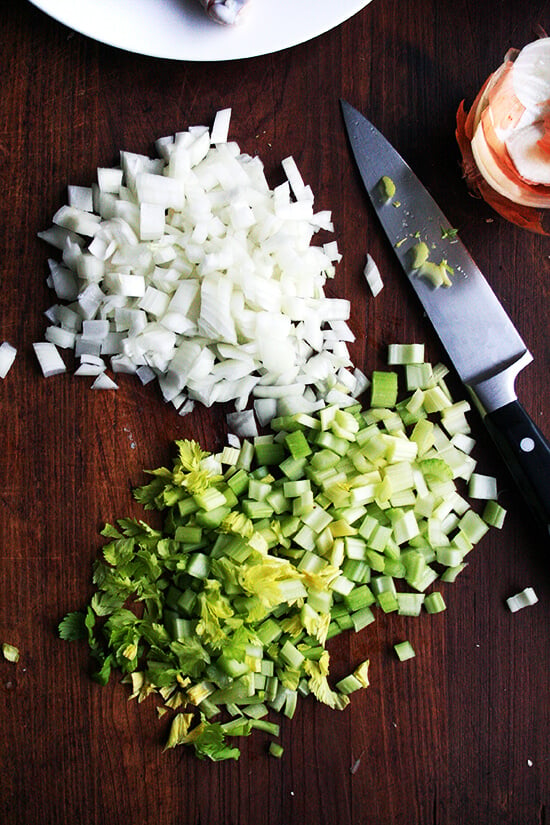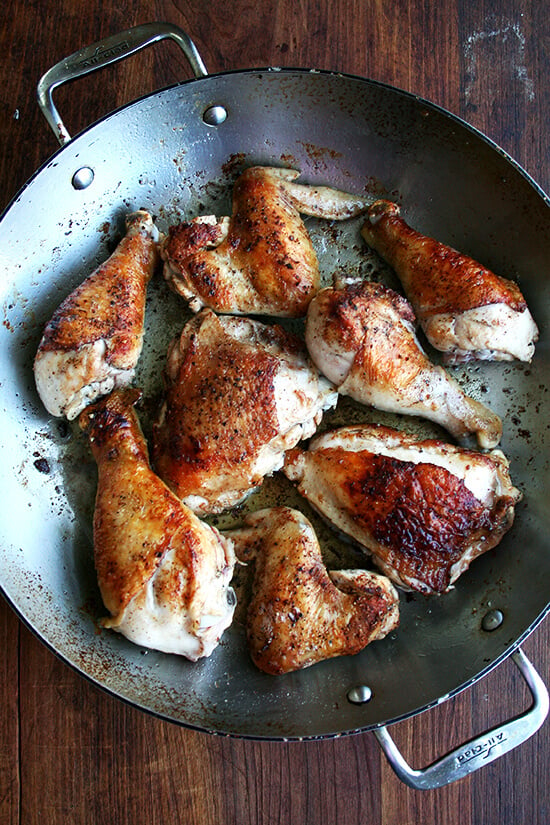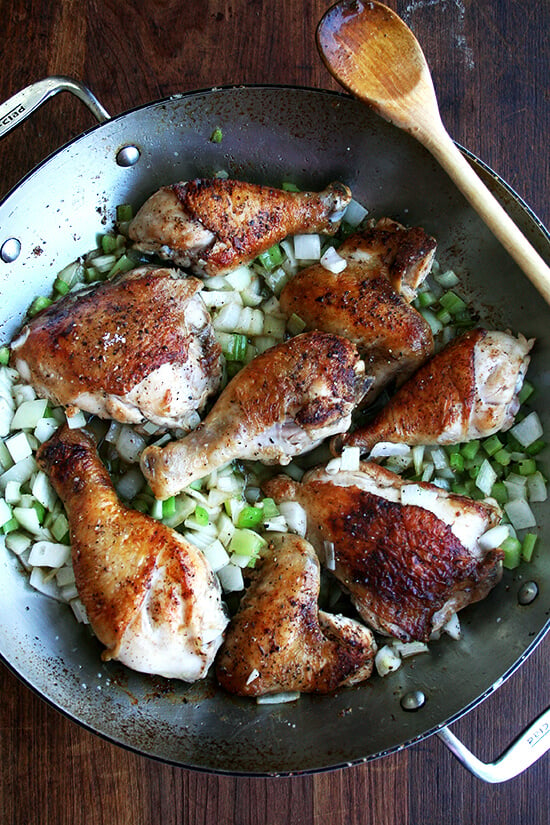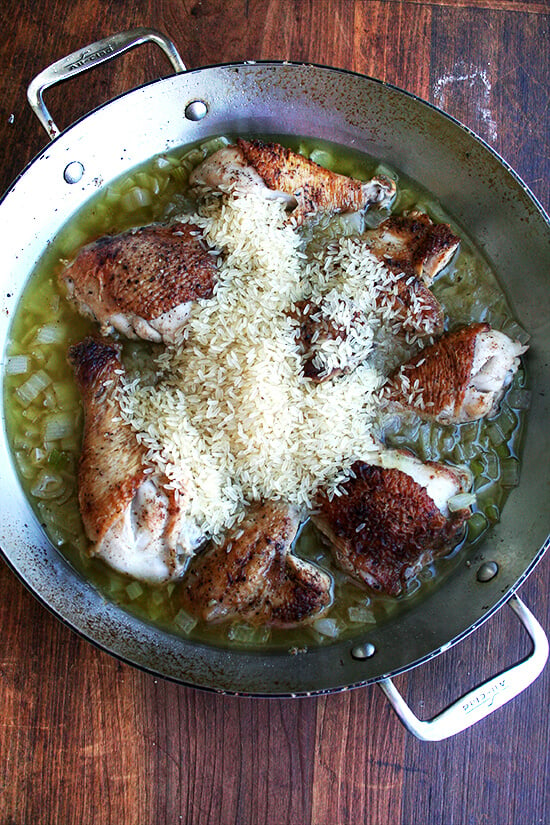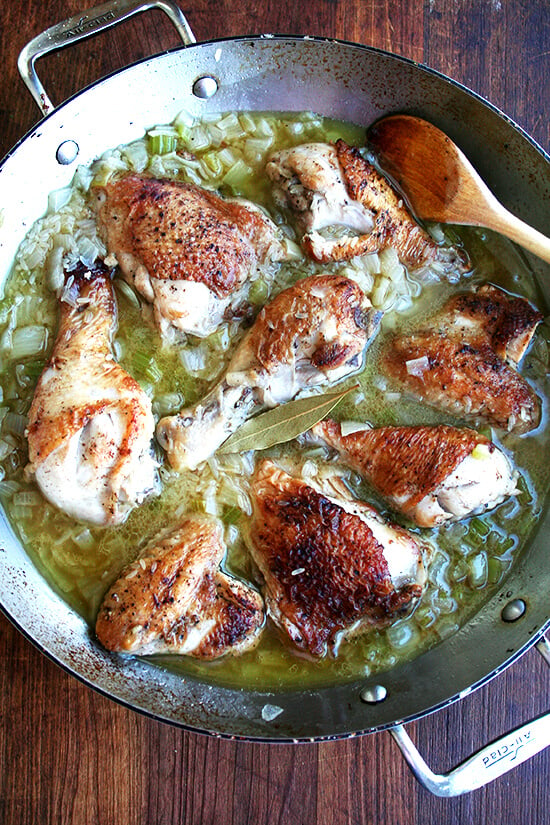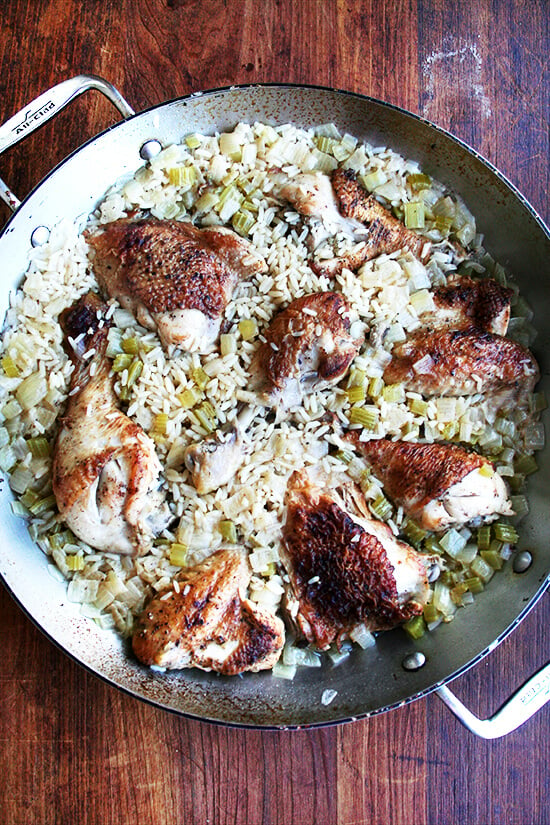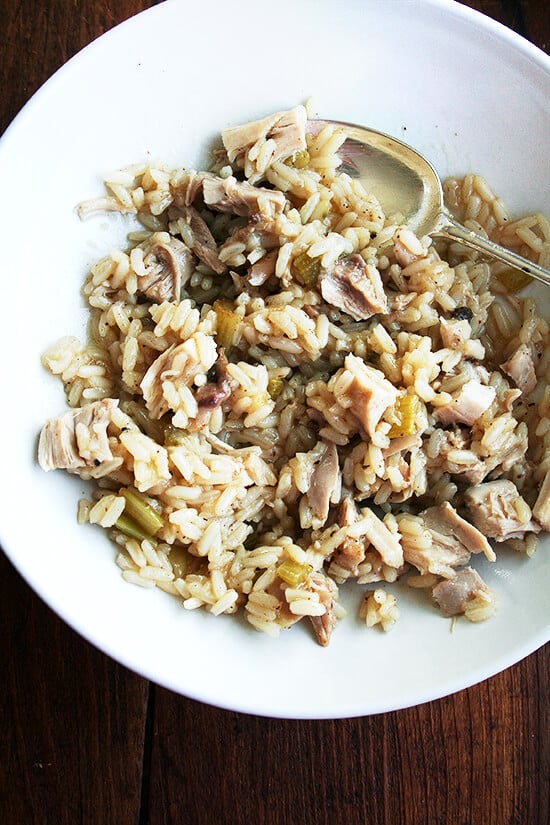 Print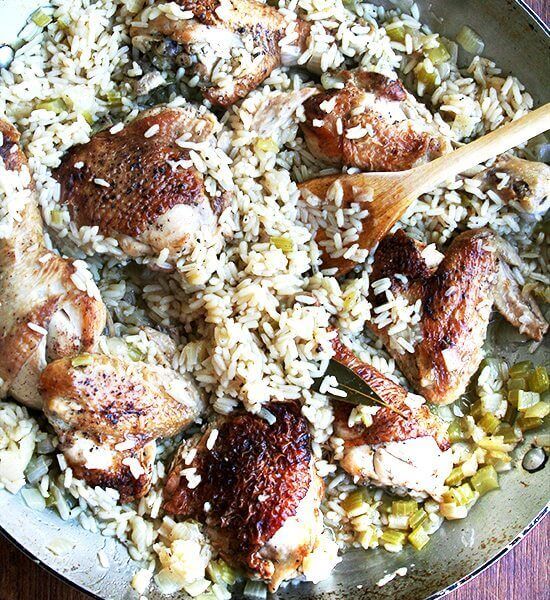 Canal House Chicken and Rice
---
Author:

Alexandra

Total Time:

1 hours 15 minutes

Yield:

4 to 6
Description
Adapted from Canal House Cooking Volume No. 6: The Grocery Store The original recipe calls for 1.5 cups of rice, and if you choose to use this quantity of rice, be sure to add 1.5 cups of water at the same time. Note: One cup of rice generously feeds four people.
---
3 tablespoons

butter

1

chicken cut into 8 pieces (I prefer, as always, using the dark meat for braises such as this one, so if you are not cutting up a whole chicken, I suggest buying bone-in, skin on thighs and drumsticks —

three

of each should do it.)
kosher salt and pepper

1

onion, diced to yields 1 1/2 cups or so
a few stalks celery, about 1/2 cup diced

1 cup

rice (I use Uncle Ben's Original (parboiled long grain rice) — it's what my mother always uses; my friend uses long grain basmati, rinsed

4

to

5

times in colander)

1

bay leaf
---
Instructions
In a large, wide pot or sauté pan, melt the butter over medium heat. Season the chicken well with salt and pepper. Brown skin side down until golden, about 10 minutes. (Note: The skin does not need to be super dark. It's best to brown slowly. The goal is to extract flavor. This is not a dish where the skin in the end is crispy.)
Meanwhile, dice the onion and celery (if you haven't already). When the chicken is golden, flip it over, add the celery and onion to the pan, season with salt and pepper, and let cook for a minute or so. Add 1 cup of water, cover the pan, turn the heat to low and cook for 20 minutes.
After 20 minutes add the cup of rice, patting it down in between the chicken pieces. Add 1 cup of water and the bay leaf. Cover the pan and cook for 30 minutes. Remove lid and serve.
If you live with little people, you might want to cut the meat off the bone, chop it up and stir it into the rice.
Prep Time:

15 minutes

Cook Time:

1 hours
This post may contain affiliate links. Please read my disclosure policy.