What To Do with Those Preserved Lemons? Pizza, Orzo
This post may contain affiliate links. Please read my disclosure policy.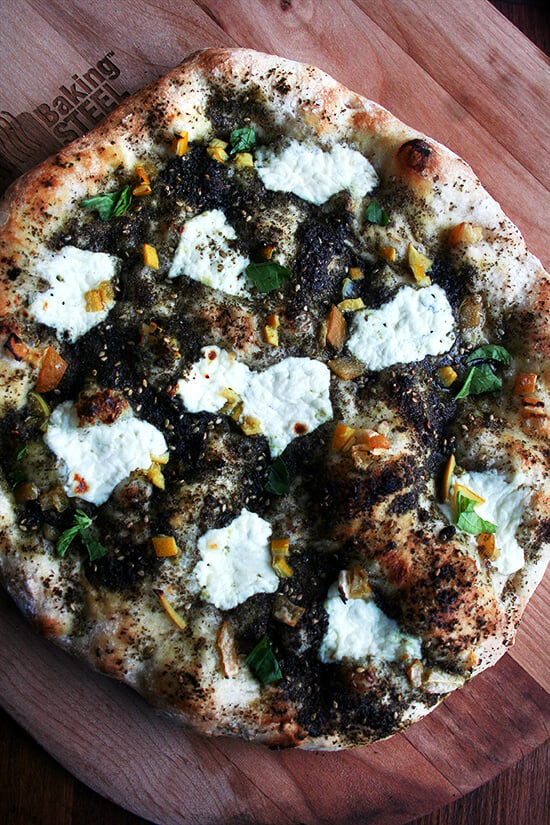 A little over a year ago, I made Kesté's lemon pizza, whose beguiling combination of smoked mozzarella, sliced lemon and fresh basil defied all conventions and challenged my ideal of pizza.
When I first began experimenting with preserved lemons, this pizza came to mind, and then it materialized on the dinner table, the preserved lemons replacing the slices, everything else remaining the same. It has been awhile since I made Kesté's original version, but the preserved lemons offer that same brightness and intensity, and the combination is one of my favorites. As I am learning, preserved lemons work nicely anywhere lemon and salt work nicely — so, everywhere? — and while there is something about the combination of smoked mozzarella and lemon that just can't be beat, this is a fun pizza combination, too: za'atar with olive oil, fresh ricotta, preserved lemon and basil.
The key when using preserved lemons is to adhere to the maxim less is more: a little preserved lemon goes a long way. I now understand why the two preserved lemon recipes I followed called for so few lemons, and that doubling each of those recipes, which seemed the obvious move at the time, may have been unnecessary.
Quick follow-up to the preserved lemon post: As you might recall, I made two batches of preserved lemons, the first came from Jerusalem and called for a traditional process of scoring and salting the lemons, the preserving taking four weeks to complete. The second method came from Bon Appetit, took two weeks to complete, and called for boiling the lemons first, then submerging them in a brine made with sugar, salt, and spices.
BA's assertion that these lemons were "the best [they've] ever tasted" convinced me to make them, and while I had my doubts about the sugary brine, if ever I run out of preserved lemons, this will be the recipe I turn to. Much to my surprise, the BA lemons do not taste sweet at all — they taste salty but less salty than the Jerusalem lemons. In a side-by-side taste test, the winner was clear. What I also like about the BA lemons is the inclusion of turmeric, whose taste is indiscernible but whose color gives the lemons a more vibrant hue. In sum, the differences are subtle, and I can't say I can detect a difference in taste in the finished dishes, but for what it's worth, I'm a fan of the untraditional brine-preserved lemons.
Chicken tagine with preserved lemons and green olives is still in the works, but in the meantime I have one other dish to share. Sally Schneider has a wonderful recipe for brown butter orzo "risotto", which calls for toasting orzo in browned butter, adding water and gently simmering for eleven minutes. Without stock, wine, cream or cheese, the starch of the orzo binds with the water, melding into a creamy, risotto-like dish. Here I've added toasted pine nuts, preserved lemons, and plumped currants, and the combination is delectable. With or without preserved lemons, this orzo is one of my favorites.
Finally, a big thank you to all who voted in the Food52–goop dark leafy greens recipe contest! I so appreciate your support.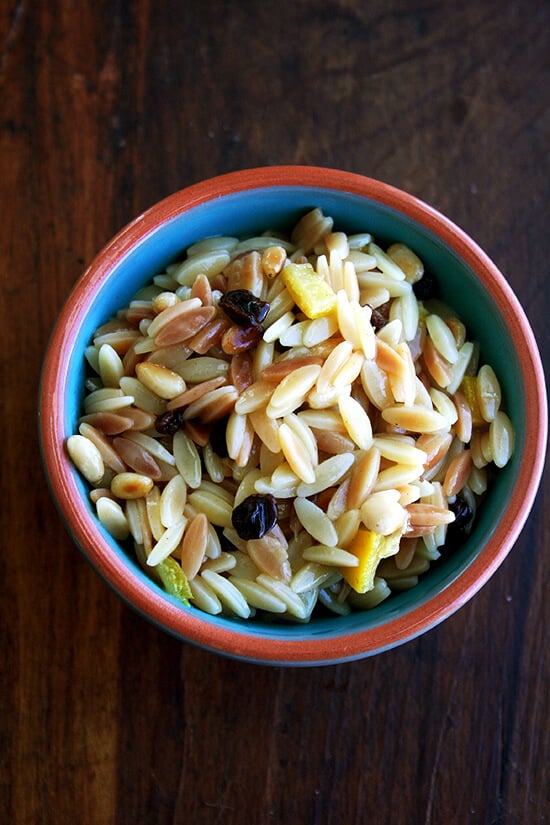 The top lemon is from the Jerusalem jar; the bottom lemon is from the BA jar: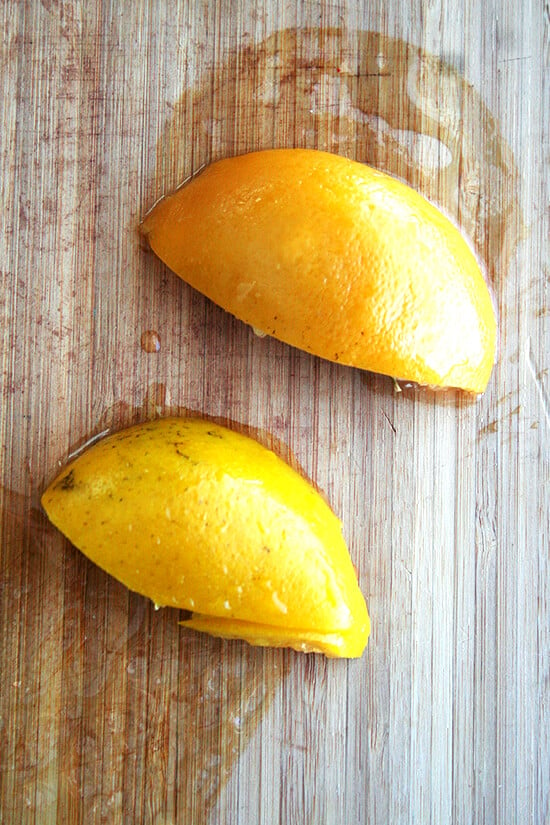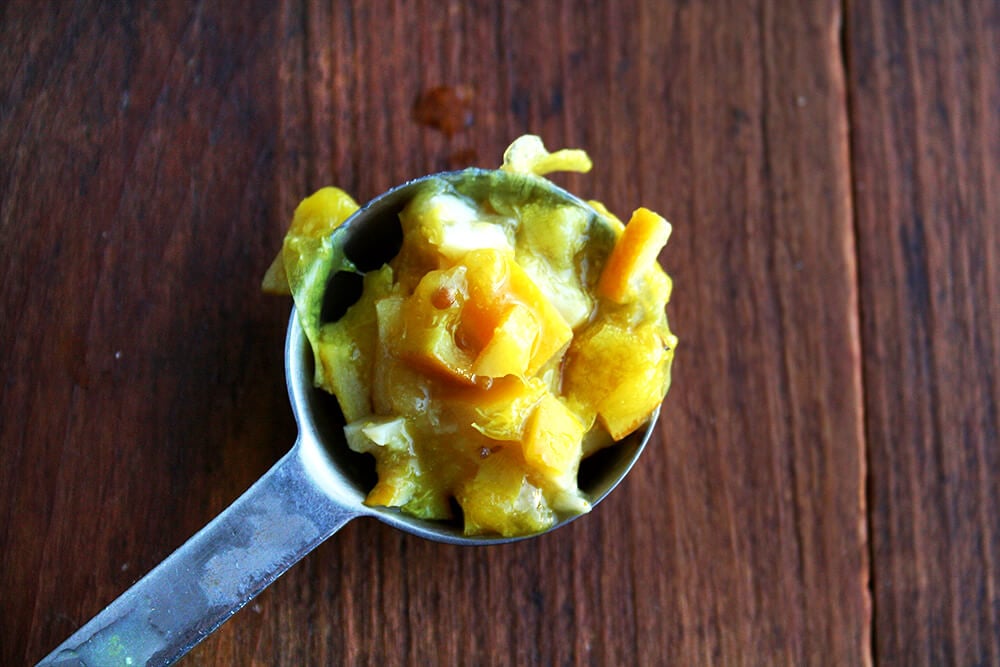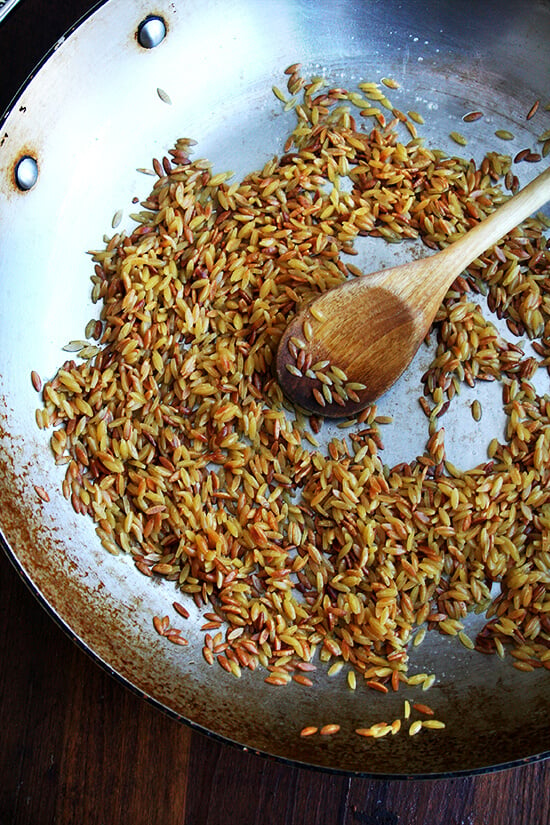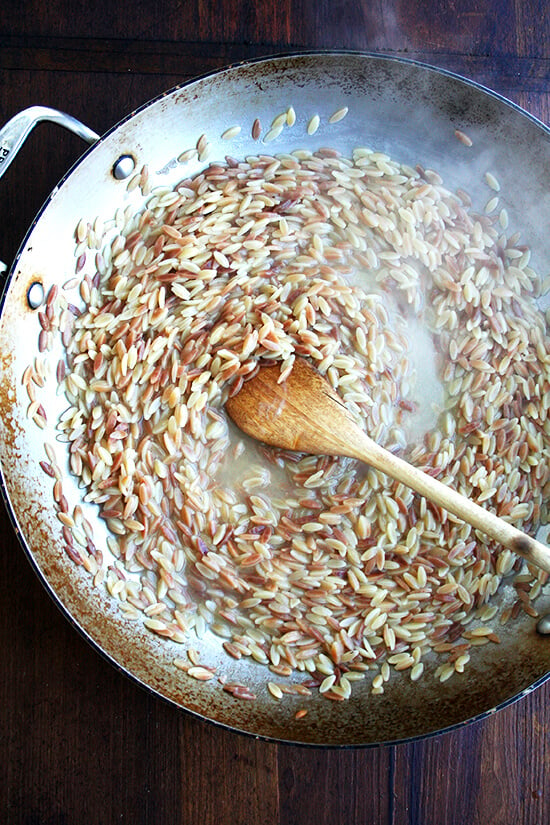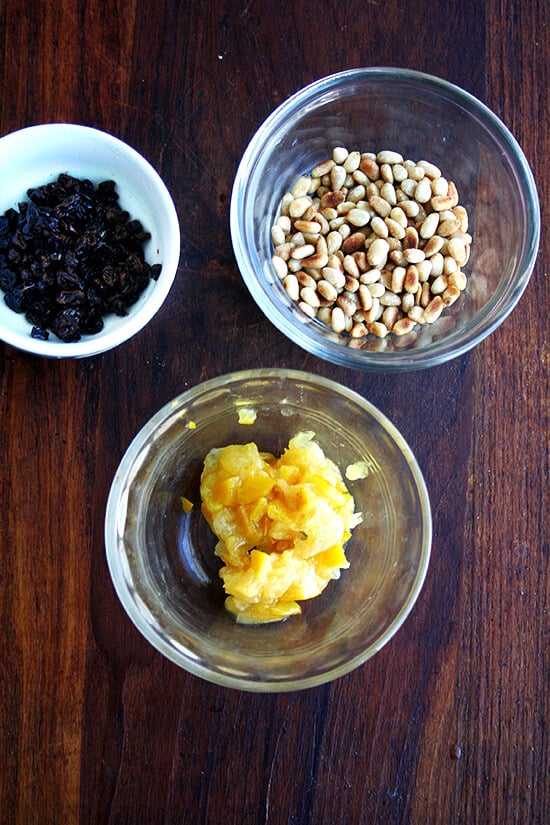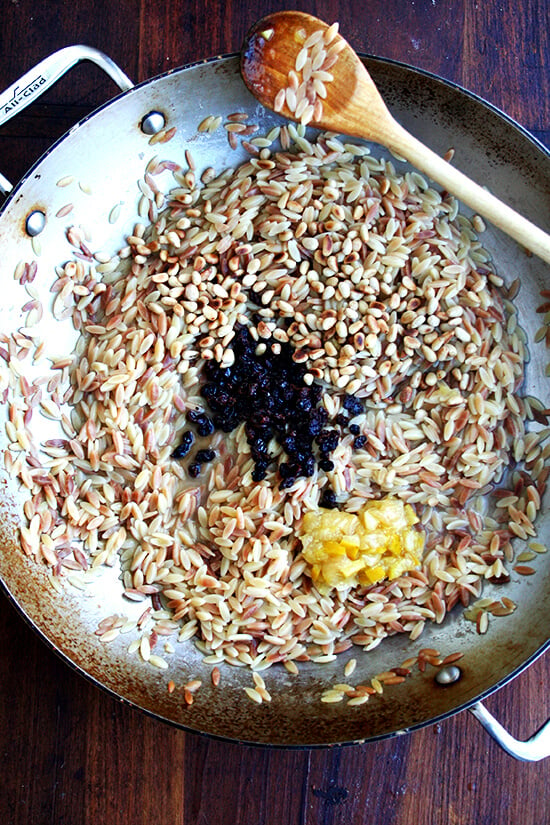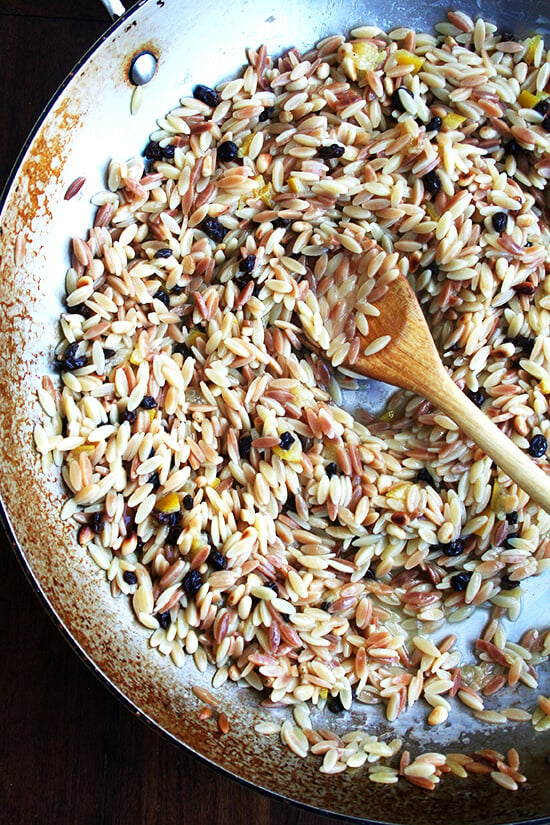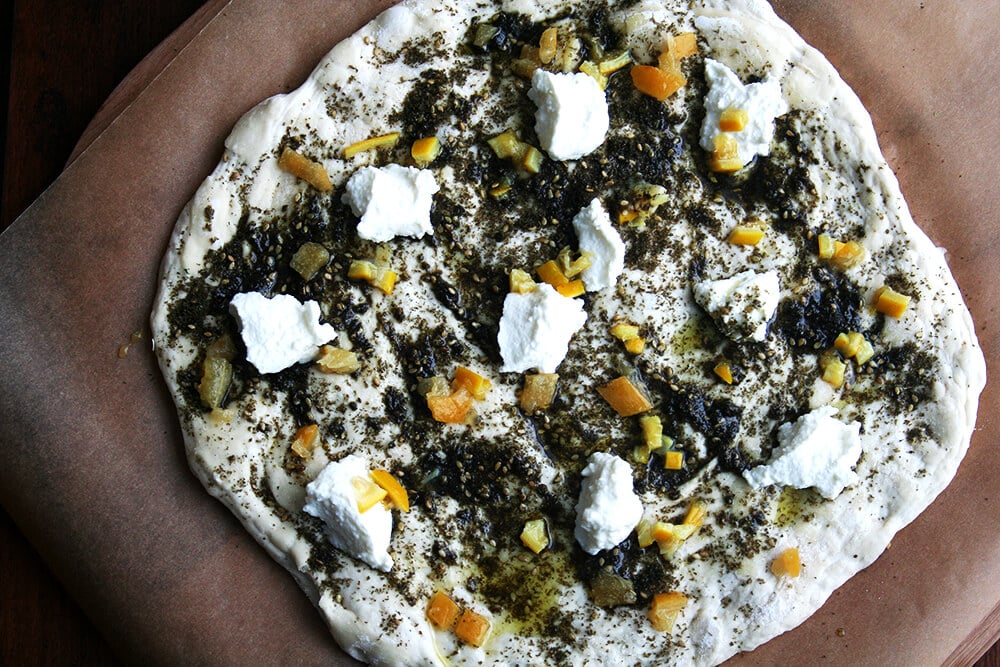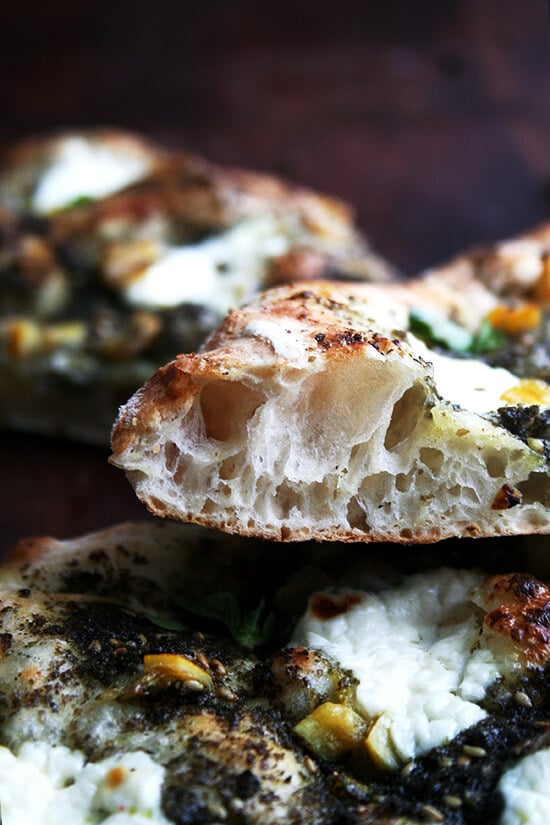 A Few Ideas for Using Those Preserved Lemons:
To recap, preserved lemons can be used anywhere you would use lemon, lemon zest, and salt. Because they are salty, be sure to cut back on the salt in any recipe you decide to use them in. I have been storing mine at room temperature, but my house is freezing, so it seems safe. If your house is not terribly cool at the moment, it's probably a good idea to store them in the fridge. When ready to use them, cut them up, rind, flesh and all. Here are a few ideas:
1. Throw them on pizza. As I noted in the post, the combination of smoked mozzarella, lemon and basil, is irresistible, and you can substitute preserved lemons for the lemon slices in this recipe.
2. Toss them in pasta or whole grain salads. Recipe for brown butter orzo "risotto" with toasted pine nuts and currants is below. I've made this same dish with Israeli couscous, which is also delicious, but there is something magical about orzo and its ability to make a creamy sauce.
3. Make a condiment: Philip Krajeck of Rolf & Daughters, the chef credited to the brine-preserved lemons, suggests seeding whole preserved lemons, puréeing them with lemon juice and blending them with olive oil. He serves this condiment with grilled fish. Sounds delicious.
4. Make a tagine with chicken, and green olives. Working on it.
Pizza Perfected
7 Secrets to Mastering Pizza at Home
Always Free. Unsubscribe Anytime.
Print
Pizza with Za'atar, Preserved Lemons and Ricotta
---
Total Time:

52 minutes

Yield:

1 pizza
Description
This recipe includes 45 minutes of inactive time for the pizza stone to rest in the oven, but during this time you will want to prepare the pizza which will take about 10 minutes.
---
1

round favorite pizza dough (Lahey recipe below)
extra virgin olive oil
za'atar*

1 tablespoon

chopped preserved lemon
fresh ricotta
a few leaves of fresh basil (optional)
*Za'atar is a spice mixture of roasted wheat, roasted thyme, ground sumac, sesame seeds, and salt (or some sort of variation of these spices).
---
Instructions
If you have a Baking Steel or pizza stone, place it in the oven and preheat your oven to 550ºF. Alternatively, just preheat your oven to high and line a baking sheet with parchment paper. Allow Steel or stone to heat for 45 minutes.
About 20 minutes before baking, remove pizza dough from fridge and let rest on floured surface.
When ready to bake, place a piece of parchment paper on a pizza peel. Alternatively, sprinkle peel with cornmeal or flour. (Note: I know using parchment paper is kind of wimpy, but it prevents any kind of sticking to the peel and it allows you to not have to use any flour or cornmeal, which burn on pizza stones and steels after the pizza is removed from the oven.) With lightly oiled hands, stretch dough out into a circle — do this in the air or on the peel itself (however you feel comfortable). Place on peel (or sheet pan if you are not using a steel or stone) and drizzle with more olive oil. Use your fingers to create small dimples in the surface of the dough. Sprinkle pizza liberally with za'atar.
Scatter preserved lemon evenly overtop. Drop spoonfuls of ricotta evenly over the surface. Drizzle a teensy bit more olive oil over top.
If you are using a peel, shimmy the whole piece of dough-topped parchment paper onto preheated steel or stone. Alternatively, place pan in oven. (Note: After about a minute or two, you can pull the piece of parchment paper from underneath the pizza (if you wish) or you can just let it char.) Cook for about 5 minutes if using peel or stone — it might take more or less time depending on your oven and on the size of the flatbread you make, but start checking after 5 minutes. On a sheetpan, the flatbread will probably take more like 7 to 10 minutes.
Transfer to a cutting board. Sprinkle with basil. Cut. Serve immediately.
---
Print
Lahey Pizza Dough:
---
Total Time:

19 hours 20 minutes

Yield:

6 rounds
1000 grams

flour, preferably tipo 00, plus more for shaping dough

4 teaspoons

fine sea salt

1/2 teaspoon

active dry yeast
---
Instructions
Whisk flour, salt, and yeast in a medium bowl. While stirring with a wooden spoon, gradually add 3 cups water; stir until well incorporated. Mix dough gently with your hands to bring it together and form into a rough ball. Transfer to a large clean bowl. Cover with plastic wrap and let dough rise at room temperature (about 72°) in a draft-free area until surface is covered with tiny bubbles and dough has more than doubled in size, about 18 hours (time will vary depending on the temperature in the room).
Transfer dough to a floured work surface. Gently shape into a rough rectangle. Divide into 6 equal portions. Working with 1 portion at a time, gather 4 corners to center to create 4 folds. Turn seam side down and mold gently into a ball. Dust dough with flour; set aside on work surface or a floured baking sheet. Repeat with remaining portions.
Let dough rest, covered with plastic wrap or a damp kitchen towel, until soft and pliable, about 1 hour. Wrap each dough ball separately in plastic wrap and chill.
---
Print
Toasted Orzo with Preserved Lemon, Pine Nuts & Currants
---
Total Time:

35 minutes

Yield:

4-6 servings as a side dish
---
1 tablespoon

unsalted butter

1 cup

orzo

2 3/4 cups

water

3/4 teaspoon

kosher salt

2

T. chopped preserved lemons

2

T. toasted pine nuts

2

T. Zante currants plumped in hot water and a splash of vinegar, then drained
freshly ground black pepper
---
Instructions
In a large skillet or a medium heavy saucepan, cook the butter over moderately low heat until the solids sink that sink to the bottom are golden brown and the butter smells like roasting nuts. Add the orzo, increase the heat to moderate, and sauté, stirring constantly, until the orzo is golden and about one third of the grains are dark brown. Stir in the water and salt and bring to a boil.
Cook at a low boil until the orzo is tender and most of the water has evaporated, about 11 minutes. There should be a light creamy "sauce" binding the orzo and making it slightly soupy. Add preserved lemons, pine nuts, currants and pepper to taste. Serve immediately — the consistency of the dish changes as soon as it cools down. It's best when eaten right away.
Prep Time:

5 minutes

Cook Time:

30 minutes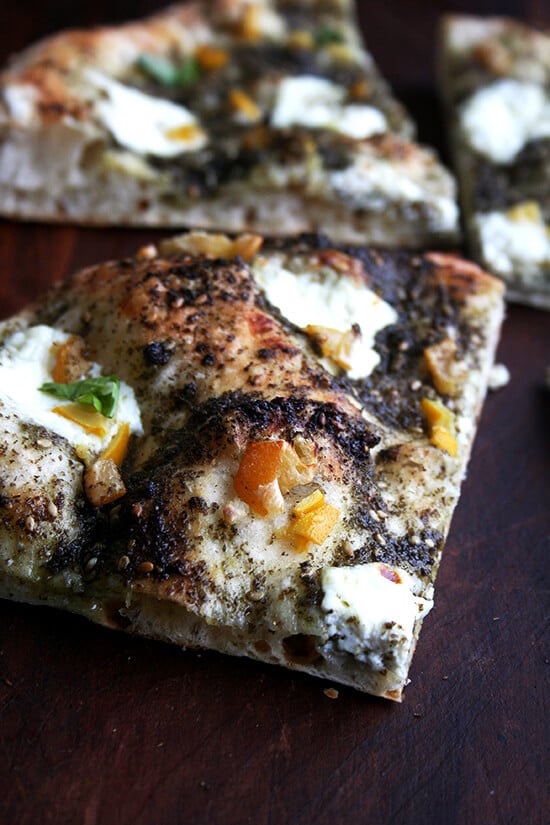 This post may contain affiliate links. Please read my disclosure policy.