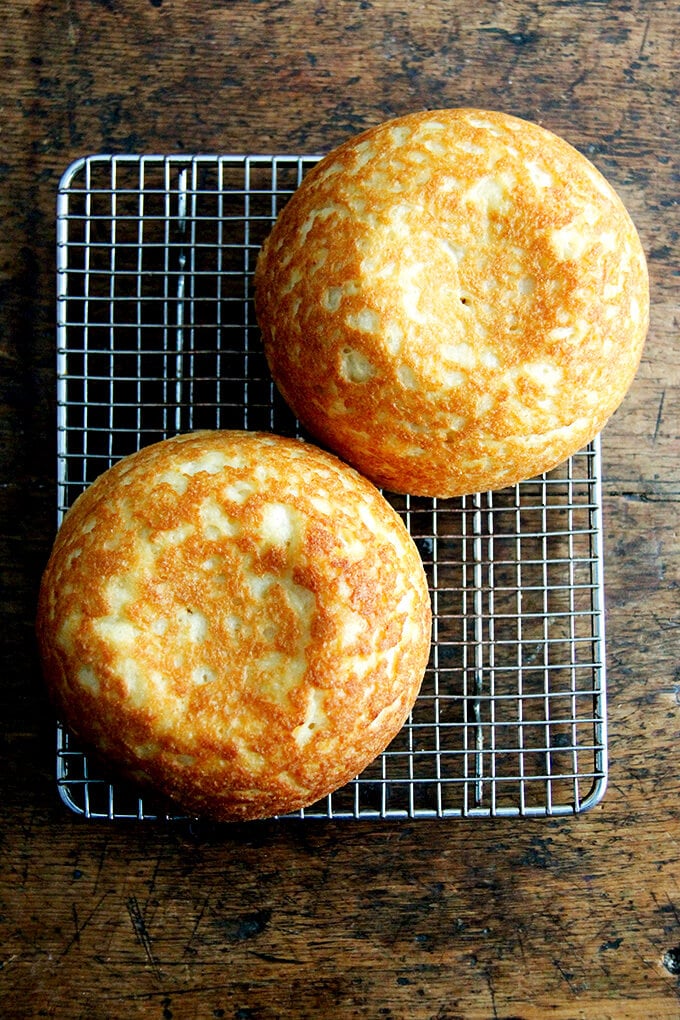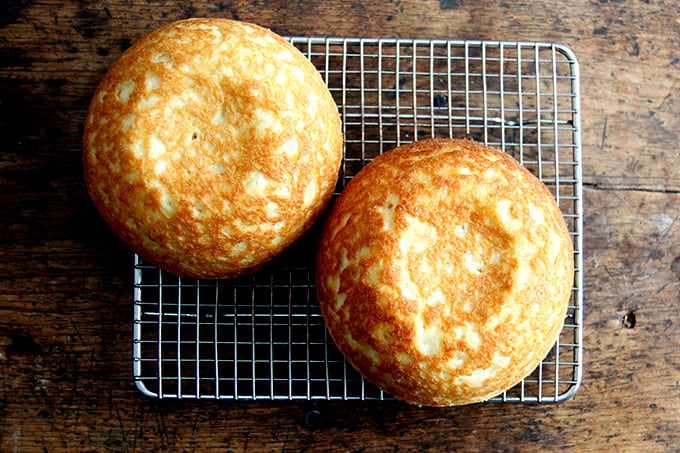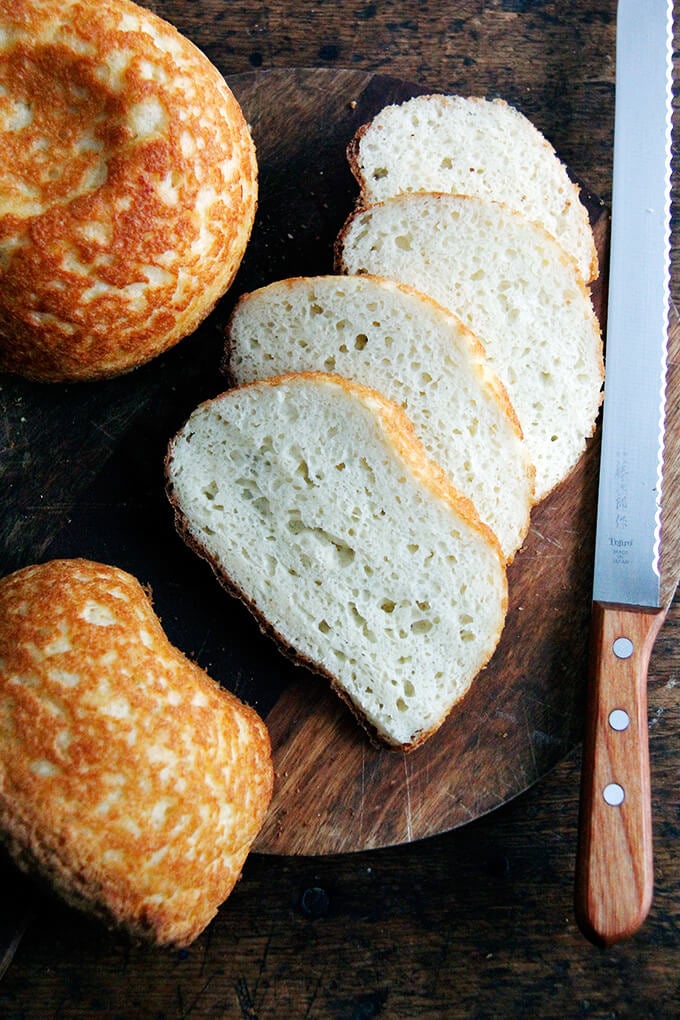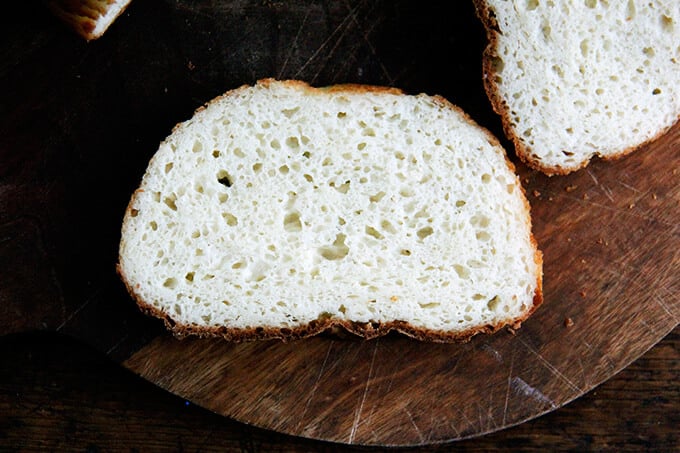 Print
The Best Gluten-Free Bread
---
Prep Time:

15 minutes

Cook Time:

40 minutes

Total Time:

2 hours

Yield:

2 loaves
---
Ingredients
4

 cups gluten-free flour—my favorite is Cup4Cup

2

 teaspoons kosher salt

2 1/4

 teaspoons instant yeast

2

 cups lukewarm water

2

 tablespoons honey

2

 eggs lightly beaten

2

 tablespoons neutral oil like grapeseed

1

 teaspoon white wine or cider vinegar
softened unsalted butter for greasing
---
Instructions
In a large bowl, whisk together the flour, salt, and instant yeast. In a medium bowl, pour the water over the honey and stir to dissolve. Add the eggs, oil, and vinegar. Add the wet ingredients to the dry and mix with a spatula to form a batter.
Grease two 1-quart oven-safe bowls with the softened butter—be generous. Divide the dough evenly between the prepared bowls. With wet hands, smooth the surface of the dough. Let the dough rise in a warm or draft-free spot for 30 to 45 minutes, until the top of the dough just crowns the rims of the bowls. Halfway through the rising, set a rack in the middle of the oven and preheat it to 425 degrees F.
Transfer the bowls to the oven, and bake for 15 minutes. Reduce the heat to 375 degrees F and bake for 17 to 20 minutes more, until golden all around. Remove the bowls from the oven and turn the loaves out onto the cooling racks. Let the loaves cool for at least 20 minutes before cutting.
Category:

Bread

Method:

Bake

Cuisine:

Gluten-Free
Keywords: gluten-free, bread, yeast
*** UPDATE 4/9/2018: Since publishing this blog post and the recipe below in 2014, I've done further explorations with gluten-free bread baking and have created a recipe, which I prefer. The recipe first appeared in my cookbook, Bread Toast Crumbs, and many of my gluten-free blogging friends, including Feed Me Phoebe, have posted the recipe on their blogs. I've included the recipe above along with a video and photos. I've kept the original post below for reference to anyone who has made it and liked it. ***
For the past year, the most frequent question asked on this blog is this: Can the peasant bread be made gluten-free?
Everyone knows someone — a friend, an uncle, a cousin — recently diagnosed with Celiac disease who has had to forget bread as he/she once knew it.
You might have this friend, this uncle, this cousin. I do. And you might want to treat him/her to a loaf of freshly baked bread but you don't know where to begin. This is the position my mother found herself in a month ago while preparing for the arrival of her brother-in-law, who had recently adopted a gluten-free diet. Panicked by the thought of serving dinner without warm, fresh bread on the table, she called asking if I had ever successfully made the peasant bread gluten free. I answered as I have to everyone who has asked thus far: no, not yet.
It seemed like a good time to take an earnest stab at making a gluten-free peasant bread. Unfortunately, a respectable loaf did not materialize before my uncle's arrival, but one has since, and while it's not perfect, I think it's worth sharing.
Let me briefly explain my experimentation process:
To start, I bought a bunch of gluten-free flour mixes from my local co-op. I know, I know. Making your own gluten-free flour mix is easy! And cost effective! And better! Well, for someone like me, who only dabbles in gluten-free baking, I have learned that it makes more sense to trust King Arthur, Hodgon Mill, C4C, etc, all of whose mixes I have had success with in the past. But if you have a great homemade gluten-free mix, use 2 cups (256g) of it here and please share your thoughts (recipe if you are feeling generous) in the comments.
After substituting gluten-free flour for all-purpose flour without making any other changes and observing what it produced — a loaf as dense as a bowling ball — I started researching and making adjustments, using xanthum gum and egg whites, increasing yeast and sugar, trying milk and buttermilk in place of water.
In sum, this is what I've learned:
• For every cup of flour (128g), use about a teaspoon of xanthum gum.
(Note: This is specific to bread and does not apply to cookies, cakes, etc.)
• For every cup of flour (128g), use 1 egg white (40g).
• Using a little more yeast proportionally helps lighten the texture.
• Baking at a higher temperature (425ºF or so) for the entire time helps ensure the loaf will be cooked through and not super dense — gluten-free flours (at least the ones I have been using) don't seem to brown as quickly.
• Using milk or buttermilk in place of water helps with flavor but changes the texture of the bread — using all water makes for a lighter crumb.
• As far as taste goes, I prefer gluten-free mixes comprised mostly of rice flours (brown or white) versus bean flours. My favorites are King Arthur and Hodgson Mill, and while I have had success with C4C in the past, I didn't try it here because I couldn't find it at my local market. If you are going to use C4C, you might have to make adjustments because that mix has xanthum gum in it already. I have a bag of C4C on the way, and I'll report back as soon as I try a loaf with it.
• If you store your gluten-free flours and xanthum gum in the freezer, bring them to room temperature before using them. You can do this by leaving them out overnight. You could zap them in the microwave. You could warm them in the oven. Having all of your ingredients at room temperature helps the bread rise properly/faster. I also like to bloom the yeast even if I'm using instant yeast because I feel (and I don't know that there is any real truth to this) it helps speed the rising process along.
• Don't expect the texture of the dough to be similar to doughs made with flours containing gluten. The gluten-free dough, after it has risen, appears and behaves more like waffle batter after the baking soda has been activated and caused it to bubble and expand.
• On a toasted slice of gluten-free bread, a little butter and sea salt go a long way.
To be clear, too, the recipe provided below is not a miracle recipe, one that will produce a loaf identical in taste to the original and fool whoever is eating it. But the texture is nice — soft and spongy, not too dense, not dry at all — and when sliced, the pieces hold their shape — they don't crumble the way gluten-free baked goods often do. The flavor, too, especially when the bread is made with whole milk, is surprisingly good. I'm hoping this recipe will serve as springboard for more flavorful variations. I would love to hear your thoughts and ideas if you give it a go.
Happy spring, happy weekend, Everyone. Don't forget to eat your vegetables. They are so good.
The below series of photos shows the process for making two loaves of gluten-free peasant bread using water in one loaf and buttermilk in the other. Here, the yeast is blooming. The top bowl is a mixture of buttermilk, yeast, and sugar; the bottom bowl is a mixture of water, yeast, and sugar: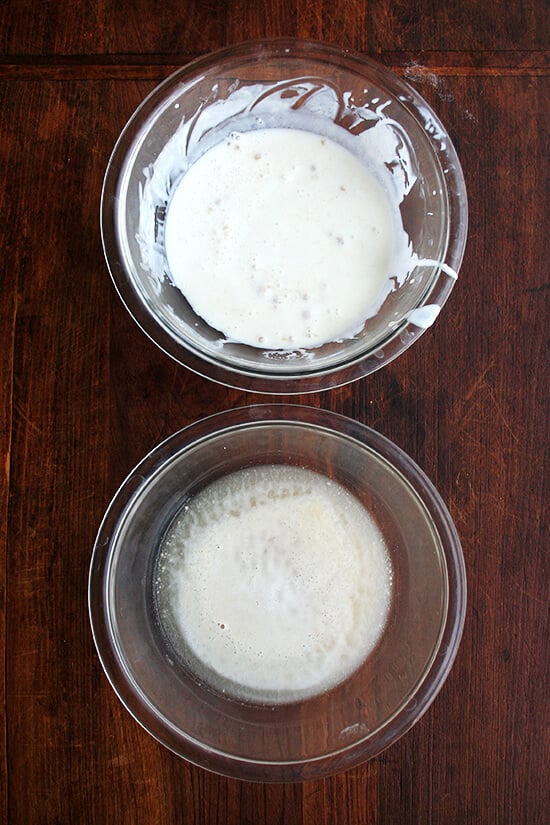 A friend up here who has a great gluten-free blog introduced me to the King Arthur gluten-free flour mix. It can be found in nearly every market, and it works really well in cupcakes, muffins, quick breads, etc.

Use one egg white per cup of flour:

Just-mixed dough: the top bowl contains the dough with buttermilk; the bottom bowl contains the dough with water.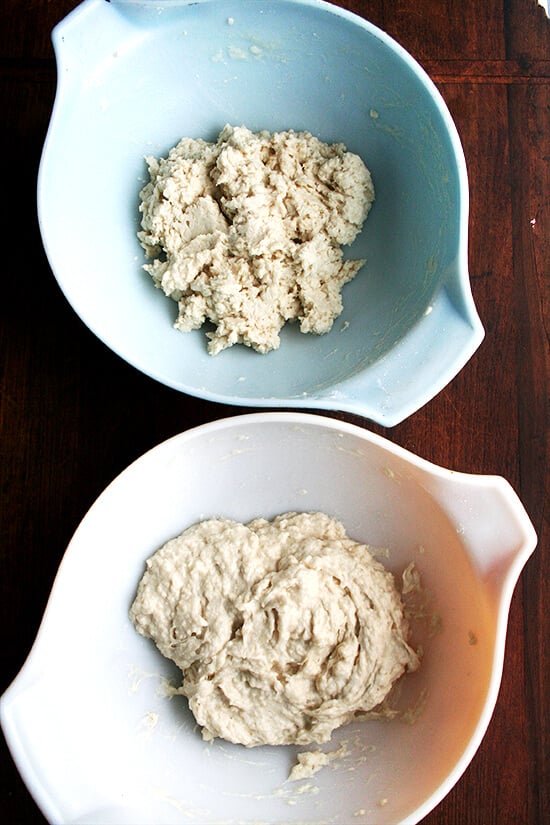 Rising: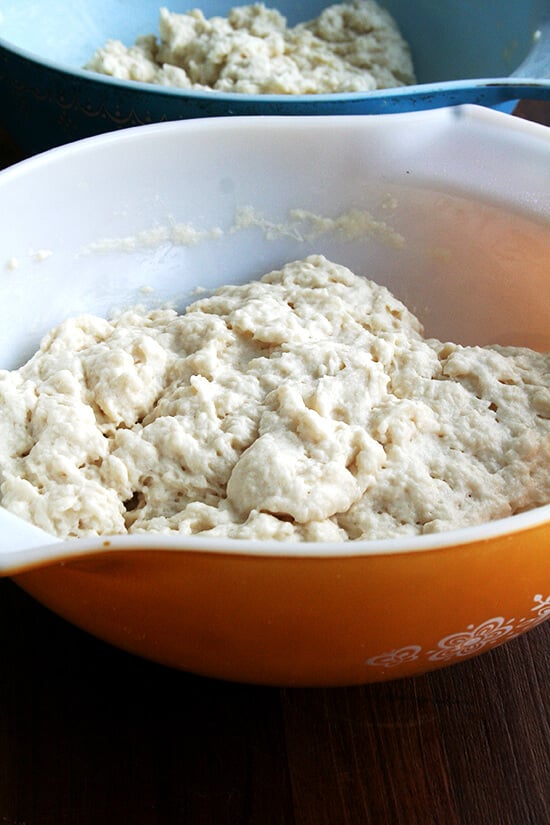 Ready for the oven:

Just baked:

This is the gluten-free peasant bread made with water: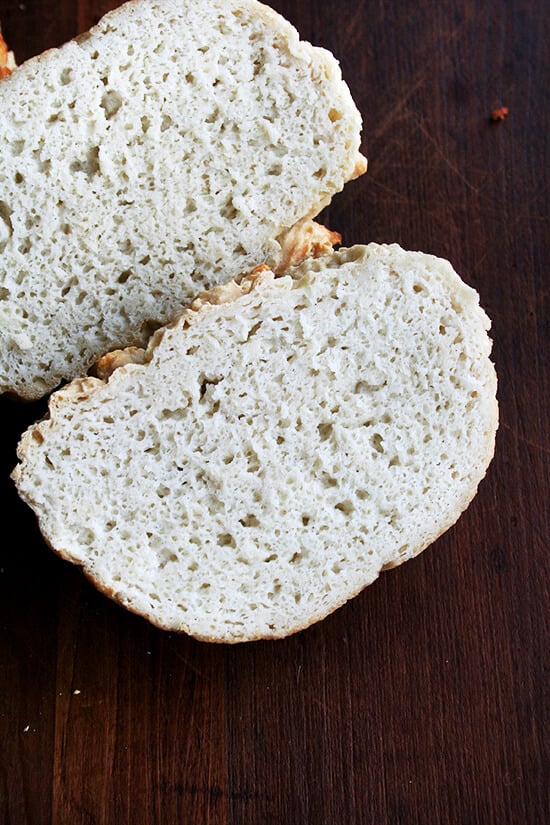 This is the gluten-free peasant bread made with buttermilk. The texture is not quite as light as when made with water, but the flavor is better. The loaves made with whole milk or buttermilk were the tastiest: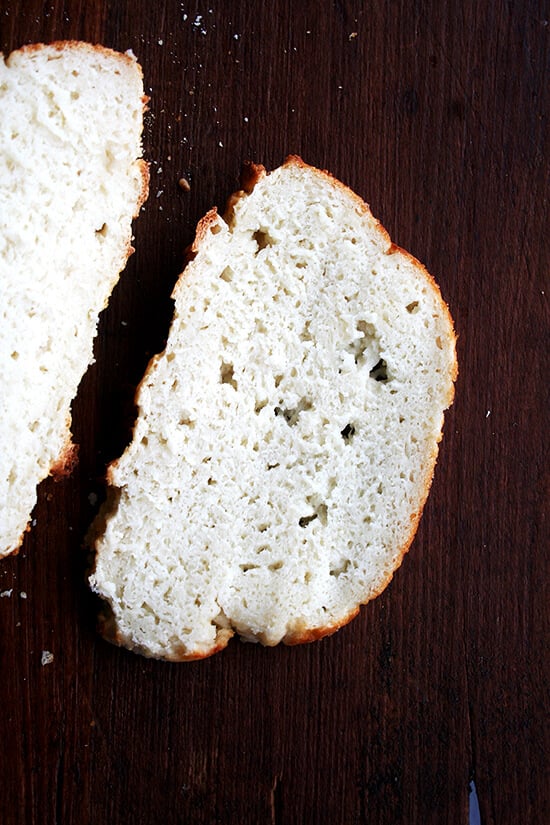 The top loaf is made with buttermilk; the bottom is made with water. When made with milk or buttermilk, the bread browns more: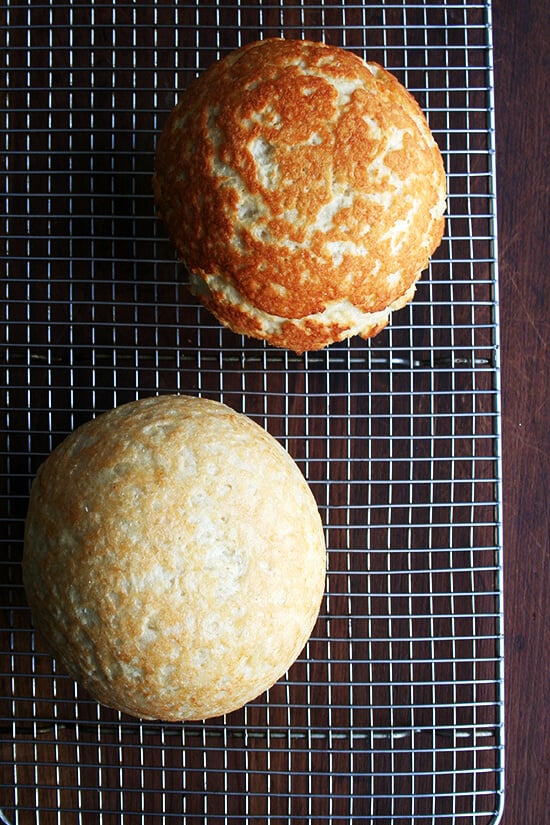 Like the traditional peasant bread, the gluten-free variation makes a pretty nice grilled cheese: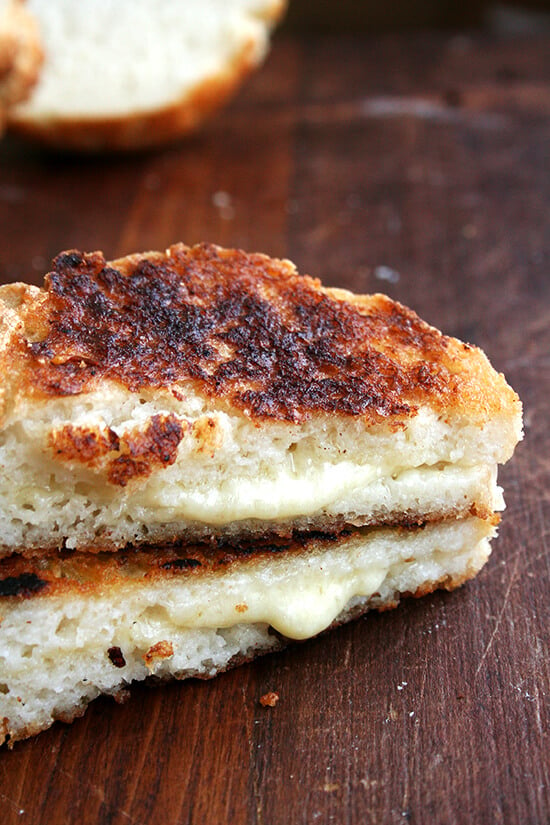 This is the batch using Hodgson Mill Gluten-Free Flour: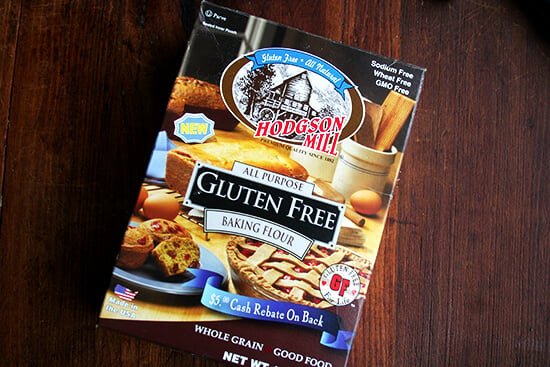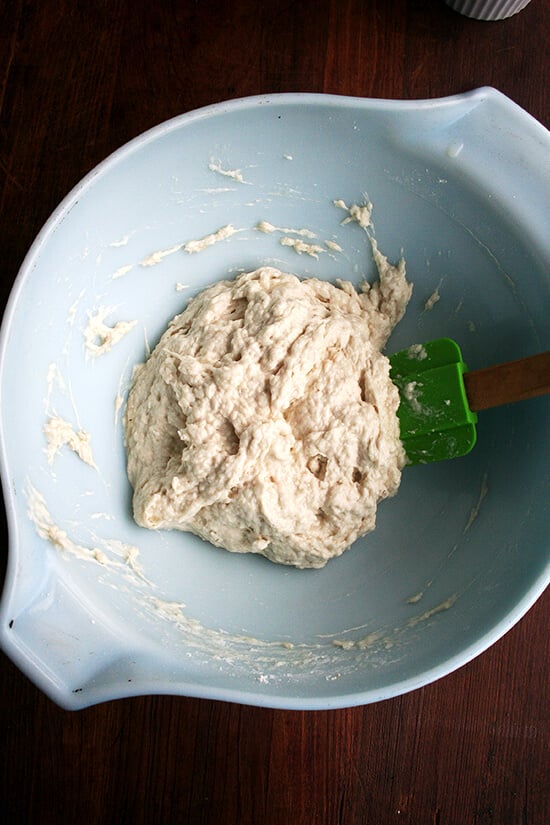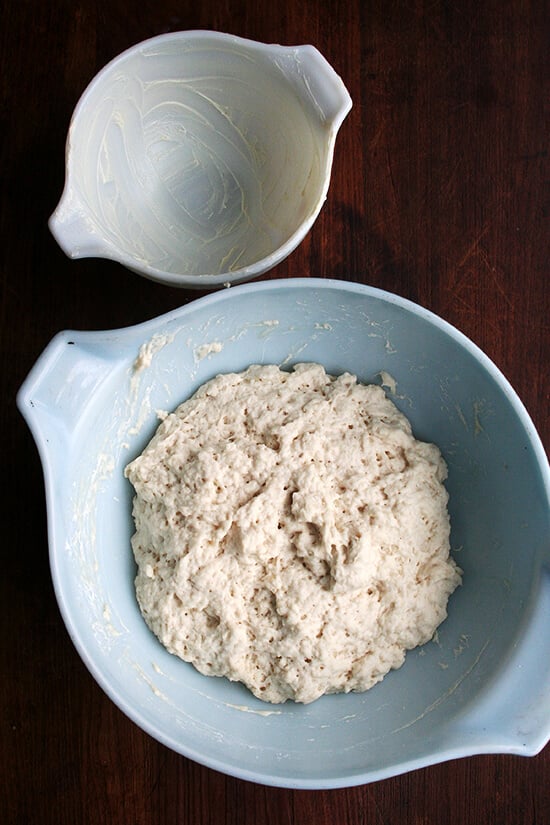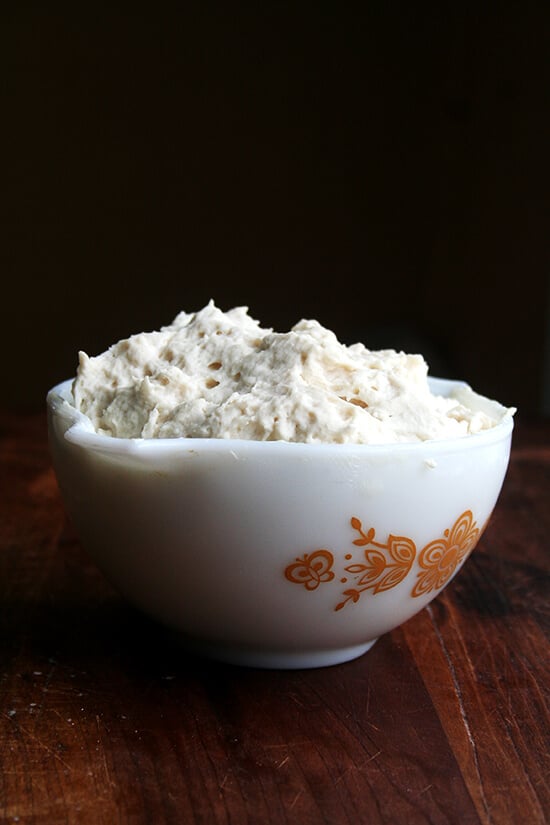 The exposed surface of every gluten-free variation of this bread always looks a little funky: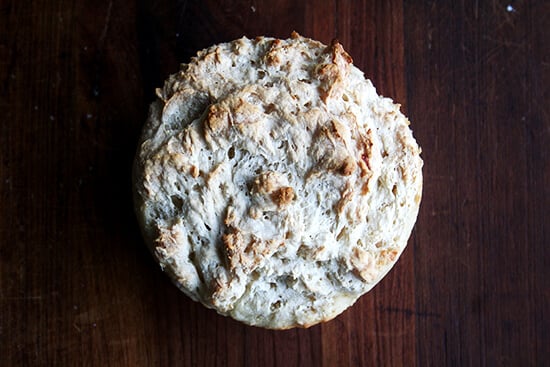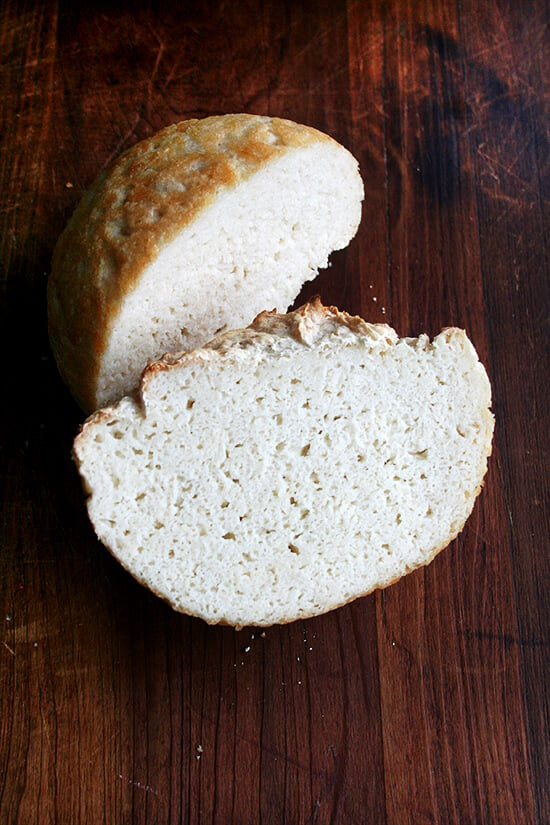 Print
Gluten-Free Peasant Bread
---
Author:

alexandra

Prep Time:

110 minutes

Cook Time:

30 minutes

Total Time:

2 hours 20 minutes

Yield:

1 loaf
Description
Notes:
***Update: My cookbook, Bread Toast Crumbs, was recently released, which includes a gluten-free recipe I prefer to this one. The video is up top and the recipe is up top as well. I'm keeping this recipe up for reference. ***
As with the original peasant bread recipe, the size of the bowl is important: The vintage Pyrex #441 bowl is my favorite bowl to bake the peasant bread in — the perfectly round shape of the bowl creates a beautiful round loaf. Another cheaper, very good option is the Pyrex 322. I have kept the proportions almost identical to the original peasant bread recipe, but I have provided a half recipe here because this is how I have been experimenting this past month. It seemed less wasteful to make one 2-cup-flour loaf vs. two 4-cup-flour loaves during the experimental phase. Using water vs. milk or buttermilk creates a texture most similar to the original peasant bread recipe, but milk or buttermilk makes for a tastier loaf. If you are up for experimenting, and if you have two small Pyrex bowls, it's a helpful exercise to make a batch of each so you can compare the taste and texture.
---
Ingredients
1 cup

lukewarm water, buttermilk or milk**

1½ teaspoon

s sugar

1½ teaspoon

s active-dry or instant yeast***

2 cup

s (

256

g ) gluten-free flour*

2 teaspoon

s (

6

g) xanthum gum

1 teaspoon

s (

6

g) kosher salt

2

egg whites (

80

g)
room temperature butter, about 2 teaspoons
**To make foolproof lukewarm water that will not kill the yeast (water that's too hot can kill yeast), boil some water — I use my teapot. Then, mix ¾ cup cold water with ¼ cup boiling water. This ratio of hot to cold water will be the perfect temperature for the yeast. If using milk or buttermilk, zap them in the microwave for 30 seconds or so — just make sure the milk is not too hot to touch. It should be lukewarm. With buttermilk especially, be careful not to get it too hot or it will curdle.
*I buy Red Star active dry yeast and SAF instant yeast in bulk from Amazon. I store them in my fridge, and they last forever. Also, if you buy instant yeast, there is no need to do the proofing step — you can add the yeast directly to the flour — but the proofing step does just give you the assurance that your yeast is alive.
*** I have tried a variety of gluten-free flours in this recipe. I favor the ones made from rice flours (brown or white) versus bean flours. I have had success with King Arthur and Hodgson Mill brands gluten-free flours. I have had success in the past (for this lemon-thyme shortbread recipe for instance) with C4C, though I have not tried it with this bread mostly because my local market doesn't sell it. I read online that its mix contains xanthum gum, so if you are using C4C, you might need to make adjustments, since the recipe below calls for xanthum gum.
---
Instructions
Mixing the dough:

If you are using active-dry yeast: In a small mixing bowl, dissolve the sugar into the water. Sprinkle the yeast over top. There is no need to stir it up. Let it stand for about 10 to 15 minutes or until the mixture is foamy and/or bubbling just a bit — this step will ensure that the yeast is active. Meanwhile, in a large bowl, whisk together the flour, xanthum gum and salt. When the yeast-water-sugar mixture is foamy, stir it up, and add it to the flour bowl. Add the two egg whites. Mix using a spatula or wooden spoon until the flour is absorbed.
If you are using instant yeast: In a large mixing bowl, whisk together the flour, xanthum gum, salt, sugar, and instant yeast. Add the water. Add the egg whites. Mix until the flour is absorbed.

Cover bowl with a tea towel or plastic wrap and set aside in a warm spot to rise for at least an hour. (If you have the time to let it rise for 1.5 to 2 hours, do so.) This is how to create a slightly warm spot for your bread to rise in: Turn the oven on at any temperature (350ºF or so) for one minute, then turn it off. Note: Do not allow the oven to get up to 350ºF, for example, and then heat at that setting for 1 minute — this will be too hot. Just let the oven preheat for a total of 1 minute — it likely won't get above 300ºF. The goal is to just create a slightly warm environment for the bread.
Preheat the oven to 425ºF. Grease one oven-safe bowls (such as the pyrex bowls I mentioned above) with about two teaspoons of butter.
Using a spatula, transfer the dough to the prepared bowl. Note: Unlike the traditional peasant bread recipe, there is no punching down of the dough here. I suggest using a light hand/spatula, in fact, while transferring the dough to the bowl.
Let the dough rise 20 to 30 minutes on the countertop near the oven (or near a warm spot) or until it has risen to just below or above (depending on what size bowl you are using) the top of the bowl. (Note: I do not do the warm-oven trick for the second rise. I simply set my bowl on top of my oven, so that it is in a warm spot.)
Bake for 30 minutes. Remove from the oven and turn the loaf onto a cooling rack. If you've greased the bowl well, the loaf should fall right out onto the cooling rack. Remove from oven and let cool for 10 to 15 minutes before cutting.
---