Vermont | Homemade Cultured Butter
This post may contain affiliate links. Please read my disclosure policy.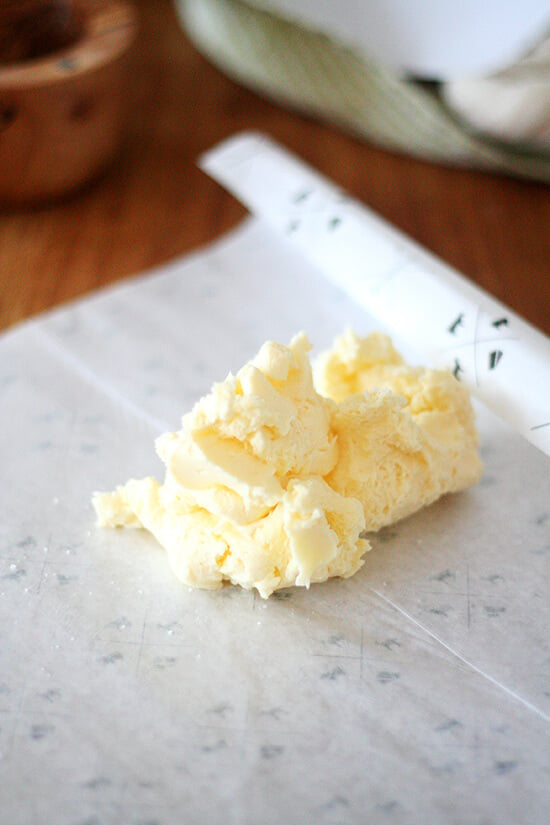 I just spent a week eating cheese, making butter, growing sprouts, baking bread, snuggling with Golden Retrievers, visiting farms, driving through covered bridges, admiring snow-capped mountains and frozen lakes, and sampling microbrews while eating wood-fired pizzas. Could I have been anywhere in the world but Vermont?
Perhaps, but short of meeting a few friends for a morning snowshoe, my week couldn't have been filled with more quintessential Green Mountain State activities. My siblings and I grew up traveling to Charlotte many times a year to visit my mother's sister Marcy, master of pies, soup, and delectably melty appetizers. The five-hour drive always felt interminable, knowing what we had awaiting us: our cousins, a zipline, Uncle Wade's waffles, Lake Champlain, dogs and endless outdoor fun.
For my parents, the drive was a breeze, the nature scenes providing endless distraction. I never quite understood the enthusiasm for the birds perched on the highway light poles or the first glimpse of Mount Mansfield, but on my drive north this past Sunday, I realized I had officially become my parents. "Children!" I would shout at every turn. "Look at the cows! The silos! The mountains! The sugar houses!"
I didn't want to leave Vermont, and I took a few things home with me to make the parting more bearable, namely a log of the homemade cultured butter Marcy had made during my stay. As with other homemade dairy experiments, the process is half the fun: watching the cream thicken on the countertop, seeing it separate into butter curds and real buttermilk in the food processor, unwrapping the cheesecloth to reveal a rich, tangy mass.
If you are into these sorts of homemade projects, cultured butter is a fun one to add to your repertoire. Having it on hand will, of course, require making homemade bread, of which you might eat more than you care to admit. Don't say I didn't warn you.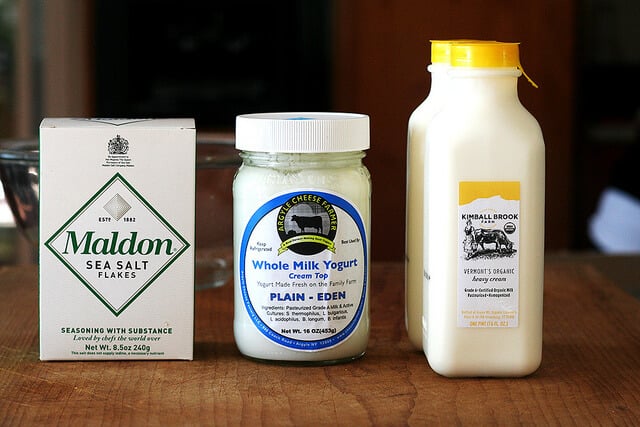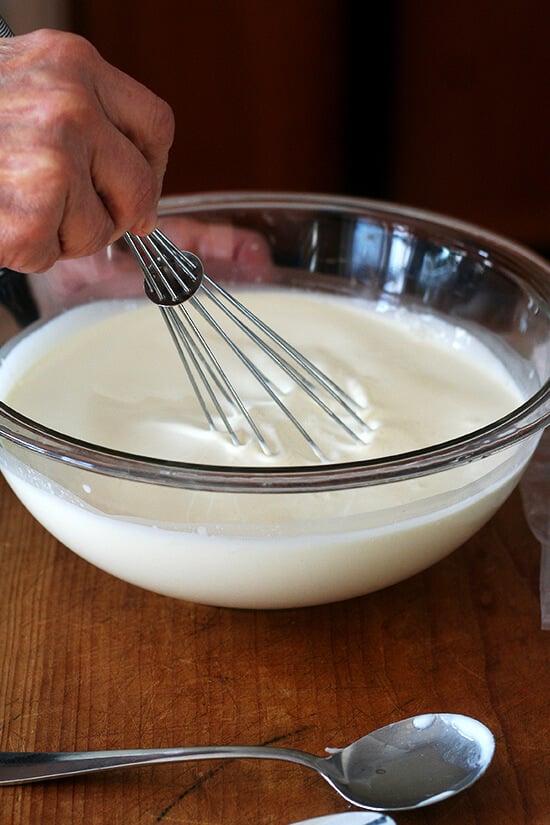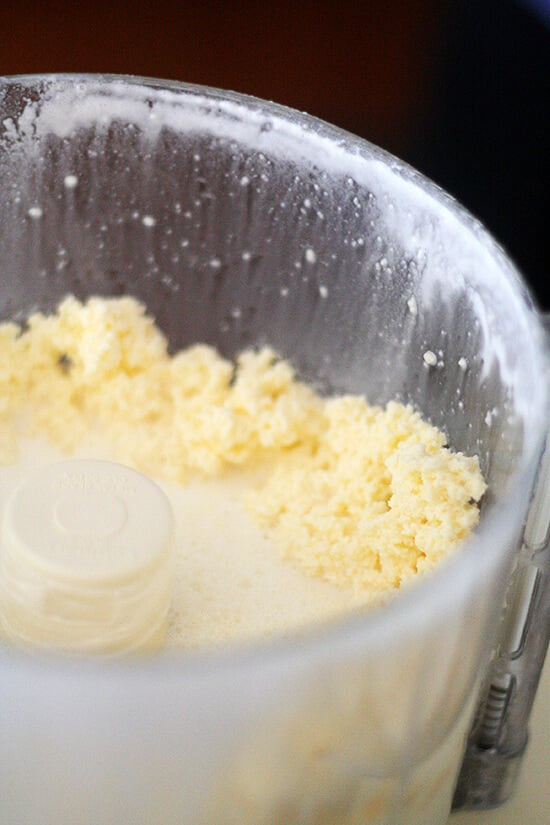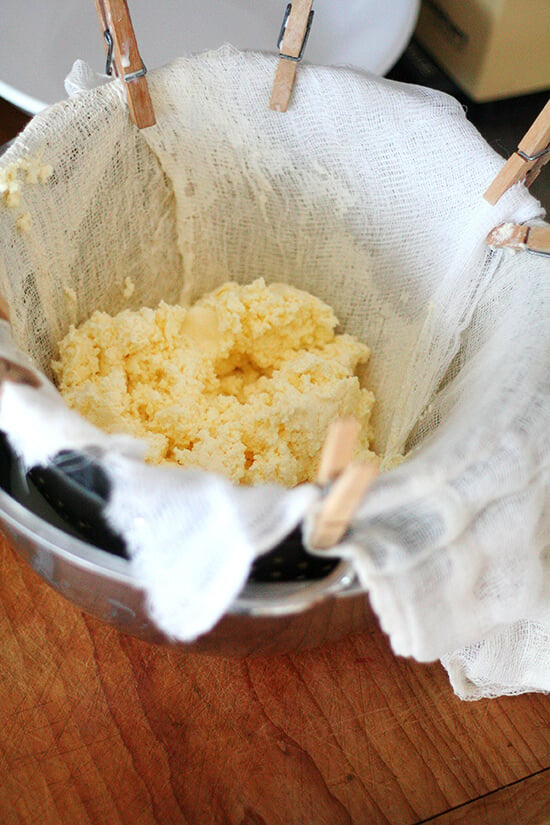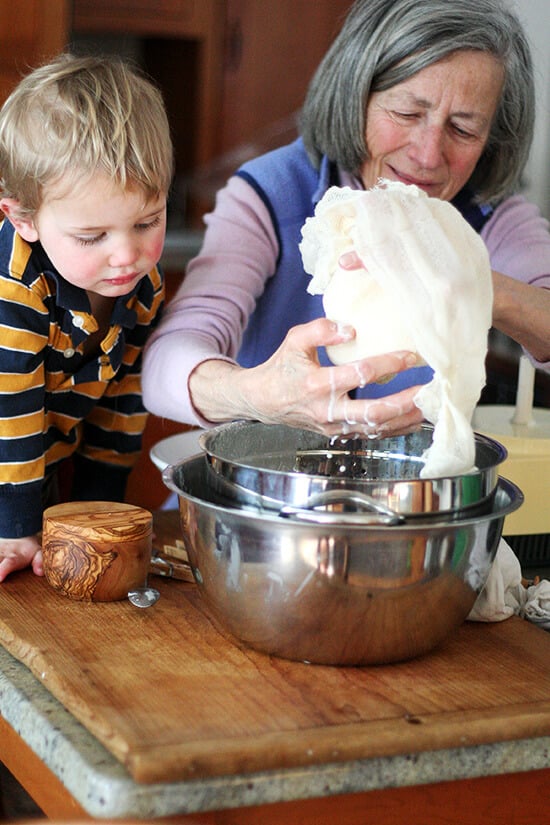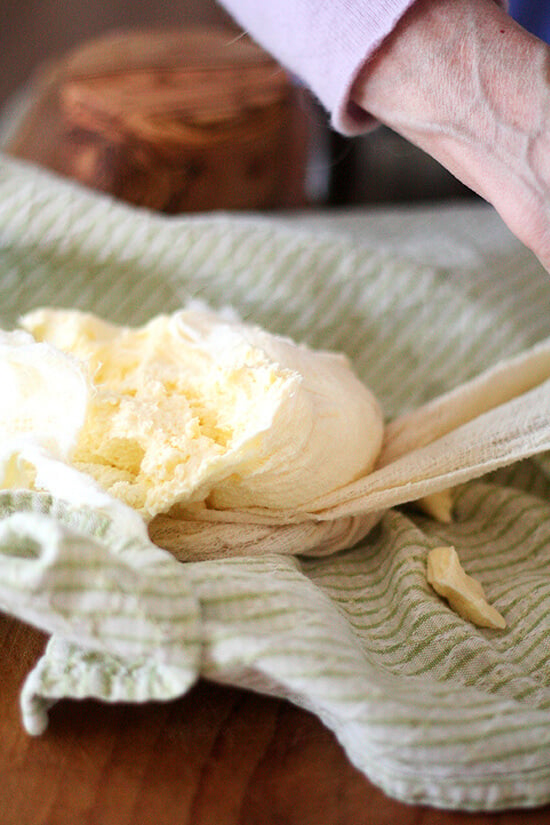 Real buttermilk:

Homemade butter wrapped in cheese paper:

A few snapshots from the trip: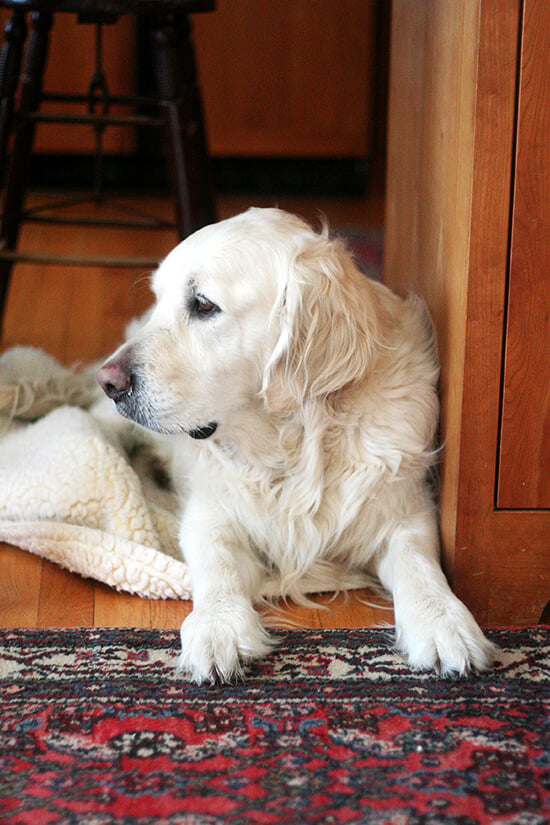 Marcy made the most delectable wheat berry toasting bread, a recipe adapted from this Bakery Lane Soup Bowl's honey-whole wheat toasting bread: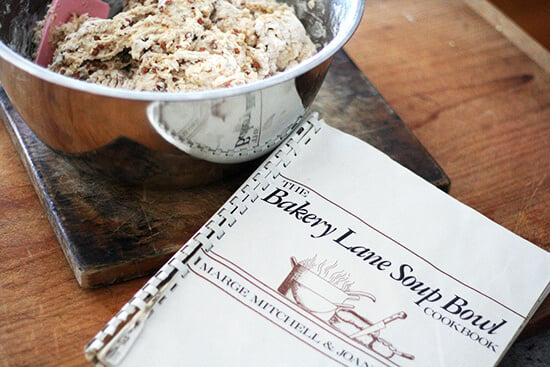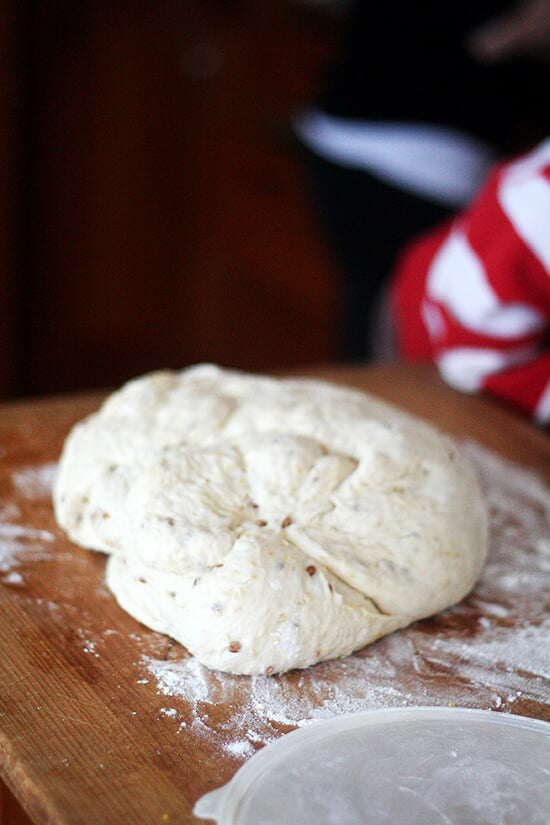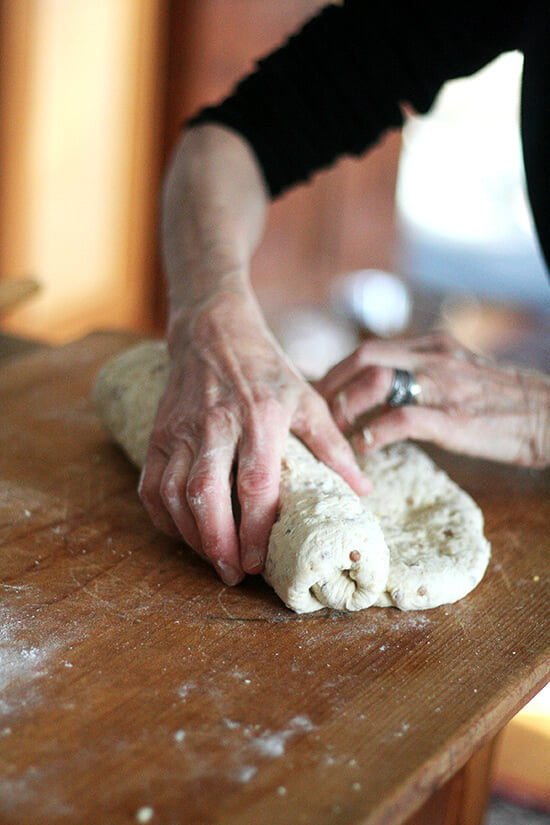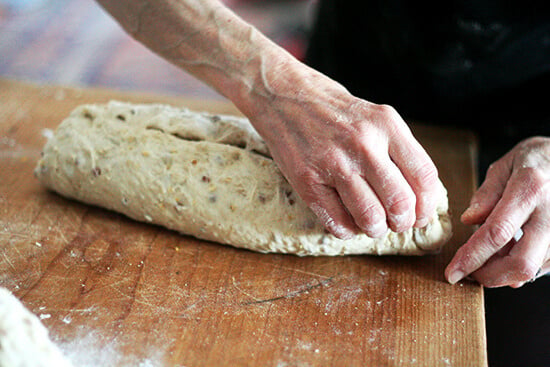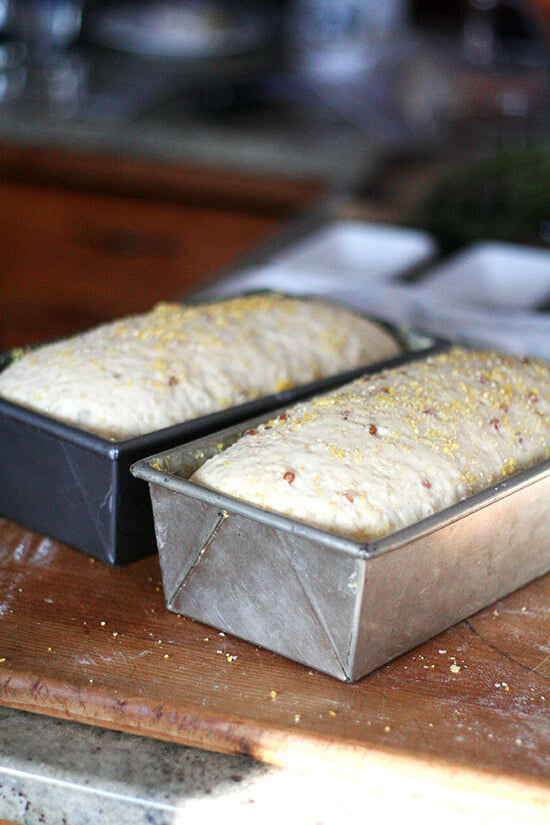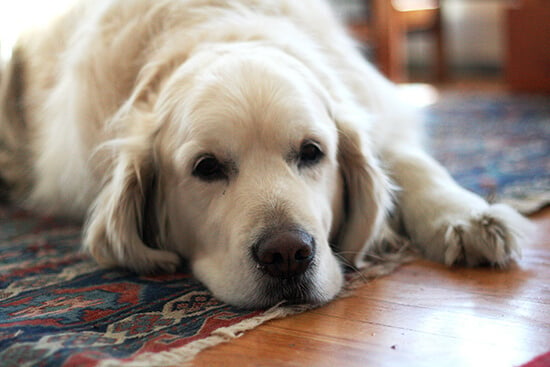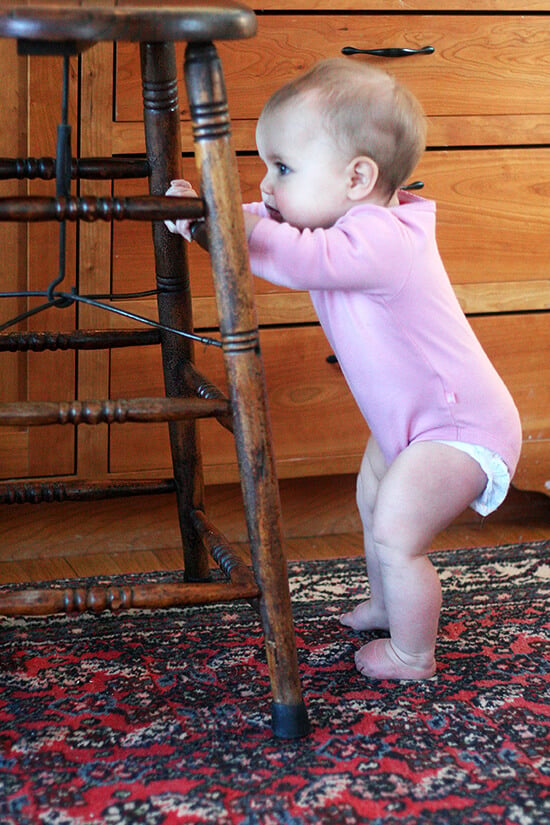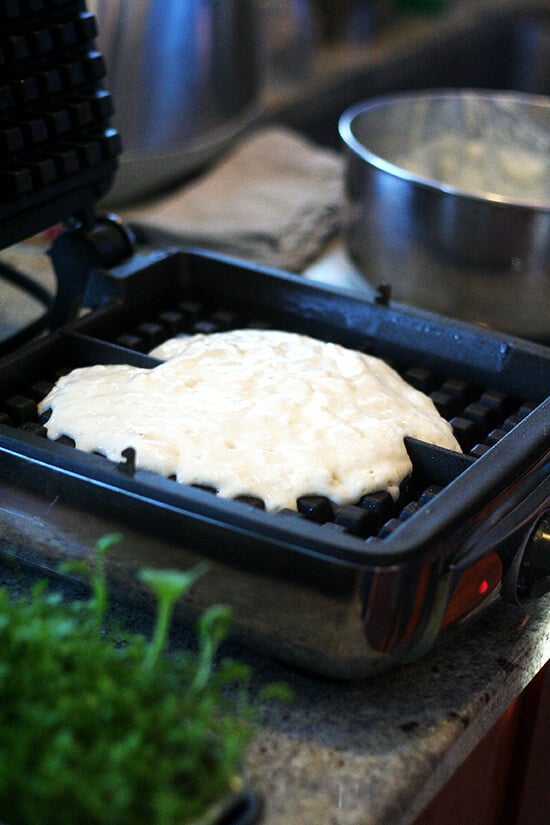 Wade's famous waffles: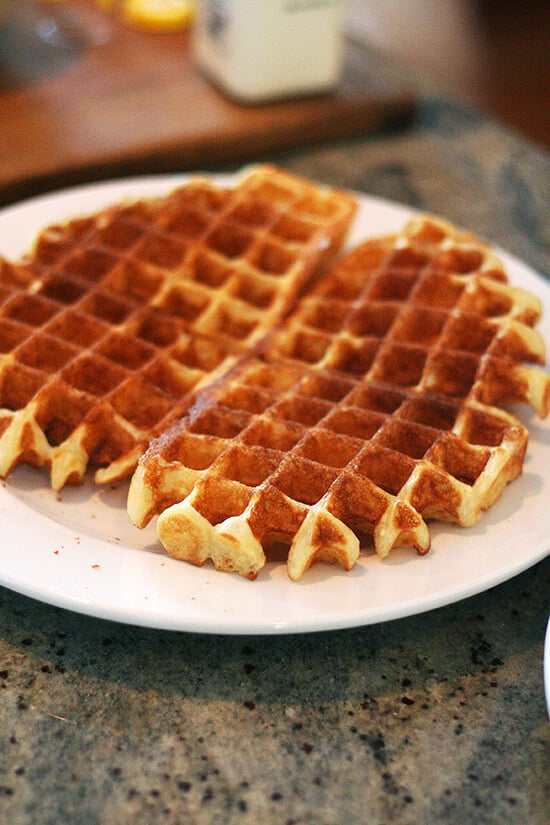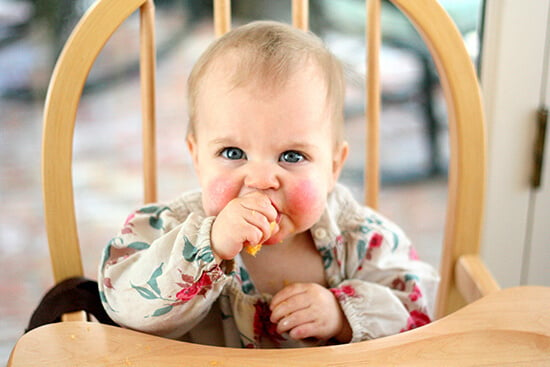 Marcy has sprouts growing all over her house. The process is amazingly easy, and they look so pretty, too. I will report back on this when I get mine going: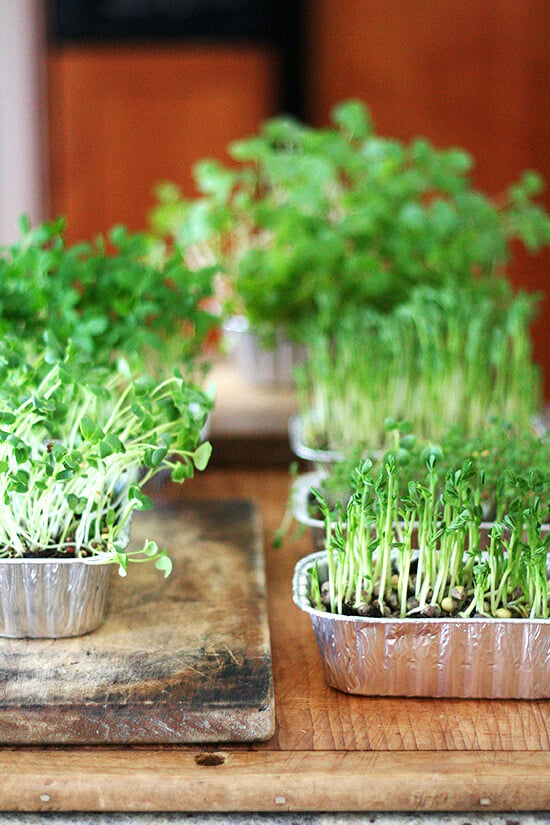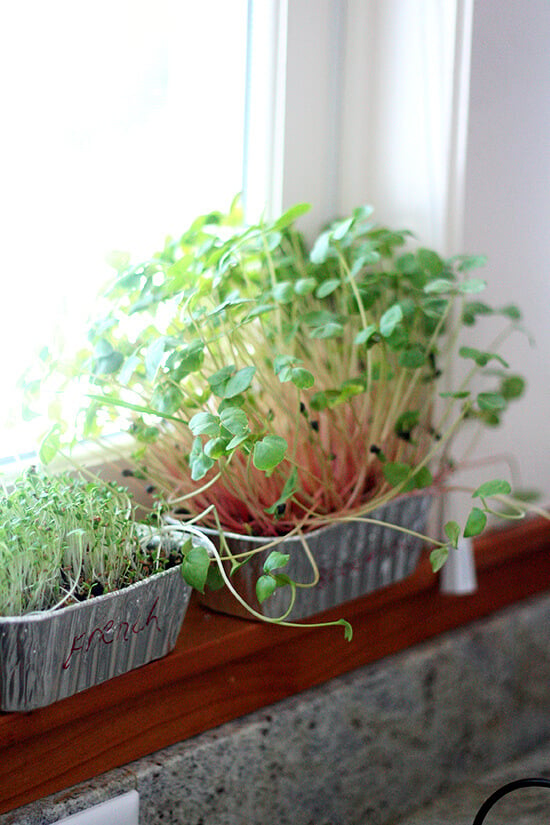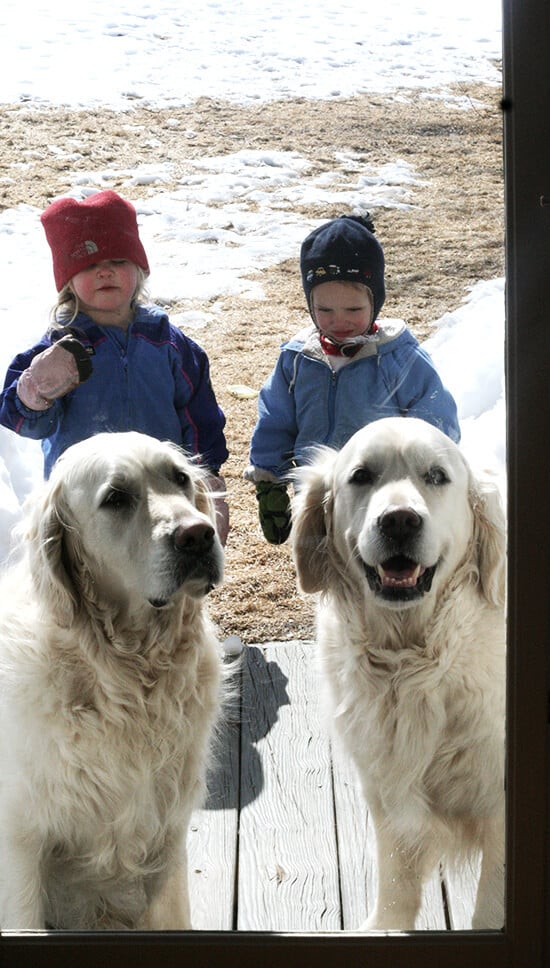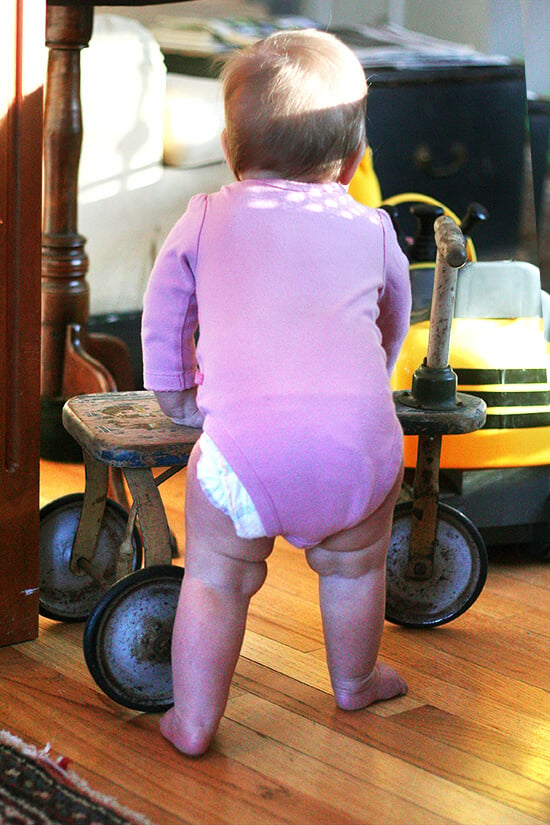 The recipe included below first appeared with this New York Times article: Spreading Culture. This is another good/related read: Buttermilk, Often Maligned, Begins to Get its Due. And this one, too: Butter is Back
If you like homemade dairy projects, here are a few other ideas: crème fraîche, yogurt, ricotta.
Print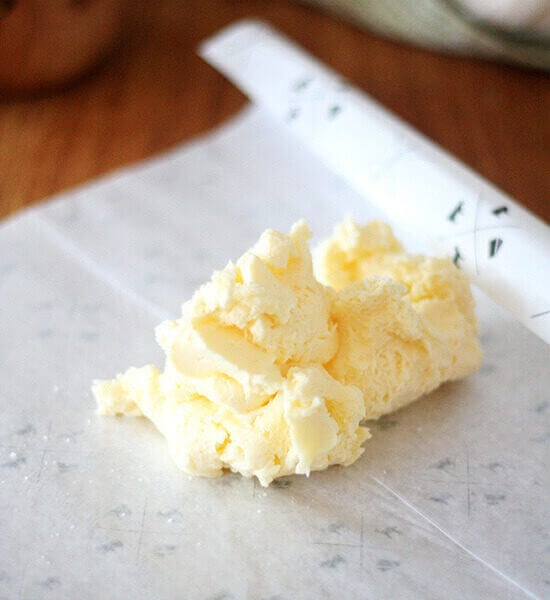 Homemade Cultured Butter | Real Buttermilk
---
Description
---
4 cups

good quality heavy cream

1/2 cup

plain whole milk yogurt

1/4 teaspoon

fine sea salt, or to taste
---
Instructions
Combine cream and yogurt in a large jar or bowl. Seal jar well and shake aggressively until combined, or whisk well if using a bowl. Cover jar or bowl with a clean kitchen towel and let mixture sit in a warm area of your kitchen for 18 to 36 hours; it should thicken and taste rich and tangy.
Seal the jar or cover bowl tightly with plastic wrap and refrigerate until it reaches 60 degrees, 1 to 2 hours. If you refrigerate it longer, allow mixture to warm slightly at room temperature before proceeding.
Line a fine-mesh sieve with a double layer of cheesecloth and place it over a large bowl. Make sure there is plenty of extra overhang of cheesecloth.
In the bowl of a food processor, add the thickened butter mixture and process on high — warning this might make a mess even in a 14-cup food processor…you might want to do it in two batches — until the yellow curds begin to separate from the buttermilk, 2 to 3 minutes. It will have the appearance of liquidy cottage cheese.
Slowly pour the buttermilk through the mesh sieve and then dump the butter curds in. Let sit for 1 to 2 minutes, allowing buttermilk to drip through. Gather the ends of the cheesecloth up and around the butter, pushing the curds down and into a ball. Twist the cheesecloth and squeeze the ball to extract as much buttermilk as possible. You will be left with a butterball.
Pour the buttermilk into a separate container and reserve for another use. Place the butterball in the empty bowl. Be sure to squeeze out all excess butter from the cheesecloth. Pour 1/3 cup of ice water over the butter and, using a spatula, "wash" the butter, folding it over itself and pressing down to extract the extra buttermilk. Drain off the milky liquid and discard it; repeat this process until the liquid is clear, 4 to 6 times. The butter will start to harden; at that point your hands may work better than the spatula.
Place the butter on a clean kitchen towel and pat lightly to remove excess moisture. Knead a few times with your hands and pat dry again; this will help extend its storage life. Sprinkle the finished butter with salt and knead a few more times to combine.
Lay out a sheet of parchment paper, or two if you would like to divide the batch in half, and place the butter on the paper. Form the butter into a log and then roll it up in the paper and twist the ends to seal. Make sure the log has a uniform thickness throughout. Refrigerate until ready to use. The butter will last about a month in the refrigerator.
Lunch at South End Kitchen: a tartine of homemade herbed ricotta with pea shoots, endive, and herbs…delicious: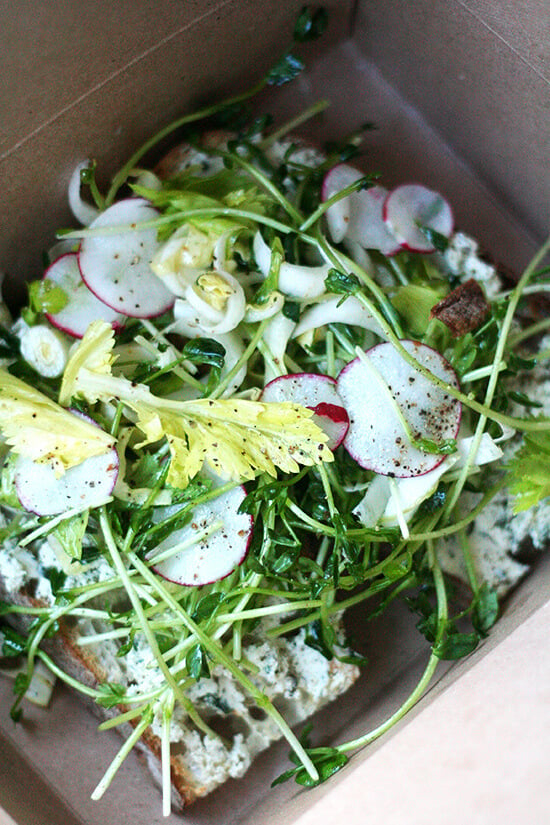 Lunch at Folino's: wood-fired pizzas and the best IPA I have ever tasted from Fiddlehead Brewing Company. So fun to see you, Linds! (Pie bird from Chef Contos):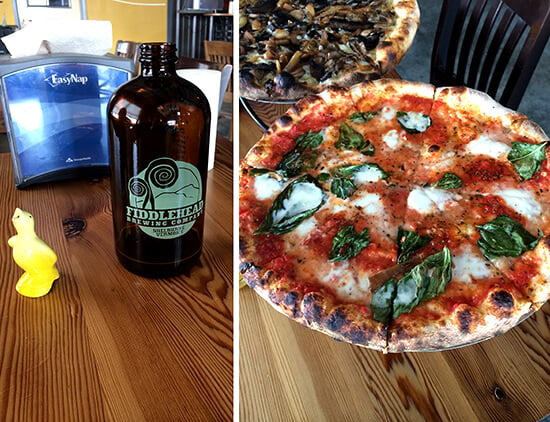 This post may contain affiliate links. Please read my disclosure policy.