Cheaters Kouign-Amann
This post may contain affiliate links. Please read my disclosure policy.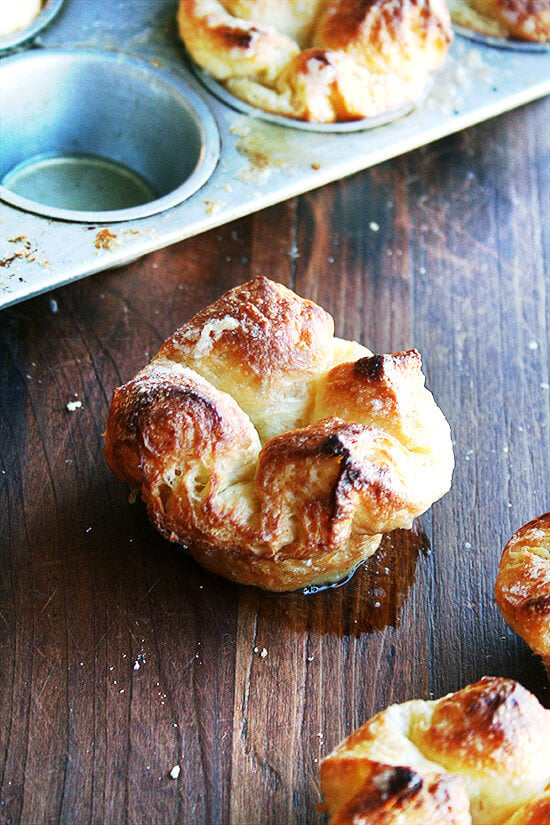 Bon Appetit began running a column this month called The Project, in which they detail how to make involved dishes, ones that require ambition, energy, thought, dishes such as cassoulet or ramen or their debut project: kouign-amann, a buttery pastry from Brittany, France.
I love this idea. So often these days I am too focused on what's easy, what's familiar, what's going to get dinner on the table fastest. I miss the days when I would come home with a rabbit — oh to be young! — and open up my favorite Sally Schneider cookbook to find an impossibly involved recipe for ragù, which I would make and then serve over homemade pappardelle — oh to be young! — even if it meant serving dinner at 10pm.
Today if I see more than five ingredients in a recipe, my eyes glaze over, I file it into the "perhaps-one-day" folder, and I move on to the "fast, easy, fresh" recipe.
I love the spirit of this BA column so much that I almost didn't write this post. Because the thing is that I cheated. One glimpse of those flaky, buttery, caramelized kouign-amann, and I thought: I need those in my belly. Immediately.
And so I cheated. Because Nigella Lawson, with her food processor Danish pastry dough, has made me a cheater. I fell for her dough when I made cheese danishes with lemon-ricotta filling last spring; I fell in love with her dough when I used it to make cronuts last fall. Twenty years from now, I might just learn to laminate dough properly, but until then, whenever I see recipes calling for that butter block and that folded pastry dough and that laborious process, I will cheat. And I will not look back.
Because this is the thing: Nigella's processor Danish pastry is hardly cheating. It's not opening a box of puff pastry, brushing it with butter, sprinkling it with sugar, pinching its corners and calling it kouign-amann.
This pastry dough requires thought and planning and a little bit of elbow grease. The dough, made mostly in the food processor with butter, flour, yeast, etc., requires a night's rest in the fridge. And on shaping day, it requires rolling and folding and rolling and folding and rolling and folding. And in the case of kouign-amann, it requires another night in the fridge. If you want freshly baked kouign-amann on Easter Sunday, you start Friday night. That's tomorrow. That's 36+ hours in advance. That is planning. That is work. That is love. And that is why you deserve kouign-amann on Easter morning — on any morning — regardless of how hard it is to make.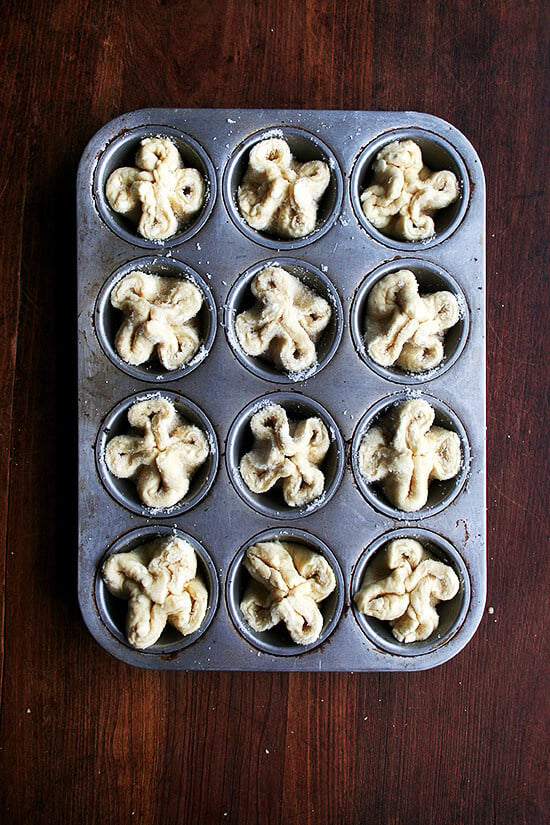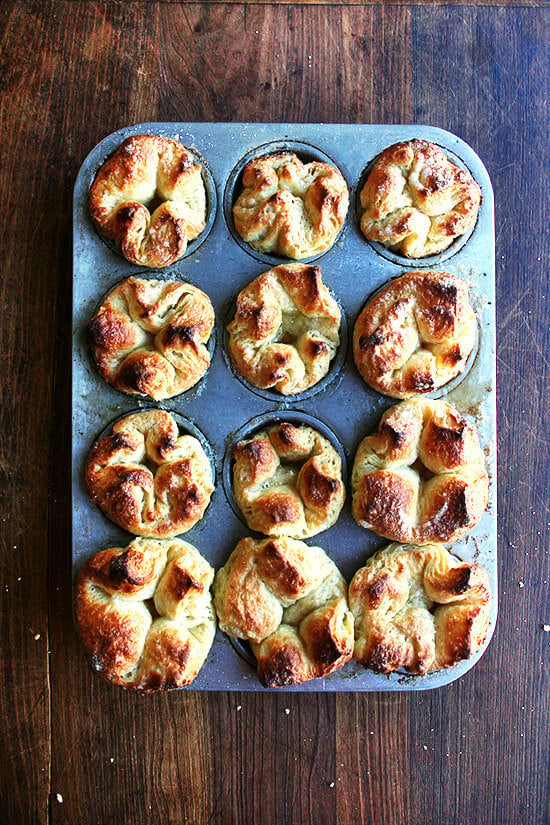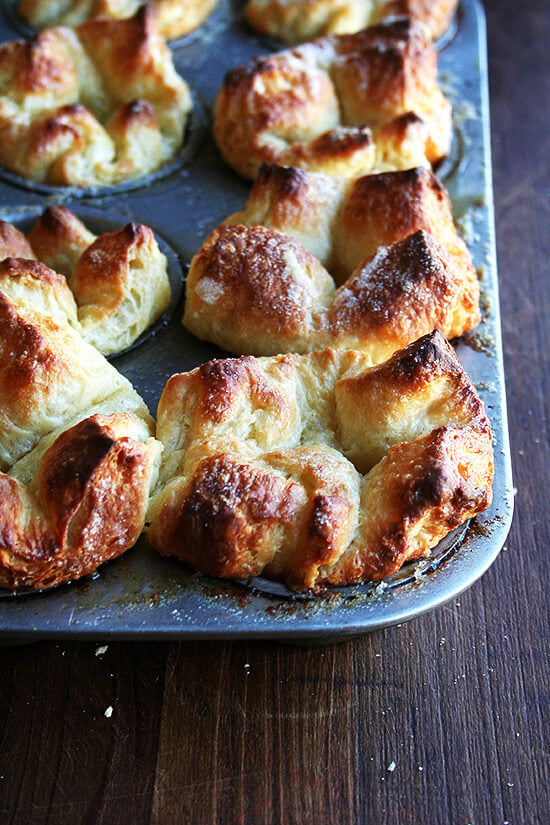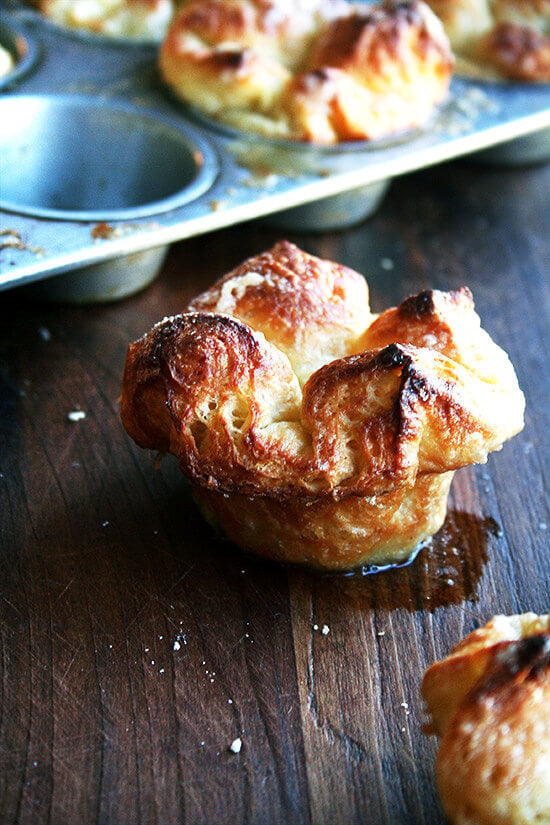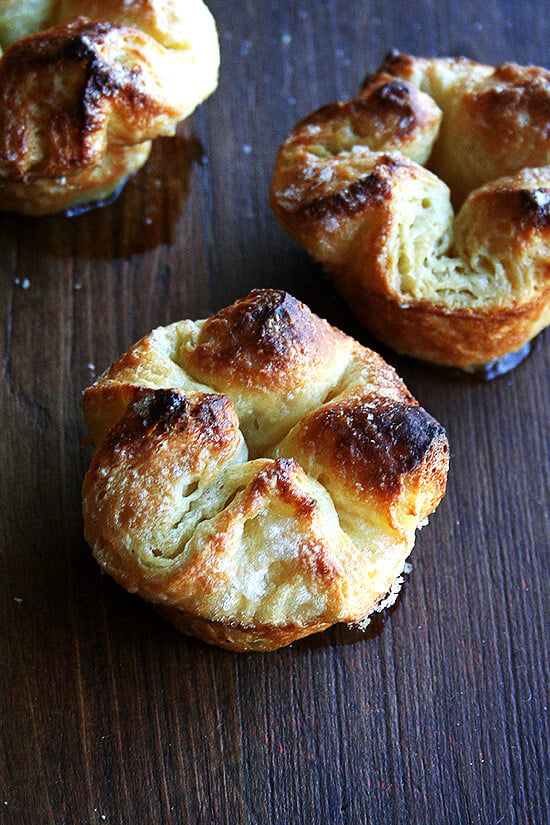 Of all of the pastries I have made with Nigella's food processor Danish pastry dough, this is the simplest, and it might be my favorite. The only addition to the master dough recipe here is sugar — there are no egg washes, no fillings, no toppings. These pastries caramelize so beautifully in the oven, and they disappear too quickly — truly, they are irresistible. You likely have all of the ingredients on hand to make these but do remember to plan ahead.
A few other ways to use this magical processor Danish pastry:
Cheese Danishes made with a lemon-ricotta filling that I absolutely love.
Prosciutto & Gruyère Croissants
Cronuts — I didn't detail/blog about this process. If you would like some guidance, please let me know.
Print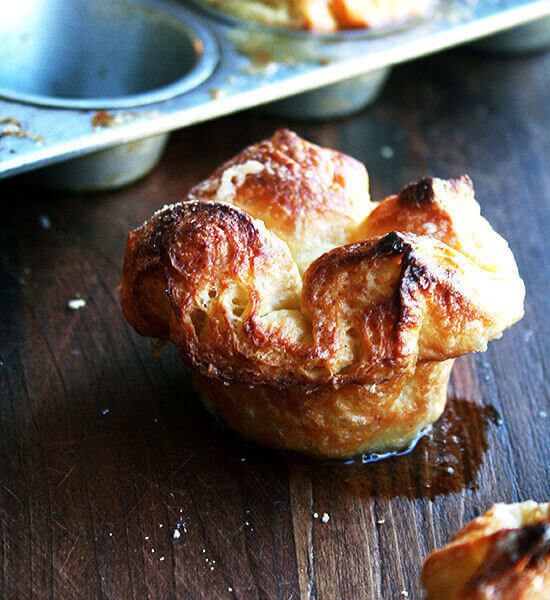 Cheaters Kouign-Amann
---
Description
Source: Nigella Lawson's How to Be a Domestic Goddess
Notes: This processor Danish pastry dough should rest in the fridge overnight, and the shaped kouign amann also rest in the fridge overnight. So, if you want to have freshly baked kouign amann for Easter Sunday, make the dough on Friday.
If you need to rush the process, see the Cheese Danishes post.
---
1/4 cup

(

60

ml) warm water

1/2 cup

(

125

ml) milk at room temperature

1

large egg at room temperature

2 1/4 cups

(

10 1/8 oz

|

286g

) all-purpose flour

1

package (2.25 tsp. | 1/4 oz | 7g) rapid rise yeast (instant) or 1 tablespoon fresh yeast*

1 teaspoon

kosher salt

1 tablespoon

(

1 oz

. |

25g

) sugar

1 cup

(

8 oz

|

250g

) unsalted butter, cold, cut into thin slices
* You can use active dry yeast, too — just let it stand with the milk and water for about 10 minutes until it is a little foamy.
1/2 cup

plus 2 tablespoons sugar, divided
---
Instructions
Pour the water and milk into a measuring cup and add the egg, beating with a fork to mix. Set aside.
Place a large bowl near your food processor. Then put the flour, yeast, salt and sugar in the processor, and give it one quick whizz just to mix. Add the cold slices of butter and process briefly so that the butter is cut up a little. You still want visible chunks of butter about least 1/2 inch in size — about 5 short pulses.
Empty the contents of the food processor into the large bowl, then add in the milk-egg mixture. Use your hands or a rubber spatula to mix the ingredients together, but don't overdo it: expect to have a gooey mess with some butter lumps pebbling it. Cover the bowl with plastic wrap, put in the refrigerator, and leave overnight or up to 4 days.
In the late afternoon or evening the day before you are baking the kouign-amann, take the dough out of the refrigerator, let it get to room temperature (about 15 minutes or so), and roll the dough out into a 20-inch square. (Note: Don't worry too much about inches here — just try to roll the dough out into a large square that is relatively thin. Also, you will probably need to lightly dust your work surface with flour and add more flour as needed to your rolling pin and board. See video below for guidance.) Fold the dough square into thirds, like a business letter, turning it afterward so that the closed fold is on your left, like the spine of a book. Roll the dough out again into a large square, repeating the steps above 3 times.
After the three rolls, roll the dough into a 16×12″ rectangle. Sprinkle the surface with 1/4 cup sugar. Gently pat the sugar into the dough. Flip the rectangle. Sprinkle with another 1/4 cup sugar. Gently pat again. Cut the dough into 12 squares — you need a 4×3 grid. Brush excess flour from dough and surface.
Butter a 12-cup muffin tin. Lift corners of each square and press into the center. Fit each pinched parcel into each muffin cup. Cover with plastic wrap and place in the fridge.
About an hour before baking, remove pan from fridge. Preheat the oven to 375ºF. Sprinkle remainging two tablespoons of sugar over top of pastries. Bake for 20 to 25 minutes or until golden on top. Let cool briefly before serving.
Prep Time:

30 minutes

Cook Time:

25 minutes
This post may contain affiliate links. Please read my disclosure policy.