Walter Sands' Soft Sandwich Bread
This post may contain affiliate links. Please read my disclosure policy.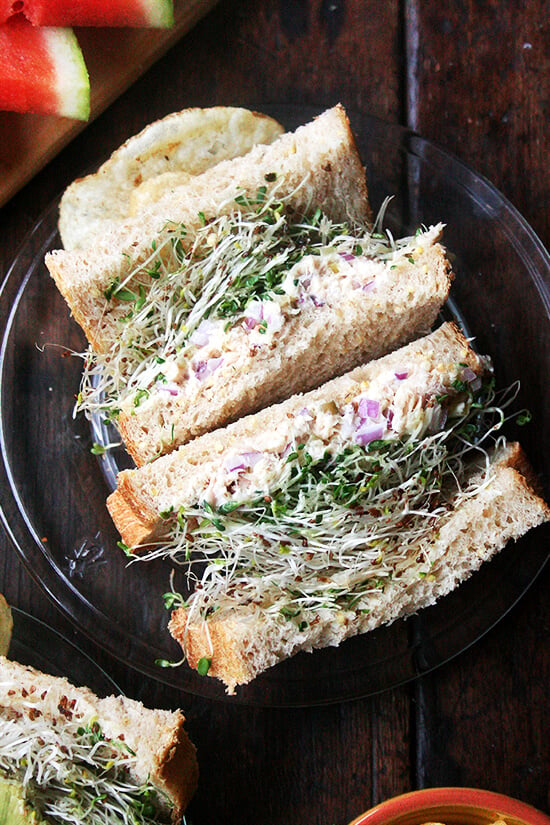 Last weekend, halfway through our drive along the Mohawk Trail en route to a campsite in the Berkshires, we came to a roundabout, which sent us off into a village of green sweeping lawns dotted with stone steeples, brick chapels, farmers' market signage, and students tossing frisbees. We slowed to take it all in, the utopia that is a college campus.
The following afternoon we returned to Williamstown and guided by an encouraging Yelp review, stopped into Pappa Charlie's for lunch. We ordered as we always do when we find ourselves in these sorts of spots: anything with tuna for Ben; anything with avocado for me. In a patch of grass just outside the deli, we tucked into our four-inch thick sandwiches teeming with sprouts, dripping with mayonnaise and tomato juices. And although we have eaten this meal countless times in countless places, we relished this lunch, the soft, thick bread, the creamy avocado, the salty chips, the crunchy pickle.
I returned home with classic sandwich bread on the brain, thinking about many a summer meal ahead. This recipe comes from The King Arthur Flour Cookbook and my friend Katie who made beautiful whole wheat loaves after returning from a King Arthur baking seminar last fall.
According to the cookbook, this is the bread Walter Sands, President of Sands, Taylor and Wood Co. (distributor of King Arthur Flour) from 1941 to 1968, made faithfully once a week for years. Because of his arthritic hands, he used a bread bucket with a crank, which over the years kneaded hundreds of loaves of this classic sandwich bread. The bread can be made entirely with whole wheat flour, but I like using a mix of all-purpose and whole wheat flours, which produce a soft, light, and sturdy loaf, one that appeals, most importantly, to both toddlers and adults alike.
Have a great weekend, Everyone.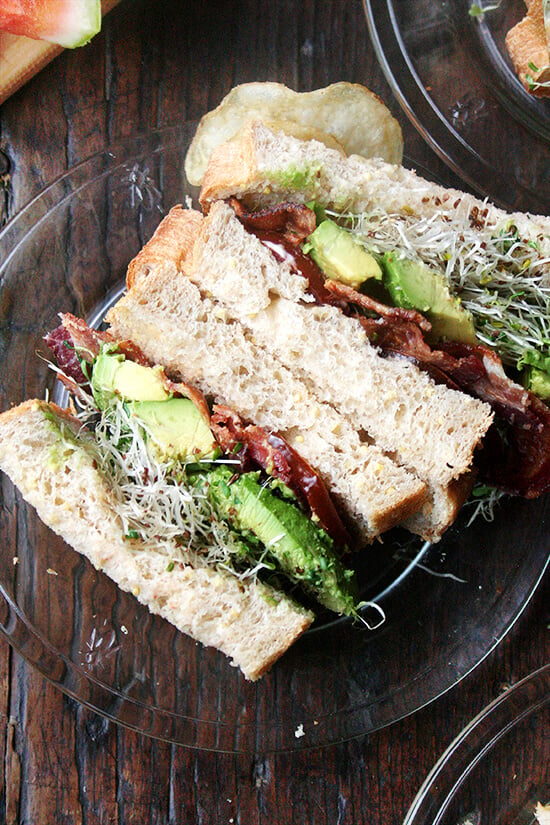 When the dough pulls from the sides of the bowl and clings to the hook, it's ready: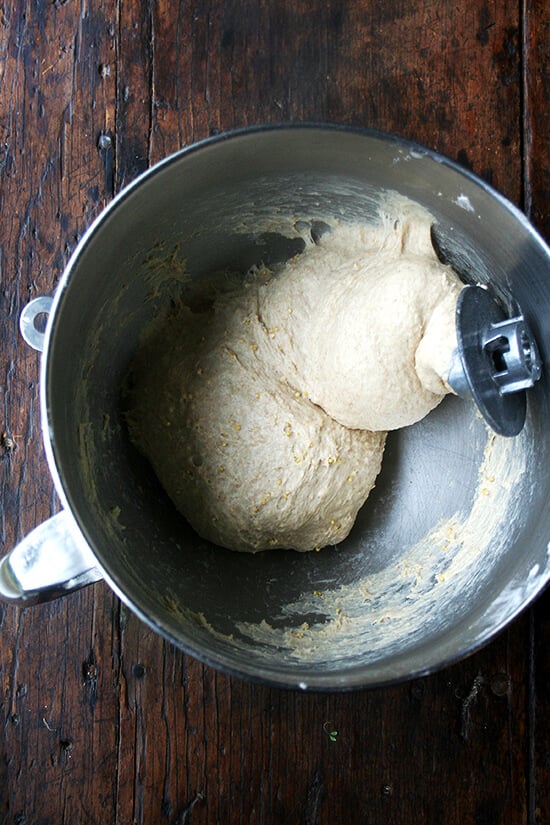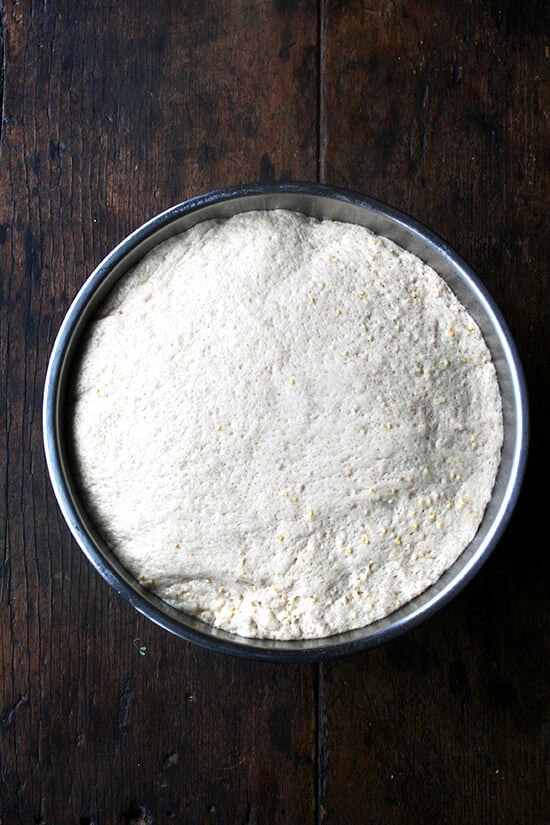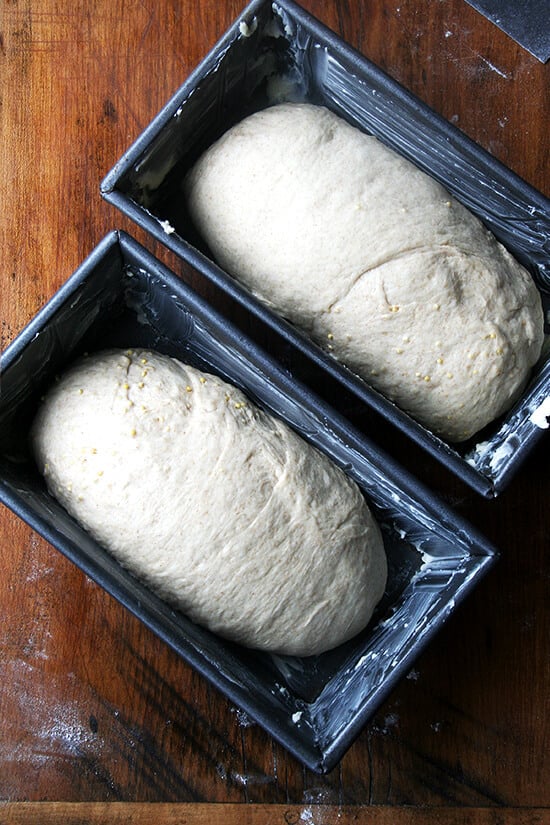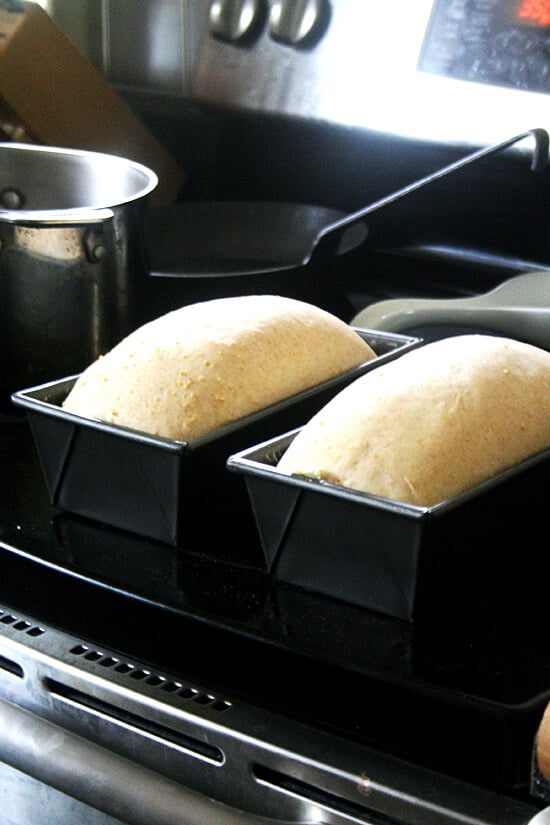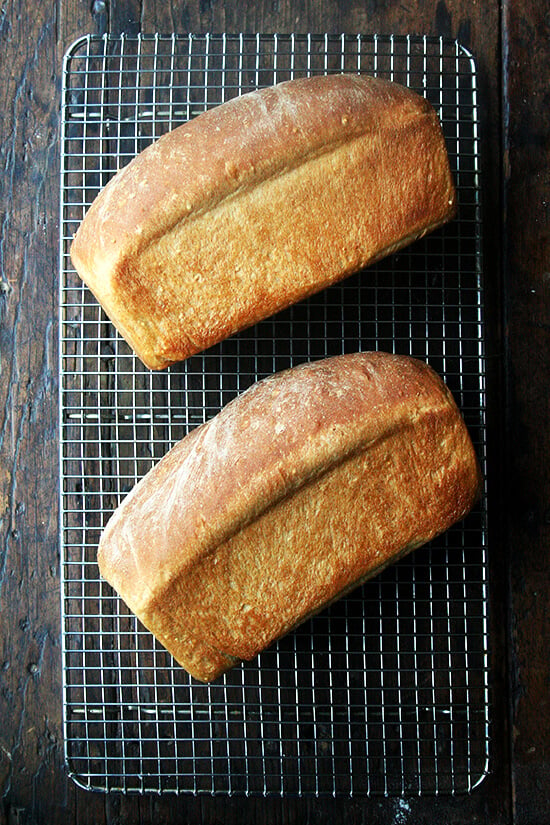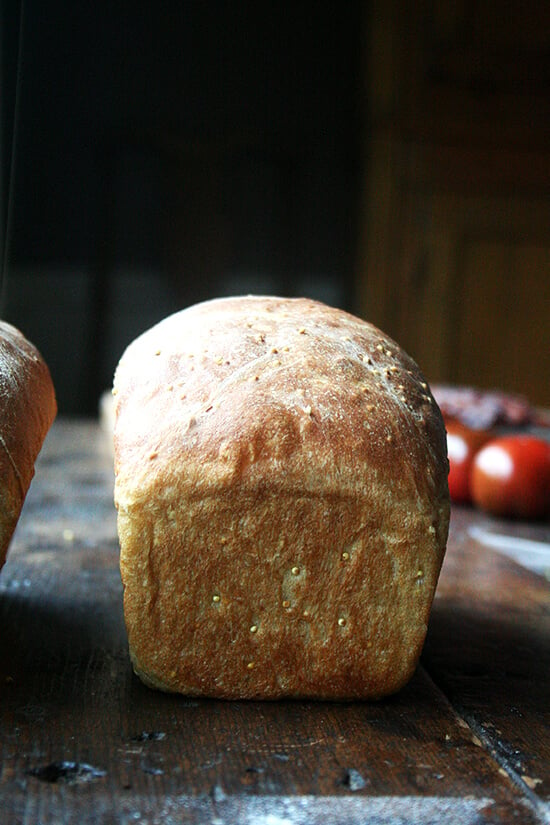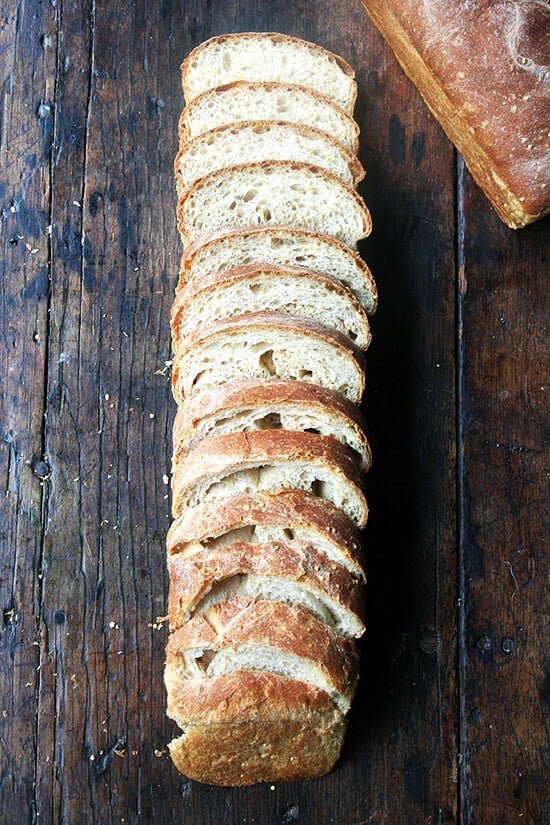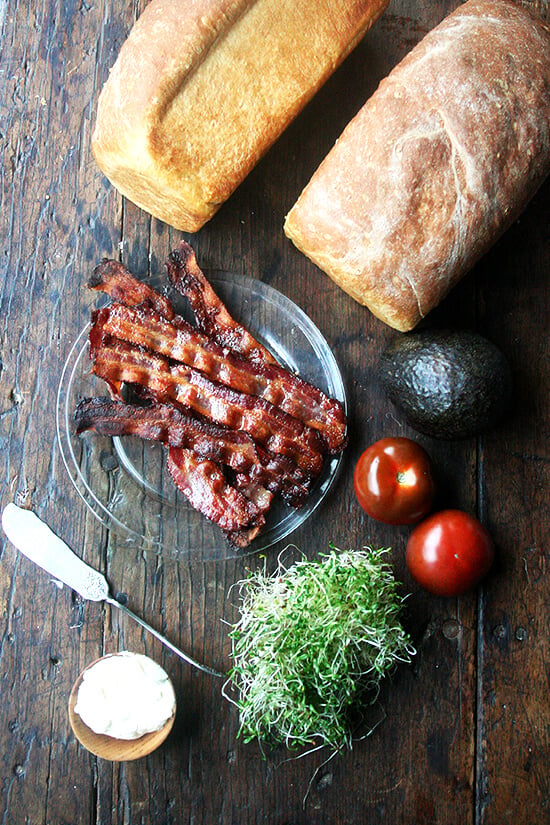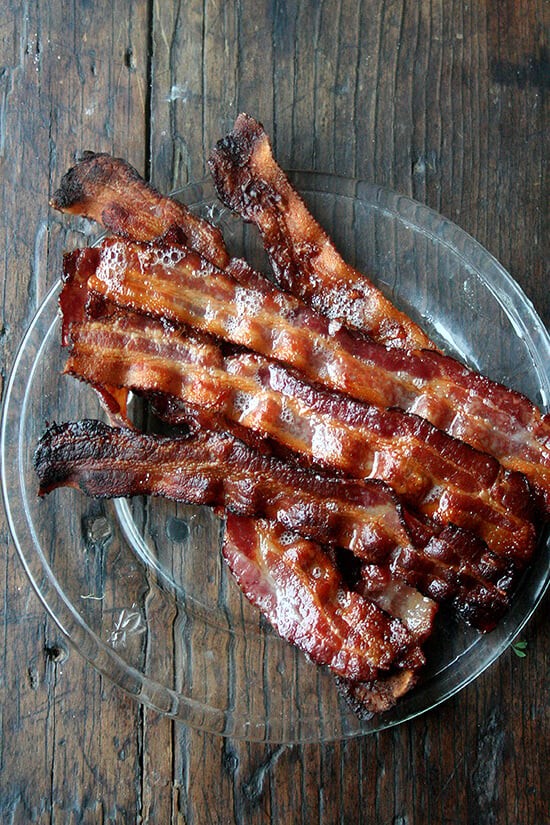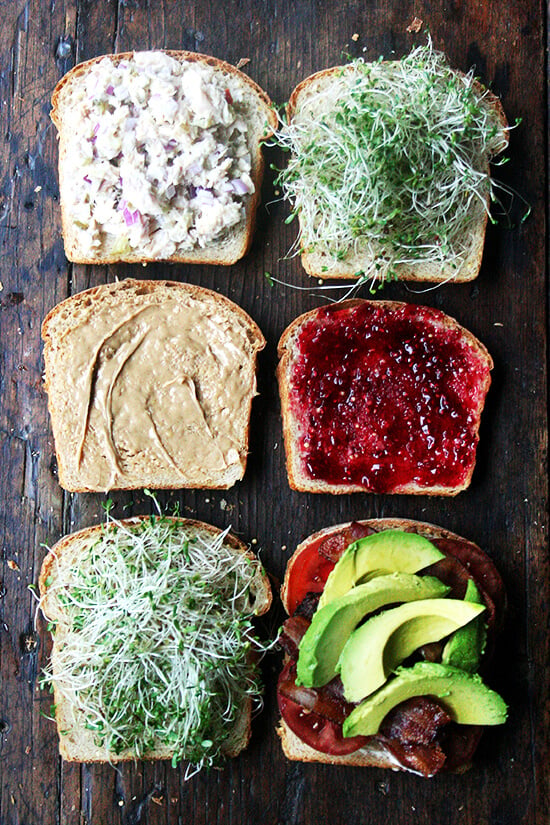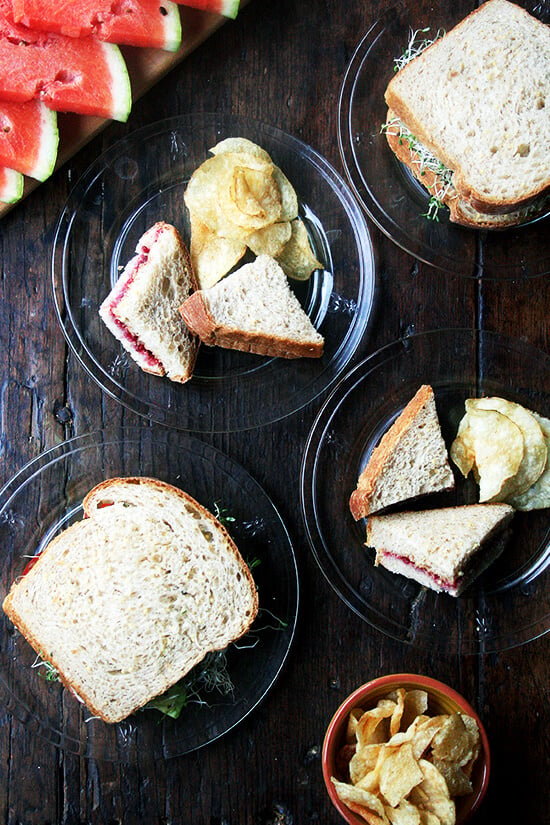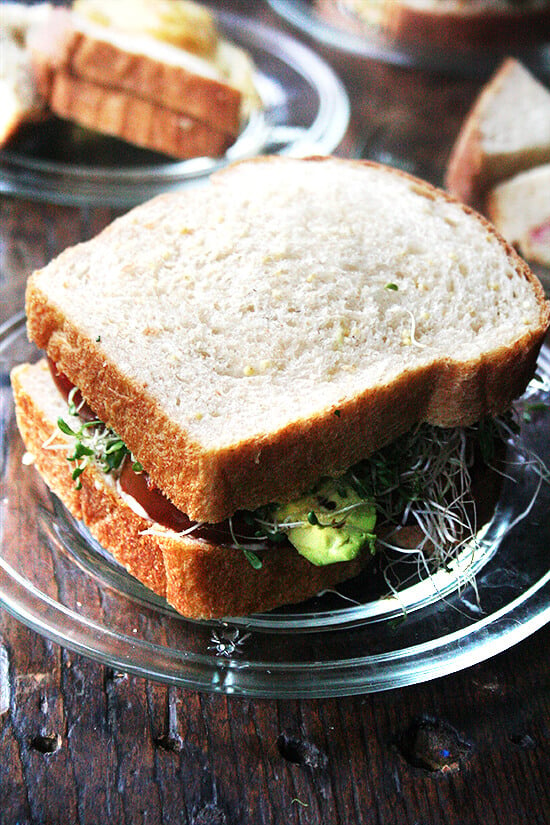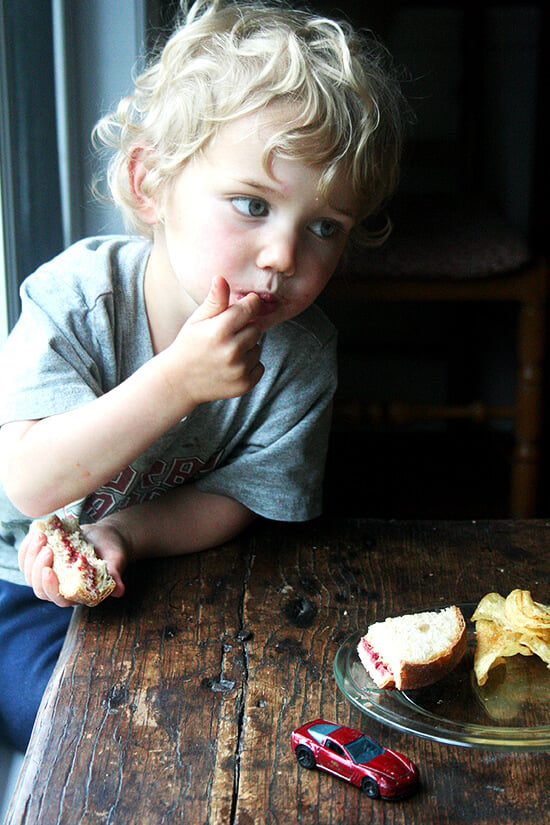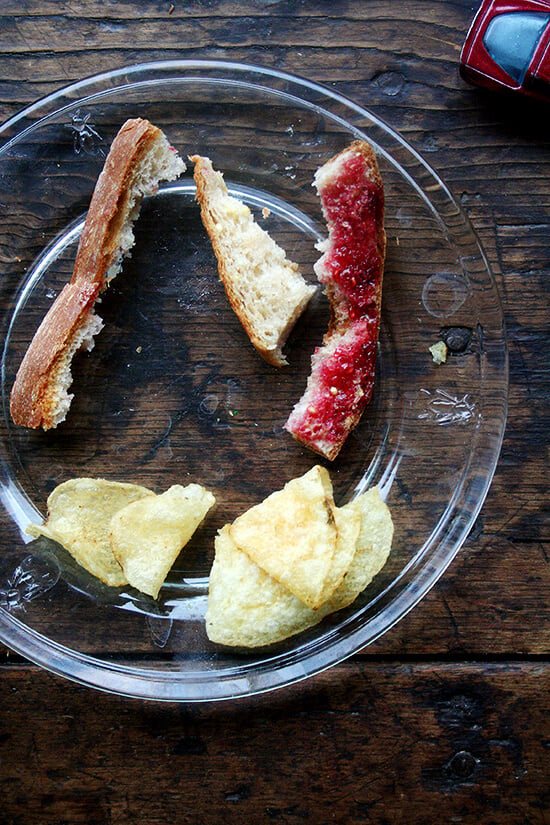 Print
Walter Sands' Soft Sandwich Bread | Three Simple Sandwiches
---
Prep Time:

20 minutes

Cook Time:

35 minutes

Total Time:

3 hours 60 minutes

Yield:

2 standard loaves
Description
Adapted from the King Arthur Flour Cookbook and Counter Dog
After attending a King Arthur Flour baking tour last fall, my friend Katie posted detailed notes on what she learned along with the recipe for Walter Sands' Basic White (or Whole Wheat) Bread. She also explains how to do a "head-and-shoulders" shaping technique, which helps prevent air pockets from forming in the finished loaves.
---
2 cups

warm water

2 tablespoons

sugar or honey

1

packet active dry yeast; or

2 1/2 teaspoons

instant yeast or active dry yeast

1/2 cup

nonfat dry milk*

2 tablespoons

soft butter, or vegetable oil (I used butter)

6 cups

(about

765 g

) unbleached all-purpose flour**

2

to

3

teaspoons salt***
* I hate buying these sorts of ingredients mostly because I never feel I use them for anything else. The smallest box I could find at my local grocery store takes up half a cupboard and will allow me to make 100,000 loaves of this bread, which is nice but not ideal. Katie learned in her class that nonfat dry milk ups the nutritional protein and promotes a slightly higher rise. My cookbook notes that milk solids give the bread a more tender crumb and keep the bread from staling as quickly. I will say that the loaves I made using the nonfat dry milk powder did have more of that soft, sandwich bread quality.
** You can make this with 100% whole wheat flour. My 100% whole wheat loaves were not as light as the ones pictured here, which were made with about 5 cups (638 g) all-purpose flour, 1 cup (128 g) whole wheat flour, and a handful of millet (because I like the crunch and because I always have it on hand for this). Next time I might try a higher ratio of whole wheat flour. If this is your first time baking this sort of bread, I suggest using mostly all-purpose flour so you have something to measure your future more wholesome loaves against.
*** My book calls for a tablespoon of salt; recipe online calls for 2 teaspoons. If you are sensitive to salt, use 2, but otherwise, a full tablespoon does not make the bread too salty.
---
Instructions
(Note: I did this in my stand mixer.) Pour the warm water into a mixing bowl. Add the sugar or honey and then the yeast.
When the yeast is bubbling, add the butter, the dry milk, the salt and most of the flour: I did 4 cups (510 g) all-purpose flour and 1 cup whole wheat flour (128 g) to start. Using the dough hook, knead the dough until it begins pulling away from the sides of the bowl and clings to the hook, about 8 minutes total. During this kneading time I added about another cup (128 g) of all-purpose flour (I didn't really measure, just added handfuls until the dough looked right). At the very end, when the dough began clinging to the hook, I added in about 1/4 cup of millet, but I definitely could have added more. Sesame seeds, poppy seeds, oats would all be nice additions, too.
Place the dough in a greased bowl, turn it over to coat all sides, and cover the bowl. Let it rise in a draft-free place until doubled, 1 to 2 hours. Deflate the dough, and divide it in half. Form into loaves — see Katie's post for instructions re "head-and-shoulders" shaping method — and place in well-greased 8 1/2″ x 4 1/2″ loaf pans. Let rise until the dough domes an inch above the rim of the pans, another hour or so.
After the dough has been rising for 30 minutes, preheat the oven to 350°F. When the loaves are sufficiently risen, bake for 30 to 35 minutes, or until nicely browned. Remove from the oven and tip the breads out of their pans. Place on a rack to cool completely before slicing.
Bacon, Avocado, Sprouts
Preheat oven to 400ºF. Place bacon on a sheetpan and cook for 15 minutes or until bacon is crispy and evenly cooked. Transfer to plate to cool. Spread mayonnaise to taste on one slice of sandwich bread. Top with sliced tomato. Top with bacon. Top with sliced avocado. Top with sprouts. Top with remaining slice of bread. Eat.
Tuna, Salmon or Smoked Trout Salad
Note: Tuna is overfished. American Tuna is one brand that is certified as sustainable by the Marine Stewardship Council. If you can't find American Tuna (or another brand of sustainably fished tuna), canned wild Salmon (also look for the MSC label) is a good option and so is canned smoked trout. Seafood Watch considers U.S. farm-raised trout to be a "Best Choice" option. I love smoked trout in this very simple salad:
Place tuna, salmon or smoked trout in a bowl. Add finely diced red onion (about 1/2 of a small onion), a spoonful or two of mayonnaise, and a spoonful of relish. Mix, taste, adjust, etc. Spread mayonnaise to taste on one slice of sandwich bread. Top with tuna salad. Top with sprouts. Top with remaining slice of bread. Eat.
Peanut Butter and Jelly
I think you've got this one.
PS: Tarragon Tuna Melt.
A few snapshots from our first camping trip of the season: Wren testing the waters: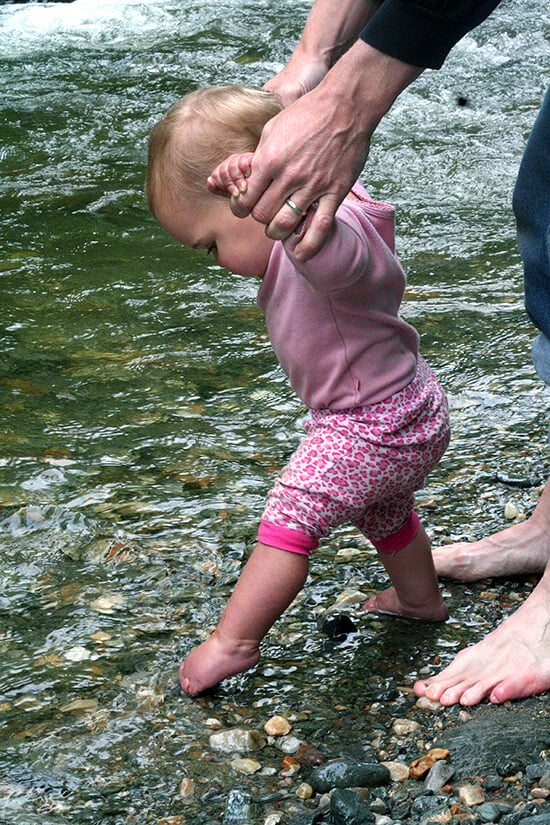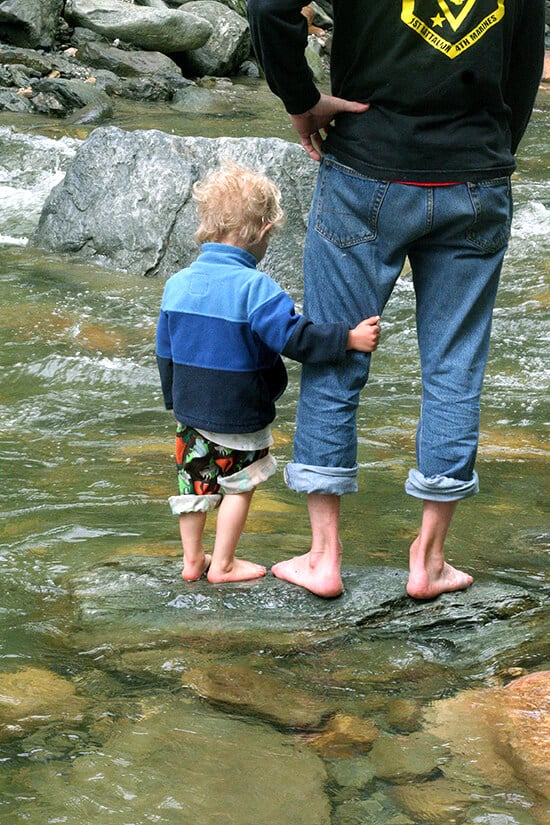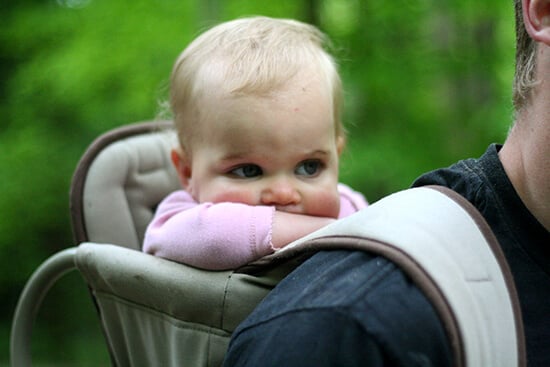 Cousin Liam, Graham and Ella ready for a hike: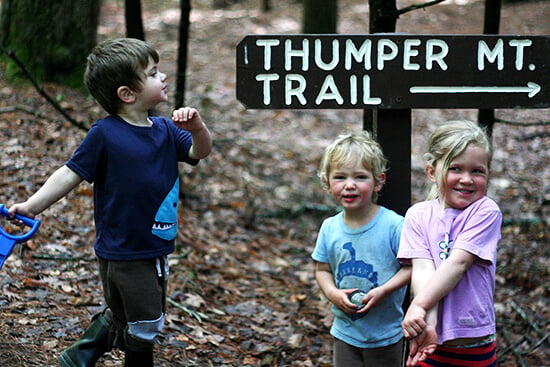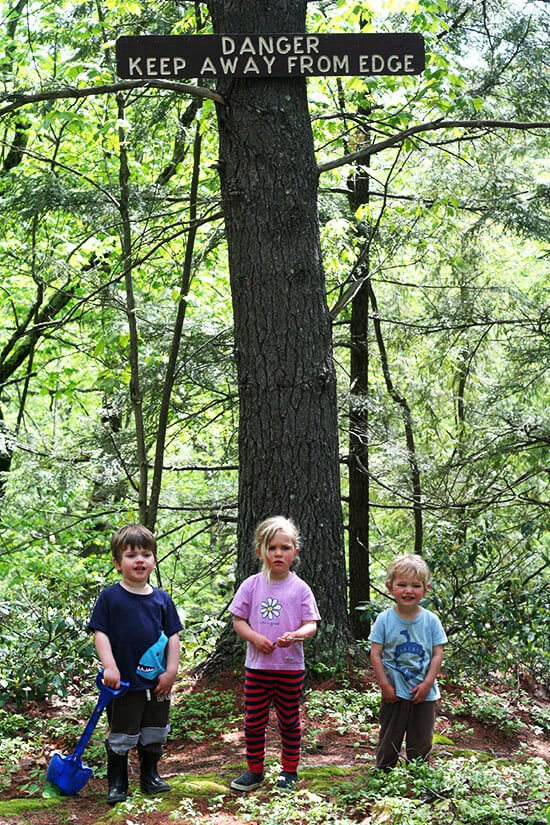 Back home, driveway fun: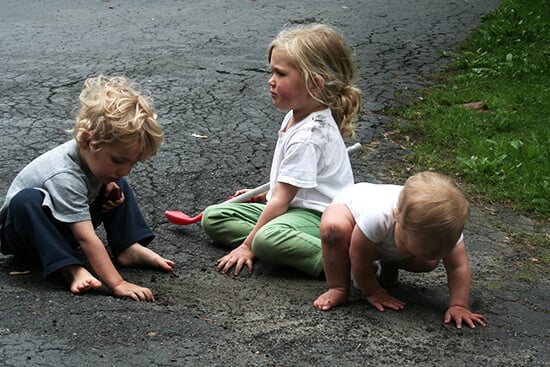 This post may contain affiliate links. Please read my disclosure policy.