Swiss Chard (Or Other Greens) Fritters
This post may contain affiliate links. Please read my disclosure policy.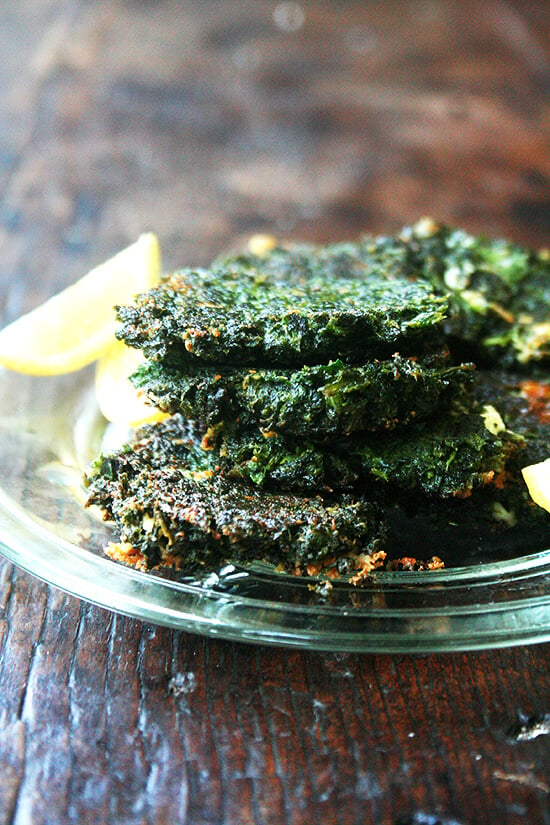 On Monday morning I opened the fridge to find no milk, no eggs, no juice and two vegetable drawers filled with greens. We had left the house in a scramble on Friday, dropped the kids in Vermont en route to Montreal, and returned too late on Sunday evening to think about groceries.
What was on my mind, however, was unloading some of those greens before the next CSA share arrived later that evening. The stars had aligned for Swiss chard fritters, an Ottolenghi recipe my friend Dee alerted me to this winter, which, along with the prawns with tomato and feta and the almond-clementine cake, she described as "not-to-be-missed" Jerusalem recipes.
And so I set to work plunging all of the mustard, turnip and radish greens along with one bunch of kale into a pot of boiling water. After blitzing the blanched, cooled, squeezed greens in the food processor with lots of herbs (parsley and cilantro), a heavy grating of nutmeg, and a couple of eggs, I folded in a handful of crumbled feta. In a small frying pan, I tested one fritter for seasoning then stored the batter in the fridge till dinnertime.
Crispy on the edges, creamy in the center, these little fritters, squeezed with lemon, made the most lovely Meatless Monday meal. But more importantly they saved my fridge from utter and complete dark-leafy-green domination. And for that I couldn't be more grateful.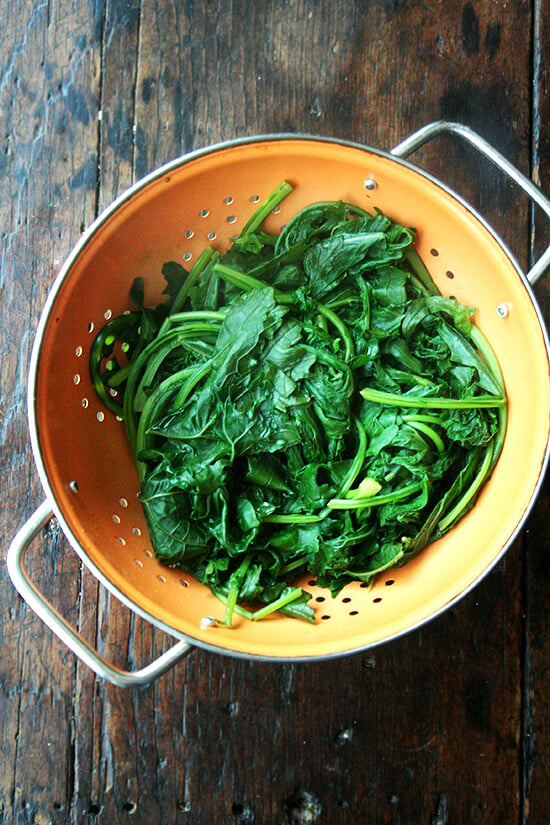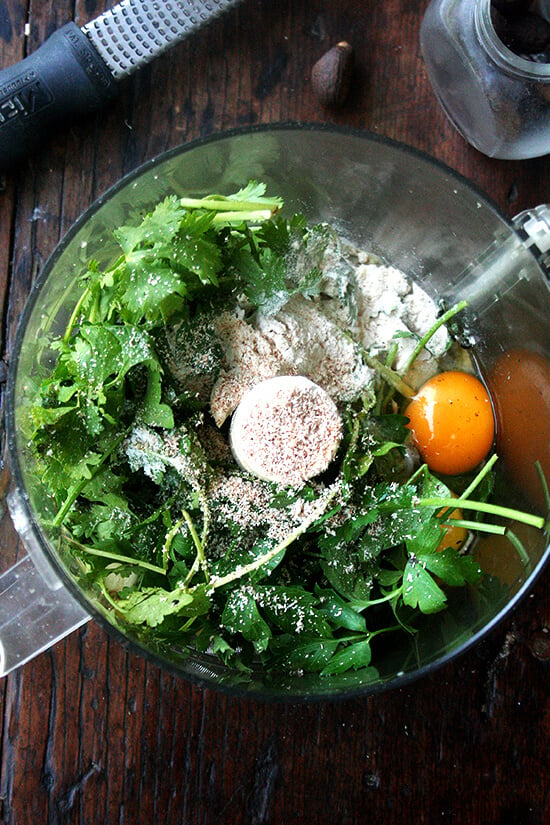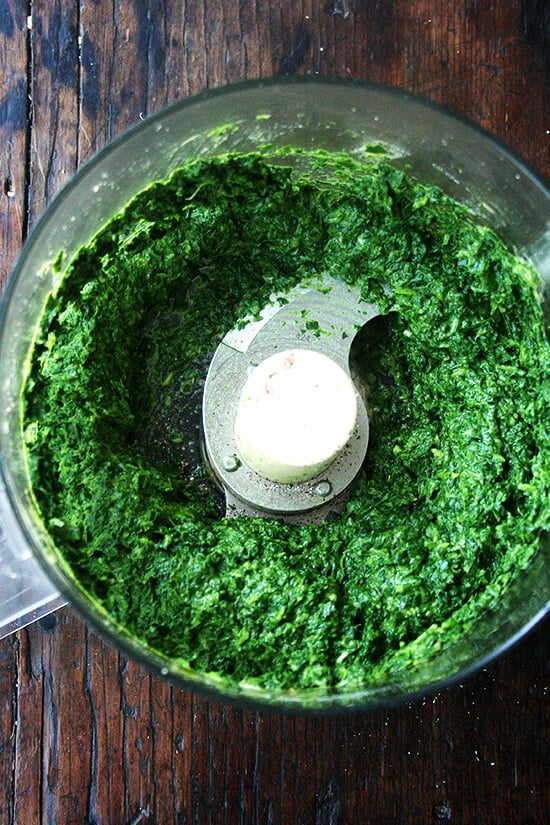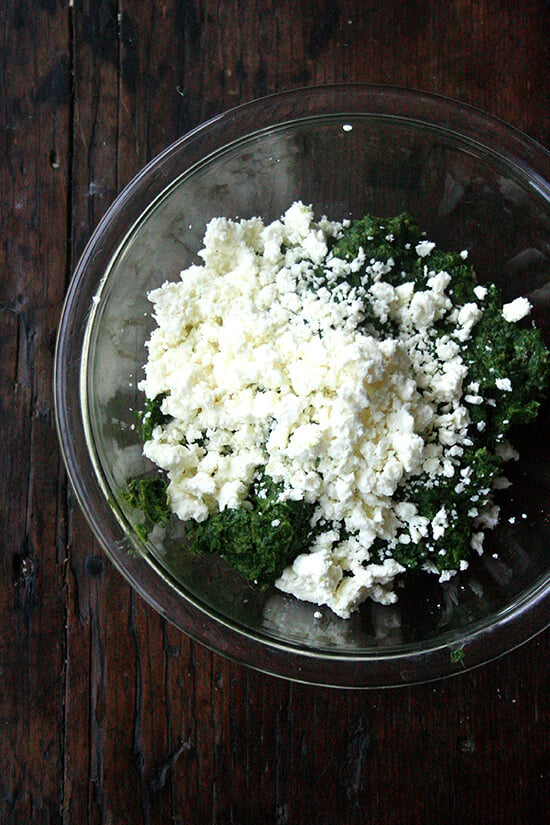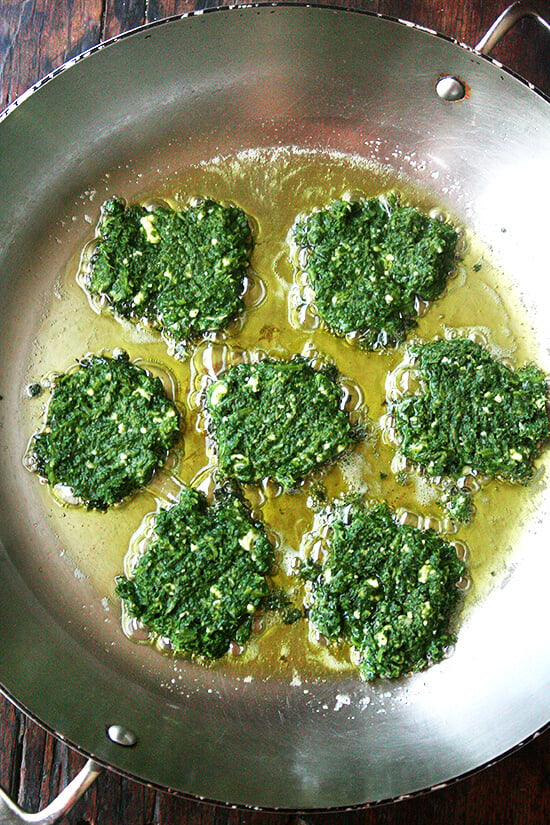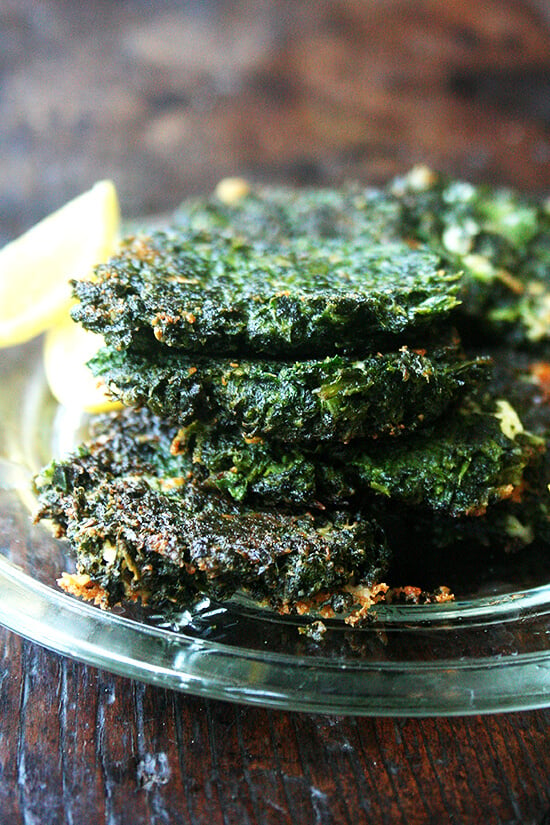 A Weekend in Montreal
We had our first air bnb experience, which couldn't have been more enjoyable. We stayed in the Mile End neighborhood: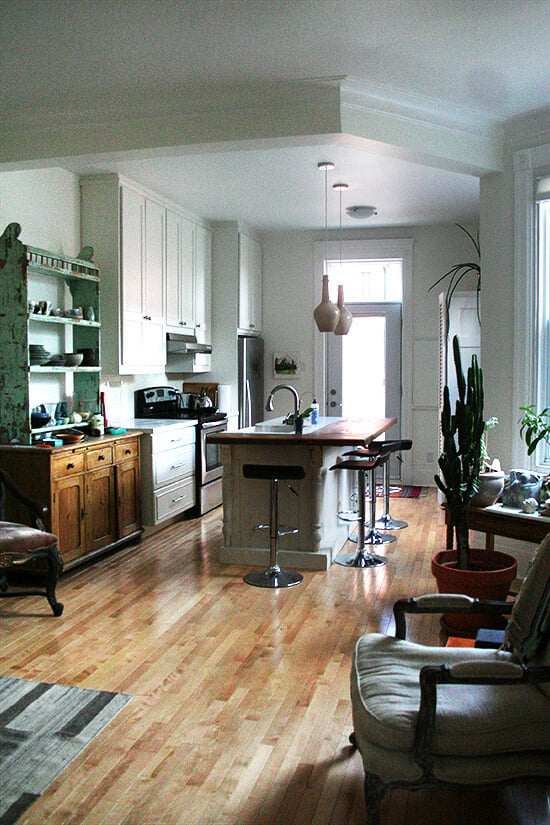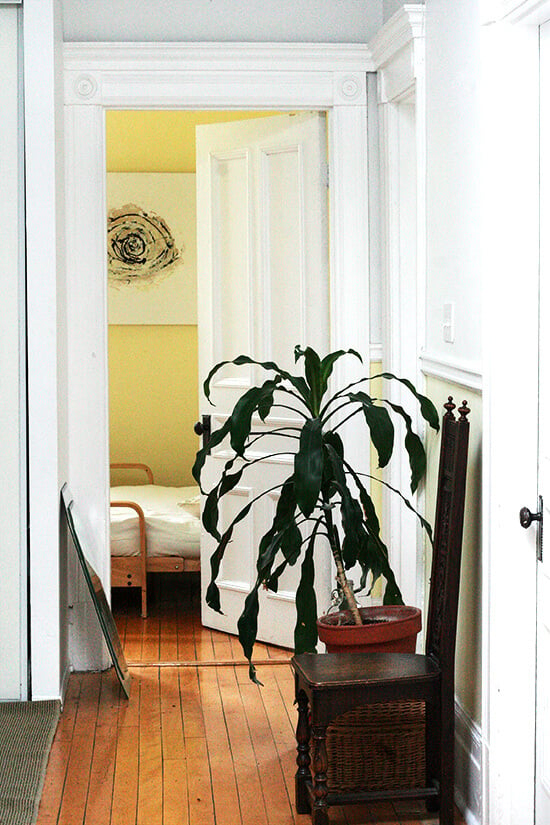 Isn't traveling fun? Even courtyards are exciting.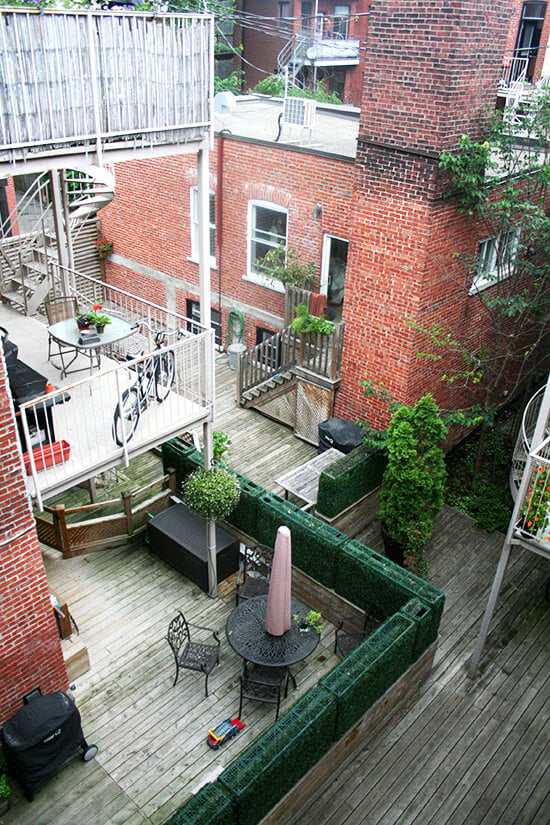 We ate delicious pastries at Kouign Amann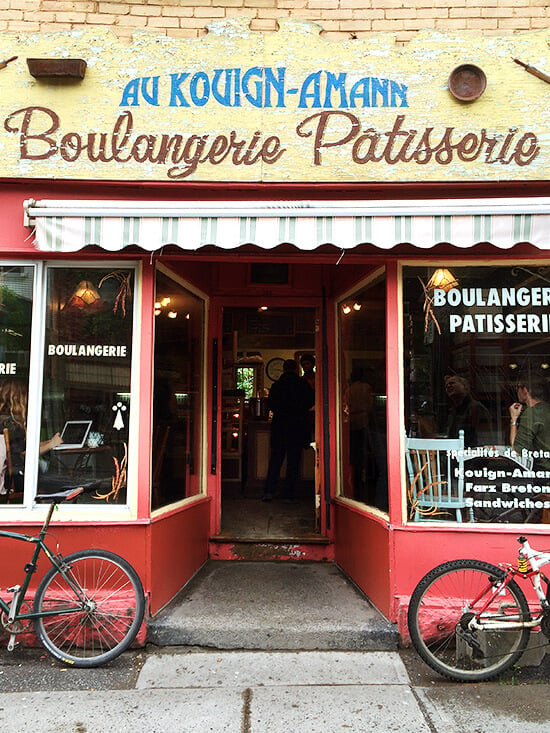 and spent hours at Jean Talon Market: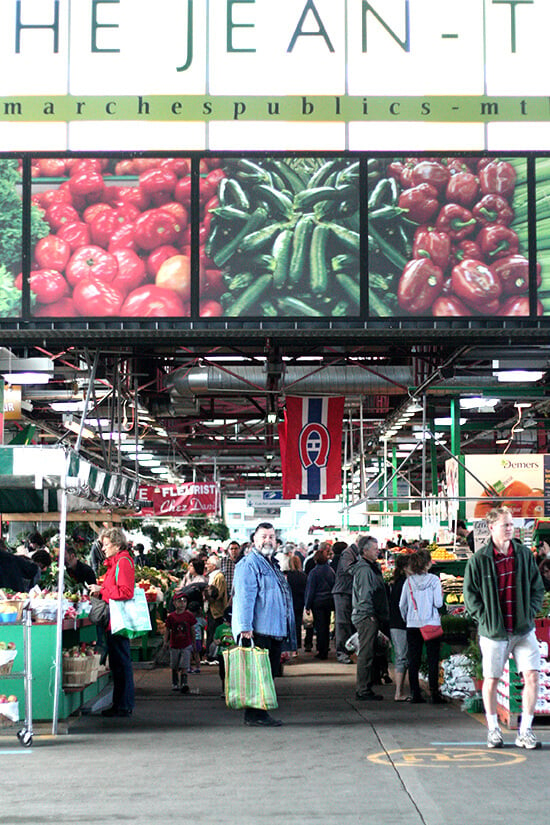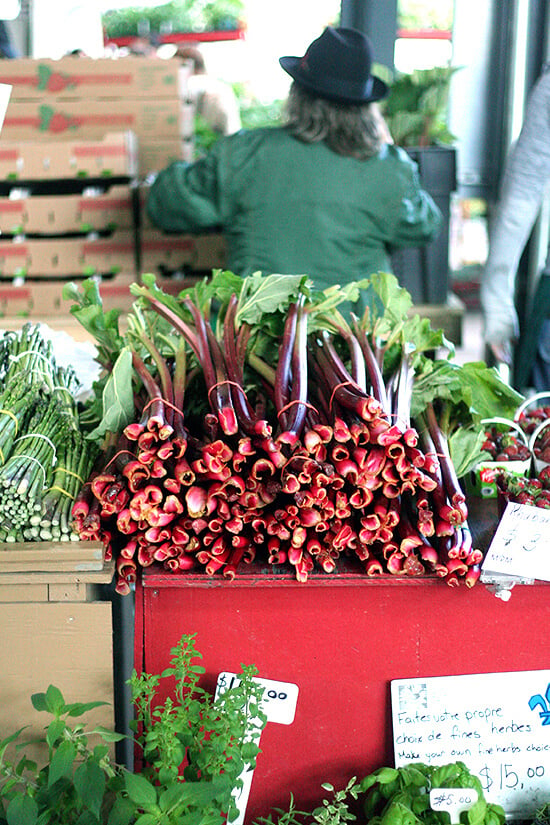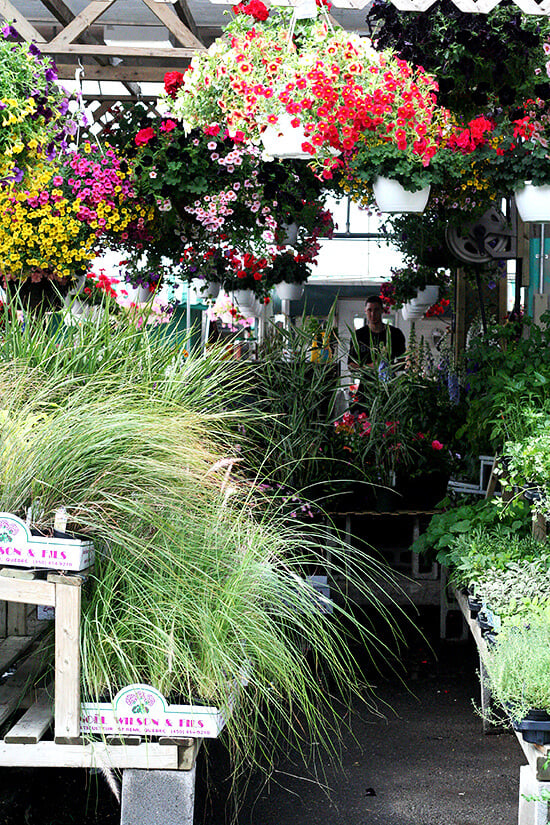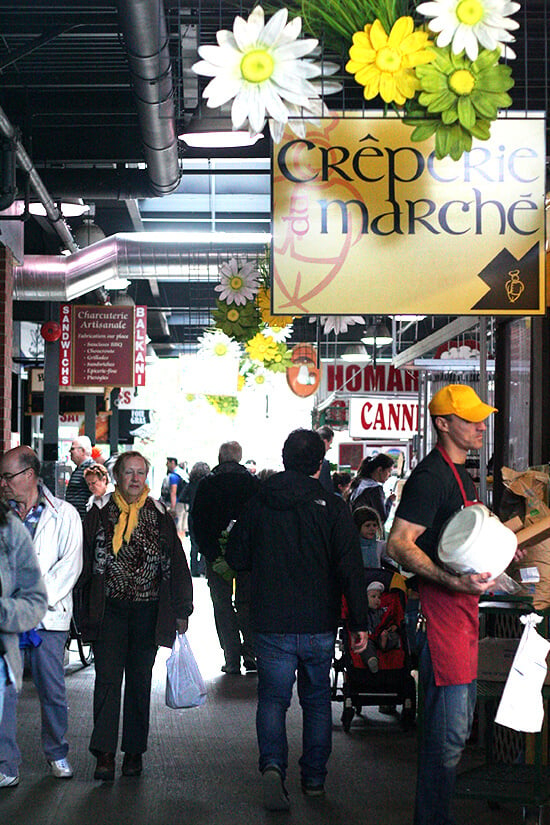 We admired the cooking demo sink at Les Touilleurs,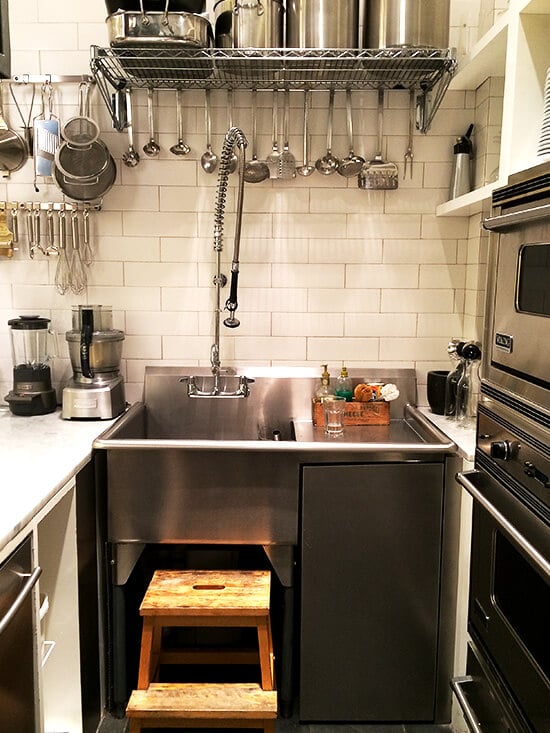 ate delectable bagels at St. Viateur,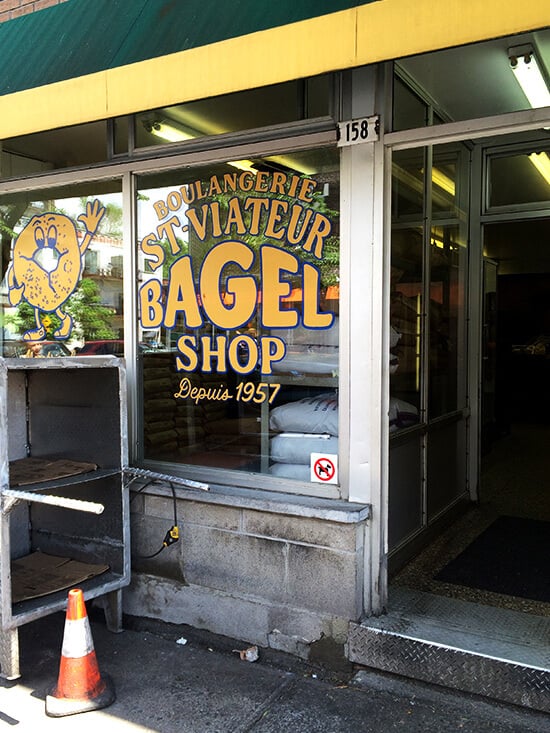 and drank midday beers while watching Greece vs. Columbia: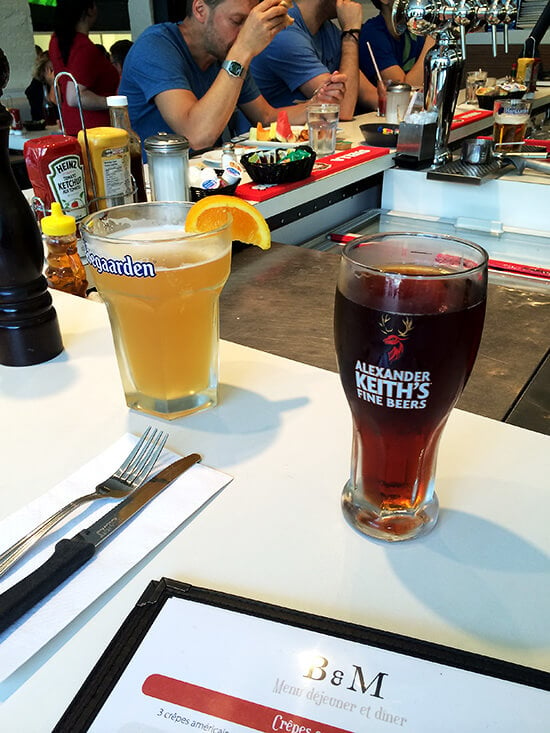 We drove — so lazy! — to the top of Mt. Royal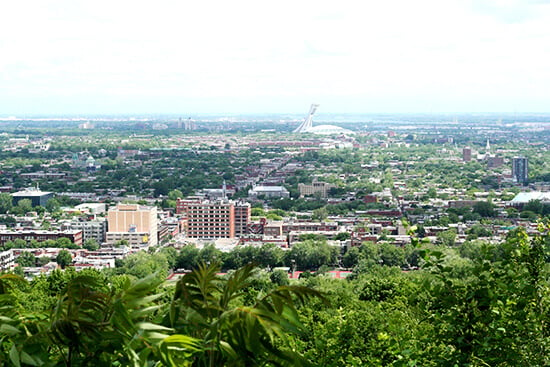 and ate pig liver mousse at Le Comptoir: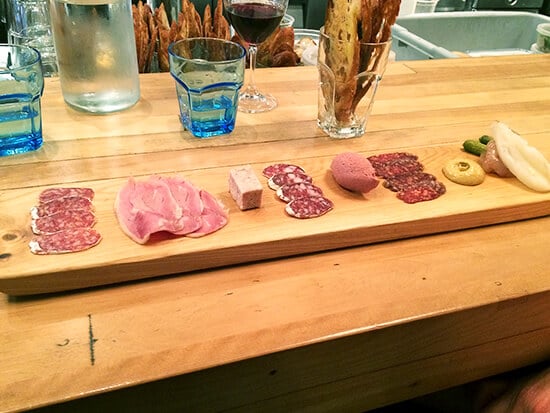 We admired the Weck Jar votives at Sel Gras: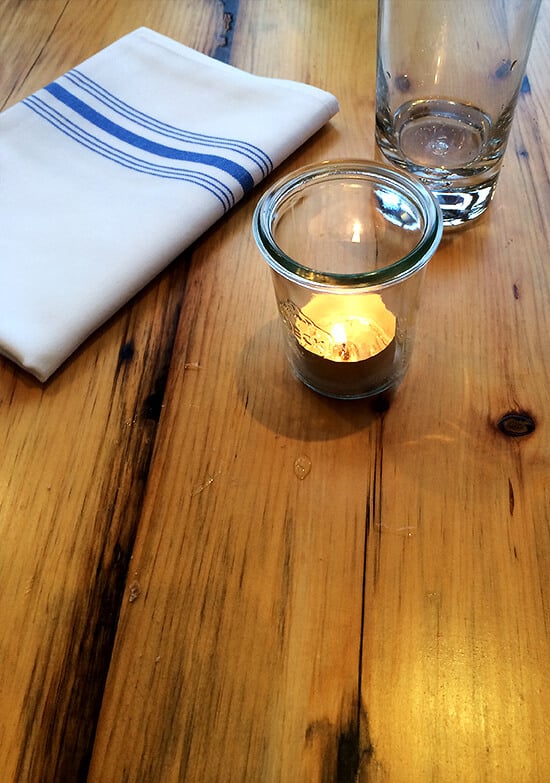 enjoyed every drop of wine,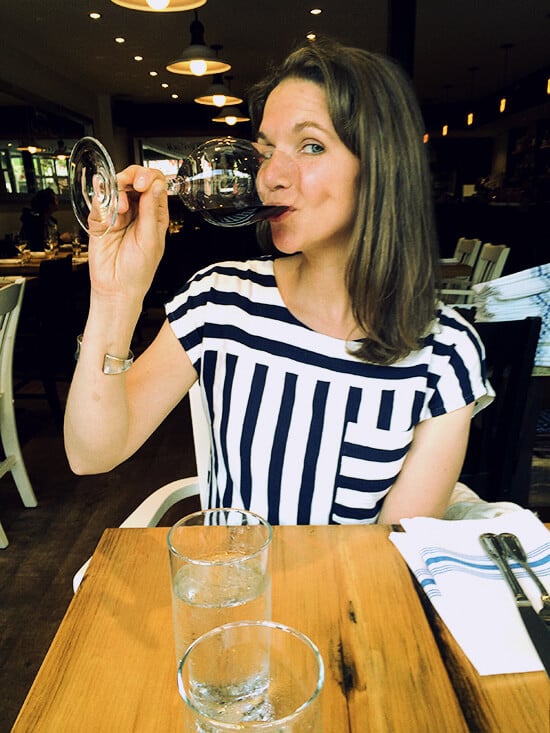 and quickly checked the hockey score: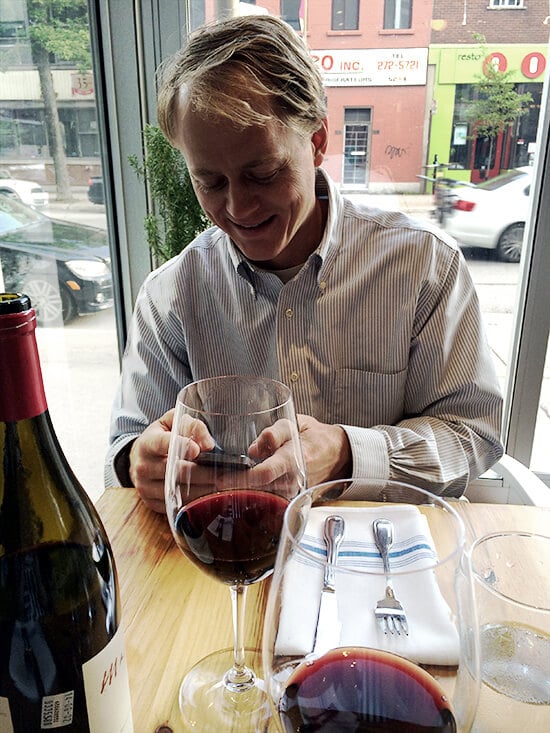 After dinner, we stopped at Café Olympico for the most delectable coffee and affogato: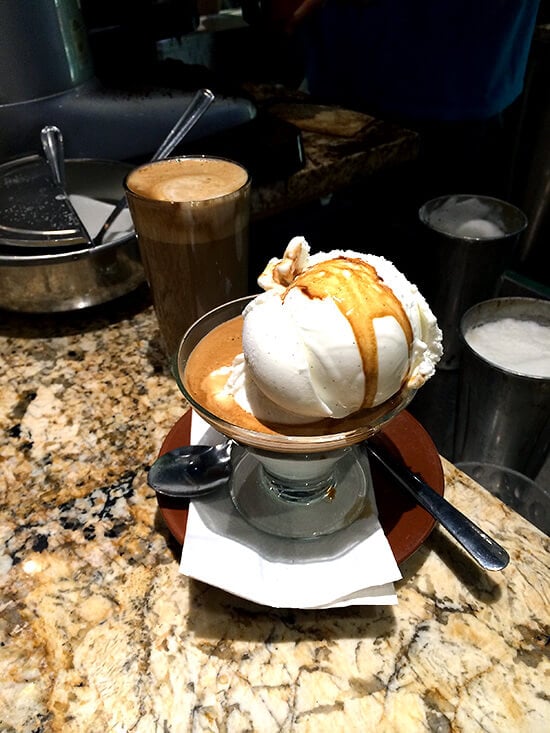 and watched Japan score an incredible goal against Ivory Coast.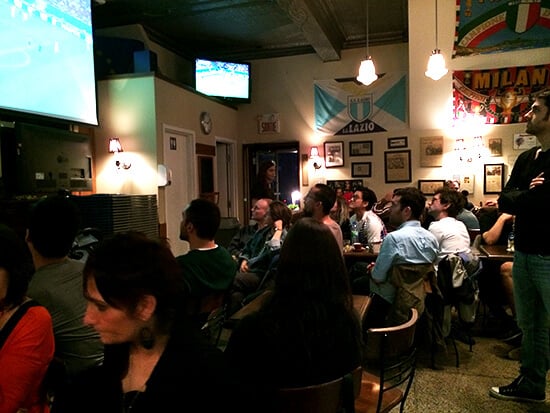 On Sunday morning, we had our best meal of the trip at Lawrence, including a flaky, warm currant scone served with clotted cream: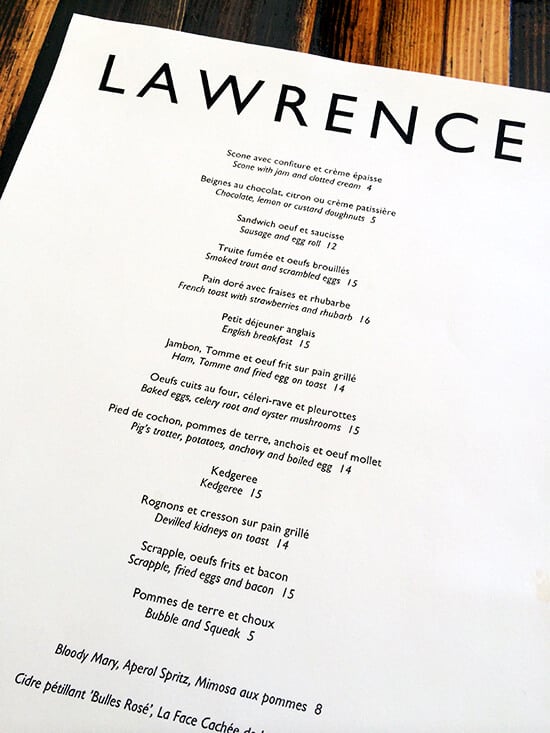 And before heading out of town, we picked up coffees at Arts Café.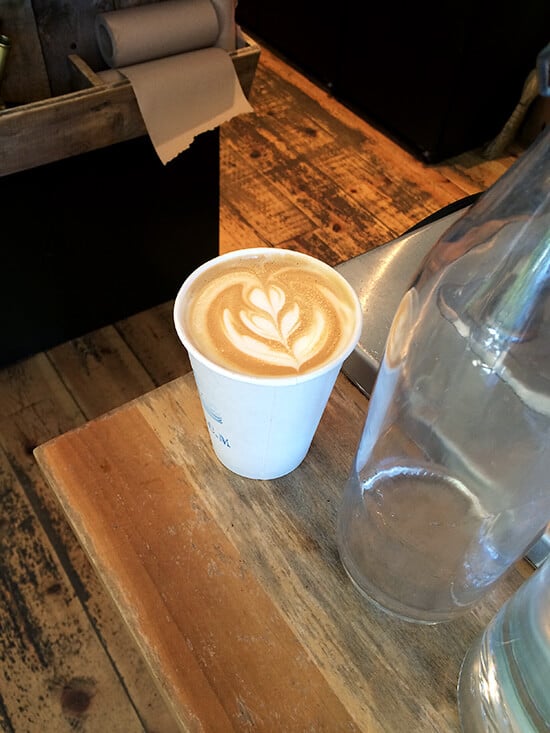 Definitely will return there next visit: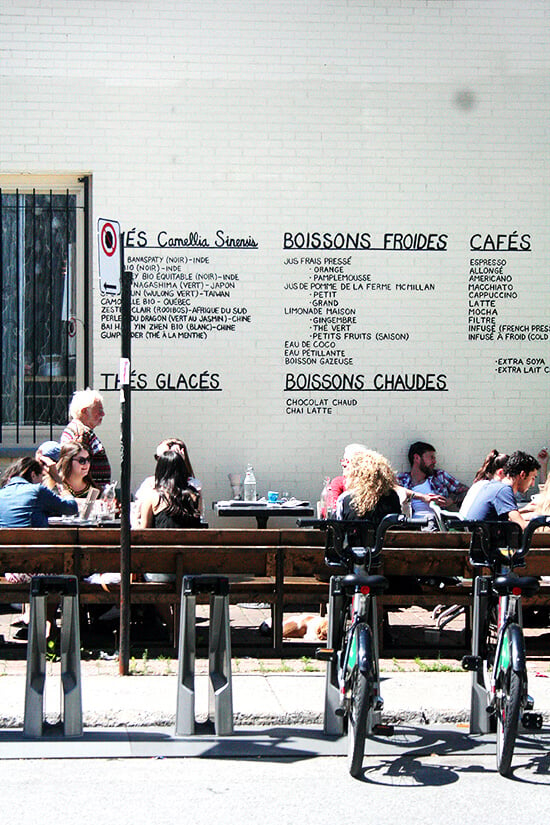 Print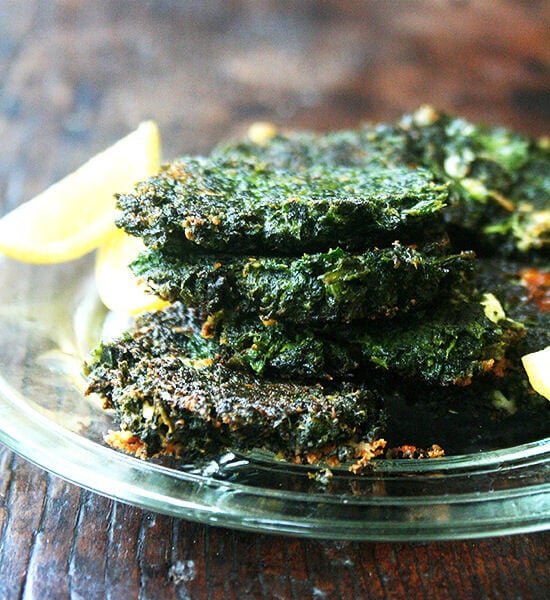 Swiss Chard (or Other Greens) Fritters
---
Description
Source: Jerusalem
Notes: As noted below, you can use any number of greens here. I didn't actually use any chard. I had a mix of kale, turnip and radish greens on hand, so that's what I used. Any dark leafy green will work just fine. And the same is true for the herbs — use what you have. I didn't have dill on hand, so I omitted. Chives, basil, tarragon, etc. would all be delicious.
---
14 ounces

Swiss chard, kale, mustard, turnip or radish greens, etc, stems removed

½ cup

chopped Italian parsley

¼ cup

chopped cilantro

¼ cup

chopped dill

1½ teaspoons

grated nutmeg (I didn't measure; just grated a lot directly into the processor)

½ teaspoon

granulated sugar

¼ teaspoon

kosher salt
freshly cracked pepper

3 tablespoons

all-purpose flour

2

cloves garlic, chopped

2

large eggs

3 ounces

crumbled feta cheese (

1/2 cup

)
Olive oil or grapeseed oil for frying
Lemon wedges, for serving (optional)
---
Instructions
Bring a large pot of salted water to a boil, add greens and simmer for 5 minutes. Remove from pot and drain well, patting leaves dry with a paper or kitchen towel.
Place chard in food processor with herbs, nutmeg, sugar, salt, pepper, flour, garlic and eggs. Pulse until well blended. Fold in feta by hand.
Heat 1 tablespoon oil in a large sauté pan over medium-high heat. When oil is hot, spoon in 1 heaping tablespoon of mixture for each fritter (you should be able to fit three fritters per batch). Note: Even though there are more than three fritters pictured in the pan above, I would stick to cooking three at a time. I find these fritters a little tricky to flip, and the key is to make sure that you have space to flip but also to make sure the fritters are golden and crisp before flipping. Press down gently on fritter to flatten. Cook 1 to 2 minutes per side, until golden brown. Transfer to a baking sheet lined with paper towels. Add another tablespoon oil to pan and repeat. Serve warm, with lemon wedges (optional).
Prep Time:

10 minutes

Cook Time:

15 minutes
This post may contain affiliate links. Please read my disclosure policy.